Will 'O-K-G' work at Washington?
Will Chris Petersen's O-K-G recruiting formula equal w-i-n-s at Washington?
When he was at Boise State, the coach made a living out of developing "our kind of guys" -- mainly under-the-radar prospects -- who formed the backbone of his success with the Broncos. Petersen's 92-12 record, two unbeaten seasons and two BCS bowl berths attracted Washington to hire him this past offseason, and he has the Huskies off to a 4-0 start heading into Saturday's Pac-12 opener against No. 16 Stanford.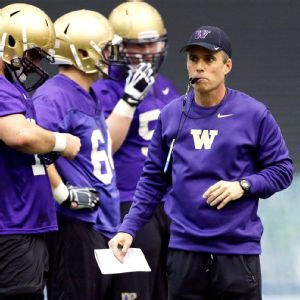 AP Photo/Ted S. WarrenChris Petersen's recruiting plan has reeled in one ESPN 300 player in the 2015 class.
But some Pac-12 observers are quick to point out the Huskies' start has been fueled by players recruited by previous coach Steve Sarkisian and have questioned whether or not the O-K-G approach to recruiting will reproduce enough long-term success to keep up with Oregon, Stanford, USC and UCLA in the Pac-12.
"When they were at Boise State, they attacked everybody's Plan B guys before everybody else," a Pac-12 assistant said. "They did a great job of playing their hand realistically. They knew they weren't going to be able to get a bunch of four- and five-star recruits to come to Boise, so they went after the guys that were everybody else's second-tier guys and recruited them like they All-Americans.
"They're doing the same thing at Washington so far. But to win in the Pac-12, you have to recruit difference-makers. They're not in the Mountain West anymore when they only had to play two big games a year."
It's easy to see why Petersen believes he can win with his approach, though.
Petersen's Boise State squads were never anywhere near the top 25 in the RecruitingNation class rankings, and he signed only two four-star prospects, with former record-breaking quarterback Kellen Moore the highest-ranked in the bunch. But year after year, the Broncos found themselves in the Top 25 that matters most, including two perfect seasons in 2006 and 2009.
"For us, when it comes to the O-K-G and the type of player that we want, it's not just football," former Bronco and current UW recruiting coordinator Keith Bhonapha said. "Is he the type of person that we want? Is he the type of student that we want, as well as the athlete? Anybody can turn on film for the most part and say, 'Hey, that guy is a good football player.' That's easy to do. But when it comes to finding out if a guy will fit to your culture, to your foundation, to the values and morals that you try and build and fester within your program, that's where you have to do the extra digging and the extra research."
Bhonapha talked a lot about finding prospects who have character and discipline and how important it was to get players who bought into a team-first mentality. But rival recruiters draw parallels to that and the approach Utah employed when it entered the Pac-12.
Under Kyle Whittingham, the Utes also made a living out of taking "Plan B recruits" and using them to dominate in the Mountain West and even beat Alabama in the 2009 Sugar Bowl. But ever since making the leap to the Pac-12 in the 2011 season, Utah struggled to keep up with the talent gap against the league's best programs until it started to alter its plan of attack on the recruiting trail.
"The way that Coach Petersen recruits now is very much how Coach Whittingham recruited when they were in the Mountain West," another Pac-12 assistant said. "Utah found out pretty quickly things are a lot harder in the Pac-12 and you have to be able to get quality players. You still see Utah try to develop them, but if you follow recruiting closely, you've noticed they've tried to find ways to recruit better-quality kids.
WASHINGTON RECRUITING
How are the Huskies faring on the recruiting trail this year? Check out their latest class. Washington's commits
• ESPN 300 | Class rankings
• RN Hot Board: Predictions


• More from RecruitingNation
"[Whittingham] realized pretty quickly you can't beat Oregon and USC with a bunch of two-star and three-star guys as your top players. It's OK to add depth with those guys, but you need to have the talent to compete. That's something the guys at Washington are going to have to come to grips with."
Fortunately for the Huskies, they have some inherent advantages that will make it easier for them to lure top talent, even if they do stick to the O-K-G formula.
Washington isn't Utah when it comes to high school talent. In most years, Utah is lucky to produce five players who can play for a Power 5 school, but Washington has averaged around 14 high-level recruits in each of the past five classes. Plus, Seattle is the largest city in the Pacific Northwest, giving Huskies coaches a deeper talent pool to work with in their own backyard.
"U-Dub's brand is also very recognizable in San Francisco and especially in Los Angeles," one of the Pac-12 coaches said. "You can see that purple 'W' all over high schools in Los Angeles, and they've recruited well down there under past coaches. So they have that brand recognition going for them."
But the recruiter also admitted it'll take more than brand recognition and what worked at your previous stop to compete for league championships in the Pac-12.
"The O-K-G system worked for them at Boise, but I just don't see it working out as well at Washington," he said. "When you're battling against programs with such national appeal and tradition, you have to be willing to throw part of your recruiting playbook out the window and think a little differently."
RecruitingNation
Jeremy Crabtree is a senior coordinator
Spent 12 years with Rivals.com/Yahoo! Sports
Graduated from Kansas State
The Week That Was
Miss something on RecruitingNation this week? We've got you covered.

• Baker's crusade against domestic abuse »

• Class rankings weekly update

• On The Trail Live replay

• Best available: Offensive recruits »

• Recruiter Rankings: September edition

• Conference weekend wraps

• Recruits react to Michigan woes

• Best of the official visits »

• ESPN 300 Player of the Week

Big news
Leo Lewis to Ole Miss


TE Will Gragg to Arkansas


CB Tyrek Cole to WVU


TE Bowman Archibald to Wake Forest

Still want more?
#SceneAndHeard Live
The Early Offer


#AskLoogs
RecruitingNation Vine Line