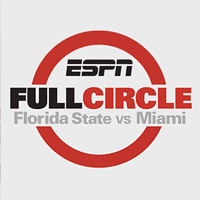 ESPN, Inc. will present ESPN Full Circle: Florida State vs. Miami Presented by Dish Network, providing coverage of the Florida State at Miami college football rivalry across every ESPN outlet on Labor Day Monday, Sept. 4 at 8 p.m. ET. It will mark the third presentation of the Full Circle franchise in which various coverage approaches to a single event are offered across multiple TV networks, Internet, cell phones, etc.
The Full Circle concept is designed to utilize ESPN's collection of multi-media platforms to provide fans everywhere with wide-ranging coverage of a major event. While the game kicks off at 8 p.m., the extensive coverage plans for ESPN Full Circle are divided into three stages -- pre-game, in-game and post-game.
Following are some of Full Circle specifics. Additional plans are still being developed.
ESPN Full Circle: Florida State vs. Miami During Game Plans:
• ESPN (ESPN HD): ESPN will feature a traditional game telecast produced in high definition with commentators Mike Patrick (play-by-play), Todd Blackledge (analyst) and Holly Rowe (reporter) plus "look-ins" to how other entities are covering the game.
• ESPN2 Multi-screen (ESPN2 HD): ESPN2 will offer high definition coverage of the game utilizing multiple camera angles in a mosaic-style presentation. The screen will feature the primary ESPN telecast surrounded by seven additional camera angles that include isolations of the coaches, quarterbacks, running backs, receivers and other key offensive and defensive matchups. The telecast will utilize an audio simulcast of ESPN and will be presented with reduced commercials.
• ESPNU in The Herd: The 24-hour college sports network will televise the game from the SkyCam angle and feature the unique commentary and perspectives of ESPN Radio's Colin Cowherd. He will react to the game action and interview guests. Todd McShay of College GameDay on ESPN Radio will provide additional insights while ESPNU's Mike Hall will update viewers on all aspects of the Full Circle coverage from ESPNU's Charlotte, N.C. studios. Hall will be joined by ESPN.com recruiting analyst Tom Lunginbill who will provide analysis on football in Florida. The reduced-commercial format telecast will feature SkyCam coverage on every play from the break of the offensive huddle to the end of the play.
• ESPN360: ESPN's customized broadband service will offer a simulcast feed of ESPNU's SkyCam presentation with extra stats during commercial breaks.
• ESPN Deportes: ESPN's Spanish-language network in the U.S. will offer traditional game coverage with Spanish language commentary.
• Mobile ESPN: The nation's first national wireless phone service provider targeted specifically to sports fans will provide a variety of content, including game alerts, live updates and in-game polling.
• ESPN International: A traditional telecast will be offered to approximately 54 countries worldwide, including ESPN Pacific Rim (ESPN Australia and ESPN New Zealand), Orbit ESPN (Middle East and North Africa), ESPN Dos (Central America), as well as syndication in Europe. The American Forces Network, which is seen by men and women in uniform stationed around the world in 175 countries and aboard U.S. Navy ships at sea, will also receive the traditional game feed.
• ESPN.com: ESPN.com will have a live chat with Jim Donnan, reports from Ivan Maisel, GameCast's real-time animated game representation and in-game polling.
• ESPNEWS: The nation's only 24-hour sports television news network, celebrating its 10th anniversary November 1, will offer frequent updates and analysis.
• ESPN Radio: ESPN Radio will provide in-game updates from its GameNight show, on-site reports and periodic live audio of Colin Cowherd's commentary from the ESPNU telecast. ESPN Radio.com will also provide an audio stream of Colin Cowherd's complete coverage live.
Pre-Game & Post-Game Plans for ESPN Full Circle: Florida State at Miami
• ESPN: Coverage will include College GameDay Built by The Home Depot on location, SportsCenter reports, and related guests on numerous talk shows such as Cold Pizza, PTI and Jim Rome is Burning.
• ESPNU: ESPNU will offer Florida State and Miami games from previous years plus a 30-minute program on the Florida State-Miami rivalry. ESPNU will offer encore presentations of every Florida State-Miami Full Circle television presentation beginning at midnight after the game.
• ESPN Classic: On September 4, ESPN Classic will televise replays of top Florida State-Miami games (from 10:30 a.m. to 6:30 p.m.) and a 30-minute program on the rivalry (at 10 a.m. and 6:30 p.m.).
• Mobile ESPN: Mobile ESPN will provide exclusive interviews with Florida State and Miami players and coaches including Florida State's Bobby Bowden and Miami's Kyle Wright, and previews and analysis from ESPN contributors Todd McShay, Trey Wingo and Howie Schwab.
• ESPN.com: Coverage will include ESPN Motion video previews from ESPN experts plus post-game highlights and analysis, SportsNation polling related to Florida State and Miami fans, topical chat sessions, analysis and articles.
• ESPN360: ESPN360 will present highlights of past Florida State-Miami games, interviews and a condensed version of the September 4 game.
• ESPNEWS: Pre-game interviews, features, reports plus live post-game press conferences, highlights and analysis will be offered.
• ESPN Deportes: ESPN Deportes' SportsCenter will provide Florida State-Miami previews.
• ESPN Radio: ESPN Radio will interview Florida State and Miami-related guests and daily previews during ESPN Radio shows.