John Henson isn't the only star in his household
John Henson: Kelly Kline; Amber: ESPN HoopGurlz
Dynamic Sibling Duo Attracting Attention
By Brendan Murphy
ESPN.com
Amber Henson
likely will not reach her brother
John
's physical stature -- few people do. She is, however, rapidly rising to his status as an elite must-have recruit for college coaches.
The Hensons, both of whom play at Sickles High School in Tampa, Fla., together are more than 13 feet of rare basketball ability. In fact, they could be the most sought-after brother-sister hoops combination in recent history.
Big enough to guard players on the interior but athletic enough to defend and play on the perimeter, scouts compare John, the No. 3 recruit in the Class of 2009, to Rashard Lewis. The 6-foot-10 forward is the gem of Roy Williams' 2009 recruiting class, which currently ranks as the nation's best according to ESPN.com.
Sickles boys basketball coach Renaldo Garcia says it was like "Christmas in the fall" when he found out the Hensons would be moving to Tampa from Round Rock, Texas, and attending the school for John's senior season.
"John absolutely is the most talented player I've coached, and he also matches his talent with being a super kid," Garcia said. "So far, these last eight weeks have been very enjoyable for our staff. He's a hard worker and such a humble kid. His personality is really contagious, and the kids have really gravitated toward him and made us a really close-knit team.
"After watching him for four weeks, what I've been most impressed with is he's so versatile," Garcia said. "He can do absolutely everything on the court. To be able to do that at his size is phenomenal."
Like her brother, the 6-3 and still-growing Amber has rare athleticism for her size. And like her brother, her recruiting process is filled with a who's who of college athletics. Although Amber doesn't plan to make a decision any time soon, the Class of 2011 prospect currently has scholarship offers from Baylor, LSU, Duke, North Carolina, Texas and Rutgers.
"They are very similar," said father Matt Henson, who coached both kids in their youth and played college ball at Norfolk (Va.) State. "I would say she could do a lot of the same stuff, she just can't dunk like [John does]. … I basically trained both of them to be very versatile, 2-3-4. She's one of the best shooters around and has great range. "
Amber says she doesn't mind playing in her brother's shadow. She thinks name recognition helped her.
"Now he's doing his own thing and I am doing my own thing," Amber said. "I kind of like it because his name's out there and people [say] 'That's his sister; she must be good, too.' Then I kind of get my shine."
She has benefited growing up as the younger sibling of a basketball prodigy. For instance, when Amber began experiencing pain in her knees due to her rapid growth -- she has sprung up three inches in the past year -- she was able to look to her brother for inspiration. John experienced similar problems when he grew six inches as a high school sophomore.
"At first it's tough adjusting to it. My knees have been hurting me a little bit," Amber said. "The same thing happened to him. I know if he can do it, I can do it, too."
John and Amber's sibling rivalry is a healthy one.
"I guess you could say we play together, but really, we work out together," John said. "Back in Texas we would lift weights for an hour and shoot for an hour and play a little one-on-one and have a shooting competition. She's been catching up to me, but I am still ahead."
Amber has even had an occasional on-the-court triumph.
"We love to challenge each other and have shooting competitions," Amber said. "He usually gets me one-on-one, but sometimes I get him in the shooting games."
She also says she once beat John one-on-one, before conceding that, "I don't think he was playing very hard, but I still take that as a victory."
Amber attended a UNC camp this summer and enjoyed the experience. So with North Carolina among Amber's schools of interest, there's a possibility of the two uniting in Chapel Hill. That's if John doesn't leave to pursue other endeavors.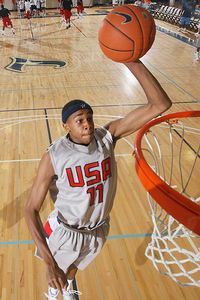 Kelly Kline for ESPN.com.
John Henson is the No. 3 prospect in the Class of 2009.
"I put it like this: Whenever the time is right for me and I have the opportunity to jump to that [NBA] level, that's when I am going to take it," John said.
"Whether it's one year, two years, three years -- it's whenever I get the chance and I feel like I am ready to make that jump."
Despite his pro pedigree, Henson -- who says he tries to model his game after Kevin Garnett -- has some things to work on. Most significantly, he must add bulk. Despite his huge frame, the rail-thin forward weighs around 200 pounds, though he has added eight pounds of muscle since moving to Tampa.
With North Carolina losing a majority of its top players after the 2008-09 season, including All-American forward Tyler Hansbrough, there should be plenty of opportunity for Henson. He is approaching Chapel Hill with an open mind.
"The goal is to go in there and contribute as a freshman," John said. "I want to go and contribute and do whatever helps them get the win. If [Roy Williams] wanted to play me 15 minutes, I can play 15 minutes. If he wants me playing a couple minutes coming off the bench, I can do that."
With John going off to college, Amber will become the superstar of the Henson household.
"Amber will obviously miss John," Matt Henson said. "She's also very focused on what she has to do.
"I really think she'll have a great year this year, but I expect next year to be a super breakout year."
The competitive dynamic in the Henson household goes beyond John and Amber. There could be another talented sibling in the pipeline.
"We want to push each other and make each other better," John said. "I got my little 6th-grade sister [Jana], and she wants to be good, too. Us being who we are, she pushes herself and wants to do what we do. So that creates a good environment."

On The Trail
Vinson Heads To Loyola Marymount
ESPNU 100 prospect Terrell Vinson, rated No. 46 overall and No. 8 among small forwards in Class 2009, has committed to coach Bill Bayno and Loyola Marymount. LMU edged Maryland, Georgetown and Villanova for the 6-foot-6 standout. Vinson joins center Edgar Garibay and guard Given Kalipinde as 2009 Loyola Marymount commitments.
ESPN.com's recruiting director Bob Gibbons talked about this huge score for the Lions.
"In the most surprising recruiting happening thus far concerning the Class of 2009, outstanding small forward Terrell Vinson committed last night to Loyola Marymount," Gibbons said. "Coach Bill Bayno has always been a master recruiter, especially during his tenure at UNLV. But this may be one of his all-time best recruiting coups."

Vinson, who had spent the past two years at Montrose Christian Academy (Rockville, Md.), is now at St. Frances Academy in Baltimore for his senior year.
"He turned down offers from Georgetown, Maryland, and Villanova to attend Loyola Marymount, all because of his deep admiration and respect for Coach Bill Bayno," Gibbons said.
"I got to know Coach Bayno during the past year, and it just came down to the fact that he is the coach that I trust the most to help me take my game to the highest level," Vinson told ESPN.com. "I learned a lot at his elite camp this summer. And during his in-home visit, Coach Bayno showed me a list of things that I need to work on, and that really impressed me."
• Vinson's On the Trail archive
---
SG Vogrich bound for Ann Arbor
Lake Forest, Ill., star Matt Vogrich has committed to the University of Michigan and coach John Beilein. The 6-foot-4, 180-pound shooting guard chose the Wolverines over Notre Dame and Stanford. Among other offers were Baylor, Colorado, Georgia Tech, Northwestern, Oregon State, Wake Forest, UCLA and Rice.
ESPN.com's national recruiting director Paul Biancardi describes Vogrich as a prolific shooter who will stretch defenses in the Big 10.

"Matt is a sharpshooting 2-guard who's not afraid to take and make big shots," Biancardi said. "He possesses range well beyond the 3-point line, and will force Big 10 defenses to come out and guard him."
Vogrich also has tremendous court vision and passing skills.
"To go along with his shooting skills, he is an excellent passer," Biancardi said. "He can take an outlet pass and throw it ahead for an easy basket, or in the half court he can hit cutters for layups. Matt is also a terrific pick 'n roll player. With his shooting prowess he can knock down shots behind screens, attack the pick-and-roll or hit the screener rolling to the basket. He always plays with his head up and sees the floor well."
• Vogrich's On the Trail archive
• Complete On the Trail updates
Bob Gibbons' Mailbag
Is there a reason to be concerned that schools like UCLA, UNC, Kansas, and heck, even UAB are planning to land great classes for 2009; but Memphis seems to be on a hold mode? Is Memphis expected to get some top recruits and compete with UNC and UCLA and Kansas, etc.?
-- Mansoor (Las Vegas)
Chill out, Mansoor. You may not be aware, but Memphis already has two excellent 2009 recruits. They are 6-5 G/F Nolan Dennis (North Richland Hills, Texas/Richland), ranked No. 45 on the ESPNU 150, and Will Coleman (Miami/Miami-Dade College), the top-rated junior college big man,.

Dennis
You should have more confidence in the recruiting wizardry of coach John Calipari and his excellent staff. He and the Tigers are the favorites to land the No. 1-rated prospect in the Class of 2009, 6-7 G/F
Xavier Henry
(Oklahoma City/Putnam City). Henry is down to Memphis and Kansas. However, his older brother, 6-3 C.J. Henry, who signed a professional baseball contract out of high school with the New York Yankees, is now enrolled at Memphis, and will play as a freshman shooting guard for Coach Calipari this year. Reportedly, the brothers want to play college basketball together.
Memphis is also one of the current leaders for the top point-guard prospect in the Class of 2009, John Wall (Raleigh, N.C./Word of God). Wall has blazing speed and quickness, and his game is comparable to that of top 2008 point guard Brandon Jennings. The Tigers must beat Baylor to gain the services of Wall. Reportedly, his role model is former Memphis All-American Derrick Rose. Wall believes Coach Calipari can prepare him for the NBA as he did Rose. However, Baylor has hired Wall's travel team coach, Dwon Clifton. This recruiting battle will be interesting.
Other top recruiting targets the Tigers are very involved with and could possibly get commitments from include: 6-3 2/1G Kenny Boynton (Plantation, Fla./American Heritage); 6-8 PF Thomas Robinson (Wolfeboro, N.H./Brewster Academy); 6-6 G/F Dominic Cheek (Jersey City, N.J./St. Anthony); and former Pittsburgh signee, 6-7 P/WF Darnell Dodson (Miami/Miami-Dade College).
-- Bob Gibbons
Brothers & Sisters
John and Amber Henson are hardly the first brother-sister combination to make waves on the basketball court. Here's a look at a few others:
Standout Sibs
Sibs
Career
Ime and Mfon Udoka
The first brother-sister combo to play in the NBA/WNBA.
Rudy and Marta Fernandez
He will be a rookie with the Blazers; she just finished her second year in the WNBA
Rashad and Rashanda McCants
Rashad is now with the Timberwolves. Rashanda is a senior at UNC.
Reggie and Cheryl Miller
Both had Hall of Fame-worthy careers before becoming broadcasters.