De La Salle's Mike Shaw could be the Next Big Thing in Chicago hoops
Shaw A Shooting Star On The South Side
By Brendan Murphy
ESPN.com
CHICAGO --
Mike Shaw
's used to people asking about his recruitment. After all, it's been happening since he was in
seventh grade.
Before Shaw became the next great hope for Chicago basketball, he was message board fodder for the city's prep basketball enthusiast. And quite a few die-hards opined where he should and would go -- to high school.
Shaw, ESPN's No. 8 player in the Class of 2011, says there was only one choice: to follow in his brother David's footsteps and play at De La Salle on the city's South Side.
"It was a lot of pressure on me coming out of eighth grade," Shaw said. "Everybody was like 'why are you going there?' and this and that."
De La Salle coach Tom White knew Shaw before he was a 6-foot-8 phenom. White remembers him as the "normal-sized kid" who would hang around basketball camps with David -- who now plays at St. Mary's College in Winona, Minn. -- during the summer. That was before he hit a middle-school growth spurt that allowed him to enter high school as a 6-foot-6 freshman.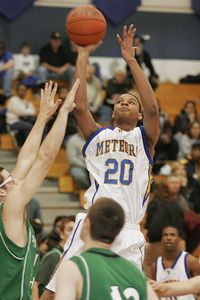 De La Salle Institute
Mike Shaw is the top-rated sophomore in Illinois.
Shaw says his relationship with White and his familiarity with the program led him to De La Salle.
"I already knew I felt comfortable [at De La Salle]" he said.
"Coach White told me we never knew you were going to be 6-8, we wanted you to come here from the very beginning."
In the coming years, Shaw's talent could elevate De La Salle, a solid program, to spectacular heights. As a freshman, Shaw averaged 10.5 points and 5.6 rebounds per game in helping De La Salle to its second consecutive Chicago Catholic League title.
In a game against Mt. Carmel -- with the league title on the line -- he showed the heart and grit that goes with his immense talent.
"My defining moment with Michael Shaw is last year, in the Catholic League Championship on an away court against a team that had all seniors, he had his front tooth broken in half during the game," White said. "Then he came back in the fourth quarter, grabbed four rebounds, two blocked shots and went four for four from the free-throw line. … That was a heck of a freshman move right there."
After that game, the Meteors were riding high. Perhaps a little too high; they lost to that same Mt. Carmel team a few weeks later in the state tournament.
"We beat them two times during the season," Shaw said. "I think that third time everybody wasn't focused and playing hard. It was the worst loss of my life. I took it real hard, and I went to the gym the next day and played hard and took it all out."
At 6-8, Shaw towers above most of the opposition. But he isn't a back-to-the-basket big man. Shaw is capable of scoring from the inside and the outside, and he'll likely play on the wing in college.
De La Salle senior point guard Derrick Needham said Shaw is a team-oriented star.
"He's definitely not a shooting machine," said Needham, who is getting recruited by several mid-majors including Loyola (Chicago) and New Orleans. "Once we give him the ball, he's a great passer. He can pass the ball from the high post and kick it out from the low-post. He has a point guard's vision, basically."
For as much talent as he has, Shaw is a student of the game. Coaches and teammates say he's always willing to run that extra lap and is very receptive to instruction.
"He's coachable, [and] he's a good student," White said. "I know he's only 15, but he's older than that. He's always played up one or two or three levels."
White says he has gotten letters from nearly every major college program. Coaches from several schools -- including Florida, Illinois, USC, Purdue and Kentucky -- have stopped in to watch Shaw play.
Even with all that interest, Shaw has no plans to announce a college decision any time soon. Instead, he wants to focus on the present.
"Right now, I don't really know. I am just trying to get better," Shaw said. "I am focused on trying to get better and trying to get my schoolwork done so I can get to the college level.
"You can have all the talent in the world, if you don't get the grades, you can't do nothing."
Shaw takes pride in being from Chicago. As the next big thing in Windy City hoops, he knows many people have high expectations for him.
"It's a good feeling," Shaw said. "Everybody always talks about how Chicago's got such good basketball players. I remember when I was younger I used to look up at Derrick Rose and all of them and watch their games. The fact is that I am like them now."
With all that hype, White wants to make sure his sophomore sensation doesn't get ahead of himself.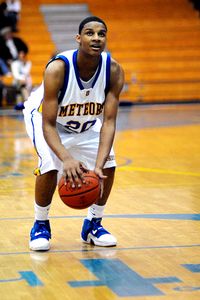 De La Salle Institute
Shaw averaged almost two blocks a game as a freshman.
"That's the big thing that I stress with Michael," White said. "There's been a lot of kids that have projected to do this and do that and they don't get any place. … There's been so many of those types of kids that fell short of expectations. I think they didn't look at the total picture and didn't set goals for themselves."
Growing up in Englewood, a neighborhood that has one of the highest crime rates in the city, Shaw is surrounded by distractions. He sees Rose, whom he has worked out with, as a good role model. Rose was able to rise above the hype and distractions to make his basketball dreams come true.
"You look at all the success he got, how he came from the hood, that's where I am at. … I [live] on one of the worst blocks in Chicago," Shaw said. "I am lucky to have the talent that God gave me to be a basketball player. If that can take me to college and anything else, that's what I am trying to do. I am trying to take care of my family."
After his strong showing as a freshman, Shaw continued to generate buzz on the AAU circuit with the Mac Irvin Fire. He says playing against tough competition on a national stage increased his desire to succeed.
"I've been out there now," he said. "I've seen all the competition and I understand that I want to be the best, you can't take any days off. Every time I am doing something there's always somebody watching. Off the court and on the court, there's always somebody watching I still got to be a young man and a good role model."
Recruiting Buzz
The Chicago area has gained a reputation for supplying some of the top college programs around the country with elite prospects. Last season Derrick Rose and Sherron Collins, both Chicago natives, representing Memphis and Kansas respectively, battled for the national championship.
Richmond
It should come as no surprise, then, that Chicago area high school players such as Mike Shaw will continue to announce their presence on the national scene through their considerable basketball talent.
Jereme Richmond, yet another impressive talent from the Windy City area, brings a game as diverse as the population in Chicago. He has the ability to score from the perimeter, with range that extends out to the 3-point line. Richmond also has the quickness and ball-handling ability to penetrate past defenders if they attempt to take away his consistent jump shot. He will also post up defenders in the paint if teams try to stop him by using small, quick defenders. Richmond has outstanding passing skills and vision which allows him to create scoring opportunities for teammates.
He will take his mature game to Illinois, where he will team with fellow ESPNU Super 60 prospect Crandall Head and Meyers Leonard to give the Fighting Illini a talented trio of players all hailing from Illinois.
-- Antonio Williams
Bob Gibbons' Mailbag
Bob, what can you tell me about Mouph Yarou's game? How will he fit at Villanova?
-- Hank (Arlington, Va.)
Mouphtaou Yarou committed to Villanova in late August, and he could be a nice under-the-radar player for Jay Wright.
Yarou, a resident of Benin in West Africa, arrived in the U.S. in mid-January, and enrolled at Massanutten Military Academy in Woodstock, Va. He played in 15 games for that prep school program, averaging about 10 points and 8 rebounds. However, he was really a "hidden gem" until he burst on the national scene in April at the Boo Williams Invitational Tournament. After that, college recruiters were flocking to see him play.

He is strong, powerful, and very athletic. He has only been playing basketball for three years, and is still in the developmental stages, although he has shown much improvement in his offensive skills. He excels at shot blocking, rebounding, and intimidating in the low post. I rated Yarou one of the three best shot blockers in the ESPN 2009 Post Superlatives.
Yarou has left Massanutten Military Academy, and is enrolled for his senior year at Montrose Christian School (Rockville, Md). A year of coaching and teaching under long-time, successful coach Stu Vetter should really prepare Mouph for his freshman season at Villanova.
I predict he will be an immediate impact player for coach Wright's Wildcats next season. Reportedly, he is still growing and could be 6-11 when he gets to the Villanova campus.
Thank you for your question.
-- Bob Gibbons
On The Trail
Orton is a Kentucky Wildcat
ESPNU 100 prospect Daniel Orton of Bishop McGuinness (Oklahoma City, Okla.), ranked No. 10 overall and No. 2 among centers in Class 2009, has made a commitment to play for coach Billy Gillispie at Kentucky. Orton (6-foot-10, 260 pounds) had also been considering Kansas, Oklahoma, Ohio State and Oklahoma State. The standout averaged 13.7 points, 11.2 rebounds and 5.2 blocks during his junior season. Kentucky has three pledges in Class 2009, including Orton, forward Jon Hood of Madisonville North Hopkins (Madisonville, Ky) and guard G.J. Vilarino of McKinney, Texas.

ESPN.com's national recruiting director, Paul Biancardi, has seen a lot of this blue chip recruit.
"Daniel Orton is a powerful low post player who is one of the best, if not the best, true centers in the 2009 class," Biancardi said. "He is a solid athlete with the ability to do everything needed of a five man on the basketball floor."
Orton possesses a nice arsenal of moves in the post, according to Biancardi.
"Daniel's go-to move is his jump hook which he shoots over his left shoulder," he said. "He is very effective on the high school level scoring on the block and that should translate well to the college game."
• Orton's On the Trail archive
---
Louisville lands junior standout Tyler

Tyler
ESPNU Super 60 prospect
Jeremy Tyler
of San Diego, rated as the No. 2 center in Class 2010, has given a commitment to sign with Louisville. The 6-foot-9, 220-pound star, also recruited by some programs as a power forward, chose the Cardinals over UCLA, Arizona, Southern California, Memphis, Duke, Kentucky, North Carolina and UConn. Tyler averaged 23 points, 15 rebounds and eight blocks last season. He was named California's sophomore of the year. The second commitment for Louisville in Class 2010, Tyler joins ESPNU Super 60 small forward
Josh Langford
of J.O. Johnson (Huntsville, Ala.).
This versatile forward is a big time athlete, according to ESPN.com's national recruiting director, Paul Biancardi.
"Jeremy Tyler is a long and athletic combo post player who can equally play the 4 or 5," Biancardi said. "He runs the floor very well and is one of the most athletic players in his class."
• Tyler's On the Trail archive
• Complete On the Trail updates