Wayns to keep alive the Philadelphia point guard tradition
Getty Images/Icon SMI/Kelly Kline
Wayns Ready To Carry The Torch As Philadelphia's Next Great Point Guard
By Dana O'Neil
ESPN.com
PHILADELPHIA -- Every day in the summer of 2005, Jameer Nelson drove onto the Villanova campus.
Suspicious basketball fans shuddered.
There are a few things you don't do in Philadelphia. You don't ask what a 'cheesesteak with' is, you don't root for the Cowboys and you don't cross basketball loyalties.
Big 5 blood runs thick; Catholic League hoops even thicker.
If you go to Saint Joseph's you don't fraternize with Villanova and for the love of God, don't marry one another.
Graduate from Roman Catholic? You don't root for Cardinal Dougherty or Saint Joseph's Prep, league divisions be damned. It's principle.
Nelson on the Villanova campus? That was worse than a Hatfield pitching a tent among the McCoys.
But within the confines of the parochial and fiercely neighborhood-centric city there is a subculture that defies the rules and gets away with it.
Among Philly point guards there is almost a Biblical birth order that knows no allegiances: La Salle's Doug Overton (Dobbins Tech) begat Nelson (Chester) who begat Kyle Lowry (Cardinal Dougherty).
And now Lowry, Nelson's rival turned protégé in that summer of 2005, is passing the torch across more enemy lines.
Lowry, a Dougherty graduate, is shepherding Roman Catholic's Maalik Wayns.
"Once you get to this level, all that crossing school lines is old,'' said Lowry, entering his third season with the Memphis Grizzlies. "It's not about Villanova or St. Joe's or Roman or Dougherty. It's like a fraternity. We all take pride in Philadelphia and want to make sure every kid gets the help if they want it. You see that potential and you want to help people reach it.''
It is quite the lineage that Wayns is following, one that includes three NBA Draft picks, 4,432 points, 1,555 assists and 641 steals.
According to recruiting experts, Wayns, who will follow in Lowry's footsteps to Villanova, is more than equipped to carry the tradition.
Ranked third best at his position by ESPN Scouts Inc. (behind John Wall and Abdul Gaddy) and the 22nd best player in the 2009 class, Wayns' stock has skyrocketed since he gave a verbal commitment to Jay Wright following his sophomore season.
His rise, in fact, has been so meteoric that the natural questions about honoring his verbal are surfacing, especially when Villanova already has a stockpile of guards in Scottie Reynolds, Corey Fisher and Corey Stokes.
"I know there are rumors out there about me wavering but no chance,'' said Wayns, who averaged 24.6 points and 7.6 assists for Roman in his junior season. "Back in ninth and 10th grade, I wasn't nationally known but I wanted to pick the right school for me. That was Villanova and nothing has changed.''
OK, well some things have changed.
Two years ago no one knew Wayns.
This year he sandwiched all-star performances during summer-league ball in Las Vegas and Philadelphia with a spot on the U.S. Under-18 roster. The youngest player selected, he earned rave reviews from the team's head coach, Davidson's Bob McKillop. "He gets it in the right hands at the right time and to the right spot," McKillop said. "His decision-making is impeccable.''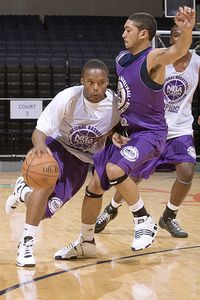 Jason O. Watson for ESPN.com
Wayns is the top player in Villanova's stellar 2009 recruiting class.
So he's got the talent of his predecessors. The question is, does he have the toughness?
Ask basketball people to define a Philly guard and you're sure to hear the same words time and again: tough, gritty, hard-nosed, scrappy. Nelson and Lowry epitomized the city's pride and job.
Both undersized, they inserted tenacity for whatever height differential they lost. Nelson rode his pluck to national player of the year honors; Lowry to an early college exit to the NBA.
"It comes from playing on the playgrounds,'' Wayns said. "You can't be soft. If you're soft, you're not playing.''
It's a trait that can't necessarily be taught but it can be honed. Lowry refined his that summer he spent with Nelson. Fiercely competitive with a pit bull mentality wrapped in a Chihuahua's frame, Lowry's natural talent was at times undone by his impetuous behavior and stubbornness. Watching Nelson, then a pro, changed him.
In Wayns, Lowry sees none of his own bad traits. He's a good kid from a tough city.
That doesn't mean there's nothing to improve. Lowry, who's known Wayns for years, saw some things this summer when the two worked out and when Wayns played with Team Philly, his AAU team coached by Lowry's older brother, Lonnie.
"I thought I knew everything back then and I haven't really seen that with him; he's a good kid,'' Lowry said. "He's very advanced offensively. He's definitely a better shooter than I was, but the thing with me, when I scored 10 or 11 in a row, I wanted 13 and 14. I didn't stop. He needs to learn that, to keep pushing.''
Alongside the inspirational players who have made it and guided him, there are plenty of Philadelphia cautionary tales to keep Wayns on the straight and narrow as well. He walks the same high school halls that were once home to Eddie Griffin.
As a senior at Roman, Griffin was the high school national player of the year, a kid so gifted he drew comparisons to Philadelphia's greatest basketball export, Wilt Chamberlain.
Six years later, after a disjointed college and NBA career, he was dead, killed when his car was hit by a train.
Wayns knows the story well. He knows, too, the pressures that will come this year. With top rankings come expectations and come opposing teams as keen on stopping him as beating Roman.
"I know I just need to stay focused,'' Wayns said. "It's about not letting the hype get to you and just playing your game.''
Wayns' game could take him even further this year. This is the first time Philadelphia Catholic League schools are eligible to compete in the Pennsylvania state championships. Wayns already owns a Catholic League championship. He'd love to be part of the first Catholic League team to win a state crown and not just for the spot in history.
For all of his individual accomplishments, Lowry never won a team title. His Dougherty team was twice undone by St. Joe's Prep in the title game.
"I got more championships than him already,'' Wayns laughed. "It would be great to get another one.''
Told of Wayns' trash talk, Lowry scoffed.
"He can't trash talk me at all,'' Lowry said. "He's not old enough to do that. Yeah, I don't have a championship. We ran into a good team with a good coach but I bet even if we had lost that Catholic League title, we would have won a state title.''
Dana O'Neil covers college basketball for ESPN.com and can be reached at espnoneil@live.com.

Recruiting Buzz
Legendary coach Bob Hurley Sr. has built a jauggernaut of a program at St. Anthony's in Jersey City. Many great players from the area have had the privilege to develop their skills under Hurley, one of the best basketball coaches and teachers to ever pace the sidelines. In fact, Hurley's squad from last season featured six players who received scholarships to Division I programs.

Cheek
Super wing prospect Dominic Cheek will lead this year's squad and will use his experience from last season as a catapult to success for this season. Cheek has incredible athleticism and quickness, which causes nightmare for opposing defenses. He has the ability to connect from the perimeter, with range that extends beyond the 3-point line. He also uses his lightning-quick first step to drive past defenders. Cheek rarely forces the issue on the offensive end, despite his ability to create a shot for himself almost at will. He does a good job finding open teammates, and sometimes he can become a little too unselfish. Cheek does an adequate job using his athletic gifts on the defensive end, but he really excels rebounding the ball on ends from the shooting guard or small forward wing slot.
Not surprisingly, Cheek has a number of suitors lined up for his services, with Kansas, Memphis, Rutgers and Seton Hall among the schools hoping to land Cheek. Competing programs may have a hard time luring Cheek out of Big East country, but the national champion Jayhawks, with two New Jersey players on the current squad including former high school teammate Tyshawn Taylor, just may have the goods to convince him to move west.
-- Antonio Williams
Bob Gibbons' Mailbag
What are your thoughts on Dexter Strickland? Do you think he will be a pure No. 1 point guard, and, if so, how do you think Kendall Marshall and Dexter Strickland will fit together.
-- Justin
Thank you for this very interesting question. Dexter Strickland (Elizabeth, N.J./St. Patrick) is more of a shooting guard, and most definitely not a true point guard. He has the abilities to play the position. However, he has a scorer's mentality, and prefers to shoot rather than pass. He is a fine ball handler; he can penetrate and dish off. However, his natural inclination is to get to the rim or pull-up for a midrange jumper. He definitely has the defensive abilities to play excellent on-ball defense against point guards.

Strickland
This year, North Carolina has great depth at the point position with starter Ty Lawson back for his junior year and senior Bobby Frasor healthy and ready to relieve Lawson. Also, the Tar Heels have high school freshman stand out
Larry Drew
coming in. Drew will be given the opportunity to gain valuable experience at the point as a backup to Lawson this season.
Next year is when the big questions emerge for North Carolina at the one. Ty Lawson will likely go to the NBA. The Tar Heels were fortunate that he did not leave this past June. Frasor will graduate, and Drew will be the only point guard with any experience on the roster.
From my perspective, this means that either 2009 recruits Dexter Strickland or Leslie McDonald, or perhaps both, will have to serve as backups to Drew. Strickland appears to be better suited as a combo guard, although, again, this might not be the best situtation for him as a freshman. The only other player that might help at the point is freshman shooting guard Justin Watts. But, will he get any playing time at the point this season?
The bottom line is next year there are major questions to be answered concerning the depth at the point guard positon at North Carolina.
The following year, 2010 pure point guard Kendall Marshall(Arlington, Va./Bishop O'Connell) will be on the team. Marshall, 6-foot-4, will likely understudy Drew, and will likely get his on-the-job training as Drew's relief man. Strickland, McDonald and Watts, or whomever is the backup for Drew next year, will continue to spend time as needed at the point position.
-- Bob Gibbons
The ESPNU Recruiting Insiders
On The Trail
Big man Fitzgerald picks Sooners
ESPNU 100 standout Andrew Fitzgerald, a 6-foot-8, 250-pound prospect from Brewster Academy (Wolfeboro, N.H.), has ended his recruitment by committing to Oklahoma. He is ranked No. 63 overall and No. 23 among power forwards in the Class of 2009. From Owings Mills (Baltimore, Md.), Fitzgerald picked the Sooners over Baylor, California, Marquette, Maryland, Minnesota, Pittsburgh, Seton Hall, St. Johns, Texas A&M and Xavier, among many others.
ESPN.com's recruiting coordinator Antonio Williams says Fitzgerald will bring size and smarts to the Sooners.
"Fitzgerald will provide the Sooners with a bruising inside presence who relies on brains as well as brawn for effectiveness on the court," Williams said. "He doesn't have outstanding athleticism or quickness but has a very good basketball IQ."

Fitzgerald's work ethic is what separates him.
"Andrew has a good understanding of angles and outworks the opposition in the paint, which makes up for his lack of elite athleticism," said Williams. "He also knows how to carve out space in the post for rebounding as opposed to trying to out-jump opponents."
• Fitzgerald's On the Trail archive
---
Forward Fair Syracuse Bound
Syracuse has landed a Class of 2010 commitment from C.J. Fair of City College High (Baltimore, Md.). The 6-foot-7 forward, who averaged 21 points and eight rebounds as a sophomore last season, was also being recruited by Florida, Louisville, Maryland and Virginia.

"The Syracuse Orange have gotten one of the most promising forwards in the Class of 2010 in C.J. Fair," said ESPN.com's recruiting director Bob Gibbons. "Fair was outstanding playing for the Baltimore Stars travel team in our Bob Gibbons Tournament of Champions last May. He averaged 19 points in six games, and made the 16-Under All-Tournament team."
Fair was injured during the summer and is still recovering.
"Shortly after that tournament Fair suffered a torn anterior cruciate ligament in his knee and missed the entire summer," Gibbons said. "He is still undergoing therapy in his recovery process."
According to his father, Carl Fair, C.J. may not be able to play basketball for his high school until mid-season. But that has not stopped college recruiters from visiting him at his home and school. Fair made unofficial visits to Louisville and Virginia, and really liked both programs.
• Fair's On the Trail archive
• Complete On the Trail updates