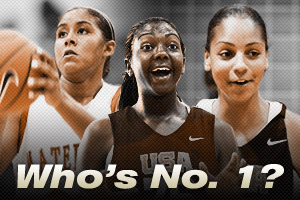 Elizabeth Williams (center) is in a class by herself.
She may have no athletic peer in the class. She is a dominant defender, albeit one with an improving offensive touch, and she plays post, the most difficult position to fill at the college level.
Now Elizabeth Williams is also No. 1 in ESPN HoopGurlz's initial ranking of the 2011 class.
The 6-foot-3 Williams, of Virginia Beach, Va., fended off No. 2 Kaleena Mosqueda-Lewis of Anaheim, Calif., and No. 3 Cierra Burdick of Matthews, N.C., in what was the tightest, three-way, star-spangled battle for the top spot in the history of HoopGurlz rankings.
All three were named to the first-ever USA Basketball U16 team that will compete in the Americas championship in Mexico City, Aug. 10-14. They were among nine members of the USA team to make the Terrific 25. The rankings for 2011 will be expanded to the Super Sixty in August.
• Complete ESPN HoopGurlz Terrific 25 for 2011
California and Florida led the way with six ranked players apiece. Both No. 6 Amber Henson of Tampa, Fla., and No. 8 Kayla Brewer of Jacksonville, Fla., made the top 10 in a banner year for the Sunshine State. Among the Californians is Mosqueda-Lewis' teammate at Mater Dei High School, Alexyz Vaioletama, who is ranked No. 18.
Mosqueda-Lewis, Vaioletama and another Mater Dei teammate, Jordan Adams, a classs of 2012 point guard, are teammates on the USA Basketball U16 team.
Until now, Jaime Printy of Marion, Iowa, at No. 78 in 2009, had been the only Iowan ranked by HoopGurlz. In 2011, there are two in the top 20. Kiah Stokes, who comes from Printy's high school in Linn-Mar, Iowa, is No. 11, while Taylor Greenfield of Huxley, Iowa, is 17th.
Others in the top 10 are No. 4 Krystal Forthan, who transferred cross-country from Jefferson High in Portland, Ore., to St. Michael Academy in New York City, No. 5 Ariel Massengale of Bolingbrook, Ill., the top-ranked point guard in the class, No. 7 Briyona Canty of Willingboro, N.Y., the No. 2 point guard, No. 9 Kacy Swain, a sweet-shooting wing-forward from Temecula, Calif., and No. 10 Bria Smith, the lightning-quick guard from Massapequa, N.Y.
ESPN HoopGurlz Ranking Panel
Lisa Bodine is a national evaluator for ESPN HoopGurlz. A native of Queens, N.Y., she began her coaching career in 1993 with the NY Gazelles, has coached with D.C.-based Team Unique, and in 2009, she was named DAC Co-Coach of the Year after leading Wakefield Country Day School in Flint Hill, Va., to its first-ever conference title. She can be reached at lisa@hoopgurlz.com.
Chris Hansen is the National Director of Prospects for ESPN HoopGurlz, and covers girls' basketball and women's college-basketball prospects nationally for ESPN.com. A graduate of the University of Washington with a Communications degree, he has been involved in the women's basketball community since 1998 as a high-school and club coach, trainer, evaluator and reporter. Hansen can be reached at chris.hansen@espn3.com.
Mark Lewis is the National Recruiting Coordinator for ESPN HoopGurlz. Twice ranked as one of the top 25 assistant coaches in the game by the Women's Basketball Coaches Association, he has more than 20 years of college coaching experience at Memphis State, Cincinnati, Arizona State, Western Kentucky and most recently, Washington State. He can be reached at mark@hoopgurlz.com.
Glenn Nelson is a senior writer at ESPN.com and the founder of HoopGurlz.com. A member of the Parade All-American Selection Committee, he formerly coached girl's club basketball, was the editor-in-chief of an online sports network and was a longtime, national-award-winning newspaper columnist and writer. He can be reached at glenn@hoopgurlz.com.
Kelvin Powell is a national evaluator for ESPN HoopGurlz. A former coach and club-program director, he operates Roundball Journal, a leading prep scouting service, and is a contributing editor at SLAM Magazine, as well as a member of the McDonald's All-American and the Gatorade National and State Player of the Year selection committees. He can be reached at kelvin@hoopgurlz.com.
Mindi Rice is a staff writer for ESPN HoopGurlz. She previously was an award-winning sportswriter at the Tacoma News Tribune and a barista at Starbucks, and grew up in Seattle, where she attended Roosevelt High School before graduating from the University of Oregon with a degree in journalism. She can be reached at mindi@hoopgurlz.com.