CHANDLER, Ariz. -- The 2009 Nike Tournament of Champions kicked off on Friday, spanning seven courts at six different venues. With the first day in the books, ESPN HoopGurlz highlights three of the top performers from three of those gyms -- Basha High School, Hamilton High School and Perry High School.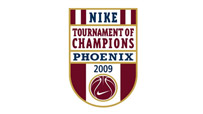 Danielle Ballard
Memphis Central High School starts a youthful, yet explosive backcourt of sophomores Danielle Ballard and Aaliyah Whiteside and freshman Nina Davis. All bring something to the table that's different. Against H.D. Woodson on Day One of the Nike TOC, Ballard stood out, even though Whiteside led all scorers with 18 points.
The start for Ballard was a bit rocky. Her aggressive style against a fresh and well-placed defense led to over-penetration and some blocked shots but as the game wore on her style helped control the tempo and flow of the game. As defenders legs grew weaker, hers seemed to get stronger. The help defense simply couldn't react quickly enough to stop the 5-foot-8 guard. Whenever they did, she elevated and scored with floaters and off-balance runners. She plays taller than her listed height and already plays with the strength of a college player.
Ballard seems to be more comfortable playing almost exclusively on the wing this year as opposed to a year ago when she was playing a lot of point guard. The lefty is shooting the ball from behind the 3-point arc with more confidence. She has a swagger about her.
Defensively Ballard is pretty solid both on the ball and jumping passing lanes. There is another level she can reach with her natural gifts. Her physical style could lead her to be a lock down defender if she so chooses. She traps aggressively in head coach Nicco Bray's pressure defenses without too many silly reaching fouls and can anticipate the pass out of the trap well as well. There aren't many times when she's not the best player on the court and as she plays so will her teammates so being more vocal on the court, especially on the defensive end could be key to Memphis Central's ascent among the nation's elite high school teams in the coming years. The offense seems to take care of itself.
Melissa Zornig
First-round tournament games are always great for unveiling who will be the scorers to watch. Melissa Zornig of Santa Margarita (Calif.) revealed herself as just that. She was masterful at producing points and keeping her team in the driver's seat. She was aggressive, created scoring opportunities for herself, and always led with a strong first step. The 5-9 guard's intuition to get to the rim, combined with her will to win, not only led to oodles of points, but also created scoring opportunities for teammates as well.
Zornig was a threat off the bounce as she bullied her way to the rim. Her touch also was impressive as the ball found its way the bottom of the net on several open jumpers. She looked very composed as she pushed the ball in the open court and picked up many contested transition buckets. Look for the UCSB-bound senior to continue to put up big numbers throughout the tournament and run the table for Santa Margarita.
Diamond DeShields
You know you're doing something special if you stand out in the Joe Smith Division at the Nike Tournament of Champions. That's even truer if you do it in a losing effort, even more so on a losing team and you just happen to be a freshman. If all of that is true coaches, fans, and anyone else in the gym is going to take notice. Diamond DeShields of Norcross High School (Ga.) may not have been able to help her team pull off an upset of HoopGurlz High School Nation top-ranked St. Mary's (Calif.) but she certainly solidified herself as one of the premier players nationwide in the 2013 class.
At 6- 1, DeShields has the size, build, and athleticism that already set her apart from most players on the high school level. Her speed gets her out ahead in transition and her agility allows her to navigate traffic both in the backcourt and the paint. Most impressive may well be her ability to get off the floor. Whether it's finishing at the rim, pulling a rebound or simply snagging a bad pass, she elevates above the crowd. While her body control is impressive there are times where her high-flying evasion tactics throw off her balance and ability to finish. It's a nice problem to have and one that will correct itself through maturity and experience.
Though she may not be ready to take over the point guard spot; DeShields is a solid ballhandler and destined to play the perimeter in the near and distant future. Comfortably attacking off the dribble against St. Mary's relentless pressure, she demonstrated good skills with both hands and was able to create scoring opportunities for herself and her teammates. Her ability to deliver the ball and decision making on some crosscourt passing may need some sharpening to cut down on the costly turnovers that plagued Norcross in their first round match up. She's got good form on her shot and the range to force defenders to match up beyond the three point line.
Defensively her size, lateral speed and wingspan make her a formidable on ball defender. She can stay in front of most ballhandlers and has the ability to get a hand on both passes and shots. St. Mary's standouts Chelsea Gray and Afure Jemerigbe were able to get her out of her stance and penetrate at times but her defensive potential will become reality as she faces the challenges of her first varsity season and more experienced competition like she faced Friday.
Follow us on Twitter, where you can ask questions and get instant updates.
Become a fan of the site on Facebook and get updates in your news stream.
Discuss this on our Message Board
Chris Hansen is the national director of prospects for ESPN HoopGurlz and covers girls' basketball and women's college basketball prospects nationally for ESPN.com. A graduate of the University of Washington with a communications degree, he has been involved in the women's basketball community since 1998 as a high school and club coach, trainer, evaluator and reporter. Hansen can be reached at chris.hansen@espn3.com.
Kara (Harrison) Howe founded and coached in the Utah Sky club program, which sent several players, including sister Michelle, now a junior at Stanford, to Division I schools. She played college basketball at Utah Valley State, was an all-state performer at Alta High School in Sandy, Utah, and coached high school in the Salt Lake area. Howe can be reached at kara@hoopgurlz.com.
Mark Lewis is the national recruiting coordinator for ESPN HoopGurlz. Twice ranked as one of the top 25 assistant coaches in the game by the Women's Basketball Coaches Association, he has more than 20 years of college coaching experience at Memphis State, Cincinnati, Arizona State, Western Kentucky and, most recently, Washington State. He can be reached at mark@hoopgurlz.com.