CHANDLER, Ariz. -- This year's battle for supremacy at the Nike Tournament of Champions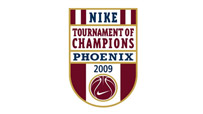 isn't one of the region versus region battles of the past few years. It isn't even a battle between states.
Instead, the four teams who will duke it out in Monday's semifinals all hail from the Golden State, giving the California Interscholastic Federation an impromptu preview of how a state TOC might look. But California's dominance, while not entirely surprising, wasn't a guarantee, as three of the teams came within a couple missed shots of being displaced by a team from the Eastern half of the country.
Brea Olinda (Brea, Calif.), which never led by less than seven points in the fourth quarter, had the easiest time of things, holding off No. 6 Mt. Lebanon (Pittsburgh) 58-47 on Saturday. But the Ladycats' semifinal opponent, No. 1 St. Mary's (Stockton, Calif.), had a much tougher time shaking No. 9 Memphis Central (Memphis, Tenn.) 76-73.
The Warriors jumped out to a quick 8-0 lead on St. Mary's before senior Alle Moreno scored 11 points in a minute and a half, giving the Rams a quick edge. But St. Mary's was never able to fully distance itself from the young, tenacious Memphis Central squad, which was led by 25 points from sophomore Nina Davis.
Senior Allie Gibson hit the eventual game-winning bucket with 58 seconds remaining and Afure Jemerigbe pulled down three of her team-high nine rebounds during the final minute keep an easy bucket out of the hands of Memphis Central.
Jemerigbe and Chelsea Gray, St. Mary's well-known threats, finished with 20 points each, while Moreno finished with 16, including four threes.
"Coach told us, if ever this is the time to grow up, we are seniors and we need to lead our team in the tournament," Moreno said. "It's basically like the state championship to us."
If it wasn't for the TOC, the only teams which would run into each other in the playoffs would be Mater Dei (Santa Ana, Calif.) and Brea Olinda, as both are Division II teams. Long Beach Poly (Long Beach, Calif.) is in Division I and St. Mary's is a Division III program.
No. 2 Mater Dei didn't dominate against Riverdale Baptist, either, staying just one step ahead of the Crusaders for much of the fourth quarter and winning 66-56 on the shoulders of junior Kaleena Mosqueda-Lewis.
"It's kind of like 'We have Kaleena and you don't, so we won,' " Mater Dei coach Kevin Kiernan said. "It basically came down to that, like [Connecticut coach Geno] Auriemma used to say with [Diana] Taurasi, 'We have her and you don't'.' Well, we had her and we won."
After picking up three fouls in the first half, Mosqueda-Lewis finished with a game-high 25 points, including 18 in the fourth quarter. The Crusaders narrowed Mater Dei's lead to three on three consecutive possessions, but each time Mosqeuda-Lewis answered with a bucket of her own, scoring 18 of the Monarch's 25 fourth-quarter points, including 4-of-4 from the line, to hold the lead.
Mosqueda-Lewis, ranked No. 2 in the 2011 class by ESPN HoopGurlz, almost got a Monday date with Bria Smith, the No. 5 player in the same class, as Smith's Christ the King (Middle Village, N.Y.) squad battled No. 5 Long Beach Poly right to the end. Despite 19 points from Penn State-bound senior Ariel Edwards, Christ the King couldn't pull out a victory as the Jackrabbits beat their second New York opponent in a week, 58-54.
Sheila Boykin, who was named tournament MVP at the Iolani Classic a week ago, led Poly with 15 points. The Jackrabbits knocked off then-No. 2 St. Michael Academy (New York City) in the Iolani championship Dec. 12 and will face the new No. 2, Mater Dei, on Monday.
"People always say East Coast is where basketball's at and where everybody's toughest, but I think California's showing out right now," Mosqueda-Lewis said.
Follow us on Twitter, where you can ask questions and get instant updates.
Become a fan of the site on Facebook and get updates in your news stream.
Discuss this on our Message Board
Mindi Rice is an ESPN HoopGurlz staff writer. She previously was an award-winning sportswriter at the Tacoma News Tribune and a barista at Starbucks, and grew up in Seattle, where she attended Roosevelt High School before graduating from the University of Oregon with a degree in journalism. She can be reached at mindi@hoopgurlz.com.