The College World Series, during which the final eight college baseball teams will fight for the 2014 national championship, is here. Eight teams -- Louisville, Ole Miss, TCU, Texas, Texas Tech, UC Irvine, Vanderbilt and Virginia -- survived the carnage of the regionals and super regionals and will start their journey through the College World Series this weekend.
Omaha, Nebraska, which has hosted the College World Series since 1950, has been home to some of the greatest individual performances in baseball history, and is known for launching the careers of many future Major League Baseball greats.
This season, the future of baseball will again be on display in Omaha. But before we get there, ESPN has brought together five of its top college baseball and MLB draft experts to count down the top 25 big leaguers who had an impact on the College World Series. Although college prowess was weighted most heavily in the voting, an extraordinary major league career boosted several players' résumés.
Meet the panel
• Keith Law is a senior baseball analyst for ESPN Insider and is ESPN.com's MLB draft guru.
• Ryan McGee is an ESPN The Magazine senior writer and the author of the 2009 book "The Road to Omaha: Hits, Hopes, and History at the College World Series."
• Kyle Peterson is an ESPN college baseball analyst and was a two-time CWS participant at Stanford (1995 and 1997).
• Jeremy Mills is an ESPN researcher who writes ESPN.com's college baseball bracketology.
• Eric Sorenson is a regular ESPN.com college baseball contributor, an Omaha native and a creator/writer for CollegeBaseballToday.com.
Join ESPN.com every day from now until the start of the CWS on June 14 as we release one Omaha legend per day (from No. 25 to No. 1) for the next 25 days. Then join the conversation by following @ESPNU on Twitter and using #CWS25.
Dave Winfield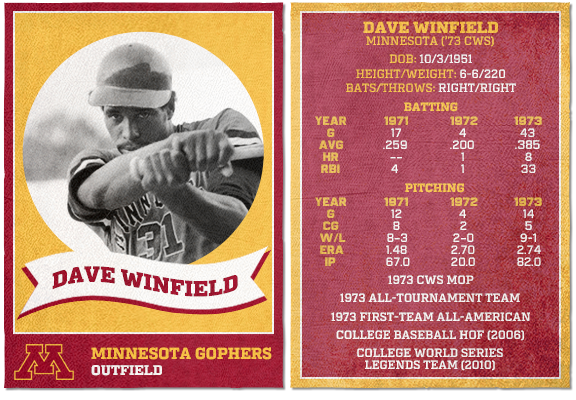 To ask a longtime attendee of the College World Series about seeing Winfield at Rosenblatt Stadium is to elicit descriptions that sound like the crowd witnessed Superman outrun a locomotive or Thor drop his hammer.
"Well, first of all, he just looked gigantic," recalled Fred Lynn, the Southern Cal outfielder who faced Winfield's Minnesota Golden Gophers in the 1973 College World Series. "He was 6-6 and the ballpark felt small anyway, so when he was pitching it made the ball look like it was coming in at 200 mph."
Wait, did he say pitching? Why yes, yes he did. The man who would eventually collect 3,110 hits and 465 homers in the big leagues made his first impression as a bat-breaking college pitcher. During Winfield's All-American 1973 season he batted .385 and posted a 9-1 win-loss record with 109 strikeouts in 82 innings.
He opened up the '73 CWS by whiffing 14 batters in a 1-0 victory over Oklahoma. In the Gophers' second win he hit a homer against Georgia Southern that Omaha legend claims landed among the animals in the Henry Doorly Zoo next door. In all, he hit .363 in four games.
It was in that fourth game that Winfield's CWS legend was solidified. On the mound for the semifinals against three-time defending Series champ USC, Winfield struck out 15 through eight innings, allowing just one infield hit, and built a 7-0 lead. In the ninth, a would-be double-play victim was ruled safe at first. Winfield, visibly exhausted, surrendered a couple of more hits and was sent to left field. His relievers surrendered a pair of runs, so Winfield called timeout and asked to be put back on the mound. But knowing his ace was too tired, head coach Dick Seibert declined. Minnesota ended up losing 8-7 and was eliminated. Still, Winfield was voted CWS Most Outstanding Player.
"Even after all these years, I still remember everything about that USC game," Winfield said in 2010. "Everything. And I always will."
Fortunately for Winfield, the people of Omaha haven't forgotten anything about that game, or his entire 1973 performance. Nearly 30 years later, they elected him to the CWS Legends team. In 2006 he was voted a member of the first College Baseball Hall of Fame class.
-- Ryan McGee
Robin Ventura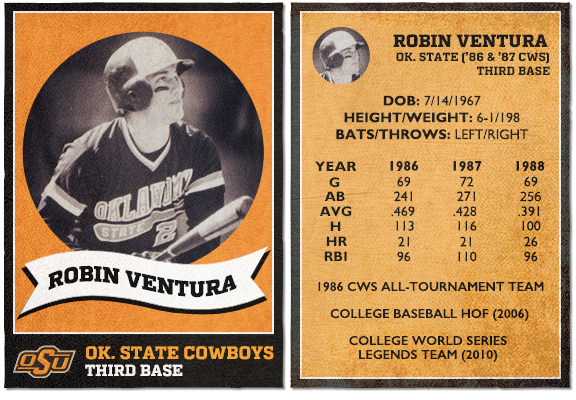 Over the decades, so many players have stepped onto the field at Rosenblatt Stadium with the added extra weight of lofty expectations and the extra heat that comes with one of the biggest spotlights in baseball. Guys who were picked high in the draft just as they deplaned in Omaha, or guys who have won either the Golden Spikes Award or the Dick Howser Trophy, which is awarded in Omaha just as the College World Series is beginning.
However, it could be argued that no one took the field at The Blatt with more pressure than Robin Ventura in 1987. It was Oklahoma State's second consecutive College World Series trip, and the Cowboys were the favorites to win it all. The biggest reason was the bat of their three-time All-American, who entered Game 11 hitting .432 on the season. But the reason for the extra attention was the fact that he was riding a 58-game hitting streak, smashing the previous college record by 11 games and counting. Even Joe DiMaggio, owner of the MLB hitting streak record with 56, said that he was impressed.
Unfortunately, his opponent in that game was Stanford ace and future Chicago White Sox teammate Jack McDowell, and Ventura made contact in his first four at-bats but had no hits to show for it. In his fifth and final at-bat, he reached base on a shot to second baseman Frank Carey, who bobbled it before throwing it wildly toward first. The play was ruled a two-base error by legendary CWS official scorer Lou Spry. The crowd booed. Ventura did not.
"I knew it was an error all the way," Ventura says now, but admits that he still makes sure to jab Spry when he sees him in Omaha. "Plus, we won the game and it put us in the championship. That's all I cared about."
The Cowboys lost to Stanford in the rematch, but Ventura's place in college baseball history was cemented. When the inaugural College Baseball Hall of Fame class was announced in 2006, Ventura was on the roster. And in Lou Spry's home office in Kansas City, an impromptu college baseball museum, he proudly displays a photo of the streak-ending play at first. It's signed by Ventura.
"Good call, Lou!"
-- Ryan McGee
Mark Kotsay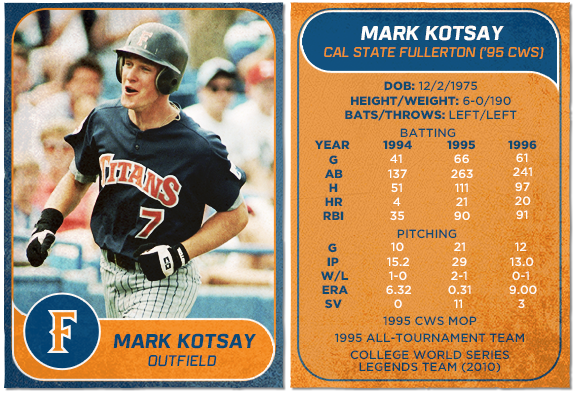 The annals of the College World Series are filled with one-man wrecking balls, those best-of-the-best players who put on such solo shows that even decades later, the people of Omaha still shake their heads in disbelief when they tell the tales. And no single performance inspires more head shaking than the Mark Kotsay showcase of 1995.
The lefty led Cal State Fullerton to its eighth and ninth College World Series appearances in 1994 and 1995 with both his bat and his arm. In '94 he tied the CWS single-game record for RBIs, driving in seven against Florida State in the second round. But it was in '95 that he became an Omaha legend. The sophomore outfielder had already won the Golden Spikes Award via 111 hits, 21 homers, 90 RBIs, throwing in 11 saves and an ERA of 0.31 in 29 innings pitched for good measure. Once they arrived at Rosenblatt, he led the Titans to their third CWS title by hitting .596 over four games with a then-record 1.250 slugging percentage.
In the national championship game against USC -- then a one-game, winner-takes-all affair -- he stroked two home runs, drove in five and, oh the way, also recorded the final five outs as closer. The Titans won 11-5. After the final out, Kotsay ended up on the bottom of the dog pile, the only time he'd be below anyone else when it came to College World Series history.
"For the 60th anniversary of the College World Series, the people of Omaha voted on their favorite teams and players," recalled Augie Garrido, who was Kotsay's head coach at Fullerton and will lead Texas in this year's Series. "They voted that '95 team as their favorite team and Mark Kotsay as the all-time best player. And I don't think you'll find many people to ever argue with you on that."
-- Ryan McGee
Barry Bonds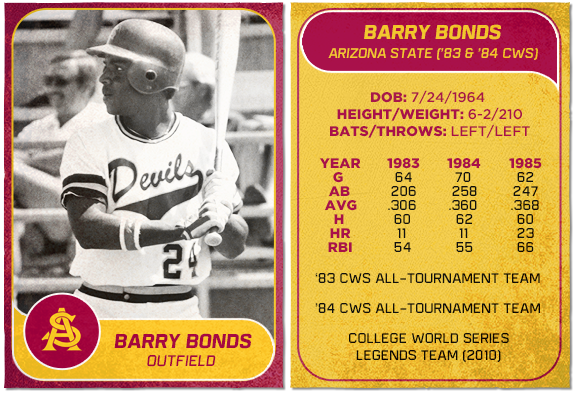 It could be argued that Barry Bonds was born into this world with more heavy expectations than nearly any other athlete in history.
Why? Because when your father is Major League Baseball All-Star Bobby Bonds, your cousin is Hall of Famer Reggie Jackson and your godfather is legendary player Willie Mays, expectations can be daunting.
But Barry Bonds ended up being named an MVP seven times, winning eight Gold Gloves, appearing in 14 MLB All-Star Games and breaking some of the most hallowed records in the sport before his career was done. Suffice it to say, Bonds exceeded all the expectations and all the pressure, becoming one of the most clutch hitters in baseball history.
Before he became a household name in the bigs, Bonds was a two-time All-American at Arizona State and led the Sun Devils to the College World Series in both the 1983 and 1984 seasons, making deep runs through the brackets each time. Bonds did his part, setting a College World Series record with hits in seven consecutive at-bats. Although the Devils didn't make it to the championship game, Bonds was named to the CWS all-tournament team in both appearances.
While in an ASU uniform, Bonds hit .306, .360 and .368 and had 45 home runs in his career before being selected sixth overall by the Pittsburgh Pirates in the 1985 draft. In his 22-year professional baseball career, Bonds had a soap-opera-crossed career. He found fame, notoriety, acclaim, wild success, scrutiny and controversy while becoming the most well-known baseball player of his time.
Bonds had his number retired at Arizona State in 1993.
-- Eric Sorenson
Pete Incaviglia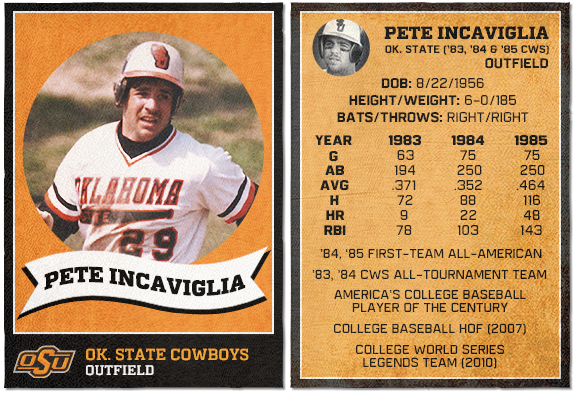 "Inky" sounds like the name of a traveling circus, or a children's cartoon, right? But mere mention of the nickname to any college baseball fan brings to mind tape-measure home runs and yearly visits to Rosenblatt Stadium with the black and orange of Oklahoma State.
In the world of college baseball, Incaviglia's legend has only grown as the years have passed. With the bats deadened like they are now, his records will likely never get surpassed. It's just as well; we like to keep our legends that way anyway. Either way, Incaviglia's 48 home run season of 1985 is a record that is nearly chiseled in stone. Even in the "live bat" era of the 1990s, that mark was never in serious danger. Along with that, he also set the single-season record with 143 RBIs and a dizzying 1.140 slugging percentage.
Although he is considered the greatest power bat in the history of college baseball, people forget just how good of an overall hitter he was. Sure, it's easy to point to the mind-numbing number of home runs, which was 100 over three years, but he also hit .371 as a freshman, .352 as a sophomore and an astronomical .464 in his final season. No wonder Inky was voted the college baseball Player of the Century by Baseball America. He was also voted into the College Baseball Hall of Fame in 2007.
The Cowboys made a good run in the College World Series in each of the years Incaviglia was in uniform, but they never could win the national title. Following his time in Stillwater, Inky was drafted eighth overall by the Montreal Expos and was immediately traded to the Texas Rangers. He became the 15th player to never have played a single day in the minors before the big leagues.
His 12-year career included 206 home runs, 30 of those his rookie year, but he never did hit better than .274 in any one season. He played on the 1993 Philadelphia Phillies team that went to the World Series.
-- Eric Sorenson
Bob Horner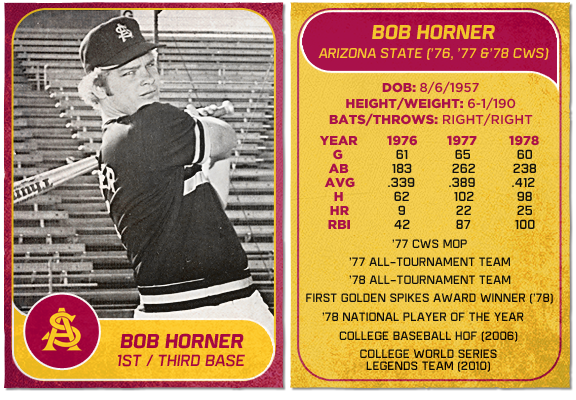 About the same time that Tanner Boyle and Timmy Lupus were flashing their golden locks for the "Bad News Bears" on the silver screen, Bob Horner was doing the same in Omaha for his Arizona State Sun Devils. But unlike those Bears, Horner could play some baseball. And yes, he was just plain bad news for his opponents.
ASU appeared in the College World Series in all three seasons (1976-'78) that Horner manned the cleanup spot in the lineup. He was part of one of the most formidable batting orders in CWS history, teaming with mercurial leadoff man Rick Peters, fellow power swinger Chris Bando and do-it-all threat Hubie Brooks in 1977, when ASU won the national title.
But Horner was truly a cleanup man if there ever was an example. In three seasons in Tempe, Horner smashed 56 home runs and drove in 229 runs. In the '77 season alone, Horner led the nation with 102 hits, 22 home runs and 87 RBIs. He also earned MVP honors at the College World Series as the Devils defeated South Carolina 2-1 for the national title.
He followed that up in 1978 by earning the inaugural Golden Spikes Award after posting a line of .412 BA, 25 HRs and 100 RBIs and leading ASU back to Omaha. The Devils went all the way to the title game but lost to USC that year. Horner made the All-CWS team for the second straight year.
The big bopper was taken first overall in the 1978 draft by the Atlanta Braves. Horner made an immediate impact in the bigs, going on to pull in rookie of the year honors in that same season. He spent eight years with the organization, then one year with the St. Louis Cardinals before retiring in 1988.
-- Eric Sorenson
Roger Clemens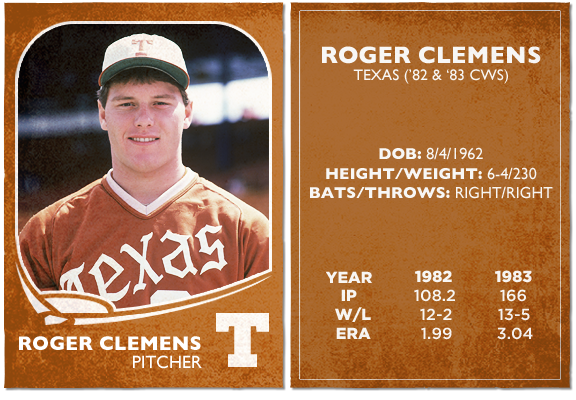 You can still feel his steely glare from the mound.
The Rocket spent two years imposing that glare on trembling opponents at the University of Texas for the 1982 and 1983 seasons. He teamed with Calvin Schiraldi and Mike Capel to form one of the best pitching rotations in college baseball history, which also made a trip to Omaha each season a foregone conclusion. Clemens went 25-7 in his two seasons in Austin, helping the Longhorns to a combined record of 125-20 in those two campaigns.
Let that sink in for a minute. That's 125 wins in two seasons.
Clemens was actually selected in the 12th round of the MLB draft out of high school, but chose to go the college route, suiting up for one year at San Jacinto College in Houston for coach Wayne Graham (now the head coach at Rice). He transferred to Texas for his sophomore and junior seasons, where his Longhorns teams dominated college baseball. In 1982, the Burnt Orange went 59-6 and made it to Omaha in a breeze. But once there, they went 2-2 and were eliminated in the semifinals by Wichita State.
As a junior, Clemens and Co. were on a mission. They pitched their way to a 61-14 mark to get to Omaha, and once there they blitzed the field with five straight wins. Clemens was on the mound for the national title game against Alabama, which had the hottest hitter in the country in Dave Magadan. But behind Clemens' stout pitching and the Longhorns' clutch hitting, they stemmed the Tide, 4-3.
Clemens was the 19th pick in the 1983 draft and certainly went on to even greater achievement in the big leagues than he did in his days at UT, posting 354 career wins and 4,672 punchouts. His most famous outings were his two 20-strikeout performances, the first of which occurred on April 29, 1986, in a complete game vs. Seattle. He did it again a decade later on Sept. 18, 1996, at Detroit, to become the first pitcher to pull the 20-strikeout feat twice in a career.
But to Clemens, nothing compared to that CWS title in 1983. "To win a national championship is one thing," he said last season at a ceremony to commemorate the 30th anniversary of the 1983 title. "To win a national championship at the University of Texas is a big thing."
-- Eric Sorenson
J.D. Drew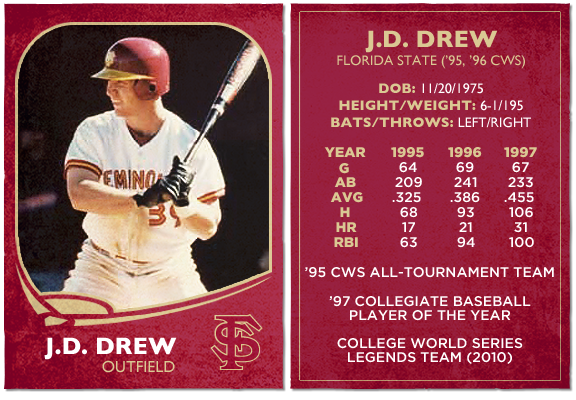 The movie poster of his life could say, J.D. Drew: Fence-buster. Base-stealer. Doubles-robber. Heartbreaker.
It would show the Hahira, Georgia, product slamming home runs, making a head-first slide into second base, diving for a catch in the outfield gap, and just for kicks, it'd show him selling popcorn in the stands too because he did just about everything while he was a Florida State Seminole.
It means a lot when FSU skipper Mike Martin calls you "the best player I have ever coached." What is even more astounding is that coach Martin made that statement on media day in 1995, when Drew was a freshman and had yet to hit the field. In his three years in Tallahassee, Florida, Drew hit .391 with 69 home runs and still holds school records for best on-base percentage (.521) and slugging percentage (.789).
It was Drew's 1997 junior season that became one for the ages as he was the first player in Division I history to record a 30-30 season, with 31 home runs and 32 stolen bases. He also hit .455 and became the third player in Division 1 history to log a "triple-triple" by collecting 110 hits, 106 runs scored and 100 RBIs. And of course, he was honored with the Golden Spikes Award and was named Player of the Year by Collegiate Baseball, Baseball America and The Sporting News.
Though the Seminoles didn't make it to the College World Series in his final year at FSU, Drew did lead them to Omaha in both his freshman (1995) and sophomore (1996) seasons. In his first game in Omaha in 1995, Drew hit a walk-off, two-run homer against defending national champion Oklahoma's ace pitcher Mark Redman to give FSU a 3-2 win. Not a bad debut on college baseball's main stage, right?
Drew ended up being the second overall pick in the 1997 MLB draft. He played 14 seasons in the big leagues. In 2007, Drew was a member of the Boston Red Sox's World Series-winning team, and he won the All-Star Game's MVP award in 2008. Oh, he also hit the second longest home run in Fenway Park history, a 500-foot salvo.
Now that would make a pretty good movie.
-- Eric Sorenson
Terry Francona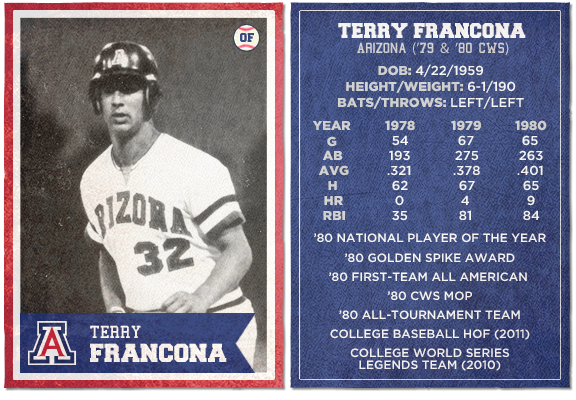 You've heard the term "born leader," right? Well, No. 9 on our list is a textbook example of that. No matter what level of baseball he has been involved in, Francona has been a natural leader. Be it as a high school player, a college player, professional player or pro baseball manager, Francona has always found himself at the top rung of the sport.
The son of Tito Francona, who played in the major leagues for 14 years for nine teams, Terry grew up outside Pittsburgh and hit .768 and .700 in his final two seasons of high school ball. That was good enough to get Francona drafted by the Chicago Cubs in the 22nd round. But the Cubs, notorious cheapskates back in those days, offered Terry only $19,000 to sign with them.
Francona was easily persuaded by Arizona Hall of Fame head coach Jerry Kindall to come to Tucson for college instead. Francona led the Wildcats to a pair of College World Series appearances as a sophomore and a junior. In 1979, Francona's sophomore year, the Cats opened the CWS with a 5-1 win over No. 1-ranked Miami, which came in with a 55-9 record, but they were blown out in both of their next two games to be eliminated. Revenge would soon be theirs.
In his junior year, Francona led Arizona to its second straight College World Series appearance, but the Cats were soundly whipped in the opening round by St. John's 6-1. That's when everything changed. Francona got a hot bat, and the Cardiac Cats won five straight games to claim the national title. Francona was named the series MVP after he hit .458, including going 5-for-5 in a wild 10-9 semifinal win over Pac-10 rival Cal.
While he was in Omaha that week, Francona was drafted for the second time, this time taken by the Expos with the 22nd overall pick. He went on to play in the MLB for 10 seasons for five teams. Of course, his most famous accomplishment was his ability to take over as manager of the Boston Red Sox and lead the organization to its first World Series title since 1918 in his first year.
-- Eric Sorenson
Dustin Ackley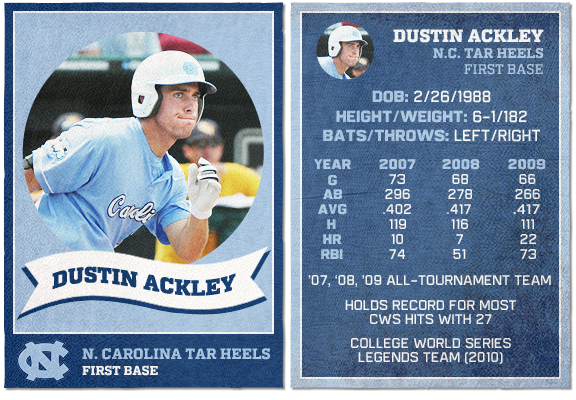 Those who study the sweet science of hitting should probably study film of Dustin Ackley's visits to Omaha each June. The North Carolina slugger played in the June Classic all three of his seasons in Chapel Hill, leading the Tar Heels to eight CWS wins, including a run to the championship round in his freshman year of 2007.
Omaha has never seen a more prolific hitter than "The Dust" in his Carolina days. Ackley was so effective on the big stage and the Heels made such deep runs in Omaha that Ackley was able to set the College World Series high-water mark with 28 career hits (since equaled by South Carolina's Christian Walker). He was the first player to be named to the All-CWS team three times.
The phrase "freshman phenom" may have been used for many years before but it was never more appropriate than when Ackley first strapped on the cleats for the Tar Heels and commenced to setting the college baseball world on fire. Initially a shortstop when he came to Chapel Hill, he was later moved to center field and eventually to his noted position at first base. Ackley hit .402 that first year and led the nation with 119 hits and 296 at-bats in 73 games played.
Ackley's velvet-smooth swing allowed him to hit over .400 all three seasons at North Carolina, which is pretty amazing considering he may have seen only 10 or 12 "good" pitches to swing at after his freshman season. He was the second overall pick of the 2009 MLB draft by the Seattle Mariners. He never spent a day in Class A or rookie ball, jumping up to Double-A for the 2010 season. He made his major league debut in June 2011 and is still with the Mariners.
-- Eric Sorenson
Will Clark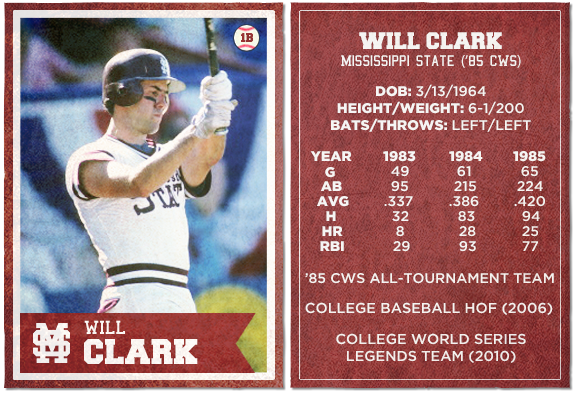 Somewhere, Will Clark chuckles. Why? Because if he has been following our #CWS25 countdown (and who hasn't, right?), then he has no doubt taken notice that his old Mississippi State teammate, Rafael Palmeiro, is ranked fourteen spots lower. Like it or not, those two will always be linked. But it's Clark who has always managed to get the last laugh. Just as he always got the big hit.
In three years at Mississippi State he had 209 hits, racked up via a career batting average of .391. His final season, he hit a whopping .420, becoming the first SEC player to win the Golden Spikes Award (awarded to college baseball's best player). That year, he teamed with Palmeiro, Jeff Brantley, Bobby Thigpen, and College Baseball Hall of Fame head coach Ron Polk and took the Bulldogs to Omaha. They finished third in a bunkhouse stampede of a College World Series that was packed with future big league stars. Will the Thrill landed on the all-tournament team and 25 years later was named to the CWS Legends team. In 2006 he was a member of the inaugural class of the College Baseball Hall of Fame.
Even now, nearly three decades after he was drafted in the first round by the San Francisco Giants, Clark is one the most beloved and well-recognized athletes in Mississippi State history. And even now, the awards keep piling up. But perhaps his greatest legacy is what has happened to Southern baseball in his wake.
"People forget this now, but forever college baseball was really a Western sport," Clark explained last year, as his old team made it to the College World Series championship series. "But because of what coach Polk was able to build in Starkville and then what they did at LSU right after that, SEC schools really woke up to what college baseball could become."
-- Ryan McGee
Mike Schmidt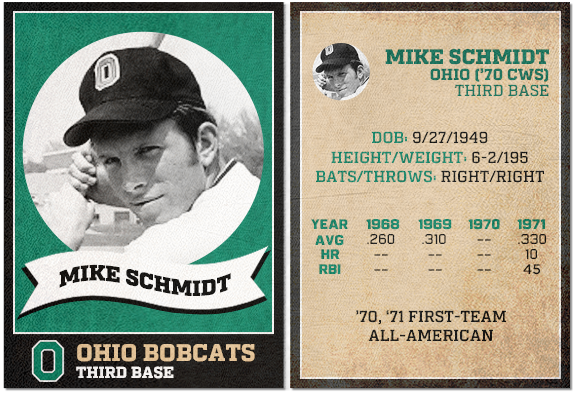 There are teams that jump off the page when you think about College World Series legacy programs. Ohio University is not one of those programs. But in 1970, the Bobcats jogged onto the field on the hill at Johnny Rosenblatt Stadium, led there by a shortstop who was much skinnier than the familiar frame we know now. But the eyes on the kid already had that unmistakable trademark glint.
Mike Schmidt came to Athens, Ohio, to play both basketball and baseball. He wasn't nationally recruited out of high school and hadn't even really considered a career in professional sports. A knee injury ended his basketball career, so he focused on baseball. A great summer league stint after his freshman year caused his summer coach to call Ohio U. and let head coach Bob Wren know how much his shortstop had improved. His instincts weren't wrong. Schmidt ended up closing out his four years in Athens with a .330 average, 27 (pre-metal bat) homers and back-to-back All-American honors in 1970-71. Those elections came largely on the notoriety he built by getting the '70 team to Omaha. Anyone who didn't take the underdog Bobcats seriously at the start of the CWS certainly did by the end of Game 1, when they knocked off the college equivalent of the New York Yankees. Ohio defeated a Rod Dedeaux-coached USC Trojans team 4-1. They also defeated Iowa State. Losses to Texas and Florida State sent them home with a fourth-place finish. Still, Schmidt (not to mention teammate Gary Shade) had gotten everyone's attention.
"Getting to Omaha was the highlight of my young life," Schmidt explained two years ago. "I mean, what's a better time for a kid than being a college junior, playing baseball, and getting your team to the biggest stage in the game?"
Um ... nothing.
-- Ryan McGee
Sal Bando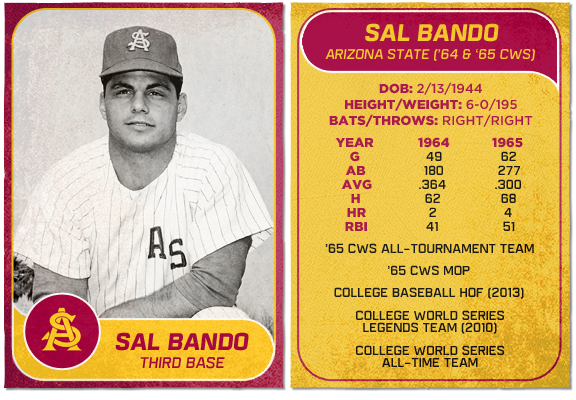 Never let it be said that taking the time to look out for a kid isn't worth it.
Sal Bando grew up in football-crazed Ohio and was convinced that the only route to a college scholarship was via the gridiron. But it was his baseball skills that caught the eye of a youth team sponsor, who also happened to be a math professor with ties to Arizona State. It was that sponsor who made a call to Sun Devils head coach Bobby Winkles. And soon young Sal and four of his teammates were moving 2,000 miles southwest to Tempe.
"I remember praying," Bando recently recalled, "I just hope I can compete on their level out there."
It's safe to say that the move worked out.
The 1964-65 Arizona State Sun Devils were steamrollers, crushing everything in their path between Tempe and Omaha. The man behind the wheel of that machine was Bando at third base. His performance in '64 was legendary enough, batting .364 and making it to Omaha. But the '65 ASU team is among the greatest in college baseball history, rolling to a then-record 54 wins and a College World Series championship. In the final game, it was Bando who tripled and then scored the CWS-clinching run against, naturally, Ohio State. He was named the CWS Most Outstanding Player and in 2010 was named to the CWS Legends team. That '65 team became the cornerstone upon which a legendary Arizona State baseball program was built.
-- Ryan McGee
Nomar Garciaparra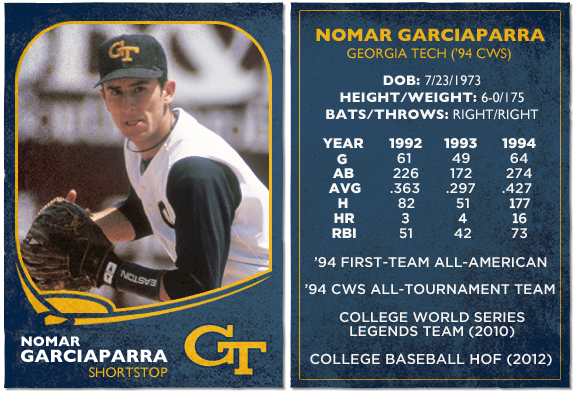 Before he made his living to shouts of "NO-MAH!" at Fenway Park, the pride of Whittier, California, turned double plays to cries of "NO-MARRR!" at Georgia Tech. He finished his first year in Atlanta as a Freshman All-American and the ACC Freshman of the Year. That was nice. He wrapped his second season as both an athletic and academic All-American. That was pretty good, too. But it was his junior year at Tech that boosted him from nice little college story to soon-to-be cornerstone for a legendary MLB franchise.
In 1994, Garciaparra hit .427, adding 16 homers, 73 RBIs and 33 stolen bases. He teamed with fellow All-American Jason Varitek to lead the Yellow Jackets to the College World Series that year, knocking off superpowers Cal State Fullerton and Florida State before falling to Oklahoma in the one-game final. In 2010, while he was in the TV booth as a College World Series analyst, he was named to the CWS Legends team.
"No-Nonsense Nomar, that's what they call him, right?" Varitek recalled with a laugh in 2010. "Well, that's it. He approached the game like a pro even when we were a long ways from being pros. That kind of approach kind of takes over the clubhouse. Other guys work hard because you don't want let a guy like that down."
-- Ryan McGee
Huston Street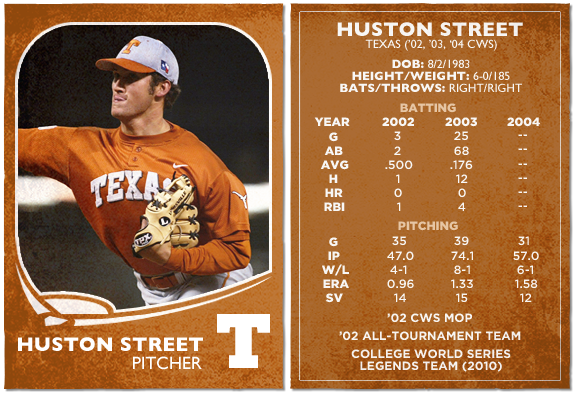 First of all, has there ever been a more Texas name than Huston Street? Forget that he was actually born on an avenue in Austin. The truth is that, no matter where he was born, he was destined to become a Longhorn. After all, his daddy is James Street, a dyed-in-the-wool UT hero, the quarterback who led the Horns to the 1969 national championship. A little more than three decades later, his son was a quarterback of the clubhouse.
"For a team to really become, well, a team, it must have that core guy," said Texas coach Augie Garrido, himself a member of the burnt orange royal coaching family. "I think it would be hard to find anyone who played on those Omaha teams of the early 2000s that would argue against the fact that Huston Street was our core guy."
Forget that Street often looked like Ant-Man as he took the mound against the big bats at Rosenblatt Stadium, like perhaps the equipment manager had managed to sneak into the game. When he unfurled his first breaking ball with the game on the line, there was nothing diminutive about it, a lesson that big league hitters would learn soon enough.
Street led Texas to three College World Series appearances in four years, earning his way onto an All-American team all four years. In 2002, he saved all four of the team's wins to cap its national championship season, earning the CWS Most Outstanding Player award. As that decade closed out and Rosenblatt closed with it, Street was named to the College World Series Legends team.
-- Ryan McGee
Fred Lynn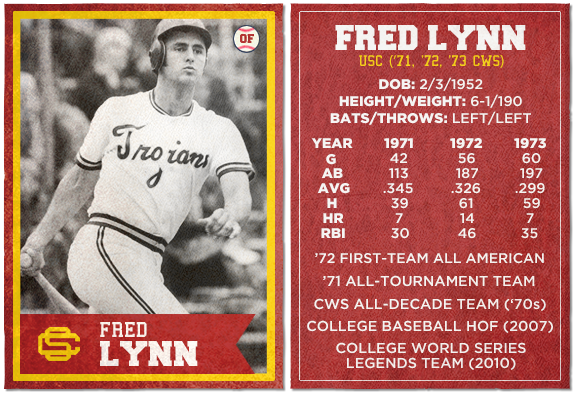 No program was ever more dominant at the College World Series than USC in the 1970s. Omaha became coach Rod Dedeaux's domain. He could've run for mayor and had a legit shot to win since he was nearly considered a resident with all the time he spent there in June. His infectious personality could win anyone over -- anyone besides an umpire, that is.
One of the big reasons Dedeaux's teams won the "Five Jewels in the Crown" from 1970 to 1974 was because of the leadership and talent of star outfielder Fred Lynn. All three teams Lynn played on won the national title, in 1971, 1972 and 1973. Lynn batted .320 for his career with 28 home runs and 111 RBIs. And yes, that was in the wood bat era of college baseball.
His College World Series career was capped by the most famous comeback in CWS history as USC overcame a 7-0 deficit by scoring eight runs in the ninth inning to beat Minnesota 8-7 in a 1973 semifinal game. Two nights later, the Trojans went on to win the national title over Arizona State 4-3.
Following the CWS, Lynn was chosen in the second round of the MLB draft by the Red Sox and made an immediate impact in the pros, becoming the first player in MLB history to earn Rookie of the Year and MVP honors in the same season. His 1975 season saw him finish second in the American League batting race with a .331 average, and he led the AL in doubles, runs scored and slugging percentage. He went on to become a nine-time All-Star and was inducted into the College Baseball Hall of Fame.
-- Eric Sorenson
Burt Hooton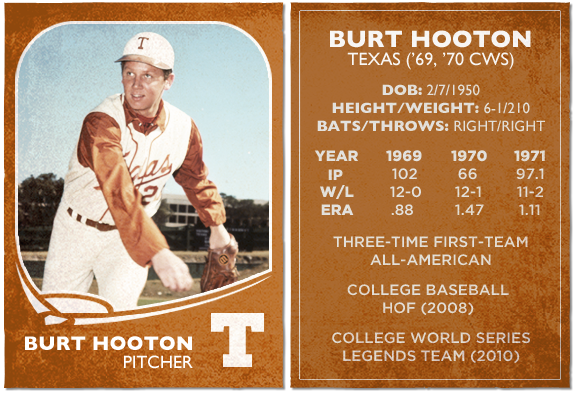 Halls of Fame and player of the year awards are fine. But when you get a nickname from Tommy Lasorda, you know you've made it in this world.
The longtime Dodgers maestro mockingly nicknamed Burt Hooton "Happy" because he never smiled, and he definitely knew how to put a frown on opposing batters' faces.
In college, the only thing Hooton didn't do was win a national title. But that didn't stop his ring-less fingers from working his confounding knuckle curve into the history books.
During his time with Texas, Hooton racked up a 35-3 career record, which included a pair of no-hitters and 13 shutouts. Hooton, considered to be the best college pitcher of his era, was also the first three-time All-American in Longhorns baseball history. Possibly his most famous performance came when he threw a complete-game one-hitter with 19 strikeouts in a 1-0 win over Texas Tech in March 1971.
When he got his team to Omaha in 1969 and 1970, Hooton was nearly impossible to hit, as witnessed by his 29 College World Series innings with only three walked batters. It's no surprise that the lanky Longhorn was inducted into the College Baseball Hall of Fame in 2008.
Hooton ended up as the second pick in the 1971 draft by the Chicago Cubs and is one of the rare baseball talents who never spent a day in the minor leagues. He made his professional debut with the Cubs on June 17 of that year and went on to a 15-year pro career that included 151 wins and 1,491 punchouts.
-- Eric Sorenson
Michael Roth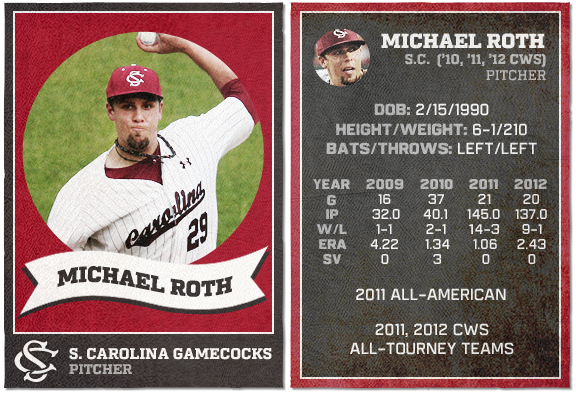 The greatest pitcher in College World Series history? Not going to get any argument here. Michael Roth and his South Carolina teammates became a fixture in Omaha. Even as the Series made its move from venerable Rosenblatt Stadium to the new downtown stadium, TD Ameritrade Park, there was no better arm to provide a smooth transition than the crafty, confident lefty.
Roth's name is littered all over the CWS record books. He has started the most games in series history (eight) and pitched the most innings (60.1), and he has the second-lowest ERA (minimum 30 innings) in CWS history (1.17).
The Omaha dominance Roth was going to have was evident from the beginning. In his first CWS outing in 2010, a loser-leaves-town elimination game, Roth confidently went out under the lights of the biggest stage in the sport and coolly spun a complete-game three-hitter versus rival Clemson for a 5-1 win. What made that performance more remarkable was that it was Roth's first career start.
South Carolina would go on to win two straight national titles in 2010 and '11 and play for a third with Roth as the team's Friday night ace. During the Gamecocks' three-year run through Omaha, Roth made 10 mound appearances, eight of them as the starting pitcher. In 2011, he went 14-3 with a rather tiny 1.06 ERA, which was the best in the nation for a starting pitcher. As a senior in 2012, he went 9-1 with a 2.43 ERA and got his third career starting assignment in the College World Series championship final in the 4-1 loss to Arizona. Roth was drafted in the ninth round by the Angels and is playing in Double-A with the Arkansas Travelers.
-- Eric Sorenson
Oddibe McDowell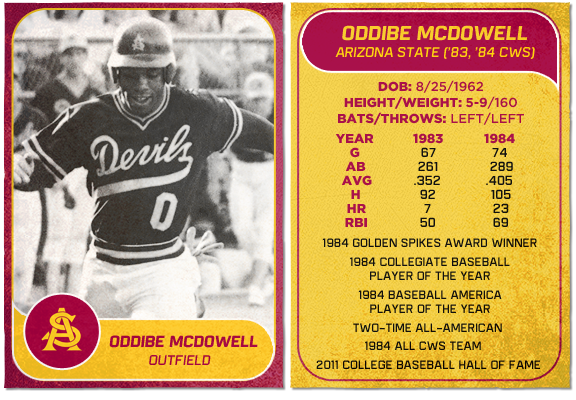 Some players are so good and make such an impact that they have their number retired. But in McDowell's case, he had a letter retired. See, Oddibe wore zero throughout his stellar Arizona State Sun Devils career. But legend has it that his number was actually an O and not a zero. Thus, the retired letter.
Either way, in all the long history of Arizona State baseball, Oddibe McDowell was the first Sun Devil ever to have his number, or letter, retired. He played two seasons in the Valley of the Sun in 1983 and 1984, leading the Devils to Omaha both seasons.
In 1984, the Big O hit .405 with 23 home runs and 36 stolen bases, earning All-American honors for the second straight year. He also was named the winner of the Golden Spikes Award. In the '84 College World Series, he part of that legendary 23-12 win over Oklahoma State in which he hit a home run so far over Rosenblatt's right field wall, it is said to have landed somewhere on the grounds of the Henry Doorly Zoo.
McDowell went on to be the 12th overall pick of the 1984 draft and also played in the Los Angeles Olympic games with Team USA that same summer. He moved so quickly through the ranks that he made his major league debut on May 19, 1985. Oddibe ended up playing until the 1994 season, spending most of his MLB days as a Texas Ranger. He was inducted into the College Baseball Hall of Fame in 2011.
-- Eric Sorenson
Buster Posey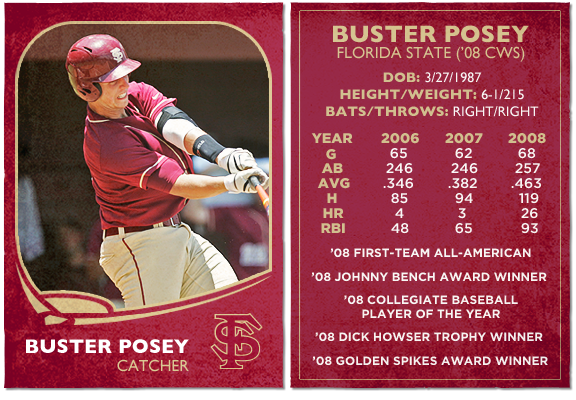 Sure, it's arguable, but Buster Posey could be the best all-around player in Florida State history. Sorry, Neon Deion. Buster didn't need your klieg lights and uber-hype.
Posey showed his considerable versatility and talent by starting his freshman year at shortstop and earning Freshman All-American honors at that position while hitting .346 with four home runs and 48 RBIs.
In his sophomore year, head coach Mike Martin moved him behind the dish, and the wunderkind didn't miss a beat, hitting .382 and finishing second in the Johnny Bench Award voting for the best catcher in the nation. As a junior in 2008, Posey led the Noles back into the College World Series for the first time since 2000, which was the longest Omaha drought in the Mike Martin era. Posey won the ACC's triple crown, hitting .463 with 26 home runs and 93 RBIs. He won so many national awards they nearly outweighed him, being feted with the Golden Spikes Award, the Dick Howser Trophy, the Brooks Wallace Award and the Johnny Bench Award.
The Seminoles didn't have much success in Omaha that year, going 0-2, but Posey used that as a jumping-off point for an outstanding pro career. He was selected with the fifth overall pick by the San Francisco Giants, making his debut at the end of the 2009 season at age 22. Currently in his sixth season with the Giants, Posey had his best year in 2012, when he hit .336 with 24 home runs and 103 RBIs.
OK, so maybe he won't play cornerback in the NFL like Deion Sanders. Then again, the way he's proved he can take a hit, maybe he could.
-- Eric Sorenson
Lance Berkman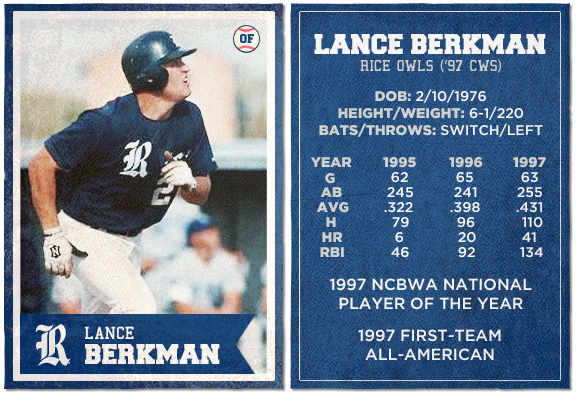 When Wayne Graham left a legendary junior college coaching career to take over the Rice University baseball team in 1992, he inherited a program that had finished in the bottom half of its conference 72 times in 78 years. Rebuilding wasn't enough; Graham needed a reboot. And to kick-start that process, he knew he needed a next-level player. Just two years later, he signed that player out of the San Antonio area.
"We aren't who we are without Lance Berkman stepping onto this campus," Graham said last year when asked about the first baseman's college legacy. "We were on the way to getting things turned around here. But Lance accelerated that process tenfold."
His freshman year of 1995, Berkman led the Southwest Conference in doubles with 26. The following year he hit .398 with 20 homers and 92 RBIs, leading the Owls to an upset of powerhouse Texas to win the final Southwest Conference baseball tournament.
The next season the team moved the WAC, where Berkman posted a line of .431-41-134. His homer and RBI totals were at the time the second-highest single-season marks in the history of college baseball, trailing only the legendary Pete Incaviglia.
Even more impressive, Rice made its first appearance in the College World Series. Since his departure for MLB stops in Houston, New York, St. Louis and Texas and six All-Star Games, Berkman's alma mater has been back to Omaha six times, winning the title in 2003.
As the well-read Graham once described, Berkman's shoulders are to the Rice baseball world like Atlas'.
-- Ryan McGee
Paul Molitor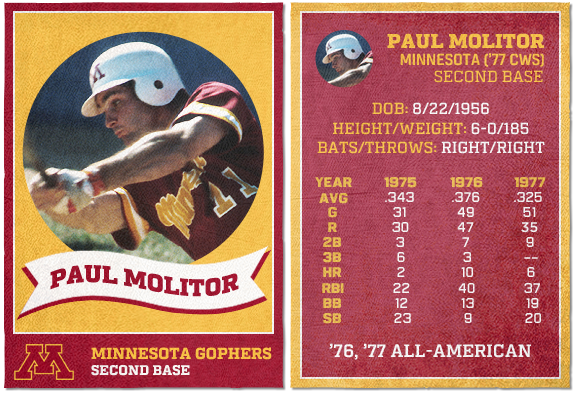 The University of Minnesota has written plenty of College World Series history. The Golden Gophers have won three CWS titles. Jerry Kindall was the last player to hit for the cycle in Omaha, playing for Minnesota's 1956 championship team. In 1973, Dave Winfield might have very well been the best player to ever set foot on the field at Johnny Rosenblatt Stadium.
But it was a smooth-stroking shortstop on the Gophers' 1977 and last Omaha team that longtime attendees of the College World Series still love to talk about.
"Even then, you watched Paul Molitor's swing and it was just a thing of beauty," legendary College World Series scorekeeper Lou Spry recalled in 2008. "You know how the coaches from other colleges always sit in the grandstand behind home plate? When Molitor took batting practice they were all pressed against the fence. When he swung they just would clap and shake their heads."
Molitor, who would eventually return home to Minnesota and earn his 3,000th career hit with the Twins, was a two-time All-American for the Golden Gophers. During the '77 run to Omaha, he cranked out a .325 batting average, ending his college career at .350 and leaving campus with then-school records in hits (150), runs (112), homers (18), RBIs (99), stolen bases (52), total bases (254) and triples (11). He added another 3,319 hits in the big leagues.
So, yes, Mr. Spry, a thing of beauty that swing truly was.
-- Ryan McGee
Barry Larkin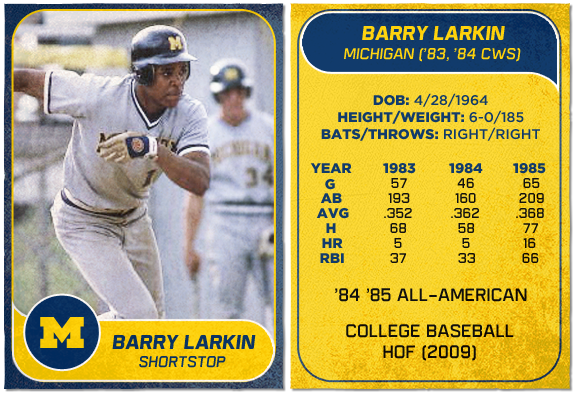 Big Ten teams make it to the College World Series at roughly the same rate that SEC teams make it to the Frozen Four. So, what does it take to get them there? A superstar player. Actually, not even that will do it. It needs to be a superstar Hall of Famer. Barry Larkin was one of those players, leading the Michigan Wolverines to their first, second and only College World Series berths in 1984 and '85. He was a two-time All-American shortstop, the first two-time Big Ten Player of the Year, a career .361 hitter and a 2009 inductee into the College Baseball Hall of Fame.
Not bad for a football player.
"Yeah, Bo wasn't happy about my decision," Larkin confessed in the weeks leading up to his 2012 induction into the National Baseball Hall of Fame. You see, before he was a legendary Cincinnati Red, Larkin was a Cincinnati high school football legend. He was an All-America safety at Moeller High, the mythical 1979-80 prep national champions. That's why Bo Schembechler recruited him to play in the Big House. But when Larkin was redshirted as a freshman, Larkin decided to become a full-time baseball player. Furious, Schembechler showed up at Wolverines baseball practices to try and heckle Larkin back onto the football roster.
"He'd yell, 'Larkin! Come hit a man who can hit you back instead of that sissy baseball!'"
He didn't. But things seem to have worked out.
-- Ryan McGee
Jason Varitek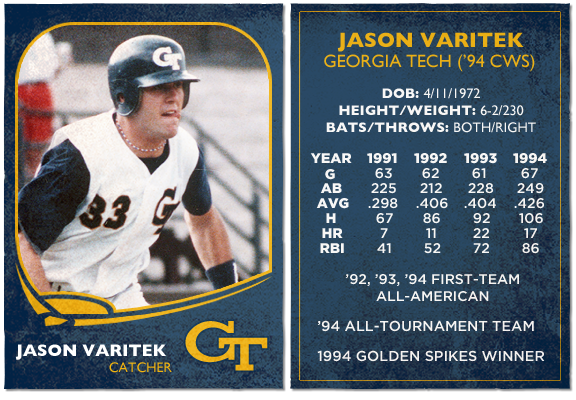 The man known as "Tek" never saw a World Series that he didn't like. In fact, there aren't many World Series that he hasn't played in. As a kid he played in the Little League World Series. As an adult he famously led the Boston Red Sox to their curse-busting World Series title in 2004. A decade earlier he teamed with future Sox teammate Nomar Garciaparra to lead the Georgia Tech Yellow Jackets to the College World Series in Omaha. But even Nomar is willing to concede the title of that team's leader.
"There are guys who just command the attention of everyone in the ballpark when they walk onto the field," Garciaparra explained. "Tek was always one of those guys. That '94 season in college wherever we were on the road the people packed in there just to see him. Every year there's a guy in college baseball who is The Man. He was The Man."
And with good reason. The rare college player who actually managed to improve his pro stock by staying in school, Varitek spent his senior season raking at a .426 clip, adding 17 homers, 23 doubles and 86 RBIs. He won the 1994 Golden Spikes Award and Dick Howser Trophy as college player of the year. His Georgia Tech records for hits (351), runs scored (261), homers (57), doubles (82) and total bases (610) still stand, and his No. 33 is retired in Atlanta.
In addition to the three World Series, he's also played in the Olympics and the World Baseball Classic. He retired from Major League Baseball in 2012. Hey, there's still time to play in the Big League Softball World Series, big guy!
-- Ryan McGee
Rafael Palmeiro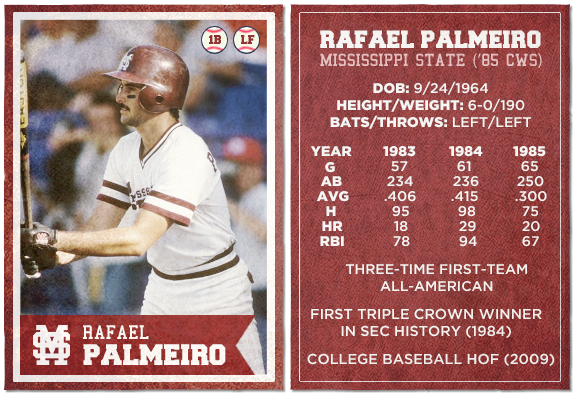 It's hard to recall a place more college baseball-mad than Starkville, Mississippi, in the mid-1980s. Why? Because it's also hard to recall a college baseball team more packed with future MLB All-Stars than the 1983-85 Bulldogs. Jeff Brantley mowed down hitters. Will Clark mowed down pitchers. Bobby Thigpen did both.
In '83 and '84 the Bulldogs came within one win of reaching the College World Series. In '85, finally, they did, facing a bracket packed with other future big leaguers and finishing 2-2.
But the quiet anchor of Mississippi State's three-year NCAA tournament run was Rafael Palmeiro. He was a two-time All-SEC player and became the conference's first triple crown winner in 1984 with a .415 average, 29 home runs and 94 RBIs. He's also one of only 11 players in college baseball history to be named a first-team All-American three consecutive years.
To so many Major League Baseball fans, the lasting images of Palmeiro are fingers pointed toward Congressmen, earplugs at the plate to block out boos and public spats with Clark. But in Starkville and in Omaha, the picture is of a kid and his sweet, level swing that was the product of legendary hand strength, honed by endless teenage hours squeezing tennis balls under the watchful gaze of his father. He may never make it into the National Baseball Hall of Fame in the uniform of the Rangers or Orioles, but his maroon jersey emblazoned with a stylized white "STATE" is already in the College Baseball Hall of Fame.
-- Ryan McGee