Syracuse's remarkable run continues
March, 14, 2009
03/14/09
2:11
AM ET
NEW YORK -- He walked to the bench, a towel draped over his head. The improbable -- no, the damn impossible -- had happened.
Twenty-two hours after wrapping up a six-overtime marathon, Syracuse was going into the extra stanza again. And after 174 minutes on the court over the span of three games in three days, Jonny Flynn had finally hit the wall.
"I'm thinking all of these coaching things, motivation, what I'll say, and he just looks at me and says, 'Coach, I'm just shot,'" associate head coach Mike Hopkins said. "I mean, what could I say?"
Nothing -- Hopkins said nothing. He just nodded his head sympathetically and turned Flynn back onto the court for five more minutes.
[+] Enlarge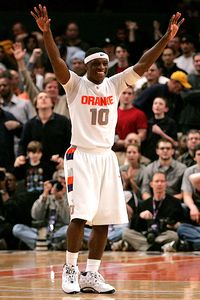 Michael Heiman/Getty ImagesJonny Flynn has logged 147 minutes of action in two nights.
It's not like there was much choice. Flynn is the heartbeat of Syracuse. During the course of the Big East tournament, the point guard played 35 minutes in the first-round game against Seton Hall, played through crippling cramps for 67 of the 70 minutes against Connecticut and then, on about three hours sleep, steered the Orange through regulation against West Virginia, playing every one of the 40 minutes.
And so when it was time for five more minutes, Hopkins turned him back.
"I just kept thinking, 'Please let it just be one this time,'" Flynn said. "'Don't make us keep going over and over.'"
Though the Madison Square Garden crowd might have welcomed a little more history, Syracuse declined the invite. Against Connecticut, Syracuse never led until the sixth overtime.
Against West Virginia, the Cuse built a quick six-point lead to take out the drama and take home a 74-69 victory.
Somewhere in between, the Orange officially became this year's plucky fan favorite. It's a role they know well. Three years ago Syracuse became the first Big East Team to win four games in four days to take home the conference tournament title.
"Hey, Gerry McNamara is here watching us," Eric Devendorf said. "Maybe he's giving us luck."
On Saturday night against top-seeded Louisville, the Orange will try to replicate their heroics.
This run makes that 2006 march look like a dash to a CYO trophy.
"You can't even compare the two," said Devendorf, who played on that 2006 team. "This is unbelievable. This is the craziest tournament I've ever played in."
If Georgia's insane run through tornado-ravaged Atlanta in last year's SEC tournament owns the out-of-nowhere title for absurdity, the Orange's run will command the no-way-in-hell category.
When Syracuse left Madison Square Garden on Friday night, the surest bet in Vegas had to be a West Virginia win.
"I don't know anything about spreads or any of that stuff, but I know we were picked to be the underdogs," Orange forward Paul Harris said. "I couldn't understand that. We beat West Virginia this year. How does that happen?"
It happens, Paul, when a team plays six overtimes, and logic coupled with general human physiology says a team will have no legs and no stamina to play again.
When Syracuse took the court, everyone was waiting for the moment, the one that showed the Orange had hit the wall. Shots would come up short, passes would get sloppy, the bottom would fall out.
It was inevitable.
Yet Syracuse played like anything but a tired team, and just before halftime Devendorf pushed the basketball like a shot put from about two steps over midcourt and the ball swished through the net as the buzzer sounded.
Unlike the 3-pointer that would have ended the quarterfinal game against Connecticut in regulation, this one was good. Replay clocks show the ball left Devendorf's hands with a good .2 seconds left on the clock.
"That was just God blessing me," Devendorf said. "A lucky shot."
And then you knew.
You knew even when freshman Devin Ebanks swished two free throws with 4.8 seconds left to knot the score at 63. You knew even when Syracuse failed to get the ball even 10 feet up court on their final possession.
You just knew.
"We knew nobody was giving us a chance," Flynn said. "We like that. We're all underdogs. None of us were really highly recruited. We're all guys people have counted out and we like that feeling. We like when things are stacked against us."
It's hard to imagine a deck more tilted than the one Syracuse faced when they walked out into the early hours of Friday morning.
The Orange got back to their hotel at 2:30 a.m. on Friday. Devendorf and Arinze Onuaku headed to a diner for dinner. Flynn and his roommate, Paul Harris, downed some McDonald's food, and Flynn soaked in a makeshift cold bath his athletic trainer fashioned in the hotel room bathtub.
They flipped on the television to watch highlights, checked text messages and answered phone messages. They drank enough Gatorade to raise the hotel housekeeper's eyebrows -- "She was like, 'Man you guys are thirsty,'" Harris said. "She couldn't believe all of the bottles lying around."
Did everything really but sleep. Around 6:30 a.m., Flynn called Hopkins.
"He says, 'Hop, are you awake? What are you doing? I can't sleep," Hopkins said.
Flynn figures he fell asleep around 7 a.m. and was down in a hotel conference room at 10 a.m. for breakfast. He took it easy in the afternoon, got more treatments on his aching legs, drank as much Gatorade as a body can consume and watched the better part of the second half and all six overtimes on ESPN Classic's replay.
"That took, like, two hours," Flynn said. "It was wild. I knew what was going to happen and I kept thinking, 'How are we going to get out of this? How did we make that play?'"
It's a question you asked as you watched Flynn against West Virginia. It is not just the number of minutes he played, it's the type of minutes. He played running back minutes, barreling his body through the paint again and again, looking for the perfect place to set up one of his teammates for a play.
He rarely failed. Flynn dished out nine assists and committed just two turnovers.
Think about that: two mistakes in 45 minutes on three hours' sleep.
"I was watching television and they were talking about his heart," Hopkins said. "That's just it. He wasn't going to let us lose. He was going to compete and do whatever he had to do to win."
It's why Hopkins didn't say a word, just nodded and watched Flynn go back on the court.