Galloway heading to New England
March, 14, 2009
03/14/09
11:29
PM ET
By
Tristan H. Cockcroft, ESPN.com
You've gotta hand it to the Patriots, they're always willing to stockpile receivers. A little more than a week after acquiring Greg Lewis to help replace the departed Jabar Gaffney, they added Joey Galloway to the mix on a one-year contract.
[+] Enlarge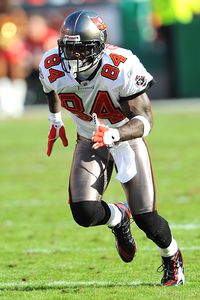 G. Newman Lowrance/Getty ImagesGalloway will try to overcome old age and injury for one last run in New England.
Galloway and Lewis should provide speed and deep threats for the Patriots behind starters Randy Moss and Wes Welker, though neither stands much of a chance to start barring an injury to one of the men ahead of them. They'll presumably duke it out for No. 3 on the depth chart, with the loser either residing in the little-used No. 4 role or cut during camp.
Here's the problem: For all the hoopla surrounding Patriots wide receivers the past two seasons, the truth is the third man on their depth chart really hasn't amounted to much for fantasy in either year. Take a look at their past two:
2007, Donte' Stallworth: 16 G, 46 receptions for 697 yards and 3 TDs
2008, Jabar Gaffney: 11 G, 38 receptions for 468 yards and 2 TDs
Stallworth might be your most apt comparison; he was brought on board to stretch the field, much like Galloway, and turned out to be a bust comparative to expectations. Gaffney, meanwhile, managed only four games of five fantasy points or more in his 11 games in 2008. But that shouldn't come as a shock; on a team with Moss atop the depth chart, one would expect he'd (deservedly) be the one hogging most of the deep throws.
The other problem with Galloway: He's 37 years old, an age at which wide receivers typically don't do much for fantasy purposes. Jerry Rice and Charlie Joiner are really the only ones who historically had a meaningful statistical season after that birthday; most notable receivers tend to call it a career around then.
The Patriots might do a fine job turning former standouts into productive role players -- LaMont Jordan a recent example -- and from that angle, Galloway probably stands a decent chance at grabbing that No. 3 receiver role ahead of Lewis. But as a player who missed seven games and started only four in 2008, Galloway would likely be stretched thin in a role more prominent than that. Chances are, Lewis might have a better chance at stepping into the starting lineup if needed in an emergency.
And until we know which of these two rates third in the pecking order, neither is safe even as a late-round selection for fantasy.