Added agony in defeat for Clemson's Oglesby
March, 20, 2009
03/20/09
12:05
AM ET
KANSAS CITY, Mo. --
Terrence Oglesby
was alone, praying, watching, hoping that Clemson would come back from 16 points down and beat Michigan.
He sat in the locker room at the Sprint Center, staring at the television, and as the Tigers got to within three points with 13 seconds left, he knew that he probably would have been the one to take a potential game-tying shot. Forget that Oglesby had struggled, going 1-for-8 overall, 1-of-7 on 3s in 13 minutes. The sophomore guard had made 91 3s on the season, ranked second in the ACC at 39.6 percent.
[+] Enlarge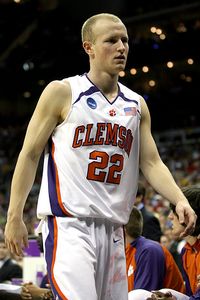 Douglas Jones/US PresswireTerrence Oglesby was ejected early in the second half of Clemson's loss to Michigan in the first round of the NCAA tournament.
"He's a threat when he touches the ball from everywhere," Michigan freshman guard
Stu Douglass
said.
K.C. Rivers barely got one off in the corner. He missed. Clemson's season ended with a thud, a 7-seed out to No. 10 Michigan 62-59 in the first round of the South Regional, the Tigers' third straight loss.
Oglesby was long gone by the time Rivers attempted his shot. He was ejected with 17 minutes and 20 seconds remaining in the second half after he was coming off a screen near the 3-point line. Douglass said the call could have gone either way. But Oglesby didn't argue.
"I was coming off a screen. I didn't even think about it; I just reacted, I hit him and I caught him with my elbow," said Oglesby, his orange warm-up jersey raised over his head. Oglesby was slumped forward, his emotions becoming audible in a deathly quiet locker room.
"It was the most embarrassing sequence I've ever been a part of," said Oglesby, who couldn't hold back the tears anymore. "I lost my head. I was coming off a screen and I caught him pretty good."
Official Thomas Eades released a statement saying, "We had an intentional foul on [Oglesby]. What we saw was a push off to the forehead. We came out immediately with an intentional foul. By rule, just to make certain it was an intentional foul, we can go to the monitor to review. When we looked at it there was no doubt there was an intentional act to the forehead. In my opinion, when you take a forearm to somebody's head, it's a flagrant foul."
Oglesby had to pause to collect himself to continue speaking in the locker room. Oglesby is a game-changer who can create his own run by making multiple 3s. But in this instance the attention was on him for the wrong reason.
"I embarrassed my team. I embarrassed my coach. I embarrassed my family. I wish I could go back. You know I'm not that type of kid," Oglesby said. "I was sitting back here praying they would make a comeback and hoping they would. I'm sorry."
Oglesby couldn't go on. His sobbing was the only noise in the locker room as freshman Bryan Narcisse comforted him.
Oglesby's absence wasn't the reason the Tigers lost. Clemson's defense created havoc for Michigan. But the game changed when Oglesby went out.
"If it was a good call, it's a bad play at a bad time," Clemson coach Oliver Purnell said. "We didn't see 12 possessions of zone after Christmas, and one of the big reasons why is [Oglesby]."
Clemson finished 5-of-22 on 3s.
"It took away another shooter, another person who was a threat," Rivers said. "They would have had to honor that."
Michigan's Manny Harris knows the feeling. He was ejected during a road game at Purdue for a flagrant elbow while trying to clear space in front of Purdue's Chris Kramer.
"From the moment you're sent to your seat to when you walk out and everyone is booing, it's very frustrating," Harris said.
Michigan coach John Beilein is sensitive to the subject. The Wolverines were tagged for two elbows in a week; the first one he didn't dispute when Zack Novak elbowed Ohio State's P.J. Hill at the free-throw line. But he had an issue with Harris' ejection. Seeing Oglesby out of the game changed the plan for Michigan.
"It allowed us to play some zone," Beilein said. It didn't matter that Oglesby had been off earlier, because if he stayed in the game, Beilein was convinced "he would heat up real soon."
Oglesby's ejection and the Tigers' early exit didn't sit well. Rivers said Clemson started out strong but faded, adding "that's been the story." Clemson started out 16-0 but finished 7-9.
"I told the guys that they accomplished good things but that's not good enough, and they can't be satisfied with that," Purnell said. "If they're going to win at a high level in the NCAA tournament, then you have to be more consistent than that."