Coastal complements in style
March, 20, 2009
03/20/09
10:43
PM ET
PHILADELPHIA -- UCLA is a convertible; Villanova a BMW.
UCLA is West Coast, laid-back surfer dude; Villanova is East Coast, buttoned-up, serious-minded blue blood.
[+] Enlarge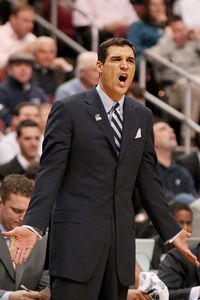 Jim McIsaac/Getty ImagesVillanova coach Jay Wright expects a Big East-type game against UCLA.
The two schools are separated by more than a country. They stand on opposite sides of a cultural chasm, the very epitome of Los Angeles versus Philadelphia/New York.
There was a time when the basketball programs stood as distinctly apart as well. UCLA stood for glam, Villanova for underdog.
Things have changed.
The cheerleaders and dance team are straight out of Southern California central casting. The jerseys are the familiar blue and gold, with UCLA emblazoned across the chests, but these Bruins are wolves in sheep's clothing.
When No. 6 seed UCLA and No. 3 seed Villanova square off in the second round Saturday afternoon (1:05 p.m. ET), this will look an awful lot like a game straight out of the Big East script.
"I don't think you're going to see 95-92,'' Villanova coach Jay Wright said.
Ben Howland spent four years in Pittsburgh, forging his head-coaching identity with a team that developed the blue-collar grit typical of its hometown. When he returned to his West Coast roots, he brought his East Coast ethic with him, reworking glam UCLA into a tough-minded defensive team.
He said it wasn't a conscious decision, but the coach knows what he likes, and he likes defense. He likes players that scrap and pester, who take a demented pride in playing ugly.
Wright is cut from the same cloth. His Villanova team fell a little too in love with its offense this season, lulled by a trio of games in which the Wildcats scored 94, 102 and 102 points in early February. But when Villanova needed to win, needed to stop an upstart American team from pulling off the biggest upset of the NCAA tournament's opening day, the Wildcats didn't try to shoot their way out of trouble. They defended their way to victory.
Villanova upped the ante on its full-court pressure and smothered the perimeter. The Eagles swished eight 3-pointers in the first half and went 2-of-16 in the second; they scored 41 points in the opening stanza and 26 in the second.
UCLA played it much the same in its first-round game. Darren Collison's near-perfect defense of Eric Maynor on the game's final play more than defined what and who UCLA is these days. With everybody in the gym knowing who was taking the final shot, Collison made it nearly impossible for Maynor to get a clean shot.
The Bruins aren't great guarding the perimeter -- a fact that ought to make guys like Scottie Reynolds and Corey Stokes salivate -- but they have pesky guards in Collison and Jrue Holiday who can disrupt anywhere on the court.
"This is a Big East matchup,'' Collison said. "That's all it is. Coach Howland is a coach from the Big East and it kind of tends to rub off on us as well.''
What could be the biggest difference in this game? How about location? Villanova is 17 miles from campus, UCLA about 3,000. Though American managed to sway the impartial to its side Thursday night once Villanova made a run, it was clear who the Wachovia Center belonged to.
Now with the postgame announcement that tickets were available Saturday and two teams were giving away their ducats, you have to think that the Bruins faithful will be a dot in the ocean.
"We understand this is like the only true road game in the NCAA tournament,'' Howland said. "We're gonna come out and play like it's a road game.''
Texas A&M vs. UConn
Mark Turgeon has heard the analysis.
Connecticut has two talented big men. Texas A&M has two talented big men. The Huskies have savvy, scoring guards. The Aggies have savvy, scoring guards. UConn likes to play inside out on offense, man-to-man on defense. Ditto A&M.
So how come when Turgeon watched the Huskies take the court for their first-round game against Chattanooga did the A&M coach get a sick feeling in his stomach?
Maybe because his team barely skated into the field of 65 while Connecticut's saunters in as a No. 1 seed. Maybe because in February, before Jerome Dyson was injured, most people had replaced North Carolina with the Huskies as the team to beat while the Aggies went through a mid-February skid that nearly knocked them out of the postseason.
"Well, everybody keeps talking about that, but they sure look a lot taller than we look,'' he said. "I had to leave so I could sleep. I saw them come out for warm-ups. I didn't watch any of the game. They looked so big. I hear a lot of national people saying we match up with them. We'll see.''
It is hard, frankly, to fathom many teams matching up with the crew that wore Connecticut uniforms on Thursday. From his hospital bed, where he was recuperating from dehydration, not even perpetually nitpicking Jim Calhoun could find much to be unhappy with. The Huskies looked exactly as a No. 1 seed should look in the first round, running roughshod over a helpless Chattanooga team at both ends of the floor. As dominant as the final score (103-47) was, it didn't do the damage justice.
This was the Connecticut team people remembered, powerful on offense and smothering on defense.
It is how A&M might look in Turgeon's favorite dream.
"They just played, quite frankly, terrific basketball,'' Calhoun said.
There is no way this game will be that sort of a walkover, but if the Aggies are going to have any chance, they have to pay strict attention to two stat lines: rebounding and fouls. UConn tops its opponents by 8.8 rebounds per game, a feat made a lot easier with Hasheem Thabeet anchoring the lane.
But more impressive -- or is it incredible or insane? -- is this little stat. Despite the aggressiveness of Thabeet and Jeff Adrien, UConn has taken 456 more free throws than its opponents (854 to 398). Thabeet has fouled out just three times, Adrien not at all.
"I think that's the reason they've had the year they've had,'' Turgeon said. "Our guys know what's at stake. We know we're not favored to win this game. We understand that. But that's why you play the games.''