Villanova turns up defense on Duke
March, 27, 2009
03/27/09
1:46
AM ET
BOSTON -- Who saw that coming from Villanova?
Wow. And it isn't the offense. It is Nova's defense that for the past two-plus games has been the best in the NCAA tournament.
[+] Enlarge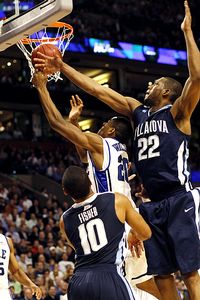 Greg M. Cooper/US PresswireVillanova's defense was the key to beating Duke.
American gave a scare to the Wildcats in the first half of the first round. But since then, Nova has locked the rim and not allowed anyone to feel comfortable making shots. The net must look like they're shooting a basketball toward a golf hole.
UCLA got blown out by 20 points and it wasn't that close. Duke was doubled up early in the second half and lost the Sweet 16 game Thursday night by 23. Gerald Henderson, the Blue Devil who had been the star the past month, the player who had elevated his game and this team until it appeared to be a potential title team, was completely shut down, having a 1-for-14 night (1-of-5 on 3s). Jon Scheyer wasn't much better at 3-of-18, 2-of-10 on 3s, and Kyle Singler was 1-of-6 on 3s, for an overall 5-of-27 mark on 3s for the squad.
"That's the best I've seen all year," said Henderson of teams defending him. "Different teams attack it with help side and I do anticipate somebody else coming at me to take away my drive. But they did the best I've seen this year. It was every time. It was tough for me to get my own shot."
Villanova coach Jay Wright said Henderson was so familiar to fellow Philadelphia players Reggie Redding and Shane Clark that Wright didn't have to say much about how to guard him. They knew. They have played with him since they were kids.
"We couldn't guard him one-on-one so we made sure someone was always coming at him," Wright said.
Singler said the Blue Devils got good shots early in the game, but when they didn't go in and the Wildcats continued to take them late into the shot clock, "we didn't get into a flow."
The Wildcats came out swinging early and that caught Duke off guard, too. But where did this aggressiveness come from?
"We talked all year how good this team could be, but everybody really did lock in on every possession," Wright said. "We've had a guy get tired and miss an assignment. We've had 12-point leads and relaxed. It's happened to us in a lot of games. We had a lead against Marquette and relaxed. We had a big lead against Louisville and relaxed. I'm trying to get them to understand what will make them a great team."
Clearly, it's how the Wildcats defend. Villanova will meet Pitt in the Elite Eight on Saturday, a rematch of the last game ever played at the famed Spectrum in Philadelphia, in which the Wildcats limited the Panthers to 57 points.
"We knew how good this team could be, but it was just a matter of getting there," said Villanova junior guard Scottie Reynolds. "All five guys are on the attack offensively. This starting five has almost been together all three years, and we want to be the ones who carry on the tradition."
That goal is already met. This Villanova team has exceeded its expectations.
"Villanova outplayed us," Duke coach Mike Krzyzewski said. "I love Villanova's team and what Jay has done with his team. They've got a chance to do something special, because they can really handle the ball and they play very good defense and they're tough. They're just a tough basketball team, a very, very good basketball team."