Izzo, Williams sense magnitude of moment
April, 5, 2009
04/05/09
3:59
PM ET
DETROIT -- North Carolina was projected to be here, to win a national title.
It seems the Tar Heels face that pressure to perform at the highest level every season.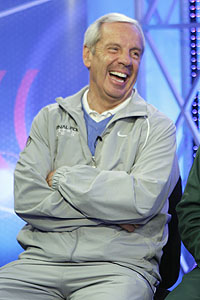 AP Photo/Eric GayRoy Williams' team has always had its own dreams and expectations.
Roy Williams has dealt with that weight since he began coaching. Kansas and North Carolina are two of the top five programs in the country. The only other active coach who has coached at two programs with similar pedigree and comparable demands is Rick Pitino, who had a stint at Kentucky and now Louisville.
"It's difficult at times," Williams said of coaching at such elite basketball institutions. "It's also ridiculous. It's college athletics. Last year, we were 36-3 and a local publication said was the season a success or failure. I took great exception to that and always will.
"We won the regular season [in the ACC], we won the conference [tournament title] and we went to the Final Four," Williams said of last season. "We didn't play well at the Final Four but all our seniors graduated. We had a very successful year but [the criticism is] something you have to live with but not agree with."
Williams said the passionate fan base, and with that the constructive criticism, is similar at both schools.
"But the people at Kansas don't realize what the people at Carolina have and the people at Carolina don't realize what the people at Kansas have. Both people feel like it's their right, like the people at Kentucky, Indiana and Louisville," Williams said of the expectations. "They are all very similar, very passionate people who care about college basketball."
The expectations put on the Tar Heels at the beginning of this season were probably unrealistic. Early in the season, one announcer went as far as to say that the Tar Heels could be "arguably one of the best teams ever." That was obviously way too much hyperbole.
"I've talked to my team about our own dreams and hopes and expectations," Williams said of trying to block out the inflated opinions from others about the Tar Heels. "We've invested a lot in that and they adopted that."
Despite the expectations to get to the Final Four and the national title game, this has still been Williams' toughest season in some respects.
"It's by far the most difficult year I've ever had with injuries, what to do and what not to do," Williams said. "I mean, we've lost over 90 games from our top eight or nine guys. The expectations made it a little difficult but all the adversity with the injuries and the other things made it far more difficult."
Any pressure for Michigan State to consistently be in the Final Four is self-induced by Tom Izzo, who is still coaching at the school that gave him his first head coaching gig. Playing at an in-state Final Four is a rare, unique opportunity for the Spartans.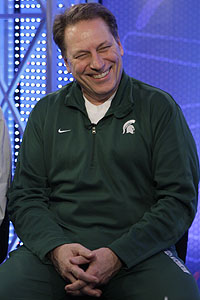 AP Photo/Eric GayTom Izzo knows many are counting on Michigan State to raise the collective spirit of an entire region.
In 2000, the Spartans were the favorite when they beat Florida 89-76 at a Final Four played in Indianapolis. They've never been considered a favorite to win it all this year, but they did feel some heat to at least make it to Ford Field.
"When we got here the last time, we embraced the university and in a small way we've now embraced the state," Izzo said. "There are a lot of guys coming back for this -- Mateen Cleaves, Morris Peterson, Jason Richardson, Steve Smith -- and we've got the '79 [title team] coming back for this. This is one of those weekends where we're bringing everyone closer together."
This perfect storm for the Spartans has Izzo thinking about karma and destiny converging on Monday night.
"I want to believe in it," Izzo said. "There's a lot of dreaming going on, but both schools deserve to be here. We earned our medal and we deserved to be here because of who we played to get here, some of the greatest coaches in college basketball."
Izzo's Spartans knocked out, in order, Bill Self and Kansas (one title), Pitino and Louisville (one title) and Jim Calhoun and Connecticut (two titles) to reach the title game.
Using the downtrodden auto industry as a cause has made the Spartans the story in the entire state. The Spartans of 2000 were about the crew from Flint, Mich., who rallied from a depressed area, too.
"Coaches try to find any motivational tactic they can find and yet when you're from the state and you've lived there your whole life it is real," Izzo said. "And you've got players, eight of them from the state. I can honestly tell you that the cause is going to be about our players because they've earned it. I think they have touched the hearts of a lot of people and hopefully made a little bit of a difference."
Izzo drew a parallel to the 1968 Detroit Tigers.
"There were all kinds of problems in our state then, a lot of looting and fires went on," Izzo said. "The Tigers were the pro team. We're not actually that team, but people take ownership of us, there's no question about that."
Like Calhoun said on Saturday, Williams also acknowledged the greater cause the Spartans are playing for in this game. But playing for a cause shouldn't be limited to the Spartans.
"There is not a question that they are trying to grab onto the carpet with the state of the nation's economy, particularly Michigan's, and the tough times that we have here," Williams said. "I understand that and I have zero problems, but you know things are not great in North Carolina, either. We are playing for the college and we are playing for the people in the state of North Carolina.
"And I said, and I mean it -- if you tell me if Michigan State wins its going to cure our nation's economy, I'm going to say let's suffer for a couple of more days."
If North Carolina wins the title, then Williams will have the same number of championships overall and at his alma mater as his mentor, Dean Smith: two.
"I never thought about it for one second and probably won't," Williams said. "I'm not Dean Smith. I'm not as good a coach and I never will be."
What would it mean for a kid from the Upper Peninsula, who coaches at one of the state's largest schools to potentially win the national title in his home state, in its largest city?
"That's too good of a dream come true," Izzo said. "That's fairy tale, that's storybook, that's Walt Disney. It seems surreal. Let's face it, in my lifetime this will never happen again, but I'm a pretty good dreamer and I dreamed about it for five years but I can't say I thought it would come down the way it has come down. Enjoy the moment: probably not. Enjoy the ride: I definitely have."