"It was hot and depressing. I told myself, 'Always remember this feeling, and it will get you through the tough times.'"
-- Cam Newton
By Mark Schlabach/ESPN.com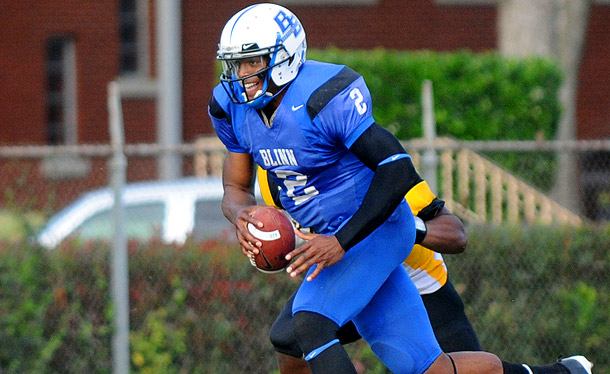 Charlie Kelm/Blinn College
Blinn Junior College wasn't exactly paradise for Newton, but he excelled on the football field. In 2009, he passed for 2,833 yards, rushed for 655 and led the Texas school to the JC national title.
With his football career at a crossroads, Cam Newton found refuge in, of all places, Brenham, Texas.
In January 2009, after Newton left the University of Florida under a cloud of controversy, he enrolled at Blinn College, a two-year junior college about 70 miles northwest of Houston.
Blinn College had produced a handful of future college and NFL stars -- safety Lyle Blackwood of the Miami Dolphins' "Killer B's" defense of the 1980s played there, as did former Kansas State quarterback Michael Bishop and receiver Quincy Morgan in the 1990s. But it was hardly a football hotbed.
"A year ago, I was playing football at Florida and hanging out with Tim Tebow, Joe Haden and Brandon Spikes," Newton said this past October. "I would Google my teammates [at Blinn College], and nothing would come up."
Not many of Newton's teammates knew much about him, either. Newton had played sparingly behind Tebow in two seasons at Florida and was suspended from the UF team indefinitely after he was arrested on charges that he stole another student's laptop.
It didn't take Newton long to win over his new teammates, though. Blinn College coach Brad Franchione -- son of former TCU, Alabama and Texas A&M coach Dennis Franchione -- gave Newton a book to read shortly after the quarterback arrived in Brenham. Each week, Franchione and Newton would discuss the chapters of "Leadership Is an Art," written by Max DePree.
"Cam would tell me about his football goals," Franchione told ESPN this past November. "I knew he was frustrated with where he was and where he wanted to be."
Newton said he realized what he had thrown away at Florida. At Blinn College, he had to purchase his own cleats and gloves. He wasn't given Gatorade after practice. Franchione required his players to paint the stadium's bleachers by hand on sweltering summer days.
"It was hot and depressing," Newton said. "I told myself, 'Always remember this feeling, and it will get you through the tough times.'"
Alone on the weekends and for much of the summer, Newton said he spent a lot of time contemplating where his life was headed.
"Everyone was from Texas," Newton recalled. "During the summer or weekends, everyone would go home. I'd be the only one there, and it was a ghost town. That's when I would think about what I really wanted to do with my life."
Newton led the Buccaneers to a 2009 junior college national championship, throwing for 2,833 yards with 22 touchdowns and running for 655 yards and 17 scores. He was named a juco All-America honorable mention and was the most recruited juco quarterback in the country.
Newton accepted a scholarship from Auburn, and his comeback was complete.
"I think I went through so many stages mentally," Newton said. "I went through a miserable time as far as me being humbled. I went through a period where I was devastated and depressed. I didn't know where my career was going and if I wanted to play football anymore. I think that was really my resurrection."