WEST PALM BEACH, Fla.
— For the past few days, Jack Nicklaus has been sick, listing a bit, even telling his oldest son he might need to lean on him. As he pulls his gold Lexus onto the tarmac of Signature Flight Service, he's still considering canceling this trip. He thinks of all the times he showed up when he didn't feel like it. He even kept an appointment after his grandson died; a devastated Jack believed a commitment should be honored. That's how his dad taught him to act. No, pushing 70, he can't remember ever missing a business trip. He doesn't want to start now, so he's here, on muscle memory mostly, fighting a sinus infection and a hacking cough, parking his car next to the gleaming white Gulfstream V -- tail number N1JN, affectionately called Air Bear -- but even now, he isn't sure. It's not too late to turn around.
On board, his staff looks out the plane's large, oval windows. They didn't know until now whether he was making the two-hour flight down to the Dominican Republic. This is a simple trip. Two countries in about 36 hours, two golf courses to design, a few news conferences, a convoy of Range Rovers, a beachside villa or two, a handful of ministers and one ambassador to meet. He'd told everyone he was a game-time decision, and now he's headed toward the jet in shorts and an orange golf shirt. Just a minute before, communications director Scott Tolley sent someone down to get something from his car. Everyone is confronted by a potentially unpleasant start to the day: an ailing Bear, ready to get on with it, waiting on them. Jack doesn't like to wait. The men on the plane look at each other, clearly thinking the same thing.
"I told him to hurry," Tolley says.
Jack climbs the stairs, looking worn out. Sinatra plays on the jet's stereo; he is almost always playing on the jet's stereo, and Jack always notices if someone tries to slip in a different CD (a Motown disc made it one song). Jack says his good mornings, slumping into the big, blue leather seat in the middle row.
"I'm still deciding on whether to go," he says.
The plane begins to roll forward, the pilot bringing the engines to life. Air Bear is cleared for takeoff. Jack leans back into his seat. He manages a smile.
"I guess it's too late to say no," he says.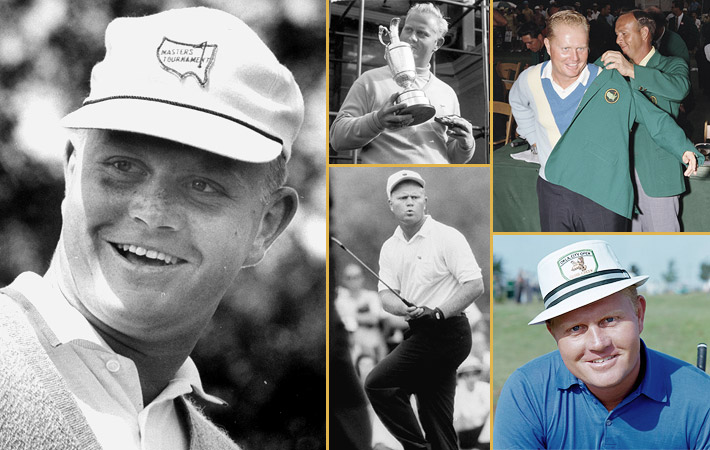 Getty Images
Jack Nicklaus won an astonishing six majors between 1962 and 1967 -- a haul that included hoisting the Claret Jug at the '66 British Open at Muirfield (top center) and receiving his second green jacket from Arnold Palmer in '65 (top right).
Traveling at the speed of Jack
He moves with a sense of urgency. Go, go, go. That's what people notice about him first. Decades removed from his golfing prime, Jack works more now than he did then, flying around the world, coming back to Southern Florida so he and his wife, Barbara -- known to the little ones as Peepaw and Mimi -- can watch their 21 grandchildren in sporting events, recitals and plays. Then he's back on the road, visiting two dozen countries and as many states in the past year, a man with infinite dreams and a finite amount of time to make them come true. He is the head of Nicklaus Design and Nicklaus Companies, which employ all four of his sons and his son-in-law. Everyone depends on him, and he delivers, regularly running his staff, some of them half his age, into the ground. He doesn't want to talk about the glory days. Yesterday's boring. But today ... today is full of wonder. Today is a blank canvas.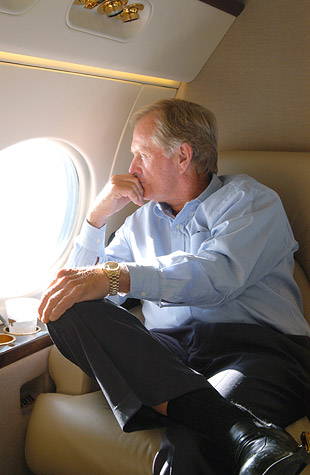 Jim Mandeville/Nicklaus Design
At age 68, Jack rarely slows down and never misses a business trip.
He takes care of himself. He's had one career undone by an aging body, and he doesn't want that to happen again. "I haven't had caffeine for 30-35 years," he says as the plane climbs to cruising altitude. "I haven't had a soft drink since the '80s. I haven't had a cigarette for close to 30 years -- 28 years, I guess. I don't drink. I haven't had a drink of hard liquor ... that's not true. When I go to Mexico, I have a margarita. I have two or three margaritas a year. I'll occasionally go get a Wendy's."
Someone, the people close to him realize, should remind him that he's almost 70. "He didn't get the memo," his oldest son, Jack Nicklaus II, says.
Barbara says he never seems that old to her. Well, that's not exactly true. A sly smile comes to her face. "Yeah, if I ask him to go shopping. 'Oh, I can't walk on that cement.' 'You walk how many miles a day?' 'Yeah, but that's grass. That's on a golf course.'"
Even his kids see him as something of a superman, and this sinus infection is a subtle reminder that Jack Nicklaus cannot run hard forever. How long can he really do this? "I hope a lot longer," Jack II says. "Realistically, you have to imagine he's going to start slowing down. But honestly, I haven't seen it."
A few people who work with him have. He sometimes forgets a detail or two, and that never happened a decade ago. But the slips have been small, and day after day, Jack goes to work. He does it because he bores easily. He does it because he loves it. Mostly he does it for a deeper reason -- to make sure that a business dependent on him can continue when he's gone.
"We've got to transcend me," he says.
Life at 47,000 feet
Air Bear is not for the faint of heart. Not even Jack is immune to the ribbing. Like the time he signed an autograph for a well-endowed female fan, and when he got on the plane, his business partner Tim Kenny held up a cell phone with a picture on it of him signing and her in all her cleavaged glory, and Tim asked whether he should just go ahead and e-mail this to Barbara. Or when Tolley cracks on him for being so hoarse, saying the boss sounds like Louis Armstrong. Tolley, the king of imitations, goes down deep.
"I see trees of green," he sings.
Jack joins in, rumbling, "Red roses, too."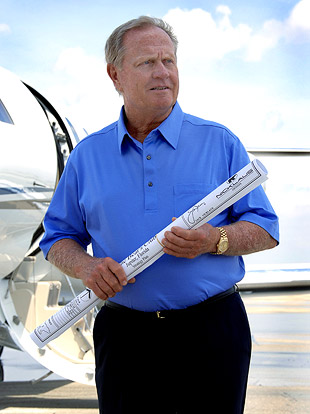 Jim Mandeville/Nicklaus Design
The Bear has left his mark throughout the world, designing courses in 45 countries.
Everyone laughs. The cabin of the plane is often filled with laughter, and, on this morning, as they get closer to the Dominican Republic, Jack begins to shake off some of the sickness. The idea of the afternoon's golf course work excites him, especially the holes on the front side that he needs to create from scratch. When he's feeling good, you can see it on the faces and hear it in the voices of the folks around him. When he's feeling good, he starts to needle folks. Much of his humor is based on his awareness that the people around him are intimidated: strangers by the legend of Jack, and his staff by the perfection he demands of them and of himself.
He'll often wink before starting in. One afternoon, the CEO of a company dealing with him caught a ride on Air Bear. Someone deliciously pointed out he was wearing a Polo brand shirt, not a Nicklaus.
Jack smiled. Game on. "Polo," he said over the hum of the engines, his voice nasal. "You got a Polo shirt on?"
The CEO tried to dance. "No, I got a Nicklaus shirt. I spilled coffee on it."
Jack closed in. "When did you spill coffee on it? A month ago. In 1997? Why would you even own a Polo shirt?"
"They gave it to me for free."
"Who?"
"Our sales people."
"Why would they buy them knowing we have something of a relationship, which is hanging on by the thinnest of threads?"
A few minutes later, the CEO, worth untold amounts of money and wildly successful in his own field, was wearing his stained Nicklaus shirt over the Polo. There is, of course, the tiniest chance that Jack wasn't totally kidding.
Air Bear, the ultimate home-field advantage, closes in on its destination.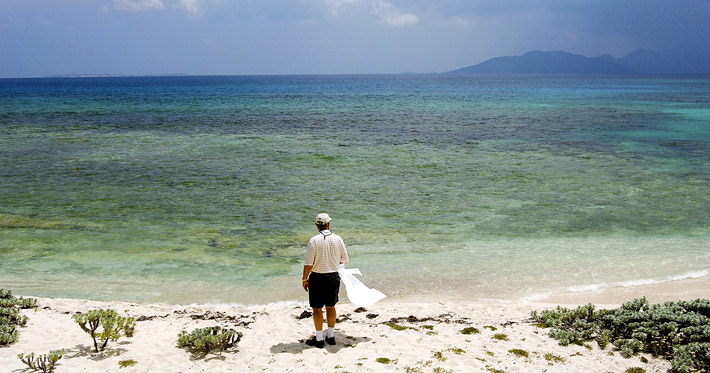 Jim Mandeville/Nicklaus Design
Jack doesn't want to live in the past; he's constantly looking toward the future.
DEFCON 1
The first stop of the day is the Punta Espada Golf Club in the Dominican, home to a Nicklaus course and this week's Champions Tour event. Jack sits down in a room full of journalists, with a translator next to him. Even in Spanish, his talking points resonate.
He and his team are incredibly busy. Counting the Nicklaus Signature courses that he does himself and the Nicklaus Design courses done by his team, they are building in 45 countries, many of them just being introduced to the game. He tells the crowd about the mayor of Moscow asking him to design some public courses, taking the sport to the people. All of that appeals to Jack. He likes shaping the future of golf, likes being a founding father, if you will, leaving his children all over the world: courses that will live long after he's gone. It pleases him to know that his family's name is on display in so many places. He thinks about that a lot.
In the middle of the news conference, Jack coughs, which sets off a chain reaction to which he is oblivious. A man watching from the back senses that the cough is somehow a sign that Jack isn't happy. This seems to happen often: People around Jack are so eager to please that they offer help he doesn't want or need. The man catches the attention of the moderator, pointing at a water bottle. The woman pours the water into a glass, then spends a minute or so trying to catch Jack's eye, discreetly at first but with increasing intensity, as if she wants to will the water into his hand. Finally, she gets his attention. He shakes off the glass.
He's not thirsty.
That's about the time the U.S. ambassador to the Dominican Republic shows up. He's brought his wife, and afterward, they inch forward for a picture. A crowd gathers. The tournament volunteers want autographs. Dignitaries want their 30 seconds.
Tolley tries to work Jack free. They've got to get out to the site of the new course. But Jack is surrounded. One time, an African tribe greeted his helicopter in traditional garb. Three generations of a Middle Eastern royal family once flew to meet him. They arrived in three planes: two 747s and a Gulfstream-IV. Today, it's the cognoscenti of this Caribbean island.
"At what point did I lose control?" Tolley asks dryly. "It's his world. We're just living in it."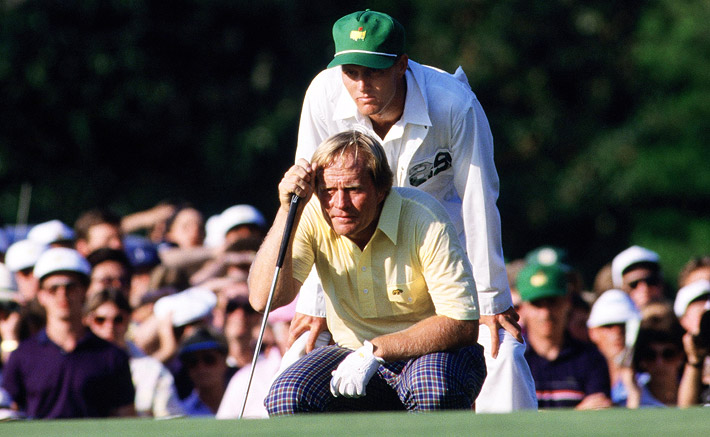 Getty Images
His final major victory at the 1986 Masters wasn't just a win for the ages, it was a moment shared with Jack II.
A private answer to a public question
From the outside, his world seems perfect: more money than he can ever spend, a loving family, grandkids to dote on, a job he loves. But there are things that live inside Jack Nicklaus, hidden in the shadows, pushing and pulling him along. There is the memory of two people.
Almost 40 years after Charlie Nicklaus died of pancreatic cancer, Jack can barely talk about him without crying. Everything Jack does is somehow connected in his mind to his father: the 18 majors, the award-winning golf courses, the way he's always arranged his schedule around his children. "To this day," says longtime employee Andy O'Brien, "I still think he is trying to make his dad proud."
Charlie grew up the son of a boilermaker, who took him and his three brothers down to the hellish furnaces and told them, "This is why I want you to go to college." They listened, and all four boys earned degrees. Charlie became a pharmacist. Jack idolized his dad, who told him to take care of the good name he'd been given, and when Charlie died, at 56, Jack was crushed. He never has totally recovered, and his dad is often on his mind. Jack wishes his father could see just one of his courses, to know how well his son has done. Charlie never had that chance; he got sick while Jack was completing his first project.
Over the years, Charlie has become a lodestar. When Jack makes a business deal, he always asks himself how it will affect his name before he asks about money. "What scares him?" O'Brien says. "My best guess is doing anything that would hurt the name his mom and dad entrusted him with."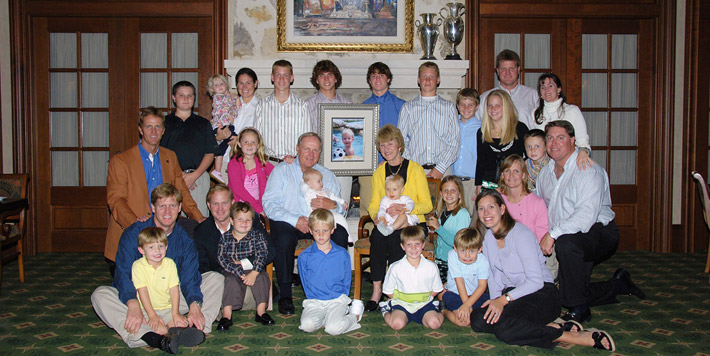 Jim Mandeville/Nicklaus Design
In nearly everything he does now, Jack considers how it will affect his family when he's gone.
Many people don't know it, but Jack has been in deep financial trouble twice in the past 25 years, both times due to entrusting his financial future -- and the future of his family -- to other people. Both times, he made good on the debts, starting over again. The first time, around his famous 1986 Masters victory, the man running his company made many risky investments, and Jack ended up responsible for more than $100 million. Almost broke, he avoided ruin by going to the banks, using that name as collateral. He swore he'd be more vigilant. The second time, two executives cooked the books and again he found himself staring at the possibility of losing everything he'd spent his whole life building. With time winding down, Jack cannot afford to let that happen again. So he stays involved, running like a man with something to prove, doing it to make Charlie proud, and to take care of those he'll leave behind. He sees himself as a protector, which brings us to another person he cannot speak about: Jake.
Jake was his grandson. Another child for him to dote on, another young man who'd grow up safe and sound because of his grandfather's hard work. Then Jack's cell phone rang. It never rings. He was on a golf course in California. On the other end was Barbara. She told him the horrible news: 17-month-old Jake had gotten away from the nanny and ended up in a hot tub. The doctors were losing the fight. His boy needed him at home. There was no laughter on the plane that day as it hurtled across the country.
That happened three years ago. He raises money in Jake's memory by auctioning charity rounds. It's almost the only golf he plays anymore. Once, he played for himself. Now, he plays for Jake. And still, he can barely say the little boy's name. Not long ago, he was in a board meeting for his children's charity, and he tried. The words stuck in his mouth, tears just behind those famous steely blue eyes. The words stuck in his throat, and they would not come out.
So when he goes out on the road and leaves his name on six continents, it's partly for him, for his own ego and satisfaction. But it's mostly for his family.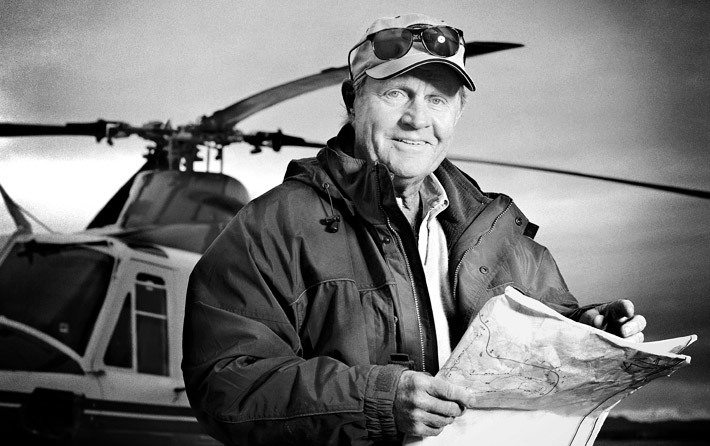 Steve Read/Getty Images
The Golden Bear isn't in hibernation. He's designing courses with the same vigor he displayed in competition.
Man at work
Jack walks out to the convoy of oversized off-road vehicles, filled with his designers, an agronomist, a landscape architect, investors, contractors and a few people whose role there remains a mystery to him. He climbs into the driver's seat of the first vehicle, and he leads them out onto what will someday be the golf course at Las Iguanas, adjacent to Punta Espada, where the tournament is being played.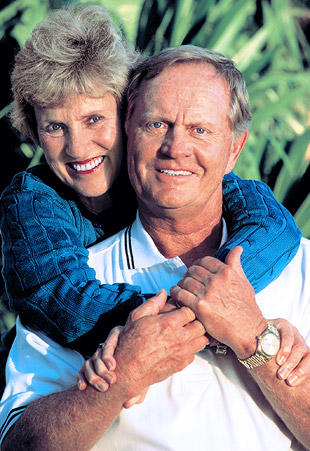 Jim Mandeville/Nicklaus Design
Barbara says her husband never seems old to her -- unless he's complaining about walking in a shopping mall.
Everyone else follows, waiting for him to stop at each tee and green. When he does, about 20 men in golf shirts pour out, scurry up to him and lean in. Sitting next to him is John Cope. He's the guy on the hot seat today, and he looks nervous. Jack has a lot of designers on staff, and Cope is the one assigned to help on the Las Iguanas project. The last time Jack was here, he sketched out the way he wanted the holes to look and to play. Cope then made his vision into a reality. At least, he hopes he did. Today is judgment day.
At each stop, Jack machine-guns advice: Raise this, lower that, soften this, lose that bunker, make a lake, fill one in, bring in a cliff, put a waste area over there, move the turn point. The poor contractor has to figure out how to make it happen. "I need a hug," he says, laughing. Well, he's sort of laughing.
Then they come to No. 7. This hole is a blank canvas, the first in a series where no real planning has been done. Jack stops his vehicle. All the others halt, too. The golf-shirt entourage gathers. Cope slides his notebook into one of Jack's hands, a pencil into the other. Jack looks at both the tips and the members' tees. There is something funny about the Golden Bear imagining how a duffer would get around a course. As he has gotten older, and his own game has slipped, he's grown better at this. He doesn't just imagine a younger version of himself on the tee. He also imagines his grandson. "I've started to think like that," he says. "It's like trying to think in Spanish."
Today, the issue is how far Joe Golfer will be able to hit the ball in the air. Jack looks out from the tee. "That's not much of a carry," he says.
Senior designer Jim Lipe sits in the back. "It's a helluva carry for me," he says.
"You're a frigging old man," Jack says.
"I've got to hit it up the right side?"
"Here's what you've got, Jim," Jack says. "You've got 260 here. Members are gonna have 225. Ladies are gonna have 185 maybe, something like that, to get into that area. You play up here. You're an old man. That's where I play."
"Well, OK."
"Do you think that's right?" Jack asks. "If you don't like it, say so."
This is a critical moment. Sometimes, a staffer says, he really wants to know. Other times, he's thinking aloud and doesn't want anyone to talk him down. Or at least that's how some of the staff perceive it, especially the younger ones. So they try to listen to his voice and decipher the question behind the question.
Lipe, who has been with Jack for more than two decades, speaks freely. "I like it," he says.
They move on. In the second vehicle, designer Chris Cochran, who started a few months before Lipe, shakes his head. He's a world-class architect, helping to create some of the best courses on the planet. But even he's in awe watching Jack create golf holes so quickly. "I can't do this," he says. "I've got to sit in an office, plot, sketch, think about it."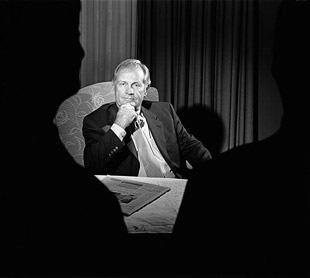 Harry How/Getty Images
Jack sometimes wants to be challenged by his staff when designing a course ... and sometimes doesn't.
A few minutes later, at the eighth, Jack's stumped. For the first time all day, he's quiet. A minute goes by. In his mind, the gray of the rock is turning an emerald green. That's what happens. Golf courses emerge fully formed from the ether of his mind. He puts his right hand over his mouth, makes a little thinking noise, folds his arms. He coughs. Synapses are firing, as he looks out at the gently sloping earth, figuring out the central problem he'll require golfers to solve. Nearby, Cochran watches. "Right now he's playing," he says. "He's got this imaginary course in his head."
Finally, Jack holds his right hand out. Cope once again slides a pencil in, and Jack begins to draw. Once, he heard an artist speak about the basic principles of his craft, and that's the first time Jack realized he'd unknowingly been following most of those principles. It's just the way he thinks, the product of a curious mind. He is always seeking information; folks jokingly call him "Carnac," and he is bit of a know-it-all. But he never stops learning. In an airport security line, he'll ask what the X-ray machine will do to a person. He wants to know if that's a fig tree. And did you know Lake Como is the deepest lake in Europe? Do you know the ingredients in Diet Coke? Do you know what the land, and the owner, and the background dictate about this piece of property?
The hole comes quickly once he starts. He's talking quietly to himself. A cell phone rings in the entourage. He doesn't hear it. Barbara jokes that the house would burn down around him if it caught fire while he was watching television. Jack hyper-focuses. A loud beep keeps time from a nearby truck. He doesn't hear that, either. There is something familiar about the drawing in front of him. At first, he can't figure out what it is. Then, he remembers. He has been forced to make a decision like this before, on one of the thousands of golf holes he has played in his life, somewhere, somewhere ...
"It's a little bit like the 10th hole at Riviera," he says finally.
"Hmmm."
"Hmmm."
He sketches in a bunker smack in the middle of the fairway. "Length should not be the issue," he says. "The issue should be: Can you challenge this bunker? So you might even make the turn point right here, right at that bunker."
He sketches a square, indicating the turn point, or where the second shot should come from. He draws in yardages. "You've got 265 right here," he says, "285 right here."
A few minutes after he began, he's finished. He is pleased by his creation. "All right," he says, sounding upbeat, "let's get the hell out of here."
When they get through every hole, Jack goes back to the hotel, a beachfront bungalow. Cope is off to the airport, taking the company Citation jet back to West Palm Beach. In the hotel bar, the Nicklaus team reconvenes. They're laughing about Cope, who escaped with compliments and not a reaming.
"I bet he's had about seven beers," one says.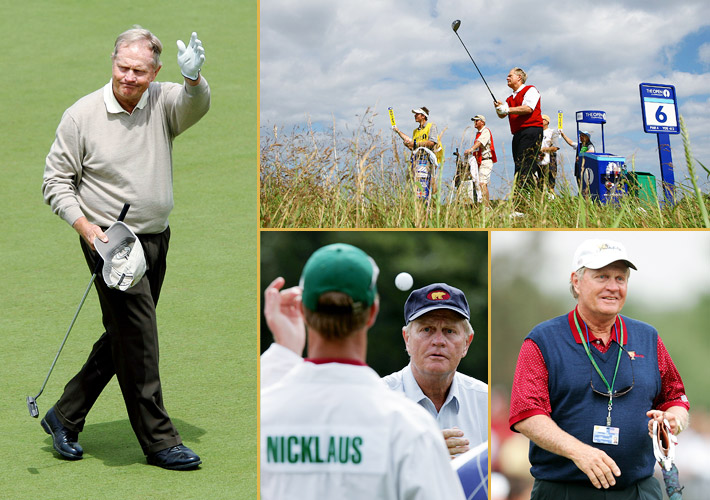 Getty Images
Jack said goodbye to competitive golf in 2005, capping a career in which he won 18 majors, two U.S. Amateur titles and five PGA Player of the Year Awards.
Focused on the future but pulled into the past
Before he can wake up and head off to do the design work he so loves, Jack's got to go be Jack for a few hours. The night is rich with nostalgia, and he works the room at the clubhouse, signing autographs, telling stories. He seems older than he did two hours ago on the eighth hole. The only time he doesn't seem half his age is when he's telling stories about his golf career. When he talks about golf course design, or his family, he comes alive. Want to see the real Jack? Ask about a grandson's middle school lacrosse game. But when he starts telling about Oakmont or St. Andrews or Pebble Beach, he seems to be reciting a well-polished script. "People say, 'Jack, do you go back and reminisce?'" he says. "I don't ever reminisce. The only time I ever do this is when I've got an interview. I'm never interested in talking about it, but I talk about it
a lot
."
When it's time to go, he works his way toward the door. The owner of the Dominican golf courses shakes his hand.
"Jack, you will never die," he says. "My father used to tell me there were three types of lives. There is the life you live. There is the life that lives on in someone's head and heart after a loved one dies. Then there are the famous people who live forever. Jack, you will live forever."
Jack smiles. Sometimes, it does seem like he has lived three lifetimes. He doesn't feel 68 years old. What if he has only a decade left? Even two? That's not nearly enough. Even Air Bear cannot outrun time. Yes, forever would be nice.
"Forever, my friend," Jack says.
After the cocktail party, Jack and his team can finally eat. The restaurant they choose happens to be full of senior golfers playing in the tournament. There's Ian Woosnam. Nick Price. And, at a long table, Tom Watson, so linked with Jack's old life. Jack lingers for a moment with Watson, who sees the designers at the nearby table, the men responsible for creating the dastardly No. 13 that undid him today.
"One-three," he says loudly. "Thirteen. We need to change 13."
Soon, the food comes. Stories are told. Plates are shared. Tequila is poured. Eventually, the restaurant empties. Watson stops by to say goodbye. In just a few days, they'll be together at the Masters in Augusta, Ga. Tonight, they part ways. Once, they were young and brash. Now, they carry those memories around like a locket.
"See you next week," Jack says.
"See you there," Watson says. "Hope you're feeling better."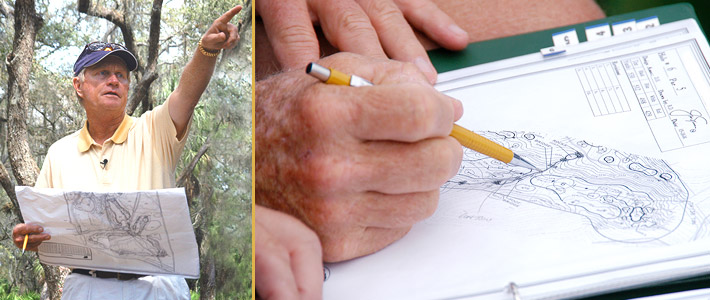 Jim Mandeville/Nicklaus Design
Jack has the unique ability to look at an undeveloped area of land and see a golf course.
Finally, an answer
The old stone wall captivates him. It's grown over, partly hidden, running down the left side of where he wants to put this golf hole. The sun is rising high in Anguilla, and the water is the color of his eyes, with St. Martin and St. Barthelemy just across the stretch of ocean. This is why he pulled himself out of bed yesterday morning. Because of this piece of land and its story, because it represents the hopes and dreams of an entire family, and because of the commitment he's made. He didn't do it for his paycheck. He did it because he knows what it means to trust someone else with your future. "If the wall is more than 100 years old," he says, "it'd be ridiculous not to restore it."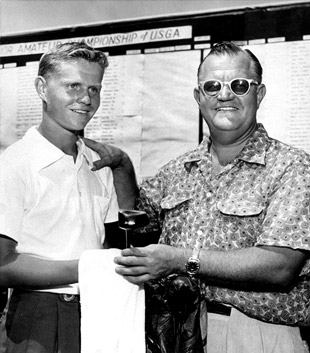 AP Photo
Charlie was the driving force in Jack's life from a young age.
Standing near him is a tall, commanding woman named Joyce Kentish. This is her family's land, sitting high above the water. As a child, she ran barefoot through these same rocks. Her grandfather settled the land, raising crops, tending goats, feeding his family. His name was George. He was born in 1866 and lived for 102 years. The grandchildren idolized him. He loved this land. For the last 40 years of his life, he was blind. He couldn't see the place that made him feel at peace. But he had a friend take him on walks around the property, pointing out any changes. He stood out here, a blind man who could hear the waves crash into the rock, and could feel the salty spray on his face.
For two generations, the family resisted any attempt to develop this land. Now, they simply cannot afford to keep it. But even with all the logical reasons to move forward, it was not an easy decision. They agonized over it. They asked themselves what George would have wanted. Joyce talked to him like he was still alive, made sure she pointed out all the changes. "I tell him at night," she says.
When the family knew development was the only option, they knew they had one shot to get it right. They turned to Jack Nicklaus. This burden sits on his shoulders like a boulder. And so this wall cannot be destroyed. Something of George's spirit must remain amid the hotel and villas. A local tells him that activists have been trying to save these walls. "I love history and tradition," Jack says. "You won't get me knocking down stuff that shouldn't be knocked down. I love that stuff."
The years are slipping away. He moves a few holes, creating more oceanfront property, adding $10-20 million in potential real estate value. Jack is giddy, bouncing around, trying to make sure that Joyce and her family have someone fighting for them. Nobody understands the importance of legacy more than Jack.
It's what drives him to keep this frantic schedule. With an increase in the Nicklaus Companies' branding, and the income generated from it, Jack is actively working to make his business viable without relying on the income from the courses he designs himself. Last year, in the biggest financial move of his life, he sold a minority stake in his company for $145 million. This generated a large amount of cash for his family, but mainly the sale is to spur aggressive growth, counteracting the effect his one day being unable to work will have. "With most of his decisions today," O'Brien says, "he makes them with family in mind and how it will impact his family in the future ... and after his passing. You can look at both the big and the small decisions -- he factors the family first in almost every case."
Now, he's focused on Joyce's family. The developers have a gathering scheduled, with local politicians and potential buyers, a gathering that will break up before he arrives. There are silver shovels for a ground breaking. They have a gold one for Jack. Deep down, part of him knows that some of his clients only want his celebrity and either don't understand or don't care about the course. They want a photo op. He simply cannot do that. There is too much of Charlie Nicklaus' blood flowing in his veins. And these courses will be around after he's gone, defining his name, and his family's name. They have to be perfect.
Later, back at the airport, as he walks through the small island terminal, he thinks about Joyce and her family, and the trust they've shown him. It is a trust he treasures. He will not let them down.
"We take this very seriously," he says.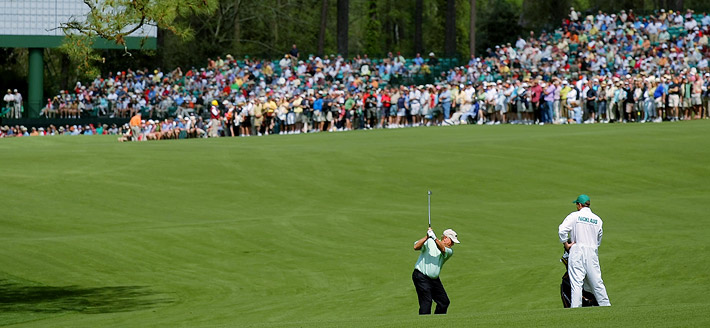 Harry How/Getty Images
Jack did play nine practice holes with Gary Player at the '08 Masters, but you'll find him "fishing some place" when the competitive rounds are under way.
Family values
The Anguilla golf course is laid out on a topographic map, each hole represented by a transparent plastic model built to scale. The team is gathered in the back of Air Bear, which is flying at Mach .83 toward home. The developer, IMI CEO Mike Collins, points to an open area of land. This, he tells Jack, is where Joyce and her family will be able to make the most money.
Jack looks at the map. He's barefoot. He picks up a hole in his hand, sliding it around. He moves another. What if we took two holes and ran them around that big open area, added value to that real estate? The pieces slide that way. Jack calls over people as he needs information. He looks down where the hotel is supposed to be. The hotel hasn't been very cooperative. "Do you have a deal with Fairmont?" he asks.
"We might," Collins tells the group. "At some point, Jack's got to pick up the phone and say, 'Who do you think is the damn brand here?'"
Jack looks up. "They think they're the brand?" he asks.
Did some competitive switch just get flipped? Once, golf satisfied those urges. Not as much anymore. Oh, a week ago, playing with amateurs, he grinded out a putt on 18 at Augusta to shoot his age -- Barbara says he took extra time to make sure he had the line, never letting on how much it mattered to him -- but mostly, he gets his kicks from business now.
"Tim!" he calls toward the front of the jet. "Tim!"
Kenny, his executive vice president, turns around.
"We're talking about getting rid of the hotel," Jack tells him.
All of this is happening instantly. Jack does not flinch. "What if I gave you a wild one and we did a Nicklaus Hotel?" he asks Collins. "If we're gonna get into the hotel business, it might as well be in a good place."
While that's being considered, he turns back to the empty space on the map. He folds his arms. They cannot move on until they've done right by their clients. "I'm concerned," Collins says. "I've been concerned since day one. It scares me to death for Joyce and those guys."
"Why don't we come up here with a par-3 course?" Jack asks. "A little par-3 course would amenitize this whole area."
Everyone loves the idea. It should add enough value to take care of Joyce's family for generations. A good day's work is almost complete, and, soon, the plane lands. When his grandson Jackie gets out of school on Tuesday, they'll leave for Augusta. The 18-year-old will caddie for him, both in a Masters practice round and in the annual Par 3 Tournament. Jack is excited to show him a place that's always been so special for him. He waves at the crew.
"See you Tuesday," he says.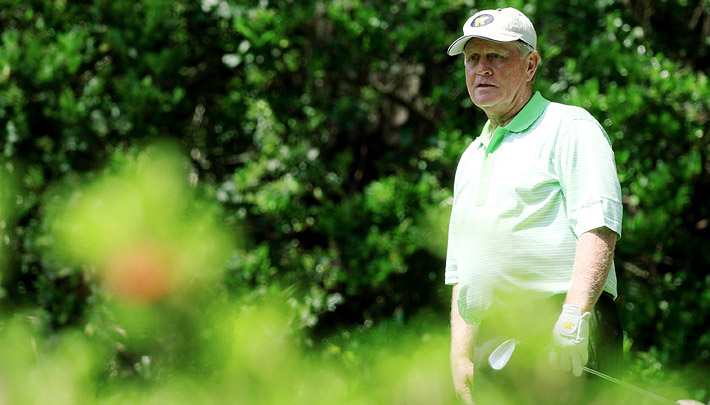 David Cannon/Getty Images
At the Masters Par 3 Tournament in April, Jack tried to make things easy for grandson Jackie.
A gift for Jackie
He's in the right rough, and the ball is sitting down. Even though he doesn't compete in the Masters anymore, he did agree to play nine holes with his friend Gary Player. Jackie stands just beside him with the bag, and Jackie's father, Jack II, watches in the gallery. For most of the people following them, the Nicklaus-Player pairing is a walk down memory lane. They are living museum pieces.
"Save your good drive for tomorrow," a fan says to Jack.
"You won't find me here tomorrow," he says. "You'll find me fishing some place."
"Does it feel strange?"
"What?"
"Not playing."
"Not in the least. Not the way I play."
He looks at the ball in the rough. "I have no clue where this ball might go," he says. "I have absolutely no clue where I might hit it."
"Keep your head down," the fan offers.
"Thanks," Jack says. "I didn't think of that."
AP Photo
As a 19-year-old freshman at Ohio State, Jack celebrated a spot in the U.S. Open with Charlie.
Standing nearby, his grandson laughs. The round goes as expected, with Jack too old to play the lengthened course. In the Par 3 Tournament, he's OK. Barbara watches, as she has done for years, urging each shot toward the hole. "OK, Jack," she says to herself. "Let's make some noise." Barbara doesn't like going to tournaments much anymore. "It's no fun when your horse is out of the race," she explains.
They're nearing the final hole, and Jackie is nervous. It's tradition for kids and grandkids to caddie in the Par 3, and many players let their caddie take the final putt. Jack has done it the past two years --"Jack will have to play until he's 100 so all the grandchildren can caddie," Barbara jokes -- and Jackie has been apprehensive all day. There are tens of thousands of people watching in person and a million more on television. He's a senior in high school.
They are on the final tee. Jack doesn't have much of a golf game anymore. His hip is fake. He is 68 years old.
His grandson stands next to him and asks for a favor.
"Hit it real close," he says.
Jack takes aim, as he has done for most of his life. When his family needs something, he wants to deliver. He swings smooth and pure, the ball traveling high into the air, across the water, every eye and television camera following it. It reaches an apex, then starts down, tracking, tracking, tracking ...
The ball lands softly, stopping two feet from the hole.
Wright Thompson is a senior writer for ESPN.com and ESPN The Magazine. He can be reached at wrightespn@gmail.com.
Join the conversation about "Father Bear."