Story of the Season
The Auburn vs. Florida State BCS title matchup was the longest of long shots. All it took was a botched snap, a couple of last-second miracles and 15 weeks packed with moments turned momentous.
Introduction
Honestly, you didn't have to be there. You could've been sitting on your couch with your head in your hands, or jumping up and nearly being clocked by a ceiling fan, or screaming at your smartphone for some big-ass lineman to suddenly find a burst of closing speed, or turning up your car radio in holiday traffic, begging the Chris Davis of your mind not to step out of bounds, or repeatedly hitting rewind on your DVR at 1 a.m. Wherever you were, you were there with those Auburn fans in the rush of an upset. No sport has more moments that turn momentous than college football. And whether it's an improbable 109-yard scamper in November or a muffed field goal in August, each instant moves the season forward, adding another twist to what will eventually wind up as the story of the season.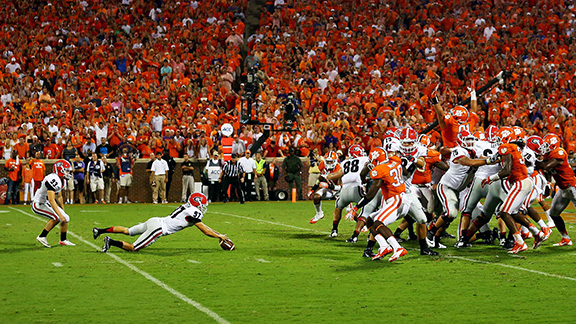 Week 1
How One Botched Snap Gave Rise to the Fall
By Wright Thompson
The story of the season started on a lake with a boater under the influence, and everything sort of fell apart from there. Or, perhaps, fell together, depending on which end of luck, or destiny, you find your team.
It was a Saturday evening in June, the sun setting over Lake Sinclair, a scar-shaped recreation capital roughly between Atlanta and Augusta. Georgia water rangers saw athletic-looking males pulling two inner tubes in a boat. The man driving -- later revealed via a mug shot in which the deflated offender sported both a tank top and red shoulders -- was University of Georgia kicker Marshall Morgan. The police thought he was drunk, a suspicion confirmed when they asked him to say the alphabet twice. He did pretty well, right up until the middle of the second time, when he could not stop himself from singing, "L ... M ... N ... O ... P."
A lot of college kids get alcohol-related offenses, and it would have been no big deal except for everything that followed. Georgia coach Mark Richt suspended Morgan, then Richt went a little nuts. He forbade anyone involved in the kicking game -- holder Adam Erickson and backup kicker Patrick Beless -- from speaking to the media. The energy around the whole enterprise soured, so of course the universe demanded its payment: In Georgia's first game, the Bulldogs, fifth-ranked favorites over No. 8 Clemson, lined up for a game-tying field goal late in the third quarter. A chip shot, no more than 20 yards, with sophomore Beless ready to put it through.
Nobody can explain what happened next, no more than anyone can ever explain why something that almost always works suddenly doesn't. The long snapper, Nathan Theus, launched the ball a little high, and Erickson, the holder, dropped it. Poor Beless never even had a chance to screw up. Was it a bad snap? Did all the drama seep into an otherwise automatic process? Nobody knows.
But everyone knows Georgia lost by three.
Clemson surged in the rankings to No. 3 and by mid-October faced an untested Florida State team. The Seminoles dismantled Clemson. This victory made the Noles real contenders, accelerating them into the conversation for the national championship. Look at Florida State's record and at how Clemson later got exposed as a pretender. Without an impressive win over a top-five team, the undefeated Seminoles suddenly don't seem all that different from Ohio State all season -- if Clemson had lost to Georgia, if Georgia hadn't botched a short field goal, if the kicker hadn't sung L-M-N-O-P, if the water rangers hadn't been in that corner of the lake ...
That's how a seemingly preordained journey to a national championship is created, by a series of random sentence fragments edited together into prose. The things that decide who becomes a statue in bronze and who ends up calling games on television are mostly out of coaches' hands, left to the whim of forces that nobody can say for sure really exist. You wanna know why so many coaches put so much public faith in God? Because they work 360 days a year, for 12 to 15 hours a day, alienating their spouses and never really knowing their children, making money they never get to spend, and they have no control over the breaks they need to make all that work and sacrifice matter.
Jimbo Fisher might become more of a legend because Mark Richt's kicker sang the alphabet.
Or because Richt's holder dropped a snap, or because of hundreds of other things that are just as small, as silly, just as unbelievably, vitally important.
As Jen Bielema might say: #karma. (She tweeted that when Wisconsin, her husband's former employer, lost in Week 3 to Arizona State due to a bad no-call. Since she hit send, her husband's new employer, Arkansas, has not won a single game. Under coaching rules, right alongside "never take points off the board," this should be added: "Do not, under any circumstances, allow anyone in your family to invoke religion as a verbal jab." It's like joking about voodoo. It's best not to mess with things you don't understand.)
Ole Miss kicker Andrew Ritter made a game winner against No. 6 LSU, and when he got to his off-campus house, his neighbor's children had put up homemade signs congratulating him. His kick rippled into other teams' strengths of schedule, and it led to the BCS rankings tying themselves in a Gordian knot: Auburn lost in Week 4 to LSU, which lost in Week 11 to Alabama, which lost in Week 14 to Auburn. In that game, the Alabama kicker, Cade Foster, missed three field goals. Instead of cute kid-drawn signs, he got death threats and a delightful tweet that said, "Drink bleach."
This season is filled with these moments.
The issue you are holding is an attempt to string together the random dots, to find the connective tissue in the past five months of chaos that have led us to the binary order of No. 1 playing No. 2. Looking at the chaos opens a window into the myth of civilization and the limits of humankind to control our world, and it can quickly end up in a debate about existentialism, or the grand unified theory.
We have a simpler explanation.
Shit happens.
Alabama coach Nick Saban protested a call and got a second back on the clock, then sent out a freshman kicker because he'd lost confidence in Foster. Nobody knew it, but an Auburn booster had carried his brother's ashes to the field before kickoff and spread some on each goal line and at midfield. This game mattered. Auburn cornerback Chris Davis waited in the end zone, and he caught the ball and exploded down the sideline, tiptoeing at full speed, inches from stepping out of bounds. Everyone saw that moment in time, but beneath it, and behind it, lay so many other moments, from the work Davis did in the summer to maximize his speed, to Ricardo Louis' miracle catch two weeks earlier against poor Georgia, to perhaps even those ashes on the field, leading the way for Davis. Did that man live the kind of life the universe rewards with a cosmic tribute? Was it luck, or karma, or destiny?
Those hidden moments are the story of the season.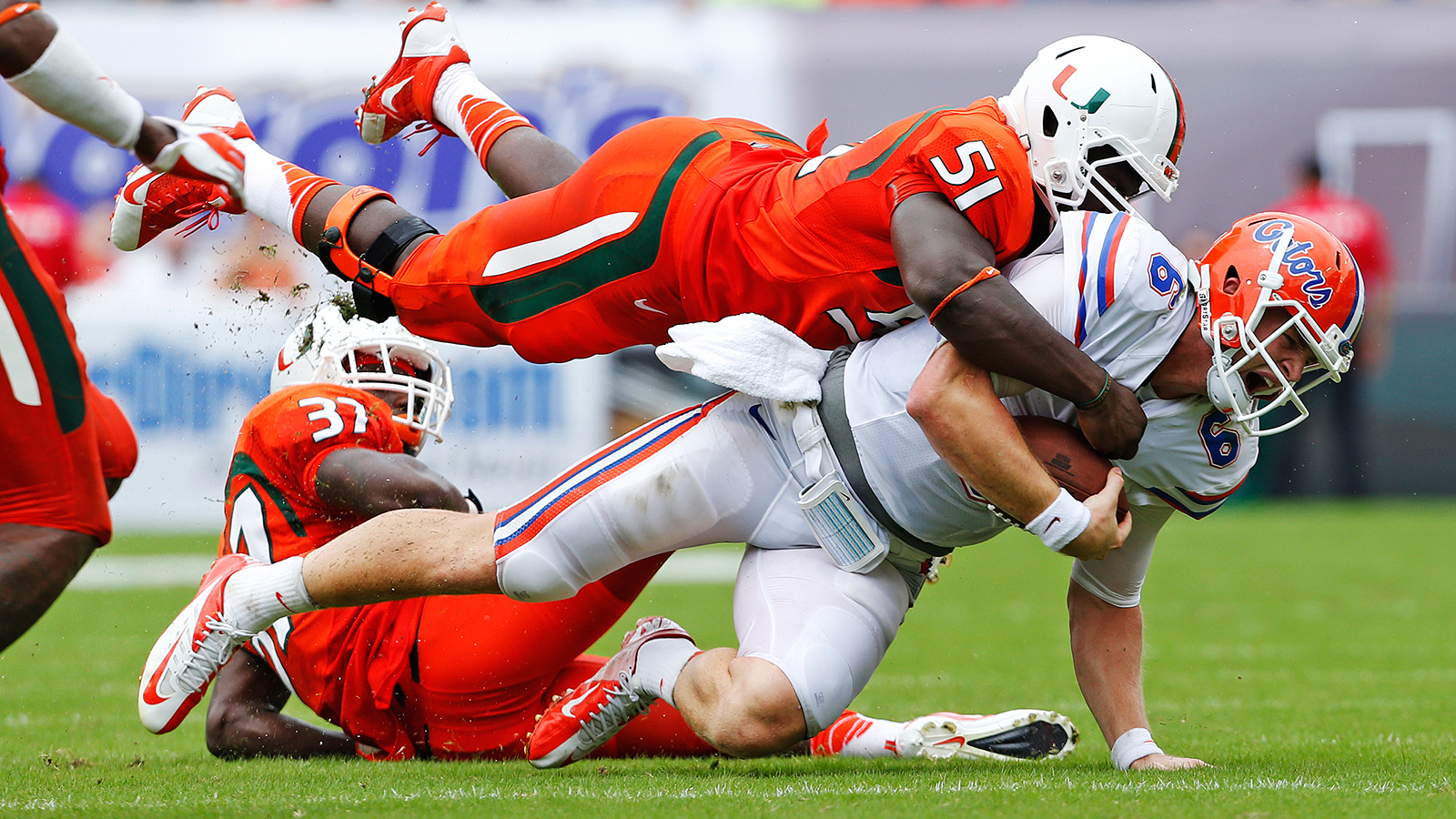 Week 2
The Season's First U-Turn
By Adam K. Moussa
Unranked Miami entered Sun Life Stadium as a three-point underdog to then-No. 12 Florida for the final foreseeable matchup between the in-state adversaries.
Sixty minutes and five forced turnovers later, coach Al Golden and the Hurricanes stepped off the field with a five-point win over the Gators, UM's first since 2004.
It didn't take long before the nation took notice. "How 'bout that ACC? Spunky little ol' league," said Clemson coach Dabo Swinney, before flashing Miami's signature U hand gesture following his team's Week 2 win.
The South Beach upset served as the ACC's second straight against an SEC opponent (Clemson over Georgia in Week 1), capping arguably the best season-opening stretch since the conference expanded to 12 teams in 2005. The win also set up a battle of top-10 conference unbeatens, with Miami facing archrival Florida State in Week 10.
"It was a very cathartic moment," Golden said postgame. "It's been a hard road and we've been battling. I wanted our guys to celebrate."
In the weeks to come, the reality of the Canes' coveted upset soon set in, as Florida limped to a forgettable 4-8 finish (the school's worst since 1979), lowlighted by an embarrassing home loss to FCS Georgia Southern.
By season's end, it was apparent that the team that calls the state's capital home was in a league of its own, as Florida State packed its bags for Pasadena and the BCS title game, while Miami made the three-hour trip to Orlando for the Russell Athletic Bowl.
It turns out hindsight is actually 21-16.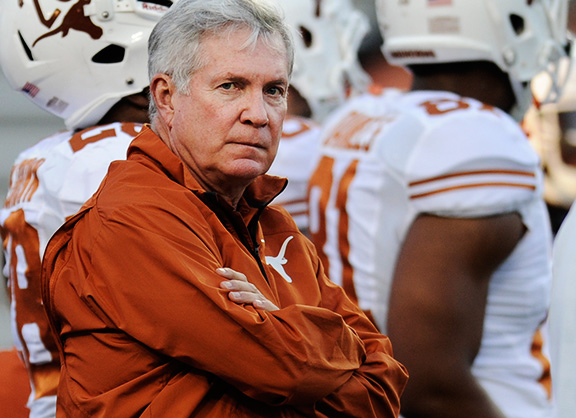 Week 3
The First Signs of Trouble
By Anthony Olivieri
Mack Brown as coach of Texas is a historical footnote. But in Week 3, his turbulent ride was just beginning.
September

9.14: Bulldozed 44-23 by Ole Miss, Texas falls to 1-2 in the Longhorns' first game after D-coordinator Manny Diaz was fired. During this second straight double-digit loss, Brown is booed when he appears on a big-screen PSA. Stay classy, Austin.

9.21: A 31-21 win over K State saves Texas from its first 1-3 start since 1956. Rumor of talks with Nick Saban's agent has the crowd dotted with "Saban 2014" T-shirts.

9.29: Texas hero Earl Campbell tells a Houston TV station "it's time" for the 2-2 Longhorns to part with Brown. Earl, would you settle for AD DeLoss Dodds?
October

10.3: Texas dodges an apparent fumble -- Thanks, refs! -- to set up a one-point win at Iowa State. Somehow, Brown leaves with a perfect Big 12 record, not a pink slip. Which is nice.

10.12: First Red River Rivalry win since 2009 provokes talk of a Big 12 title from Brown himself. Long live Mack Brown!
November

11.5: America, meet Jimmy Sexton. The AP obtains a September email from Saban's agent that reveals Texas is the only place that can woo Saban away from Bama.

11.15: Brown, apparently unfazed, says Saban is "a friend who is not trying to get my job." And, suggested Brown, the Horns have been winning ...

11.16: ... The six-game winning streak is dust after Brown's worst loss as Texas coach, a 38-13 home drubbing by OK State.

11.21: Texas guv Rick Perry (an Aggie!) notices the Texas-Saban do-si-do and poses a hypothetical to a TV reporter: What if UT dangles $12 million per year?
December

12.7: Saban's shadow looms large after a 20-point loss to Baylor costs UT a Big 12 title. BCS bid, Alamo Bowl, what's the diff?

12.10: Scuttlebutt has Brown stepping down as Texas coach and Saban signing on in Austin. It's déjà vu all over again.

12.12: Brown says his status is unchanged, but his bosses want to chat. In unrelated news, a prankster pages Saban at the Austin airport.

To be continued??? Brown resigns, taking an admin job. Texas fans hold out hope that Saban will break his latest Bama deal so he can work near his good friend Mack.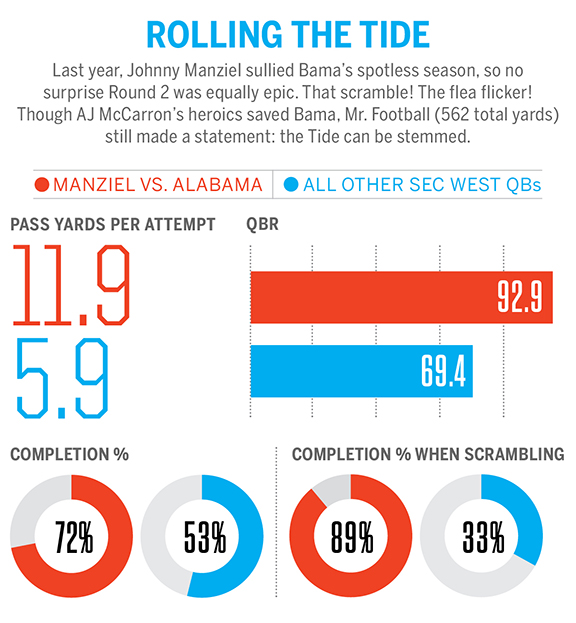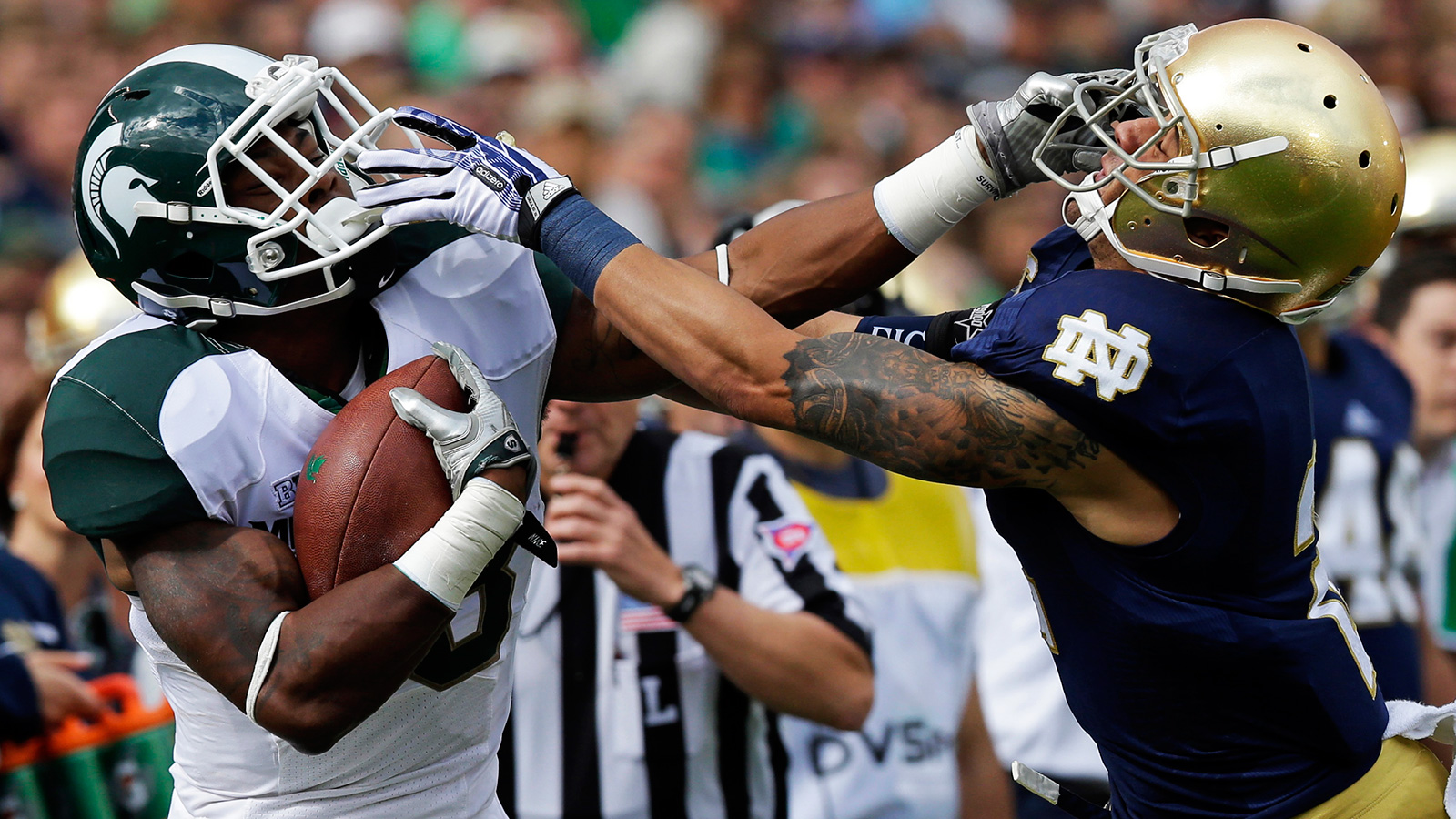 Weeks 4 & 5
Losses May Appear Larger in Your Rearview Mirror
By Kevin Van Valkenburg
Imagine an alternative universe where Michigan State, not Auburn, faces Florida State for the BCS crown.
It's actually not such an outlandish proposition. The two programs had much more in common this season than one might realize. Both began the year unranked. Both won their conference title. Auburn boasts the nation's top run game -- leading the FBS in rushing (335.7 ypg). Michigan State suits up the nation's stingiest defense (248.2 total ypg), led by Darqueze Dennard, the most recent winner of the Jim Thorpe Award as the nation's top defensive back. And both finished the year with just one loss, on the road, on the same day, Sept. 21.
Michigan State lost 17-13 in a squeaker to Notre Dame, a game marred by botched plays and penalties, while LSU ran all over Auburn on a rainy night in Baton Rouge for a 35-21 win.
The Spartans' loss, however, had a far greater impact on their fortunes going forward, doing more to shape the country's perception of Michigan State than Auburn's loss to LSU would -- even though the Tigers fell behind 21-0 at the half in Death Valley and never came close to mounting a comeback.
But the Spartans didn't face a Top 25 finisher for 10 long weeks. So it wasn't until they defeated then-No. 2 Ohio State 34-24 in the Big Ten championship that the nation was forced to acknowledge that Sparty had a pretty good team.
"We heard people talk bad about us all year," said Michigan State quarterback Connor Cook. "I think we were underdogs in a majority of the games we played."
In actuality the Spartans' weak schedule made them 'dogs just three times this season: at Notre Dame, at Iowa and against OSU. So Michigan State's loss to the Fighting Irish feels all the more like an opportunity lost. Notre Dame had four drives kept alive by Michigan State penalties, three of those for defensive pass interference. (Michigan State committed 17 percent of its penalty yards for the season in that one game.) The Spartans also committed the game's biggest blunder when receiver R.J. Shelton threw an interception on a trick play, ending a potential go-ahead drive. Had they squeaked out a victory despite themselves, they likely would have Auburn's spot in the national championship game.
"We weren't even ranked in the Top 25 until the end of October," said Spartans coach Mark Dantonio. "This is a football team that's earned its way. I don't know if we do [deserve to play for the BCS championship], but we're 12-1 and we beat the No. 2 team. Why not us? I'd vote for us."
That September Saturday -- officially the last day of summer -- began a seven-day window that, when viewed in hindsight, shaped much of college football's postseason. The next week, West Virginia beat Oklahoma State 30-21 thanks to 309 passing yards from Clint Trickett. The only reason Trickett was wearing a Mountaineers uniform? He was beat out of the starting job at Florida State by some redshirt freshman named Jameis Winston.
That's the beauty of college football. Throw a pebble into a pond, or a pick in South Bend, and the ripples can be felt thousands of miles away.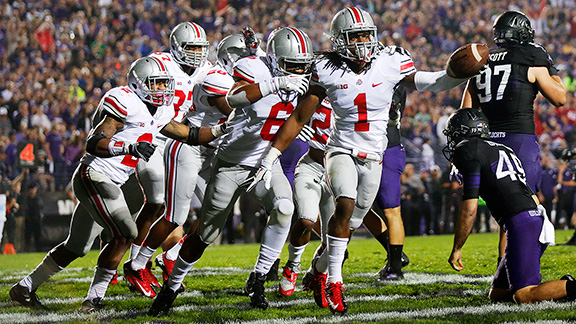 Week 6
With a Shadow of a Doubt
By Kevin Van Valkenburg
No matter how loudly Ohio State's critics (and there were many) grumbled about the team's soft schedule, lack of knockout victories and weak defense, the simple retort of "Yeah, well, we're undefeated!" served as the Buckeyes' ultimate trump card.
But when it did happen, when Ohio State went down for the first time in nearly two seasons, losing to Michigan State in the Big Ten title game, the truth was finally clear for all to see: The Buckeyes were paper tigers. And worse yet, one of the nation's most storied conferences was a fraud.
With the benefit of hindsight, Ohio State's flaws were evident all along. In its lone victory over a top-20 team, a wild 40-30 defeat of No. 16 Northwestern, there were flashes of beautiful football: Running back Carlos Hyde looked like a sledgehammer in scarlet and gray, brawling his way to 168 rushing yards. But Northwestern's defense also pressured QB Braxton Miller into three turnovers, while its offense tormented the Buckeyes' young secondary (343 yards passing). In fact, if not for a bobbled fourth-quarter snap by Wildcats QB Kain Colter on fourth and one deep inside Buckeyes territory with Ohio State up just 34-30, it's possible Ohio State's streak might have ended on that cold and wet night in Evanston. This against a team that itself was a mirage; the Wildcats would lose their next six games and finish with just one conference win.
Flash forward to December. Ohio State was just one win away from appearing in the national championship game but couldn't even beat the second-best team in the disappointing conference. Therein lies the greatest flaw of the BCS era, one we'll be happy to kiss goodbye after this season: One team, as long as it played a weak schedule and never lost, could rig the system. And Ohio State almost pulled it off.
But now that the Buckeyes have been officially unmasked as pretenders, what has been revealed about their conference is even uglier. Of the five Big Ten teams that began the year ranked in the Top 25, only two (No. 7 Ohio State and No. 19 Wisconsin) remained at the end. Northern Illinois of the beleaguered MAC managed for the first time in its history to beat two Big Ten teams: Iowa and Purdue, both on the road. The Big Ten finished well behind the SEC, Pac-12 and Big 12 in ESPN's conference power rankings and just a notch ahead of the ACC. Could the conference now be college football's Dallas Cowboys, who generate high expectations at the start of every season even though their last championship was decades ago?
In the end, Michigan State's victory may have done the Buckeyes a favor. If Spartans QB Connor Cook could pick apart their secondary, one can only imagine what Jameis Winston would have done. The Seminoles QB might very well have destroyed what was left of the Big Ten's credibility for years to come.
Yes, Ohio State could return to the ranks of the unbeaten, maybe as soon as next season; it's hard to imagine the Buckeyes, guided by Urban Meyer, not getting into this position again. But after what we witnessed this season, will we be fooled again and accept them at face value? Or will we finally reject the nostalgia still fueling Big Ten fantasies? Until the league proves otherwise -- Michigan State could beat Stanford in the Rose Bowl, or Ohio State could emerge victorious over Clemson in the Orange Bowl -- the benefit of the doubt belongs to those grumbling critics.
Week 7
The Ides of a Title March
By Carl Carchia
There will be blood. Week 7 saw seven ranked teams stumble; one week later, five Top 25 SEC teams followed suit. The carnage reordered college football's universe -- proof again that the road to the championship is long and furious. Contenders fall, others in the hunt announce they aren't pretenders and new teams barge onto the stage. (Welcome, Auburn!) To chart the roller coaster, we give you the weeks' two biggest upsets, each mapped by the victor's play-by-play win probability during the game. Impact moments help tell each matchup's tale: Stanford failed to seize control and was stunned by a mediocre Utah -- rendering its win over Oregon three weeks later still impressive, but less impactful. Mizzou proved it could hang with the big boys, handling Georgia for most of the game, and realigned the SEC East. And looking forward to week 8, the upsets were not done. Louisville tried to impose its will over UCF late, but the unranked Knights destroyed every shred of the Cardinals' BCS title hopes. Auburn, having just cracked the Top 25, pulled off a surprise over Texas A&M, fending off the first of several moments in the season when its WP (just 8.7 percent with 15 minutes to go) added up to "title dreams over." And we know how that story ends: a date with the Noles in Pasadena. Like we thought all along.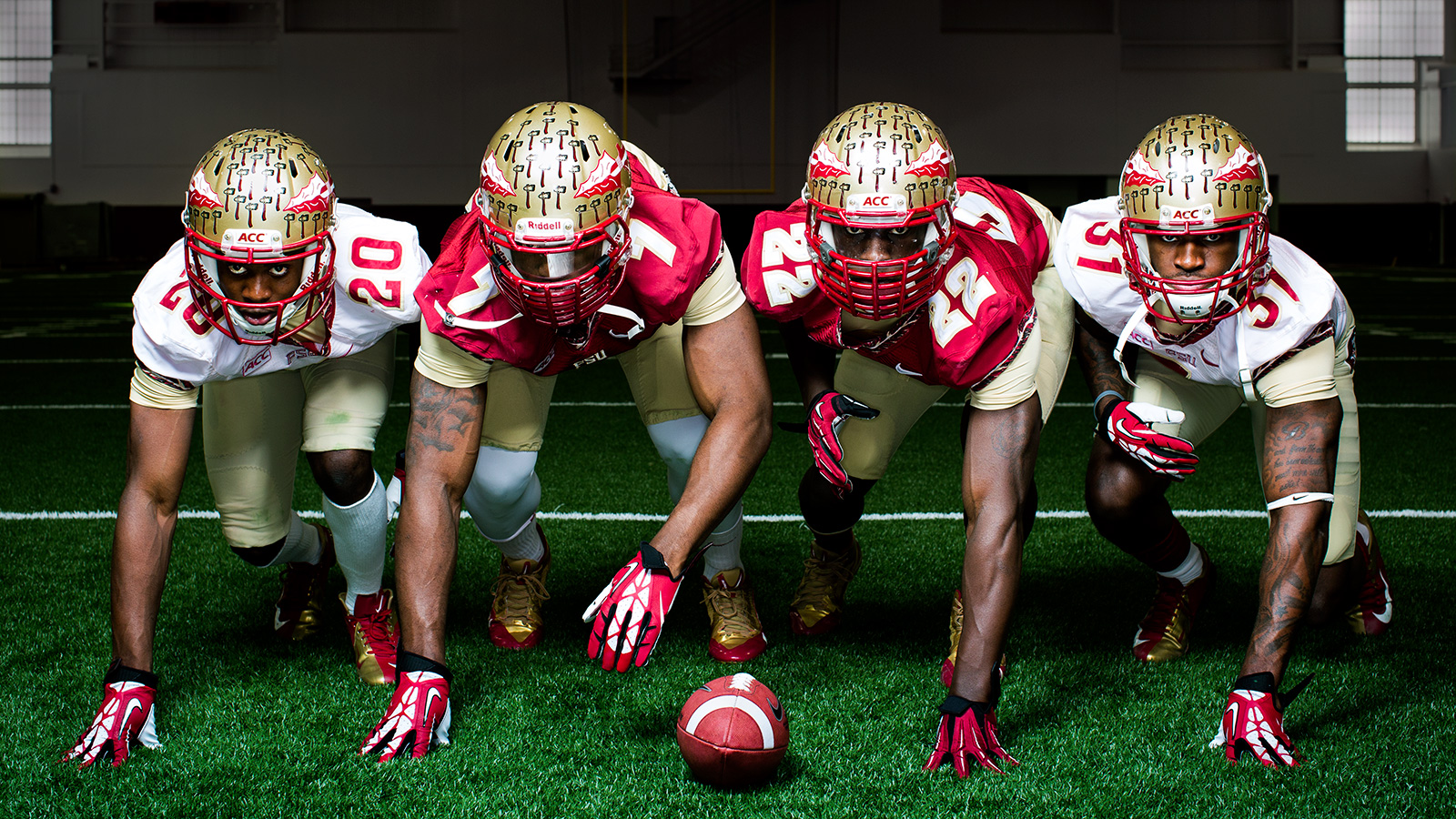 Week 8
Having a Senior Moment
By David Hale
His was not the pregame speech everyone recalls, the one captured by TV cameras and broadcast to a national audience on the night of Oct. 19. It's not the one in which the exuberant redshirt freshman implores his team to "put smiles on your faces," words born of enthusiasm and naïveté from the handful of games Jameis Winston had already won and the bravado that there would be so many more. "If we do it," Winston said, "we do it big."
Telvin Smith liked that speech just fine. In fact, his message was similar. But the delivery would be much different. The senior linebacker signed with Florida State in 2010, when the program was at its nadir, coming off a third 7-6 record over the previous four seasons under Bobby Bowden. While Winston was carefree about the path ahead, in the moments before FSU's season-defining 51-14 rout of then-No. 3 Clemson, Smith wanted his teammates to remember how far the program had come.
Specifically, his speech would hit home with seniors Terrence Brooks, Christian Jones and Lamarcus Joyner, all starters on the impenetrable defense and gems from coach Jimbo Fisher's first recruiting class. They too bore the scars of a rebuilding project that was about to reach its tipping point.
So Smith searched for just the right message. "Yea, though I walk through the shadow of the valley of death," he belted. He wanted a Bible verse, and the Noles, after all, were about to march into Death Valley. "I will fear no evil."
Brooks understood the reference to fear. It wasn't the crowd or the Tigers or the weight of the moment. It was knowing what it feels like to fail.
Last season FSU let an early one-point upset to NC State derail its BCS title run, and now three seasons' worth of unmet expectations rested heavily on the four seniors. Against Clemson, each one found his own way, his own time, to channel those frustrations into FSU's first win at Death Valley since 2001.
---
SABOTAGING BOYD
Terrence Brooks has always had his doubters. The 5'11", 200-pound safety from Dunnellon (Fla.) High was the only one of this quartet not ranked in the ESPN 150. But in 2012, after two grueling years in the weight room and on the practice field, Brooks was at the top of the depth chart. Then Clemson QB Tajh Boyd exposed him.
Florida State outgunned the Tigers 49-37 in Tallahassee last season, but Brooks was on the wrong end of two touchdown passes. As his teammates celebrated on the field, Brooks slumped on the sideline, head in his hands. Even though he wasn't entirely at fault for either score, he wasn't interested in the details of coverage lapses. Brooks feared he looked like the weak link.
"I drew a line," he says. "I said, 'I'm not going to get scored on again.'"
That game was the catalyst for Brooks' performance this season. He is fifth on the team in tackles (50) and fourth in tackles for loss (seven). He credits his improvement to his new appreciation for details, often being the first player in the film room once coaches have put packages together for that week's opponent. His girlfriend prods him on the talent of an opposing receiver, and he debates each point until she's convinced he'll win the matchup.
"It's made me a better player," he says of the extra time spent in preparation. 
"I respect the game more."
As the only member of the core four not ranked among Scouts Inc.'s top 100 draft prospects (107), Brooks still has plenty of negative fuel for the fire, but he got his revenge on Boyd.
In the rematch, Brooks had five stops and a fumble recovery. Boyd had just one TD pass, and his 4.2 yards per attempt was the second lowest since he became a starter in 2011.
---
GETTING HIS HAND DIRTY
Christian Jones has always been amazed by Smith's ability to galvanize players with a message both universal and utterly personal. At Clemson, the locker room was silent. "He talked about how we're family," Jones says, "about fighting for each other. It's a family thing."
For Jones, choosing FSU was always about family. As the nation's No. 2 outside linebacker out of Lake Howell High in Winter Park, Fla., he had offers from coast to coast. But Tallahassee was home. His father, Willie, was a star FSU defensive end in the 1970s; his brother, Willie Jr., played the same position for the Noles in the early 2000s.
But in three seasons switching from strongside to weakside linebacker under former coordinator Mark Stoops, Jones saw his production fall short of his potential; rarely used as a pass rusher, he didn't have a sack in 2012. Then seven starters on the unit went in the NFL draft, and Stoops became the coach at Kentucky. Jeremy Pruitt, a Bama assistant, was hired to run the defense and switched from a 4-3 to a 3-4.
During the spring, Jones worked with his hand in the dirt as a pass rusher -- the family business -- for the first time, moving easily from inside to outside linebacker. It was a month of trial and error, but Pruitt saw a wealth of possibility in the 6'4", 235-pound hybrid.
Still, early results were mixed. Jones opened at middle linebacker and rarely made his presence felt. Two games before Clemson, Pruitt's system was stressed by Boston College, which scored 34 points, the most the Noles would allow this fall, as the Eagles' Andre Williams ran amok. Although few teams put the brakes on the Heisman finalist, it was evident that a more athletic, versatile end was needed along a line bookended by 260-pound anchors. "It was just a matter of when are the coaches going to let me do what we'd talked about," Jones says. Facing Clemson's high-powered spread, Pruitt finally freed Jones to stop reading the line and attack it, moving him to end full time. He tied a season high with eight tackles, including a sack on Boyd. The Tigers rushed for a season-low three yards per carry, and a defense that once appeared vulnerable on the edge now had an antidote to the spread.
"It impacted the whole defense," Jones says. "It helped us minimize the big plays. We came together as a unit."
---
FORCING THE ACTION
Lamarcus Joyner never speaks before games, but he loves to listen to Smith. He remains quiet and contemplative, saving his fury for the field, where he transforms his 5'8", 190-pound frame into a wrecking ball. His freshman year, coaches begged him to curb his aggression during practice after he injured several teammates. No use. Joyner goes hard -- always.
"The only way I can show I'm one of the most dominant people on the field is with controlled violence," says the former safety, who moved to corner this season to fill a need. "Not to hurt anyone but to impose my will."
A Miami native, Joyner grew up in the rough neighborhood of Liberty City, where imposing his will was encouraged and appearing weak wasn't an option. Of course, Joyner didn't make life easy when he decided to follow his two older brothers and pull for the Noles over the Canes. After his junior season at Southwest Miami, it was clear his talent could take him places. So to avoid the same mistakes that would send his older brothers to jail, Joyner transferred to St. Thomas Aquinas, a prep school in Fort Lauderdale. Taking a city bus, a train and a car pool each way, Joyner brought the intensity of his neighborhood to the field and was ranked the No. 6 recruit and top corner in the nation.
Before coming to Tallahassee, Joyner says, the idea of being more than just a football player had never occurred to him. And it was that notion that made him pause, three years later, when an early jump to the NFL seemed like an easy decision. The knock from scouts was his size, but he wouldn't get any taller as a senior. After consulting with friends, family and even Fisher, he saw few reasons to stay. But the decision weighed on him; Joyner was unsatisfied because he hadn't proved himself as a leader.
"I had come here to make an impact, and I hadn't done that," says Joyner, the No. 48 overall NFL prospect, according to Scouts Inc. "I was like, I'm actually running from something. I'm being a coward instead of being a man."
It didn't take long for him to feel as if he had made the right call. Walking off the field after an early spring practice, Smith put his arm around Joyner and smiled. "This," he said, "is what we've been waiting for." That night in Death Valley gave credence to what they'd felt back in March.
On the first play from scrimmage, Joyner stripped tight end Stanton Seckinger after a short catch. Brooks recovered. Three plays later, Winston threw for a score, and the rout was on.
"I was going to do whatever was necessary," says Joyner, who forced another fumble in the first quarter and had a pick. "I wasn't going to fail."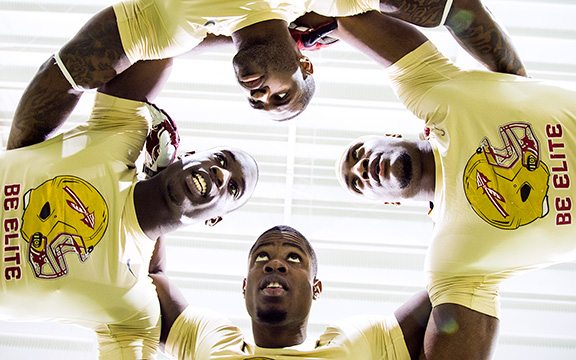 PLAYING WHAT HE PREACHES
Telvin Smith made speeches all season, not just in Death Valley. Brooks is sure Smith writes them days ahead of time. They sound too polished. But Smith insists they're off-the-cuff and from the heart. Talking, he says, comes naturally for guys from Georgia's Lowndes County.
So does football. Three of his teammates at Lowndes County High School have been on the FSU roster in his four seasons: Corner Greg Reid was dismissed from the program before the 2012 season; safety Gerald Demps spent his career as a backup; and safety Tyler Hunter suffered a season-ending neck injury in Week 4 this season. They all have the same vocal personality, but only the 6'3", 218-pound linebacker has had the passion, maturity and luck to realize his potential.
"The national championship, getting everyone better, that was all Telvin," Joyner says. "He took that role."
Smith prodded Winston on the practice field, taunting him after each bad pass until the freshman simply stopped making mistakes. He gave a personal confession before the season, admitting the mistakes he'd made in his first three years and asking teammates to learn from them. At the half against Boston College, he reminded everyone how quickly goals vanish when players get caught up in the big picture and lose sight of each game.
By the time the Seminoles reached the ACC championship, Smith didn't need to deliver reminders. Just one win from the BCS title game, he pulled Joyner and Jones and Brooks aside, one by one, and relished the moment. They'd seen the story unfold over four years; they already knew how it ended.
"We've been through so many ups and downs and downs and downs," Smith says. "But it's just excitement. We've got a fire that's burning even more because we're this close. And we're not going to get this close and let it go."
Sounds like his speech for Pasadena is already written.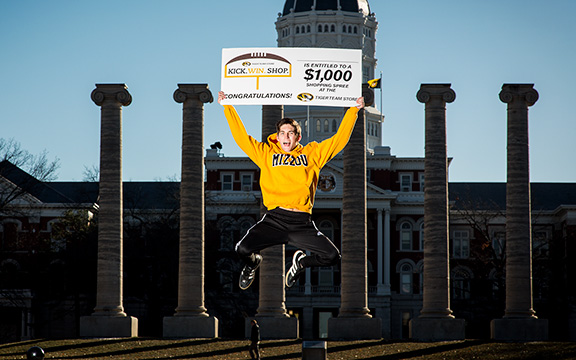 Weeks 9 & 10
Wide Left Is Dead.
Long Live Wide Left.
By Adam K. Moussa
One just faced a little more pressure.
Nolan Dixon, a 19-year-old chemistry major, was chosen at random for an in-game promotion, nailing a 30-yard kick off a tee between the first and second quarters to win a $1,000 gift certificate to the school bookstore.
After a furious 17-point second-half comeback, South Carolina led 27-24 in the second OT. When the Tigers' scholarship kicker, Andrew Baggett, banged a 24-yard rattle off the same set of uprights Dixon had split just hours earlier, the dream of an undefeated season was over. Baggett had connected on his last nine kicks before missing a 46-yarder in the fourth and the game-tying chip shot.
From his seat in the student section, Dixon sat in shock, clutching the huge cardboard check he was handed for his feat.
"I clearly remember hearing Andrew's kick clink off of the post. It was absolutely heartbreaking," says Dixon, a former high school soccer player. "After the miss, everyone was looking at me because I was holding that big check. Fans kept asking, 'Why wasn't that you down there?'"
On the same night, the same field, and amid the same chilly weather conditions, Dixon faced the quintessential question from Mizzou fans: Could you have done it?
Perhaps an unfair comparison, given the high stakes for Baggett. Still, Dixon didn't hold back: "Honestly, I think I could have made that kick."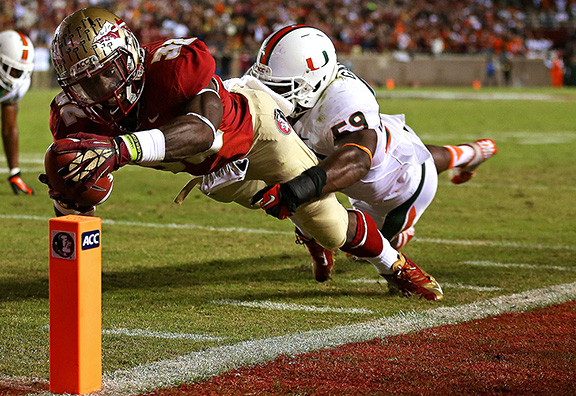 Want a story of the season? We charted the Championship Drive Ratings (see below) for the Sunshine State's Big Three -- Florida State, Miami and Florida -- from Week 6 through the end of the year. With Florida disastrously unranked, what was billed as an ACC showdown -- No. 7 Miami at No. 3 FSU on Nov. 2 -- ended with a simple confirmation: After the Noles' 41-14 thumping, bragging rights, at least for this season, belong to that plucky bunch from Tallahassee.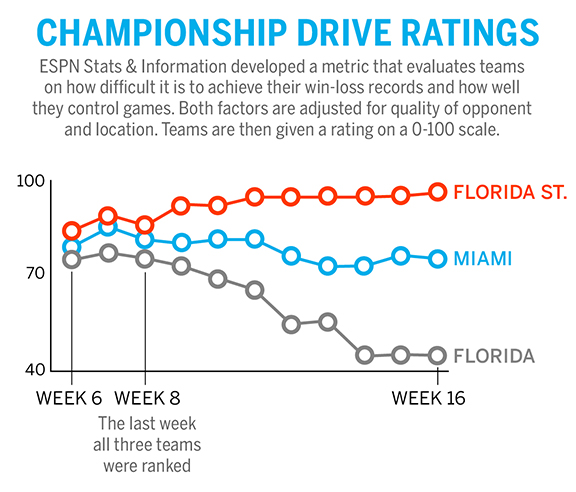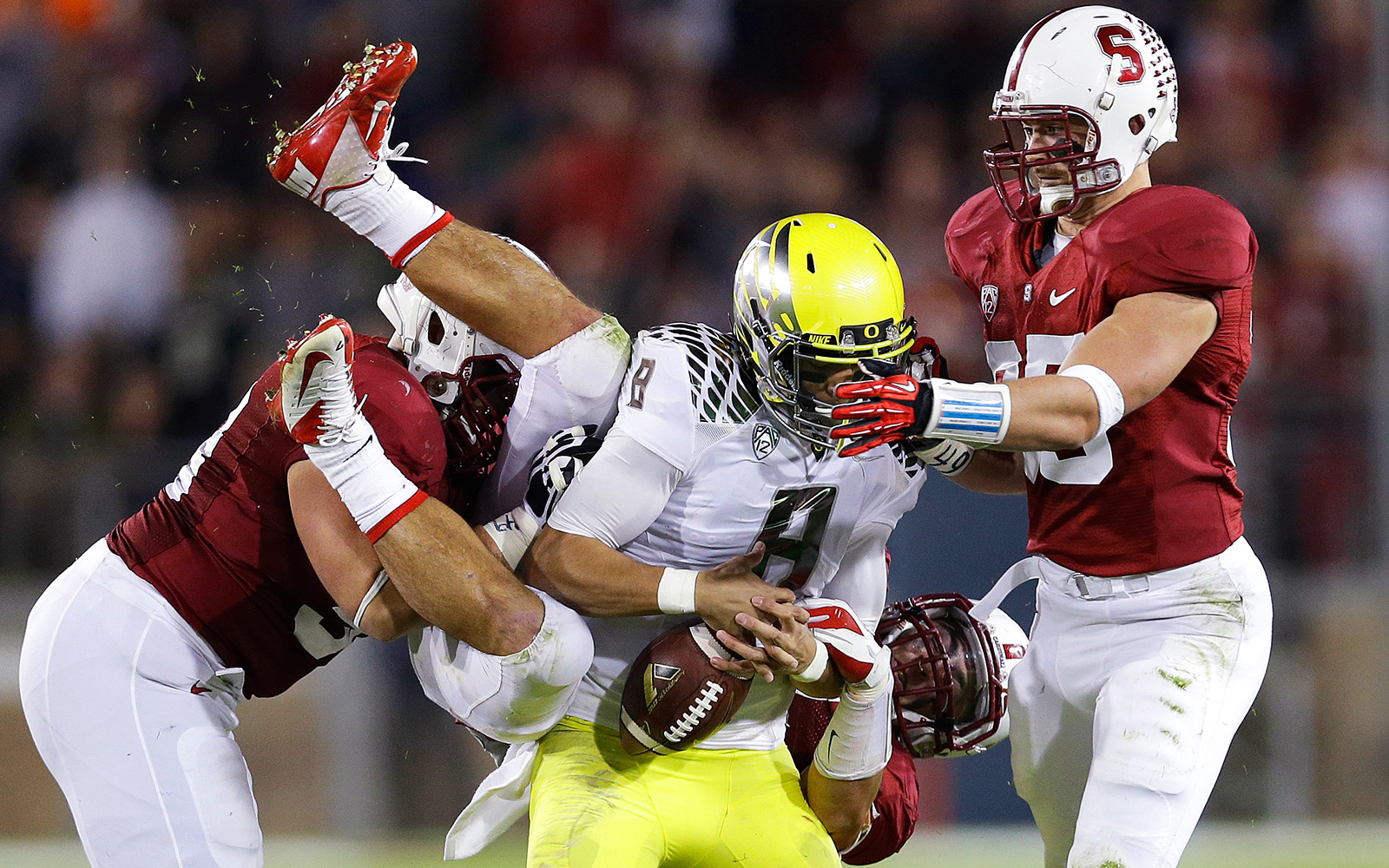 Week 11
Stomp and Smell the Roses
By Tim Keown
There were all these people on the field, parents and friends and privileged alums wearing tattered Stanford baseball caps atop their perma-grins. They were pinballing aimlessly, snapping photos and hugging strangers and trying desperately to get close to anyone wearing a red uniform. You couldn't turn around without bumping into a Stanford student wearing costume nerd glasses -- empty black frames with a strip of white athletic tape around the bridge. A frightening number of those students, it must be noted, bounded about blissfully unaware that such an accessory was purely redundant.
Everyone was so damned happy. Stanford had just beaten Oregon, and the people on the field were doing exactly what they'd been trained to do: Celebrate a win over the Pac-12's matinee idol, the team with the Day-Glo uniforms and the space-age offense and the luxury-home locker room and the undying affection for highlight-clip culture.
Amid the joy, Stanford outside linebacker Trent Murphy, the nation's sack leader, stood off to the side and seethed. He wanted to tell all those smiling people to go back into the stands and out to their cars and on to their homes. Understand something: Murphy is a bit of a scold, Stanford's 6'6", 261-pound buzzkill-in-residence, which, given his stellar college career, should probably become an endowed chair when he graduates. His nothing-to-see-here attitude toward the happy throng came as no surprise to his teammates, but his dismissive stares carried a message that said something poignant about Stanford football and Oregon football and the way appearances -- statistics, margin of victory, hype -- defined much of the BCS era. His eyes told those people to save 
their happiness for a more deserving moment, to put away their wide-eyed, can-you-believe-it looks until something truly unbelievable happened in their lives. Because as Murphy looked out over the scene, one filled with singing and laughing and general revelry, he caught the fetid scent of one filthy word: upset.
This celebration was an ode to a tired paradigm. Society's prevailing construct dictates that a Stanford win over Oregon be viewed as a surprise, a fluke, a kink in the natural order. Yet given a 17-14 Stanford win in 2012 and the domination that led Stanford to a 26-0 lead on its way to a 26-20 win in this game, Murphy thought everyone would be past a slavish devotion to the old-world order. "I was the most salty and mad guy in the stadium after the game," Murphy says. "When everyone stormed the field and was overwhelmed by excitement, I was mad. It seemed like people were surprised that we won. I saw it differently. I was kind of pissed off that we let it get close."
The Stanford ethos started seven years ago with the frenzied, over-the-top intensity of Jim Harbaugh and has continued through three seasons of the quiet, overlook-us-at-your-own-risk confidence of David Shaw. The Cardinal are the small priesthood of the knowing, which means if it's a surprise to you, it's probably not a surprise to them.
The mentality -- we'd call it Murphy's law, but that's too easy -- goes like this: The surprise wasn't the 26-0 lead; the surprise was the 20 unanswered Oregon points that made the game close at the end. "My first couple of years here, people didn't understand me," Murphy says. "Now they get it, and it's rubbed off. I'm not going to say I've won them over, but people have gotten used to it. I know how good we can be, so anything less than perfect and I'm not happy. I always bring everybody back to earth. If I'm not grumpy about the last game, people want to know why."
---
THE BCS ERA will be remembered as a contentious interregnum between the relative innocence of the old bowl system and the hyperdrive of the upcoming playoff format. And within that era, Oregon -- almost entirely as a result of its inability to deal with Stanford -- will be remembered as the great pseudo-dynasty of college football's great pseudo-era. The Ducks were hyped and they were fun, but they were never quite what we expected them to be. One BCS title-game appearance, a loss to Cam Newton's Auburn, wasn't enough to satisfy. Oregon was the empty calories of the BCS, forever leaving us wanting more.
Stanford's legacy, however, is more difficult. It may be remembered in a way that Murphy would dread, as the consistently most difficult answer to BCS trivia: Which was the only school that went to a BCS bowl in the final four years of the system?
In the postgame news conference following Stanford's no-sweat win over Arizona State in the Pac-12 championship game, Shaw was asked to assess the program's recent accomplishments. "I can only go by the facts," he said, and he started by reciting the three schools with 10 wins in each of the past four seasons: Alabama, Oregon, Stanford. When he got to the BCS bowls, he said, "Four years ..." and stopped. He looked puzzled and, turning to Stanford SID Kurt Svoboda, asked, "It is four straight, right?" It didn't even sound right to him, but he soldiered on. "You talk about not that many years ago being 1-11 and hearing we should drop football, or drop down a level," Shaw said. "It says a lot about these guys. It says a lot about Stanford University."
They're guys like running back Tyler Gaffney, an outfielder in the Pirates organization (20 HBP in 38 games, to give you an idea), who sat in the stands last January and watched his old teammates beat Wisconsin in the Rose Bowl. A month later, he decided to come back to football and was the nation's seventh-leading rusher, running for more than 1,600 yards and 20 touchdowns. Now he says, "I'll keep playing football until someone turns me down." Asked if his return was greeted by teammates and coaches with a hearty welcome or a lament for his absence, Gaffney says, "I didn't see either emotion." His relentless, persistent hammering of Oregon -- 45 carries, 157 yards -- wore down the Ducks like water dripping on stone. "It was what we preach at Stanford," Gaffney says. "Get close on third down, get the first down, then get another. What we do is successful. We might not be flashy or have the most yards, but we play with what we have."
They're guys like mohawked linebacker Shayne Skov, whose family moved from San Francisco to Guadalajara for a climate change 
after his mother was diagnosed with multiple sclerosis. He will undoubtedly become the first NFL linebacker who learned how to play football on the beaches of Mexico.
Oregon, of course, is built differently, on speed and ostentation. You don't have to know much about football to enjoy the Ducks' style -- lightning-quick offense and infinite uniform combinations -- which makes Oregon appear like more of an entertainment product than anything else.
To fully appreciate Stanford, however, you need to take your football straight, no chaser. Stanford has three uniform combinations and a roster of guys who can play assignment football better than anybody in the country. It doesn't hurt the Cardinal to have such cutting-edge innovations as quarterbacks who huddle and line up under center. For the uninitiated, huddles are intimate meetings where all 11 players gather to learn the identity of the next play. And once the ball is snapped, Stanford employs high-tech diversionary tactics such as stacking as many large humans as possible on the offensive line and telling them, "See that guy in front of you? Hit him until he's out of the way." Everything old is new again.
The differences go beyond style. In the week after the game, Oregon players, including running back De'Anthony Thomas, scoffed at the idea of playing in the Rose Bowl, saying they'd already done that and would prefer -- if it's all the same to you -- to play in the national title game. Yes, the same Thomas who said the Ducks should "at least put up 40" on Stanford, with Shaw responding, "I don't have a problem with him saying that." Shaw, presumably with a glint in his eye, also said he was glad Thomas said only 40, and by the way, he thought the 10-point spread in favor of Oregon was too low. "We might have always been looked at as an underdog and not favored to win," Murphy says, "but I'll tell you one thing, we always had ourselves picked."
It's rare to see codependence play out so publicly; no two teams in college football need each other quite as desperately as these two do. Which begs the question: Will the Pac-12, a conference that cannibalized itself all season, fare better or worse with a four-team playoff format? Oregon, with Marcus Mariota returning, will remain sexy enough to sway voters who may have one eye on television ratings. And Stanford's recent history shows it's a program that retains players -- Andrew Luck, Murphy, Skov -- who might otherwise head for the NFL draft. A strong conference means both will have a shot to move forward if they win. The question then will be which one will.
---
IT TOOK A WHILE, but the crowd at Stanford Stadium on Nov. 7 eventually did what Murphy wanted it to do in the first place: Ditch the celebration and get the hell out of there. Oregon receiver Josh Huff had cried on the sideline and been pulled away by an Oregon official after trying, and failing, to speak coherently in a postgame interview. On the Stanford side, in a cramped room that would undoubtedly serve as a shoe closet in Eugene, Gaffney, Skov and quarterback Kevin Hogan sauntered in wearing nerd glasses they found in the locker room. Everyone got a good laugh, and the next day's stories were littered with references to "Nerd Nation," but what nobody mentioned was this: Nerd Nation is a lie.
Gaffney was a professional baseball player who took a year off from football and came back to be an All-America-caliber running back. If you saw him on the street, you'd think he was a model, not a programmer. Skov is a blocky, perpetual-motion linebacker whose fearlessness and run-stopping ability could make him a 10-year pro. But everybody -- players, fans, media -- played along with the nerd thing. It was something different, something fun, so what's the harm? And it fit the construct: You go to Stanford, you must be a nerd; you beat the anointed ones, you must celebrate.
But after Gaffney, Skov and Hogan finished their interviews, Murphy was brought into the room. He issued a few perfunctory statements about the game and left as quickly and quietly as he arrived. He expressed no surprise at the outcome, and no fake glasses adorned his head.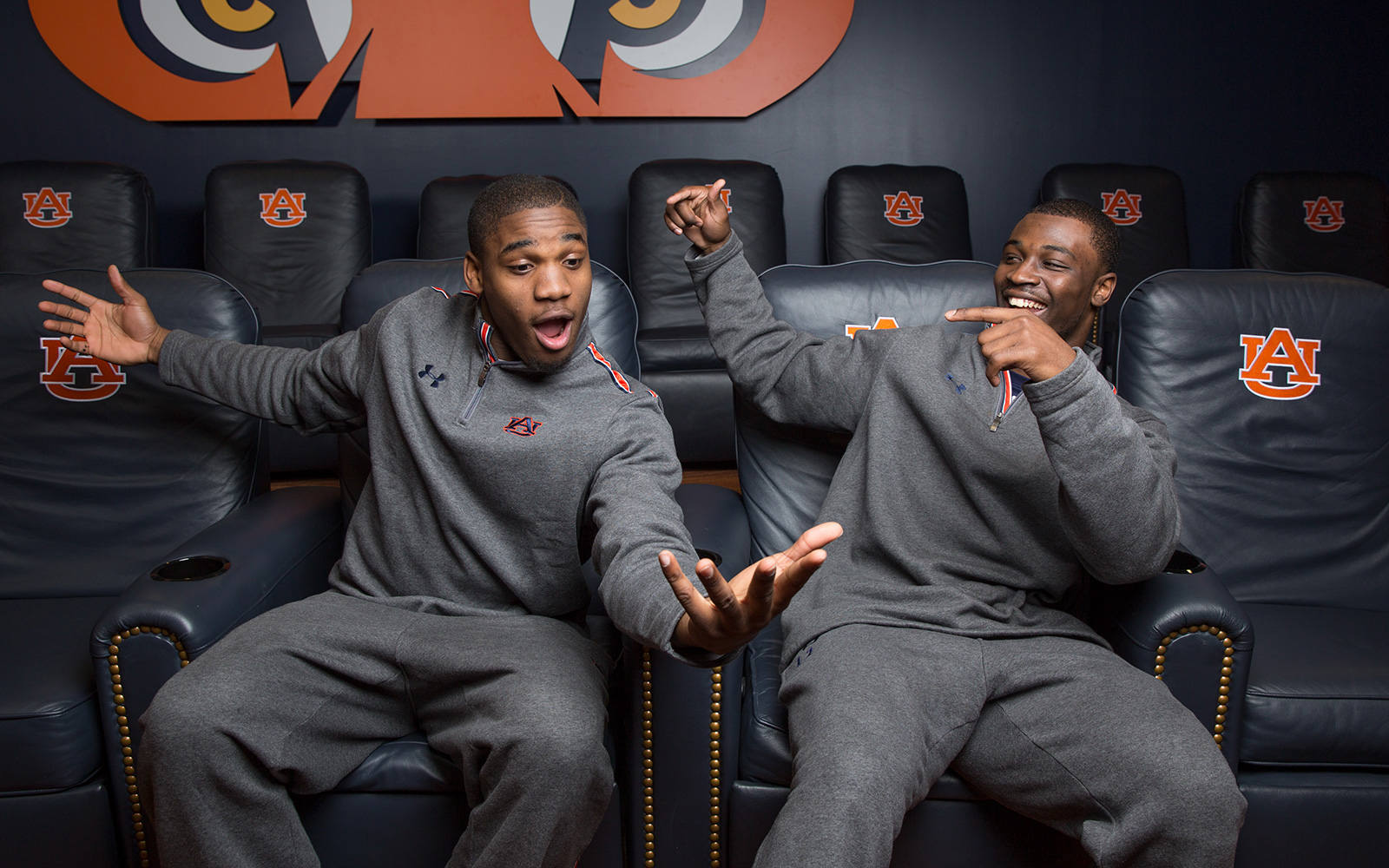 Week 12
Living on a Prayer
By Ryan McGee
On the evening of of Dec. 7, four Auburn Tigers stood in the Georgia Dome, arms woven together and hands placed on shoulders as confetti drifted down onto their grin-split faces. On the right was tailback Tre Mason, who'd just run through fifth-ranked Missouri's defensive line like a cement truck with broken brakes, pounding out 304 yards, an SEC championship-game record. To the far left was cornerback Chris Davis, who around this very minute one week earlier had broken off a 109-yard missed field goal-turned-touchdown that felled top-ranked Alabama. It was the Iron Bowl's opus. The Miracle on the Plains. Perhaps the greatest college football finish ever.
Sandwiched between them were former fourth-option wideout Ricardo Louis and quarterback Nick Marshall, the authors of the original Miracle on the Plains, written back in Week 12 at home against Georgia. The 73-yard final-seconds Hail Mary moment had set the stage for Mason's dash to the Heisman ceremony, Davis' entry into history and Auburn's run to Pasadena. Louis, he who'd hauled in the pass, reached over to Marshall, he who'd heaved it, and gave him a shake and a smile.
They knew they weren't supposed to be here. They certainly knew they weren't supposed to be headed to the BCS championship. The preseason voters knew too. Auburn wasn't included among the 43 teams that received AP Top 25 votes; it was picked to finish fifth in the SEC West. And why not? One year ago, it won just three games and none in the conference.
But now, here they were being handed one huge trophy. And soon they will be facing Florida State with hopes of hoisting another. "Sometimes a team is just destined," Marshall said, looking over at Louis. "Sometimes the ball just bounces your way. Right, Lou?"
---
RICARDO LOUIS WASN'T supposed to be playing wide receiver for Auburn.
When Georgia came to town on Nov. 16, Louis was supposed to be in Tallahassee, playing tailback or tight end or perhaps even dueling with Jameis Winston for the starting quarterback spot. On national signing day in 2012, Louis sat with two hats before him in the Miami Beach Senior High School gym. He was listed as "athlete," having played six positions. Leading up to this day, he'd switched back from his initial announcement to attend Auburn, saying he was considering FSU. To some gasps, he first grabbed the Seminoles cap. Then, at the last second, he swapped it out for Auburn. As then-head coach Gene Chizik let out a cheer of relief and then-MBSHS head coach Ralph Jimenez described him as "kind of Cam Newton-ish," it seemed like the perfect union.
But once on campus, Louis' struggle to develop became just another casualty of a lost season. He played mostly on special teams, with only three catches as a true freshman, the first coming in the season's fifth game when the Tigers were in the process of falling to 1-4. In high school, he'd been used primarily out of the backfield. Now he was split wide and lost. When Chizik was fired months later, Arkansas State's Gus Malzahn was hired in his place. Malzahn was an offensive savant, the man who'd coached Newton as Auburn's BCS title-winning offensive coordinator in 2010 and the coach who'd originally recruited Louis to the Plains.
"When you watched Ricardo in high school, he just jumped out at you," Malzahn says. "That player was still down in there. It was just a matter of putting him in positions to make a big impact, getting that confidence rebuilt. Every week I think you've seen that confidence coming back, the confidence that says, 'I want the ball with it all on the line.' "
Malzahn made Louis the pet project of his new co-offensive coordinator, Dameyune Craig, who'd nearly lured Louis to FSU in his previous job as Seminoles quarterbacks coach and recruiting coordinator. "We went back to basics," Louis says. Craig explained that in Malzahn's offense, being a receiver wasn't a demotion from being quarterback; it was a chance to get touches, both out of the backfield and downfield. "They started talking about making big plays," Louis says. "Football got fun again."
He got his first start in Week 7 against Western Carolina and averaged 18.8 yards per touch -- two rushes, three catches -- and scored a touchdown. For the Week 12 matchup against Georgia, he was listed as the fourth wide receiver. But entering in the closing minutes, he was having his best game. He'd racked up 66 yards on a pair of short-side sweep rushes and 58 yards via three catches. But he was still prone to 2012-ish mental errors. With Auburn up 37-24 in the fourth quarter, he went into motion at the wrong time on a crucial third and three. When Mason took the handoff from Marshall, the running back crashed into Louis, who essentially made the drive-ending tackle. Barely one minute later, Georgia was back in the end zone, trailing by only six with six minutes remaining.
"I knew I had to find a play to redeem myself," Louis says.
---
NICK MARSHALL WASN'T supposed to be playing quarterback for Auburn.
If all had happened as planned, he would have spent Week 12 at Jordan-Hare Stadium playing cornerback for Georgia, perhaps even assigned to defend Louis. That's where he'd spent his entire 2011 season, playing in all 13 games at defensive back. But that's not the position he was recruited for out of Wilcox County High School in southern Georgia. Craig thought he had Marshall coming to Florida State to play quarterback, but then he lost him to Georgia and its legendary 2011 recruiting class. And unfortunately for Marshall, Aaron Murray was also on the roster. When Murray emerged as QB1, Marshall moved across the line of scrimmage.
"When you look back," Marshall says now, "you realize that everything you go through adds up to make you the person that you become. Good and bad."
The bad came in February 2012. That's when UGa dismissed him for a violation of team rules. (He reportedly was caught stealing, but no charges were ever filed.) Marshall retreated home, where his high school coach connected him with the football coach at Garden City Community College in Kansas. In a matter of days, he was enrolled and on the roster as a quarterback. That fall, as Marshall began to pile up offensive stats, one of the first coaches to see him in person was Malzahn with Arkansas State. A few months later, Auburn hired Malzahn, and as soon as the rules allowed, Craig was talking Marshall into coming to the Plains.
"I guess some people had their concerns about Nick, but we never did," Malzahn said earlier this year. "It didn't take long for him to take the reins of this team."
In August Marshall beat out all three of Auburn's 2012 starters and highly touted recruit Jeremy Johnson for the starting job -- not just because the 6'1", 210-pound junior was a natural fit in Malzahn's dual-threat offense but because of his constant coolness, unshaken by pressure. In Week 1, he led a last-minute drive to defeat Washington State. In Week 8, he outdueled reigning Heisman winner Johnny Manziel in another fourth-quarter nail-chewer. "You step into the huddle and we're losing and the crowd's so loud and you should be freaking out," Mason says. "Then you look at Nick, and he's just chilled out. So calm. That's the kind of guy who leads a team from three wins to the BCS championship game."
---
THE PASS WASN'T supposed to be downfield.
With 36 seconds to go against Georgia, down 38-37 and facing fourth and 18 on their own 27, Malzahn looked Marshall in the eye and sent in the perfect play. He didn't need a touchdown. Not yet. He needed a first down to keep the drive alive and stop the clock. The call was for Sammie Coates, the team's No. 1 receiver, knowing his 22 yards per catch average would be enough to move the chains. A field goal would win the game.
The team should have been panicked, but it looked to Marshall, who, as always, was not. Louis should have been more than happy to settle into his usual slot as third or fourth option and clear a path downfield. But as the Tigers broke the huddle, Marshall heard Louis shouting his name. Malzahn likes to describe his game plan as a "hot-hand offense," constantly shifting to lean on the player the gridiron forces have chosen to bless that night, and tonight Louis believed he was that hand. He'd paced the sideline telling everyone that he needed the ball. He'd set up camp just off Malzahn's ear with the same pleas. Now, breaking the huddle on fourth and the season, he was taking his case to Marshall. The quarterback looked at the wide receiver and saw that cresting confidence Coach Gus 
and Coach Craig had worked so hard to rediscover.
"Throw me the ball," Louis said.
The Prayer at Jordan-Hare
Relive Auburn QB Nick Marshall's desperation Hail Mary that hit two Georgia defenders before settling into the hands of receiver Ricardo Louis. The 43-38 win kept the Tigers chasing their fairy tale season. Audio courtesy Auburn IMG Sports Network

Marshall says that once the ball was snapped, he went through his reads as instructed. The film says otherwise. Had he truly worked through that ladder of options, he would have taken the first one, lobbing the ball to Coates, who was slicing free through the open field across the middle. Instead, following his instinct, he stepped up out of a collapsing pocket and from his own 20-yard line launched it deep. Way deep. And short. Way short. Into double coverage at Georgia's 20-yard line. It went through the hands of sophomore Josh Harvey-Clemons and bounced off the pads of freshman Tray Matthews. Had Marshall still been a Bulldog, one of those two defenders might have been him. If it had been, he says he "would have knocked the ball down." Harvey-Clemons and Matthews did not. Its arc carried nearly seven yards and into Louis' hands. Auburn won 43-38.
"It all adds up," Malzahn said three weekends later at the Georgia Dome. "You think about how close it all comes to not happening. Guys you wanted on the team but didn't get opening spots. Kids that people thought were done but capitalized on second chances. A ball bounces this way or that. Sometimes you can't explain it. It just adds up."
---
WHEN THE TIME CAME to take the stage for the awards ceremony, the foursome of heroes began to break up. As Mason and Davis trotted away, a man, crying, ran up to them. "Hang on! I want a picture!" he shouted, pointing to his T-shirt that read "We only need one second." After a fellow fan snapped the image, he examined the photo and shouted to no one in particular, "Call me Smokey Robinson! Because I just posed with the Miracles!"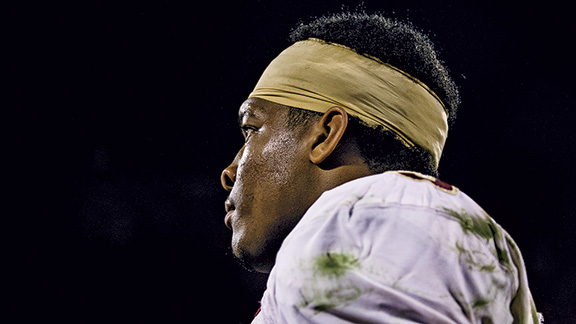 Week 12
An Ugly Win
From Nov. 12, the day the state of Florida took over Jameis Winston's assault case, to the moment it was dropped, Tallahassee struggled to define its true colors.
By Eli Saslow
The people of Tallahassee had always believed in a good tailgate, so the most ardent supporters started to arrive more than two hours before the event began. First came the Florida State fans waving their plastic tomahawks, chanting the familiar war cry. Next came a group of university boosters who played catch with a football, followed by half a dozen shirtless fraternity brothers slathered in chest paint and carrying signs. One read Don't F With FSU.
By early afternoon, a small crowd had gathered near the state attorney's office, a nondescript glass building located a few blocks from the state Capitol, where the streetlights were adorned with life-size photographs of the greatest FSU football players and trees were decorated in Seminole garnet and gold.
As the state attorney readied to make his announcement at 2 p.m. on Dec. 5, the rhythms of Tallahassee slowed to a halt. Professors stopped teaching and turned on their classroom TVs. Politicians gathered in a lounge at the statehouse and streamed the news conference live on their cellphones. Day of Reckoning! read the marquee of a downtown restaurant. Just two days before the ACC championship game, a 
state attorney's news conference had suddenly become the most meaningful moment of a football season that had come to mean so much in Tallahassee.
The potential charge in question was rape. The accused was Jameis Winston, 19, FSU's record-breaking quarterback. Aside from the obvious legal ramifications, the possible consequences included the unraveling of a Heisman Trophy candidacy, a No. 1 ranking and the team's chance to play for its first national title since 1999.
What had begun in December 2012 as the most personal encounter -- sex between college students at an off-campus apartment -- had turned into a public spectacle that consumed a city obsessed with Seminole football. Tallahassee had always adhered to its simple rhythm: politics on weekdays, football on weekends, with plenty of crossover in between. State power brokers are given field passes to games. The same lawmakers who wear knockoff Seminole football jerseys to the Capitol for FSU spirit day also cast votes on a $70 billion budget and the future of the space program.
Just like in so many other college towns around the country, FSU football had the power to dictate an agenda in Tallahassee. But this wasn't Tuscaloosa or East Lansing -- in Tallahassee, that agenda has real-world clout. And now, the top item on that agenda became 
a rape allegation.
A cluster of 17 television cameras began broadcasting the news conference as Tallahassee's decision makers took their places near the podium. Those who watched around the country wondered not only about the outcome of a single investigation but also about the ability of a town to carry forth justice when seemingly everyone had a vested interest in the matter at hand.
In came the case investigator who had played baseball at Florida State and the former state senator who had once served as an assistant men's basketball coach there. Last into the room was Willie Meggs, the well-regarded state attorney who himself had earned two degrees from Florida State. He had spent 37 years prosecuting drug dealers, child pornographers and murderers -- but no case before had elicited so much community interest. "We tried to work through and around all the hoopla," he said that day, before admitting that the circus had caused some distraction. "We try to treat everyone the same," he said, before acknowledging that Winston's case had been unlike any other. "Our timing has not been driven by any football schedule," he said, speaking less than 24 hours before FSU was scheduled to leave for the ACC title game in Charlotte, N.C.
Then Meggs made the announcement that Tallahassee had been waiting to hear since news of the investigation broke on Nov. 13.
"We do not feel like we have enough evidence to move forward with charges in this case," he said, as the tailgaters outside broke into cheers and the news conference slowly devolved into a series of bad jokes, laughs and innuendos.
---
BEFORE TALLAHASSEE'S LOYALTY to its football team had become entangled in a twisted legal investigation, before the 200-page case file had made her simply "the accuser" and him simply "the accused," before he had so much as started a college football game, before she had been denigrated across the Internet and left Tallahassee, they were just two college students brought together by circumstance on a Thursday night. He wore jeans and a red shirt. She wore pink pants and a multicolored top. They met for the first time on Dec. 6, 2012, after 11 p.m. at a packed outdoor bar called Potbelly's, popular among FSU students for its palm trees and $2 drink specials. They left together a few hours later in a cab bound for his off-campus apartment. At least this much has been agreed upon.
What happened during the next hour in his bedroom will forever be a matter of his word against hers. Was this rape or consensual sex? Was this a woman who, according to competing witness affidavits, appeared "more than willing" or a woman who repeatedly said "stop"?
The murky facts of the allegation existed in the shadow of the one fact that mattered most to many in Tallahassee: 12-0, with ACC and BCS titles on the horizon. It was a he-said/she-said case, and the city had so many incentives to believe what he said.
Thanks in part to FSU's historic season, the Tallahassee economy was enjoying its best year in a decade, with record profits for hotels and $20,000 hauls on game days for some local bars. The university expected alumni donations and student applications to surge because of the increased exposure. Local tourism was already up 15 percent. The ACC stood to make $22 million from FSU's trip to the BCS championship game, plus a windfall in television contracts and merchandising. Travel companies in downtown Tallahassee had already begun to sell tickets 
and book flights to Pasadena for the Jan. 6 title game.
"It's like Jameis Winston has poured fertilizer over all of north Florida, the way we are booming right now," says Jimmy Patronis, a state congressman who leads a group of 40 lawmakers called the Seminole Caucus, which advocates and legislates for the interests of FSU. "The area is growing. We're thriving. People are optimistic and excited. We owe a lot of that to him."
A tour through Tallahassee in late November had all the optics of a rally held by the FSU booster club. There was the enormous photograph of the football stadium at airport baggage claim; and the Seminole war chant playing on a loop at area bars; and garnet and gold tinsel entangled in the Spanish moss on campus; and the trail of hand-painted Seminole war feathers on the sidewalk that ran from the football stadium to downtown, where some of the lawmakers who were elected to shape Florida's future also happened to be FSU's most ardent fans.
In mid-November, Patronis hosted a Seminole Caucus meeting with FSU president Eric Barron. The caucus had a history of defending the school's controversial mascot and helping allocate funds to athletic facilities, including the football stadium. And even though the caucus technically worked on legislation to bolster research and academics at all 12 public universities in Florida, in this particular meeting, it talked in part about the football team at one particular school. Patronis, whose father had kept the same season tickets at FSU for 47 years, showed Barron a series of pictures of the locker room at Alabama. "Pretty cool, right?" he said, flipping through images of Bama's oversize medical saunas, where the flat-screen TVs were attached to waterproof Xbox controllers.
"We have to capitalize," he told the president. "If we win a national title, this could be us in a few years."
Meanwhile, Nick Maddox, a Leon County commissioner and a former FSU running back, had begun working with his chief of staff to write proclamations to honor Winston and his teammates for a BCS championship and a Heisman Trophy "as soon as the zeros hit the clock," he says. A few years earlier, he had started an economic index to track spending in Tallahassee. This fall, the numbers surpassed his expectations each month. He believed a revitalized football program could help Tallahassee recover from a decade of economic malaise, and he had begun to set aside time in his schedule to watch FSU practices from the sideline every few weeks to provide "encouragement, general support," he says.
"This team is turning the lights on for us, and it's a public service," he says. "The truth about this town, for the most part, is it's a family that revolves around college football and FSU football."
---
BUT SOMEWHERE BENEATH the talk of family and togetherness ran an ugly undercurrent that surfaced on Saturdays when Winston and his teammates took the field. "She's a liar!" chanted fans who stood in the student section during one game. A student posed for pictures in a T-shirt that read Forced Sex University. Tires were slashed at the accuser's sorority house, which led to the hiring of security guards to stand watch outside.
"Are we losing our minds?" wonders Jennifer Dritt, a Tallahassee football fan and the executive director of the Florida Council Against Sexual Violence. "It feels like 30 years of hard work and progress are going to waste overnight."
Dritt and other activists across the nation had taken particular umbrage at what they considered to be the botched handling of the investigation, with petitions circulating that asked for an investigation into the investigation. The accuser reported an assault within an hour of leaving Winston's apartment, and a nurse administered a rape kit before dawn, but it took nine months, for reasons that remain unexplained, before local police forwarded the investigation to the state attorney's office, which was the first group to interview several key witnesses and ask Winston for a DNA sample. "We have to proceed cautiously and fairly here," the state attorney said at one point in late November, warning Tallahassee not to rush to judgment about the accused even as the accuser was being slandered online as a traitor, a drunk and worse. Winston continued to run out of the tunnel on Saturdays to standing ovations; she moved away from Tallahassee and was encouraged by family members to seek counseling.
Her family says that at one point early in the investigation, after the accuser had identified Winston as her alleged attacker but months before news broke, a police detective warned her to think "long and hard" about whether to press charges, because Tallahassee was a 
big football town where she would be "raked over the coals and her life will be made miserable."
To some, it sounded like a heartless threat; to others, it seemed like a wise note of caution grounded in precedent. Tallahassee's last high-profile sexual assault case against a football player had come in 2003, when allegations against star defensive lineman Travis Johnson ended in a hostile trial, in which emails revealed FSU administrators had tried to broker a deal to keep the matter quiet. One note from FSU vice president of student affairs Mary Coburn requested that "all parties agree to keep this matter confidential" and "not pursue any further action."
Like the Winston investigation, the case ended up revolving around two conflicting accounts -- Johnson said it was consensual sex, his accuser said it was rape. The jury acquitted Johnson after deliberating for just 30 minutes. Afterward, Tallahassee DA Adam Ruiz railed against the school -- his alma mater -- and alleged that officials had interfered with the case with the goal of avoiding bad PR. "It's outrageous behavior," Ruiz said then. "It's bizarre, at best. That bothers me. It should bother a lot of people." He closed by saying it's nearly impossible to prosecute football players in Tallahassee, calling the program "the machine." Johnson returned to the field for FSU and later was the No. 16 overall pick by the Texans in the 2005 NFL draft.
Now, 10 years later, Florida State was on its way to the BCS title game, and Dritt worried about the collateral toll. 
A recent Villanova study on sexual assaults showed that 1 in 8 women are assaulted while in college. Dritt says at least 70 current FSU women had reported sexual assaults in 2013, and most studies show only about 1 in 5 rapes are actually reported, in part because college students want so badly to fit in. And, she says, in Tallahassee fitting in means standing behind FSU football. "The message [to victims] here is clear," Dritt says. "Stay quiet. Don't bother. We have our priorities, and unless you're on the football team, you might not be one of them."
There were other messages too -- ones even more disturbing, written directly to Winston's accuser on the redbrick sidewalks of Tallahassee in the days before the ACC championship.
"Slut" ... "Liar" ... "Seminole football: still unconquered."
---
EXACTLY ONE YEAR and one day after the mess began, students wearing Winston's No. 5 jersey filtered into the same bar where a young man in jeans had met a young woman in pink pants, and she became the accuser and he became the accused. Now every TV in Potbelly's was tuned to the FSU-Duke game, and a bartender was offering "Famous Jameis" discounts on rail tequila. By halftime, the Seminoles were out to a comfortable lead. By 11 p.m., the game had become a fourth-quarter blowout, and the crowd at the bar had become a swelling sea of tomahawk chops and chest bumps, of "Go Noles" chants and garnet and gold glitter.
When the game ended in Charlotte, the Florida State coach praised his star QB and his team for moving on and performing well through "adversity."
Meanwhile, across from the FSU campus, in the heart of Tallahassee, the night crowd had moved on too, and it was riding a buzz that came from much more than rail tequila. The economic index was up. The bars were clocking another lucrative night. The politicians' plans for a BCS title parade were proceeding as scheduled. The TVs showed a close-up of Winston in the moments after the game. Someone was handing him a new baseball hat, a black cap with big white lettering. And what mattered in that moment to the crowd assembled in the bar was not what had started in that space one year ago -- not what he said or what she said, not the months of murky uncertainty. What mattered was the lettering Winston was pointing to now on the front of his hat, a fact that meant more than any other to Tallahassee in that moment.
ACC Champions, it read, as the bar's sound system played another loop of the Seminole war chant.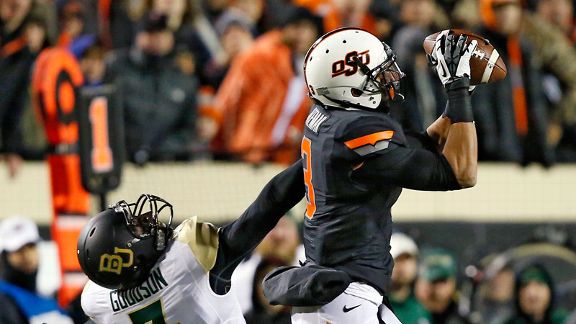 Week 13
And Then There Were Five
By Elena Bergeron
Baylor is going to its first BCS bowl, but its one loss, to Oklahoma State on Nov. 23, is the story of the Bears' season. Because with Alabama and Ohio State falling on back-to-back Saturdays, a win in Stillwater would have put Baylor in the title game. The Fiesta Bowl is a nice consolation, yet it's hard to get past what could have been, especially since the Bears were mauling opponents -- until that fateful day.
872: Total yards the Bears amassed in a 73-42 blowout of West Virginia in Waco in Week 6 -- a Big 12 record.
75: The Bears' average in-game win probability this season, fifth best in the FBS. They've averaged 80 percent or 
better in seven of their 12 games.
6: Number of times this season Baylor has scored at least 60 points, which includes four 70-plus point games. The Bears lead the FBS with 53.3 ppg.
453: Baylor's total yards vs. OSU, well below its 624.5 ypg rate. The Bears' defense gave up 440 passing yards, well above its 207.8 average.
0-4: Baylor on red zone TD chances vs. OSU. The last time the Bears failed to score a red zone TD was in a 45-10 loss at TCU in 2010. Inside the OSU 20, they had two turnovers, failed on a fourth down and settled for a field goal.
53: Number of 30-plus-yard plays the Bears have executed this season, most in the FBS. Auburn and Miami are tied for second with 43.
11: Baylor's wins, the most in the program's 112 seasons. In fact, the Bears have reached double-digit wins only two other times.
87.5: Bryce Petty's QBR through 12 games, trailing only Florida State's Jameis Winston and Oregon's Marcus Mariota. Petty will return to Waco in 2014.
1: The Bears' lone loss, and the only number that truly matters.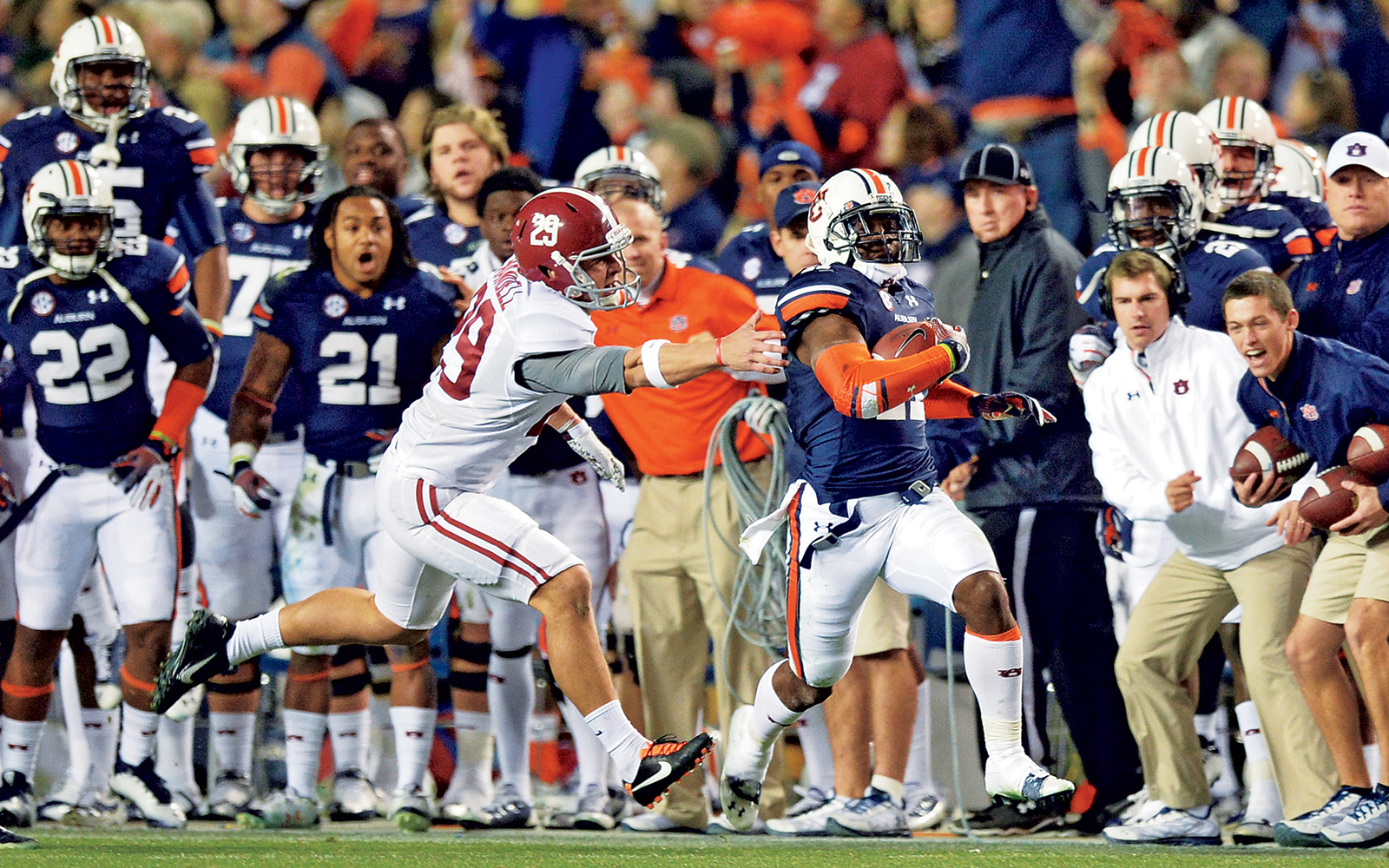 Week 14
109 Yards Returned, Two Points Denied and One Twist Left in the Road
By Rick Bragg
When I can, I watch the Alabama-Auburn game with my brother and sister-in-law in the blue-collar foothills of Calhoun County, not far from the Georgia line. We do not scream at the television; we would not fling a Cheeto across the room. Our mama raised us right. We love football, but we have gotten old together in a place where padlocks and logging chains seal the doors to the mills and factories where people used to work. Football is not the world, merely our escape from it, and we are blessed to live in a place where dusty history and the here and now have both been kind to us and rich for the University of Alabama.
I would have liked to have watched the storied rivalry there in their snug wood-frame house for the rest of my days, wood smoke curling up through the pines, the sounds of halftime drifting faintly out into the yard as we look over my brother's beautiful hunting dogs. It is what I have done, off and on, since the days of the Bear and now through the twilight of the BCS era. I would like to do that, but I know I am not welcome anymore, even if I showed up with a 21-piece bucket and three dozen Krispy Kremes.
I am banned for life. The past two times Auburn beat us, I was sitting in their house. I am bad luck.
First it was 2010, when Mark Ingram fumbled what seemed a certain touchdown and the ball rolled dead-straight for what seemed like 50 yards, mere feet from the sideline, and through the end zone. "A football," my brother Sam said, "ain't even designed to roll straight. Try to roll one. Just try it." And I was there again Thanksgiving weekend, the last big weekend of the BCS, when God proved he is a vengeful God and smote Alabama with a 109-yard return of a missed 57-yard field goal. Considering how poorly executed our response was, when the impossible happened, I guess I should be glad he did not just turn us all into salt.
Others will remember the failed two-point try in the Big House; or Baylor's pick in the end zone to beat TCU; or South Carolina and the Evil Genius whipping Clemson again; or Johnny Football running for his life in Missouri.
But for me, the last gasp of the final BCS weekend will always be the one stuck in my throat as I watched a young man in orange and blue gather the missed field goal and streak up the sideline with no one to catch him but some lumbering behemoths and a little-bitty kicker, beating us in a way no team has ever beaten another in the history of college football. Such a thing does not happen in the natural world. It made me wonder if that old nursery rhyme, the one every AU child hears, might be true.
God must be a Tiger too

Cause the sun is orange

And the sky is blue
Only divine intervention brings a people so low when they are just trying to have some time off. So I am unlucky. I made God mad at us, probably for whacking my brother in the head with a bucket while he was caught up in barbed-wire fence in the summer of '64. Anyway, my brother did not even have to say it. I banned my own self.
I know I said we are not crazed, drooling football fans. But I also pointed out early on in this that we 
live on this side of the Georgia line.
The Miracle on the Plains
Nick Saban elected to put one second back on the clock and trot out a freshman kicker to attempt a 57-yard, game-winning field goal. The ball fell short. What happened next will go down as one of the greatest chapters in Iron Bowl history. Audio courtesy Auburn IMG Sports Network

We can take no chances. Roll Tide. When this story gets out, I will be lucky if I am not banned from some parts of the Great State of Alabama altogether and do not wind up listening to next year's game on a taped-together transistor radio from inside a refrigerator box under the interstate. I have been banned before. I am also unwelcome at one auto parts store and at least one cellular phone franchise, for scaring clerks.
But that's what made the BCS era grand, in my eyes. Every weekend was life and death for those fortunate enough to be in the title hunt, and here in Alabama, if you can't have the whole hog, why settle for a chitlin? I worry, when the high sheriffs of the playoff era clamp their objective hands around our football, will every week of the season still be quite so dramatic, grim and wild? I guess it will make teams that don't play defense-or play anybody-feel good, and I am all for making others feel good about themselves. I just wish I could have had a better final image in my head to remember it all by.
Alabama graduate student Elizabeth Manning comes from an Auburn household in Valley Head, Ala. Her father, Alan, attended AU, but he stood helpless as his only daughter and only son left for Tuscaloosa. On the last big weekend of the BCS, father and daughter tried to be civil and watch the game together. "That lasted two and a half minutes," Elizabeth says. He watched upstairs in the den. Elizabeth watched downstairs in the kitchen. "I was a lady the entire game," she says, not once screeching up the stairs as Alabama pulled ahead. But after Auburn's miracle, her father ran down the stairs, flung a Tigers hat and T-shirt in her face and crowed:
"Get to wearin'."
Her last memory of the BCS is little better than mine. At least she can go home if she wants to.

Week 15
Saying So Long to the BCS Just Wouldn't be as Sweet Without the Good Ol' SEC

Q&A: What we learned playing Auburn and FSU
SEC Champions
Auburn rolled up an SEC title game record 545 rushing yards in the 59-42 win over Missouri. But the Tigers' first score, a 38-yard strike from Nick Marshall to Sammie Coates, set the tone in Atlanta. Audio courtesy Auburn IMG Sports Network

Brock Huard interviews Georgia's Mark Richt and Clemson's Dabo Swinney, whose teams started it all in Week 1, to break down the finale's top matchup: Auburn's relentless rushing attack vs. FSU's stout defense.
Brock Huard: What's one of the misconceptions about Auburn offensively?

Mark Richt: The Tigers go about their dominant run game with a different mindset. Fans get used to hearing the phrase "blowing someone off the football." But Auburn loves to move people horizontally, which is what helps them create so much space.
Huard: With QB Nick Marshall's running ability, it's almost as if the Tigers gain an extra offensive player on every snap. So I am guessing that containing them isn't limited to just the front seven?

Richt: The eyes are so critical for the entire defense against Auburn, but especially for the secondary. Like the linebackers at the second level, your DBs must close down the space that Auburn is trying to create. The Tigers force you to defend the entire field and be disciplined on the perimeter. And tackling in space is a priority as well.
Huard: Here's a good stat: Of Auburn's 309 first downs, 215 came via the run. How do you stop an offense this explosive?

Richt: They play so fast that they try to dictate what you can do defensively, so playing really good defense against Auburn can be a double-edged sword. Say you hold them to two, three, four yards. Well, they are really good in short-yardage situations and will go for it on fourth down too. Now your really good defense has been on the field for more snaps and runs the risk of wearing down. The better defense you play can, in some ways, be a disadvantage.
Huard: Most fans know about Jameis Winston and the FSU offense, but how good are the Seminoles on defense?

Dabo Swinney: They have no weaknesses. They're strong at the point of attack, and they have some scary-fast linebackers capable of making plays anywhere on the field.
Huard: So you think their front seven is stout enough to hold up against Auburn's run game?

Swinney: Look at the size and depth they have on the defensive line. They might not have the natural pass rushers they've had in the past, but they know how to set the edge in the run game, and DT Timmy Jernigan is a man in the middle.
Huard: Kentucky coach Mark Stoops, the former FSU D-coordinator, told me the Seminoles have the best secondary in the country. You buying it?

Swinney: Um, yes; I saw it up close. They're good enough to play man coverage whenever they want. Lamarcus Joyner impacts every game, whether it's as a corner, a safety or a nickelback. He's just an incredible player.
Huard: Do you think a really good secondary can impact an offense as much as an 
elite front seven?

Swinney: Absolutely, and we've had that at Clemson before. When a defense is dominant in the back end, it throws off the entire rhythm and timing of the offense. That's why the Seminoles match up well with Auburn: Their belief in their man coverage will offset the numbers advantage Auburn usually gets with its run game. They'll force the Tigers to win through the air.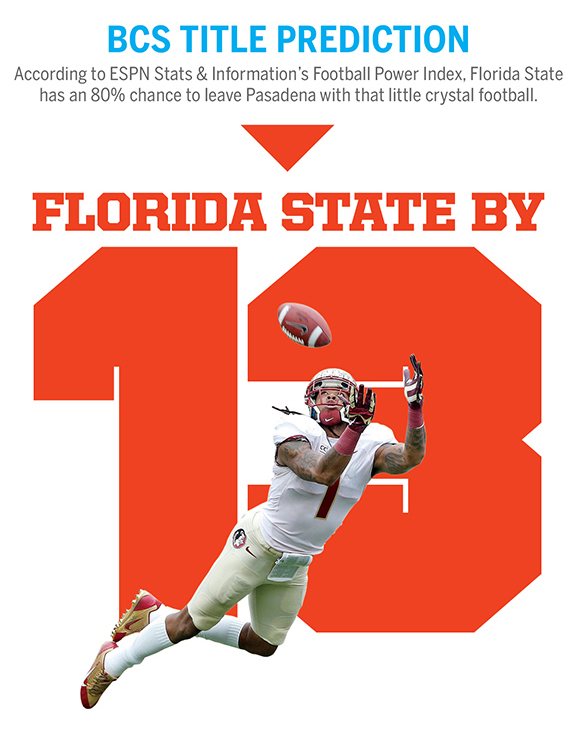 Wright Thompson is a senior writer for ESPN.com and ESPN The Magazine. He can be reached at wrightespn@gmail.com. Follow him on Twitter at @wrightthompson. Adam K. Moussa is a digital media associate for ESPN. Anthony Olivieri is a senior researcher for ESPN The Magazine. Kevin Van Valkenburg is senior writer for ESPN.com and ESPN The Magazine. Carl Carchia is a senior researcher for ESPN The Magazine. David M. Hale is a reporter for NoleNation. Tim Keown is a senior writer for ESPN The Magazine, columnist for ESPN.com and author of five books (3 NYT best-sellers). Ryan McGee is senior writer for ESPN The Magazine, a 2-time Sports Emmy winner and 2010 NMPA Writer of the Year. Eli Saslow is a contributor to ESPN The Magazine. Elena Bergeron is a staff writer for ESPN The Magazine. Rick Bragg is a contributor to ESPN The Magazine and a professor of writing at the University of Alabama. He won the 1996 Pulitzer Prize in Feature Writing and is the author of several books, including All Over But the Shoutin'.
Follow The Mag on Twitter (@ESPNmag) and like us on Facebook. Follow ESPN_Reader on Twitter: @ESPN_Reader.