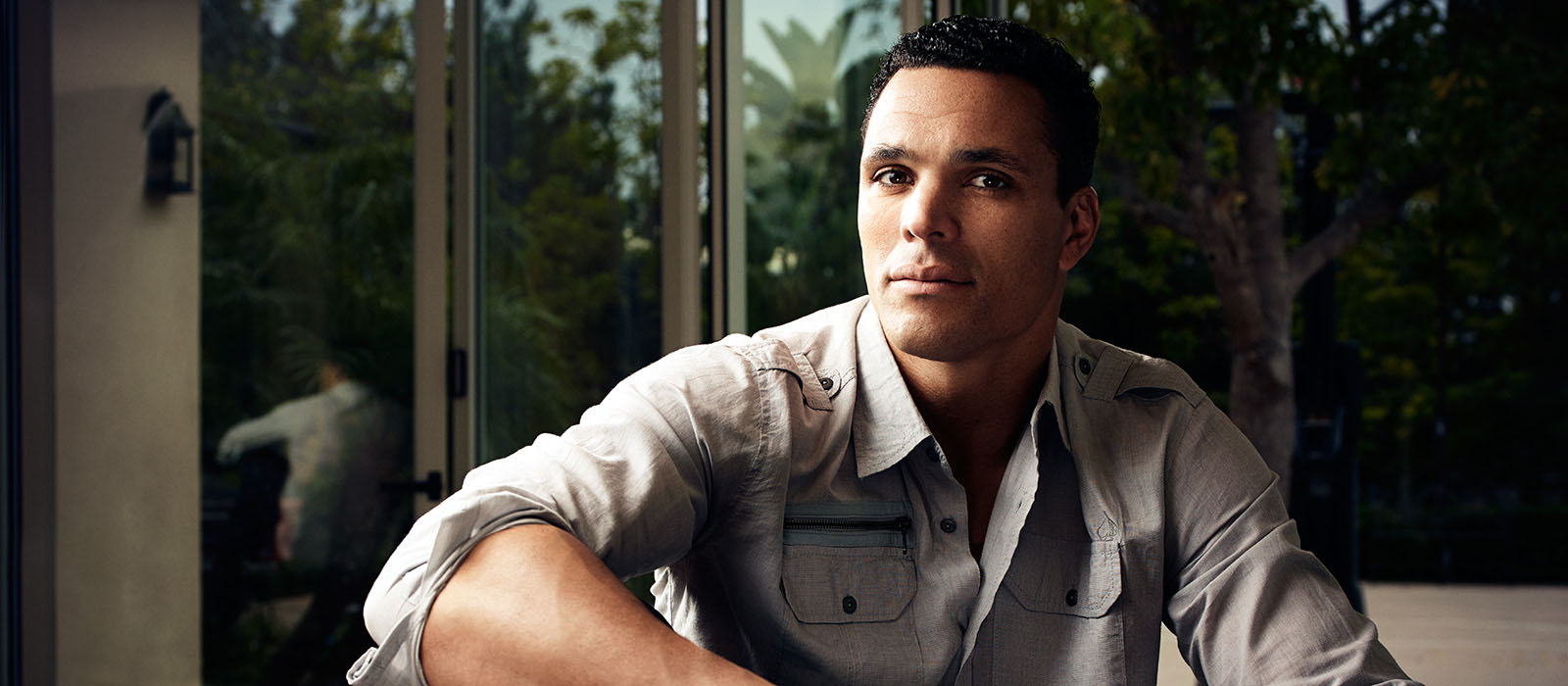 Out Route
His story was supposed to read something like this: TONY GONZALEZ unretires, leads Atlanta to a Super Bowl and rides off with a ring. Instead, a final season spent with the best tight end ever tells a much different tale.
Editor's note: This story contains explicit language.
HE'S DONE. HE can't take another year. The grind of football has exhausted him, and the grind is just now starting. It's July. He's in the weight room of his Huntington Beach home, in a gated community only miles from the projects where he was raised. He is about to work out, because his 37-year-old body might not last 16 games otherwise, because he has played in the NFL for 16 years and knows no other way. He is a physical wonder, sculpted to the last inch, but the imperative to work out is more draining than the workout itself. His body seems to be outlasting his will, rather than the reverse.
Tony Gonzalez has convinced himself that he can find happiness without football. Of course, he's said that before. He all but filed retirement papers the past two years only to return. He exists in a state of conflict that he hates, of not being able to live with the game or without it. Now he's tired. The energy required to train at his future Hall of Fame level is offset only by the certitude of finality. He looks around his weight room, littered with steel plates and bars. "I can't wait to get rid of all this next year," he says. "Should have gotten rid of it last year."
He pauses.
"I'll never need this shit again."
---
IT'S SEPTEMBER, AND the season opener against the Saints is days away. Gonzalez and his wife, Tobie, have returned from dropping off their two kids at school. He pulls out a purple notebook as he sits in his living room. Gonzalez keeps a notebook for every season, and the first thing he put in his 2013 version are notes from a speech given the day before by Falcons coach Mike Smith, who had a simple message: The difference between good players and elite ones is that the latter possess an almost unhealthy drive to be great -- the exact obsession, as it were, that enlightens and torments Gonzalez. It moved him to jot down three goals:
1) A ring
2) Start pouring myself out
3) Surrender your fear
The first goal, of course, isn't really a goal but an aspiration beyond his control. It's also a sign of his born-again optimism. He knows champions are both good and lucky, and he is tired of waiting for luck. After the Falcons came within a few yards of reaching last year's Super Bowl, he felt "97 percent" retired, unsure he could stomach another year of football's highs and lows. But only a few months into retirement, all the familiar urges of football started to pull on him. The Falcons seemed to sense this in March and began to reel him back, offering him $7 million and permission to miss the first few weeks of training camp. It took three days: He was coming back.
The other two goals are different, intertwined, a byproduct of the dueling forces within him: a passion to share his wisdom and a dread of being ignored or coming off like a jerk. Football has always been a process of self-exploration for Gonzalez. He was moved yesterday when Smith said, "Elites show their scars and will teach the young guys." He wonders whether his teammates know that he dropped 17 passes in his second year. Afraid of being a bust, he read books about successful people and learned that the common theme binding them was having a routine, based on perfect technique and relentless drive.
Gonzalez's routine has been refined over the years and is legendary in both the Chiefs' and Falcons' buildings for its unyielding neuroticism and unparalleled results. That is a big reason nobody cared that he missed the beginning of camp and why some of the new players were in awe of him when he eventually reported. His routine begins every morning at exactly 7:23. He eats the same breakfast of oatmeal and a protein shake. Before every practice and every game, he runs in a 5-by-5-yard square, to perfect breaking out of routes. Then he catches 500 passes a week out of these breaks, asking them to be thrown inaccurately to best replicate a game. "It becomes a trained reflex," Gonzalez says. "That way, you never have to think."
He learned much of his routine from Jerry Rice, who early in his career worried he'd be a bust too. Now they are the two top pass catchers in NFL history. To Gonzalez, it's simple: The difference between very good and future Hall of Famer is knowing how to work. He wants to invite younger players to join his routine in the hope that they develop their own. But to do that, it requires him to surrender his biggest fear -- "a fear of leading," he says.
It dates from his rookie year. In a close game, Gonzalez stood in the huddle and said, "We're going to go down the field and score." Will Shields, the Chiefs guard, stared at him and said, "Man, don't look at me like you know me."
That seemingly innocuous exchange triggered something deep in Gonzalez, the insecurity forged from being a tall, lanky kid in a single-parent home who was beaten up daily by two bullies. In front of a microphone, Gonzalez can be as chatty as any athlete, confident and secure. But he withdraws easily from his peers. As a result, he has never addressed a team, chastised teammates or demanded of them what he demands of himself. Now he wants to not only retire with no regrets but to grow.
Gonzalez closes his notebook and glances at the cover, where he's scribbled his mantra for the season: "The past is history. The future's a mystery. Life's in the present."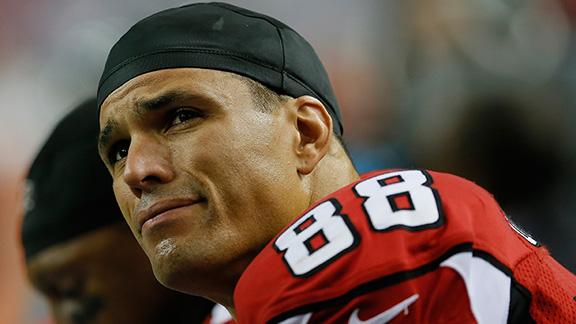 GONZALEZ'S OPTIMISM IS fragile, the scar tissue of many painful losses. All of his energy is required to rebound. He tries to stay positive when the Falcons lose in the final minute to the Saints in Week 1. "It's only one game," he says.
He always processes a loss the same way: He stews Sunday night, sleepless and silent and chewing his nails. On Monday and Tuesday, he vents to his cousin Dennis Allen. By Wednesday he is reborn, comforted by the reality that he is one player, in control of only himself. He throws himself into his routine, as if entering a tunnel.
His thin hope returns again when the Falcons beat the Rams 31-24 in Week 2. After the game, he joins 10 or so friends and family members at his car in the Falcons' parking garage, their postgame ritual. Dennis hands him a beer. Gonzalez is already sore. "I'm almost 40 years old," he says. "That's crazy."
"I was in junior high when you were starting your career," Tobie says.
An hour later, Gonzalez and Dennis settle into the den at his house, sipping beers and watching games, Tony enjoying football as if he were only a fan. That this could be how he spends Sundays next fall forces him to consider the game's place in his life. "On opening day next year, I'm going to be like, Man, that could be me playing. I've been doing this for 25 years. How can you not miss it?" It's a worry for another day. The Falcons are 1-1, and the season is back on track.
Gonzalez opens another beer, not knowing that the way he feels right now would be the last high point of his career.
---
THE NEXT WEEK, the Falcons lose again in the final seconds, this time to the Dolphins. They're now 1-2, and Gonzalez is already beginning to lapse into hopelessness. That worries his friends and family. Part of being close to a professional athlete is to temper his mood, rebuild his confidence. Dennis flies from his home in Kansas City to Atlanta for every home game, assuming that role for Gonzalez. On Saturday afternoon before the next game, against the Patriots, the two of them are in his den, watching college football. Gonzalez worries that injuries are demolishing the Falcons offensive and defensive lines and that quarterback Matt Ryan is indecisive, scared to make a mistake. Gonzalez wonders why he caught four passes on the first drive against the Dolphins and none the rest of the game.
"Why didn't you say anything?" Dennis asks.
"I did," Gonzalez says.
That midweek discussion with coaches pays off against the Patriots. Gonzalez catches 12 passes for a career-high 149 yards. But the Falcons trail 30-23 with 41 seconds remaining. On fourth down from the New England 10, Ryan lofts a pass into the end zone to receiver Roddy White, a little high but catchable -- the kind of catch Gonzalez practices 500 times a week, the exact one he probably would have caught. White can't haul it in.
An hour later, Gonzalez arrives at the family tailgate. He is fidgety, simmering, trying hard to hide his pain. He calms down before finally saying, "We've got no pass rush. We're letting a Hall of Famer sit back there."
Everyone nods out of solidarity. Gonzalez sees Ryan and his wife, Sarah, walk to their car a few rows over. He and Ryan are close; he sees a drive in Ryan that he recognizes in himself. Now he's questioning everything. "Matt's an excellent quarterback," Gonzalez says. "But he's not elite. He's this close," placing his thumb near his index finger. "He'll get there, but he has some learning to do."
Moments pass. One buddy breaks the silence by mocking Gonzalez's purple shirt, trying to ease his mood. No luck. It's almost 1:30 a.m., and the crew leaves for a diner. Gonzalez wants a beer but orders a carrot juice. He's hunched over, biting his nails. Everyone is quiet, waiting for his cue. He looks at his mom, Judy, seated opposite him. "I'm tired of the roller coaster," he says.
She nods. She's seen him despondent many times before, the misery from five one-and-out playoff exits. Gonzalez digs into his nails, gnawing as if trying to remove plaque. "Don't bite your nails," Judy says.
He stops, tilts his head back and exhales. He's at the end of his rope. A minute later, he presses his knuckles to his lips, crunching away again.
Chapter 1
text
THE COPING CYCLE begins again. He manufactures hope by thinking about teams that rallied from poor Septembers to reach the Super Bowl. By Monday night against the Jets, he has tenuously rebounded. He shakes off double-teams to catch 10 passes for 97 yards. But Atlanta falls to 1-4 on a last-second field goal.
That sends Gonzalez into a funk again. The next day, he drives around town with his friend Nick, alternating between silence and venting about the season. They stop for gas, and as Gonzalez stands at the pump, he suddenly feels as if he has to get away. One of the sad truths about being a professional athlete is that in the end, you always feel alone. He turns to Nick, seated in the front of the SUV, and asks him to drive the two miles home. He wants to walk.
Gonzalez puts on his headphones, dialing up alternative rock, trying to understand more than why the season is slipping away. He's trying to understand why he came back. "It's completely the opposite of what I thought it would be," he says. "Nobody could have foreseen this. If I knew this was going to happen, I wouldn't be here."
Anger turns into remorse. He thinks about his oldest son, 12-year-old Nikko, who lives in California with his mother. This is Nikko's first year in youth football. He is a tight end too. Gonzalez remembers back to August, when instead of sweating with teammates, he would watch Nikko's practices as the sun set. Something about it felt so pure, the symmetry of one career beginning as another was ending. He would listen to the coaches yell "Do it again, Gonzalez!" during tackling drills, and it took him back to his childhood, when he was the target of those bullies. He was once so terrified, he left his middle school graduation ceremony. His family found him hiding behind a wall. He felt so ashamed, he decided to confront his tormentors, ready to brawl. When they backed off before fists could be thrown, Gonzalez began to learn the virtues of being aggressive, the same lesson his son was learning on a team that would end up winning its youth Super Bowl, rubbing it in during this disaster of a ...
An SUV pulls up. It's Tobie, who happened to be driving by when she spotted a familiar hulking frame. "Hey, guy, you want a ride?"
"I'm good," Gonzalez says.
That night, he prays for strength. He ends up returning to the only answer that has ever given him peace: his routine. By the next game, he is ready. In the fourth quarter of a win against the Bucs, he catches a dump-off pass and explodes upfield. A tackler flies up from the secondary, but Gonzalez cuts inside and makes him miss. A linebacker closes from the inside, but Gonzalez slaloms outside. He feels young, lithe. A cornerback tries to wrap him up, but Gonzalez lowers his shoulders and plows him over. It takes three Bucs to finally drive him out of bounds. Gonzalez glances up at the replay, for what he's convinced was a gain of 40, maybe 50 yards.
It was 10.
---
THE TRADE DEADLINE is Oct. 29, a final lifeline. The Falcons, now 2-5, are going nowhere, which has Gonzalez considering a way out. It's tearing him up inside. Demanding a trade to a contender could ruin his legacy. So when he meets with Smith and GM Thomas Dimitroff, he's careful not to ask for a trade. But he makes it clear he will accept one. "You trade me to a team that needs me, that wants to make a serious run in the playoffs and the Super Bowl," Gonzalez says later. "You get something in return for a guy who you know won't be here next year. And the season isn't going anywhere anyway. That's rational."
Now that Gonzalez has opened his mind to a trade, his hopes are up. On Oct. 29, he and Tobie sit at a Buckhead restaurant in silence as the 4 p.m. deadline approaches. The Seahawks and Chiefs are rumored to be interested. Gonzalez texts friends around the NFL, asking if they've heard anything, unaware that back at the facility Dimitroff has no intention of dealing him. The Falcons have so many injuries that without Gonzalez, Ryan would have no one to throw to. It also would, as Dimitroff later says, "send a horrendous message" that management is waving the white flag. Finally, if Gonzalez decides to return in 2014, the Falcons want to own his rights.
Minutes pass, and Gonzalez's phone is quiet. At 4:01, an agonizing truth.
"Welp," Gonzalez says to Tobie, stifling his anger, "we're staying here."
"Well, shit," she says.
---
THAT WEEK, ON the 45-minute drive to work, Gonzalez pities himself. Tension inside him has been building, and he can no longer even try to make sense of it. His goals now seem like a cruel joke. He had always said he could retire in peace without a Super Bowl, knowing deep down it was a lie. Now he's trying hard to believe it. "If I can't win a Super Bowl, so what?" he says. "What would it do for me?"
ESPN The Magazine Podcast
Ryan Hockensmith talks with Seth Wickersham about Tony Gonzalez's journey through a terrible season with Falcons, his critical comments about Matt Ryan, if he was hoping to be traded, when he will retire and much more.

In September he had invited players to join him in his routine. A few did initially, but now nobody participates. He watches other receivers casually play catch and chitchat before practice -- then drop key passes on Sunday. Gonzalez fears and fantasizes about what he might say if he were to address the team. But he always returns to his routine, like a train on tracks. The failure of unmet goals simply adds to the cosmic failure of his decision to come back.
He bitches to his teammates about losing. He pouts about the constant double-teams. He muses about telling everyone to kiss his ass goodbye. "You know when you're a kid and you say, 'I'm going to run away'? That's how I acted. Like a pissed-off kid. I'm going to show them. I'm just going to leave. They're never going to see me again. I'm not going to care about them."
Smith seems to sense it. After Friday's practice, he unloads on the team and indirectly at Gonzalez. "You got a game this week. We still have a chance to turn it around. It's been done before. Who are we to feel sorry for ourselves?"
It is, Gonzalez would later say, exactly what he needed to hear. "I only have nine games left," he says. "I'm not going to go out there and put shit on film."
In the second quarter that Sunday against Carolina, he runs a crossing route, and Ryan fires behind him. Running full speed, Gonzalez twists back and pulls the ball from a defender for 14 yards. A few days later, Chris Scelfo, Gonzalez's tight ends coach, will call it "a Hall of Fame catch, the best of your career."
The Falcons lose again.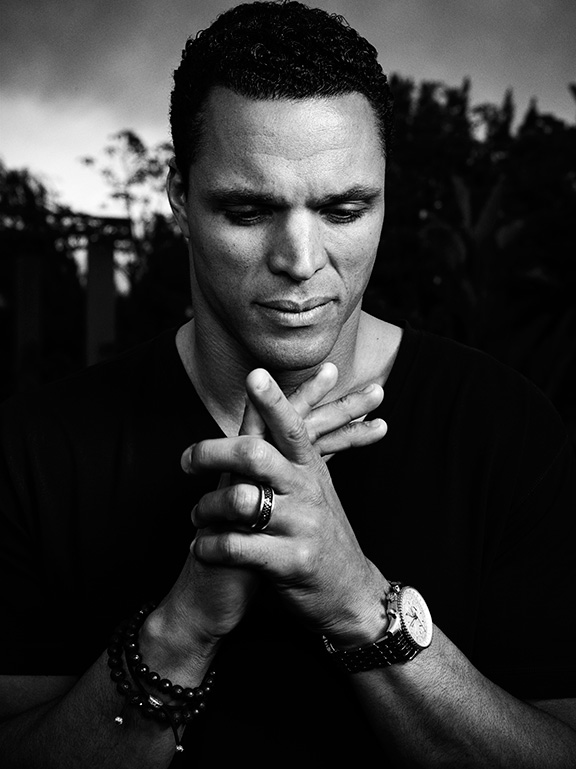 HE IS ASLEEP on the couch. It's mid-December, and the Falcons have dropped five of six games. Tobie is preparing dinner, and the kids are stealing crayons from each other. Gonzalez wakes up and comes to and begins to ponder questions he can no longer put off. What will he do without football? Who will comprise his "metaphorical locker room"? What will be his passion?
He has no easy answers. Gonzalez plans to work in TV next fall, but he knows that discussing football isn't as fulfilling as playing it. By now it's clear he returned to stave off a series of looming fears: of boredom, of self-identity, of never again feeling the highs that have sustained him. Dennis has tried to discuss this with him a few times, but Tony won't engage. He has spent years striving to not be one-dimensional, learning Spanish and traveling the world and working closely with his charity foundation, lest he become one of the legions of legends who can't find happiness away from the game. He knows that "a part of me is dying," and he has pre-emptively taken steps to avoid detestable drama -- He's retired! He's unretired! Make up your mind! -- by scheduling to see a therapist as soon as the season is over. But here he is, falling into a familiar trap. The only thing forcing him away is not pain, not inability, but nerves. "The hardest thing next year will be watching games knowing that I could play at a Pro Bowl level," he says.
Now nostalgia is seeping in. He'll miss the locker room. He'll miss the drive to work on I-985. He'll miss the refs telling him not to push off. All of this is slowly taking him down a path he hates but can't resist. On a double date with Matt and Sarah Ryan, Gonzalez says, "Maybe, if the team is hot in November, 9-2 or something, I could come back for the last two months."
"You're coming back!" Ryan says.
But a few days later, the Falcons blow an 11-point lead and lose at Green Bay. On one particular route, Packers safety Jarrett Bush, No. 24 (*See footnote), gets in his face. "Fuck you!" Bush says. "You ain't shit!"
Gonzalez looks around, waiting for someone to set Bush straight. Nobody does. Years ago this would have fired him up. Now he's just exasperated. He walks away, but Bush doubles down, bumping face masks. Stunned, Gonzalez says the first thing that pops into his head: "Calm down, young buck!" Bush laughs.
It's 13 degrees and snowing. Gonzalez thinks: I don't need this anymore.
---
OF COURSE, HE knows that isn't true. Maybe that's why, in the week leading up to his final game, Gonzalez seems antsy, irritable. He wants his send-off to be perfect, but Tobie and the kids have the flu, and 40 guests are coming to town, and every media outlet wants an exclusive, and he is thinking ahead to the Pro Bowl. For a while, he swore he wouldn't go, not wanting a joke of a game to be his last. Now he wants to play.
It's a sad week around the Falcons' building, losing a legend on top of a lost year. Dimitroff had no idea that when he traded for Gonzalez he was getting a machine that would overwhelm the franchise, in ways both small -- the cafeteria didn't have a juice bar before he arrived -- and large. Ryan remembers, before their first practice, seeing Gonzalez locked into his routine. Something clicked and soon Ryan started to drop back and roll out, emulating a game. Then receivers followed suit. Then defensive linemen. Smith always told the rookies, "If you're going to follow somebody, follow Tony." The image of a team practicing before practice "is firmly ingrained in all of our minds," Dimitroff says, and the result was four straight winning seasons, culminating in falling yards short of last year's Super Bowl.
This season, though, something was different. All the lessons were either lost or forgotten. The fear of not leaving a legacy of determination begins to demoralize Gonzalez as much as his legacy of not reaching the Super Bowl. All that's left is the modest triumph of just one accomplished goal. Gonzalez suspects that Smith will ask him to speak to the team Saturday night -- for the first time. What should he say? Does he thank the team for the memories or say what he really thinks?
Surrender your fear.
Sure enough, Smith asks him to talk. Gonzalez stands before the team at ease, without notes, as if he's waited all his life for this moment. "I've been through this before," he says. He tells them about how the fear of failure led to his "obsessive-compulsive" routine and how he learned the hard way how thin the line is between wins and losses. "It made me the player that I am," he says. "I wouldn't be standing here if that didn't happen."
He looks his teammates in the eyes. "A lot of you don't know how to work," he says. "Whether you think you know it or not, it wasn't good enough. Look at the season." It's the most devastating statement he's ever delivered. There's no telling how it is going over, but he doesn't care. "Don't waste this losing," he says. "Don't waste this season. You grow the most when you face this type of stuff."
His speech lasts about 10 minutes. At the end, Gonzalez begins to choke up. He doesn't notice, but several teammates are beginning to cry too, including Ryan, from wounded pride, from guilt, from the sight of a future Hall of Famer showing his heart. Gonzalez ends by saying, "Thank you for the opportunity to play with you."
They give him a standing ovation.
"NOBODY COULD HAVE FORESEEN THIS. IF I KNEW THIS WAS GOING TO HAPPEN, I WOULDN'T BE HERE."
Tony Gonzalez
Kevin C. Cox/Getty Images
GONZALEZ'S 277TH GAME is much like the 15 that preceded it. Gonzalez will catch two passes on the first drive, then only two the rest of the day. The Falcons will jump to a double-digit lead over Carolina, then slowly fumble it away. At halftime, owner Arthur Blank presents him with a signed helmet, painted half Chiefs and half Falcons. Gonzalez allows himself a few moments to soak in it, tearing up, then he calms himself by pivoting and catching, as always. In the second half, he picks up a safety on a blitz that he had never seen before. "Maybe you ought to come back next year," Scelfo tells him.
Gonzalez stares out to the field. "Yep."
"You can't get any slower," Scelfo says.
With five seconds left, he catches one last pass, No. 1,325, for nine yards, in a 21-20 loss. And that's a career.
---
THREE HOURS LATER, he arrives at his retirement party. Forty or so guests are assembled in a private room at a downtown restaurant. It's warm. There are special menus, embroidered with Gonzalez's name. Two cakes are on the head table. It feels like the end. Gonzalez is holding a beer and wearing a white T-shirt. A former Chiefs teammate, Tony Richardson, says, "Glad you dressed up."
"What -- is this a special occasion?" Gonzalez says.
His teammates arrive in spades. Ryan hands Gonzalez a red box containing a solid-gold Rolex. They hug. Gonzalez visits each table, chatting and laughing. His family senses relief -- and palpable sorrow. Gonzalez insists, "I'm not sad." But as Judy, his mother, says, "It hasn't hit him yet."
A short film begins, projected onto a screen. There is a slide show of Tony as an infant, as a toddler, as a boy and as a teenager. When a picture of Tony in a No. 47 football jersey pops up, Ryan yells, "What number are you going to wear when you come back next year? Forty-seven? Someone else will have 88."
Tobie grabs a mic to introduce guest speakers. "I just want to remind you guys, this is a celebration, not a funeral," she says. "This is not a sad day." Teammates and coaches take turns sharing memories. One of Gonzalez's high school coaches, George Pascoe, chokes up during his toast. "I've coached 35 years of high school athletics," he says. He holds up his index finger, crying. "I've had one. Five years from now, I'm going to Canton, Ohio."
Gonzalez holds it together, as he has all day. He watches as Ryan is handed the mic. Ryan tucks his left hand under his right arm and says that from Gonzalez he learned how to be a better player, teammate, friend, even husband. "You mix being the person that you are -- the superstar, the Hall of Famer -- with being somebody's best friend better than anybody." Now people are tearing up again. Gonzalez sits with glassy eyes. "Hats off to you," Ryan says. "Hell of a career. We wish you the best."
As everyone starts to clap, Ryan says, "And if we're 10-0 next year, maybe we'll have you back."
Gonzalez raises his beer, just high enough.
* The print version of this story attributes an anecdote to Morgan Burnett, when the Packers player in question was actually Jarrett Bush.
Seth Wickersham is a senior writer for ESPN The Magazine. Follow him on Twitter: @SethWickersham.
Follow The Mag on Twitter (@ESPNmag) and like us on Facebook.
Join the conversation about "Out Route."