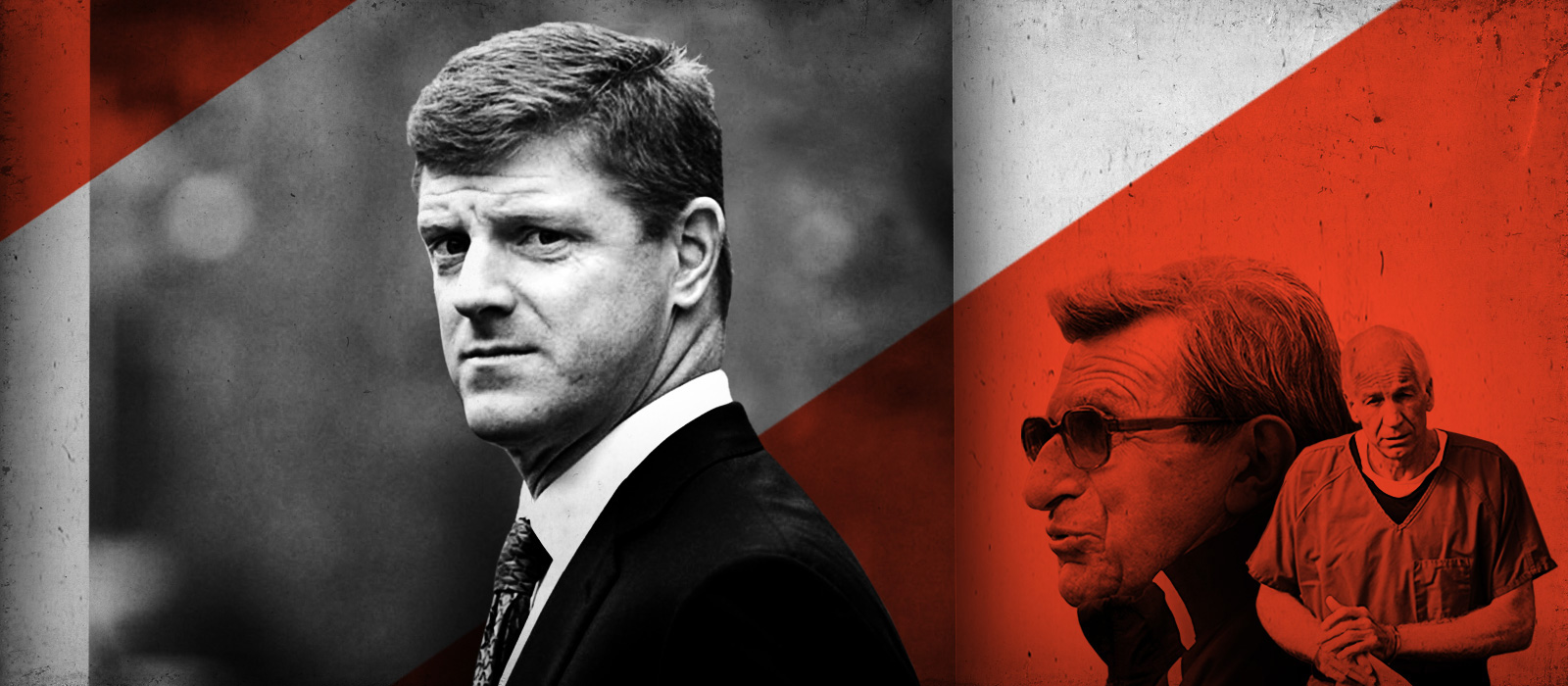 The Whistleblower's Last Stand
In Mike McQueary, some see a hero who brought down a monster. Others see a liar who railroaded a legend. Joe Paterno's former protégé has the final word.
THE STAR WITNESS was anonymous, like each of Jerry Sandusky's victims.
He was described in the grand jury presentment only as "a Penn State graduate assistant." Anyone reading the 23-page presentment released on Nov. 4, 2011, would be horrified by the prosecution's version of what the witness said he saw a decade ago. In the locker room shower inside the Lasch Football Building on Penn State's campus, he stumbled upon "a naked boy, Victim 2 ... with his hands up against the wall, being subjected to anal intercourse by a naked Sandusky. The graduate assistant was shocked but noticed that both Victim 2 and Sandusky saw him. The graduate assistant left immediately, distraught."
The following day, he reported the incident to his boss, coach Joe Paterno, though he was short on specifics. And then Paterno relayed the report to athletic director Tim Curley. And then no one at Penn State did anything to stop Sandusky from preying on boys for a decade.
In State College, Pa., a close-knit town nestled along the ridge of Mount Nittany, many instantly knew the name of the unnamed witness: Michael J. McQueary, or Big Red, as he's been called since he was the star quarterback for State College Area High School and later the Nittany Lions.
Long before the presentment became public, players, coaches and residents heard rumors -- that McQueary saw Sandusky fondle the boy, or that they were engaged in horseplay. But suddenly the rumors were not only true, they had mushroomed into the biggest college football scandal in history, one that wasn't just about the crimes of one man but about an administration's alleged attempt to cover them up. Most people here were surprised at how the prosecutors quoted McQueary in the presentment. Anal intercourse? This was far more graphic than the rumors had it; more than a few people asked: Why didn't Big Red stop it?
Three days after the presentment was released, McQueary held a private meeting with his position group, a crew of more than a dozen receivers and tight ends. According to two players who were there and others familiar with the 40-minute session, McQueary looked pale and his hands shook. He had received death threats and barely slept. Friends were shooting sideways glances at him, as if he hadn't done enough, or perhaps too much. PSU administrators decided that, for his safety, McQueary wouldn't be allowed to coach that Saturday's home game against Nebraska.
Behind closed doors, he singled out each player by name. "You are a good kid, this is why you are here, you belong here," he said. "I'm not sure what is going to happen to Joe. I'm not sure what is going to happen to me." Then, as he told them what he had seen and heard in that locker room shower a decade ago, Big Red began to cry.
The players listened in silence, their heads down. "He said he had some regret that he didn't stop it," says Patrick Flanagan, then a redshirt freshman receiver. "We didn't want to see someone we looked up to get emotional. It was heartbreaking for all of us. We weren't sure who to believe. You see an older man crying, someone you looked up to. It's sad."
Finally, McQueary confided in his players something he hoped would make them understand how he'd reacted at the time. He told them he could relate to the fear and helplessness felt by the boy in the shower because he too was sexually abused as a boy.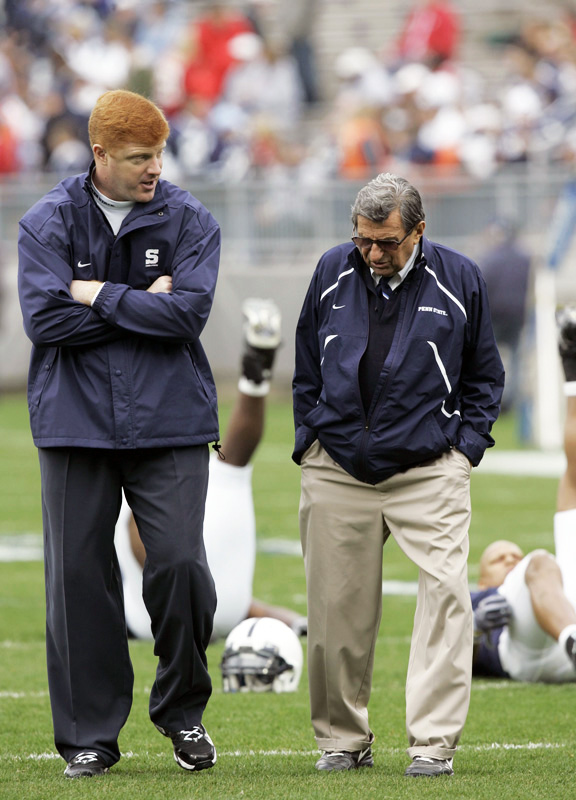 THE SANDUSKY SCANDAL broke less than a week after Paterno won his D1-record 409th game, and it played out with breathtaking speed.
Several days after the presentment indicted Sandusky on 40 counts of sexual abuse (eight more were added), Paterno and PSU president Graham Spanier were fired by the board of trustees. Two months later, on Jan. 22, 2012, Paterno died of lung cancer at the age of 85. Within six months, a jury convicted Sandusky of sexually assaulting 10 boys; he had used his charity for at-risk youth, the Second Mile, as a venue to groom and prey on his victims. A month after that, former FBI director Louis J. Freeh released his 267-page report that concluded Paterno, Spanier, Curley and vice president Gary Schultz covered up Sandusky's crimes. Within hours, the Penn State board of trustees accepted Freeh's findings. Ten days later, the university removed Paterno's statue from its pedestal outside Beaver Stadium, and the following day the NCAA crushed Penn State's storied football program with sweeping sanctions. The university has since paid $59.7 million in settlements to 26 men who say they were sexually abused by Sandusky.
While the court of public opinion may have closed the book on the case, all of Happy Valley will be closely watching the criminal trial of Spanier, Curley and Schultz, the three men who have pleaded not guilty to charges including conspiracy and failure to report suspected abuse. Their trial is expected to begin later this year, but the defense has filed several pretrial motions that could delay the case. If convicted on all counts, each man faces up to 39 years in prison.
Meanwhile, McQueary has filed a $4 million whistleblower lawsuit against Penn State for expected lost wages after he wasn't retained in the summer of 2012. In his complaint, he says he suffered "irreparable harm to his ability to earn a living" because PSU discriminated against him for providing truthful testimony in the Sandusky case and at the preliminary hearing for Curley and Schultz, and because he'll be a key prosecution witness at the trial of Spanier, Curley and Schultz.
That case and the whistleblower lawsuit are moving, slowly, on parallel tracks in separate county courthouses. At stake are the lives of three men, as well as how history will judge the NCAA, the Freeh report and Joe Paterno. And much of the outcome will hinge on how jurors weigh McQueary's credibility and the veracity of his recollections about those 30 to 45 seconds in the locker room on Feb. 9, 2001. In the last act of college football's most damning scandal, the final word belongs to Mike McQueary.
---
ALREADY, THERE ARE so many of McQueary's words to choose from -- five times, over three years, he has described, under oath, what he heard, saw, said and did.
Statement 1, Nov. 23, 2010: McQueary's only written statement, filled out for police and the attorney general in all block letters. Statement 2, Dec. 14, 2010: his testimony before the grand jury investigating Sandusky. Statement 3, Dec. 16, 2011: his testimony at a preliminary hearing in the criminal case against Curley and Schultz. (Spanier had not been charged yet.) Statement 4, June 12, 2012: his testimony at Sandusky's criminal trial. Statement 5, July 29, 2013: his testimony at a preliminary hearing for Spanier, Curley and Schultz.
Members of the high-powered defense team representing Penn State's former leaders have forensically scrubbed these five statements, which contain inconsistencies, contradictions and -- they say -- embellishments. At trial, the defense will attempt to show that the three men could not have determined that Sandusky had sexually abused the boy in the shower. That's because, they'll contend, McQueary was much vaguer in the descriptions of the incident that he gave Paterno, Curley and Schultz in 2001 compared with what he told grand jurors a decade later. The lawyers and their investigators are also burrowing into McQueary's background and character.
When McQueary signed Statement 1, he was Penn State's receivers coach and recruiting coordinator, with every expectation of someday leading a Division I program. Now 39, unemployed and broke, he lives in his parents' home on a quiet State College street and sleeps in his old bedroom. At 6'5" with a blaze of red short-cropped hair, he is impossible to miss around town -- at Starbucks fetching his morning coffee and at Champs sports bar drinking a few beers. He is separated from his wife, Barbara, who lives in Virginia with their 4-year-old daughter.
McQueary's lawyers didn't respond to numerous phone and email messages seeking comment for this story. His wife and his older brother, John McQueary II, who owns a framing shop in State College, also declined to comment. His father, John Sr., said by phone, "I'd like to speak to you, but I don't think it's in my best interests. I don't think it's in Mike's best interests right now." Then he added: "We are an unusually close family. We were close before this whole thing happened, but since then we have really circled the wagons."
As for Mike, he declined to comment, except to say this about Paterno: "I love that man more than you can ever possibly say. He's an unbelievable man. He did unbelievable things. He handled this thing in the best way he could. Was it foolproof or perfect? No. But I didn't handle this in a foolproof or perfect way either. I am loyal to him to this day. I absolutely love him."
text
Ed Nessen/Sporting News/Getty Images
WHEN MICHAEL JACOB MCQUEARY was born on Oct. 10, 1974, in Durham, N.C., his buoyant father called Notre Dame's football office with a message for coach Ara Parseghian: The future starting quarterback for the Fighting Irish just arrived. Despite moving to State College as a 7-year-old, Mike inherited his father's love of Notre Dame; he could recite the name of every player and reserve on the 1988 national title team. Still, his hero was John Sr. They tossed the football together nearly every evening after his father returned home from work as the chief operating officer of a local medical group.
A standout high school quarterback, McQueary intended to go to South Bend, just as his father had envisioned. But he was lightly recruited, and it was a surprise when Paterno visited Big Red in the family living room on a Sunday in 1993. After making his pitch about his "success with honor" credo, Paterno asked Mike if he had any questions. No, he said, and signed the letter of intent on the spot.
At Penn State, McQueary was patient, waiting his turn for three seasons behind Kerry Collins and Wally Richardson. Buddies dubbed him Mr. State College because he projected a squeaky-clean image. But some who knew him then insist it was a facade. "He always kept up this appearance of the star quarterback, the model guy," says a close friend from those days. "But he was far from it."
According to several of his classmates and teammates, McQueary developed a compulsive gambling habit at Penn State. He bet and lost thousands of dollars on poker and sports wagering, mostly on pro football, though he also bet, several of his former teammates say, on Nittany Lions games. One former teammate specifically recalls that Big Red bet and lost on his own team in a November 1996 game against Michigan State at Beaver Stadium. With McQueary serving as a backup on the sideline, favorite PSU won on a late field goal 32-29 but didn't cover the eight-point spread.
As his losses mounted, McQueary owed thousands of dollars to a bookie, a debt that was eventually erased by his father, several people say. A college friend recalls urging McQueary to slow down. "It got pretty bad," the friend says, "and it just kept snowballing and snowballing. He was very impulsive."
Whether Paterno or his assistants were aware of McQueary's gambling isn't known, but several teammates and former coaches say they doubt it. By all accounts, McQueary was fooling fans across Happy Valley -- and pulling the wool over on Paterno. "I love Joe to death," says a woman who worked for years in the football office. "But in a lot of ways, he was clueless."
Before the 1997 season, Paterno picked McQueary to be his starter and named the senior a team captain. Big Red played the part to perfection. He insisted on being one of the last players to run out of the tunnel, exhibiting the humility and team-first approach that Paterno preached and admired.
The Nittany Lions were No. 1 in the AP preseason poll but finished 9-3. When the NCAA vacated PSU's wins from 2011 back to 1998, Paterno's last official W became one quarterbacked by Big Red, who was one of five finalists for the Johnny Unitas Golden Arm Award. But he wasn't taken in the 1998 NFL draft and spent a frustrating year shuttling between dead-end gigs for the Raiders and the Scottish Claymores of NFL Europe.
Then Paterno offered him a job. Again, McQueary instantly accepted. He did odd chores in the football office for a year before moving up to graduate assistant. On the sideline, McQueary, wearing a black headset, served as the conduit between Paterno, who refused to wear a headset, and the offensive coaches in the press box. To fans, it appeared McQueary took the brunt of Paterno's cartoonish, profanity-laced fury, when in reality it meant the coach trusted him and was preparing him for the next rung up the ladder.
McQueary had a similar approach to players. Their first impression of the young assistant was that he was demanding, hardheaded and, at times, a short-fused bully. But McQueary implored them to confide their life problems, and in most cases, Big Red's combination of curiosity and concern won them over.
In 2004 Paterno promoted him to receivers coach and recruiting coordinator. McQueary knew that his boss was a stickler for the rules. (Paterno once scolded his young son, Jay, for using a PSU pencil to do homework, saying it was PSU property.) So if McQueary saw anything suspect, like when an alumnus found a roundabout way to secure a sideline pass, he'd report the incident directly to Paterno, whom he always considered a second father.
"I will someday be a head coach of a program," he wrote for a 2010 book titled Captains' Letters to Joe. "I will run that program based on the teachings and what I have learned from two men [his father and Paterno]. I am sure there will be days where I say to myself, 'What would Coach Paterno say or do right now?'"
---
ON THE EVENING of Friday, Feb. 9, 2001, McQueary watched Rudy at home. The film so inspired him that he returned to the Lasch Building at 9:30 that night to fetch recruiting tapes. When he entered the coaches' locker room, the fluorescent lights were on. In Statement 1 nearly a decade later, McQueary recalled hearing noises before he saw anything -- rhythmic, slapping sounds and the rush of showerheads spraying water. Immediately, he assumed it was the sounds of sex, saying in Statement 3, "Visualizations come to your head."
According to Statement 1, his first glance was in a mirror at a 45-degree angle over his right shoulder. McQueary said he saw a reflection of a boy facing a wall and Sandusky, a former longtime PSU assistant, standing directly behind him. After less than a minute, he said, he glanced a second time and saw Sandusky and the boy still in the shower. Both looked directly at him but said nothing. McQueary left and went to his office, where he phoned his father to tell him what had just happened. "Are you okay?" John Sr. asked.
"Yes," his son said.
McQueary testified he drove to his parents' home, and in his father's bedroom, he wept as he described for his father what he had seen. "You don't have to be a rocket scientist to figure out what was going on," McQueary told him.
Moments later, in the living room, he recounted the incident for his father and his father's friend and boss, Dr. Jonathan Dranov. McQueary didn't tell them he saw Sandusky sodomize the boy, the two men recalled a decade later. Dranov testified at Sandusky's trial that McQueary only described hearing "sexual sounds." He also testified that McQueary said the boy did not appear agitated. Dranov is mandated by the state of Pennsylvania to report incidents of child sexual abuse but apparently did not believe that what McQueary told him required such a report. And neither Dranov nor John Sr. concluded that McQueary should report it to the police.
"I encouraged him to report it to his supervisor, who was Joe Paterno," Dranov testified. "So he was strongly advised to do that. I'm not sure he needed the advice."
At 7:30 the next morning, McQueary called Paterno at home. "I don't have a job for you, kid," Paterno blurted out. Two days earlier, PSU assistant coach Kenny Jackson had left for a job with the Steelers. So Paterno assumed that McQueary, still a graduate assistant, wanted to talk about filling the vacancy. When McQueary explained he had something urgent to tell Paterno, the coach invited him to his home.
Shortly after 8 a.m., at the coach's kitchen table, McQueary told Paterno that he saw something inappropriate between Sandusky and a boy in the showers the night before. In his first public testimony, Statement 3, on Dec. 16, 2011, McQueary said that he couldn't recall if he told Paterno it was a "crime" or an "assault" but remembered describing it as "sexual" and using the word "fondling." He also suggested in his testimony that he was vague because he was too embarrassed to lay out specifics for Paterno, then 74.
After hearing McQueary's account, Paterno "kind of slumped back in his chair," McQueary testified. "I'm sorry you had to see that," the coach told him. "It's terrible ... I need to think and tell some people what you saw and I'll let you know what we'll do next ... I know it's probably tough for you to come here and tell me this, but you've done the absolute right thing." The talk lasted less than 10 minutes.
A day later, Paterno relayed the report to Curley. Roughly 10 days later, McQueary sat in a small conference room inside Penn State's basketball arena with Curley and Schultz, then a VP of finance who oversaw campus police. In Statement 3, McQueary testified he told the two men that what he saw was "extremely sexual and over the line and it was wrong." But Curley told a grand jury in early 2011 that McQueary said nothing about sexual abuse, only that Sandusky had been "horsing around" with the boy. The grand jury presentment noted, however, that Schultz admitted that he "had the impression that Sandusky might have" touched the boy's genitals and "conceded that the report was of inappropriate sexual conduct by Sandusky."
Spanier told the same grand jury that he recalled Curley and Schultz telling him that the incident was nothing more than "horsing around." Spanier also testified that he didn't know McQueary had been the one to report it.
This was not the first time that Curley and Schultz were made aware of an allegation that Sandusky had behaved inappropriately with a boy. In 1998 University Police and the Department of Public Welfare conducted an investigation of Sandusky, also related to showering with a young boy on campus. The investigation ended when the local district attorney decided not to file charges. (Spanier told the grand jury he was never informed of this incident, but emails from 1998, brought to light in the Freeh report, prove otherwise.)
Ultimately in 2001 -- as documented in a series of emails among them -- Spanier, Curley and Schultz agreed to inform the head of the Second Mile about the incident and to instruct Sandusky to stop bringing boys on campus. As for McQueary, he apparently did not ask anyone, including Paterno, for an update, something he has told friends he now regrets. He also never reported it to the police.
Still, if there was a Penn State conspiracy of silence, it wasn't a particularly effective one. At least a handful of people say they heard about the 2001 shower incident directly from McQueary, and dozens more say they heard it secondhand. "I knew about this a month or two after it happened," says a former teammate and friend of McQueary's. "It certainly wasn't a secret. We all heard this rumor."
ONE EVENING IN October 2010, a Penn State football fan named Christopher Houser was reading Blue White Illustrated, a Nittany Lions fan site. He struck up a private chat with John McQueary II about whether Sandusky would ever coach again at PSU. John II told Houser that it was highly unlikely because his younger brother, Mike, had walked in on Sandusky and a boy in a locker room shower in the early 2000s.
It isn't known whether Houser, who did not return The Mag's calls, was aware that a grand jury was investigating Sandusky at the time; he later told investigators that he simply assumed the shower incident had not been reported to the police. So on Nov. 3, 2010, Houser sent an anonymous email to Centre County District Attorney Stacy Parks Miller describing what John II had said, according to a summary of his interview with investigators. Parks Miller quickly forwarded the email to state police trooper Scott Rossman, an investigator who had worked on the Sandusky investigation in the past. In a note on a summary document, Parks Miller told Rossman "someone should contact and interview Penn State Assistant Football Coach Michael McQueary [in] reference [to] the Sandusky Investigation."
Houser's tip provided the break that investigators needed. At 7 p.m. on Nov. 10, 2010, Rossman and Anthony Sassano, an agent in the office of the attorney general, went to McQueary's home, but his wife, Barbara, told them he was still working at the Lasch Building. She called her husband and handed the phone to one of the investigators. McQueary agreed to meet them anywhere but at his home.
At 7:45 p.m., McQueary sat down with the investigators on a bench in dimly lit Holmes-Foster Park, just across the road from Our Lady of Victory Catholic Church, where the Paternos attended Masses. Although he refused to answer their questions, "McQueary related that he was willing to cooperate," Rossman wrote in a police memo seen by The Mag. "However, due to the severity of the incident, he wanted to consult with legal counsel prior to and during the interview."
McQueary, in Statement 5, said he knew the investigators wanted to speak about Sandusky because there had been rumors of an investigation in State College for nearly two years.
Twelve days after his initial meeting with investigators at the park, McQueary met them again, this time for 90 minutes at the office of his lawyer, Tim Fleming, who took notes. The following day, McQueary filled out a Pennsylvania State Police Victim/Witness Statement Form, in all block letters:
On the Friday before spring break in either the year 2001 or 2002, 2002 I think, at approx 10 pm in the Lasch Football Building on the Penn State campus I witnessed improper behavior by Jerry Sandusky in regards to a male juvenile. As I walked in to the staff locker room I heard rythmic [sic] slapping sounds. The locker room lights were on & I did hear the showers running [a second "running" is crossed out]. Upon my entry I turned immediately to my right to open my locker. While placing items in my locker I looked into the mirror at a 45 [degree] angle; in the reflection I could see a young boy approx. 10/11 yrs old facing a wall with Jerry Sandusky directly behind him. I did not see actual insertion. I am certain that sexual acts/the young boy being sodomized was occuring [sic]. I looked away. In a hurried/hastened state, I finished at my locker. I proceeded out of the locker room. While walking I looked directly into the shower and both the boy and Jerry Sandusky looked directly in my direction. After leaving the locker room I proceeded to my office, made a phone call to my father and then immediately left the building.
I drove to my parents house. Spoke with my father about the incident and received advise [sic]. On the next Saturday morning at roughly 8 am -- less than 12 hrs after the incident -- I alerted Coach Paterno -- my superior at PSU -- at his house in person as to what I saw!
To be clear: From the time I walked into the locker room to the time I left was maybe 1 minute -- I was hastened & a bit flustered.
I would not be able to recognize the boy. Both individuals were wet and the looks were quick -- I had not seen the boy before nor have I seen him after to my knowledge.
McQueary signed the two-page form and dated it Nov. 23, 2010, 10:45 a.m. A few weeks later, he delivered Statement 2 when he testified before the grand jury investigating Sandusky. A full transcript has not been made public, but according to an excerpt, McQueary gave a generally consistent account, saying he looked into the shower twice -- once in the mirror and a second time before departing.
"The Grand Jury finds the graduate assistant's testimony to be extremely credible," the grand jury presentment states. McQueary testified before the 30th grand jury, but the presentment was written by the 33rd grand jury, a different group of citizens that did not hear from McQueary directly.
A member of the 30th grand jury now disputes the presentment's characterization of McQueary as "extremely credible." Stan Bolton, a 53-year-old employee of the Home Depot in York, Pa., says he was skeptical of McQueary's claim that sexual acts were going on between the boy and Sandusky because McQueary also said that he didn't see penetration. "This planted a seed with me -- either you saw it or you didn't," says Bolton, who was one of 23 grand jurors. The prosecutors "kind of glossed over it and moved on to who [McQueary] told, which started the whole Joe Paterno thing."
A month later, on Jan. 12, 2011, Paterno, then 84, sat for a seven-minute Q&A session with prosecutors in front of the Sandusky grand jury. The coach was accompanied by a lawyer and his youngest son, Scott, who is also a lawyer. Before testifying, Paterno had agreed to be interviewed by prosecutors. "PATERNO related that McQUEARY didn't give him any specific details about the incident, however he remembered [McQueary] being upset by what he saw," an investigator wrote in his notes, court records show.
Moments later, Paterno took the witness stand, and a prosecutor asked, "Without getting into any graphic detail, what did Mr. McQueary tell you he had seen and where?" The coach struggled to characterize, even vaguely, what McQueary had told him 10 years earlier at his kitchen table. He said he thought McQueary described seeing "fondling," but he was unsure. "Well, I don't know what you would call it," Paterno said. "Obviously, [Sandusky] was doing something with the youngster. It was a sexual nature. I'm not sure exactly what it was. I didn't push Mike to describe exactly what it was because he was very upset."
By telling the grand jury that McQueary might have used the words "fondling" and that the act was of "sexual nature," Paterno unwittingly provided the first explicit link that the Sandusky scandal was also a Penn State one. This gave rise to the Freeh report and the NCAA sanctions that stemmed from them. His testimony would also be a key component of the charges brought against Curley, Schultz and Spanier and will play a part in McQueary's whistleblower lawsuit. The coach certainly did not realize it at the time, but by corroborating McQueary's account, Paterno would tarnish his own legacy and help topple the program he'd spent 61 years building.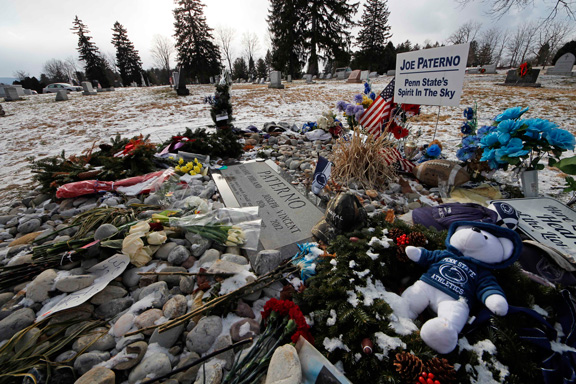 IN NOVEMBER 2011, after the Sandusky presentment became public and McQueary was barred from the sideline for his safety, the governor of Pennsylvania was on national TV questioning McQueary's actions. "He met the minimum obligation of reporting it up," Tom Corbett said on Meet the Press, "but did not in my opinion meet a moral obligation that all of us would have." Even President Barack Obama suggested that McQueary could have done more.
That week, in an email to a friend, McQueary complained that "I did stop it not physically but made sure it was stopped when I left that locker room. I had to make tough impacting quick decisions ... No one can imagine my thoughts or wants to be in my shoes for those 30-45 seconds ... trust me."
He also wrote an email to a prosecutor and a Sandusky investigator, clarifying what he had seen. "I cannot say 1000 percent sure that it was sodomy," McQueary wrote in this previously undisclosed email dated Nov. 10, 2011. "I did not see insertion ... it was sexual and/or way over the line in my opinion, whatever it was." This appeared to be a retreat from what he wrote in Statement 1 a year earlier: "Certain that sexual acts/the young boy being sodomized was occuring [sic]." It was also far different from the prosecutors' description in the presentment that he had seen "anal intercourse."
Three days before he wrote the Nov. 10 email, McQueary had told his players that he was a sexual abuse victim. McQueary would not confirm to The Mag that he was in fact abused as a boy or offer any comment on what he told the players. One of them says now that the revelation gave him a better understanding of how difficult reporting the shower incident must have been for McQueary. "It made it even more personal for him," the player says.
---
WITH CRITICISM STILL fresh about his failure to stop Sandusky, McQueary gave his first public testimony at a preliminary hearing for Curley and Schultz, Statement 3, on Dec. 16, 2011. During that session, McQueary said that he didn't see "insertion" in the shower but that he believed Sandusky was "molesting the boy" and "having some type of intercourse with him."
He also offered a slightly different account of how he witnessed what he did. For the first time, he said he looked in the shower three times, not two. The first glance was through the mirror over his shoulder; the second was after he approached the shower and peered inside. "Jerry was directly behind him in a very, very, very close position with Jerry's hands wrapped around his waist or midsection," McQueary recalled.
And now, in Statement 3, he described a third look: He recalled slamming his locker door as a way to seize the attention of Sandusky and the boy. McQueary testified that he then approached the shower entrance; presumably he did so to confirm the two had separated.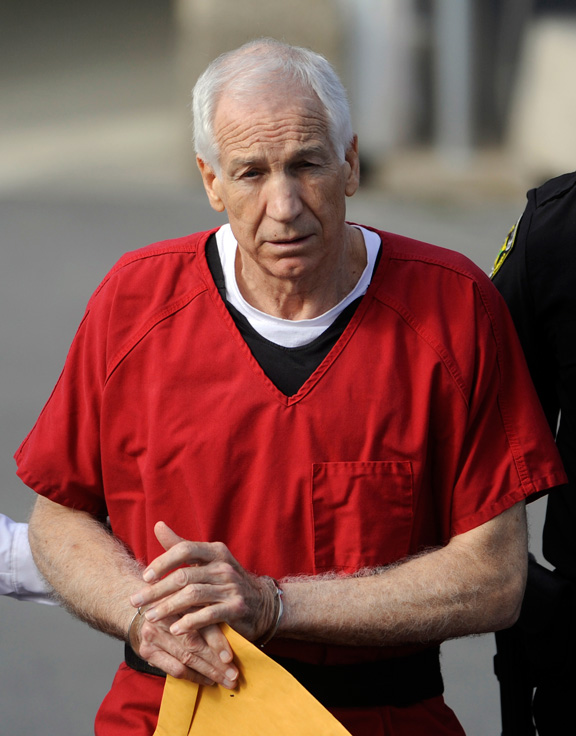 DID SEXUAL ASSAULT occur on Feb. 9, 2001? That question will likely be explored at the trial of Spanier, Curley and Schultz, especially if the defense calls to the stand Victim 2, an individual claiming to be the boy McQueary saw in the shower with Sandusky.
Victim 2 has never testified under oath -- he and Victim 8 were the only two of Sandusky's 10 victims who did not -- and no one is certain what Victim 2 would say. But the defense would likely hope it'd be something similar to what he told Joe Amendola, Sandusky's defense lawyer, in November 2011. Days after the presentment was released, Amendola received a phone call from a man in his mid-20s, claiming to be Victim 2. At the time, his identity was unknown to the prosecutors, so Amendola thought he'd caught a break. On Nov. 9, 2011, the young man and his mother sat on a couch in Amendola's office to answer a series of questions.
The man told Amendola that at the time of the shower incident he was 14, not 10 or 11, as McQueary estimated. According to a five-page memo of the interview written by Curtis Everhart, Amendola's investigator, the man also said that the incident happened on Feb. 9, 2001 -- the Friday after national signing day, a busy night on campus -- not on March 1, 2002, as the prosecution had written in its presentment. The man said "this particular night is very clear in my mind," the memo states. In the shower after a workout, the man said he and Sandusky "were slapping towels at each other, trying to sting each other. I would slap the walls and would slide on the shower floor, which I am sure you could have heard from the wooden locker." The man said he recalled hearing a locker slam but never saw who closed it.
"The grand jury report says Coach McQueary said he observed Jerry and I engaged in sexual activity," the man said. "Nothing occurred that night in the shower."
Pressed by Everhart on how he could be so certain it was the same night, the man said Sandusky told him soon after that someone "saw us engaged in sexual acts and reported this to school officials." Sandusky had indeed been notified of the complaint by Curley, though Curley did not tell Sandusky that McQueary was the witness, Amendola says.
"Did PSU officials ever contact you?" Everhart asked Victim 2.
"Never," the man said. "What McQueary said he observed is wrong. I can't understand why this was said. It is not the truth."
Two weeks later at the Centre County Courthouse, a local lawyer informed Amendola he was representing Victim 2 and he intended to sue Penn State. "I said, 'What?'" Amendola recalls. "And he says, 'He's one of the worst victims.' I almost fell down. That's not what this young man told me and my investigator."
Victim 2 also told prosecutors two different stories. Prior to the presentment, he told investigators he was not one of Sandusky's victims, but several months later, he told them that he was a victim.
Ultimately, prosecutors decided not to call him to the stand at Sandusky's trial, and Sandusky was acquitted on the count of involuntary deviate sexual intercourse with Victim 2. The jury had only McQueary's testimony to rely on for this charge and apparently did not deem it sufficient for a conviction. In the case of Victim 2, Sandusky was found guilty of indecent assault, unlawful contact with a minor, corruption of minors and endangering a child's welfare. He was also convicted of 41 other counts of sexually abusing nine other boys. He is now serving a prison sentence of at least 30 years.
Last year Victim 2 reached a multimillion-dollar settlement with PSU. There are many valid reasons abuse victims change their accounts, sexual abuse experts say: They might have initially been too ashamed to admit the abuse or have blocked out the memory. So the defense will have to weigh whether this is the case with Victim 2, or whether he might, under oath, deny McQueary's testimony for a second time.
---
AT THE DAUPHIN County Courthouse in Harrisburg, Pa., on July 29, 2013, McQueary strode to the witness stand for Statement 5. He was called by prosecutors to convince a judge there was enough evidence to move forward with the trial of Spanier, Curley and Schultz. For all the criticism and second-guessing he had endured, Big Red looked grimly defiant, as if girding himself for the rough cross-examination to come. Sure enough, he bristled, more than once, at the defense lawyers' pointed questions.
"People take things out of context," he said. "I want to make sure I'm being as clear as I can."
McQueary testified that he told Paterno he saw Sandusky and a boy engaged in "a very bad sexual act, a molestation act with a minor," a phrase he had not used in his previous statements. When McQueary recounted his discussion with Curley and Schultz, he said he told both men he saw Sandusky and a boy involved in "a sexual situation, molestation incident."
McQueary reiterated that Paterno, Curley and Schultz knew what he had seen was deeply upsetting. "It was emotionally and psychologically personal for me," he said.
For the first time, McQueary also recounted a conversation he had with Paterno before the coach was fired, regarding how Penn State officials mishandled McQueary's report of the shower incident by not going to the police.
"[Paterno] said, 'Old Main screwed it up,'" McQueary said on the witness stand. Old Main is the name of Penn State's administrative headquarters. McQueary then testified that Paterno told him, "The university is going to come down hard on you. Don't worry about me. They're going to try to scapegoat you."
To the defense team, McQueary's revelations, particularly his use of the word scapegoat, echoed his whistleblower lawsuit. In that suit, McQueary alleges that Spanier's public support for Schultz and Curley in November 2011 was designed to "isolate [McQueary] and to make [him] the scapegoat in this matter" for not being specific enough in his accounts to them.
Near the end of the defense lawyers' aggressive line of questioning, McQueary volunteered something else that he had not said in his previous four statements -- a similar sentiment to the one he offered The Mag for this story.
"I didn't handle this the quote-unquote perfect way," he said. "I'll point the finger at myself before I point it at anyone else."
---
ONE MORE TIME. McQueary knows he will have to take the witness stand and tell the horrifying story at least one more time. He might have to testify a second time if his whistleblower lawsuit goes to trial, which is likely. A senior PSU official says the university has no interest in settling.
So McQueary waits, his life stuck in its third year of limbo. Last summer Savannah State approached him about an assistant coaching job, but the administration ultimately decided against it. He seems resigned to the fact that he probably won't coach again. "After a successful and rewarding stint as an assistant football coach at Penn State University, I am in search of possible new career opportunities," McQueary wrote recently on his LinkedIn page. "I would like to explore any opportunity with growth potential and a rewarding career path. I am willing to relocate within the Eastern United States. I feel I have a broad range of skills and I am extremely hard working."
McQueary has told acquaintances he cannot wait to leave State College for good. Blowing the whistle has cost him a few close friendships and the respect of more than a few Penn State legends. At a reception at Beaver Stadium during the week of Paterno's funeral, Franco Harris confronted McQueary, asking him to describe what he had seen and heard in the shower. Harris is among the loudest of the vocal Paterno loyalists who believe the coach was railroaded in no small part because of McQueary's testimony. Still, the Hall of Famer says he is not surprised Paterno backed up McQueary's account before the grand jury. "This was vintage Joe," Harris says, "because Mike was one of his players, and Joe always supported a player until proven otherwise."
But few Nittany Lions have shown the same loyalty to Big Red. "That blows my mind," a sympathetic person close to McQueary says. "Where the hell is this 'We are Penn State'?"
Approaching 40, McQueary fills his days hunting for distractions, scouring the web for employment -- he's failed to land several sales jobs -- and visiting his lawyer's office at a strip shopping center. On some days, he pays his respects at Joe Paterno's final resting place. The coach's grave is along the far edge of Spring Creek Presbyterian Cemetery. As you stand before the burial plot, Mount Nittany looms over your right shoulder. Engraved on Paterno's modest headstone is a line from poet Robert Browning: "Ah, but a man's reach should exceed his grasp, or what's a heaven for?"
These solitary visits are very emotional for Big Red. Before leaving, Mike McQueary always plants a kiss on the coach's headstone.
Don Van Natta Jr. is a senior writer for ESPN.com and ESPN The Magazine. He can be reached at don.vannatta@espn.com. Follow him on Twitter at @DVNJr.
Follow The Mag on Twitter (@ESPNmag) and like us on Facebook.
Join the conversation about "The Whistleblower's Last Stand."