A Long Journey to Spring
New Royals coach MIKE JIRSCHELE spent 36 years in the bushes, most of them preparing players for the jump that eluded him. Yet he never balked, knowing his plight was nothing compared to that of his three brothers.
MIKE JIRSCHELE WALKS to a distant diamond, looking like a man taking his first steps on the moon. He's wearing a fresh white Royals uniform, No. 59; "Linebackers coach," he says with a smile. His job this sunny morning is to throw BP. He reaches his assigned field at Kansas City's sprawling spring complex in Surprise, Ariz., and adjusts the placement of the L screen and the wire basket of baseballs waiting for him. Among the players in his group is Jarrod Dyson, the speedy centerfielder. Last season 43 men called themselves Royals; 18 of them had played for Jirschele at Triple-A Omaha, where he had managed for the past 11 years. Dyson is one of them, and now he leans over the plate.
Jirschele picks up a fistful of balls. George Brett is watching him. So is Ned Yost, the Kansas City manager. It's Jirschele's first major league audience, and he winces each time he misses the spot. "My fault, buddy," he says when a ball thuds against the pad at the back of the cage. Dyson, with a hazer's eye for weakness, accuses Jirschele of putting a little something extra on the tosses to him.
"They're the same every time," Jirschele says from behind the screen.
"No, no they are not," Dyson says.
"That's called deception," Jirschele says.
He is still getting used to the seeming illusions of his new life, the not-so-subtle differences in meal money and the width of seats. A few weeks ago, he went to Macy's to buy the first three road-swing suits he's owned; he saw that the Royals will be opening their season in Detroit and bought his first overcoat too. Billy Butler, the $8 million designated hitter, recently asked if he wanted to enter a Daytona 500 pool. It was $100 a throw. Jirschele informed Butler, using slightly different language, that $100 still means quite a lot to him and he would have to decline. A little later, Butler stopped by. "Jirsch, you're in the pool," he said.
After BP, Dyson lights up when he's asked about his former minor league manager, now his major league coach. Dyson would retreat to Jirschele's office in Omaha to work through his doubts and fears, to affirm that he might one day cross a divide that can seem so narrow and yet as wide as a moat. The man who had never made it was blessed with the ability to convince other men that they could. Now, Dyson says, it's his turn -- it's the turn of the 18 ascendants -- to help Mike Jirschele, the 55-year-old rookie, feel as though he belongs.
"He's the man," Dyson says. "It's not just about baseball. It's more than that. Our conversations went deep. He'd share his experiences with his family and we got close. I straight up love the guy. That we're gonna see him up here every day, it's about to bring tears to my eyes ..." Dyson trails off, shaking his head. "I don't know if I can continue this story," he says, and he walks away before anyone can see.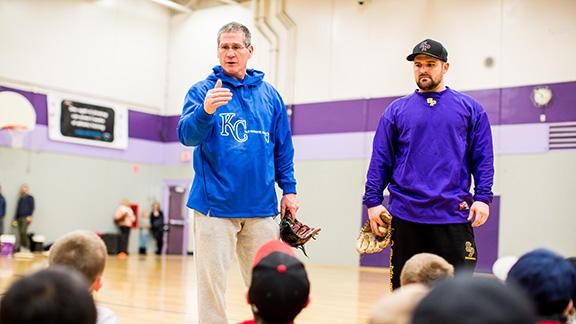 IN THE FEBRUARY of a brutal winter, Mike Jirschele drives through the deer country outside Clintonville, the small Wisconsin town he has always called home. With him are his sons, 31-year-old Jeremy and 23-year-old Justin, and Jeremy's son, Mike's grandson, 8-year-old Keagen. Hanging from the rearview mirror, there's a tiny baseball, a cross and a ribbon that reads: "Take me out to the ballgame." In the frigid Wisconsin dark, the words feel more like a prayer than a song. But there will be baseball this snow-swept morning. The Jirscheles are holding an infield clinic in a high school gym in Eau Claire, one of three or four camps they host each winter. For Jeremy and Justin, it's a way to earn some needed cash; for Mike, it's a chance to spend some time with them with gloves on their hands. He didn't always get to do that when they were young.
After a quick morning session with younger kids -- Keagen by far the best of them -- a few dozen teenagers roll in, all of them with mitts and aspirations. The high school's coach introduces the Jirscheles to the boys. First he nods toward Jeremy, who played three seasons in the minors before beginning his coaching career at the University of Wisconsin at Stevens Point, where he is the primary assistant. Next comes Justin, a younger version of his father -- stocky, low forehead, big hands -- and a utilityman in the White Sox organization.
And now the coach turns to Mike and recites from memory the trajectory of a local hero: a fifth-round pick in 1977 by the Rangers; 13 years patrolling infields across the country, topping out at Triple-A; a stop-and-start rise through the coaching ranks, including these past 11 seasons spent as the manager of the Omaha Storm Chasers, winning championships two of the past three years; and now, finally, after 36 summers of minor league service, Mike Jirschele is about to enter his first season as a major league coach for the Royals.
It is perhaps the first time Mike has been publicly introduced by his new home and position, and he turns his head a little at the sound of it before he begins a speech he has given a thousand times, often to himself. "I didn't make it to the big leagues," he says, as though he is still unable to accept that he has. Then he talks about destiny and what we might control of it. He talks about patience and practice and discipline. He talks about how you never know when someone important might be watching you, and that's how you should do everything you do: as though someone important is always watching you.
Unlike those clubhouse sessions with Jarrod Dyson, he doesn't talk about his family. He doesn't talk about his father and the holes in his heart, or his three lost brothers and the size of theirs, and he doesn't talk about his offseason job at the furniture store, where he has worked for most of his last 33 winters, after his summers spent in the company of the millionaires he helped make. But he does talk about life in small towns in farm-system states, and he talks about its gifts and curses, even if, like fathers and sons, it can be hard sometimes to see much between them. And he talks about escape and the possibility of it, if escape is what these boys want.
text
MIKE'S CHILDHOOD HOME is the closest that Clintonville has to a White House. Outside, an elaborate garden with a water feature and small sculptures of athletes is buried somewhere under the snow. There are also three flags flying on tall poles: an American flag, a Packers flag and a Wisconsin Badgers flag. "It looks like a miniature golf course in the summer," Justin says, driving past on the way home from Eau Claire. The blue glow of a TV screen flickers through the windows.
Inside, 81-year-old Don Jirschele is watching a college basketball game in his back room, which is filled with trophies, pennants, football helmets, bobbleheads and a huge photograph of Lambeau Field. A wheelchair ramp still leads up into the kitchen, where the walls are lined with photographs of his wife, Mary, and his eight children. Only Don lives here today.
Mary was pregnant with their eighth child -- they had three boys and four girls at the time -- when they first noticed that their eldest, a boy named Doug, had started walking on the balls of his feet. He was 11 years old. A series of tests revealed that he had muscular dystrophy, a degenerative, incurable disease that would one day wither him; its sinister opening assault had been on his Achilles. Doctors told the Jirscheles that their girls might be carriers but wouldn't show symptoms of the disease; their boys, all of them, almost certainly would. More tests were completed. Mike, their second son and third child, had somehow threaded through that biological minefield unaffected. Pete, their third son, not much more than a toddler at the time, was not as lucky. The Jirscheles were left hoping that their unborn child would be a girl, but it was a boy, Jim, and their baby also had muscular dystrophy. If any of their stricken children reached 40, the doctors said, the Jirscheles should consider themselves fortunate.
It would have been a devastating diagnosis for any family, but it seemed an especially unlikely one for the Jirscheles, who were known in town for two things: their family bakery and their athleticism. Don was a multisport standout, setting a Clintonville High record by scoring 42 points in a single football game. He eventually played in the 1952 Cotton Bowl for Bear Bryant at Kentucky. Mike was almost impossibly gifted, all-state in baseball, basketball and football, tying his father's record by scoring six touchdowns and kicking all of his own extra points. (He had signed a letter of intent to play football at Wisconsin and also planned to play baseball there before he accepted his $20,000 signing bonus from the Rangers.) Several of Don's grandchildren, beyond Jeremy and Justin, are athletes; Sam Arneson, the current Badgers tight end, is among them. And yet the same genetic combination that could forge so much physical grace had also produced three boys whose bodies would one day betray them.
Muscular dystrophy turns its victims into their own prisons. Simple bodily functions, like coughing, first become difficult and then become impossible. For a while, Pete needed a tracheostomy just to breathe. He was also the first to lose the ability to walk, in his late teens. After Jim was born, Don closed the bakery, unable to adapt its hours to his new reality, and took a factory job instead, making tablecloths for 25 years. (He also managed the local baseball team for 41 years; Clintonville's ballpark is named in his honor.) Mary worked full time as a nurse. In between, she and Don would stretch their doomed children's legs and encourage a dark sort of light about their family's fate -- joking that their wheelchair-bound boys should get up and pour their own glasses of water -- trying to stave off the inevitable. "That's how we got through," Mike says. "Pete used to say, 'If I get to the point I can't wipe my own ass, let me die.' Well, we were wiping his ass at the end, and he was still trying to live."
"We got 'em to their 40s, all of 'em," Don says. First Pete died and then Doug. Then Mary, her fatal heart attack the only unexpected death among them. Finally Jim, in 2011, when Mike was down in Dallas to collect a minor league award for his "skill in mentoring young players in the field." It was the fourth Jirschele funeral in nine years, and Mike bore the ashes each time, the disappointments of his full-bodied life gone pale enough to vanish. How could a man feel as though he hadn't made it when he was the only boy who had?
Don Jirschele waves toward the Christmas and wedding photographs on his walls, the passage of time marked by the arrivals and departures of wheelchairs: one then two then three, then two then one then none. "This is what's left of my family," he says. Today, much of the house remains untouched, a kind of shrine. In the children's bedrooms, Brewers pennants and Robin Yount posters are still pinned onto the wall. And the downstairs bathroom still has its system of pulleys, its low sink and its accessible tub. On top of the tub, there's a cover, wrapped in blue carpet, making it into a dressing table. Whenever the surviving Jirscheles look at it, they remember however many thousands of times they bathed their sons and brothers, laid them carefully on top of that carpet, slipped them into their Packers T-shirts and put them back in their wheelchairs. A single piece of paper, in a small frame, still hangs on the wall in that bathroom. In tiny print, it reads: "Love never fails."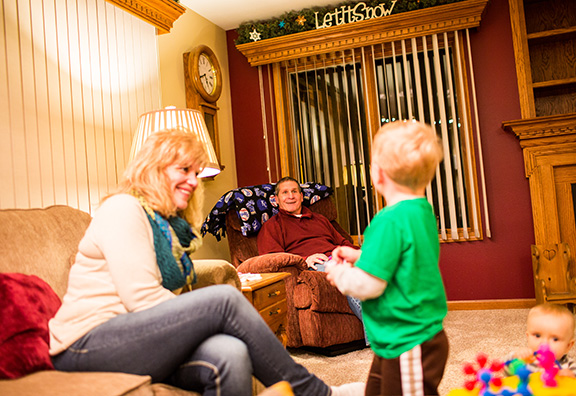 MIKE WAS A high school senior when he started dating Sheri, a sophomore. Her father coached the basketball team that starred Mike; she was a cheerleader, blond and social. Their first kiss happened the night Clintonville High won the state championship. They have been together since, and they were married shortly after she graduated. Not long ago, the Jirscheles celebrated their 34th wedding anniversary, but Sheri called it their 17th, because half of every year didn't count as time spent together. Theirs is a marriage largely of winters.
"There was nobody like us where we lived," she says today. She visited Mike in his early playing stops -- Florida, North Carolina, Oklahoma -- before heading back to Clintonville to wait for him to return with the snow. To help make ends meet, Mike began driving the delivery truck for the Mitchell family; what the Jirscheles are to sports in Clintonville, the Mitchells are to furniture. Eventually, Mike learned how to repair dining tables and headboards that had been damaged in shipping, using wax and paint to fill in scratches, sanding down and touching up stains.
Today, the store D. Mitchell Interiors is named for Danny Mitchell, the son of the store's patriarch. Although Danny has technically passed on the business to his sons, Donny and Andy, he still works most days, selling classic country furniture: lots of oak and paintings of ducks. Mike keeps his meticulously organized workshop in the basement. Hinges and drawer pulls hang from the low ceiling in plastic jugs. His touch-up paints sit in neat rows in a splattered metal tray. He turns a nightstand around on a spinning table, repairing a small chip in one of its legs; he assembles a recliner and dabs away every last rumor of lint with a circle of duct tape wrapped around his palm.
"He's an artist," Danny Mitchell says. He tells a story about a local rival whose deliveryman was taken hostage by a customer dissatisfied with the condition of his purchase. "We try to avoid that," Mitchell says, referring to both the damage and the kidnapping and not just because Justin Jirschele now spends his winters driving the delivery truck. It feels as though in a hundred years, a Mitchell will be selling furniture in Clintonville, and a Jirschele will be shipping it out the door. "I guess we don't like change," Mike says, hoisting a dresser onto his operating table to fix its broken leg.
---
THERE WAS, LOOKING back, one 14-game stretch when it seemed as though a different future awaited him. It was late in the summer of 1982. Mike was promoted to Triple-A for the first time, from Tulsa to Denver. Sheri was pregnant with Jeremy. And for reasons that Mike can't articulate even today, baseball became easy for him. Before he went to Denver, he'd never hit better than .251, but for those 14 magical games, he saw the ball as well as he ever did or would again. He batted .311 and made a single error in 55 chances in the field. He heard the first whispers that the Rangers would be bringing him up that September. "It was so exciting," Sheri says. "We felt like he was going to make it."
Then the team traveled to Louisville. Sheri stayed back in Denver, listening to the game on the radio. A routine fly ball was lifted down the leftfield line. Mike, playing shortstop, tracked across. The third baseman, Jim Anderson, ran back. They collided in foul territory. "Mike Jirschele's down," the radio announcer said. "Oh, he got hurt on that one." The pain was immediate, and it was intense. "It felt like somebody stuck a hot metal rod into my knee," Mike remembers. He'd torn his ACL. His season and, in hindsight, the brightest of his big league dreams were over. "That was the closest I got," he says. Jim Anderson, unscathed, was summoned to Texas instead.
Mike was later released by the Rangers organization. He didn't play baseball in 1986; instead, he and Sheri opened a bar in Clintonville, in yet another basement of a building downtown. They called it Mike's Dugout. His brothers were some of his best customers. One night, a panicked woman ran into the bar, where Mike was mixing a drink -- his brother Pete had hit the curb and been thrown from his wheelchair. Mike went outside and retrieved his brother, carrying him on his back the way he often did. He set Pete down on his usual bar stool. "Mike," Pete said, "I'm going to drink until I can walk out of here."
The Rangers picked Mike back up in 1987, and the next year, he found his way to the Royals, playing in Omaha for the first time. The next season, he was demoted to Double-A Memphis, where he was first asked to coach the players he couldn't quite be. That winter, he decided his playing days were over. "It's not that I gave up," he says. "I was just worn out. It was almost a relief when I was done playing. I gave it everything I had. It just wasn't meant to be."
All these years later, tears still come to Sheri's eyes when she remembers that winter. She didn't watch baseball for a long time after. "That dream was done," she says. "He handled it better than I did."
"It could have been worse," Mike says. "I could wipe my own ass." Now with three children -- between Jeremy and Justin, he and Sheri had a beautiful volleyball-playing daughter, Jen -- he settled into a less stressful routine. The way his father closed the bakery, he closed the bar. He and Sheri bought the bungalow they still call home. Summers he spent in minor league dugouts, beginning a different kind of climb, managing in Kansas City's system, in Florida, Illinois, Delaware. Jeremy and Justin came of age in minor league clubhouses; Sheri and Jen pursued a different sort of education, both becoming teachers. Mike eventually worked his way back to Triple-A, and for these past 11 years, he's spent his summers in his dugout in Omaha and his winters in his basement workshop in Clintonville: a man twice given responsibility for supplying finishing touches, while he stayed out of sight, just slightly below grade.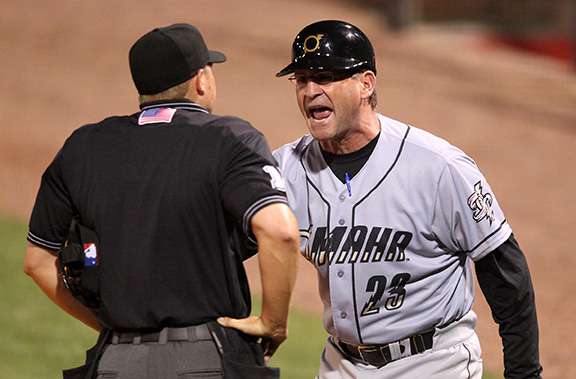 LAST SEPTEMBER, MIKE Jirschele led the Storm Chasers to the Triple-A national championship without his best players. They had been called up for the Royals' homestretch, and, as he had for the past several years, Mike turned out the lights in Omaha and joined them. There always had been something bittersweet about his Kansas City weeks. He remembered what he had preached to his frustrated players: How many people would trade their lives for yours? But some part of him never forgot that he was a guest. During the season's last series, in Chicago against the White Sox, Royals GM Dayton Moore told Mike that he wanted to talk to him, but the two men never connected. The season ended on a Sunday, and Mike returned to Clintonville, took his customary single day off, and on Tuesday morning he was back at the store.
When asked why he's never thought to leave the Royals after 26 years, never tried to find a path to the majors that bypassed Omaha, Mike makes a face. In 2004, he got a phone call: His brother Doug was dying. That was in September, and Mike was with the big league team. The Royals had just flown home from a road trip. Tony Pena was the manager then, and he told Mike to stay on the plane, which flew him up to Milwaukee, its rows of seats otherwise empty. "I got home in time," he says.
And in the summer of 2011, Don Jirschele had a heart attack, vicious enough to blow a hole in the wall of his heart. A long-shot surgery saved Don's life, but there were complications. Half of his left foot was amputated. The Royals gave Mike six weeks off in the middle of the season to help nurse his father back to health.
Nobody is more patient than a grateful man.
In early October, Mike and Sheri were babysitting at Jeremy's house when Dayton Moore called to say what he had wanted to say in Chicago: He didn't know how or when, but it was time for Mike to join the Royals. ("He was almost too good at a very hard job," Moore says, explaining Mike's long stay in Triple-A.) Ned Yost, the manager, would be in touch.
Mike told Jeremy the news when he got home. He also called Jen and Justin, who was in the truck with Donny Mitchell, delivering another load of furniture. "That's great news," Justin said, which piqued Donny's curiosity -- "What's great news?" -- but Justin kept quiet. The Jirscheles entered a strange limbo, thrilled and yet scared to shed the ballast that time had lashed to their hopes. "It's been so long," Jeremy says. "We didn't want to get too excited in case it fell through."
Toward the end of October, most of the family went down to Disney World: Mike and Sheri, Jeremy and his wife with Keagen and his two younger sisters, Justin and his longtime girlfriend. After a day at the park, the Jirscheles went back to their hotel suite and began to wind down. Since Moore had called, there had been no further word, and Mike wasn't about to call the Royals. For his entire life, he had been custom-built to wait. Now his phone rang. He looked at the screen. "It's Ned," Mike said. He made for a bedroom and shut the door.
"We were silent," Jeremy says. "We were trying to listen, to hear his reaction. I think that's the quietest we had the kids the whole trip."
Mike loved telling players they were going to the majors. He usually made a prank out of it. He told Eric Hosmer, the Royals first baseman, that he had some fielding work to do -- in Kansas City. Billy Butler got an early-morning phone call and Mike made out like he was late for a day game. In fact, he had a plane to catch.
Now, for the first time in 36 years, Mike was on the other side of that conversation. He and Yost talked about hunting a little bit, about a deer that Yost had just missed. Mike's toes curled into the carpet. And then Yost told Mike that he was coming up to Kansas City, a coach without any specific assignment, just a full-time eraser of scratches and stains.
Mike walked back into the suite. "Well," he said. "I got a big league job." And then the family came together and fell to pieces, as it had so many times before.
"Joy," Sheri says.
"To me, it's a big league job," Mike says, "but I'm happier for Sheri and the kids because of everything they've given up for me. I think it's exciting for them that their dad's in the big leagues." His only regret was that Jen and her husband and their boys weren't with them. "It would have been nice to have everybody," Mike says. "We called them right away." He called his father too.
Don Jirschele was home, in his back room, with its trophies and wheelchair ramp. He's lost his wife, three of his sons and half of his foot. If he opens himself up too widely to the world's currents, he risks capsizing. Asked about that phone call later, Don nestles more deeply into his recliner and turns back to the basketball game on TV.
"Well, we joke a lot," he says finally. "He knows that. We don't ... yeah," he says. "No," he says. He's quiet for a while. "It's like this: He was probably the best athlete to come out of Clintonville, but I won't let him know that, you see."
With gifts come curses; with credit comes blame; with wins come defeats. They are a package deal, and if you are going to own one, accept one, then you have to own and accept the other. Which means there is no celebration without mourning, and there is no summer without winter, and for some men, for some families, there is too much of both to take in. So they take in none of it, or at least they pretend to take in none of it. They disappear instead into their carefully constructed universes, into the small pockets they might still make as immaculate as miniature golf courses, into their dogged pursuits of the routines and rhythms that blind and deafen them to everything else. They say things like "It could have been worse," and they refuse every last invitation from pity or sentiment, because those are luxuries not given to households half-emptied by terminal disease. Acceptance is their only way out.
"I just always hoped his day was coming," Don says after the longest of silences. That's the closest to an opening the old man will give. But a little later he pulls out his daybook, a thick black book with a calendar and notes scribbled inside of it, because he wants to remember a name or a date or some other forgotten order of things. And there, inside the front cover, he has stashed a small, secret bundle of newspaper clippings, and now they spill out, one after another, each headline announcing some variation of the same news: Mike Jirschele is a big leaguer.
text
JARROD DYSON RETURNS to pick up the story, but again he has to stop, passing it off to Billy Butler, who starts and then shakes his head too. George Brett, as usual, has less trouble finding the words. He and Mike met years ago, in Wilmington, Del., when they discussed how best to handle a prospect named Mike Sweeney. They became unlikely friends, the major and minor league lifers. In 2002, Brett even chartered a flight to Clintonville to attend a charity banquet that Doug Jirschele had established. People in town still talk about that night. "I wouldn't do that for just anybody," Brett says. "They gave me cheese and crackers everywhere I went. I didn't s--- for a week."
Now Clintonville has its own big leaguer. It will never again need to fly one in. Brett, a Royals vice president, says that Mike might have made it to the majors more quickly if only he'd kicked a little, if he'd made it harder for people to look past him, but Mike shrugs off the suggestion. "I'd make all the same decisions," he says. After all those years in the learning leagues, he knows things that even George Brett doesn't know.
In other ways, his education remains incomplete. He's been to major league spring training before. He's had all those September weeks in Kansas City. But he's never been up in April. He's never worked a big league Opening Day. Sheri says it won't feel real for her until the Royals play their late-March exhibition in Milwaukee, of all the storybook places -- "It was meant to be," Jeremy says -- and the Jirscheles gather to watch the start of a long journey whose conclusion is uncertain. Even Don Jirschele has been thinking of making the trip, if his heart will let him.
That afternoon in Milwaukee, it will seem impossible that only a few weeks before, only a couple of hundred miles away, Mike was in that high school gym in snowy Eau Claire. Four orange cones made a tiny makeshift diamond on the shining floor. Mike, Jeremy, Justin and Keagen each assigned themselves to one, their well-worn gloves at the ready. It was a flip drill -- a chance to practice the double-play toss from short to second, or second to short. There is an art to the flip. You want to get out from behind the ball so that it doesn't disappear into your body and out of your target's sight. And you don't want the ball to rotate, which makes it harder to handle. The ball should be frozen in space, like a planet that forgot to spin.
To demonstrate, Mike flipped the ball to Jeremy, who flipped it to Justin, who flipped it to Keagen, a series of soft little thwacks echoing in the gym, and then they gave one another some invisible signal and began moving from cone to cone with each flip, walking first and then running from corner to corner, really picking up speed, fathers and sons become fathers, finally moving so fast that it started to look less like they were flipping the ball to each other and more as though they were rushing to meet the ball that had been left waiting for them, these luckiest of boys and men, these blessed few among us who know that if you refuse to feel trapped, you've already made good your escape.
Chris Jones is the back page columnist for ESPN The Magazine. Follow him on Twitter: @MySecondEmpire.
Follow The Mag on Twitter (@ESPNmag) and like us on Facebook.
Follow ESPN Reader on Twitter: @ESPN_Reader
Join the conversation about "A Long Journey to Spring."