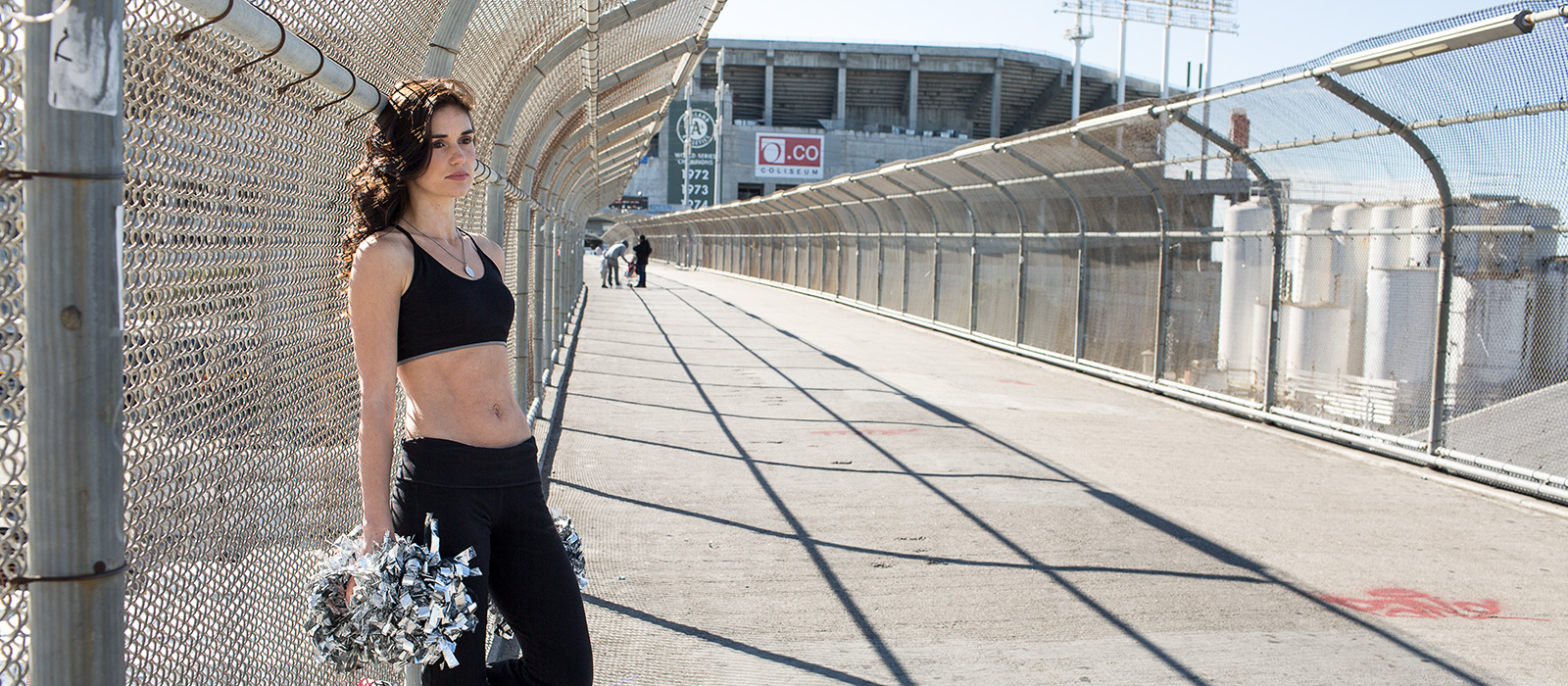 Just Cheer, Baby
Fed up with working long hours for meager wages, a Raiderette named Lacy T. recently filed a lawsuit in search of fair pay. She might just end up changing the system.
LACY T. WAS born to cheer. When she dances, she moves at the speed of a shook-up pompom. When she talks, it's in a peppy Southern drawl that makes everything sound as sweet as sugar. And when she poses, she is the image of a classic pinup: big hair, tiny waist and full lips that part to reveal a megawatt smile.
Naturally, when Lacy auditioned for the Oakland Raiderettes a year ago, she made the squad. And the Raiderettes quickly set to work remaking her in their image. She would be known exclusively by her first name and last initial -- a tradition across the NFL, ostensibly designed to protect its sideline stars from prying fans. The squad director handed Lacy, now 28, a sparkling pirate-inspired crop top, a copy of the team's top-secret "bible" -- which guides Raiderettes in everything from folding a dinner napkin correctly to spurning the advances of a married Raiders player -- and specific instructions for maintaining a head-to-toe Raiderettes look. The team presented Lacy with a photograph of herself next to a shot of actress Rachel McAdams, who would serve as Lacy's "celebrity hairstyle look-alike." Lacy was mandated to expertly mimic McAdams' light reddish-brown shade and 11/2-inch-diameter curls, starting with a $150 dye job at a squad-approved salon. Her fingers and toes were to be french-manicured at all times. Her skin was to maintain an artificial sun-kissed hue into the winter months. Her thighs would always be covered in dancing tights, and false lashes would be perpetually glued to her eyelids. Periodically, she'd have to step on a scale to prove that her weight had not inched more than 4 pounds above her 103-pound baseline.
Long before Lacy's boots ever hit the gridiron grass, "I was just hustling," she says. "Very early on, I was spending money like crazy." The salon visits, the makeup, the eyelashes, the tights were almost exclusively paid out of her own pocket. The finishing touch of the Raiderettes' onboarding process was a contract requiring Lacy to attend thrice-weekly practices, dozens of public appearances, photo shoots, fittings and nine-hour shifts at Raiders home games, all in return for a lump sum of $1,250 at the conclusion of the season. (A few days before she filed suit, the team increased her pay to $2,780.) All rights to Lacy's image were surrendered to the Raiders. With fines for everything from forgetting pompoms to gaining weight, the handbook warned that it was entirely possible to "find yourself with no salary at all at the end of the season."
Like hundreds of women who have cheered for the Raiders since 1961, Lacy signed the contract. Unlike the rest of them, she also showed it to a lawyer.
ON JAN. 22, Lacy T.'s attorneys filed a lawsuit in Alameda County Superior Court alleging that the Raiders fail to pay their cheerleaders minimum wage for all hours worked, withhold pay until the end of the season, require cheerleaders to cover their own business expenses, don't provide lunch breaks and impose fines for minor infractions -- all of which, according to the suit, constitute violations of the California Labor Code.
The provocation was unprecedented. When pro football's first cheerleaders took the field in the 1920s, rah-rahing on the sidelines was a volunteer position, usually occupied by local high school and college cheerleaders interested in performing on a bigger stage. But as TV began to outpace radio, more and more teams stocked their sidelines with flashier -- although still unpaid -- performers. In 1972, Cowboys GM Tex Schramm upped the game. He'd seen Bubbles Cash, an artificially augmented local stripper, make the news after cameras caught her shimmying in the stands with a stick of cotton candy, and he wanted similar assets at his games. So he replaced his cheer director -- a local high school teacher -- with a Broadway choreographer, dismissed his squad of coed teenagers to make way for a team of (barely) legal women in stomach-baring tops and began paying them a meager salary. By 1976, they'd become a trademark part of a franchise. That year, Super Bowl X marked not only the end of the Cowboys' season but the beginning of modern professional cheerleading: 73 million viewers watched as one cheerleader turned to the camera and winked, launching the Dallas Cowboys Cheerleaders as bankable stars of team-approved posters, calendars, public appearances and reality TV. These weren't just cheerleaders; they were what Schramm called "atmosphere producers."
But even as collective bargaining has caused players' salaries to skyrocket, cheerleaders are still treated with the expendability of borrowed college students. Of the 26 teams that employ cheerleaders, only Seattle publicly advertises that it pays its squad an hourly minimum wage. The tenuous position of NFL cheerleaders is exacerbated by the fact that six teams don't fork out any cash for squads. The Packers occasionally employ the services of a local collegiate squad. Other teams, such as the Lions, Browns and Giants, rely on unofficial squads willing to finance themselves through public appearances and calendar shoots for the opportunity to dance in a high-profile setting. Beyond that, it boils down to a numbers game. There are more aspiring pros than there are slots on the sideline, so if one cheerleader slips up, there are hundreds of hopefuls waiting to take her place.
Many former cheerleaders say the true perks of the job go beyond pay. Alumnae have leveraged the perch to find work as fitness instructors, dance studio owners, reality TV stars, even Playboy models. Jeanette Thompson, who cheered in the 1990s, ascended from the sideline to become the Raiderettes coach -- a salaried team position (although earnings are undisclosed) -- and a behind-the-scenes reporter for the Raiders' website. Others find stability in the sports world through other means, like Paige Green, a Raiderette-turned-model who went on to marry John Elway. But for many Raiderettes, just making the cut was its own reward.
---
LACY QUICKLY LEARNED that a spot on the Raiderettes wasn't just a job -- it was an invitation to join an elite sisterhood, populated by the ranks of 700 women who'd been deemed fit to don the silver and black. Live up to the legacy and Lacy would have new best friends for life. "Some of the girls get really close," Lacy says. Years after they retire their pompoms, "these girls will be bridesmaids at each other's weddings and organizers of their baby showers."
ESPN The Mag Podcast
The Mag's senior editor Megan Greenwell talks with Amanda Hess about the article she wrote concerning an Oakland Raiders cheerleader discovering her squad was being paid less than minimum wage.

Still, not all Raiderettes are created equal. Soon after they make the team, the 40 cheerleaders are divided into four cheer lines organized by height and anchored by a line captain, ensuring that whenever they bound onto the field they appear to be just the same size. The lines also serve as an automatic social clique. At 5'4", Lacy was assigned a spot in line two, and she'd spend the season practicing, performing and promoting the team with the nine other women in her height range. Members from separate lines rarely interact.
When Lacy was drafted onto line two in 2013, the line captain staged a bonding night at an Oakland bar, where the women gathered to play bocce, exchange presents and take get-to-know-you quizzes. For many of the women, "the Raiders are their main social outlet," says Lacy. But she was different. Married with a now-2-year-old child at home, Lacy was forced to give up precious family time to be at such events. It was a non-negotiable and unpaid part of the drill: Before the 2013 season kicked off, the women were also required to drive up to Napa to participate in a Raiderettes minicamp, and during the season, the squad went away for its annual swimsuit calendar shoot. Lacy drove up to Napa, posed all day in a royal-blue bikini at a cold winery and was forced to stick around for a sleepover.
At auditions, trips like these were framed as fabulous perks. But in order to cash in on the biggest moneymaking "opportunity" -- corporate-funded public appearances that can net a cheerleader $400 for a four-hour shift (money shelled out by the company, not the team) -- Raiderettes were required to make 10 charity appearances over the season where they donned the uniform gratis. Sometimes these appearances constituted legitimate volunteer work, like playing with kids at the Ronald McDonald House. Sometimes it just meant helping the Raiders sell preseason tickets. If a woman failed to get in her 10 charity events, she could make up the difference by doing paperwork or, in one case, reporting in jeans and full makeup to rearrange furniture in the Raiders' office. As for the swimsuit calendars, the women were encouraged to buy copies from the team at cost -- $5 a calendar -- then hustle to turn them around for a $10 profit.
Meanwhile, opportunities for losing money abounded. When one woman accidentally made contact with a Sharpie at a calendar signing and wasn't able to bleach out the stain, Lacy says the woman was forced to reimburse the team for an expensive new top. If a Raiderette failed to bring her pompoms to practice or showed up late, among dozens of other infractions, she would be required to pay a fine of $10 to $125. But the biggest threat to the cheerleaders' incomes came at weigh-ins. After practices, women were called in for one-on-one meetings with Thompson, who would point out problem areas on candid photographs, circling any suggestion of cellulite and identifying women who appeared to be "photographing heavy." At one game, a woman on Lacy's line was informed right before kickoff that she would be benched for the day without pay for her "weight issues." Lacy's line scrambled to reconfigure its routine to make up for the missing member.
The strong camaraderie among professional cheerleaders was a selling point for recruiting dancers, but it was also a strategy for keeping the women in line. Cheerleaders were periodically reminded that hundreds of bright young women would kill to take their slot in the sisterhood. And a cheerleader who failed to pull her weight risked more than her spot on the team -- the Raiderettes were told that any personal failure could endanger the future of the entire squad, bringing down the sisterhood for good. "Fans would come to see the games whether or not we had cheerleaders," the handbook reminded them. Fail to follow the squad's instructions to a T and the team might decide that the whole cheerleading enterprise is "too much trouble to deal with."
Keeping the sisterhood intact required maintaining a low profile, even within the organization that employed the cheerleaders. "You need to learn to deal with attention you receive from the public [and especially the players] without it getting out of hand and going to your head," the rules read. Cheerleaders were instructed to stay away from other employees in the Oakland organization. If they lingered too long in the Raiders' office, they were bound to upset some wives; get caught socializing too much with the Raiders and a cheerleader risked dismissal. "Do not become the topic of conversation in the locker room and/or by the Raider staff," the handbook warned. "We eventually hear everything."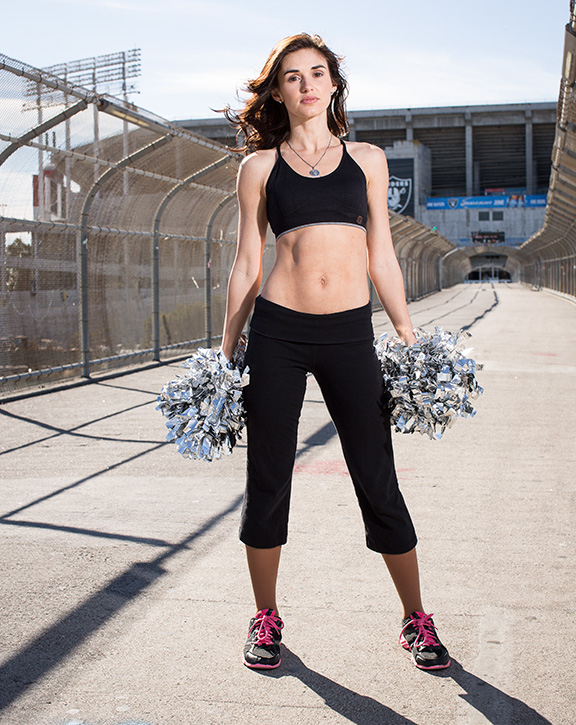 WHEN SHE FIRST clinched a spot on the team, Lacy brought her Raiderettes contract home. Her husband, Josh, balked. Lacy had been working toward professional cheerleading since she was a kid, cheering her way through high school and college, then dancing for the Golden State Warriors, who paid her $12 an hour for practice and games. When Josh suggested they send her Raiderettes contract to an attorney to investigate its terms, Lacy wasn't convinced that asking women to voluntarily cheer for a low wage was against the law. But she took a meeting at the Oakland offices of Levy, Vinick, Burrell Hyams LLP, a women-owned firm that advocates for employees in cases of discrimination, harassment and missed wages. The firm's website features a picture of Rosie the Riveter over the phrase: "Who Would Rosie Hire?"
When attorney Sharon Vinick concluded that Lacy's working conditions were illegal, the cheerleader agreed to become the face of a lawsuit while keeping quiet around the rest of the squad during the season. But shortly after the Raiders' last game, the topic of money began coming up. The mother of a 14-year-old California cheerleader had started a change.org petition asking NFL teams "to step up and start paying cheerleaders a living wage" so that her daughter could grow up to have a shot at a livelihood. Several current and former Raiderettes signed. Some publicized their support on Facebook and Instagram. The petition sparked an internal Raiderettes email chain discussing the issue. The next day, Lacy replied to the thread with a link to her freshly filed legal complaint: Lacy T. v. Oakland Raiders, a class-action lawsuit on behalf of Raiderettes who cheered from 2010 to 2013.
Almost immediately, a fellow Raiderette called up Chandra Roberts to alert her to the suit. Roberts had cheered for the Raiderettes for just a year in 1985, but her ties to the game are stronger than most. Her father, C.R. Roberts, played for the 49ers in the late 1950s and early '60s, and she eventually became the first female honorary member of the NFL Players Association. Now she's one of the most active and influential Raiderettes alumnae, coordinating reunions and keeping other former cheerleaders up to date via social media.
Roberts fears that one cheerleader's "bad experience" could threaten the entire fabric of the sisterhood. "I see the inner workings of the NFL through the male point of view," she says. "To them, cheerleaders are expendable." And while she says she would be happy for Raiderettes to see a pay increase -- she did sign the change.org petition -- she believes cheerleaders' position in the NFL is too tenuous to survive a suit. "This could be the demise of cheerleading," she says. "Mark my words. The proverbial you-know-what is going to hit the fan."
Since news of the lawsuit went public on Jan. 22, neither the Raiders nor the NFL has made a peep to the media. (They wouldn't comment for this story either.) But a group of former Raiderettes took to social media and local and national news to publicize their own perspectives on the team. "We are horrified that this Bitter Betty is suing the organization where we created lasting friendships and a Sisterhood, a *family bond*, that only another Raiderette can fully understand," alumna Teri McCollum wrote. Anjelah Johnson, another former Raiderette and a comedian, put it more pointedly to a local radio station: "In the barrio, when you turn your back on the gang, you get stitches."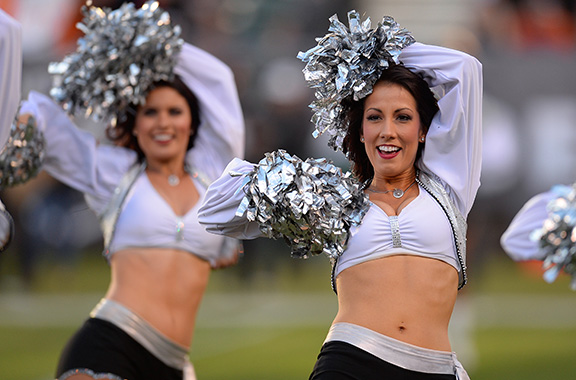 AFTER FILING THE suit, Lacy enlisted Josh to monitor her email and social media accounts to help shield her from the nastiest messages. A week later, she received an email from Sarah G., a four-year veteran on the team who served as co-captain of line four, the tallest group of Raiderettes. "I was freaking out when I got that email," Lacy says. "She's a co-captain. She's from another line. I was totally afraid that she was going to be dishing me out on behalf of the Raiders." But when Lacy called, Sarah told her that she agreed with her cause. A week later, Sarah publicly joined the suit.

When Sarah G., 29, first inked a contract with the Raiderettes, she says, "I looked at it and was like, 'Wow, this sucks.' But I did it for the love of dance, not for money. I just had absolutely no idea it was illegal." After reading Lacy's claims, she realized that "the Raiders decided they didn't want to pay us, so they created this bogus contract to fool us and trick us and take advantage of our dreams and our passion." Looking back on her four seasons, she realized that a lot of what happened on the squad didn't sit right after all: the constant reminders that they could be replaced, the sudden benching for weight violations, the Raiders Christmas party that they were allowed to attend but only if they didn't bring a date and didn't pick up a drink. "It's a form of manipulation," Sarah says. "If we don't do what we're told, when we're told, how we're told, we could easily be replaced. It's a scare tactic to keep us in line."
Shortly after Lacy filed suit, the U.S. Department of Labor opened its own investigation into the Raiders' treatment of cheerleaders. It closed the inquiry in March, determining that as a seasonal operation, cheerleading is exempt from federal minimum wage laws. But many state labor laws, including California's, are stricter than federal ones, and the pot had been stirred. Within a month, a Bengals cheerleader filed a similar class-action suit on behalf of the members of her squad, who she says are paid $90 a game, or $2.85 an hour.
In March, the Raiders filed a motion asking the court to compel Lacy T. and Sarah G. to resolve their disputes separately in private arbitration within the league, with NFL commissioner Roger Goodell serving as arbiter -- a condition to which all Raiderettes agree when they sign their contracts. The NFL's dispute resolution procedural guidelines allow the commissioner to "conduct the arbitration in such manner as he deems appropriate." His decision will be "final, conclusive and unappealable," and he reserves the right to keep the proceedings confidential.
But Vinick says her team remains confident the case will go to court: The right of employers to force employees into arbitration is a highly contested legal matter in California, and courts around the country have struck down arbitration clauses that stack the deck too strongly in one party's favor.
Sarah is currently the only Raiderette to join Lacy in the suit, although anyone who cheered for the Raiders between 2010 and 2013 who doesn't opt out would share part of a settlement if Lacy wins -- and all teams would likely increase cheerleader pay before they are served with lawsuits. Perhaps that's why no current cheerleaders have spoken out in support of the Raiders either. In private messages, "there are a ton of women who have contacted me who wish to remain anonymous who are in support," Sarah says. "They're just afraid to come out because of the backlash. They want to try out again or stay a part of this 'sisterhood.'"
Lacy says even that quiet support has helped keep her going, as has positive feedback from Raiders fans. "They were like, we see you out there before we start tailgating, and when we leave the game you're still out there, and you deserve fair pay for working really hard."
Follow The Mag on Twitter (@ESPNmag) and like us on Facebook.
Follow ESPN Reader on Twitter: @ESPN_Reader
Join the conversation about "Just Cheer, Baby."