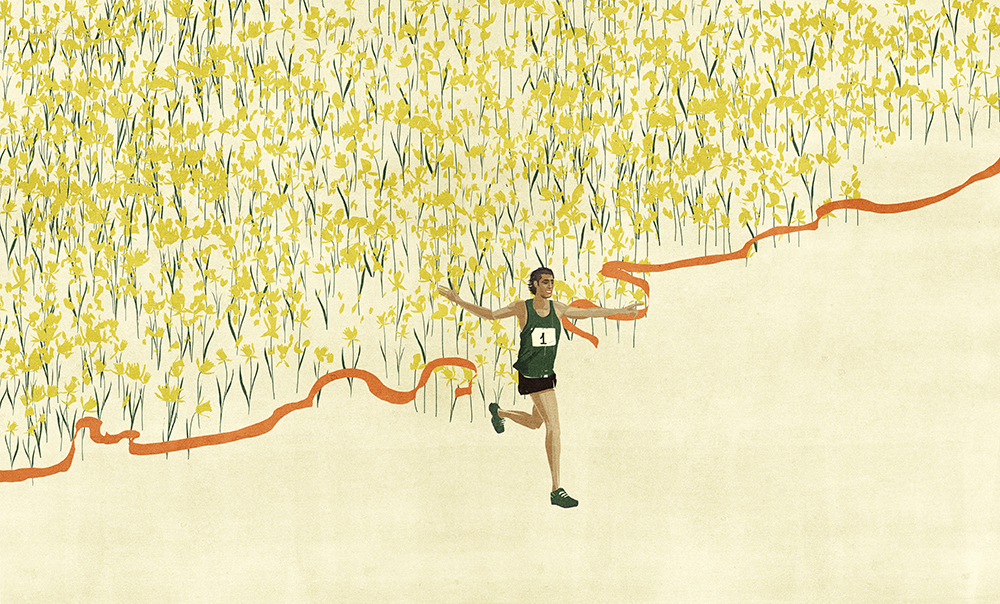 A Race to Remember
Some ran, but never finished. Others rushed toward chaos to help the injured. Today, memories of April 15, 2013, serve to remind us that Boston is up and running strong.
BOSTON -- Two explosions seconds apart near the 2013 Boston Marathon finish line cleaved lives into before and after.
In photographs and video footage shot at the scene of the bombings that killed three and injured 264, one of the most striking images is of roadside barricades giving way -- hurdled, torn down and pushed aside as people either fled or rushed to help. Fans, runners, race staff, police officers, medical personnel, the bloodied and the fortunate are jumbled together in a terrible, disorienting kaleidoscope.
The tragedy was a leveler that made everyone who witnessed it or felt its aftershocks feel vulnerable and exposed. It also forced hidden strengths to the surface, but healing is not as linear as a road race, and the year since the last marathon has included stops and starts for those most affected. Civilian rescuer Carlos Arredondo became a celebrated public figure. Others, like then-11-year-old spectator Aaron Hern, had their hands full simply recovering. Runner Kristina Scaviola, who was on the course yards from the second explosion, is one of many who still flinch at loud noises.
Anniversary Coverage
"SportsCenter" and "Outside the Lines" report from Boston today, the one-year anniversary of the Boston Marathon bombings.
"E:60" makes its spring premiere tonight at 7 p.m. ET on ESPN, with "E:60 Presents Dream On: Stories from Boston's Strongest," a special hour dedicated to the one-year anniversary of the Boston Marathon bombings.
Yet the most common feelings expressed by people who lived through the experience are gratitude and reassessment. Kristen McGuinness and her husband, briefly separated in the chaos at the finish line where he was waiting for her with their son and daughter, now enter races together and are expecting their third child -- on April 15. Bystander Katie Pratt suffered a concussion, permanent hearing loss and a wounded foot and feared leaving home for a time, then refused to succumb to that darkness. She will run her first marathon in her hometown next week.
"I'm not going to let what happened define this city for me," Pratt told ESPNBoston.com senior writer Jackie MacMullan.
The runners, as runners do, kept propelling themselves forward. So did all of Boston. This is where some whose paths were forever altered find themselves a year later.
Kristen McGuinness

Near second bomb

In the smoke and bedlam that filled Boylston Street a few blocks short of the marathon finish line, Kristen McGuinness remembers people telling her to stop running.

She ignored them and kept going, frantic in the knowledge that her husband and two children were waiting for her in the crowd near the finish line. McGuinness, who had been on the course close to the sidewalk where the second bomb exploded, saw some of the worst of the carnage. Among the images forever seared into her memory is one of a gravely wounded child who looked to be the same age as her then-8-year-old son.

Finally, a man helped McGuinness into the Mandarin Oriental hotel and handed her his cellphone. She was reunited with her family within an hour. The next day, she returned to downtown Boston and picked up her finisher's medal, which she hung around her bedpost at home in nearby Stoneham. She vowed that nothing would keep her from the 2014 race.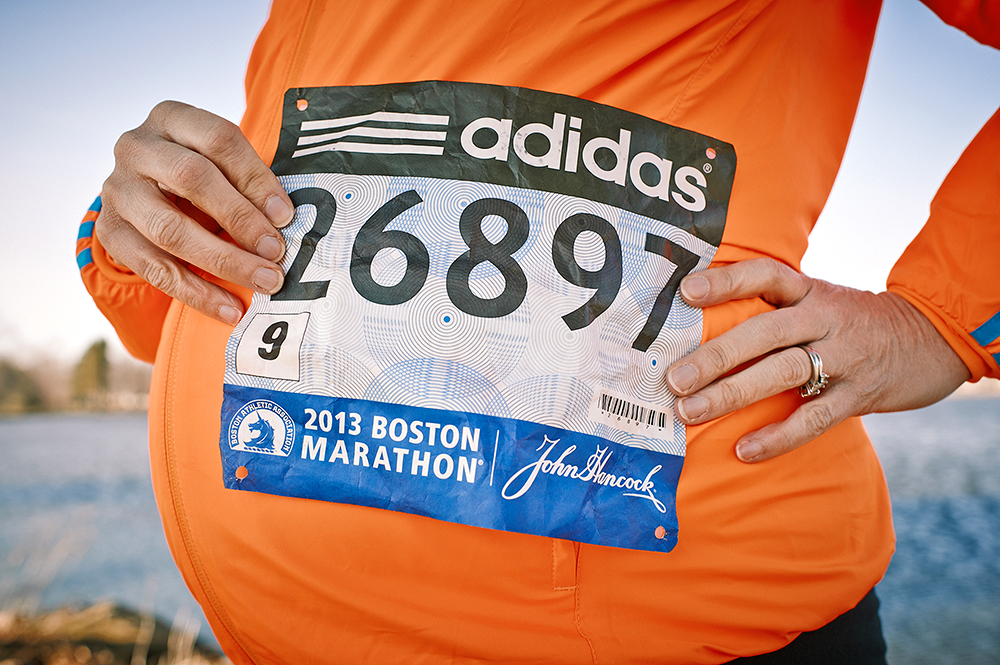 Except this: McGuinness is scheduled to deliver her third child, a boy, by cesarean section today -- April 15 -- transforming a sad anniversary into a day of renewal. The moment she learned her due date was "surreal," she said. "So meant to be."
In the weeks after the marathon, McGuinness, 38, sought out therapy to help process what she had seen and felt. She realized the child she had seen was 7-year-old Jane Richard, who lost a leg in the blast that injured her parents and killed her brother Martin, 8. McGuinness devoured news of that family and others affected by the bombings, grieving the losses and celebrating the stories of recovery.
McGuinness, a service representative for Verizon, continued to run well into her pregnancy and completed the Boston Athletic Association's half-marathon at 13 weeks. Her husband Richard, previously uninterested in running, began training with her in June. The couple have since entered some 5K road races together. "It has absolutely brought us closer," McGuinness said.
Elated as she is about the baby's imminent arrival, McGuinness said she envies those who will run on Monday. "It's going to be a tough day," she said. "I wanted to support everyone who was there. It's part of me forever, and it did bring out the goodness and unity in people." Instead, she plans to pose her newborn with her 2013 bib and finisher's medal and a pair of Size 1 sneakers. There will be another year to run.
- Bonnie D. Ford
Aaron Hern

Watching for his mom

Aaron Hern has a big smile, full of teeth and crisscrossed with braces. The 12-year-old Martinez, Calif., native also has flashbacks.

"You could look over and he would just have, his face would just kinda go ashen and you would know that something had struck him," his father, Alan, told "E:60."

In those flashbacks, Aaron is back on Boylston Street, on April 15, 2013.

"I swear I was dead," Aaron told "E:60." "I could feel it. I was burning up everywhere."

At 2:49 p.m. that day, Aaron was standing by the metal barricade separating the crowd from the course, waiting for his mother, Katherine, who was three months pregnant, to finish the Boston Marathon.

Then the second bomb went off, just feet away.

Aaron lost consciousness. When he woke up on his back, he looked to the side. He saw a woman cradling a child, and heard her telling the child, "Get up, it's all right."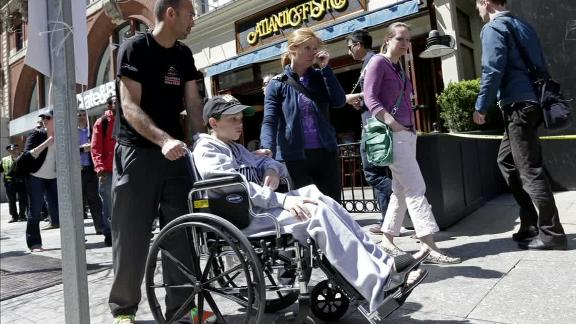 That woman was Denise Richard, whose daughter, Jane, lost part of her leg in one of the blasts and whose son, Martin, was killed.
Aaron was in severe pain. He had suffered injuries to both legs, the worst of which was a nasty wound to his left leg.
"It was just all blood," he said. "You could see my bone coming through. I couldn't stand. It was killing me."
Someone fashioned a tourniquet for him out of a belt, and Aaron was rushed to the hospital. After hours of surgery, doctors managed to save his leg.
"They took us back into the ICU and I saw him," Katherine Hern said, her voice catching. "This larger-than-life kid, looked so small. But he was alive. That was all that mattered. He was three people away from it being entirely different."
Aaron had to learn how to walk again after the injury, struggling at first.
"I thought I'd maybe never be able to walk again," he said, "because it was pretty bad."
But eight days later, the Herns went back to Boylston Street. And there, Aaron stood up from his wheelchair, and found the spot he was waiting in that fateful day.
"I was standing there, thinking, 'When I was standing in this spot, I was able to walk, I was able to jump, I was able to run,'" he said.
Although the journey seemed long at first, today Aaron is able to walk, jump and run again. He's even back on the baseball field. And, in a tournament in Cooperstown, N.Y., he hit a home run.
"I hit it, and it came really clean off the bat," Aaron said. "And I saw it going really far. I was so happy, I was waving my fist like this [pumps his fist]. And I came in to home and my coach hugged me and he picked me up and he was bawling."
- Jack McCluskey
Katie Pratt

Near the Forum

Katie Pratt couldn't decide.

Should she watch the 2013 Boston Marathon in her hometown of Wellesley, Mass., where, as a little girl, she frolicked up and down Washington Street applauding the runners? She had been invited to join friends at Kenmore Square, as well as a group that was congregating for a fundraiser at the Forum restaurant on Boylston Street.

"At the last minute I figured, 'Oh, I'll buy a ticket for the Forum,'" Pratt said.

It would be a fun and exciting change to watch from the finish line, she figured.

Pratt, 24, was lounging on the Forum patio when a thunderous boom made her head turn.

"I thought one of the huge speakers at the finish line had blown," Pratt said.

She was mistaken. A bomb had gone off, and within seconds a second one exploded 10 feet from her, ripping her shoes and sunglasses from her body.

The details of what happened next are hazy. Pratt isn't sure how she escaped serious injury save for a deep cut in her foot and some permanent hearing loss. She simply cannot remember many details, although she later caught a glimpse of the carnage in a television news clip.

"They showed the footage in front of the Forum," Pratt said. "When the bomb went off, and all these people went flying, my dad said, 'Isn't that you?'"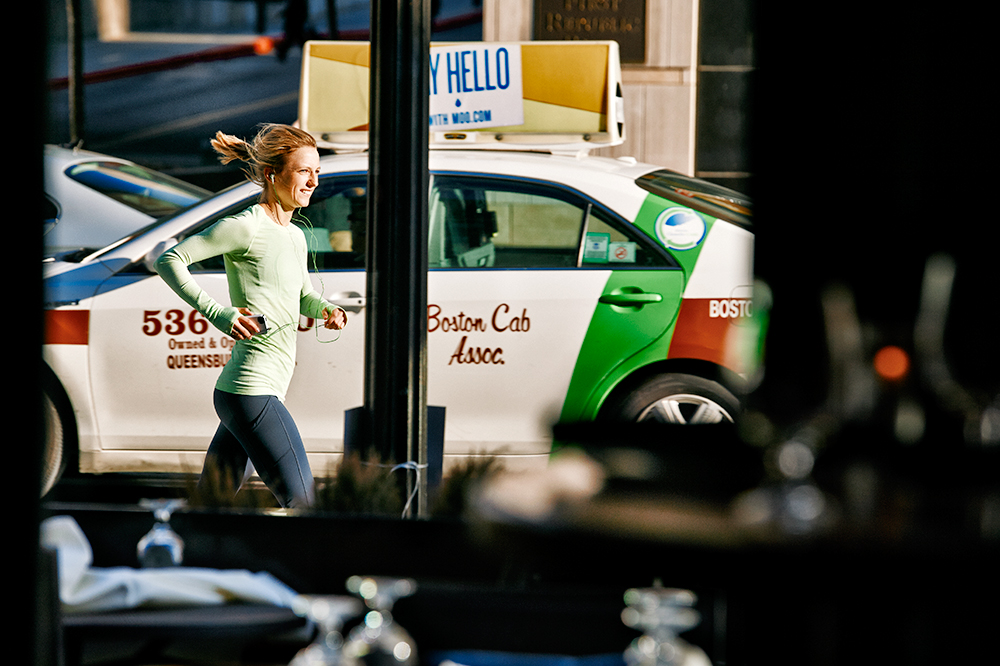 The images were haunting, unnerving. In the aftermath of the blast, Pratt struggled to leave her home.
"I had this fear of getting on the train, of going to public places," she said. "I thought, 'What's to stop someone from hurting me?'"
Her sleep was interrupted by nightmares of being trapped, waking her to an overwhelming feeling of helplessness. Why was she spared? How could she help those who weren't? Pratt had never run a marathon -- hadn't considered it -- but in the wake of the bombings, she found running to be a welcome relief.
"It was so incredibly therapeutic," Pratt explained. "When I'm running, I think of the people who lost their limbs, who weren't as lucky as me that's what drives me."
Since the bombings, Pratt has moved to a new apartment a few blocks from the Forum. Every morning on her way to work, she deliberately walks past the spot where her life was forever changed.
"I'm not going to let what happened define this city for me," she said.
Accused bomber Dzhokhar Tsarnaev remains in prison, awaiting federal trial. Pratt, who is on a list that distributes news and information to victims, did not watch his arraignment and has no plans to attend his trial.
"I have a hard time seeing him [on television]," she admitted. "He's so young. I just can't understand why he did this."
She will run the 2014 Boston Marathon with her roommate Lauren Barrett, who was stopped before she could finish the race last year. They will run to honor victims, to celebrate the goodness of first responders, and to move past the horror of a senseless act of terrorism.
"My dad said to me, 'You can't live your life in fear. Then you let them win,'" Pratt said.
Pratt has completed a handful of her training runs by sprinting across what will be the official finish line of the 2014 Boston Marathon.
Some of her friends fret that might be bad luck. Pratt doesn't see it that way.
For her, it's merely another step toward reclaiming her life, her city, her peace.
- Jackie MacMullan
Kristine & Kayla Biagiotti

Together

It was one of the best days of Kayla Biagiotti's young life.

The 19-year-old girl, born with a mitochondrial disease that has stunted her growth and development, and her mother, Kristine, participated in the Boston Marathon together for the first time in 2013.

"She just, the smile never left her face," Kristine told "E:60." "I've never seen her that happy as she was that day."

When the mother-daughter wheelchair duo crossed the finish line just after the explosions marred the end of the race, they became the first such pair ever to finish the Boston Marathon.

Kristine and Kayla had been running together for eight years, since Kayla's dad died when she was 10. It's a healing thing for them.

"For her, it's that freedom," Kristine said, "to be out of her wheelchair and in that racing stroller and just feeling the wind on her face. She has that opportunity to do something like a normal person would do."

Because her body can't properly convert food to energy, Kayla's heart and brain didn't develop as they should. Although socially she's where a teenager would be, cognitively she's where a 3- or 4-year-old would be.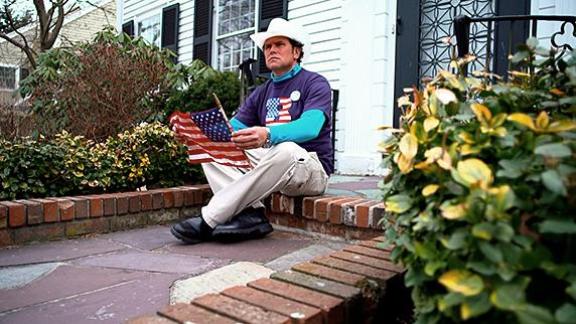 Her first Boston Marathon was an experience unrivaled.
"As the crowd cheered for her, she's hootin' and hollerin' from her chair and just laughing and just so happy," Kristine said. "And that carried through, all the way to Boston."
Though Kristine and Kayla were just short of the finish line on Boylston Street, accompanied by Kayla's uncle and Kristine's fiance, when the bombs went off, Kayla still doesn't know exactly what happened. Her family has shielded her from the reality of it all.
A few weeks later, the pair participated in a local 5K. When they crossed the finish line, they received a special reward: the finishers' medals they had earned in Boston.
"It was definitely very emotional," Kristine said. "You're trying to balance what has happened on the negative side with, you know, being happy for what we accomplished."
- Jack McCluskey
Christian Breen

Three miles to go

More than 30 friends and relatives awaited restaurateur Christian Breen at the finish of his first marathon in Boston last April 15, a thought that buoyed him as he entered the final three miles. But somewhere between Mile 23 and Mile 24, his cellphone rang with terrible news. Breen, still driven to complete what he had started, slowed to a walk for perhaps another mile, then finally stepped off the course as the extent of the tragedy sank in.

His first reaction was anger. Who would do this? Why? Breen, 42, whose cousin is married to longtime marathon director Dave McGillivray, was shaken by the thought of how many loved ones had been in peril.

Breen impulsively registered for several marathons in the weeks after the race, then decided his time, effort and money would be better spent contributing to community organizations and charitable events he has long supported in his hometown of Salem, N.H., through his restaurant, the Black Water Grill. The Salem Police Department named him its Citizen of the Year in 2013.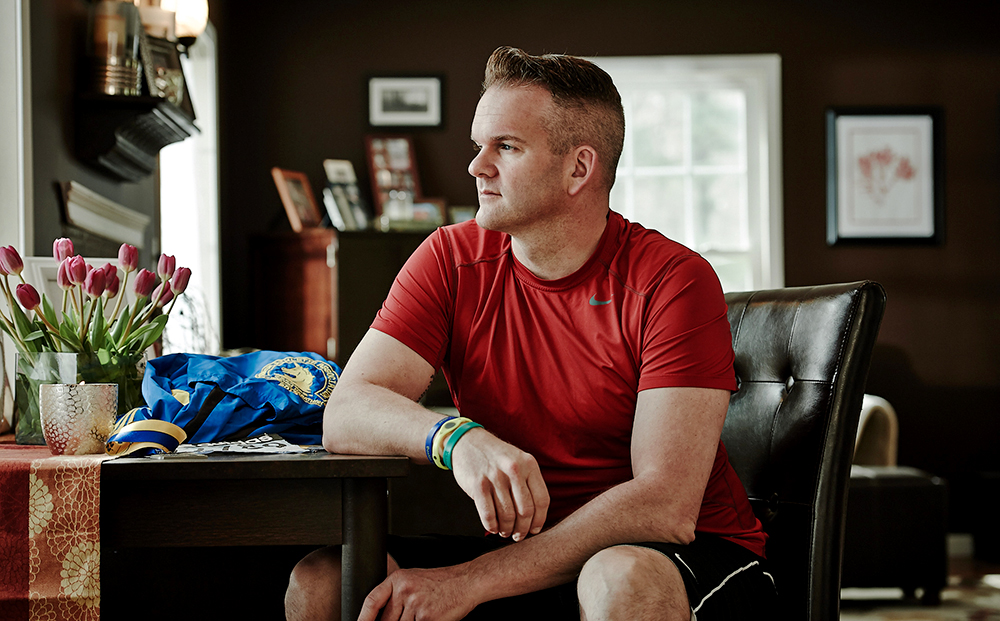 Thus, next Monday's race is another "first" marathon, in a sense. "You do a lot of soul-searching, processing what happened, and I decided I wanted to save it for Boston," Breen said. The majority of his cheering section, "if not more," will be back, as well, in what Breen said he expects to be the safest place in the world that day.
Breen said he feels better prepared for the race in every way, but hasn't spent a lot of time trying to imagine how it might feel to complete it.
"I want it to happen," he said, "and then I'll figure out my feelings from there."
- Bonnie D. Ford
Devin Wang

Trained to help

She ran into the bomb zone with a wheelchair, simply hoping to help, unaware that her journey out would be captured in a photograph that became a symbol of courage and survival to the world.

Devin Wang was acting on reflex, doing what she thought was right and what was expected of her as a medical volunteer at the Boston Marathon finish line. Then a Boston University junior, she was one of dozens of student athletic trainers and their supervisors who became first responders in a mass casualty situation for which they couldn't have been prepared.

But Wang's instincts and quick reaction time, honed by years as an elite synchronized figure skater, enabled her to find her way through the chaos to where she was needed: the spot where a man in a cowboy hat was calling for help next to a young man whose legs had been blown off below the knee. Associated Press photographer Charles Krupa's dramatic shot of Wang wheeling Jeff Bauman toward the medical tent, with Carlos Arredondo running alongside trying to help stop the bleeding from Bauman's leg and emergency medical technician Paul Mitchell assisting, became the single image most associated with the rescue effort.

The trauma and unexpected spotlight took a toll on Wang, who did not feel she deserved special credit on a day when so many acted bravely. She sought counseling, took extra time to complete her academic work last year and declined most interview requests. She eventually told her story to ESPN.com, but has been mostly content to maintain her privacy and focus on her busy schedule as an athlete and graduating senior. She has happily followed news of Bauman's recovery but has not yet met him.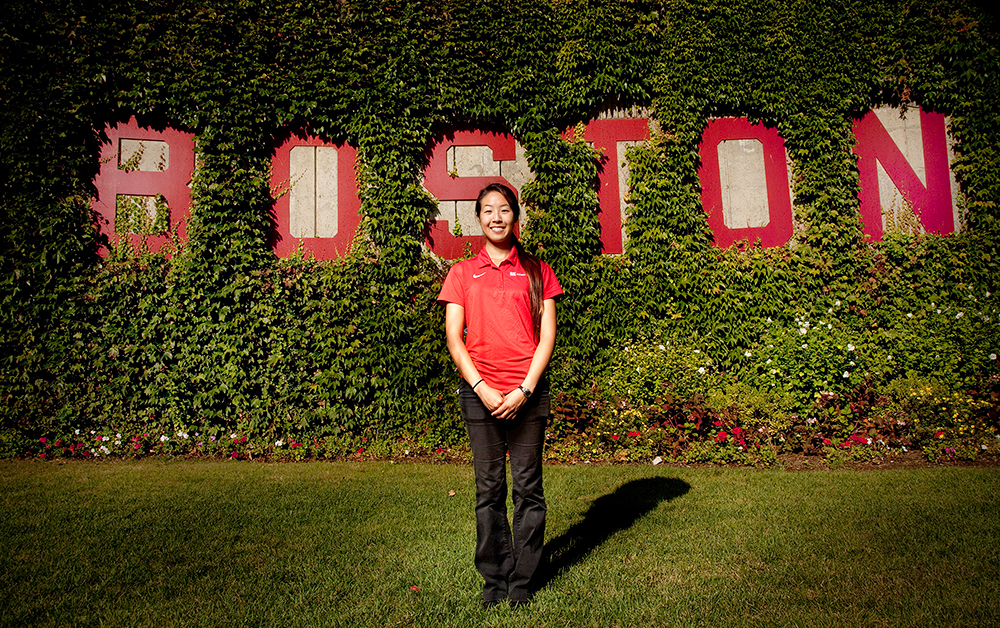 It has been a year of personal growth and reflection for Wang, 21. "I learned a lot about myself and my emotional capacity," she said. "The experience made me want to do better in life, not only for myself but for everyone I come into contact with."
Wang has ordered a cap and gown for the small commencement ceremony to be held next month at BU's Sargent College of Health and Rehabilitation Sciences, where she'll walk with 20 other classmates in the athletic training program. She is contemplating doing the graduate work required to become a physician's assistant. But she will take the upcoming year off from academics, work on a per diem basis as an athletic trainer -- she has already passed her certification exam -- and continue to skate with her team, the Lexington, Mass.-based Haydenettes. They repeated as national champions this year and competed in the world championships in early April, finishing seventh.
On Monday, Wang will be back in the marathon finish area as a medical volunteer. The day is sure to be a charged one, with the potential for both anxiety and joy, but she has never wavered in her desire to return and is confident about the safety measures in place.
"I have peace of mind knowing I'll be surrounded by other people who were also there and have the same values of helping and giving back to others that I have," she said.
- Bonnie D. Ford
Carlos Arredondo

Ran toward chaos

Tragedy brought Carlos Arredondo to the finish line of last year's Boston Marathon, and because it did one more tragedy might have been prevented.

Because a father lost his two sons, another man lived.

"It's been amazing the recovery this young man has been doing," Arredondo told "E:60." "He has to work for a while on his healing, but it's been an amazing experience to see this young man go through what he's been going through.

"Happy to, under the circumstances, meet him and being [a] very lucky person to know this young man and his family."

Arredondo was in the grandstands on Boylston Street on that April day to cheer on the National Guard ruck marchers, the soldiers who every year march the entire 26.2-mile course with 40-pound rucksacks on their backs.

He was handing out small American flags. He wanted people to be waving them when the guardsmen crossed the finish line.

In 2004, Alexander Arredondo was killed in Iraq. He was 20 years old. About seven years later, Brian Arredondo committed suicide. He was 24.

After losing his sons, Carlos Arredondo became an anti-war activist and campaigned for better mental health help for military families.

When the bombs went off, he didn't hesitate. He rushed toward the carnage, intent on helping in any way he could.

He helped break down the metal barrier separating the sidewalk from the street, ran to a young man missing both legs below the knee and tore a sweater into strips to use as tourniquets. When the bleeding was slowed, he lifted the man -- Jeff Bauman, then 27 -- into a waiting wheelchair and ran beside it toward the medical tent and the ambulances.

Arredondo never saw the photographer who snapped the photo that would make him famous -- in his cowboy hat, Tough Ruck T-shirt and jeans, trying to stop the bleeding from ashen-faced Bauman's right leg -- too focused on the moment to notice something so seemingly insignificant.

But in part because of that photo -- with its dramatic and graphic nature -- and in part because of his willingness to share his story from that day, Arredondo has found himself turned from bereaved father to beloved figure, a first responder whom others still turn to for help.

People approach Arredondo often with stories of that day, with thanks and with hopes that he can help them, too.

"Some of them are survivors, too, who got caught up during the bombing," he said. "I did what I could that day, and people [are] very grateful. And I appreciate that, too. I'm trying to figure out myself as well, 'What happened here?' Where I am a year later, myself."

The loss of his sons left Arredondo with post-traumatic stress disorder, something many people involved with the 2013 Boston Marathon have experienced since. He says that, in some small way, the trauma he went through on that April 15 and the response from the public since have acted as a form of therapy for him.

"Well, I've been repeating myself about [what I feel] as a survivor myself and what I went through," he said. "By doing that, I've been dealing with my trauma, as well. That comforts me, as well."

He takes great pleasure, too, in his relationship with Bauman. The two have appeared in public together, they have traveled together and have met each other's families. Now those families are growing, as Bauman and his fiancée are expecting their first child in July.

Arredondo hopes the budding friendship lasts, as the years pass and the bad memories -- never to be forgotten -- dull at least a little with time.

"By then, he'll probably have a family," Arredondo said, "and it would be nice to be a part of his family in the long term and continue the friendship."

- Jack McCluskey
Joe Andruzzi

Picture of determination

They will be together during the Boston Marathon, just like last year. Joe and Jen Andruzzi will watch again at the Forum restaurant on Boylston Street, within feet of where the second bomb went off. Jen was determined to run in this year's Boston Marathon, but she recently suffered a stress fracture in her pelvis, a development that was crushing at first, considering she'd trained for months. But then Jen got to thinking about it: I'll be with Joe on April 21.

In all the toughest times in their lives, they've been together. Through 9/11, when Joe awaited word that his firefighter brothers were OK. Through cancer in 2007, when Jen was at her husband's bedside 20 hours a day, leaving only to send their kids off to school.

"We're so close and do so much together," Jen said, "that I really think running, emotionally, would've been a lot harder because we would've been separated."

Joe Andruzzi is, above all else, determined and stubborn. Jen learned that a long time ago. He was an undrafted offensive lineman who was cut by the Green Bay Packers and went on to win three Super Bowls with the New England Patriots. He was at the Forum restaurant last year for a fundraiser for the Joe Andruzzi Foundation, saw the blood and shrapnel and chaos, and was determined to come back to prove that life goes on and the people of Boston are resilient.

The foundation, which helps cancer patients and their families, will have more than twice as many runners this year -- 47 -- and as of Monday had raised more than $375,000, according to the foundation's online fundraising website.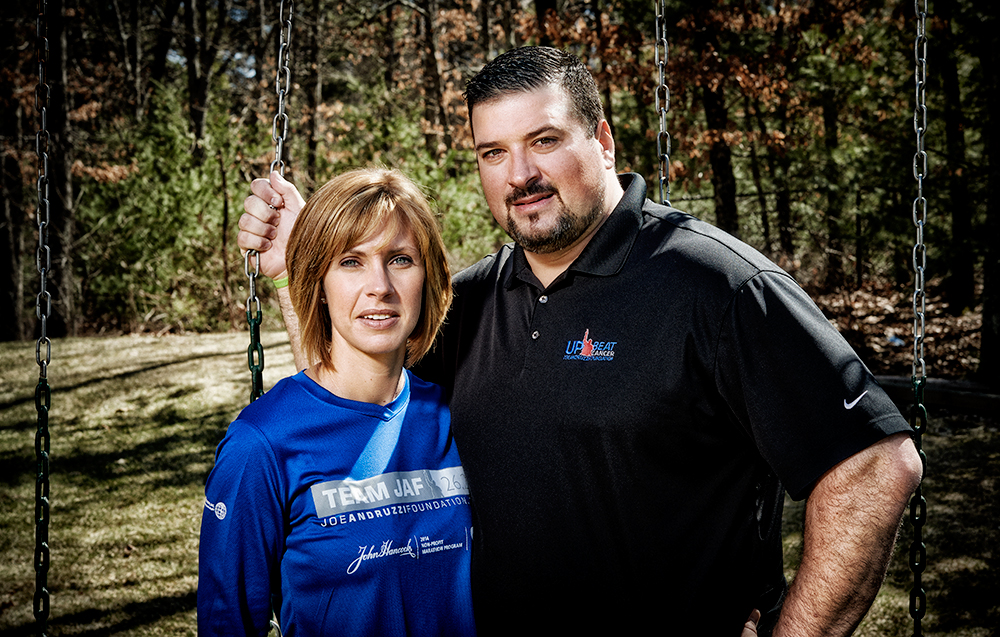 "There's only so much time we have on this earth, and time is very valuable," Andruzzi said. "You just can't waste it."
Andruzzi became sort of a face of the city's mettle in the days after the bombings, as a picture of him carrying an injured mother to an ambulance was seen all over the world. Instinct kicked in that day, and the foundation was lucky. Everyone at the watch party walked away either unharmed or with minor injuries.
Erinn Fleming, marketing director of the Forum, was in the second-floor kitchen checking on the post-marathon meal when the second bomb went off. Fleming was so moved by the day, and by the Andruzzis, that she decided to take up running. She will compete in her first marathon on April 21. She bonded with the foundation members during Saturday morning runs through the marathon route.
"I remember thinking last year, 'Wow, these are really incredible people. To be a part of what they have going on here would be so cool,'" Fleming said. "In a million years, I never thought I'd be part of the marathon team."
The Forum was the last establishment on Boylston Street to reopen, four months to the day of the bombings. Employees couldn't even go into the place for weeks because it was a crime scene. When it reopened, customers were greeted to a redesigned restaurant. Kind of a fresh start.
The woman Andruzzi helped last year will run in the marathon, too. Turns out the mother doesn't want any attention drawn to herself. Joe and Jen would say only that her name is Julie, that she's from Virginia and that they've stayed in contact.
"She told me [after the '13 marathon] that, when she healed up, she was getting a pair of running shoes and was going to start training," Joe said. "And she's coming out here this year, and her and her husband will be running the Boston Marathon along with her neighbor, who will be running for our team.
"We're moving forward. We can't live in fear."
- Elizabeth Merrill
Marc Fucarile

Thought of his son

When the firefighter got to him, lying on his back on the pavement outside the Forum restaurant on Boylston Street, Marc Fucarile handed him his foot.

"I don't remember that," Fucarile told "E:60." "He said I was awake, he said I handed him my foot. I don't recall that. I do remember saying to him, 'I have a little boy, and I have a fiancee. I don't want to die.'

"And I remember him saying, 'Just keep thinking that.'"

The situation was dire. Fucarile's right leg had been severed above the knee. His left leg was broken and burned. His clothes were smoldering from the bomb blast.

Kayla Quinn, a nurse practitioner at Mass General who had been sitting nearby with friends, ran to help. She knelt by Fucarile, pulled off her belt and used it as a tourniquet. When he tried to sit up, she pushed him back down -- she knew if he sat up the blood flow would quicken.

"After a while ... , he just said, 'It really hurts. It really hurts,'" Quinn said, fighting back tears. "So I just held his hand because there was nothing else I could do."

With no ambulance at hand, a quick-thinking Boston police officer rushed off to retrieve a police wagon and the first responders lifted Fucarile in the back for the short, bumpy ride to MGH.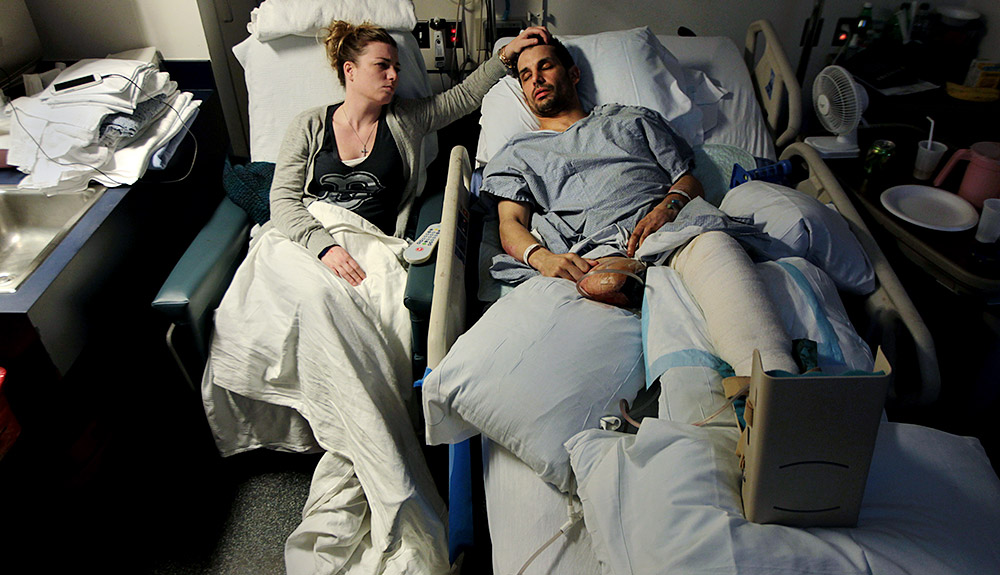 "When those doors shut, I thought I was dead," Fucarile said. "Because it was pitch black in the back of that paddy wagon."
His injuries were severe enough that, he said, doctors at MGH put him in a medically induced coma for two days. Fucarile lost his right leg and almost lost his badly burned left leg, and he had shrapnel in his legs, torso and chest.
The native of Stoneham, Mass., eventually was reunited with his fiancee, Jen Regan, and their 6-year-old son, Gavin -- the two people he thought of most in those initial, terrifying moments on Boylston and in the wagon on the way to the emergency room.
"He was scared," Fucarile said of Gavin's reaction at first. "He didn't know what to do. He thought everything he did was gonna hurt me.
"All I wanted to do was hold him, and he didn't really want to come near me."
Fucarile spent 100 days in the hospital. He underwent dozens of surgeries and procedures, including skin grafts that helped his badly burned leg but left his back bloody and raw.
"I mean, there were days I was so medicated I thought I was in outer space. You know? And to me, it was real," he said. "There are definitely days I don't remember."
But worse than the pain and harder than the rehab and the work of learning how to walk on a prosthesis was being separated from Gavin and Jen, who weren't allowed to stay with him overnight. More than anything, Fucarile wanted to go home and sleep in his own bed with his family.
Then finally, after more than three months, he was able to go home. Of the more than 260 injured in the blasts, he was the final one to leave the hospital.
"I don't think I slept that night, really," Regan said. "But he had Gavin, and Gavin was able to lay [in the bed]. And that's all he wanted. The three of us just lay in bed together."
"When I woke up, I took a picture that morning of all three of us laying in bed," Fucarile said. "It was awesome."
"But then reality hits and you sort of have to step up to the plate," Regan said.
There's still pain. "Every morning, I want to cut my left leg off," he said. And there are new limitations.
"There's stuff I can't do," said Fucarile, a 35-year-old roofer. "Using the bathroom. You know, it's the simple things -- brushing your teeth. Those things are hard, when you're in a wheelchair."
But there's too much fight, and too much faith, in him to do anything but move ahead. Every day he plays hockey with Gavin from his wheelchair. They go to the rink and get on the ice, Gavin on skates and Marc on a sled.
"I want to play," Fucarile said. "I want him to cheer me on like he cheers the Bruins on."
For the R-dropping, all-things-Boston-sports fan, no dream is too outlandish. Teams like the 2013 Red Sox have taught him that.
"I strongly believe that anything is possible," he said. "I believe that because I've seen it. And that's what motivates me. If these guys can do it, I can do it."
- Jack McCluskey
Kristina Scaviola

Unfinished business

Kristina Scaviola hasn't been back to the Boston Marathon finish line since her 2013 race -- along with any sense that her race was important -- ended a fraction of a mile early.

Scaviola, still recovering at the time from a femoral stress fracture, had to alternate running and walking for most of the course but was determined to jog the final stretch. She was slogging away near the left-hand curb on Boylston Street, ecstatic at having gone the full distance, when a pair of explosions ripped through spectator areas on that side of the course. The second bomb ignited a fireball just a few storefronts from her, sending shrapnel and debris over her head.

Terrified that her husband Mike might be in harm's way ahead of her, she texted him. He was still on the train, unaware of what had happened. Scaviola steered several dazed and bleeding people toward medical personnel, then heeded the police order to walk away.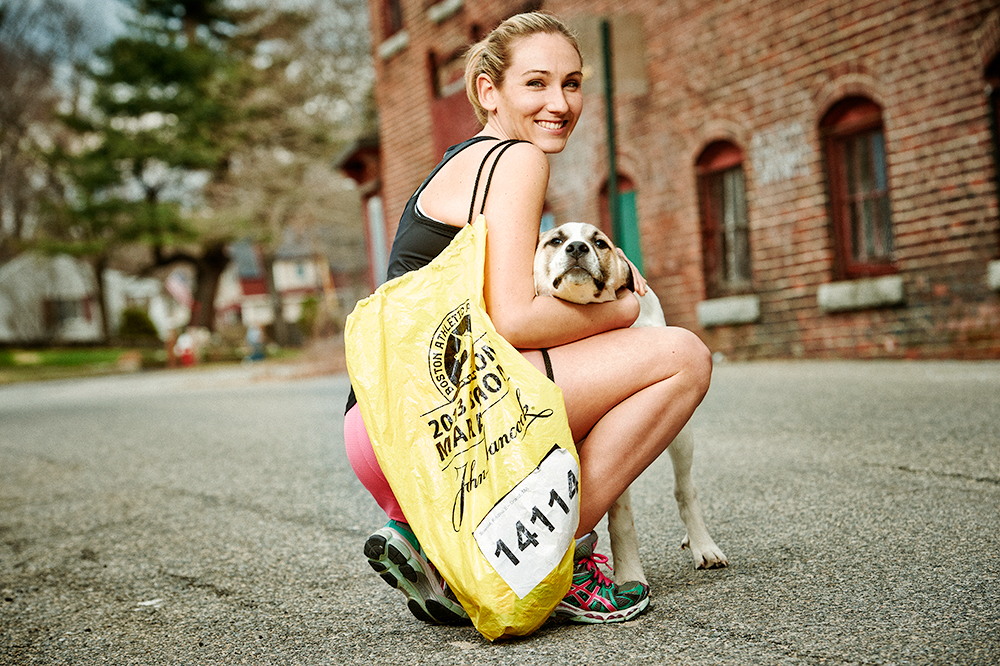 In the months that followed, Scaviola, 29, of Dracut, Mass., threw herself back into her job as a laboratory supervisor for industrial hygiene company Optimum Analytical and devoted herself to recovering physically and emotionally. She had to leave a family wedding in Williamsburg, Va., last year when she heard ceremonial cannon fire. She purposely stayed away from Fourth of July fireworks displays because she knew the smell would bother her. But she never doubted that she would return for the 2014 marathon.
Last month, Scaviola decided to chronicle her marathon experience on her blog, the Fast and the Foodiest, and wrote that she intends to "take back this run. To finish what I started for every single person who saw what I saw. For every single person that got injured. For all of the spectators whose lives were changed forever."
A self-described former "overweight nerd," Scaviola discovered her love for running three years ago. This year's unusually harsh New England winter forced her to train indoors more than she would have liked. "I have the honor of saying I've done a 20-mile run on the treadmill," she said. She is grateful to be healthy this spring and is aiming for a time of around 3 hours, 25 minutes.
Yet, in the much bigger picture, "I'll be happy just to cross the finish line," said Scaviola. "It's not something I'm consciously avoiding, but maybe I was saving it for this weekend."
- Bonnie D. Ford
Karen McWatters

Paying it forward

You can call it fate, if you believe in that. You can call it an incredible string of coincidences, if you don't.

But there's no denying that a lot had to go right after a few things went terribly wrong for Karen McWatters (then Karen Rand) and Melissa Estefania Salinas to end up here, in Newton, Mass., on a snowy March day -- a day Estefania, a 14-year-old from El Salvador who lost her leg in a freak accident, would get fitted for a new prosthetic leg.

"It just seems like there was a bigger plan somewhere for us," McWatters said, "that all these things just fell into place."

For one thing, McWatters' then-boyfriend had to run the marathon one last time. Kevin McWatters, a correctional officer from Somerville, Mass., said he thought about stopping after the 2012 race but decided to run it just once more in 2013.

For another, McWatters and her best friend, Krystle Campbell, had to be standing just so on Boylston Street when the first bomb went off. The blast took Campbell's life -- and McWatters' left leg below the knee.

In the darkest moments, when she was in pain and mourning the loss of her leg and the irrevocable effect that day has had on her life, McWatters would think of her best friend.

"I lost a very special friend that day," she said. "She was 29 years old, and she had her whole life ahead of her. And I think from the very beginning I said, 'How could I ever feel sorry for myself?' It should've been me, the older one, who already had kids, who'd been married and had such a big life. And I survived.

"So I promised myself from the very first [moment] I was awake that any day I started to feel sad or feel sorry for myself, I would think about Krystle and I [would] remember to be grateful."

McWatters eventually recovered, got fitted for a prosthesis and learned how to walk again. She was overwhelmed by the support she received, by the kindness of strangers. And she knew she wanted to give something back. Little did she know, a long-delayed shopping trip would give her the chance she needed.

Before the bombing, McWatters had been executive assistant to famed chef Jasper White. So she had an idea what kind of furniture she wanted, and where to get it. Finally, in August, she convinced Kevin to take her to Boston Home & Barstool in Somerville.

"It was so funny because I kept telling him for maybe months that I wanted to go there," she said. "And we just didn't, we were busy, and we never went. And the fact that we happened to go and be there right when this had happened to Estefania."

The store's owner, Mauricio Quiroga, had just days earlier learned about what happened to Estefania through a family friend. When he noticed Rand's prosthesis, Quiroga thought it was a natural connection.

"So I asked her, I said, 'Will you help her?'" Quiroga said. "And she said, 'Sure. Who do I write the check to?' And I said, 'I don't know, I'll get back to you on that.'"

Quiroga created a Facebook page to get Estefania's story out and to raise money toward the cost of a prosthesis. Initially, Karen and Kevin wrote checks, but then Kevin had an idea: Why not ask the people who had helped Karen with her prosthesis whether they would help this girl, too? That question set in motion a plan months in the making, one that required more fortuitous coincidences, many willing participants and plenty of patience to see through. And it all resulted in Estefania, now 15 and learning English while she's in the States, putting on her new prosthetic leg, lacing up her pink sneakers and taking a few deliberate, triumphant steps.

There's still a lot of work ahead of Estefania, and a lot of expense, but for reasons no one involved can entirely explain everything came together to unite two people from two continents with one distinct thing in common.

"There's a reason for everything, maybe. I don't know. I mean, some days I'd still like to have my leg back and my life back," Karen McWatters said, with a laugh, "but I can't. This is what it is. And so going forward maybe now we're on a different path and it's not such a bad thing."

- Jack McCluskey

Bonnie D. Ford is a senior writer for ESPN. Follow her on Twitter @Bonnie_D_Ford or email her at bdfordespn@aol.com. Jack McCluskey is an editor for ESPN.com and a frequent contributor to ESPNBoston.com. Follow him on Twitter @jack_mccluskey. Jackie MacMullan is a columnist for ESPNBoston.com. Elizabeth Merrill is a senior writer for ESPN.com. Follow her on Twitter @MerrillLiz.

Follow ESPN Reader on Twitter: @ESPN_Reader

Join the conversation about "A Race to Remember."