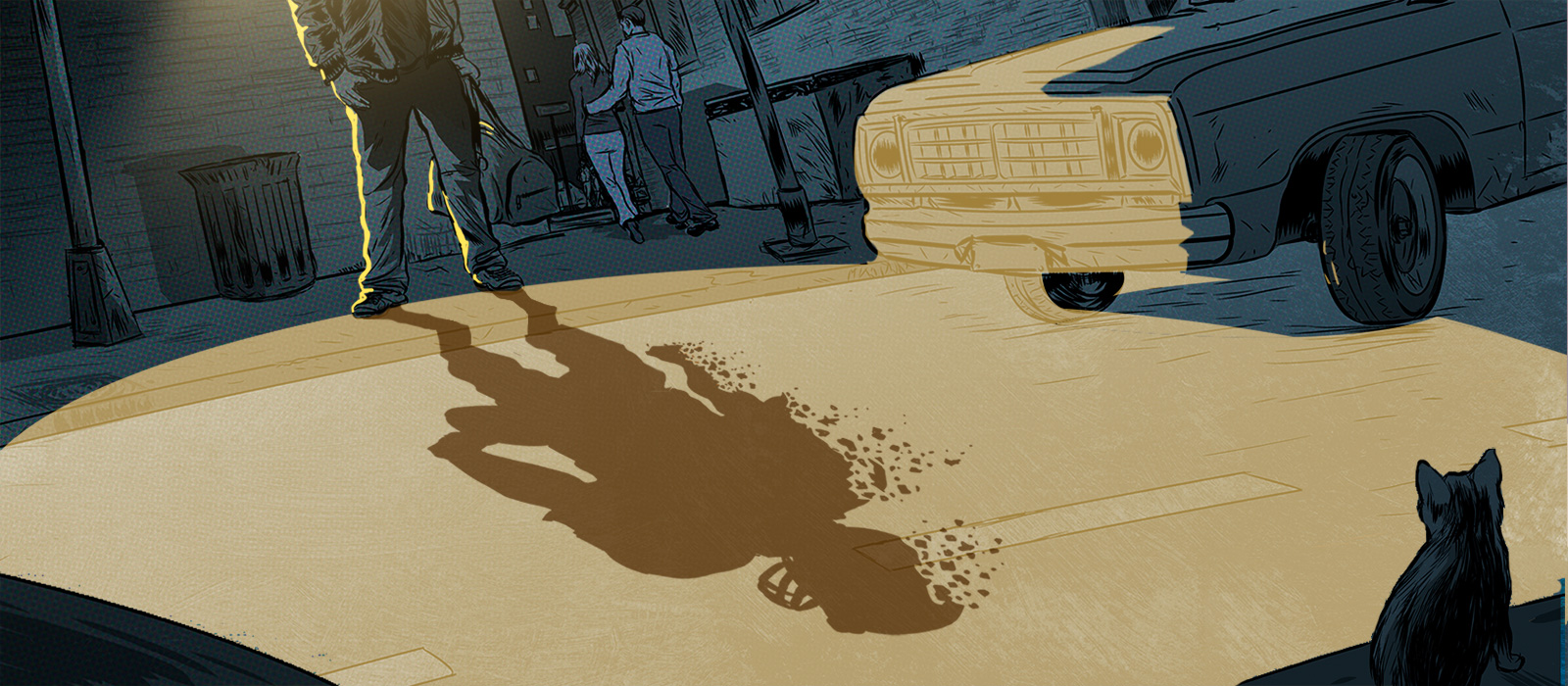 Hiding In Plain Sight
After Adam Muema ditched the NFL combine, declaring it God's will, the former San Diego State star became as hard to find as he was to figure out.
WE WAITED, huddled in small patches of shade beside a field of synthetic grass. We checked our watches, fiddled with our phones, made small talk with strangers. Surely, he was coming, right? If only to prove that he could still run as he always had, with bursts of speed and strength. If only to show that he could still dance between defenders.
We scanned the entrances and exits to the football field and looked to the sidewalks winding through the campus of San Diego State University. Was that him, walking toward the field? Where was he?
---
ADAM MUEMA had said he would attend his pro day on March 20. He would do what everyone wanted: dazzle NFL scouts, wow the crowd. Just as he had the last time the public had seen him -- the day he rushed for 229 yards and three touchdowns in a 49-24 Aztecs win over the University at Buffalo in the Famous Idaho Potato Bowl. He wasn't one of college football's biggest stars. Scouts didn't view him as a first- or even second-round pick in the NFL draft. But when healthy, Muema had shown he was one of the best players in the Mountain West Conference. His stats, he was fond of pointing out, were similar to those that Doug Martin put up at Boise State, and Martin became a star with the Buccaneers. San Diego State's coach, Rocky Long, once said he believed Muema was the best tailback in the country.
But in recent weeks, Muema had essentially gone underground. He'd cut off contact with most of his friends and family. He'd parted with his agent and left the NFL combine on Feb. 23 after participating in just one day. He then claimed God had told him that if he left the combine, he'd be drafted by the Seahawks -- a move that sparked a number of news stories questioning his behavior. Then, according to a friend, Muema slept somewhere in the airport in Fort Lauderdale, Fla., for three days. In reality, his chance to play in the NFL was slipping away.
"No one saw this coming," says a former confidant of Muema's. "From the moment things went wrong, I didn't sleep for five days. Even now, I'm still not settled about it. It just breaks my heart. People are trying to get him help, I promise you that."
The people who loved him couldn't reach him. Texts went unanswered, phone calls went unreturned. No one knew where he was staying. Each day, it seemed, he'd leave clues sprinkled across the Internet. On Instagram and Twitter, Muema had aligned himself with a self-proclaimed returned Christ named Lord RayEl, a man with a YouTube channel and a large Facebook following. For Muema, Lord RayEl was the light. Everything else, it seemed, was darkness.
You guys are right I am crazy, crazy

in love with Jesus it is the sweetest name I know. -- Feb. 24.
It felt to those who knew him best as though Muema had become a different person. Now we waited, ready with cameras and notebooks, to see if they were right.
I was among those who showed up to Muema's pro day. I had been a college football player once, years ago. I too walked away from the game prematurely, spurred by my fear and doubt. Maybe we could relate. Maybe he could explain to me why someone with so much promise would pursue a dream, then abandon it on the cusp of it finally coming true.
His online life was still active, if somewhat capricious, in the days leading up to his pro day. One day he'd post YouTube clips on Twitter or Facebook suggesting the world was ending, or that President Obama was the Antichrist. The next he'd post pictures of the cleats and shorts he planned to wear for the pro day workouts. He'd be up half the night bragging about the legions of new followers he'd acquired since he declared his allegiance to Lord RayEl. But even some of his closest friends were baffled as to his whereabouts. After his stint in the Fort Lauderdale airport, I heard he'd been staying with a friend in San Diego. On the night before his pro day, he slipped out and disappeared again.
As each minute came and went on that warm, sunny Thursday afternoon at San Diego State, a heartbreaking reality began to crystallize. Muema was not coming.
"We're concerned about him," Aztecs running backs coach Jeff Horton told me, a hint of sadness in his voice. "I'm not worried about him playing football again. All I'm concerned about is his well-being. I'd do anything I could to help him. But he's 21 years old. He's a man now. He's making his own decisions. You can't force something on someone, you know?"
Privately, the program would continue trying to reach out to Muema. Publicly, it had little more to say about the fourth-leading rusher in school history, who had amassed 2,955 yards and 34 touchdowns in three seasons, his last two as a starter.
A small band of NFL scouts, many of whom had come to the Aztecs' campus specifically to see Muema, turned their stopwatches, notebooks and attention to other San Diego State players. Football's machine rumbled on.
Unlike many of the people gathered that day, I'd recently been in touch with Muema. A friend of a friend had passed along his cellphone number, and for several days we'd been exchanging text messages. His responses were often cryptic and frequently religious in nature. After I told him I'd watched the YouTube clip he sent me of Lord RayEl warning his followers about the temptations of Satan, Muema said he would consider meeting me somewhere.
When he didn't show at his pro day, I tried again.
Saw you weren't at pro day. Want to meet up somewhere for lunch and chat?
A few minutes later, he wrote back.
I'm watching you just can't see me.
Minutes later, Muema posted a picture on his Twitter account. He was wearing a San Diego State ski hat, a blanket draped around his shoulders and Groucho Marx glasses.
I hope this pics makes one of my articles. Caption: "I heard you were looking for me."
Was this all just a game to him? Was Muema just sick of football defining his existence and needing to have some fun with those who couldn't understand? I texted again.
The picture was funny, all things considered.
He wrote back immediately.
It's pretty hilarious to me as well hahaha. I planned it a while ago.
I wondered whether it might be the last response I'd ever get from Muema. Instead, it was just the beginning.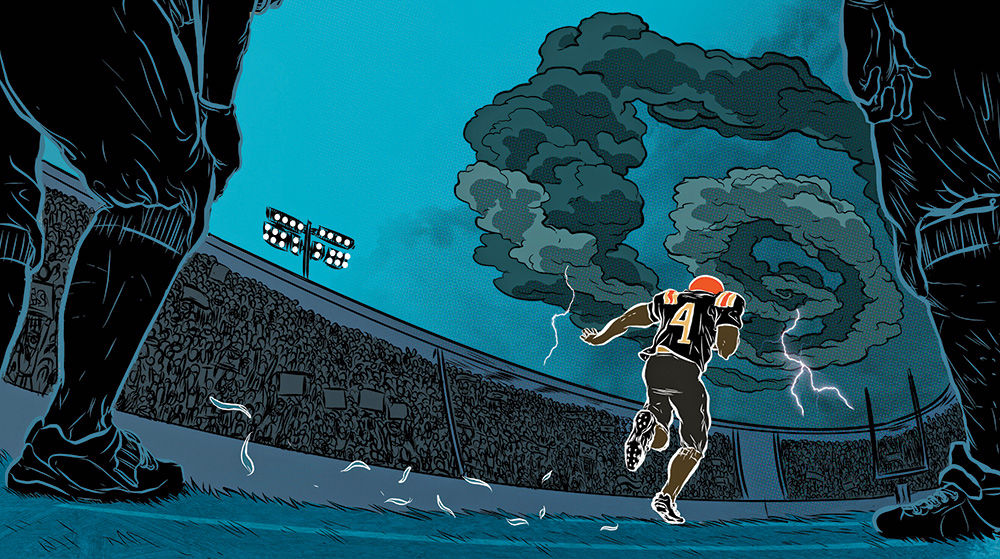 THE DAY AFTER Muema no-showed his pro day and stopped responding to my texts, I made the two-hour drive up the California coast from San Diego to Covina to visit the city where he grew up. I tracked down his high school coach, Lou Farrar, a fixture in San Gabriel Valley sports for nearly five decades. A 68-year-old no-nonsense Italian-American who speaks from his heart and with his hands, Farrar stood next to the school's baseball diamond late in the day, sun going down, talking about the helplessness he'd felt over the past month. "It makes me want to cry, because I know what a good kid he is," Farrar said.
Over the years, Farrar had been something of a father figure to countless Charter Oak High players, including Muema. He pushed Muema on the field and in the classroom and talked him through moments of doubt or indecision. "I'm so worried about him, but at some point, what can I do?" Farrar said.
He was still haunted by the last time he had seen Muema. After Muema disappeared from the combine, Farrar heard he'd come back to Covina. He tried texting, but Muema never responded. Farrar was driving down the street in front of Charter Oak High when he thought he spotted Muema.
"He was standing in the shadow of one of the houses," Farrar said. "I had to get to a doctor's appointment, so I didn't get the chance to talk to him. I assumed I would see him the next day between campus and wherever he was staying down the street. But he just disappeared."
Muema did have dinner with one of Farrar's assistants (who is also a police officer) before leaving town. Muema was clean-shaven and quick-witted, and he promised to show up at his pro day. Farrar had found out through the coach grapevine that the San Diego Chargers planned on sending two scouts to watch Muema work out. As long as he didn't trip over his own feet, Farrar had heard, they'd bring him to an evaluation session, at the very least. When Muema didn't show, Farrar felt not just heartbroken but incredulous.
For so much of his life, football had been Muema's salvation; putting a ball in his hands and asking him to dodge, deke and demolish would-be tacklers had always made him happy. His childhood, according to various people I spoke with, wasn't an unhappy one. He had support, stability and love. But his life growing up in Covina -- a small suburban city in the San Gabriel Valley about 20 miles east of Los Angeles -- also had its serious strains.
"Something awful is going to happen. And that's going to be a real waste of a good human being."
- Lou Farrar, Muema's former high school coach
When he was 2 years old, his aunt, Trina Powell, became Muema's legal guardian after his birth mother was deemed legally unfit to raise him. And though he had contact with his birth mother over the years, Muema was brought up almost exclusively by Powell, alongside her four other kids, and grew to think of her as Mom.
"It's like he's my own," Powell told the San Diego Union-Tribune in 2012. "I don't know life without Adam in it. All my kids are named with an 'A,' and so is Adam. It's like he was a gift given to me."
Powell, who worked primarily as a therapist, was the rock in Muema's life. In most years, she operated as a single parent. The household budget was tight. Their apartment frequently felt cramped. But Powell made it work.
Encouraged by her, Muema started playing football when he was 5, though he barely understood the game. According to the U-T San Diego story, his family liked to tease him about the first time he carried the football. He ran the wrong way, toward his own goal line, then realized it at the last second. He reversed direction, shrugged off tackles for the entire length of the field and still scored a touchdown. Friends and family in Covina soon began to talk. Adam was special. He was going to score those kinds of touchdowns in the NFL one day.
"Trina is an absolute stud," Farrar says. "I just love her to death. But Adam didn't have any strong male role models in his life. Anybody who was related to him just saw him as a meal ticket somewhere down the line."
Away from the football field, Muema was a quiet kid, Farrar says. He was not prone to bragging, didn't crave attention, had a tight-knit group of friends and addressed his teachers as sir and ma'am. He was religious, but no one remembers any proselytizing. "Everyone in his class loved him and looked up to him," Farrar says. "He was never, ever the kind of kid you had to worry about using drugs or alcohol. He was so health-conscious, you had to drag him out of the weight room."
Put a football in his hands, though, and he was an artist wielding a sledgehammer. He'd spin past one defender, outrun another in a race to the edge, then lower his shoulder and finish off runs with the violent crash of a hard-slung battering ram. Farrar liked to joke that Muema hit so hard, he'd made a handful of opponents quit the game for good. His senior year at Charter Oak, he rushed for 1,936 yards and 23 touchdowns and led his team to a 13-1 record.
"He really loved the game of football," Farrar says. "He was an absolute workhorse, and we rode him as hard as we could."
After Muema disappeared, Farrar and his son, Dominic, racked their brains trying to come up with anything that could have triggered his behavior. They remembered a night -- and lost sleep all over again about it -- during Muema's senior year of high school. He'd attended a graduation party at a friend's house where a group of uninvited teenagers arrived and a fight broke out. Muema tried to persuade the crashers to leave. When he turned away, someone struck him in the head with a baseball bat, fracturing his orbital bone and tearing a hole in his retina, blurring his vision. For two weeks, 23 hours a day, Muema had to lie facedown, barely moving, otherwise the injury would not heal properly. Doctors weren't sure he should ever play contact sports again.
"I was panic-stricken," Powell told the U-T San Diego in 2012. "The love of his life was football, and to hear doctors say he would never play football again? But I told Adam, "Are you going to trust in them or trust in God?'"
So Muema redshirted his first year at San Diego State while his eye fully healed. He earned playing time as a freshman and became a star as a sophomore and junior. The determination and patience Muema had shown during his ordeal still leaves his friends and family in awe. But where that version of Muema had gone since the combine was a mystery.
"Somebody has to step up and take charge of the situation," Farrar says. "Something awful is going to happen. And that's going to be a real waste of a good human being."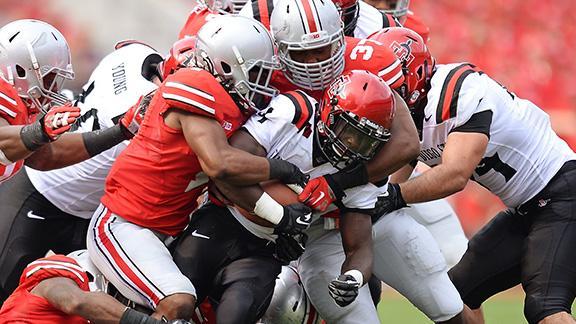 MUEMA'S FAMILY AND close friends weren't talking to me. They didn't respond to emails I sent or messages I left. Someone close to the family told me Trina Powell had spoken with Muema, believes he's fine and has decided the matter is now in God's hands.
The last in-person interview Muema gave is available on YouTube. It came the first day of the combine, in the lobby of Lucas Oil Stadium, with a friendly face: San Diego radio reporter Marty Caswell, who regularly covered Aztecs athletics. In the two-minute clip, Muema doesn't mention Lord RayEl or Judgment Day or the Book of Revelation. He talks, instead, about how he knows he needs to work on his pass blocking. He's dressed in his official combine-issued Under Armour sweatshirt, the clothes a friend says he was still wearing three days later at the Fort Lauderdale airport.
Muema smiles, makes regular eye contact with Caswell. He fidgets while he speaks but seems no more nervous than anyone else would on camera. There are no signs of distress or reasons for concern.
Caswell: "Adam, how great has this process been for you so far?"
Muema: "It's been great! It's been an experience. We're working off like four hours of sleep, so I'm just trying to enjoy it while I can."
The next day, the running backs in Indianapolis were scheduled to undergo a psychological evaluation -- a standard part of the NFL's predraft screening process -- and a test of how many times they could bench-press 225 pounds. Muema was a no-show for both, though he did complete his medical testing as well as some of his team interviews.
Less than half a mile away from Lucas Oil Stadium, around the time Muema was supposed to be wrapping up interviews with NFL personnel, Father James Baraniak was walking through St. John the Evangelist Catholic Church, going over the homily he planned to give that afternoon. He noticed a young man, all alone, kneeling in prayer in one of the pews. His head was down, and his arms were resting on the pew in front of him. Baraniak, the team chaplain for the Packers, noticed an NFL combine credential hanging from the man's neck, which struck him as odd. The homily he planned to give was part of an evening organized by Catholic Athletes for Christ, but in the eight years it had been an unofficial part of the combine weekend, an athlete had never attended. It was just coaches and executives and scouts. The athletes were always too busy.
Baraniak paused. The young man smiled and told Baraniak he'd been sitting here, in the church, all day.
"On one hand, I was extraordinarily impressed, but I was also a bit perplexed," says Baraniak. "I asked him, 'How can you afford so much time in church today? Don't you have things to do? Routes to run?'"
No, Muema told Baraniak, I took the day off. I have to get my priorities in order. I've got to give time to God first and foremost.
Muema quickly bonded with Baraniak, telling the priest he could sense his kindness and love, and so he began to unspool his life story. He was stressed, uncertain about what to do next. He had no one he felt he could trust except for his Aunt Trina. Muema had decided to trust in what he believed in most: numbers.
At first, Baraniak assumed he meant the Book of Numbers, the fourth book in the Old Testament. But over the next few days and weeks, as Baraniak and Muema stayed in touch through text messages, the priest began to realize Muema literally meant numbers, specifically the number 8, which through codes and prophesies he'd read led him to believe that if he left the combine, the Seahawks would draft him and he'd wear No. 8. (In the NFL, running backs must wear a number between 20 and 49. The number 8 is reserved for quarterbacks, punters and kickers.)
When Baraniak says he expressed concern that someone might be taking advantage of his innocence, Muema became angry, accused Baraniak of turning on him, called him a fake priest and said he was working with Satan.
"I just kept thinking, What happened here?" Baraniak says. "I've tried to get him in contact with good people, but I'm walking on eggshells a bit. I want to help, but I know Adam won't let me go there. He's got his feet firmly planted in the world of the Lord RayEl."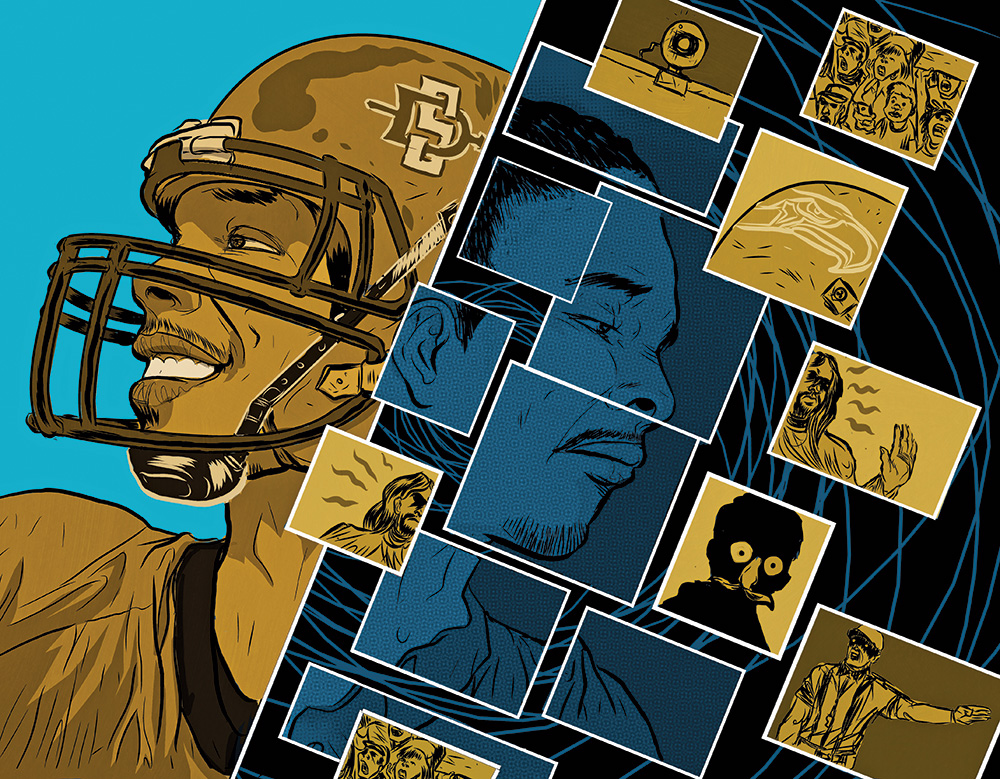 EVEN THOUGH IT appeared as if Muema had gone underground, he couldn't resist interacting with people online after the combine. Each day brought a flurry of new tweets or status updates.
Oh my Gosh my new life is 1 million times better now. I love God, not quite everyone yet but that'll come. But I do love my brothers & sisters the RayElites. Thank you Lord RayEl!
I recommend ppl pray to Jesus if they don't believe @LORD_RAYEL is God. Because He'll still get your message. He's God. I just know He is.
I am Abraham reincarnated!
Why can't a team use me? they can use a person with DUI's, Domestic violence, Jail records, illiterate, Drug attics, Murder cases (O.j.) #sigh
Please pray for me I Do not love anyone but the Holy Trinity! I say I love you guys because I want to care but I don't. Please pray for me.
On March 1, the Twitter account associated with Lord RayEl acknowledged Muema for the first time, posting a video declaring Muema's recent actions as "foretold by Torah Code prophecy."
Court documents from the Indiana Court of Appeals -- which were first published in connection with Muema by the investigative website Raw Story -- show that a 46-year-old Chicago man named Raymond Elwood Howard-Lear spent 18 months in prison after pleading guilty to battering his partner. After he was released from prison on March 29, 2005, he was arrested on May 8, 2005, and sentenced to 166 days in the Cook County Jail for violating the protective order she had against him.
Howard-Lear, who also made two failed runs for office in Illinois as Ray Lear, is still wanted by the Indiana Department of Correction on an outstanding warrant for a parole violation. His mug shot bears a strong resemblance to the picture Lord RayEl uses on his YouTube channel to speak to his followers. Additionally, Raw Story discovered that Howard-Lear is the son of Ruth Howard-Lear, the woman who, in 2011, was listed as the person who registered ra-el.org, the domain name now used by Lord RayEl. He didn't reply to multiple requests from The Magazine to comment for this story.
When brought this information by Raw Story, Muema made the surprising decision to grant the site an interview via Facebook Messenger.
Raw: Have you ever actually met this guy?

Muema: I'm good. Nice sharing this with you.

Raw: The guy registered his website 'ra-el.org' in his mother's name. Did you know that? ... Did he tell you that? Have you actually talked to him on the phone?

Muema: I'm good. Nice sharing this with you. You have been warned.

Raw: Warned? Warned of what?

Muema: You'll find out soon, just know we have nothing to talk about.
Two days after San Diego State's pro day, while sifting through the lengthy trail Muema left on the Internet, I checked in on his Instagram page, amog4. So much of it seemed to document the normal life of an American college kid -- shirtless selfies, Throwback Thursday shots from his childhood, pictures of food, of shoes, of the actress Megan Fox -- that I initially scrolled right past a blurry picture of a football field, shot from a distance, without giving it much thought.
But when I clicked back through his pictures and saw the shot again, this time I noticed the hashtag -- #Surprise -- and the date when it was uploaded: March 20. Pro day.
In the foreground, I could clearly see a small group of NFL scouts gathered at midfield, taking notes and glancing at their stopwatches. In the background, a crowd of around 100 people was camped out on the hill next to the field, watching players run. When I looked closely, I could even see myself in the photo, notebook in hand, dressed in the clothes I had worn that day: a red polo shirt and khaki shorts.
I drove back to the Aztecs' campus, gathered my bearings, then stood in the spot that offered the exact same point of view as in the picture. It was clearly taken from just over the fence, at the opposite end of the field from where I, and everyone else, had gathered to watch. In the small cul-de-sac between San Diego State's aquatic complex and baseball field, a person could stand and watch, virtually unseen.
I pulled out my phone and looked back through the texts Muema sent me that day, just to make sure I was actually seeing what I thought I was seeing:
I'm watching you just can't see me.
Looking for one last confirmation, I texted Muema again.
People think you weren't at pro day, but they're wrong, aren't they? You were there.
It had been two days since I'd heard from him. But this time, he wrote back immediately.
"How do I know you're not a cop? Psych ward or anything?"
- Adam Muema
I sure was there.
On a day when so many of us came out to watch him, Muema was instead watching us.
The discovery seemed to open the door, just a sliver, into his world. He still wouldn't take my calls, but he continued to respond to my texts. When I asked again if he wanted to meet before I left San Diego, to talk over dinner, he didn't respond for nearly an hour. Then, to my surprise, he agreed.
I can't get a confirmation on you but I'm down you can buy me some food.
When I asked him to pick a place to meet, he hesitated.
How do I know your not a cop or with the cops? Psych ward or anything?
I texted a picture of my ESPN business card, then a link to my Twitter account. I promised him that if he did want to talk, I'd come alone.
I trust you but do you think this story would change anything?
I wrote back with a question of my own.
I guess it comes down to: Do you want it to change anything?
Two minutes passed that felt like two hours. I stared at my phone, uncertain what to say next. It was just after 10 p.m.
Eventually, an answer came.
Uh we can try.
He sent me an address, located in a middle-class neighborhood not far from San Diego State's campus. I plugged it into Google Maps and told him I'd be there in 30 minutes. His response suggested he was in a playful mood.
Okay just know I have seal team 7 members around the corner. Any funny business. We're real close too.
I parked on the street where Muema told me he was staying, got out of my car and started to look around. Soon, it hit me that the address was a fake.
I texted Muema again, told him I'd stand in the street so he could see I was alone and that I meant no harm. He didn't respond. It was nearly 11 p.m. Every few minutes, I'd try texting or calling again.
It's kind of spooky out here, wondering if you're watching me.
Several times, it felt like someone was approaching, like someone was moving between the parked cars and shadows cast by the yellow streetlights. Maybe it was my mind playing tricks, but I don't think so. I have no way of knowing, but I'm convinced he was out there in the dark, watching, studying, contemplating whether or not I could be trusted.
In the weeks to come, he would surface from time to time on Twitter and Instagram. There were photos from Coachella, claims that he was in Mexico. There was a selfie in a military uniform, with what appeared to be a handgun on his bed and pictures of his old football jerseys spread out on the back of a couch. In early May, he told ESPN.com's Joe Schad that he might try boxing or ultimate fighting. "I don't like being a slave to money or coaches," he said. In mid-May, he told the U-T San Diego that he'd rather go back to football than fight. Each day only added to the mystery. Reaching out for connection. Hiding in plain sight. I didn't know which.
I waited for an hour that night, leaning on my car, underneath a lamppost, listening for footsteps. Looking for some sign.
Nothing.
He never took that first step out of the darkness.
Follow The Mag on Twitter (@ESPNmag) and like us on Facebook.
Follow ESPN Reader on Twitter: @ESPN_Reader
Join the conversation about "Hiding In Plain Sight."