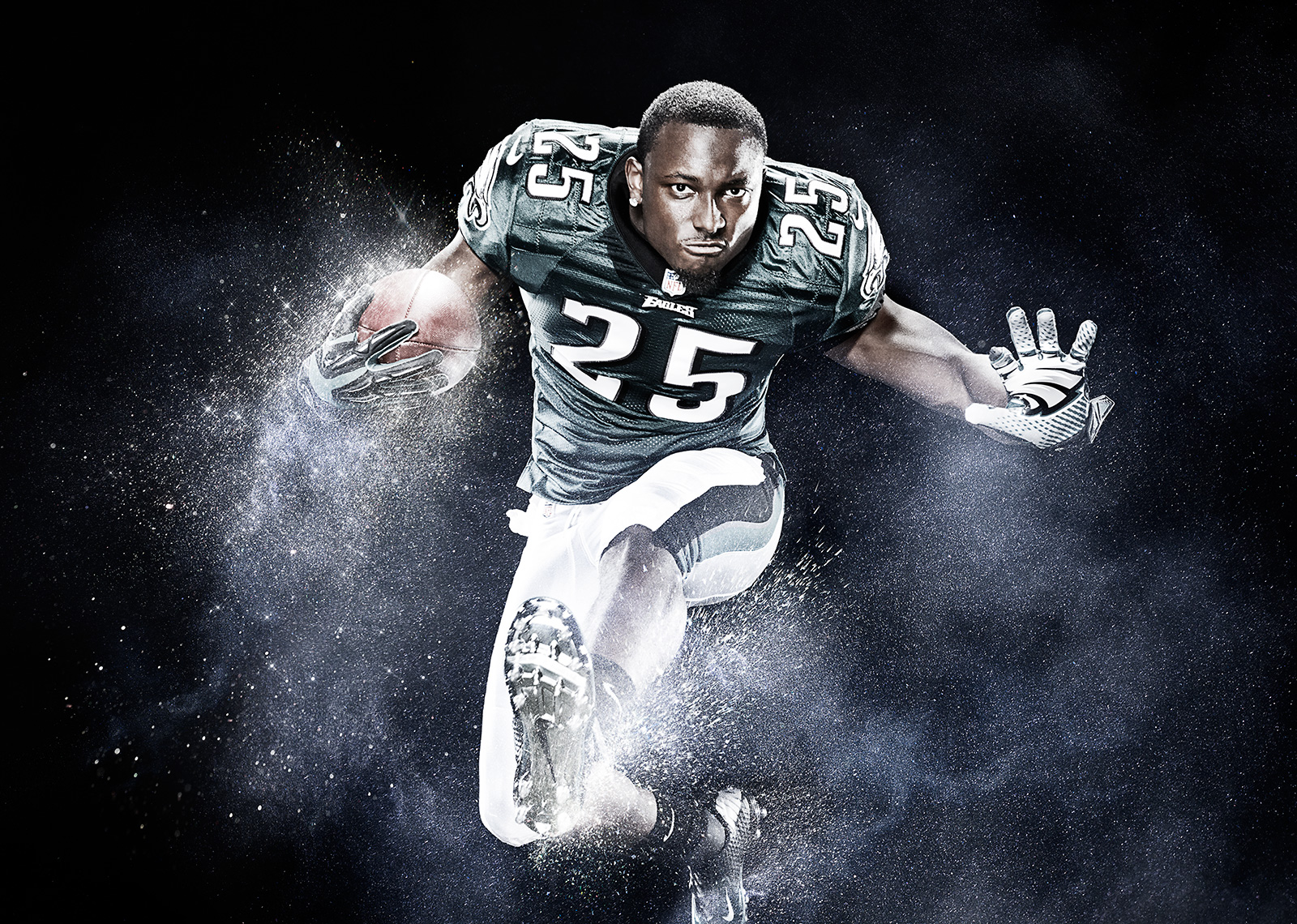 30 Yards And A Cloud Of Dust
The eight truths LeSEAN McCOY had to learn about Chip Kelly before he became a believer -- and the NFL's most dangerous weapon.
1. COACH IS A REAL SOCKS FIEND
LeSean McCoy is dressing for his first Chip Kelly practice. It's a year ago May. Like all of the Eagles, he is unsure what to expect from his new coach. He knows that practice will be fast, because everything about Kelly is about speed -- from how he talks, to how he hustles around the facility, to how, as the coach at the University of Oregon, he once chastised an assistant for exiting the freeway onto "inefficient" side streets. So it's important for McCoy, who likes to be "the flyest guy on the team," to be dressed and ready to roll: a white long-sleeve shirt, black shorts, a black headband and, finally, black socks.
Looking good. Feeling good. But then a team staffer says, "Uh, LeSean, I don't want to burst your bubble. You look nice, but you got a dress code."
It's Chip Kelly's dress code, and it mandates white socks. Kelly wants the Eagles to be uniform, like a team. No exceptions -- not even for McCoy, a 2009 second-round pick out of the University of Pittsburgh who, with warp speed and quick feet, has become an NFL All-Pro. He's desperate to join Adrian Peterson as their generation's only Hall of Fame running backs. McCoy has a broad forehead and football-shaped eyes. He never stops moving and yet is late to everything. His mood is as shifty as his running style, which is why they call him Shady. And at this moment, he is, along with Michael Vick, the core of former coach Andy Reid's decidedly NFL offense. Reid was fired and replaced by Kelly -- a "college guy," McCoy calls him.
The white socks feel like a gimmick.
So McCoy wears black socks to the first practice -- and tapes them white.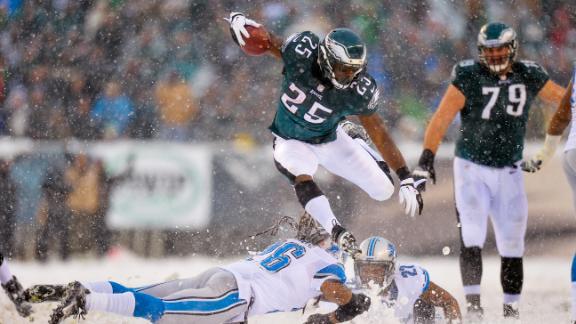 2. HE'S A PEE TOTALER
Nobody has ever run a team quite the way Chip Kelly runs one. And McCoy is about to learn what it means to live and work in Kelly's new system. During practice, players wear mandated heart monitors and GPS devices. Trainers carry water bottles labeled with each player's name and after practice ask the players to pee into a cup, part of Kelly's plan to track hydration. A monitor on a wall in the facility ranks the most hydrated players. Drinking water is now a drinking game.
Kelly also wants the players to wear special bracelets that monitor sleep. He tells them that elite athletes need between 10 and 12 hours a night -- almost twice McCoy's usual doze. The bracelet is hooked up to an adapter that lies near McCoy's bed, beeping and whirring all night, disrupting what it's supposed to record.
And then there's practice. Kelly famously runs the fastest practices football has ever seen, based on what he has termed a simple premise: "The more times they get reps, the better they get as players." McCoy finds himself in a three-play-a-minute hustle, one following another like shuffled cards. The only chatter at his first minicamp practice is Kelly's ubiquitous "Hurry up!" as he sprints between drills, an efficiency expert with a whistle. Kelly, a former University of New Hampshire quarterback, throws passes to receivers between snaps, his delivery still clean and high. He seems happiest when the team moves so fast that backups run with starters and vice versa, hierarchies dissolving and a team forming in its place.
McCoy is dubious. He's not used to seeing a head coach lifting weights with the players. He's not used to assistants signaling plays with a device invented by and mailed from -- no joke -- a nearby dental hygienist. Kelly, who declined comment for this story, is one of football's most influential coaches -- the likes of Bill Belichick and Urban Meyer have picked his brain -- but he doesn't have a coaching tree or a championship. And though Kelly is often called a mad scientist, McCoy finds himself spending 90 percent of practice working on the zone-read run play, as old as football itself. It's tough to see why Kelly's every move seems to perpetuate a notion that he's transforming football.
Before the Eagles' first preseason game, Kelly tells the players he wants them to ride together to the stadium, all dressed in jumpsuits. When McCoy was a rookie, he'd watch stars drive fancy cars and roll up in pristine suits. After he signed a five-year, $45 million extension in 2012, he joined the club, buying a Rolls-Royce, tailored threads and a rock for each ear. Now, what the hell? Jumpsuits? "It was like, 'Are you serious?'" McCoy says.
But a month later, in the season opener against the Redskins, something strange happens: McCoy feels like he's part of a football revolution. Out of the hurry-up, the Eagles run 53 plays and gain 322 yards -- in the first half. On one play, McCoy runs for 10 yards out of the type of formation for which Kelly was famous at Oregon, with only three down linemen and both tackles split out next to wide receivers. The gimmicks that most swore wouldn't fly in the NFL are working. In the third quarter, McCoy takes the handoff on that boring, old zone run, darts right, cuts left and flies nearly untouched for a 34-yard touchdown. McCoy finishes with 184 yards, one shy of his career high. After the win, he's exhausted and impressed. "I don't know how he thought of it," he says of Kelly.
text
3. HE SPINS HORSE CRAP INTO TOUCHDOWNS
Kelly first thought of it on a field that, when the wind blows, smells like shit. Seriously. The football field at the University of New Hampshire is across the street from a horse stable. In 1999, as a mid-30s offensive coordinator, he sat in head coach Sean McDonnell's office and asked, "Why can't we be the best offense in the country?"
Now, it's almost unheard of for a young coach to be so transparently ambitious -- not to mention at a Division I-AA doormat. But Kelly has always defined his career on the traits that defined his childhood, when he was a self-described pain in the ass who questioned everything. At New Hampshire, Kelly spent vacations visiting other college programs and NFL teams. Trips to Northwestern and Clemson, both of which operated the hurry-up, produced a revelation of sorts: The more plays he could run, the better chance he would have to score.
Of course, there have been many iterations of the hurry-up. But Kelly was the first to explicitly make the volume of plays as important as their execution. It meant deploying every advantage -- motion and misdirection and making simple plays appear complicated -- and sometimes spending as little as five seconds between when the ball was set and when it was snapped. It meant treating fourth down as if it were first. It meant taking over the kick-return unit because, as he said, "it's the first offensive play." It meant practicing at a lightning pace and aiming for 80 plays a game, 23 percent more than most teams, and trashing tired metrics like time of possession in favor of smarter ones like points per possession. It meant only one goal for his offense, always printed on the first page of Kelly's playbooks: SCORE POINTS.
Finally, it meant basing an offense on the idea of no limits when so many coaches do the opposite. As Mike Belotti, Kelly's former boss at Oregon, says, "Instead of why, he says why not."
By 2002, Kelly knew he was onto something. His offenses would break 29 school records in 2004 and average 41.7 points per game a year later. At Oregon, first as offensive coordinator in 2007 and then as head coach in 2009, Kelly explored sports science, fusing innovation to schematics. Pro teams began to consult with and borrow from him. In many ways, Chip Kelly was the NFL's future before he was even in the NFL.
He arrived in Philadelphia with an offense recognized as much for its unorthodoxy as for its speed. It didn't rely on audibles. It didn't concede that the best way to score is by throwing. And it didn't require a 700-page playbook. As Kelly once said: "Instead of trying to outscheme your opponent, put your players in an environment where they can be successful because they understand exactly what they have to do."
Ricky Santos, who played quarterback at New Hampshire under Kelly and now coaches receivers there, watched the Eagles early last season and saw traces of the packaged plays Kelly ran at New Hampshire. One call against the Broncos began with Vick turning to hand off to McCoy on a bread-and-butter zone run. But Vick kept the ball. Now it appeared to be a read-option, which put the linebackers in "dual conflict," as Kelly likes to say. Vick then glanced left to throw a bubble screen, another Eagles staple. But as Denver's secondary flooded that way, Vick fired to tight end Brent Celek, who was left wide open on a post route by a defense overextended by four basic concepts. The play went against the Eagles' tendencies twice and set up McCoy to find space on the simple zone run three snaps later.
Santos says he wrestles with the confounding mystery familiar to most coaches who have studied Kelly: He knows what Kelly is doing -- yet he still wonders how he does it. At dinner one night this past spring, when Santos asked his former coach for insight, Kelly replied simply, "It's just football. Whatever level, it's just football."
4. THE TRUTH SETS HIM FREE
By Week 6 of last year, the NFL's future sure doesn't look like it. Philadelphia is 2-3 and about to play Tampa Bay. It's a weird time to be an Eagle. Players used to party in Atlantic City after games. Not now, with the boss tracking sleep. Saturdays used to be light walk-throughs. Not now, with the boss having learned from Olympic runners that the best way to maximize performance is to run hard the day before the race. At the end of each week, Kelly brings in an expert to explain his methodology, but it's not fully connecting. "Keep doing the small things," Kelly tells the team. "I promise we're going to where we want to be."
Worse, teams seem to be finding answers for Kelly's offense. In September, Reid's Chiefs force five turnovers and hold Philly to 16 points. A week later, the Broncos out-hurry-up the Eagles and win by 32. Against the Giants the next week, McCoy is held to 2.3 yards a carry, and Vick pulls his hamstring. Nick Foles, who had eight turnovers in seven games in 2012 as a rookie, is now the starter.
When McCoy struggles, he tends to dance in the backfield. Nothing angers Kelly like throttled speed, and it boils to the surface against the Bucs on Oct. 13 when McCoy is slow to an opening.
On the sideline, Kelly unloads: "Hit the damn hole, Shady!"
"There was no damn hole!"
"Shut up!"
McCoy heads to the bench. But he can't let it go. He brings Kelly a photo of the play and says, "Do you see a hole?"
Kelly returns to the game, and McCoy returns to wondering whether he can coexist with his coach.
But in the team meeting the next day, Kelly says something the players have never heard so explicitly from a head coach: "Shady and I got into it, and I was wrong."
---
5. HE IS HAS A HARD ASS
At an afternoon practice, McCoy slaps Kelly's ass, just to mess with him. Later, Kelly approaches him, looking serious. Now, in instances like this, you never know what Kelly might say. Once, after a goal-line fumble by Santos, his quarterback at UNH, Kelly put a comforting arm around him and said, "Congratulations for single-handedly losing us the game." A couple of years later, when Santos came to the sideline in the tense fourth quarter of a playoff game, Kelly said, "What commercial do you think is on right now? I bet it's that Peyton Manning commercial -- 'Cut that meat!'" Santos laughed and then threw the game-winning touchdown.
This time, Kelly says to Shady, "Did you get hurt?"
McCoy is confused. Hamstring? Knees? Shoulder? Nope, all good. "Hurt?" he says.
"Your hand! This thing's tight."
6. HE EXPLAINS THE WHY
One day, Kelly and McCoy chat, two men trying to understand each other. The coach knows his running back's story. McCoy was one of the top players in the country entering his senior year at Bishop McDevitt High in Harrisburg, Pennsylvania. Then he broke his ankle during a game, bone piercing skin. He ended up spending a year at a prep school, where he was "depressed" and gained so much weight that he fell down the depth chart. Only Penn State and the University of Pittsburgh kept recruiting him. When Dave Wannstedt, Pitt's coach at the time, said, "I'll give you a chance to get your name back," McCoy started to cry. That scar is why he later was named a second-team All-American. Why he's obsessed with eclipsing Peterson. Why he tells Kelly on this day, "I want to be the best."
"I want to be the best coach ever," Kelly replies. McCoy considers it not a proclamation but a rationale for the coach's challenging so many assumptions. "All I want to do is help you," Kelly says.
Then why, McCoy asks, does Kelly badger him every day about sleep? Kelly pulls up video of practice after McCoy had registered a substandard night. "You look slow, less explosive."
It all clicks. McCoy becomes "crazy about sleeping." He notices how much quicker he feels at 208 pounds than he did at the 218 he was in 2012, thanks to Kelly's nutrition program of personalized protein shakes. He feels fresher when hydrated. He even likes getting to know guys on the rides to the stadium. "When he tells me to do something, I just do it," McCoy says now.
As the Eagles win seven of their last eight games, McCoy realizes that Kelly's offense fits him perfectly. The cumulative effect of all of Kelly's tenets -- from the misdirection to the hurry-up to the science -- is creating more daylight for him than ever. On Dec. 8 against the Lions, in 8 inches of snow, McCoy carries on a zone run left -- one of the Eagles' league-leading 304 zone-read runs in 2013 -- and breaks through the line, where safety Louis Delmas is waiting. McCoy tiptoes out, then in. Delmas dives into the snow as if he's trying to hide as McCoy accelerates for a 40-yard touchdown. In all, he rushes for 217 yards, a franchise record.
Months later, McCoy walks along Chestnut Street in downtown Philadelphia. A man approaches him to talk football. The man could talk about how the Eagles finished 10-6 and won their division. Or about how Foles finished with 27 touchdown passes and two interceptions, the best ratio in history. Or about how agents now want their players to play for Kelly because sports science helped the Eagles become one of the least injured teams in the league last year. Or about how the Packers just hired one of Kelly's former nutritionists at Oregon, making Kelly the first coach to have a sports-science tree.
Instead, the man alludes to how Kelly helped McCoy lead the league with 1,607 rushing yards and 2,146 total yards and says, "They say AP is the best. No disrespect ... "
"But?" Shady says.
"No disrespect ... "
"But?" Shady says, raising his voice and bouncing as if to a beat.
"Our boy did it in the snow!"
"You heard what he said," Shady says. "It's a new era."
---
7. HE KEEPS SHADY SLIM
It's a midsummer evening and McCoy, as usual, is running late, this time to his 26th-birthday party. He bolts upstairs in his spacious house an hour from Philadelphia, past the wall-length mural of himself carrying the ball in high school, college and the pros, and hops into the shower. Downstairs in the kitchen, McCoy's trainer, Trey Williams, prepares a small meal, one of seven that the running back eats each day. McCoy is obsessed with reporting to camp at 208, the perfect Kelly weight. He isn't going to drink at his party, not after Kelly brought in an expert to tell the team how long it takes to cleanse alcohol from the body. "Chip being so anal about nutrition and stuff, it makes us anal about it," Williams says.
An hour later, McCoy arrives at his birthday party at a local bar. A hundred or so people are here. Silver balloons spell LESEAN. On a TV screen is a frozen shot of the Madden cover, featuring none other than Peterson, staring hard as if to remind McCoy of the stakes. McCoy poses for pictures and signs autographs and drinks bottled water. A friend taps him on the shoulder. "We gotta do the cake!"
McCoy walks to the cake, which is topped by a football. The crowd sings, and before McCoy blows out the candles, a man with a microphone says, "Gotta think of something good," something that "ends in a parade!"
McCoy exhales, then looks to Williams and mouths, "Can I have a piece?"
"No," Williams says. "Two-oh-eight."
Someone hands McCoy a slice so thick it's falling off the plate. Williams shakes his head. McCoy smiles deviously. Williams shakes his head again. McCoy takes a bite, but just a small one.
8. HE CAUSES CRAMPS
A July afternoon, two weeks before training camp. McCoy sprints on a treadmill at an LA Fitness gym outside of Philadelphia, wearing white socks because "I'm hooked now." Williams stands behind him, charting McCoy's speed. Every minute, Williams switches the level to a quick pace, then cranks it to a sprint. It's brutal but necessary; there is no other way to train for his coach. Suddenly McCoy grabs his side. "I got a cramp!" he shouts. "F---!"
"You got Level 9 coming up," Williams says. "Get your head around."
"Ahhhhh!" McCoy moans, as if practicing his falsetto. Williams ups it to 9, then down to 7, before cranking it to 10. "Got a f---ing 10!" McCoy yells. Others at the gym glare. McCoy stares at an imaginary finish line. Williams drops it to Level 7, then up to 12 for the final leg. McCoy grimaces.
"Best fourth-quarter finisher in NFL history!" Williams shouts.
"That's a fact!" McCoy yells.
The final minute drips down. McCoy leaps off the treadmill and lies on the floor. Gripping his waist as if he might vomit, breathing so hard that he might faint, he's strangely pleased.
"No stopping," McCoy gasps. "That's some Chip Kelly shit there."
Seth Wickersham is a senior writer for ESPN The Magazine. He can be reached at Seth.Wickersham@espn.com. Follow him on Twitter (@SethWickersham).
Follow The Mag on Twitter (@ESPNmag) and like us on Facebook.
Follow ESPN Reader on Twitter: @ESPN_Reader
Join the conversation about "30 Yards And A Cloud Of Dust."