You Can't Quit Cold Turkey
Ex-NFL QB Jared Lorenzen still loves football. But what do you do when your appetite for food competes with your appetite for the game?
Editor's note: Four years after this story originally posted, E:60 caught up with Jared Lorenzen to find out how his lifelong struggle with weight is going. You can check out the full feature here on Watch ESPN.
JARED LORENZEN AND I are in love with the same woman. Her name is Little Debbie, and she makes delicious snack cakes. We're not the only ones who love her. Nick Saban has two Oatmeal Creme Pies every morning for breakfast. I'm more of a Nutty Bars man myself. "They're all right," Lorenzen says. "But I'll kill a Fudge Round."
We bond over clothes from Casual Male XL. It's the only place we can walk into and find stuff that fits. I wear a 6X shirt. Lorenzen is a 4XT -- T for tall, because he's 6-foot-4. He says he's usually a 3X. That's a classic big-guy line -- This size is just temporary. "My pants are a 54, but that's because my thighs are so damn big," he says. "I have to cinch my belt way down or my pants fall off."
Jared and I have a lot in common, but in a couple of key ways we're different. My athletic peak was church league basketball. Lorenzen is the all-time leading passer at Kentucky and earned a Super Bowl ring backing up Eli Manning for the Giants.
The other thing is, I'm just an everyday fat guy. Jared Lorenzen's fat went viral.
The day after the Seahawks crushed the Broncos in Super Bowl XLVIII, Lorenzen suited up at quarterback for the Northern Kentucky River Monsters of the Continental Indoor Football League, the latest in a string of indoor teams he's played with in recent years. He wore a jersey that clung to him like snakeskin. The River Monsters listed him at 320 pounds. His real weight was somewhere due north. He doesn't know how much he weighed exactly. He hasn't stepped onto a scale in six years.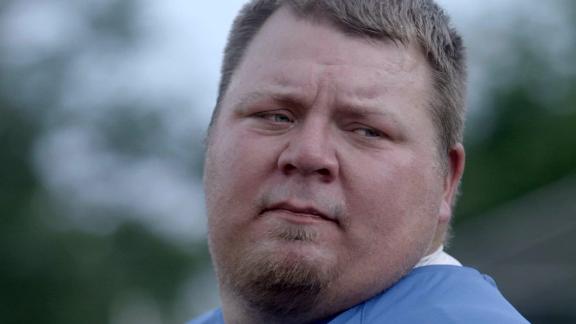 They played in an arena built for horse shows; the field was a turf rug spread over the dirt floor. The league streamed the game live online, and a guy from a site called Barstool Sports started posting Vines of Lorenzen zipping passes and dodging blitzers. Lorenzen was bigger than anybody else on the field and also better. He looked like a glitch in a video game.
By the time Lorenzen got back to the locker room, images of him stuffed into that jersey had pinged around the world. He spent the next day on the phone with sports talk shows. They brought up his old nicknames: Hefty Lefty, the Round Mound of touchdown, the Pillsbury Throwboy, J-Load. Lorenzen laughed, mostly.
Early in the second quarter of the River Monsters' next game, Lorenzen was scrambling when a defender came at him head-on. Lorenzen got low. The defender got lower. The hit broke Lorenzen's tibia and ruptured ankle ligaments. Now he's got six screws and a plate in his lower leg and a long scar running down the outside. He says he's finished, for good. He's 33 years old, and for the first time since he was 5, Lorenzen has no plans to play football.
The rest of his life is in transition too. He just got transferred from the Cincinnati suburbs to Lexington, Kentucky, for his regular job, selling office technology equipment for a company called Prosource. He has an apartment in the same complex he lived in when he was a senior at UK. It's full of unopened boxes. His pots and pans are in there somewhere. He says he'll start cooking sometime soon. In the meantime, the China Hut left a menu on his welcome mat.
"Jared is a great kid," says Hal Mumme, his former coach at Kentucky. "A tremendous guy," says Ryan Lemond, his occasional radio co-host on the Kentucky Sports Radio network. "I want people to know how generous he is," says his mom, Janet Hermes. "He's the sweetest guy in the whole wide world," says his ex-wife, Tamara, mother of their two kids.
So many people love Jared Lorenzen, and so many people worry about him. His weight throws a shadow over everything else in his life, the same way it does in mine. We see the world as an obstacle course. We've broken countless plastic chairs. We've squeezed through thickets of tables at restaurants, trying to keep our rear ends out of people's faces. We've waited at airport gates knowing everyone else is thinking, God, I hope I don't have to sit next to him.
Part of being an adult is taking care of your body. He and I agree that we can't be grown men until we are not such overgrown men. But it's like football. You can't just know the plays. You have to execute. "At first it was like, once I come back from this, once I can run again and feel better about my ankle, I gotta do something," he says. "And then it was, man, it's cold now, and I can't really do much on it. I can walk, but it's like whoop, it inflates right away. But it's a double-edged sword. Yeah, it inflates because I probably have more weight on it than I should, and I need to lose the weight. Well, in order to lose the weight, I have to be able to work out. Which is, you know, what you're constantly fighting."
When you're fat, every day is a prompt to start your life over. Lorenzen has a new office, a new apartment, a new life after football. He's a Super Bowl champion, a cult hero, a father of two. Now he has to try to be a man.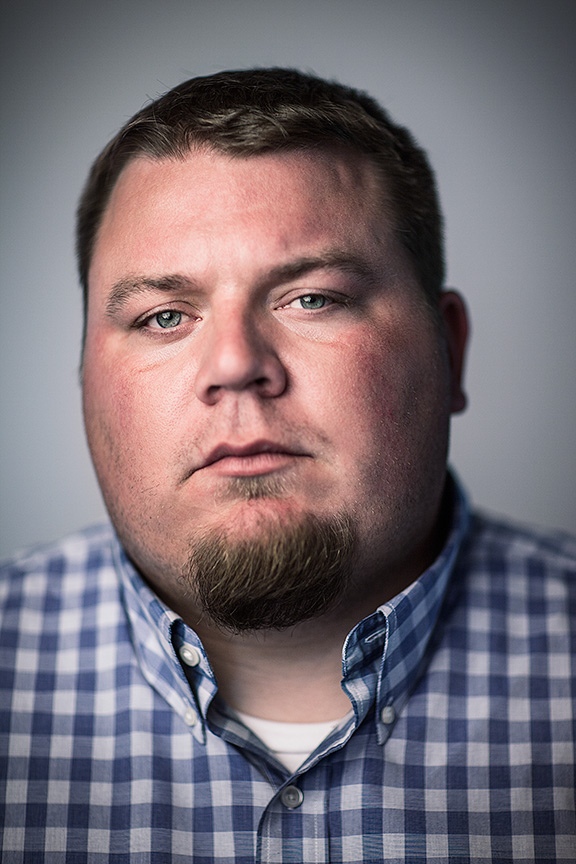 HIS MOTHER HAD four children, and every one was more than 10 pounds at birth. Jared, born in Covington, Kentucky, on Valentine's Day 1981, was the oldest and biggest -- 13 pounds, 3 ounces. It was the first of hundreds of times somebody made him weigh in.
He was walking at 7 months, and before long he was begging anybody in the house to throw a ball with him. Sometimes he'd lie on his back in the living room and lob a baseball or football to himself, over and over, for hours. When he was 5, before a peewee football game, he was tossing the ball back and forth with a teammate. He threw a perfect spiral. His coach said: Do that again. He bawled when the coach made him the quarterback because it meant taking the snap from center, and it freaked him out to touch another boy's butt. But he got past it once he figured out quarterbacks got to throw. More than anything, he loved to throw.
Nobody cooked much in the Lorenzen house. Jared ate from the frozen food aisle -- fish sticks, mac and cheese, Salisbury steaks, chicken pot-pies. He got hooked on Dots gumdrops because there were always some left over at Halloween. His youth football leagues in Kentucky covered two-year spans -- one for ages 5 and 6, another for 7 and 8, and so on. Every time that second year came around, he bulged over the weight limit. Weigh-in day would come and he'd put on extra shirts and sweatpants and take off running. He hated running. His mom remembers when Jared was 4 and he plopped down in the middle of the soccer field and started crying because there was too much running in soccer.
His mom and dad divorced when Lorenzen was 15. He spent a lot of time with his dad, Joe. They lived like frat brothers. They ate pizza and takeout Chinese. Every day Lorenzen drank two 2-liter bottles of Kroger's knockoff Mountain Dew. Dessert was those sweet Little Debbies. "That was like our bonding," Lorenzen says. "He had his box, I had my box."
At Highlands High in Fort Thomas, Kentucky, coach Dale Mueller had three fitness groups: the power group, the quickness group and the run-'til-you-die group. Guess which one Lorenzen was in. He weighed 240, which looked especially strange because a couple of his offensive linemen were about 190. But in Lorenzen's senior year, Highlands scored 801 points while going 15-0 and winning the state title. Lorenzen threw 45 TDs and ran for 15 more. Still, most colleges were just interested in him for his body. Ohio State recruited him as a defensive end. Purdue saw him as an offensive lineman. "I'd rather watch grass grow than watch Big Ten football," he says. He wanted to play at his home-state school. And Mumme, the Kentucky coach, had already called at 12:01 a.m. on the first day of recruiting. Mumme wanted him under center.
In 1998, Lorenzen won the Johnny Unitas Golden Arm Award as the best high school senior quarterback in Kentucky. Unitas, then in his 60s, came to the banquet. They lined up for a picture. Lorenzen remembers Unitas looking him over and saying: You're awfully big to be a quarterback. I don't think you're going to amount to much of anything being that big.
Lorenzen talks fast, and he's a cheerful guy. But now, recounting the story, he stops and smolders.
"That statement has stayed with me so long," he says.
He stops again.
"Everybody says that, though. You're too big."
Maybe, I say. But Johnny U is different, right?
"Not really," he says. "If you're going to talk s--- like that, who are you to me?"
---
HE REDSHIRTED HIS first year at Kentucky, and that's when his stomach turned into a gut. After the season, the coaches sent a student trainer to live with Lorenzen and get him to stick to a diet. At the beginning of spring practice, Mumme checked in. The student trainer had gained 10 pounds.
"I just said, 'Eh, nobody made Babe Ruth train,'" Mumme says.
Mumme left after Lorenzen's freshman year. The next coach was Guy Morriss, a former NFL offensive lineman. Lorenzen weighed in at 308 in the preseason. Morriss told him he couldn't play until he got down to 268. So Lorenzen played racquetball for two hours every morning, went through the normal football workouts, then swam every night. He says he also wolfed Ripped Fuel, a weight-loss pill that contained ephedra (now banned by the FDA). At the last weigh-in, the scale said 268.8. Close enough. Lorenzen grabbed a Snickers and started eating his way up the scale again.
In 2002, after his second season, Morriss left for Baylor, and Rich Brooks came in, Lorenzen's third head coach in four years. But in that time he threw for 10,354 yards -- the Kentucky career record and seventh on the SEC's career list. In practice, he'd drop to one knee at midfield and throw at the goalpost until he hit the crossbar. Mumme remembers holding a camp in Lexington for some of the top college quarterbacks in the country. He put a radar gun on them, and most threw 52 to 54 mph -- decent NFL speed. Lorenzen stopped by between classes in an Oxford button-down and penny loafers. He warmed up a little and let one fly. It was clocked at 64.
He and Tamara -- they'd been dating since high school -- had a daughter named Taylar the summer after Lorenzen's junior year at UK. Dale Mueller remembers laughing at an interview Lorenzen gave back then: I have to feed her at 9 and 11 and 1 and 3 and 5. It doesn't bother me because that's my feeding schedule too.
Somewhere in there, Lorenzen realized he might have a shot at the NFL. After finishing at Kentucky he hired Leigh Steinberg as his agent. Steinberg brought him to California in 2004 to train with a group of quarterback prospects that included Ben Roethlisberger. "Except for the visual picture of it, he was a good prospect," Steinberg says. "He had a good attitude. He just didn't lose the weight. Couldn't, or wouldn't."
Lorenzen wasn't drafted, but several teams called afterward. At first he resisted signing with the Giants -- they had just cut the deal that got them Eli Manning, the first pick in that year's draft. At home in Kentucky, Lorenzen convinced himself he didn't have a chance. He was so sure he'd get cut that he didn't report to training camp. The Giants were puzzled. His family was furious. When the Giants invited him back in 2005, Tamara said he had to try or they were through. He drove 12 hours to camp in Albany, New York, so homesick he cried the whole way.
It turned out he was good enough. He was the third-string quarterback that first year, then Eli's main backup in 2006 and '07. His career stats aren't much: 4-for-8 passing for 28 yards, two carries for four yards. But he was there on the sideline for Super Bowl XLII when the Giants beat the 18-0 Patriots in the David Tyree game. Lorenzen still has a bag of confetti from the field. He still has his bottle of Johnnie Walker Blue in its special case -- Michael Strahan gave one to everybody on the team. Lorenzen has never taken the bottle all the way out of the case.
Tom Coughlin, the Giants' coach, had weight limits for every player. The fine was $400 a day for every pound they went over. Lorenzen's limit was 292. Weigh-ins were on Friday, so Lorenzen wouldn't eat on Thursday. He'd spit in a bottle all day to get rid of water weight. Friday morning he'd put on five shirts and a hoodie, plus two pairs of shorts and two pairs of sweatpants. He'd bake in the sauna and kill himself on the elliptical machine and barely make the weight. "You would've thought, after a couple weeks of doing that, I just wouldn't eat bad all week," he says. "But I'd get off the scale and get a ham and cheese omelet."
It's the catch-22 of being hooked on food. When you feel good, you eat to celebrate. When you feel bad, you eat to feel better. And for the people around you who want you to be happy, food is a natural gift. Lorenzen has thought a lot about the coach in his youth football days who rode him so hard to make weight. When he made it, the coach brought him a plate of brownies.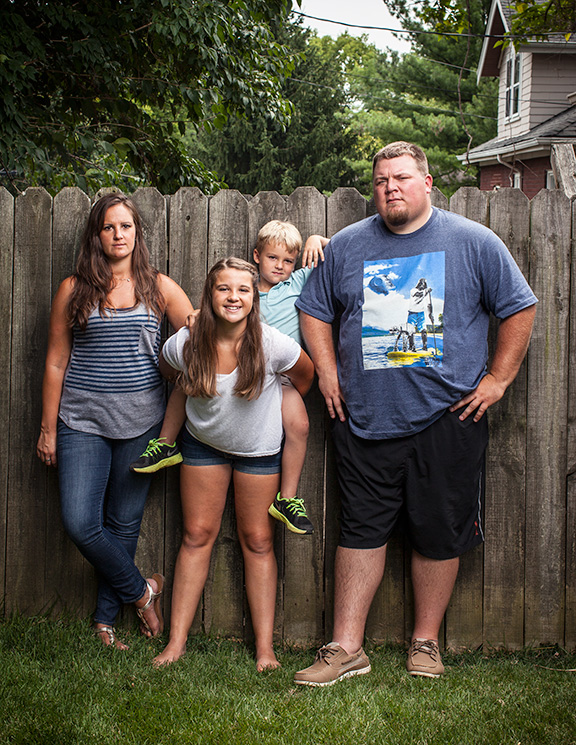 THE SUPER BOWL was Lorenzen's last game in the NFL. The Giants cut him after signing David Carr that offseason. He landed with Indianapolis in '08 but got released before the season started. That camp with the Colts is the last time he ever stepped onto a scale. He weighed 303.
He returned to Kentucky, still wanting to play. In 2009, he signed with the Kentucky Horsemen of AF2, the developmental arm of the Arena Football League. But after that season, AF2 folded. Lorenzen worked as the manager of a mall. He and some friends opened a restaurant. Tamara worked there too. They had another child in 2009, a boy named Tayden, but after a while they didn't see each other much. One was always working and the other was caring for the kids. Lorenzen felt lost: "When football's over and that's all you've done, what the hell do you do?"
So he started dabbling again. The Northern Kentucky River Monsters, then part of something called the Ultimate Indoor Football League, played just five minutes from his house. He took a job as their general manager in 2011. He put together a team but couldn't find a quarterback. Finally, just before the season, one of his coaches said: Why don't you do it? Lorenzen said: No, no, no, OK, yes. In 14 games, he threw 81 touchdowns (indoor football = pinball) and was the league MVP. After the season, the league named him commissioner. "They wanted a name," he says. "And I wanted a little extra money." But then the league was sold and Lorenzen got out of there. He played two games in 2013 for another Kentucky team called the Owensboro Rage. This year the re-formed River Monsters called him back. They were still five minutes from his house. He signed for $200 a game. He put on the clingy jersey. He blew up the Internet.
Lorenzen and I watch the highlights together. "This play is what made it viral, my fat butt trying to run around," he says. On the computer screen, he drops back on the green turf laid over the dirt floor. Two pass rushers come after him. He backpedals, shifts right, sheds both rushers, runs a few yards, squares his shoulders and throws a dart to a receiver on the far sideline. It is a beautiful moment of football ballet by a man weighing somewhere near a fifth of a ton.
He watches the play again. "I always had good feet," he says.
---
"I TRIED ALL my creative recipes," Tamara Lorenzen says. "I used to put zucchini and squash in our lasagna. But really, he doesn't like anything green except peas."
Tamara and Jared divorced last fall after six years of marriage and 18 years together. They both say they still love each other. But they got tired of having the same old arguments. One old argument was about Jared's weight.
"I tried yelling, I tried calmly talking, I tried the whole, 'for our kids' thing," Tamara says. "I said, 'You need to learn to be an adult.'"
"We're best friends. She's awesome," Jared says. "But being divorced, that got me where it's just chomp-chomp-chomp-chomp. Who do I have to live for? Chomp-chomp-chomp."
He is trying to get past the chomp-chomp-chomp phase. He orders a lot of salads. He's cut back on the steaks in favor of grilled chicken and sushi. The drink he guzzles is Diet Coke (mostly from Steak 'n Shake, because its cups keep it coldest). But he won't lie. He loves Jimmy John's. And sometimes, on the way home, that $5 Little Caesars pizza calls his name.
He has trouble sleeping, and his snoring just about cracks the drywall. Stairs are starting to give him a problem, especially with his leg still healing. We see our futures, and they're not long ones. I'm 50, and I might feel it more deeply than he does. Nobody who's 65 looks like we do.
Most people have something in their lives that they can't beat back with willpower alone. But when you're fat, your problem is obvious to the world. And here's one difference between having a problem with food and having one with cigarettes or booze or drugs: You can't quit cold turkey. You have to eat something.
Tamara remembers times when she and Jared did really well -- they ate right, exercised, even grew a little garden together. Then she'd clean the house one day and find a Little Debbie wrapper under the couch.
---
I ASK LORENZEN: Do you wonder whether you would've had a better career if you'd been in better shape? "Maybe I'd still be playing," he says. "But I don't know how much better it could be."
For four years, he starred in the SEC. For three more, he got to step onto the field as an NFL player. He was so thrilled just to be in the league that every time the Giants played in a stadium he'd never been to, he took a ball in warm-ups and fired it into the upper deck. He hoped somebody up there would remember him.
---
WHEN THE NCAA ruled in April that schools could provide unlimited meals and snacks to players, Lorenzen tweeted: I'll tell u what the NCAA really lucked out that I don't have any eligibility left.
That tweet led to a radio segment with Jay Mohr, the actor and comedian who is now a sports talk host. When Mohr booked a stand-up show in Cincinnati, Lorenzen challenged him to a whiffle ball game at his friend's place. Lorenzen's old high school buddy Kevin Brannock built a whiffle ball field behind his house in Bellevue, Kentucky, right on the Ohio River. They play every Wednesday. Beer is heavily involved.
A few dozen people show up to watch the game between Lorenzen and Mohr. It's a fundraiser of sorts for a local food bank. It turns out Mohr is pretty good at whiffle ball. When Lorenzen comes to bat in the bottom of the fifth -- the last inning -- it's tied at 8.
He steps out of the batter's box. "I'm jacking one to win the game," he says.
Mohr throws the first pitch, and Lorenzen crushes it. Way over the fence. But foul.
Two pitches later, he swings again. Fair, and gone.
Under that gut, Jared Lorenzen is still a great athlete. He just about has to be to eat that much junk for 33 years and survive. So much of loving sports comes from connecting with your inner child -- the one who revels in the sheer joy of the game and the one who spits and hollers and stays up all night. But here's the conflict: At some point, in sports and in life, you have to quit giving in to everything the kid wants. The inner child doesn't understand that you can't eat pizza every day, in the same way it doesn't understand that you can't throw touchdowns forever.
I look for particular days to reboot my life and start getting in shape -- the first of the month, or a holiday, something that will make a great story when the weight is gone and I'm telling everyone how it happened. Every time, I swear this will be the time I stick with it. I ask Lorenzen whether he has the same heart-to-hearts with himself.
"Every day. Every day," he says. "And then it ends up being tomorrow."
Kevin Van Valkenburg contributed to this report.
Tommy Tomlinson is a writer in Charlotte, N.C. He was a longtime columnist for The Charlotte Observer and a Pulitzer Prize finalist in commentary. Follow him on Twitter (@tommytomlinson).
Follow The Mag on Twitter (@ESPNmag) and like us on Facebook.
Follow ESPN Reader on Twitter: @ESPN_Reader
Join the conversation about "You Can't Quit Cold Turkey."