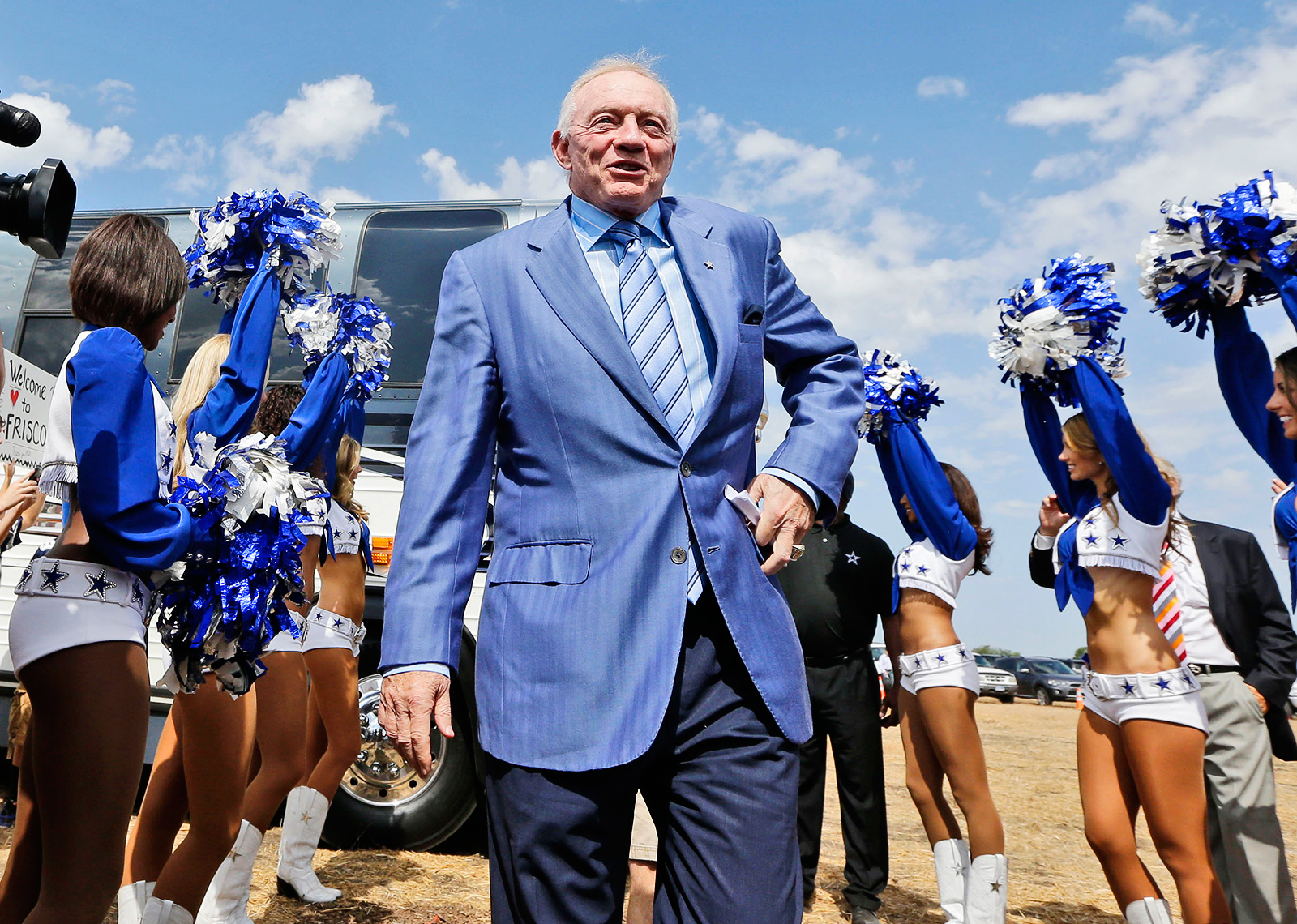 Jerry Football
In the owner's suite, on his private jet or among Dallas' beautiful people, JERRY JONES seems a happy man. But what he really wants, he cannot have.
"I HAD A FAN COME UP, pretty adamant, put his finger in my face and say, 'You know what a rut is?'
"I said, 'No.'
"And he said, 'It's a casket with both ends out, laying in an open grave. You'd just as soon be dead as that rut you're in. You'd better change that, Jones.'"
-- Jerry Jones on Aug. 9
---
ON AT&T STADIUM'S revolving stage ablaze in blue light, country music legend George Strait is crooning the encore of his final concert. A capacity crowd of 104,793 -- the largest audience at an indoor concert in North American history -- sways and swoons and sings the anthem Strait made famous: All my ex's live in Texas, And Texas is the place I'd dearly love to be ...
Up in the darkened owner's suite, Dallas Cowboys owner Jerry Jones is dancing with Kate Bosworth, a 31-year-old blond actress and model. Their hands clasped, they shuffle their feet along the suite's top step, giggling when they momentarily go cheek-to-cheek. What Jones may lack in rhythm, he more than makes up for in enthusiasm. Clad in a black cocktail dress, Bosworth sashays with her back to the action. With a lopsided grin, Jones, in a black suit and salmon-colored shirt, peeks over her right shoulder at the oval stage. Standing a few feet away are Tony Romo and Jason Witten, Cowboys veterans who steal sideways glances at this unlikely duo's jagged two-step. As Strait sings the final stanza, Jones guides Bosworth through a mini-twirl that careens into a hit-and-run half-hug. It all looks innocent -- or as innocent as 71-year-old Jones looks doing anything.
"Soooooooo awesome -- thank you, Mr. Jones," Bosworth says before scampering down the suite's steps to rejoin her husband. Winking, Jones retrieves a tall plastic cup -- emblazoned with the Cowboys' iconic star, filled with his usual drink this summer, Johnnie Walker Blue Label (always on ice) -- and savors a swig of the smoky-smooth whiskey.
Jones' last dance is the perfect capstone to a glittery, boozy celebration of the $1.25 billion pleasure palace that he built for his mediocre football team. Inside the owner's spacious suite, Jones' star-studded concert party offers all the trappings of a corporate retreat -- calligraphy name cards, a barbecue buffet and an open bar -- but it soon degenerates into something resembling a barnyard square dance.
"We knocked down a fifth in about 30 minutes already," Jones tells one-time billionaire Tom Hicks. "So we are ready to dance tonight."
"Good," says Hicks, the former owner of the Texas Rangers and Dallas Stars. "I've never seen this many people spendin' so much money."
Jones winks. "This broke the Super Bowl record for money spent ... this concert -- biggest gate in the history of this stadium," he says.
It's June 7, the final concert of George Strait's last tour, dubbed "The Cowboy Rides Away." Always keeping score, Jones confides the concert's highlights to a few select guests: Didja know 77,000 tickets sold in just 15 minutes? ... These tickets got up to where they were sellin' for $10,000 -- the parking close to the stadium was $1,000 a space. ... This gate is $13 million -- after I get mine, I'm laughin'...
text
Focus on Sport/Getty Images
Standing 6 feet, ½-inch tall, Jones is, like his stadium, modernized by creative vision and formidable resources -- his face lifted, his scalp fortified and his teeth capped to gleam. His blue eyes are still icicle-clear, full of mirth and the hint of trouble. It's been nearly a half-century since he played college football, but he still moves with an athlete's gait, as effortlessly as a man 20 years younger. Stepping forward heels-first, he appears to glide, even lope, despite a slouch that's most perceptible when he's immobile and feeling agitated, which happens most often when his team is playing.
Exactly three months from now, the Cowboys will open the regular season here against the San Francisco 49ers, the start, most likely, of another season stuck in that rut. But for the Cowboys' owner, president and general manager, tonight is a guaranteed winner.
"This is fun, isn't it?" Jones asks Romo, the Cowboys' hard-luck starting quarterback. "They will not kick a last-second field goal and kick our asses tonight. Everybody goes home happy."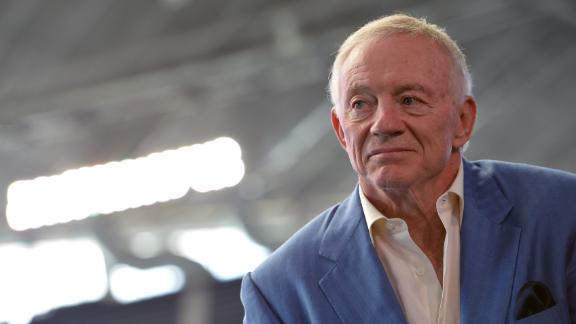 ON THE LIVING room wall of his estimated $20 million mansion in Dallas' posh Highland Park suburb is an original Norman Rockwell painting, "Coin Toss." With a football cradled in his left arm, his right thumb raised and his eyes aimed heavenward, Rockwell's pear-shaped referee, flanked by skinny football players, flips a coin that hangs in midair. The image was the cover of The Saturday Evening Post dated Oct. 21, 1950.
"I bought this painting in 1989 right after buying the Cowboys," Jones says, admiring it late one night in June. "I had no money left -- I mean, nothing. ... But Ross Perot collects Rockwells -- he told me this one was too good to pass up ... so I somehow scraped together $1.1 million." Recently, Jones says, auction house Christie's appraised "Coin Toss" at $18.5 million.
"Nothing I've ever owned has appreciated that much," Jones says.
On Feb. 25, 1989, Jones, then a little-known oil and gas wildcatter from Little Rock, Arkansas, bought the Cowboys for $151 million, the highest price paid at the time for an American sports franchise. Still the NFL's most valuable franchise with annual revenues of $615 million, the Cowboys are now valued by Forbes at $3.2 billion. Jones is estimated to be worth at least that much, although likely much more. When told that the Cowboys' value has appreciated at a faster clip than his beloved Rockwell, Jones mulls the idea for a moment, then beams: "You know, that's probably true -- I hadn't thought of that."
---
NO TEAM OWNER in American sports is more famous and infamous, more revered and reviled, than Jones. After the 2010 death of New York Yankees boss George Steinbrenner, Jones assumed the mantle of America's mercurial team owner, hell-bent on doing it his way and constrained only by a salary cap.
Although Jones has made nearly all the right moves as the Cowboys' owner, he has made just as many wrong moves as its general manager, the job he gave himself when he bought the team. Since the start of the 1997 season, the Cowboys have established themselves as the NFL's masters of mediocrity, with a record of 136-136 and only one playoff victory. Each of the past three seasons, Dallas has finished 8-8, missing the playoffs by losing its final game ignominiously to a different division rival. Each subpar season further separates Jones' first flush of glory -- three Super Bowl titles in just four years, the last Lombardi trophy raised in January 1996 -- from front-office dysfunction and fans' impatience stretching nearly two decades now: the litany of blown draft picks and trades, hapless head coaches, overpaid and underachieving free agents and squandered on-the-field chances.
It's become a preseason rite that this question is posed in Dallas: Why hasn't owner Jerry Jones fired general manager Jerry Jones? Every summer, Jones gamely parries the question, always acknowledging the team's past futility but never leaving any doubt that nothing will change.
"We would have thought that, with Romo as our quarterback, with a coach, a young coach, like Jason Garrett, that we should have been in better shape to compete," Jones says at Valley Ranch. "So I'd be highly critical.
"On the other hand, I would have to look at what the GM has been -- what he's been in the past and, I would like to think, capable of what he can do in the future."
When speaking of his role as GM, Jones often refers to himself in the third person, as if doing so might keep his shoddy performance at a safe distance.
Asked to grade his performance as GM, he says, "I'd give a C. If we had won a half a game more a year, we would be in the top five winningest teams in the NFL. ... We've been in a rut. Now, that stops with me. But the best person to get us out of the rut is me."
"MORE THAN ANYTHING," columnist Randy Galloway wrote in The Dallas Morning News a generation ago, Jones "wants to be known as a 'football guy.'" Of all the barbs Jones has endured, this one still cuts the deepest: His millions purchased a seat at the football guys' table, an accusation akin to saying a country bumpkin used new money to buy his way into the country club on a hill.
"He's the luckiest guy I've ever seen -- in business and in life," says Larry Lacewell, one of Jones' closest friends and the Cowboys' head of scouting from 1992 until 2004. "His football team has been the unluckiest thing I've ever seen. How can you be that unlucky that long?"
Says Jason Witten, the Cowboys' All-Pro tight end drafted by Jones in the third round in 2003: "People can misunderstand the passion for something else -- an ego -- and that couldn't be further from the truth. I believe when he wakes up every morning, the first thing that comes into his mind is, 'I'm gonna make this football team better.'"
Year after year, however, Jones hasn't.
"Jerry Jones has become one of the biggest jokes in north Texas," says Dale Hansen, a venomous, 34-year veteran sportscaster on WFAA in Dallas and the critic Jones most despises. "He has one of the most important jobs in all of American sports, maybe in the world: He is the general manager of the Dallas Cowboys. And based on his record, there is not a single team in the NFL, Major League Baseball, NBA or the NHL that would hire him to be their general manager. Hell, he couldn't get a job in Major League Soccer as the general manager. ... It's almost tragic that he has allowed it to happen -- not only to the Dallas Cowboys but to himself."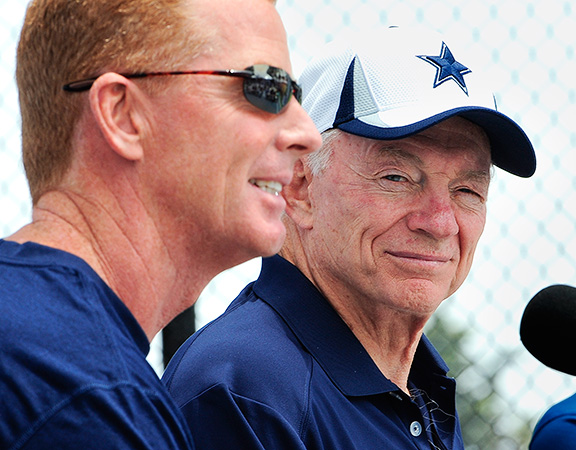 Beyond the team, Jones is one of the NFL's all-time leading visionaries, always devising ways for the league and his fellow owners to "grow the pie." Commissioner Roger Goodell and many owners often call Jones, on his AT&T flip phone, seeking his counsel. Like Goodell, Jones wants an 18-game regular season, noting it would add $1 billion to the NFL's annual revenues. Like his protégé Dan Snyder, the Washington owner, Jones believes that the Redskins name should not change, calling it "a term of respect." Jones says the owners will stand behind Snyder.
Back in 1961, riding a team bus as a player on the University of Arkansas football team, Jones was thumbing through Life magazine when he stumbled on a profile of Art Modell, the new, fresh-faced Cleveland Browns owner. "I looked at it," Jones says, "and I said, 'Ya know ... this is kind of what I'd like to think about doin'. And what a great way to spend your days, spend your life." He wanted not only to own a team but also to call the football shots, do everything but the X's and O's.
But that wouldn't be enough. After a quarter-century as Cowboys owner, general manager and the architect of the stadium that has become a spit-shined monument to every Texas-sized aspiration, something big is still missing for Jones, as elusive now as it was then: to be widely regarded as a smart football man. Winning a Super Bowl trophy now, on his terms and without the help of Jimmy Johnson, his college teammate, the first man he hired to coach the Cowboys and his longtime nemesis, is all that's left. To show them: This was -- and still is -- a smart football man.
"I've never wanted anything as much as I want to win the next Super Bowl," Jones says, smiling. "You wouldn't want to see the size of the check that I would write if it would for sure get the Dallas Cowboys a Super Bowl."
The one thing he wants most is the only thing he can't buy.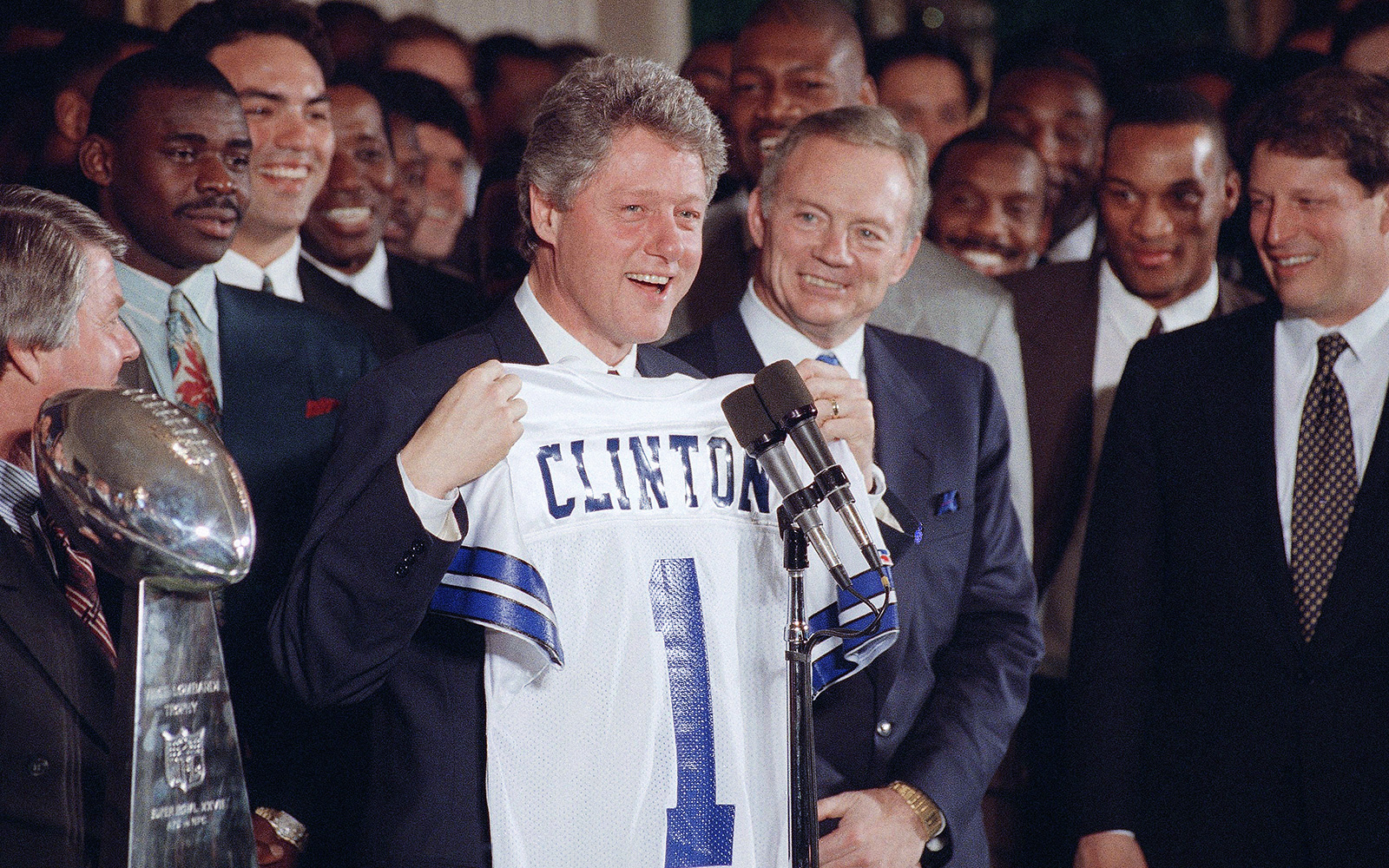 HAPPY HOUR, the bar inside Atlanta's Ritz-Carlton, on a Tuesday afternoon in late May: Jones sits hunched at a table just outside the men's room. Sporting a sky-blue sport jacket, a Cowboys star pinned to his lapel and a loosened, midnight-blue tie, he's nursing a tumbler of whiskey, which on closer inspection looks like a bowl of whiskey.
I came to this hotel for the NFL spring league meeting to try to meet Jones and persuade him to cooperate with a man-in-full profile for this magazine. For several weeks, Rich Dalrymple, the Cowboys' longtime PR man, had not returned my calls to gauge Jones' interest. When Dalrymple finally called back, he sighed heavily at my request and promised nothing. "Believe it or not," he told me, "Jerry doesn't really like doing these things."
So I crash the owners meetings with the hope of cutting out the middleman and pop my invitation directly. Throughout the afternoon, I hang around the hotel but catch only glimpses of Arthur Blank, John Mara and Zygi Wilf in the lobby and Roger Goodell slipping into the men's room. After the meeting ends, I watch Jones' older son, Stephen, and his daughter, Charlotte -- both senior Cowboys executives -- march to their airport-bound Town Car. Still no Jerry Jones. Before leaving, I duck into the brightly lit bar. Imagine my surprise and relief when I see Jerry Jones sitting at a square table for four. Sipping his whiskey. Alone.
After I introduce myself, he smiles and launches into a rollicking soliloquy about the NFL's long-ago first TV contract negotiations with ESPN. Then he asks whether I'd like to join him for a drink. Are you kidding? And for the next three and a half hours (he repeatedly postpones a dinner engagement), he's charming, self-deprecating, hilarious and curious, every drawled word slow-roasted in that Arkansas molasses. This is Maximum Jerry.
Instantly, I'm reminded of another unstoppable life force, Bill Clinton. Jerry and Bill: two Arkansas good ol' boys who've made good and know just how to work ya.
Not only did he agree to cooperate with this profile -- "This is gonna be some fun," he tells me -- he goes all-in. I spend much of the summer with Jones, from hitching a ride on his Gulfstream V jet from Dallas to Fayetteville, Arkansas, to watching a team practice from his tower above the Cowboys' training camp fields in Oxnard, California. The Jones treatment isn't just excessive fun, it is exhausting: Nearly every question I posed, he answers -- a gusher of words and no filter -- with only one main exception. He declines to discuss the cellphone photos of him with two young women taken in a Dallas restaurant bathroom in 2009 that were published on several blogs in early August before they made national news. In Oxnard, he tells me he had been advised not to talk about the photos or the alleged extortion plot linked to them. Then the very next day, he tells reporters the photos "misrepresented" what had happened but declined to say more. A week later, at Dallas' first preseason home game, he again refuses to discuss the matter with me.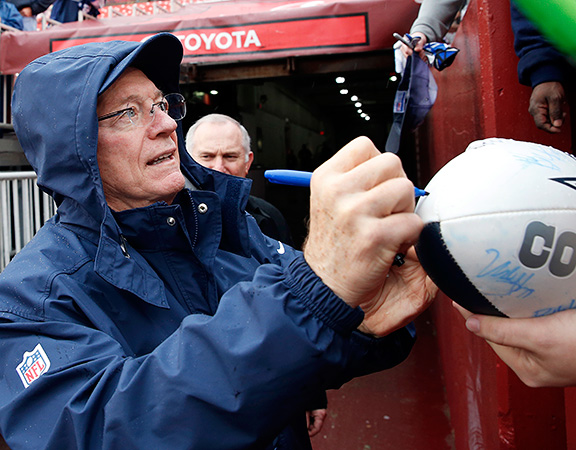 His no-comment is noteworthy because the photos reminded the public that Jones has long had a reputation for womanizing. Jones was dubbed "Honky Tonk Man" in a chapter title in Jim Dent's 1995 biography about this aspect of Jones' life. "It'll take an act of God to stop it," Lacewell told me. " ... Jerry loves to party and dance. He has been known to pick up the tab for the whole bar. Needless to say, good women won't leave him alone."
Another reason Jones' no-comment is noteworthy is that more than any other owner in the NFL or any other sport, Jones loves being quoted and adores the spotlight. A brilliant entrepreneur, genius brand builder, marketing wizard and Tasmanian devil of a pitchman who has sold shoes, insurance policies and oil and gas, Jones is a master promoter of his team, his stadium, the league and himself. The cost of the attention -- not to mention all the high-profile entertaining he hosts on not one but two Cowboys party buses -- is that Jones catches more arrows than any other executive in sports except perhaps Goodell.
A hard-charging, egomaniacal but larger-than-life owner named Norman Oglesby, obviously based on Jerry Jones, is a character in the celebrated 2012 novel "Billy Lynn's Long Halftime Walk" by Ben Fountain. "A king of self-esteem," Oglesby is called, and Jones is certainly that. Oglesby oozes likability; so, too, does Jones. Both men share a sunny optimism in the face of subpar seasons. Oglesby's winning personality is betrayed by "a faint arthritic creak in every smile and gesture," while Jones punctuates every off-color quip and daggered remark with a just-kidding grin chased by a maybe-not wink.
By Hour 3 of our Ritz-Carlton introduction -- deep into my second round and his third -- it is obvious that Jones is more irresistible than his fictionalized self. A waitress delivers a cocktail napkin from a female admirer with a scribbled message: J -- I'm over at the bar. Hurry your ass! X C. Jones reads it with a smirk, folds the napkin and leaves it on the table next to his glass of whiskey. The note has no impact -- he keeps rolling.
"I am still so damn mad," he snaps. "I get madder, every day, about missin' him."
Him is Johnny Football.
text
Matthew Emmons/USA TODAY Sports
AT THE 2014 NFL draft two weeks earlier, Johnny Manziel, the freshman Heisman Trophy winner and Instagram anti-hero, had fallen to the first round's 16th slot owned by the Cowboys. Twitter nearly imploded: Anything bigger than Johnny Football, the Texas A&M Aggie, becoming the future quarterback of the Dallas Cowboys?
Among the organization's football minds, only Jerry Jones wanted Manziel. Jones' son Stephen, the Cowboys' executive vice president in charge of player personnel, had lobbied hard against choosing Manziel -- "I'm still so damn mad at Stephen," Jerry tells me -- but Jones' younger son, Jerry Jr., told me, "I'm the head of sales and marketing -- where do you think I came down?"
Everyone else had strongly advised against picking Manziel: Coach Jason Garrett, his staff and the team's scouts. After all, Romo is entering the second year of a seven-year, $119.5 million contract with $55 million guaranteed. But Romo is also 34 years old and coming off his second back surgery in less than a year. The inevitable quarterback controversy -- not to mention the three-ring circus of Romo, Manziel and Jones in Big D -- would have distracted everyone and could have provided enough TNT -- and TMZ -- to blow up the team.
On draft night, fans and haters watched, enthralled, when Manziel had fallen in Jones' lap, their partnership looking preordained. On the clock in the Cowboys' draft room, Jones appeared anguished as he ground No. 2 pencils in his right fist. But Jerry Jones always gets what he wants, right?
No. Heeding everyone's advice, Jones selected offensive tackle Zack Martin of Notre Dame, picking a player to protect Romo over a player who would have made Romo hear footsteps. "I can't believe that Ringling Brothers and Barnum Bailey Circus didn't buy the biggest elephant of all time," Lacewell says later.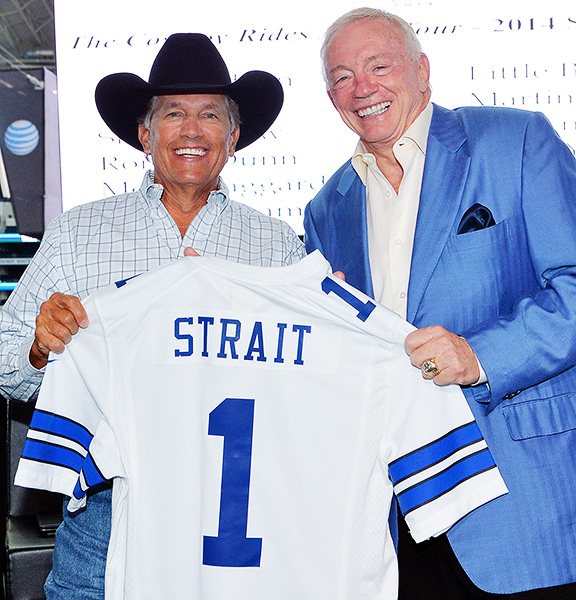 In his suite during the George Strait concert, Jones introduces me to Romo, who asks the subject of this story. Jones answers for me: "Passin' on Manziel for Romo." The surprise decision reveals something not widely understood about his boss, Romo says: He selected a sound fundamentals player needed to improve the offense, not the high-risk matinee idol of the draft. "More than anything," Romo explains, "it just shows a lot of people that we're here to win -- not just be a flashy program."
Jones is beaming. He returns the sell: "And what is amazing," Jones says, "if there's anybody on this planet that could've handled Manziel competin' with him ..." Jones drapes his left arm on Romo's right shoulder. "This guy could handle any damn thing -- this is your fighter pilot. This is your fighter pilot. This is the guy you want goin' in, droppin' and winkin' at 'em, and comin' out, and drinkin' beer. This is him. So he could handle it. It wasn't a question of not handlin' it." The analogy, such as it is, puts a smile on Romo's face. He takes a long pull on his Miller Lite bottle.
But during our initial conversation at the Ritz-Carlton several weeks earlier, Jones spoke longingly about Manziel's potential benefits to the Cowboys long term. "If we had picked Manziel, he'd guarantee our relevance for 10 years," Jones says.
America's Team needed Johnny Manziel to be ... relevant?
"When we were on the clock, I said, if we pick the other guy -- any other guy -- it would be a ticket to parity, more 8-8 seasons," Jones says. "The only way to break out is to gamble -- take a chance with that first pick, if you wanna dramatically improve your team. That's why I wanted Manziel, but I was the only guy who wanted him. I listened to everybody ... and I'm ... not ... happy ..."
Jones likens himself to a riverboat gambler whose success depends on a well-honed "tolerance for ambiguity." It's a fancy way of saying that when a big bet goes south or the accumulated risks outweigh the potential rewards, he can still function at a high level.
"The riverboat gambler can be his most charmin', he can be his most clever, the smartest, and not know it's all gonna end on the next card and he's gonna be thrown overboard if it's the wrong card," Jones says. "And a part of havin' a tolerance for ambiguity is looking for the more positive and bein' able to handle the negative because you've got more goin' on."
On the Radio City Music Hall stage, as Martin donned a Cowboys baseball cap and hugged Goodell, Jones seethed back in the draft room. "There's only one thing I wanna say -- I'd have never bought the Cowboys had I made the kinda decision that I just made right now," Jones whispered to Stephen. "You need to drive across the water rather than lay up. And we laid up for this one. ... We just didn't get here makin' this kind of decision."
By choosing to listen to everyone's advice, Jones had not just gone against his gut but, worse, had let slip another chance to test his tolerance for ambiguity. And what fun is that?
text
Matthew Emmons/USA TODAY Sports
SOMETIMES A RIVERBOAT gambler doesn't need to be smart. He just needs to be lucky.
Long after George Strait's last bow after his final song, Jones is behind his suite's long bar, splashing Johnnie Walker Blue (about $200 per bottle) into a few of his guests' plastic Cowboys cups. It's coming up on midnight. Tipsy and waving his arms, he begins gushing about the stadium's splendor: Five years now, can ya believe it? He points at the floor. "Go downstairs -- you'll see the floors are clean ... pristine." He lets that last word hang there a moment. "They'll pick up garbage -- that's how much people love this place."
Then a man taps Jones on the shoulder, says Adrian Peterson wants to say hello and hands over an iPhone. Jones says hi to the Minnesota Vikings' star running back and listens, nodding but not smiling. "Well, I understand, Adrian," he says into the phone. The slanted smile returns. "I'd like that, too. ... Well, I love your story. I love your daddy's story. I've always respected what you've been about. I've always been a fan of yours."
Listening to half the conversation, it is obvious Peterson is telling Jones he wants to play for the Cowboys. Peterson, 29, is in the fourth year of a seven-year, $100 million contract that will pay him $11.75 million this autumn to play for the Vikings.
"Well, we'll see what we can do, if we can make that happen," Jones is now saying. "Hmm-hmm. ... I'd like that, too. ... Well, we're talking pig Latin here, but let's see if we can do that." Jones listens, nods and says again, "We're talking pig Latin here, but let's see what we can do about that. OK, Adrian, thanks."
Jones returns the phone to its owner, who turns out to be a Morgan Stanley money manager who is a friend of Peterson's. Jones' conversation with the league's marquee running back occurs about a month after Jones decided to pass on Johnny Football.
Adrian Peterson would make one helluva consolation prize.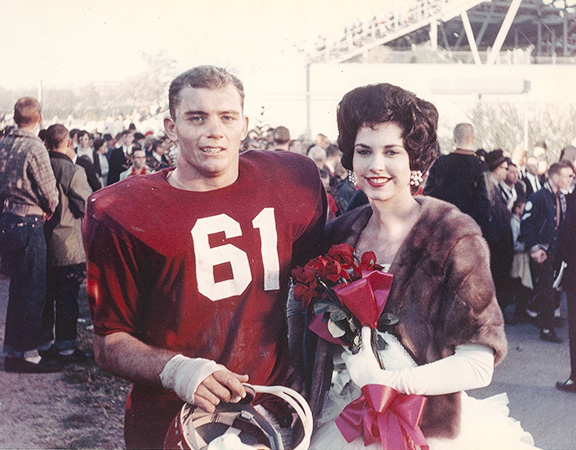 LONG BEFORE JERRAL Wayne Jones Sr. gambled on drilled holes and draft picks, he worked as a salesman. At age 9, he began learning the art of the sale inside his father's grocery store in the Rose City area of North Little Rock, Arkansas. Jerry's mother, Arminta, dressed her son in a black suit and bow tie and positioned him inside the store's front door. "Can I help you find something, ma'am?" young Jerry would ask.
His father, J.W. "Pat" Jones, was a natural-born salesman who knew how to attract customers, learn their names and keep them coming back. At local parades, young Jerry, dressed as a cowboy, rode a pony with a sign advertising Pat's Grocery Store. "He was very good at selling himself," Jones says of his father, who died in 1997 at age 76.
Every evening after football practice and every weekend, Jerry was required to restock the shelves, sweep the floors, make homemade ice cream, whatever his father had asked. Often working into the wee hours, Jerry collected a few nickels and life lessons.
Jones brought those lessons with him to Fayetteville. During his first full day on the University of Arkansas campus in August 1961, he met Eugenia "Gene" Chambers, a Miss Arkansas USA beauty queen from a wealthy northwest Arkansas family. Jones and his Razorbacks teammates attended a mixer with the young women of the freshman dorm. After dinner, they all went to the county fair. For hours, Jerry played the midway's games, tossing footballs through tires and baseballs at milk bottles to try to win Gene a stuffed prize worthy of his affection.
"Well, he wasn't having that much luck winning," Gene recalls. "So suddenly he just disappears. And I'm askin' his friends ... 'What happened to Jerry?' All of the sudden, we see him come marching down the aisle, and he's got this huge teddy bear." She laughs. "He had slipped off and bought this big teddy bear -- 'cause he couldn't win it!" (Jerry had told Gene, "I finally won one," but didn't fess up until a year later; by then, they were engaged. They married in January of their sophomore year and have been married for 51 years.)
Jones began as the Razorbacks' fullback but moved, before his junior year, to offensive guard and played on the 1964 Arkansas team that went undefeated. On the road, players were assigned roommates based on the team roster's alphabetical order. So Jones roomed with Jimmy Johnson, a fireplug kid from Thomas Jefferson High School in Port Arthur, Texas. Johnson and Jones played for Frank Broyles, one of America's most innovative collegiate head coaches and who, at 89, remains an Arkansas legend. "He wanted to play and win more than just about anybody," Broyles says. "So did Jimmy -- well, they had that in common, at least." Not much else in common, really, except a hard-headed nature and a love of the spotlight. But those things never mattered in Fayetteville.
In college, Jones continued to sell -- first shoes, from a catalog, then, life and educational insurance policies, on commission, for his father's newly founded insurance company in Missouri. "He was interested in making money," says Barry Switzer, a Razorbacks star who was then an assistant coach, "while the rest of us were out at the Shamrock Club or the Tee Table, enjoying the weekend with the sorority girls."
On the team bus, Jones had read the Life magazine article about young Art Modell and dreamed about owning a pro football team. (As evidence of his ambition, Jones wrote a business school master's thesis titled "The Role of Oral Communication in Modern-Day Football.") This was an audacious goal -- after all, Jones was making only $1,000 a month drawn against commissions -- that greatly displeased his father. Become an NFL owner? Jerry had the same chance of buying a damn casino.
Without telling anyone, Jones scraped together airfare to fly to Houston to attend American Football League owners meetings. His hope was to meet and impress Lamar Hunt, Ralph Wilson and Bud Adams, the top team owners of the upstart league then attempting to challenge the mighty National Football League. "I'd do nothing but hang around the lobby," Jones recalls. "And just sit there and wait for those guys to come out of meetings, just to get to go up and talk to 'em or say hello to 'em. And just maybe thinking something might drop on the floor, I guess."
When hotel magnate Barron Hilton announced in 1966 that he was selling the AFL's San Diego Chargers, Jones, then 23, tried to buy the team -- with someone else's money. Hilton's asking price was $5.8 million. With far more chutzpah than cash, Jones managed to put together a group of wealthy investors (mostly bankers) who extended him a $1 million letter of credit to land a meeting with Hilton, who was stunned that a recent college graduate wanted to buy his team.
Jones had met with Kansas City Chiefs owner Lamar Hunt, who explained that, without substantial TV revenues, the league would continue to struggle in its bid to compete with the NFL. Still, Jones could have secured a 120-day option to purchase the Chargers, for $50,000.
So Jones told his father about his desire to roll the dice despite the grim financial prospects. "This is my lifelong dream," Jones told his father.
"You aren't old enough to have a lifelong dream," Pat Jones replied. He then explained to Jerry that the sale's massive debt would put him "behind the eight ball." Financial recovery would be nearly impossible.
"The truth is," Jones says now, "he talked me out of it."
Shortly after Jones withdrew his interest, the AFL announced it was merging with the NFL. Instantly, the Chargers' value nearly doubled to $12 million. It was a story Pat Jones would tell for the rest of his life: how he talked his son out of making $6 million.
Despite the missed payday and opportunity, Jones insists he never felt even a momentary pang of resentment or bitterness toward his father. "I knew how much he loved me," he says, his voice cracking with emotion. "And so he was giving me advice selfishly as a father. I guess we're all selfish as fathers. But he certainly was doing it for my best interests."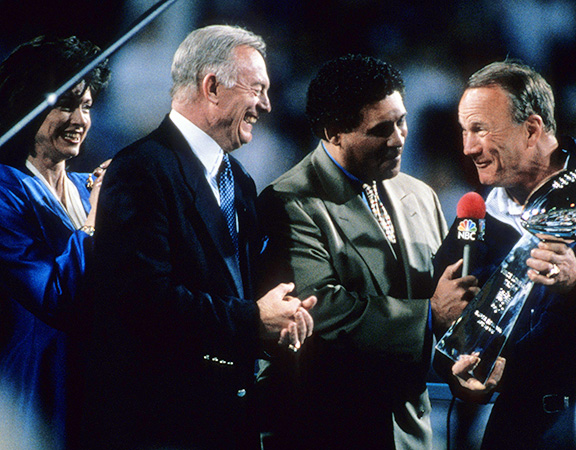 SOON ENOUGH, Jones traded the insurance racket for a far riskier game -- oil and gas wildcatting, forming the Arkoma Production Company in 1981. Initially with borrowed money, Jones drilled holes across Arkansas, Texas and Oklahoma. He often tells stories about nearly drowning in $50 million of red ink, using guile and moxie to juggle the banks' notes, as well as dealing with the indignity of watching a Dallas car-rental agent cut his credit card into pieces for failing to pay a bill.
The gushers came soon enough; in one stretch, Jones hit 17 in a row. Thanks to Arkoma's spiraling profits -- and savvy investments in real estate and banking -- Jones amassed a personal fortune of tens of millions of dollars. Wealth buys influence, and Jones flexed considerable muscle in Arkansas politics, although he did it quietly enough to remain largely invisible.
That changed in 1982 after Jones struck a highly lucrative and politically toxic deal with Arkla, the Arkansas state utility. Headed by Jones' old pal and hunting partner, Little Rock lawyer Sheffield Nelson, Arkla agreed to buy nearly all the natural gas produced by Jones' company, an arrangement that smelled to some like the mother of all sweetheart deals. By the mid-'80s, the public utility was buying from Jones at a locked-in rate that was as high as $2.74 despite a glut that had dropped the market price to 16 cents.
A lengthy investigation concluded the companies had done nothing illegal. Arkla ended up settling a massive lawsuit filed on behalf of ratepayers for a $13.7 million refund. (The lawyer who filed the lawsuit later marveled that Jones had struck "a very shrewd business deal.") During the 1990 Arkansas gubernatorial race, the Arkla deal became a rancorous campaign issue, and Bill Clinton used it to help defeat Nelson.
In 1988, Jones sold his interest in the Arkla deal for $140 million, a windfall that would soon come in handy. Both Jones and Nelson deny that Jones' Cowboys purchase was financed, indirectly, by Arkansas' gouged utility ratepayers. "We didn't get Jerry the money he needed for the Cowboys," Nelson now says. "He wasn't some poor peddler on a street corner before he came to us."
---
IT HAS BECOME football lore that Jerry Jones was inspired to buy the Cowboys after waking up with a five-alarm hangover during a fishing vacation in Cabo San Lucas, Mexico. After downing too many margaritas with his then-23-year-old son, Stephen, the night before, Jones stayed behind at the hotel and, in a day-old newspaper, stumbled upon a brief story: "Bum Bright to Sell the Dallas Cowboys."
"Well, I wasn't up to par," Jones says. He called the office of Cowboys owner H.R. "Bum" Bright and said, "You don't know me from Adam. My name's Jerry Jones. But if I live, I'm gonna come straight back to Dallas and buy the Dallas Cowboys."
Jones returned home on the next plane and quickly became the team's top suitor. A fierce negotiator, Bright decided the final $300,000 separating him and Jones on a price would be decided by a coin flip. (Jones called tails and lost.) The morning after they shook hands on the $151 million price tag, Bright called Jones at home and told him a group had just offered to buy the Cowboys for $10 million more. Jones said no to flipping the team for a quick $10 million profit. "I don't think Jerry would have sold the Cowboys for $100 million more," Nelson says. Bright had come to despise Tom Landry, the legendary first Cowboys coach who had won two Super Bowls in 29 years and almost always had the team competitive. But in 1988, the Cowboys finished an embarrassing 3-13, and many despondent fans were convinced the game had passed by the 64-year-old Landry. Bright offered to fire Landry before selling the Cowboys to Jones. Jones insisted he do it himself because, he says, "I needed to man up."
Hours after firing Landry, Jones introduced himself to the Dallas media as the team's new majority owner. "This is Christmas to me," Jones, then 46, told reporters. "The Cowboys are America. They are more than a football team." He spoke far more about hiring his old friend Jimmy Johnson, the University of Miami coach with a 52-9 record and a national title -- "the best football coach in America," Jones called him -- than about the legacy of the just-canned Landry. "I intend to have a complete understanding of contracts, jocks, socks and TV contracts," he said. Now Jones admits that his tin-eared exuberance and lack of proper respect paid to Landry and original Cowboys president and GM Tex Schramm, who stood during the news conference while Jones sat behind a microphone, were unbecoming. The performance helped him stumble with practically everyone in Texas, and first impressions are hard to break. "Jones was completely lost," Galloway, The Dallas Morning News columnist, wrote then. "Every time he opened his mouth, he got deeper into trouble."
Aghast at the criticism, Pat Jones (who, this time, had not attempted to talk Jerry out of buying a pro football team) called his son. "Jerry, I had no idea," he said. "I don't care if it works or not, you gotta make it look like it does. You use mirrors, smoke screen or something, because if you don't, you'll be known as a loser the rest of your life."
---
ON A SHELF behind a couch in Jones' long office at Valley Ranch, the Cowboys' five Super Bowl trophies are arrayed in a straight line. In the center is the last trophy won by the Cowboys in Super Bowl XXX on Jan. 28, 1996, in Tempe, Arizona, by a team built by Johnson/ Jones but coached by Barry Switzer, Johnson's successor. This is the Lombardi trophy Jones tells me he cherishes the most, by far. "Because when we were handed it," Jones says, "Barry said, 'We did it our way, baby!'"
We. Jerry Jones is all about the We. In fact, he values that lone Super Bowl he won with Switzer "10 to 1 ... 1,000 to 1" more than the two he won with Johnson, he says angrily aboard his plane. "Just simply because I guess I am still that damn frustrated with the way everything happened with Jimmy."
This is two-decades-old history now, but the question still burns hot and fresh in Jones: Why can't the owner/GM and the head coach share equally in their team's success? The question is as important as ever to Jones because the answer helps determine his legacy as a smart football man.
Jones' first two Super Bowl trophies were won by teams coached by Johnson. But Jones didn't have much fun, obsessing over Johnson's "backbiting, undermining and whispering" to the media about his lack of football smarts ("My girlfriend knows more about football," Johnson told them). In March 1994, two months after the Cowboys won their second straight Super Bowl trophy, Jones and Johnson parted ways, which stunned and angered fans.
In the end, there just wasn't enough glory for the two men to share.
In my time with Jones this summer, Jimmy Johnson was a constant topic of conversation. That's because back in March, on the 20th anniversary of his departure, Johnson chatted with Tim Cowlishaw, the Dallas Morning News columnist, and stuck a jagged shiv into Jones' ego.
"What anniversary is this one?" Johnson asked, laughing. "They're always having some kind of anniversaries down there. ... I guess because they don't go to Super Bowls anymore."
text
Focus on Sport/Getty Images
THEIR FALLING-OUT was pure pettiness: Jones wanted a piece of the adulation, wanted Cowboys fans to know he had helped build those Super Bowl-winning teams. Wasn't he the day-to-day general manager, after all?
Johnson insisted that he made all of the personnel moves, a claim angrily disputed by Jones then and now.
After their second consecutive Super Bowl, Jones and Johnson appear on camera to be playing tug-of-war with the Lombardi trophy. Jones had achieved a lifelong dream, but he had never been more miserable (he infamously told reporters, "Any one of 500 coaches could have won those Super Bowls.") Aboard their plane in June, Jones' wife, Gene, reminds him, "You had to let people say so many bad things the first two years you were there because they suddenly loved Tom Landry and you were Darth Vader. And then suddenly you win, and that's supposed to be the time of joy. And instead, they made that into a negative."
Despondent, Jones visited his mother and father in Hot Springs, Arkansas, in early 1994 to seek their counsel. Johnson was threatening to bolt for the new franchise in Jacksonville, and most Dallas columnists were in the coach's corner. "It's eatin' on me, it's botherin' me, it's changin' me," Jones told his folks. Pat Jones just said, "Come on, Jerry -- be a man, live with it." His mother echoed that advice. And a longtime business partner, Mike McCoy, told Jones, "Are you getting what you want from Jimmy?" The answer, on the field, was yes. "Then live with it," Jones says McCoy told him. "Forget it. Use him."
But Jones couldn't do it. In a matter of weeks, Johnson was gone, sent home with a $2 million check. In the end, Jones said, he felt like a phony, and his father would eventually agree he needed to "clear up" the angst he was feeling. "When I would be with him and we'd be charming and all that stuff, I just -- I just couldn't stand it," Jones now says. "And I was just thinking -- it's false."
Gene Jones told me, "What makes it fun to own a team if you have that?"
This summer, as he rehashed those days of sudden triumph and lasting hurt, Jones teetered between rage and sorrow, sometimes blaming himself for their falling-out. "I should have exercised tolerance and patience," he told me at the Ritz-Carlton. "I did not."
Other times, Jones blamed Johnson's covert acts of disloyalty, skulduggery and pettiness for their breakup. "There was just an undermining that went on," Jones says. "It's subtle. It's smart. ... I lost my tolerance of having an associate, a friend, not be loyal. I've been told, 'That's trite. You should be bigger than that.' I mean, really -- am I so dumb that I don't know you don't fire a coach after y'all just won two straight Super Bowls?"
"When I went to the Cowboys, Jerry told me he'd handle the marketing and money and I'd handle the football and we'd make history," Johnson said in an email after declining to speak or meet with me. "That changed after the first Super Bowl. I appreciate the opportunity he gave me and I'm proud of what we were able to accomplish."
Johnson's statement irritated Jones, who on Tuesday said: "Jimmy came from college and dealt in scholarships. This is pro football. You don't separate the money from pro football when you are physically and mentally there and up to your ears in it every day. That's a difference of opinion I have with him. Since I have owned the team -- from Day One Jimmy was here -- I made or approved of every football decision that required a dollar."
Johnson is not in the Cowboys' Ring of Honor, among the 20 team legends such as Landry, Roger Staubach, Troy Aikman, Emmitt Smith and Michael Irvin, each name emblazoned in big, capital letters inside AT&T Stadium.
At the Ritz-Carlton, I first asked Jones why he had not honored Johnson; after all, he had coached the Cowboys to two Super Bowl titles in five years, while it took Landry 29 years to win the same number. Jones responded with a convoluted explanation about Johnson failing to meet the standards favoring players established long ago by Tex Schramm, whom Jones himself had put in the Ring of Honor in 2003. (Jones had honored Landry in 1993.) Weeks later, Jones struggled to answer the same question during our on-camera interview at Valley Ranch, insisting that his decision is not personal.
But it is.
Onboard his plane, with Gene sitting in a leather chair across from us, Jones spits out the reason Johnson isn't in the Ring of Honor: "Disloyalty ... I couldn't handle the disloyalty. Whether it was right or not, by every measurement you can go, I had paid so many times a higher price to get to be there than he had paid, it was unbelievable. ... By any way you wanna measure it, wear and tear, pain, worry, butt kickin', the criticism -- everything in the book!"
Jones wants to win another Super Bowl for many reasons. But one of the biggest is it would prove to the world he can do it without Johnson.
"It certainly has been more of a negative for me than it was for him," Jones says of Johnson's firing, his voice rising. Gene's eyes narrow -- she knows where this is headed -- and she shakes her head to warn him. Too late. Johnson's firing "caused him to never have won but two Super Bowls!" Jones says, practically shouting. "I don't give a s--- what it is, but it caused one thing for him: He'll never win but two! I've won three -- and I may get to win five more!"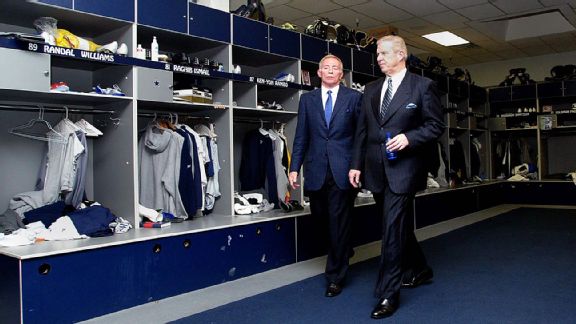 IT'S HARD TO miss that the Cowboys' era of mediocrity coincided with Jones' decision to build a new stadium. A decade ago, Jones decided he'd replace antiquated Texas Stadium. A new stadium's projected price tag was $650 million, but as Jones shopped for its home -- and kept adding to its design's bells and whistles -- the price tag ballooned, eventually nearly doubling but also looking like a billionaire owner's overcompensation for continuing on-the-field disappointments. After the city of Dallas didn't offer enough tax incentives (as a consolation prize, Jones says then-Dallas Mayor Laura Miller offered to name a bridge after him), Jones decided to build his stadium in Arlington in a neighborhood of pawn shops, chicken joints, auto repair garages and the Texas Rangers' ballpark. He needed --- and eventually won -- approval from taxpayers to kick in $325 million. At the same time, Jones hired Bill Parcells, a Hall of Fame coach who won two Super Bowls coaching the Giants. The timing of Parcells' arrival was hardly coincidental, critics say: Jones needed Parcells to regain credibility with fans to help win approval of Arlington's stadium tax referendum.
Jones had promised Parcells nearly complete control. They began with mutual trust. At Parcells' first training camp in 2003, he called the shots -- or so it looked to the beat reporters surprised that Jones had, finally, ceded control to his coach. Parcells established a defense employing big, physical players. And by getting his way most of the time in the draft room, Parcells quickly began rebuilding the Cowboys.
But Parcells and Jones would soon clash. Jones moved the training camp from Oxnard, California, where it's cool in summer, to San Antonio, where it feels like a blast furnace. Parcells was furious; Jones explained that Ford, the team's top training camp sponsor, was far bigger in Texas than California and that another sponsor, Dr Pepper, was more popular with San Antonio's Hispanic community. "Let me get this straight," Parcells told Jones. "We got a multibillion-dollar corporation, and we're worried about selling f---ing soda?"
Far more harmful to their relationship was Jones' decision to sign free-agent wide receiver Terrell Owens. After the 2006 season -- and the disastrous Romo bobble of a snap on a 19-yard field goal try that would all-but-clinched a victory over the Seahawks in a wild-card playoff game -- Parcells quit. With a Cowboys coaching record of 34-32, he left Dallas (and soon ended up in Miami) with a nice payday and, apparently, no bad blood between him and Jones.
"I found Jerry to be a very, very straight-talking, forthright person, whose word was good," Parcells says. "We got along very well."
Parcells' successor, Wade Phillips, coached teams built primarily by Parcells and won 33 games in three seasons. After going 13-3 in 2007, the Cowboys lost to the eventual Super Bowl champion New York Giants in a divisional playoff game. Jones' best shot to erase the Johnson stigma was lost. Friends of Phillips told me he felt undermined and second-guessed, repeatedly, by Jones, who denies this. When I reached Phillips by phone, he agreed to meet with me in Dallas, but a few hours later, he called back to cancel, saying he didn't want to say anything bad about Jones. "He's been good to me," Phillips says. (Jones had lent his private jet to Phillips' wife to attend her father's funeral.) He's been good to me: I heard this refrain from other former players and dismissed coaches who declined to discuss Jones on the record.
Jones' Cowboys' and stadium businesses are truly family-run: Stephen, 50, is Jones' right-hand man on player-personnel matters (and sits to the right of his father during games); Charlotte Jones Anderson, 48, the executive vice president and chief brand officer, leads the Cowboys' charity efforts; Jerry Jr., 44, is in charge of sales and marketing and is executive vice president. Jerry brags that Gene has attended every home and away Cowboys game since he bought the team, including preseason. "A 100 percent attendance record," he says. They are a close-knit family and fiercely protective of one another. Even so, while Jerry Sr. consults with his children on a moment's notice, I didn't see them palling around much in Jones' suite, at Valley Ranch or at training camp. All business. Jones is in good health; he beat back skin cancer and was diagnosed with an irregular heartbeat at the age of 46, shortly after buying the Cowboys. "A good-time heart," Jones calls it.
Fans can recite Jones' personnel misses and flops: Passing on Randy Moss in the 1998 draft (Jones apologized for this a dozen years later); trading four draft picks for 28-year-old wide receiver Joey Galloway, who never caught a pass from Aikman, in 2000; drafting QB Quincy Carter in the second round despite coaches' and scouts' warnings about his problems; choosing RB Felix Jones over Chiefs star Jamaal Charles and Coach Phillips' choice, Titans star Chris Johnson. When I ask Jones for a decision he wants back as GM, he doesn't hesitate. "I think when we traded two No. 1s for Roy Williams," he says of the 2008 trade for the Lions receiver who was released in 2011.
Except, well, Jones gets it wrong. The Cowboys didn't actually trade two first-round picks for Roy Williams. They gave up a first-, third- and sixth-round pick in 2009 and got a seventh-rounder in 2010. It seems a bit unfair to correct Jones like this -- the man has been GM for 25 years and shouldn't be expected to know the particulars of every transaction carried out under his name. Or perhaps the three picks the Cowboys gave up just felt like two first-rounders. But at the same time, this is his biggest regret as GM -- and he can't get the details right.
The rut Jones is in is littered with bad choices and busted gambles, and he knows it. He also knows there are fewer chances to reverse that view.
In early June, Jones flew on his G-V to Paradise Valley Country Club, in Fayetteville, Arkansas, to salute Frank Broyles, his college coach, and donate $100,000 to a foundation created by Broyles' daughters devoted to educating caregivers of those who have Alzheimer's.
Standing next to Broyles in the jammed clubhouse on a muggy afternoon, Jones talked about his old coach's life lessons. A half-century ago, Broyles always raised four fingers on the football field, a reminder for his players to try to preserve their energy for the game's most critical time -- the fourth quarter.
Jones said, "I never dreamed that when he was talkin' the fourth quarter to us the night before a ballgame in Eureka Springs. ... We'd be standin' here right now, 2014, and him coachin' us in how to be in life in the fourth quarter, how to handle the stuff that comes to us in life in the fourth quarter. And boy, have you coached us up, Coach."
"Thank you," Broyles said.
"You showed us how to do it," Jones told him, his eyes moist. "You showed us what stickin' and stayin' and lovin's all about -- keeping that enthusiasm and that stature and pushin' right through. Now that's the fourth quarter. Yep."
BACK IN DALLAS, it's time for supper: Jones' personal security chief, Roosevelt Riley, is behind the wheel of Jones' black Lexus LS 460 and pulls up to my Dallas hotel. The boss is riding shotgun. I slide into the backseat and we head to Al Biernat's, one of the city's favorite steakhouses. When Jones and I walk into the bar, every head turns our way and you can feel the electrons in the room become supercharged, in that way they do anytime a famous person enters a public space. We settle into a low-slung booth for four, opposite the bar and adjacent to a hallway leading to the bathrooms.
Jones orders Johnnie Walker Blue for both of us. Years ago, Jones gave up alcohol for about a year to lose weight, but he became so ornery that his mother told Lacewell to persuade her son to start drinking again. "He's no fun," Jones' mother said. More than once, Jones asked me, "You still working?" as a way to invite me to join him for a Blue. (Dale Hansen, the WFAA sportscaster, recalls a famous story: He and Jones were drinking heavily in Austin one night and stumbled into a dance club at 2:30 a.m. when the bartender told them that last call had long passed. "Either you start servin' drinks," Jones said, "or I buy the bar and you're the first son of a bitch I get rid of." Ten minutes later, Jones tells Hansen, "Go to the bathroom." Inside, Hansen discovered a bartender sitting behind a hastily assembled but fully stocked bar; Jones, Hansen and another 10 pals enjoyed mixed drinks until 5 a.m. Hansen was shipwrecked with a hangover until late the following afternoon. "Jones was on 'Good Morning America' at 7 a.m.," Hansen says in awe.)
We discuss his family's commitment to turning AT&T Stadium into a mecca for sports and entertainment, a venue for everything from this past April's Final Four and the January 2015 College Football Playoff championship game to dirt-bike races and high school proms. The stadium gave Jones another way to apply his sixth sense of monetizing every imaginable aspect of something he owns. He has forged 200 corporate sponsorships and alliances for the Cowboys and AT&T Stadium; nearly every one of AT&T Stadium's 347 luxury suites is locked into a lucrative, 20-year lease, and the seat licenses are worth $1 billion. There's practically no debt. The place has become a humming cash factory.
When I ask Jones how he settled on AT&T for the stadium naming rights, he says he fell in love with the name: "It just sounds like America -- and the future." He then confides he considered investing $300 million in Chanel or Cartier, becoming partners with one of the companies and slapping its name on his stadium. Jones loved the idea that his team might have been married to one of those luxury brands. "Can you imagine -- the Chanel Cowboys?" he asks. "Or the Cartier Cowboys? Now that has a nice ring, a lovely ring. Pure class."
This idea never went very far, and besides, the AT&T deal was sealed in July 2013 by the telecommunications giant's mind-boggling offer, an estimated $500 million over 25 years. "I was a whore!" Jones growls, with that just-kidding smile chased by that maybe-not wink.
His real estate company, Blue Star Land, owns vast property holdings totaling more than 2,000 acres worth more than $2 billion, with much of it located north of Dallas. In Frisco, Texas, the Cowboys will move to a new, modernized training facility in 2016. In the early '90s, Jones began buying the parcels, anticipating the growth that has marched north of Dallas-Fort Worth.
Two hours into our dinner, our menus remain untouched. When we talk about the Cowboys' chances this fall, Jones expresses guarded optimism -- he has bought into Romo's enthusiasm for the offense, aided by a revamped, though young, offensive line. But he acknowledges that the defense, the third-worst in NFL history last year based on total yards allowed, must radically improve for the Cowboys to have any hope of making a playoff run. Of this prospect, he sounds less certain. Coach Garrett is in the final year of his contract, and Jones says Garrett's future likely will depend on what happens on the field this season. Of course Jones' future, as GM, never depends on what happens on the field in any season. After all, what person, in any profession, could manage to keep a job if he hadn't succeeded in nearly 20 years?
"Trying to do too much," Lacewell told me. "It's his biggest fault, I'd say." So I raise this prickly issue again, asking Jones whether his attempts to rebuild the Cowboys were hampered by his business obligations and corporate commitments, particularly the decadelong campaign to get the stadium designed, approved, financed, built and, now, earning.
Jones acknowledges the difficulty of trying to juggle so many responsibilities, confessing, "It's my devil." However, he estimates he spends 80 percent of his time working as a GM and the rest managing the team's business affairs and his personal investments.
Win or lose, America's Team is still, to use Jones' word, relevant. And likely always will be. Jones takes great satisfaction in the Cowboys' entrenched popularity beyond the Dallas-Fort Worth metropolitan area, extending to places such as Mexico and Europe. The Cowboys are the only NFL team to market and distribute its own merchandise. The blue-starred jerseys, hats and caps (and a wide selection of women's attire) bring in $250 million annually. After each season, Jones brags that the highest Nielsen-rated games featured the Cowboys, who will play at least five games in prime time this fall. For Jones, the sales and ratings appear to help mitigate the on-the-field mediocrity.
"And if we're not the most popular team," he says, "we're always the most hated team." Is being the most hated team the second-best thing to being the most popular team? "I think I'd trade second-most popular for ... the most hated."
Three hours after sitting down, we finally order salads and T-bone steaks, although not the hubcap-sized $65 Cowboy cuts. As we tuck into our meals, a stunningly beautiful woman in her 40s stops by our table. "You don't remember me," she tells Jones, mentioning a decade-ago meeting, but this doesn't jog Jones' memory. A few more hints, still nothing. She stomps off. Jones shrugs and smiles. Then winks at me.
text
Kevork Djansezian/Getty Images
AFTER DINNER, Jones invites me to join him for a nightcap at his house, a buttery-lit 14,044 square-foot "villa." Inside the vast foyer, Jones asks a home security guard to bring us two glasses of Blue on ice. On the gleaming marble floor of his living room are covered works of art, new purchases waiting to be unwrapped. Jones explains that he and Gene have become avid collectors of Rockwell and other artists. AT&T Stadium's dazzling collection of modern art has been showered with critical praise; Gene selected most of the pieces.
Jones and I carry our drinks into his two-story library. Here on the walls is a stunning mix of six woods including cherry, walnut and Macassar ebony and shelves lined with candy-colored antique books and framed photographs of Jerry and Gene cavorting with their children, grandchildren, politicians and celebrities. Above us, the black ceiling glitters with the constellations of Jerry and Gene's zodiac signs, hand-painted in gold leaf. Jones marvels over a 40-pound Tiffany crystal commemorating the Switzer-led Super Bowl win. On an antique end table is a silver-framed photo of a beaming Jones and a grinning Bill Clinton at the White House. On the wall is a small dinner guest list, inked in cramped script by Thomas Jefferson. One of the invited guests is Betsy Ross.
Jerry and Gene Jones have helped the Library of Congress replace the books lost in an 1851 fire that destroyed two-thirds of Jefferson's library. What Jones doesn't say is that he and Gene routinely write checks, quietly, to people in need with one request: Don't tell anyone where you got the help. Publicly, they also donate millions of dollars to an array of charities in Texas, Arkansas and beyond.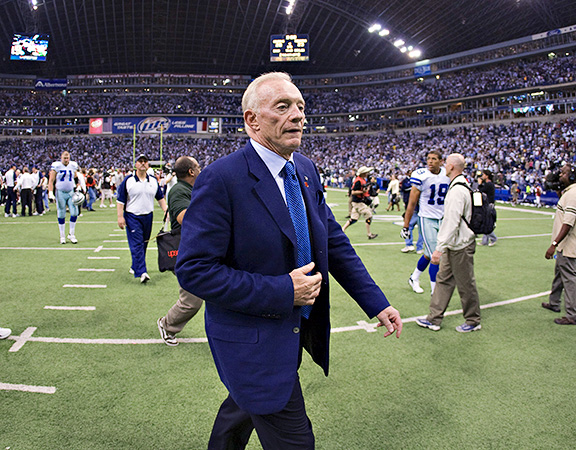 I follow Jones downstairs to his pub room, with two taps (Miller Lite and Miller, the stadium's $15 million-a-year exclusive beer sponsor) and a gargantuan projection flat-screen. "It's fun," he says. Next is the billiards room, fortified with painted footballs from the Cowboys' glory years and framed photos. You can't miss Troy, Emmitt and Michael doing their thing, but I don't see Jimmy (apparently there's one). Over there is the wine cellar stocked with 1,300 vintages. Down a long hallway I notice a framed photo of Jerry, Gene and Kevin Costner, all looking at least a decade younger. "Look at her," Jones says, deadpan. "I've never seen Gene looking happier as she is right there looking at that other man."
We end up outside at the edge of the drive, gazing at the immaculately groomed gardens stretching far into the darkness. Jones points out the guest house, shielded by a stand of tall oak trees. His mother lived there until her death, in 2012, at age 90. For a few quiet moments, we stand side by side -- me imagining what it must be like to have your mother living in a guest house in your backyard and Jones recalling, perhaps, the reality of that arrangement. As I begin to ask about his mother, Jones interrupts, saying, "Well, Don, I enjoyed this very much. But tomorrow is another day." Over my shoulder, I see Roosevelt Riley standing down the circular driveway, the engine of Jones' Lexus purring, as if my exit was arranged by some invisible force.
"Take your drink with you," Jones says and pats me on the shoulder.
"Thanks for everything, sir." I move down the circular driveway for the ride to my hotel. I stop, turn and watch Jerry Jones walk back into his lit-up mansion. Tomorrow is another day, another season. His head down, his stride a beat slower but still purposeful, his right hand swaying his nearly drained tumbler. In that light, I'd swear, the glass of Blue is half-full.
Don Van Natta Jr. is a senior writer for ESPN the Magazine and ESPN.com. He can be reached at don.vannatta@espn.com. Follow him on Twitter: (@DVNJr).
Follow The Mag on Twitter (@ESPNmag) and like us on Facebook.
Follow ESPN Reader on Twitter: @ESPN_Reader
Join the conversation about "Jerry Football."