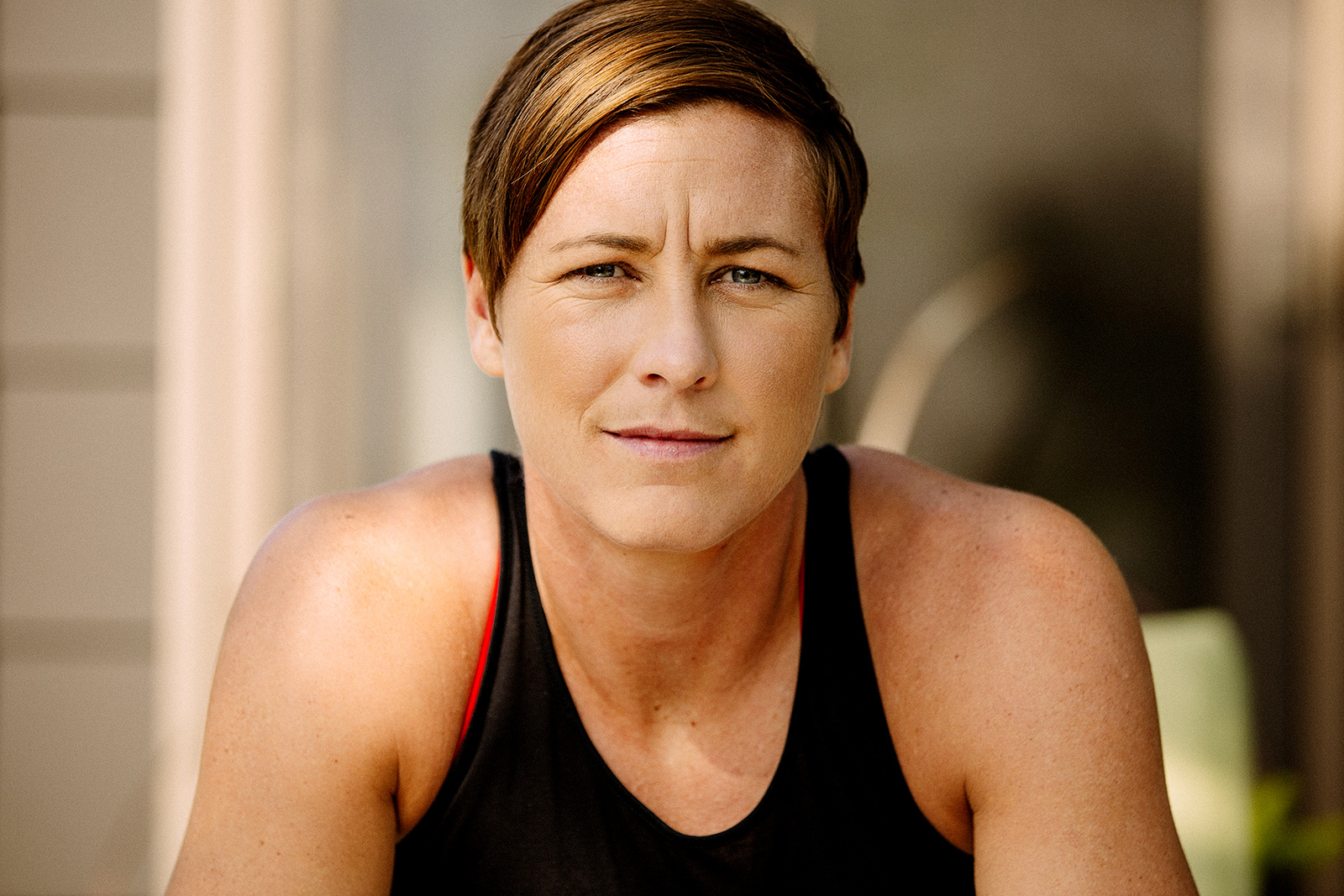 After the storm
Critical questions are looming for U.S. women's soccer star Abby Wambach. Without the game, who will she become? And would winning that elusive World Cup help ease her transition away from the sport?
EAST HARTFORD, CONN. -- Abby Wambach is sitting on a silver bench, wearing sunglasses and workout clothes, watching the U.S. women's national soccer team practice at Rentschler Field in East Hartford a day before the Americans play a June friendly against France. The session is open to the public, including media, and there are hundreds of people sitting in the bleachers, many of them assessing the state of the team and predicting which players will be in the starting lineup for the 2015 Women's World Cup.
Wambach stands and walks onto the field for a closer look, alongside the coaching staff. The 34-year-old forward has a minor knee injury, so she's taking a few weeks off from playing. Even so, her presence on the sideline sparks a discussion among several of the media members watching.
"My prediction," one observer says, "is that Abby won't be in the starting lineup next summer. She just doesn't seem fit."
Heads whip around. Eyes grow wide. What?! That's pure crazy talk, man!
"You don't understand," someone responds. "This is just how she works. She'll be ready. She always is."
It sounds like heresy, an epic form of trolling -- the idea that Abby Wambach might find herself on the bench at the World Cup. After all, she has scored more goals than any other woman (or man) in the history of international soccer. Yet the same observation has been made in the past, ahead of other major tournaments.
The fiery, dominant Wambach we see every few years at the World Cup and the Olympics is the polished version, the finished product, the one ready to demand the ball and kick ass -- and she's supremely capable of doing just that. But it might just be this other side of Wambach, the laid-back enjoyer of life, oh-so chill, not quite ready for prime time, that offers the most insight into who she is as a player.
A few weeks earlier, Wambach sits inside Stumptown Coffee, on Southwest 3rd Avenue in downtown Portland, Oregon, chattering away, as she is prone to do. Julie Foudy once gave Wambach a shirt that said, "Help! I'm Talking And I Can't Shut Up!" That was more than a decade ago, when Wambach was the youngster on the national team. Legends such as Foudy, Mia Hamm and Brandi Chastain were accustomed to wide-eyed apprentices nodding dutifully in the presence of women whose images were once plastered on their bedroom walls. (As a kid growing up in Rochester, New York, Wambach herself had a signed poster of Hamm.) But the first time Foudy had a chance to talk with Wambach one-on-one, at the airport before a flight, the newcomer was a nonstop stream of words and excitement, a 5-foot-11 windup toy unleashed. Foudy, herself known to teammates as Loudy Foudy, remembers sitting there thinking, So much for the shy rookie! "The beauty of Abby," she says, "has always been her incredible passion."
That passion, when applied to soccer, runs on a specific route, like an electric current along a wire, feeding the source with little energy wasted. But away from the game, Wambach has a more untethered quality to her, bouncing from one interest to another, almost contradictory at times -- perhaps in the hopes that someday she'll find the thing that feeds her the way soccer does.
One reason Wambach is so good at soccer is that she follows her instincts, not gingerly but with an intensity that makes it seem as if she can actually bend the future toward her. Of course, that works on the field, but what about off it? What about life -- a much more delicate playing field -- where crashing forward can only occasionally be the right play call?
Life doesn't work like soccer does. Compared with the thrill of a last-second goal, everyday life can seem boring. And often, the most difficult equation for an athlete is figuring out what parts of who they are on the field, and how they operate, will translate to success after the final whistle -- and which parts will not.
This is precisely where Wambach finds herself right now.
On this late May morning in Portland, the weather is bright and clear, as summers here usually are -- just one of the many reasons Wambach and her wife, Sarah Huffman, decided to buy a house in the hills a few miles outside the city. But Wambach is merely a visitor today, in town with her club team, the Western New York Flash, for a date that evening against Huffman's squad, the Portland Thorns of the National Women's Soccer League.
Wambach loves coffee. She's a self-described java junkie -- black, no cream or sugar -- and there is a large cup in front of her. It's a simple pleasure, but a good coffee and the crossword puzzle sounds like the perfect morning to her. She's been thinking about these things more lately, imagining what the rest of her life might look like, especially now, in the final days of her "soccer hibernation," when she lies low and stockpiles energy. She hasn't played in a major tournament in more than two years, and, in that vacuum, she has allowed herself to consider the bigger picture.
Soon, very soon, this version of Wambach, contemplative and laid-back, will give way to the fierce and unyielding warrior, a woman so obsessively single-minded in her preparation for big events that even her teammates are occasionally taken aback: You know, you can still be "Fun Abby." You don't need to get SO weird! Before the 2008 Summer Olympics, Wambach took an uncharacteristically hyperascetic approach to her training, eating only the healthiest foods, abstaining from alcohol for nine months, avoiding television and other guilty pleasures while pushing herself to become supremely fit. "Extreme" is the word that comes to mind for her teammates, but Wambach was in her prime as an athlete, and she wanted to lead by example. She wanted desperately to win a major tournament without the help of her mentors, the famous faces who had captured the 1999 Women's World Cup and played alongside her when the U.S. won Olympic gold at the 2004 Athens Games. But then, about three weeks before the Beijing Games, Wambach broke her left leg during an exhibition against Brazil, and the U.S. went on to secure gold in her absence. "Watching them win without me was probably the most humbling moment of my career," she says.
There might not be a more up-and-down existence in American sports than the life of a female soccer star. For a few short weeks every long few years, Wambach and her peers are at the center of the spotlight, vying for a World Cup title or Olympic gold medal. Then, win or lose, they pack up their gear and head back to the relative obscurity of startup leagues and friendlies with Azerbaijan. It is a life spent mostly in the valley, preparing body and mind for the slow climb up the distant mountain peak. Wambach has made the trek back and forth for more than a dozen years, but she has never reached the highest summit. She has never won a World Cup. And she isn't afraid to say that if the U.S. doesn't win the title next summer, she will consider it a black mark on her legacy.
But failure doesn't frighten her; she has flirted with it her whole career. Now, though, as she begins another climb up the mountain, she is also wrestling with some big questions. Chief among them: Who is she without soccer? And will winning that elusive World Cup help ease her transition away from the game?
These questions are familiar to countless athletes, but unique to the person looking for answers.
The day of the friendly against France, Wambach sits in the lobby of the team hotel in Hartford. There is a restless energy about her, and not just because she is out with that minor knee injury. Something seems to have shifted in Wambach. She says it happened about a week earlier, on June 6, the beginning of the one-year countdown to the 2015 Women's World Cup. The bear isn't in hibernation anymore; she is peeking her head outside, getting a good look at the changing landscape. "I was like, 'OK, now I have to start to get really fit again,'" she says. "'I have to get really dedicated again.'"
Some players are like pseudo-therapists on the field, talking certain teammates through the rough patches. Not Wambach. She plays best when allowed to focus inward, on her own game, without worrying about the mental and emotional well-being of everyone else. It's as if she is pooling her internal reserves for the one key moment when she must become superhuman -- such as in the 122nd minute against Brazil in the 2011 World Cup, when she launched herself into the air to head home a magnificent cross from midfielder Megan Rapinoe, scoring the equalizer in a game the U.S. would win on penalty kicks. In many ways, that play epitomizes Wambach: risking injury, willing to fail, prepared to win. It wasn't the kind of split-second performance a lesser player might pull off once or twice with a bit of luck. It was the accumulation of every other moment leading up to it, the thousands of practices and repetitions over the years, under the most mundane circumstances. Or, as former U.S. women's coach April Heinrichs says, "You don't score a goal like that just once in your lifetime."
Away from the field, Wambach is often the loudest person in the room, the one ready for anything -- raw, open, unfiltered. She talks in a steady stream of thoughts and half-thoughts that she organizes only after they exist in the world. And it is this aspect of her personality that seems critical to understanding what makes her so good on the field.
Filters work both ways, processing the incoming as well as the outgoing. Too much analyzing on the field can be debilitating for athletes because the more energy they spend putting the game into a larger context, as it's happening, the more room they create for pressure. The ball is coming toward me and it's the ball that could change my life and millions are watching and this could be everything I've ever hoped for and lead to a sponsorship deal and don't screw this up.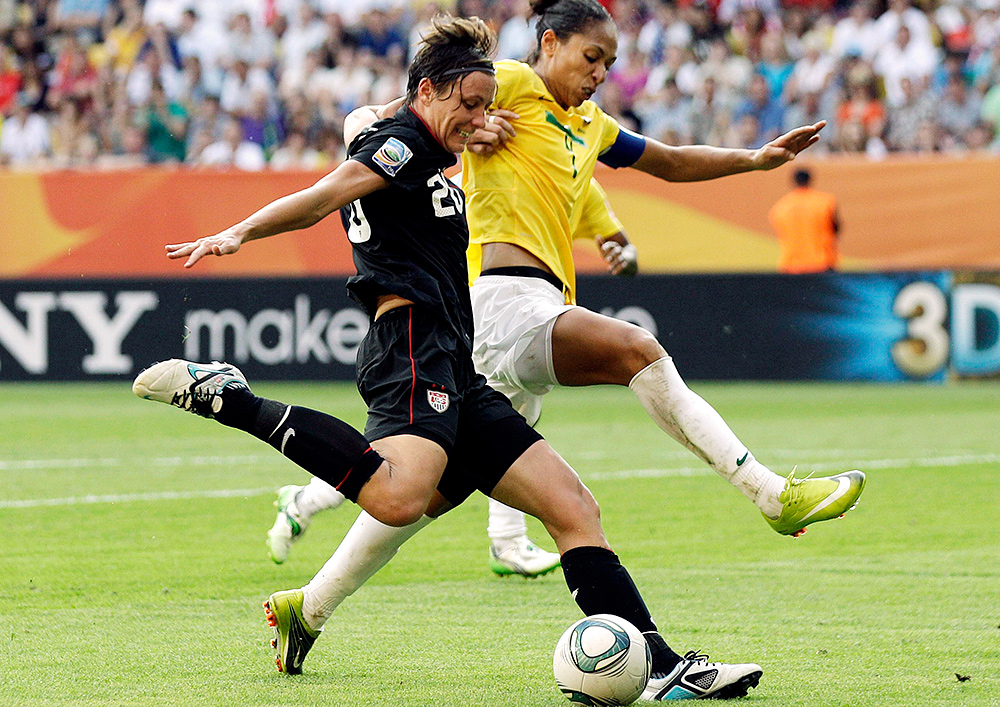 Although Wambach has become famous for using her head, she actually spends most of her time on the field "inside my own blood," as she puts it, in a perfect example of how she speaks -- like an amateur poet. At first the phrase doesn't seem to mean anything, but as she keeps talking, its significance bubbles up as an abstract truth. Wambach doesn't live in the middle lane. She is either blazing past on the left or inching along on the right. Some of this is a necessity because the way she plays -- like a driver redlining her car's engine -- ensures she can't stay in that headspace (or blood-space) for too long. "She's all or nothing," Huffman says. "She's either going to wake up every morning for a year and work out and run, or she's going to relax, sit on the couch and not move."
Alex Morgan, another national team star, describes Wambach this way: "Sometimes she'll not do well for months at a time, and then here comes the first game of the World Cup, and she's beasting and scoring goals, and we're like, 'Whoa, where was that the last couple of months?' Abby is for sure an all-or-nothing person."
"I think Abby has an addictive personality, but it isn't a bad thing," U.S. teammate Carli Lloyd says. "She gets really, really serious a couple of months before the big event, and she goes with it. Obviously that has been working for her over the years."
This slingshot approach, the rapid collection of speed, has worked for Wambach as a soccer player. What remains to be seen is whether this inclination toward quick lane changes will feed her life after soccer in the same way.
Becky Burleigh has been the women's soccer coach at the University of Florida for 19 years. But she was a young upstart when she landed Wambach, one of the nation's top recruits, despite heavy competition from more successful programs such as UCLA and North Carolina. Wambach liked Gainesville; she didn't care that Florida hadn't won a national championship or that the program had been in existence for only a few years.
During Wambach's freshman season in 1998, the Gators reached the NCAA title game against North Carolina, which had won back-to-back championships and 14 of the previous 16. Burleigh was just 31 at the time, and, as she watched her team take a 1-0 lead late into the match, she began gearing herself up for the final TV timeout. As the players ran off the field and huddled around her, she knew this would be one of the defining moments of her career.
Then, just when Burleigh was about to speak, Wambach stepped into the middle of the huddle and yelled, "We are not f---ing losing to these bitches!"
It wasn't exactly the speech Burleigh had planned, but there was nothing else to say. "OK then," she told her players. "Let's go!" And with that, they ran back onto the field, hooting and hollering, and eventually winning the national title, the program's only one to date.
Wambach comes by this bold, outsized personality naturally.
She grew up the youngest of seven kids. There was little room for sensitivity to words, for being thin-skinned, because coddling wasn't on the daily itinerary. So she grew into an athlete who could handle the blunt truth. This characteristic made her a kindred spirit of sorts for Hamm, who took Wambach under her wing when they became teammates on the Washington Freedom of the upstart Women's United Soccer Association, the first in a string of failed women's soccer leagues. Hamm came from a big family, too -- she was one of six kids -- and she didn't mince words in giving Wambach constructive criticism. "She had heard that I was really unfit, which I was," Wambach recalls. "She would just tell me, straight up, to get it together. As soon as I started to realize that I could make a living playing professional soccer, I went to that place where I could torture myself because I knew it would make me better for the championship game."
---
SARAH HUFFMAN opens the door of the house she shares with Wambach and their two dogs: Kingston, a 5-year-old English bulldog, and Tex, an 11-year old pug with terrible breath. Wambach and Huffman were married last summer in Hawaii. Huffman planned the wedding, while Wambach oversaw the renovation and furnishing of their home in Portland. The couple bought the property sight unseen in 2012, sending a local real estate agent and some friends to check out the place. The verdict? Amazing views and good bones. With a gut renovation, the house could become their dream home.
Huffman is on a tight schedule this morning because it's opening day of the men's World Cup, June 12, and she needs to leave soon to watch the first match, Brazil vs. Croatia, with her Portland teammates. But first she pulls open her MacBook and launches the blog that chronicles the renovation process for the house, which now has an open layout and a mixture of modern decor with touches of hardwood that add warmth.
Wambach is fascinated by real estate. She would legitimately consider flipping properties after retirement. Impulsive by nature, she often turns her gaze to some new hobby for a short, albeit intense, period of time. She doesn't just dip her toe into the water; she makes a cannonball splash. Sitting at their industrial kitchen table, Huffman tries to explain her partner's temperament. "It's just ..." Huffman pauses and puts her hands at opposite ends of the table, then places one of her palms in the space between. "She can't exist in here."
Huffman is the more even-keeled presence, keeping them both in balance. When Wambach is on the road with the national team, a daily itinerary is slipped under the players' hotel room doors each morning. Huffman sounds as if she's only half-kidding when she says, "I think Abby would like if I slipped a daily itinerary under the door even when she's at home."
One tangible example of this balancing act can be found in their living room. Wambach always wanted an Eames chair, but Huffman felt the cost was prohibitive. Then, just before they started remodeling their Portland home, Huffman found one on sale, 20 percent off, with no sales tax. "If you really want that chair, I found a deal on it," Huffman told Wambach. After the chair was delivered, it stayed in the box, waiting to be revealed once all the construction was finished.
The books on the shelves in the living room are organized by color, from white to orange to yellow to green, all the way to black. When asked who the mastermind was behind the arrangement, Wambach says, "Who do you think? That's all Sarah." Wambach does the cooking, Huffman the cleaning, a division of labor that makes sense on many levels, given Wambach's big personality. It is easy to picture her hosting fun parties, making everyone laugh -- Huffman right there, too, making sure everything runs smoothly.
Huffman seems to hold Wambach steady without holding her still. Wambach has, at various times, become passionate about pursuits ranging from yoga to golf to new diets to motivational books, especially the spiritual teachings of Eckhart Tolle, who writes about inner transformation. One time, while visiting Wambach in Buffalo, Huffman noticed a remote-controlled helicopter on the coffee table and asked, "What the heck is this thing?" Wambach told her she wanted to learn how to fly.
Lloyd, who has played with Wambach for the better part of a decade, puts it like this: "She'll get a lesson for something, she'll practice, she'll do it, but then something else will fade in. I think on the field she has found more of a continual fulfillment."
Adds Heather O'Reilly, another national team veteran: "As friends, we're always trying to encourage Abby to dial down her extremes and live life somewhere in between because we think she could be most happy that way."
Wambach lives out loud -- at least, around those she is comfortable with. When the circle widens, she can become fiercely private. Long before "living authentically" became a popular catchphrase, Wambach was doing just that, quietly, without the headlines. Back in the early 2000s, she was open with her U.S. teammates about her sexuality. They were cool with it; they had all played with gay athletes before. But she did face a crossroads once the '99ers generation -- Hamm, Foudy, Joy Fawcett -- began retiring. "I was worried that I was the anti-them: short hair, lesbian, freely speaking my mind," Wambach says. "I knew that I couldn't fit their mold, but at the same time I didn't want to reinforce the cliche that exists in women's sports, that it's a lesbian world, because that's just not how it is. And, truthfully, I'm not the kind of person to stand on a podium and say, 'I'm gay. Hear me roar.' In terms of my professional life, it has nothing to do with how I play soccer. Yes, 'authenticity' is the cool new word, and gay men in sports are a huge topic of conversation. But I want to be a predecessor to the movement where it isn't a big topic."
And for the young fans who passionately follow the women's national team, it isn't a big deal. All that matters to them is that Wambach is really good at soccer. In fact, hundreds of young girls (and boys) dangled over the railing at Rentschler Field after the U.S. tied France 2-2 in the friendly match. Wambach spent the game in street clothes, out of sight, away from the field. When she appeared in the mouth of the tunnel, dressed in camouflage pants and a beanie, the kids went into a frenzy: "Abby! Abby we love you! Over here! Aaaa-beeee!"
Two young girls, the daughters of national team defender Christie Rampone, flanked Wambach, who held their small hands as if walking out for the national anthem before a match. When the three of them reached the grass, Wambach released her grip, backpedaled and urged the youngest to waddle toward her, swooping down and lifting the toddler onto her shoulders in celebration.
Wambach seems absolutely certain about one thing she'll do after she retires: become a stay-at-home mom. She loves the idea of remaining in one place and letting Huffman, who hopes to work at Nike after the NWSL season, be her "sugar mama." One of the first details about Wambach that most of her teammates share is how fantastic she is with kids.
In fact, Wambach's friends suggest she's a big kid herself. The space in her home that should be the formal dining room instead has a full-sized pool table, and the back room that leads to the swimming pool is equipped with a PlayStation 4. While walking from the living room to the kitchen, Huffman stops in the space between and points to the wall, where a wine refrigerator was built into the cabinetry. "Abby wanted that there," Huffman says. "Apparently the kitchen was just too far to walk for a drink."
A steady domestic life is what many professional athletes -- or, for that matter, anyone who travels extensively for a living -- tend to crave. They think they want to nest, make up for all the nights they weren't able to come home from work, cook dinner and watch a movie. Even the simple act of going to the grocery store is seen as an exotic errand, part of the daily rhythm of life they don't normally get to experience.
---
The cup of coffee, now half gone, sits next to Wambach's elbow. A glass of water, off to the side, is still full. Wambach thinks water is boring and often forgets to drink it. She lists this fact -- Terrible Drinker of Water -- as one of her flaws. She has a growing self-awareness about all things, small and large. She is known, at least one-dimensionally, to millions of people, her own image reflected back at her in the curved mirror of public perception.
"I know that I was put on this planet to be an athlete," she says. "But what else is there? What is my point in life? This might sound masochistic or narcissistic, I don't know, but when I'm not playing the game, the validations I feel about life are always through the hardships. I relate more to sadness, in a lot of ways, when I'm not playing. You can imagine how many people tell me how great I am every day. So for me, it's a balancing act, trying to be and feel like a normal human being. I have to, not exactly dim my light, but alter my expectations, so I can start to be happy in ways that are sustainable for the rest of my life."
She takes a deep breath, then lets out the air. "I've never actually said that out loud."
---
ON AUG. 10, 2012, Wambach awoke in London, the proud new owner of an Olympic gold medal -- her second. One of the first things she said to Huffman? "Well, this is great, but I want to win the World Cup."
The World Cup seems to represent a wholeness of some sort, as if the golden trophy could be melted down to fill all the crevices Wambach's soccer life has created, all of the ordinary moments that were missed while she was busy devoting herself to the game. She isn't sure how many more years she will play, although the 2016 Olympics in Brazil are probably a safe bet. She just knows how she wants to go out. "In order for me to feel -- and of course I don't know how things will go -- but in order for me to feel whole about the complexities of the life I live," Wambach says, "whether it be the fitness, the pressure, the nutrition, the daily sacrifice, all of that, it will be a lot easier for me to understand if I go off into retirement with a World Cup title."
The only other title she failed to win was a state championship in high school. Her oldest sister, Beth, had won a state title in basketball before moving on to play for Harvard. And every time Abby walked into the gym at Our Lady of Mercy -- a private, all-girls Catholic school in Rochester -- she saw her sister's name on a banner on the wall, and she wanted her name up there, too. (In many ways, Wambach is a composite of her two sisters, intensely driven on the one hand, free-spirited on the other. With 13 years difference between them, Beth was away at medical school by the time Abby reached junior high. Laura, who is 10 years older but came back to live at home after college, spent a semester at sea and lived in Japan for a few years before becoming a teacher.)
In Wambach's senior year, her soccer team was up big in the state final, winning 3-0 with 19 minutes remaining. But then Our Lady of Mercy self-destructed, eventually losing in overtime. "That was crushing for me," Wambach says. "My first real taste of failure. Usually it's the things that hurt, when I think I've failed -- those are the moments in life that have pushed me toward being successful."
As the years have passed, as Wambach has collected gold medals and scoring records and seen her jersey hung in her high school gymnasium, the sting of her teenage failure has faded and morphed into a running joke: That damned elusive state title!
But the World Cup looms much larger. Whether the U.S. wins or loses, Huffman says the quest is probably something she and Wambach will talk about for the rest of their lives. She pauses, then adds, "I don't know if not winning a World Cup will ever become a joke like not winning a state title has become."
Wambach watched the 1999 Women's World Cup final from her apartment in Gainesville. She had just started thinking about the possibility of playing soccer professionally, and her introduction was seeing 90,000 people inside the Rose Bowl going crazy as the U.S. defeated China on penalty kicks.
Two years later, in 2001, Wambach was called up to the U.S. national team, playing with a kind of fevered passion that caught the attention of the team's veterans. Yes, she talked a blue streak. They also noticed she needed to learn how to get her body to kick ass the way her mind wanted to. But that was an easier problem to solve than the reverse. Says Foudy, now an ESPN analyst: "Abby lives this great, passionate life, and sometimes she is going to fall. But she would rather die trying than live on her knees."
The coffee is almost gone, but Wambach isn't out of words just yet. The conversation has circled back to the World Cup, the thing she covets most. "It really does give me chills," she says. "It's a heavy burden to look up at the mountain and want to start the climb. You know, it's the first step, so they say. It will, I hope, naturally just come. It always has. I've been in the valley the last year or so ..."
She pauses and raises her hand, as if measuring someone taller than herself. "And when you're up here as an athlete -- I've been there -- you're on air and everything is easy. The ego can get lost in the stars. And you start to believe that the light needs to be that bright to keep you happy. But that's just not real. It's not real. The fire has to be turned down most of the time, and then, little by little, you increase the gas you put on the fire so that the flame can burn bright as you get closer to the pinnacle. For me, that pinnacle is the World Cup, and during that time, you're fed with Twitter, with people loving everything you're doing. Or not loving it. If you score a goal, that is clear, concise, measurable validation. In the real world, though, you don't have that, so once it's over, you have to find different things that make you tick, that move you."
The Portland home she shares with Huffman is one such place. The view from their patio is a panorama of Beaverton, and the house itself is nestled into the hillside, framed with green trees. The roads from the valley to the top are steep and winding, not unlike the soccer paths Wambach has traveled again and again.
But these roads that lead home, she is still getting to know.
Follow ESPN Reader on Twitter: @ESPN_Reader
Join the conversation about "After The Storm."