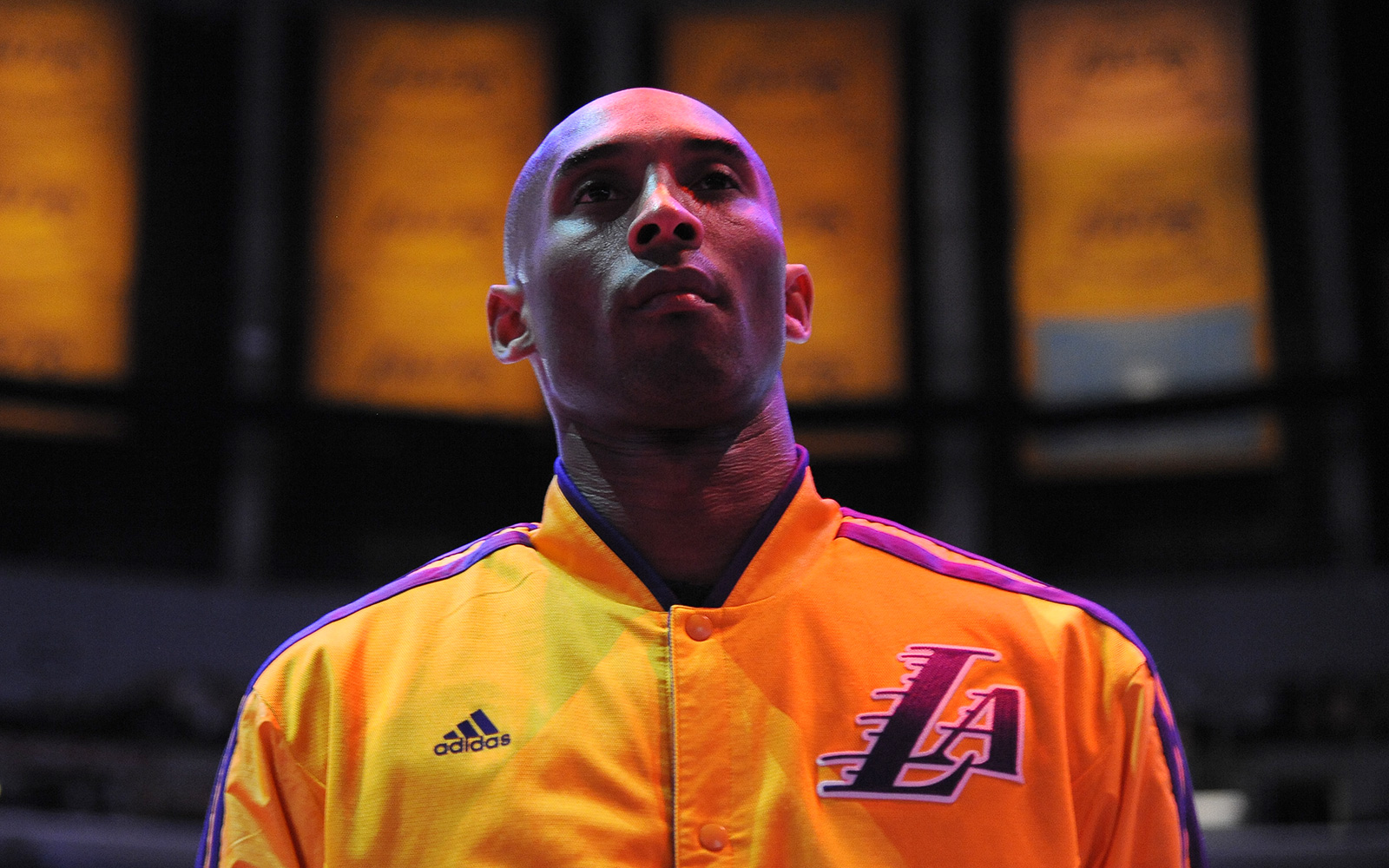 KOBE
He is arguably the greatest player in the history of the Lakers' franchise. He is also destroying it from within.
NOT LONG AFTER the final horn of Game 7 of the 2010 Finals, Champagne-soaked Lakers captain Derek Fisher, who carries a reputation as an NBA stoic, screamed with glee. "We just gettin' started, baby!" he bellowed from beneath his freshly minted back-to-back-title cap. In case anyone missed it, he hollered again. "We just gettin' started, bay-beeee!"
It wasn't merely the bubbly talking. The Lakers had, by most measures, the best coach and owner in history. They started a legend at shooting guard in 31-year-old Kobe Bryant, along with All-Star Pau Gasol and future All-Star Andrew Bynum. Everyone's ages and contracts implied the team could keep right on winning -- more or less as the Lakers always had. That year, John Hollinger rated LA the NBA's top franchise, writing on ESPN.com: "When it comes to superstars, the Lakers are so far out in front of everybody else it's not even funny."
Fisher looked at the Lakers then as we all did: From Wilt to Kareem to Shaq to Pau, they were the team that could always pull one more star out of the hat. But since the night of Fisher's explosive delight, the squad's most stunning trick has been in how completely and quickly it turned the NBA's show-pony franchise into a goat, ranked 28th in ESPN's most recent Future Power Rankings. Four years, five coaches, three early playoff flameouts, two key departed big men, one celebrated owner deceased. The Lakers have been in near free fall.
It would seem that the only connection fans have to the Lakers' title tradition is Bryant, the man who helped make the franchise one of the most popular brands in sports. Now 36, he's a lock to have his statue outside Staples Center someday. He's the reason celebrities line up 10 deep inside. He's also, say sources both in and around the Lakers' organization, the primary reason the team has fallen so mightily.
For years the Lakers lived by the Mamba. This is the story of how they're dying by him.
LAKERS GM MITCH KUPCHAK knew he had work to do. In the afterglow of that 2010 title, as Fisher played town crier in the bowels of Staples Center, Kupchak was game-planning the future. A 60-year-old Lakers lifer and a member of the team's front office since 1986, Kupchak keeps a studiously low profile but is a savvy veteran of the politics that come with his position. And he knew then that for all that glittered around the Lakers, mere actuarial tables dictated that a day would come when they would need their next superstar. Bryant, a monomaniacal beast, had forced his body through untold workouts, rehabs, surgeries and medical innovations. But time is a bastard; even Kobe could not make it stand still. So Kupchak wanted to be ready with options whenever Lakers owner Jerry Buss declared it was time to pass the torch from Bryant.
Kupchak knew how the dance was done. With maybe a dozen true basketball superstars on the planet, and 30 teams vying for them, the operating principle of your typical rebuilding NBA team is to pray for the miracle of landing a superstar. For the Lakers, though, that math has long been different. Better.
Consider how they acquired Bryant. In 1996, the Lakers had determined that the brash high schooler with the Italian upbringing was the jewel of the draft. Still, they didn't have a draft pick anywhere near high enough to get him. So they did what they've always done and exploited the fact that they have a legendary franchise in a city that works miracles for the lifestyles and incomes of players and their agents. Whereas Bryant flew to LA for a private predraft workout to ensure that Jerry West and the Lakers were aware of his skills, he refused to show his stuff to small-market teams like the Charlotte Hornets. Arn Tellem, his agent at the time, made it clear that Bryant didn't want to play in a small market. Combined with Bryant's lack of college pedigree, it was enough to scare off many teams, and a deal was ultimately worked out: The Hornets would take Bryant with the 13th pick and trade him to LA for proven center Vlade Divac.
The Lakers had their man.
It's a common story: The best players have always pulled every string they can to get to LA, from Kareem Abdul-Jabbar to Magic Johnson to Shaquille O'Neal. And so four years ago, the Lakers' plan was to unlock the door to Staples Center and let the NBA's talent vie for the right to don the purple and gold. By 2012, executive VP Jim Buss made clear that the preferred avenue by which those stars would arrive was 2014 free agency. "We put everything to that," Buss told the Orange County Register's Kevin Ding. "And we want to make a big splash in the free agent market if we get to that spot. So we designed the contracts and the players and our future all around that." Kupchak would have several of the team's contracts end at the same time that players like LeBron James and Paul George were due to become free agents. Until then, he would be aggressive with a plan to trade for the cornerstones of a next generation, talents like Chris Paul and Dwight Howard. For good measure, the team would retain its pick in the celebrated 2014 draft. The Lakers would have a chance to draft a superstar, the assets to get one or two by trade or the cap room to lure one or two players with max contracts in the summer of 2014 or 2015.
"They have probably been planning for their next phase for a while," a rival GM told ESPN's Brian Windhorst. "The Busses and Mitch are always thinking about the next big deal."
Then came the troubles. After coach Phil Jackson's departure in 2011, the Lakers' winning percentage began a slide (.695 to .621 to .549) that would end in a crater (.329). And when LA sent out feelers in the run-up to 2014 free agency, the feedback came in the form of crickets. LeBron, approached first, was unreachable. When the Lakers turned their attention to George -- a rising star who grew up in LA County idolizing Bryant -- he re-upped with the Pacers. So the Lakers kept spinning their lazy Susan of free agent superstar dreams. Kevin Love? Carmelo Anthony? Chris Bosh? Not one would take the Lakers' money -- or fight his way to LA. Kupchak, rather presciently, began preparing fans for the idea that the cap space of the upcoming years might not result in a big name, telling ESPN's Colin Cowherd in late 2013, "I don't know if we'll get a star player," while pointing out that there are "a lot of things you can do with cap room" besides sign a big name.
It seemed something -- or someone -- was scuttling the Lakers' quest for a future franchise talent.
---
REMEMBER RAMON SESSIONS? In the spring of 2012, after a trade from Cleveland, the pick-and-roll specialist was briefly the toast of LA, widely hailed as the post-Fisher point guard needed to steady the Lakers' ship. Sessions filled the role admirably, for a stretch, before a poor playoff performance. If you haven't heard his name in a while it's because when faced with the option of returning to the Lakers, quite possibly as a starter, he declined.
The deal Sessions signed instead was longer, and therefore came with more job security. But it was to back up Kemba Walker on the Bobcats, who were coming off literally the worst season in league history. Sessions has been somewhat evasive as to why, but he has been quoted as saying it was "definitely different" playing with Bryant. Internally, the Lakers were rattled by his departure and came to believe that Kobe was the key. It meant little as a transaction but everything as a sign of how players with options view this team.
"Peek behind the banners," says one longtime NBA agent, "and it's rotten."
"Kobe is like the big rock in their front yard," says an agent who has had a Lakers client in recent years. "You can't mow over it, so you just have to mow around it."
Another agent with current Lakers clients was asked whether Bryant undermined the team's rebuilding by alienating would-be free agent recruits. "Well, duh," he replied. "Isn't that obvious?"
text
IF ONE COMMON denominator has persisted throughout Bryant's tenure with the Lakers, it is this: The blame lands elsewhere, and usually with teammates. O'Neal -- at times a mentor to Bryant, at other times freestyle-rapping to a packed club in Manhattan, "Yo, Kobe, tell me how my ass taste" -- is one in a long line of Bryant's teammates who've struggled to stick to a single script in describing the singular man. Bynum, Gasol and Howard have each been at turns coy, reticent, warm or biting. And, in turn, each has taken massive doses of blame in the media without Bryant meaningfully coming to their rescue.
"I've had a lot of clients who didn't want to play with Kobe."
- Prominent NBA agent
"I've had a lot of clients in the last five years, good players, who didn't want to play with Kobe," says an agent who has had numerous NBA stars. "They see that his teammates become the chronic public whipping boys. Anyone who could possibly challenge Kobe for the spotlight ends up becoming a pincushion for the media. Even Shaq."
Sometimes the words come straight from Bryant's mouth, like when Bryant told Jim Gray in 2003 that O'Neal -- a perennial MVP candidate and repeat champion -- was "fat and out of shape" and intimated that Shaq threatened to play defense only when the offense suited him. More often, Bryant sidekicks have been assailed by stories attributed to "sources" on the team. Bryant-as-truth-teller is how it's typically framed, but few around the NBA see it that way. More common is the assessment that he undermines anyone who threatens his supremacy. One Lakers insider remembers a time in 2012 when Bynum -- about a year after declaring that the Lakers had on-court "trust issues" -- was due for a contract extension: "Andrew's question in contract talks was: 'How are you going to rein in Kobe?' We couldn't give direct answers. My immediate thought was, Well, he doesn't want to play with Kobe if we can't answer that question."
"I just never felt like the Lakers put as much effort into the building-the-team part of it," says an agent who once had a free agent decline a Lakers offer. "I saw some things in the players' parking lot. Conversations between Bynum and his people and some people with the Lakers. It got pretty rough and heated."
"It's horrendous. It's evil. It's a hard drug to quit when you're winning," says a front office executive from a rival team who knows everyone involved well. "Kobe has cost the Lakers dearly in human capital. Kobe has hurt a lot of people. In some cases jeopardized careers."
---
IN JULY 2013, after one tumultuous season in LA, Dwight Howard had reached free agency with a flood of carefully arranged meetings with the Rockets, Hawks, Mavericks, Warriors and Lakers. For the Lakers, it was a dry run for the 2014 recruiting game. Could they persuade a major star to stay with Bryant?
The Lakers meeting took place in Beverly Hills on July 2 in the modernist, windowless conference room at Relativity Media -- the offices of Howard's agent. Kupchak, Howard's closest ally on the team, prepped the Lakers' pitch. One big point: Listen carefully. Another: Dress appropriately. "Our approach," a Lakers source explained at the time, "is that we are interviewing for the job. We want to show that this is a place his dreams can come true."
As the Lakers' contingent settled into the conference room's ergonomic chairs, it was clear that two-time MVP point guard Steve Nash, in a nice crisp shirt, listening attentively, was running Kupchak's game plan. But Bryant showed up, according to a person in the room, in "hoops shorts, a T-shirt and a gold chain." He had also packed an attitude.
When Howard asked why his teammates let the injured center take all the flak when the Lakers' season went south, Nash said he didn't know that Howard had felt that way and that had he known, he would have acted differently. Bryant, on the other hand, offered a crash course in developing thick skin and a mini lecture on learning how to win. Sources told ESPN Insider Chris Broussard that Bryant's lecture was "a complete turnoff" for Howard.
"It wasn't an easy meeting to be involved in," Kupchak later said on Cowherd's radio show. "And I decline to go into great detail." Howard shortly thereafter chose to leave for the Rockets, even though it cost him roughly $30 million in guaranteed salary.
The story of the Lakers' losing Howard has been told as one of the big man chafing under Mike D'Antoni's offense. One Lakers source, though, says Howard's issue wasn't really with the offensive scheme but that "he saw one particular player play outside that scheme with carte blanche, with no accountability. These people who say Dwight couldn't handle the pressure of Los Angeles ... that's nonsense. LA was everything Dwight wanted. To be celebrated. To be among stars. To be among women of this caliber. To live, basically, in one big reality TV show. This was a perfect setting for him."
Bryant, who declined through a Lakers spokesman to comment for this story, playfully grumbles about today's youth and their newfangled ways, but there really is an element to his play that is from the past. By the old points-per-game measure, he was not just a perennial All-Star but one of the best players ever. But the league has changed around Bryant, and swiftly. The movement of people and the ball, 3s, rim attacks, coordinated defensive effort and generating open shots for teammates are what's winning now. Subsuming ego and glorifying teammates is a winning NBA strategy, and it's what D'Antoni and Nash attempted to bring to the Lakers.
After his first year with Bryant, Nash couldn't hide his disappointment when talking to Grantland's Zach Lowe: "I think it'd be nice to find a middle ground where he does his thing but the ball still can move for great parts of the game. ... But I knew it wasn't going to be the same. When you play with Kobe Bryant, the ball is gonna be with him most of the time."
Or it will be, at least, until he shoots it. Bryant has fired away for nearly two decades. He's fourth on the NBA's all-time scoring list, trailing only Kareem, Karl Malone and Michael Jordan. He's also just a few weeks' play from setting an all-time league record for misses. "The problem is, he's just not as good as he thinks he is," says one source in the Lakers' inner circle. "He's just not as efficient as he thinks he is. If he had the other intangibles, like LeBron, or if he was any kind of different person, it would have been easy for us to attract talent, retain it and win."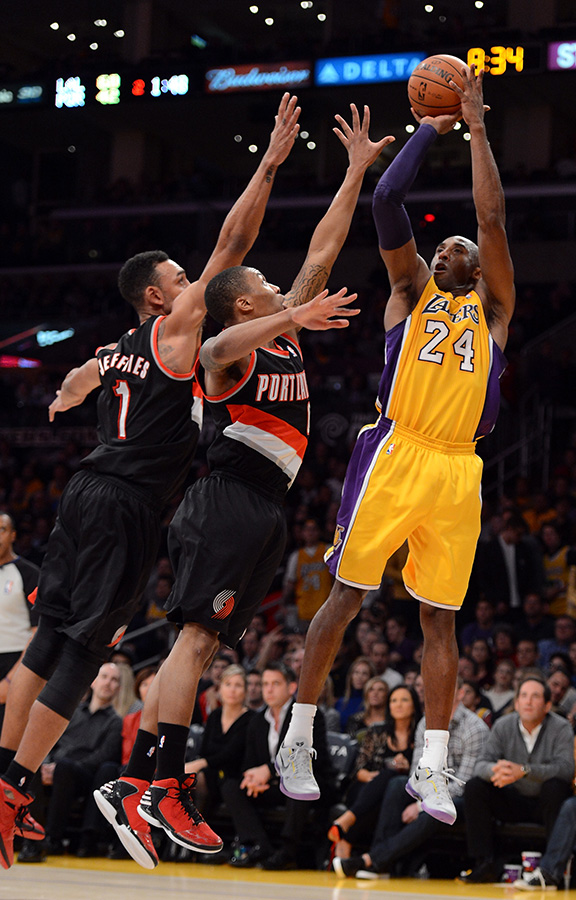 SO WHY LAST November did the Lakers, knowing all this, extend Bryant's contract two more years? Why not declare victory and walk away from the quagmire of late-stage Bryant? To answer that, we must first understand the predicament of the Lakers' executive VP of player personnel, Jim Buss -- a man who earned final say over basketball decisions because his father, Jerry Buss, bequeathed it to him upon his death in 2013.
A bequeathal is nice, yet there will always be challenges to his power. For years, a who's who of the NBA world have taken cheap shots at Jim. In 2005, columnist Peter Vecsey introduced the younger Buss to the public, in the pages of the New York Post, as a "professional party animal." On ESPN, Magic Johnson once said that he loved Jerry Buss but added, "I don't believe in Jim Buss." He has also discussed Jim's "critical mistakes" in running the team.
Then there's Phil Jackson. By 2011, he was the departing coach of the Lakers, a colleague of Jim's in the upper reaches of the Lakers and, of course, quasi family by nature of his long-term relationship with Jim's sister Jeanie. But when Jackson was leaving the Lakers, he told reporters, "I haven't spoken to Jimmy Buss this year. As far as management, if you want to call it that, there's really not a relationship." Jim, meanwhile, has said he considers Phil "family." If you want to call it that. Jeanie has talked of the "betrayal" she felt when D'Antoni was hired instead of Jackson seven games into the 2012-13 season.
"When you play with Kobe Bryant, the ball is gonna be with him most of the time."
- Steve Nash
Fair or not, the effect of these comments has been to give Jim precious little credibility in the eyes of Lakers fans. Here the legacy of his father looms large. Famed for consorting with teenagers, partying and gambling, the Lakers' patriarch was not known for following rules. But as Magic made clear to reporters in the early days of the Shaq-Kobe feud, Jerry Buss had a certain way of doing things: "Our whole organization has been built on the fact that we've always taken care of our own. We've never aired our dirty laundry."
That's how it used to be done, anyway, before Jackson and Bryant changed the MO. Jim is one of the last remaining Lakers who still follow his father's rule. Jackson may snipe at Buss, but Buss won't snipe back, or at any other Laker. Meanwhile, Bryant is more than willing to give the front office a public tongue-lashing if it suits his needs.
All of which set up Jim to be timid with Bryant. Even as many of his closest advisers insisted the right move was to kiss Bryant goodbye via the amnesty clause -- the cash savings alone would have been north of $70 million, by some estimates -- Buss, sources say, had no appetite for picking a fight with the Mamba, or for the damage to his reputation it might cause.
There were also business rationales to keeping Bryant. The first is that the Lakers are the opposite of a typical NBA team, as a business. Yes, they have more revenue. But they require tons more because the Lakers are the family business. In most ownership groups, nobody is relying on the team as the prime revenue stream; the team is the high-risk end of a much bigger portfolio. In LA, the team is the linchpin supporting six heirs.
And there is no more important income than the 20-year, $3 billion Time Warner deal to broadcast Lakers games locally. One well-placed source who has reviewed Lakers team finances says the Lakers' annual income from that deal hinges on ratings, which tend to go up when Bryant is on the court. If the team had jettisoned Bryant and tanked the past season in the name of a high 2014 draft pick, the resulting low ratings would have smacked the business of the Lakers hard.
That's presumably part of the reason Kupchak has been outspokenly anti-tanking; his bosses won't tell him to outright tank because tanking costs them a fortune. Meanwhile, it's not as if Bryant didn't have his supporters. Lakers season-ticket holders are a who's who of power brokers and celebrities, and in what one Lakers insider believes was a coordinated effort, many called Jim to make clear they expected him to bring Bryant back.
And so it was that Jim resolved to skip a public battle with Bryant by signing him early. The younger Buss also "didn't want contract negotiations to go public," according to a source. And in getting it done smoothly, the idea was that Jim could appear "magnanimous and loyal," like his father, who made waves by giving Magic and Shaq eye-poppingly huge deals.
The Lakers take care of their own. "This is Jim's way of providing a parting gift," says a source with knowledge of the negotiations.
Meanwhile, merely keeping Bryant around would, paradoxically, help them say goodbye to him later with less fuss. "This allows fans to come to grips with the reality that they cannot keep winning with him," says the source. "Jim can part ways with Kobe without being seen as betraying him. When he stops playing at a high level, you can begin the transition."
Conspiracy theorists might note Kupchak's odd quote in the team press release at the time of Bryant's extension, which seemed to leave little wiggle room for another deal after this one: "We've said all along that our priority and hope was to have Kobe finish his career as a Laker, and this should ensure that that happens. To play 20 years in the NBA, and to do so with the same team, is unprecedented, and quite an accomplishment." And although Kupchak declined through a Lakers spokesman to comment for this story, he has ever-so-subtly made clear that he didn't dream up Bryant's deal, telling the Los Angeles Times: "It's been ownership's position that he deserved every penny, or will deserve every penny of that extension."
text
Garrett Ellwood/NBAE/Getty Images
SO DID KOBE BRYANT deserve the extension? And if not, why give it? The answer might lie in yet another question: Is it possible the Lakers felt free to squander cap space on the contract because there was no point in having cap space? When you can't even bribe players to play with Kobe Bryant, what's the point in bribe money? As one rival front office executive says: "I'm sure Mitch already investigated and found out he didn't need two max slots because the destination isn't all that attractive until Kobe has completely left the premises."
"Mitch did his homework," says another NBA exec. "He can't get a marquee player to play alongside Kobe, cap space be damned." As several agents around the league said, it's tough, after so many failed attempts, to convince any player that they'll love playing with Bryant.
"He wants to win, but only as long as he's the reason we're winning."
- Source close to the Lakers
"He wants to win," says a source close to Lakers decision makers. "But only as long as he's the reason we're winning, as long as the performance is not affecting his numbers. No one works harder than Kobe. And no one sabotages his own efforts more. He's scaring off the free agents we're trying to get. We're trying to surround you with talent and your ego is getting in the way."
It's no wonder, then, that the Lakers' summer of 2014 free agency fizzled. Just a few years ago, the NBA whisper network was thick with the notion that LeBron was destined to be the next hero of purple and gold. But when James hit the free agent market, the Lakers' talks with James' agent, Rich Paul, failed to even materialize in a sit-down meeting with the star.
After James, Carmelo Anthony was high on the Lakers' list. And the particular way that recruitment was botched -- Bryant made news by flying home from Europe, but somehow wires got crossed and he missed the meeting anyway -- reminded Lakers insiders of the manner in which he nearly alienated Steve Nash in 2012. In the days before LA acquired Nash, sources say, the point guard wanted to hear from Bryant that the Lakers' star was amenable to having Nash control the ball much of the time -- a key tenet of the D'Antoni offense from the Suns days. When Lakers brass asked Bryant to call Nash, Bryant failed to do so, saying he preferred that Nash call him. The pettiness took days to resolve and nearly scuttled the deal.
While the Lakers were going after Anthony in vain, they quietly pursued Chris Bosh as well, but he preferred the carcass of the Heat. Paul George, Angelino through and through, had once been the team's safest choice. But sources say one reason the two-way star had re-signed with the Pacers in the fall of 2013 instead was that he was turned off by the thought that Bryant would police his efforts.
And so it is today that the Lakers' faithful strain to envision titles with a rejuvenated Bryant supported by Jeremy Lin, rookie Julius Randle and journeyman bigs Jordan Hill and Ed Davis. The view in the Lakers' front office is that any real rebuild will have to wait until after Bryant's retirement. "This has finally come home," says a Lakers insider. "Major players don't want to play with Kobe, and Jimmy is waiting for him to leave.
"It's like the wedding of a child to someone you do not approve of," adds the source about the Lakers' view of Bryant. "If you can't stop it, you simply go through the motions."
About the best you can do is hope it will all be over soon.
Follow ESPN Reader on Twitter: @ESPN_Reader
Join the conversation about "KOBE."