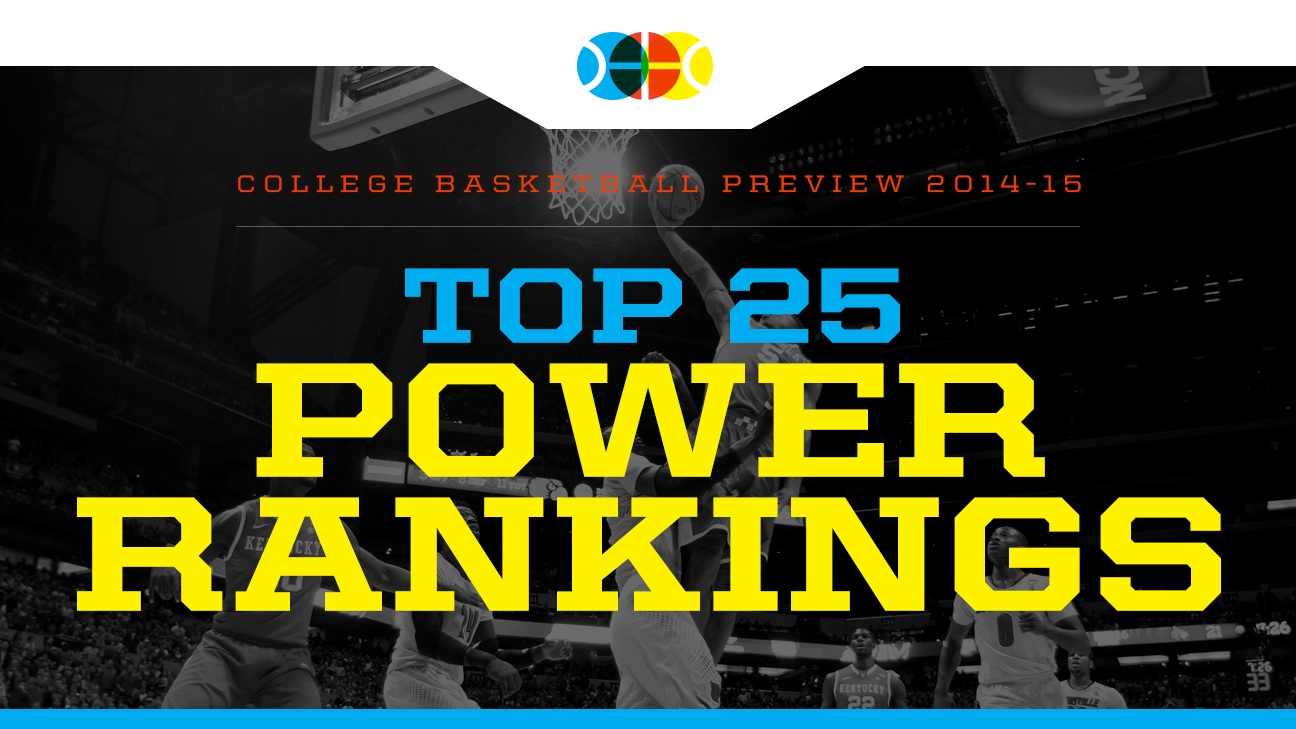 College Basketball Preview: Top 25 Power Rankings
College Basketball Preview: Top 25 Power Rankings
Wildcats
Kentucky
Just look at all that talent
By Eamonn Brennan | ESPN.com
1
Joe Lunardi's projected tourney seed
65%
Returning minutes
John Calipari almost seemed relieved. Facing the sudden end of a simultaneously exasperating and thrilling season, still damp from his postgame shower in the AT&T Stadium locker rooms, Calipari was talking, for the 14,000th time, about just how young his ultra-talented national runners-up were. He was proud of them. He also looked exhausted.
"I've never coached a team this young," Calipari said. "Never. Hope I don't ever again. I think all these kids are coming back, so we should be good."
It was supposed to be a joke. It doesn't seem so funny now.
This spring, these kids (save Julius Randle and James Young) really did come back. Toss in another star-studded recruiting class, and the 2014-15 Wildcats aren't just the most talented team in the country: They have 10 starters (and nine McDonald's All-Americans) for five positions, plenty of experience, and the obvious national title pole position as a result.
Calipari isn't talking about youth these days. He's too busy test-driving his mad-genius platoon idea . Will it work? Who knows? The fun part -- for Calipari, and for the rest of us -- will be finding out.
1
Joe Lunardi's projected tourney seed
65%
Returning minutes
JAY BILAS' BEST CASE
John Calipari's platoon system -- he has two six-man units that could each be ranked in the Top 25 -- works so well that it becomes a new paradigm in college basketball. All 12 guys buy in, go full speed for short stints and play for each other, rather than for draft status. The reward is a national championship -- and another selling point for Coach Cal to use on future recruits.
AND WORST CASE
Equal playing time leads to equal frustration among 12 players with grand ambitions. In committing to the platoon, Cal doesn't allow himself the flexibility to make situational substitutions, which hurts the team in close games, and the Harrison twins struggle to find their rhythm in fewer minutes. Depth goes from being a strength to a weakness, and the Cats flame out early in the tourney.
Cal's teams hinge on being dialed in from deep, which explains last year's tale of two seasons. Finding a threat to replace SG James Young (2.1 3s per game) is critical. -- Eamonn Brennan and John Gasaway
Wildcats
Arizona
So many pieces, so many options
By Myron Medcalf | ESPN.com
1
Joe Lunardi's projected NCAA tourney seed
65%
Returning minutes
Coach Sean Miller has the bodies to play with any team in the country because he possesses a fleet of big athletes. But Miller's roster also boasts a unique element. Stanley Johnson's arrival and the first-year big man's ability to play multiple positions will allow Miller to shift between bigger and smaller lineups, when prudent, throughout the season.
Johnson is a 6-foot-7, 230-pound wing who had 6.7 percent body fat the day he arrived in Tucson. He's a genetic freak with the speed to play shooting guard and small forward but the brawn and power to thrive on the inside. Johnson's inclusion gives Miller options that he lacked last year. He could go with a traditional lineup that features T.J. McConnell, Gabe York, Johnson or Rondae Hollis-Jefferson, Brandon Ashley and Kaleb Tarczewksi. But what if he wants to step outside the box or even smash the box?
Miller could roll with McConnell, Johnson at shooting guard, Hollis-Jefferson at the 3-spot, Ashley and Tarczewski. If Arizona faces a quicker, shifty opponent, he could use a McConnell/York/Hollis-Jefferson/ Johnson/Ashley arrangement. The bottom line is that the Wildcats are not only huge (7-footer Dusan Ristic and 6-7 Craig Victor will come off the bench), they're adaptable.
1
Joe Lunardi's projected NCAA tourney seed
65%
Returning minutes
JAY BILAS' BEST CASE
Freshman F Stanley Johnson proves to be more effective than Aaron Gordon was -- particularly on offense. He teams with Rondae Hollis-Jefferson, Kaleb Tarczewski and Brandon Ashley to form a deep, big frontcourt, while T.J. McConnell provides great leadership at the point. Coach Sean Miller finally leads his team past the Elite Eight, and it challenges for a title.
AND WORST CASE
Nobody fills the void Nick Johnson left at shooting guard and as a clutch scorer. A lack of veteran leadership keeps the team from title-level chemistry, and the offense continues long stretches of inefficiency. Once again, the Wildcats knock on the Final Four door but fail to kick it down
Last year Zona's D forced more 2-point J's -- the game's least efficient shot -- than anyone else. But can the Cats repeat without top defenders Gordon and Johnson? -- Eamonn Brennan and John Gasaway
Badgers
Wisconsin
One step taken, ready for the next?
By Dana O'Neil | ESPN.com
1
Joe Lunardi's projected NCAA tourney seed
82%
Returning minutes
Once they were able to physically move, to leave the court where time and even worse, the scoreboard, stood frozen, the Wisconsin basketball players made their vow.
It may have taken Bo Ryan 13 years to reach his first Final Four. His Badgers have no intention of making him wait for his second trip.
Wisconsin lost a shot at the national title game in an epically painful way. The Badgers were 17-for-17 at the free-throw line -- until Traevon Jackson missed the first of three with 16 seconds left. Kentucky's Aaron Harrison didn't hit a 3-pointer all night -- until he sank the game-winner.
It is the stuff that nightmares are made of, or, in Wisconsin's case, a vow to return.
Staging a comeback after a bitter defeat is a favorite sports storyline. Wisconsin is actually built to tell the tale. The Badgers return four starters, anchored by Frank Kaminsky and Sam Dekker, and seven of their eight-man rotation. In all, more than 80 percent of Wisconsin's offense returns, which will make the Badgers a hot pick to reach yet another Final Four.
Of course, to the Badgers, it won't be enough to just go back. They promised to go further.
1
Joe Lunardi's projected NCAA tourney seed
82%
Returning minutes
JAY BILAS' BEST CASE
Coach Bo Ryan uses last year's Final Four appearance as a springboard for an even better squad. PF Frank Kaminsky becomes Big Ten POY, and SF Sam Dekker (12.4 ppg) joins him on the All-Big Ten team to form the best frontcourt tandem in America. And, of course, Wisconsin continues to appear allergic to mistakes.
AND WORST CASE
The Badgers don't get anticipated improvement from forwards Duje Dukan and Nigel Hayes, and SG Josh Gasser doesn't bounce back as expected in his second season following knee surgery. The Badgers struggle to rebound and aren't able to stay in front of the ball on D, causing them to lose a fair number of shootouts.
The Badgers will score on anyone, but last season's defense was the most permissive Madison has seen in years. With the bulk of the roster back, can Ryan engineer any improvement from his players? -- Eamonn Brennan and John Gasaway
Blue Devils
Duke
Going with a different approach
By C.L. Brown | ESPN.com
1
Joe Lunardi's projected NCAA tourney seed
47%
Returning minutes
The Blue Devils will look nothing like the team that got bounced by Mercer in the NCAA tournament. Last season, they were overly reliant on perimeter shooting -- as evidenced by the 37 3-point attempts and only 10 points in the paint against Mercer.
Jahlil Okafor will help change that this season. The freshman center ranked No. 1 in the class of 2014 by RecruitingNation will allow the Blue Devils to work inside-out. Since arriving on campus, Okafor has already re-shaped his body, trimming fat and adding muscle. His work ethic prompted senior guard Quinn Cook to say Okafor, "plays like he's trying to make the team."
Okafor is the biggest element of what could be a youth movement in Durham. Cook is the lone senior in the rotation. The Blue Devils' recruiting class, also ranked No. 1 overall, could put as many as three players in the starting lineup.
Early speculation held that Cook would be the odd man out of the starting lineup with the arrival of freshman point guard Tyus Jones. But Cook used his summer wisely too, improving and showing consistency. Now, don't be surprised if Jones and Cook both start in the backcourt.
Freshman Justise Winslow will challenge junior Rasheed Sulaimon, who played some point guard last season, at small forward.
The freshmen class, which also includes guard Grayson Allen, will allow Duke a more balanced approach in 2014-15.
2
Joe Lunardi's projected NCAA tourney seed
47%
Returning minutes
JAY BILAS' BEST CASE
Coach K, more motivated than ever after two early exits in three years, gets his nine McDonald's All-Americans to defend as one. Duke runs its offense through top recruit C Jahlil Okafor, who becomes national POY, and guards Rasheed Sulaimon, Tyus Jones and Quinn Cook pressure the ball to force more turnovers.
AND WORST CASE
The Duke defense resembles last season's mediocre unit, which ranked outside the top 100 in efficiency and was shredded by Mercer in the NCAA tourney. The abundance of talent causes unspoken, petty jealousies -- which have been rare at Duke -- and keeps the Blue Devils from reaching their potential.
Last season's interior D was dreadful, and it showed in March. This year Okafor must provide that missing rim protection. -- Eamonn Brennan and John Gasway
Jayhawks
Kansas
Reloading after a 'down' year?
By Eamonn Brennan | ESPN.com
2
Joe Lunardi's projected NCAA tourney seed
52%
Returning minutes
If there is such a thing as a down season at Kansas -- and when you're working on a decade of consecutive Big 12 regular season titles, there isn't -- the 2013-14 season was it.
Oh, Bill Self's team still won the Big 12. Don't be silly. It also saw two players -- Andrew Wiggins and Joel Embiid -- chosen in the first three picks of the NBA draft. Kansas's talent could be stunning. But compared to Self's usual blend of talent, experience, role players and stars, the whole never looked as polished.
What changed? Youth. The 2013-14 Jayhawks were Self's youngest team ever, and the fourth-youngest (behind only Kentucky, Howard and Evansville) in all of Division I. They looked it.
These Jayhawks are still young. But the blend Self has now -- from returners like Wayne Selden and Perry Ellis to newcomers like transfer center Hunter Mickelson and freshman phenom Cliff Alexander, to a less turnover-prone, rangier backcourt -- is subtly balanced in all the ways Self's best teams always are.
It's less an overhaul than a familiar series of corrective tweaks. Classic Kansas never really went away. But it's back now, all the same.
2
Joe Lunardi's projected NCAA tourney seed
52%
Returning minutes
JAY BILAS' BEST CASE
No longer built to dominate the greenroom, Kansas proves tougher on D and dominates the tourney instead. Frank Mason III and Devonte Graham solidify the point, allowing SG Wayne Selden Jr. and F Perry Ellis to score and frosh F Cliff Alexander to grab boards.
AND WORST CASE
Without Joel Embiid, rim protection is a huge issue, and Kansas gets burned off the dribble. Neither Mason nor Graham offers consistency, and with less talent than last year's 25-win squad, Bill Self misses his first Big 12 title in 10 years.
Can Kansas win it all with two high-TO guards? If Mason (19.3 percent last season) and Selden (20.3) don't take better care of the ball, it won't bode well for the team come March. -- Eamonn Brennan and John Gasaway
Tarheels
UNC
Will calm follow the storm?
By C.L. Brown | ESPN.com
2
Joe Lunardi's projected NCAA tourney seed
74%
Returning minutes
The Tar Heels haven't made it past the NCAA tournament's first weekend since their 2012 Elite Eight appearance. That should change this season with a team talented enough to be considered a Final Four contender.
The joke around Chapel Hill is Marcus Paige is on point even when he's off it. The junior guard will again see time at both guard spots and can take over a game with his offensive skills. His only challenge this season will be not waiting too long to do so. Paige scored in double figures 20 times in the second half last season -- including 12 games where he had four or fewer first-half points.
Sophomore Kennedy Meeks and junior Brice Johnson provided Carolina's best offensive punch in the post last season. James Michael McAdoo's early departure to the NBA opened up potential playing time for sophomore Isaiah Hicks, who spent last season out of position at small forward.
The wing position, where the Heels had no depth last season, could be a position of strength. Junior J.P. Tokoto closed out the season strong, totaling double figures in eight of his last 12 games. He'll be joined by freshmen Justin Jackson, a gifted scorer who could end up starting immediately; and Theo Pinson, who has shown a penchant for defensive toughness.
It all adds up to the most complete roster Roy Williams has had since 2012.
2
Joe Lunardi's projected NCAA tourney seed
74%
Returning minutes
JAY BILAS' BEST CASE
Marcus Paige (17.5 ppg) becomes the nation's best PG and leads the ACC in scoring. Big men Kennedy Meeks, now slim and sleek, and Isaiah Hicks blossom into mainstays. Freshmen Joel Berry II, Theo Pinson and Justin Jackson solve UNC's long-range shooting woes and help put the Tar Heels back atop the ACC.
AND WORST CASE
This summer's exhibition loss in the Bahamas proves a harbinger, not an outlier. The Heels continue last season's trend of poor shooting from the arc and the line, and opponents pack it in, zone it up and dare UNC to launch from deep.
Brice Johnson (10.3 ppg, 6.1 rpg) was UNC's most efficient PF but played just 19.4 mpg behind the now-departed James Michael McAdoo (30.1 mpg). Can he stay as productive with more burn? Eamonn Brennan and John Gasaway
Cardinals
Louisville
The big man decided to come back
By Dana O'Neil | ESPN.com
3
Joe Lunardi's projected NCAA tourney seed
56%
Returning minutes
The announcement came, as news tends to do these days, via Twitter: "Been on my mind heavy but I love the feeling of being a Louisville cardinal an (sic) I will be wearing this for the next yr."
And with those 140 characters, plus a nifty artist's drawing from the account of @monstatrezz, Louisville went from a potentially good team for the 2014-15 season to a potentially very good team.
Montrezl Harrell means that much, especially for this particular roster. Rick Pitino has more than enough perimeter options to choose from -- Wayne Blackshear, Terry Rozier, Chris Jones, plus a talented incoming freshman class -- but he needed a big man. He got an exceptional one, and better, a proven commodity.
Harrell, who surprisingly eschewed the NBA for one more year, averaged 14 points and eight rebounds for the Cardinals as a sophomore, tossing in 49 blocked shots for good measure.
Louisville still will hover on the outside edge of Final Four picks thanks to a few issues -- Jones has to get better with the basketball; Blackshear needs to assert himself more -- but if the Cards aren't a lock, they are certainly better than a longshot.
All thanks to 140 characters.
4
Joe Lunardi's projected NCAA tourney seed
56%
Returning minutes
JAY BILAS' BEST CASE
Chris Jones and Terry Rozier form the nation's most dynamic backcourt, and PF Montrezl Harrell adds to his 12 double-doubles from last season. G/F Wayne Blackshear finally plays with confidence and consistency, and the Cardinals win a new league's title for the third straight year.
AND WORST CASE
Disruptive D gets the Cards only so far. They still have to make shots, but instead, they fire up rocks from deep and can't make free throws. Blackshear's play is erratic; an athletic Harrell can't become a go-to scorer.
Without Russ Smith's efficient finishing -- 155 2-pointers last season -- the Cards' offense might not flow as smoothly. -- Eamonn Brennan and John Gasaway
Gators
Florida
Needing a Walker if they want to run
By Myron Medcalf | ESPN.com
2
Joe Lunardi's projected NCAA tourney seed
47%
Returning minutes
Chris Walker's freshman year was bizarre. He was stuck in academic purgatory for the majority of the season and once he was finally cleared to compete in early February, he barely played and provided minimal evidence that he deserved all the hype. Florida was rolling by the time Walker joined the team. The Gators were the best team in America and didn't really need him.
But now it's time to find out if Walker, ranked 12th in the 2013 recruiting class by RecruitingNation, was really worth the buzz. He's transitioning from freshman reserve to most-important-man-on-the-roster. Florida lost Patric Young, Casey Prather, Scottie Wilbekin and Will Yeguete from last season. Billy Donovan's team returns Kasey Hill, Michael Frazier II, Dorian Finney-Smith, plus it adds talented prospect Devin Robinson, but the program lost nearly 42 points per game when its talented crop of seniors left the building.
So Walker has to be a star, the star he was projected to be a year ago. He was once touted as a certain one-and-done following a prep career that ended with a McDonald's All-America game nod. He didn't really get the chance to justify that last year. But this season, he has to show the world that he's legit and help Florida fight for the SEC title that Kentucky has, according to many, already won.
2
Joe Lunardi's projected NCAA tourney seed
47%
Returning minutes
JAY BILAS' BEST CASE
Despite losing four starters from a tight-knit team, Florida displays the same frightening consistency that's been a hallmark for five years. Kasey Hill provides stability at the point, SG Michael Frazier II adds consistent perimeter scoring and forwards Dorian Finney-Smith and Chris Walker show their full range of skills.
AND WORST CASE
Talent and track record alone don't guarantee Gators success, and the players fail to buy into new roles as well as their predecessors did. Last season Florida won because of its unity; this year a me-first approach holds the Gators back.
Last season Frazier remained deadly accurate despite taking twice as many 3s as he did as a frosh. He'll have to carry an even heavier scoring load this year. -- Eamonn Brennan and John Gasaway
Cavaliers
Virginia
At the top ... now can they stay there?
By Dana O'Neil | ESPN.com
3
Joe Lunardi's projected NCAA tourney seed
71%
Returning minutes
They didn't necessarily blast Aretha Franklin at Virginia's home games last year; but they sure could have. That season was all about earning R-E-S-P-E-C-T for Tony Bennett's squad. You'd think that a run to the Sweet 16, the ACC regular-season and tournament crown would end the quest and silence the doubters, but nothing is that easy.
Respect in college basketball, in all sports, really, comes with consistent success. Believing, it turns out, requires more than just seeing. It mandates an endless loop of achievement.
Good thing for the Cavs, they've got what it takes this year to keep things rolling. Led by Malcolm Brogdon, who should make most preseason All-American ballots, and London Perrantes, Virginia has critical experience returning in the backcourt. Justin Anderson and Anthony Gill, so good off the bench for Bennett last year, are natural picks to slide into the starting lineup, giving the coach guys who have been around and been through the ACC.
The catch for Virginia is the same as it is for any team that finally comes into its own. Along with their withering defense, the Cavaliers weaved their way back into relevance with their hunger.
Will Virginia be as hungry now that it's tasted success?
3
Joe Lunardi's projected NCAA tourney seed
71%
Returning minutes
JAY BILAS' BEST CASE
The D remains stifling, with even more size and athleticism. London Perrantes becomes the ACC's most efficient point guard. G Malcolm Brogdon, last year's top scorer (12.7 ppg), takes up any slack that left with Joe Harris, and F Anthony Gill defends and rebounds. Instead of falling back after 30 W's, UVa's ascent continues.
AND WORST CASE
The losses of Harris and Akil Mitchell prove too much to overcome; their leadership and physical D are especially missed. Brogdon remains inefficient on pull-ups, and Virginia struggles from deep, leading to a good -- but not great -- season.
The Cavs lost their best defender and best shooter. Replacements Justin Anderson and Anthony Gill offer other strengths, but can they fit well into a unit fueled by cohesiveness? -- Eamonn Brennan and John Gasaway
Shockers
Wichita St
Ready to do something special ... again
By Eamonn Brennan | ESPN.com
2
Joe Lunardi's projected NCAA tourney seed
62%
Returning minutes
In March, as Wichita State rolled toward its record-setting 35-0 start, it faced a sudden and surprising backlash -- that this undefeated team wasn't that good, and didn't deserve a No. 1 seed, because its league was so very bad.
Those engaged in this line of thought failed to include a few meaningful data points. Chief among them: Wichita State's unbeaten ride through college basketball came on the heels of 2013's trip to the Final Four, where the Shockers were one bounce from knocking off eventual champ Louisville. Strangely enough, it took a dream-ending round of 32 loss to Kentucky -- a game so thrilling and well-played you couldn't help but come away impressed -- for Wichita State to solidify a consensus.
Ron Baker and Fred VanVleet require no further validation. Still, the Shockers may face a similar problem between January and March. The Missouri Valley Conference is a shell of the league that sent four teams to the tournament as recently as 2006. On Nov. 18, Wichita State travels to Sioux Falls, South Dakota, to play Memphis, the first test of a beefed-up, nonconference schedule. That's when the Shockers' unending quest for respect begins once more.
2
Joe Lunardi's projected NCAA tourney seed
62%
Returning minutes
JAY BILAS' BEST CASE
Fred VanVleet makes his case as the country's best point guard, G Tekele Cotton contends for defensive POY, and G Ron Baker improves on last year's 46 percent shooting. The long-armed F Darius Carter ably replaces Cleanthony Early, and the Shockers continue their culture of defense, rebounding and toughness, earning them a No. 2 seed in the tourney.
AND WORST CASE
Nobody fills Early's role, Baker's shooting (the prime target of opposing defenses) is off and VanVleet can't generate additional offense by himself. Or worse, everything goes right-until the selection committee gives the Shockers another near-impossible draw.
For seven years, the Shockers have been top 15 in defensive rebounding. But with Chadrack Lufile, Cleanthony Early and Kadeem Coleby gone, WSU could have a hard time grabbing boards. -- Eamonn Brennan and John Gasaway
Wildcats
Villanova
Can't ignore this group this time around
By Myron Medcalf | ESPN.com
3
Joe Lunardi's projected NCAA tourney seed
78%
Returning minutes
During last sesason's Big East media day, Jay Wright and his players spent a lot of time alone. The Wildcats weren't the attraction. That honor belonged to Doug McDermott and Creighton. Reporters huddled around Georgetown and Marquette, too. Villanova? Players did their best to stay awake.
Few saw Villanova coming. But it surged and finished the regular season atop the league. The team's stage in 2014-15, however, is much different.
It is supposed to win the Big East and make a run in the NCAA tournament. Yes, James Bell (14.4 points, 6.1 rebounds per game) is gone. But Ryan Arcidiacono, Josh Hart, Darrun Hilliard and JayVaughn Pinkston all return for a program that will begin the year with a target on its back.
It's a major shift for a team that was picked to finish fourth in its league a season ago. How will Villanova handle the expectations? The latter is not insignificant. Villanova had embraced that underdog role and enjoyed the ride that came to an end with a third-round loss to UConn.
But the Wildcats will disappoint if they fail to capture the league crown and/or exit the Big Dance in the early rounds.
3
Joe Lunardi's projected NCAA tourney seed
78%
Returning minutes
JAY BILAS' BEST CASE
A group that has grown older together proves ready to take the next step. Senior JayVaughn Pinkston (14.1 ppg) shows he's the top undersized big man in the Big East, and Darrun Hilliard establishes himself as an elite wing. PF Daniel Ochefu emerges as a true difference maker inside, leading the Cats to the Final Four.
AND WORST CASE
Villanova fails to defend the 3-point line, and the Big East doesn't offer the resistance Nova needs to sharpen its game for the NCAA tournament. Much like last season, the Wildcats show they aren't tough enough or tested enough and get bounced in a nightmare deja vu of their upset tourney loss to UConn.
The Wildcats' gaudy 29-5 record was bolstered by a (we'll say it!) lucky 8-1 record in close games. Even with four starters back, that karma could change. -- Eamonn Brennan and John Gasaway
Longhorns
Texas
From the hot seat to high expectations
By C.L. Brown | ESPN.com
4
Joe Lunardi's projected NCAA tourney seed
94%
Returning minutes
Rick Barnes pulled off arguably his best coaching job last season, molding an untested and largely unheralded bunch into a top-25 team. He silenced his critics in the recruiting world, too. After missing out on big in-state targets like Marcus Smart and Julius Randle, he didn't let Myles Turner slip past the border.
The 7-foot, Bedford, Texas, native ranked as the No. 2 overall prospect in 2014 by Recruiting Nation. After welcoming Turner to campus -- not to mention all of its starters from last season - the Longhorns have more answers than questions. And accordingly, the Texas-sized expectations have followed.
The frontcourt can match up with any team in the country. Junior center Cameron Ridley, the former McDonald's All-American, led the team in rebounding last season. Barnes will have the option of going big with Turner, Ridley, and forward Jonathan Holmes, who led the team in scoring last season. That lineup is complemented by veteran reserves Prince Ibeh and Connor Lammert.
The backcourt is deep. Point guard Isaiah Taylor was second on the team in scoring last season. Junior Demarcus Holland is the proverbial "glue guy" and is arguably the team's top defender. Javan Felix, a two-year starter, led the team in 3-pointers last season.
Reserve guard Martez Walker, who was indefinitely suspended in September, recently withdrew from school. Sophomore guards Kendal Yancy and Damarcus Croaker are ready to fill his void off the bench. The Longhorns are too deep not to take their place among the nation's elite.
4
Joe Lunardi's projected NCAA tourney seed
94%
Returning minutes
JAY BILAS' BEST CASE
A deep squad with experience through fire wraps its arms around freshman PF Myles Turner to stage a Longhorns revival. Texas re-establishes its signature toughness and defense, and jet-quick PG Isaiah Taylor becomes what Myck Kabongo should have been. Texas fights Kansas for the Big 12 championship.
AND WORST CASE
Turner is good, but he's no Kevin Durant, and the Longhorns again fail to crack the nation's top 50 in offensive efficiency. They can't defend enough to compensate for those scoring struggles, leaving them without the ammo to match the country's best teams.
Turner's arrival clouds the frontcourt, but since junior PF Jonathan Holmes (12.8 ppg) prefers to play away from the rim, Rick Barnes might make the pieces fit. -- Eamonn Brennan and John Gasaway
Bulldogs
Gonzaga
Success about to go to a new level?
By Eamonn Brennan | ESPN.com
3
Joe Lunardi's projected NCAA tourney seed
58%
Returning minutes
On Sept. 30, ESPN College Basketball Podcast host Andy Katz asked Mark Few to confirm or deny Andy's belief: That his 2014-15 Gonzaga Bulldogs might be the program's best team in two decades. Few sighed.
"You're overhyping it at a very high level," he said.
Maybe so: The past two decades of Gonzaga basketball, comprising a late-1990s climb from Cinderella lore to its present stature as one of the country's perennial best, have featured nearly all of the program's best teams ever. When you're choosing from a pool like that, "best" is saying a lot.
But then again, maybe not.
Gonzaga's 2014-15 roster is almost certainly Few's most talented. Kevin Pangos and Gary Bell form one of the best backcourts in the country. Seven-foot center Przemek Karnowski spent much of last season morphing into a dominant low-post presence. Kentucky transfer Kyle Wiltjer is the perfect outside-in perimeter threat. Four-star freshman point guard Josh Perkins chose Gonzaga over UCLA, and will contribute immediately.
The Zags were secretly at their strongest last season on the defensive end. If that continues, and is buttressed by the kind of offense Gonzaga's talent implies, all of the superlatives will be justified.
3
Joe Lunardi's projected NCAA tourney seed
58%
Returning minutes
JAY BILAS' BEST CASE
PG Kevin Pangos pulls a senior-year Dan Dickau, and Gary Bell Jr. is the best all-around guard in the WCC. Transfers F Kyle Wiltjer and G Byron Wesley add stellar shooting, while 7-foot-1 junior Przemek Karnowski and 6-10 freshman Domantas Sabonis dominate inside. Coach Mark Few finally reaches the Final Four.
AND WORST CASE
Competition usually makes you stronger, but here it starts to eat away at the chemistry of a team with incredible depth. For the first time, Few can't win over his players, unable to persuade them to accept lesser roles for the greater good.
Home, road or neutral, the Bulldogs' D is a constant. But to make noise in March, Gonzaga's offense must produce outside the Kennel's friendly confines. -- Eamonn Brennan and John Gasaway
Cyclones
Iowa St
Better get defensive -- or else
By Myron Medcalf | ESPN.com
5
Joe Lunardi's projected NCAA tourney seed
66%
Returning minutes
When Fred Hoiberg returned to his alma mater in 2010, he brought an NBA-style offense with him. Last season, Iowa State finished sixth in adjusted offensive efficiency (per Ken Pomeroy) and scored 82.9 points a night, good for sixth in the country. The program lost offensive catalysts Melvin Ejim, the Big 12 player of the year, and DeAndre Kane. But it added UNLV transfer Bryce Dejean-Jones and Marquette signee Jameel McKay, who will be eligible midseason. And Georges Niang is healthy.
The Cyclones will, again, possess one of the nation's most potent offenses. But can they defend at an elite level? Iowa State has had trouble getting stops against the teams teams must stop to advance deep into the NCAA tournament.
The Cyclones were ranked 72nd in adjusted defensive efficiency (per Pomeroy) in 2013-14. They finished 133rd, 54th and 120th, respectively, in the three seasons prior to that.
Hoiberg definitely has a roster that's capable of wrestling with Kansas for the Big 12 crown. But the Cyclones could fall short in March again if they don't evolve into a more consistent and stubborn defensive unit.
5
Joe Lunardi's projected NCAA tourney seed
66%
Returning minutes
JAY BILAS' BEST CASE
Coach Fred Hoiberg pulls off his finest act of Hilton Magic, opening up the offense for forwards Georges Niang and Dustin Hogue. Hogue proves far more than an energy rebounder (8.4 rpg) by adding 3-point range. PG Monte Morris makes everyone forget DeAndre Kane and helps form the league's best backcourt with SG Bryce Dejean-Jones.
AND WORST CASE
The Cyclones learn you can't just outscore opponents and, without a rim-protecting big, show they can't guard a bank with a machine gun.
The Cyclones produced the nation's ninth-most accurate 2-point shooting in 2013-14 (54.4 percent). To maintain it, Hogue will need to assume a larger share of the scoring. -- Eamonn Brennan and John Gasaway
Sooners
Oklahoma
Searching for a sleeper? Look here
By Dana O'Neil | ESPN.com
6
Joe Lunari's projected NCAA tourney seed
71%
Returning minutes
Looking for a sleeper team, in both the Big 12 and the national picture? Look toward Norman, Oklahoma, because as usual, no one is talking much about the Sooners.
Of course, this is what Lon Kruger does to college basketball. He comes to a place that is down on its luck and methodically rebuilds it into something good. There's very little flash -- hence why Oklahoma can be a sleeper -- but there is always substance.
Case in point: this team. The Sooners aren't simply built to succeed this season; they are in it for the long haul. They have 11 letterwinners back. Two of them are seniors. This, by the way, from a team that's already been to the NCAA tournament in each of the last two seasons.
Maybe their names aren't as recognizable outside of Oklahoma, but Jordan Woodard, Isaiah Cousins, D.J. Bennett and Buddy Hield are a solid core to build around. Mix in Gonzaga transfer Ryan Spangler and perhaps TaShawn Thomas (if he gets a transfer waiver) and you've got more than enough.
The challenge, of course, will be their youth. Despite those NCAA appearances, this is not exactly your wily veteran lineup and in the Big 12, that can be tricky.
Still pick against the Sooners -- and Kruger -- at your own risk.
6
Joe Lunari's projected NCAA tourney seed
71%
Returning minutes
JAY BILAS' BEST CASE
The guards thrive: Buddy Hield is All-Big 12, Jordan Woodard draws fouls on drives and Isaiah Cousins locks down on D. Frosh PF Dante Buford makes the recruiting gurus look as if they missed on a star. Elite rebounder PF Ryan Spangler (9.6 ppg, 9.3 rpg) becomes a reliable scorer, and the Sooners reach the NCAA tournament's second weekend.
AND WORST CASE
The Sooners get bounced in the first weekend because they lack size and strength. OU's guards are good, and coach Lon Kruger's team plays hard. But the Sooners remain overly reliant on perimeter productivity and get abused by inside-oriented teams.
Lack of size killed OU's interior D last year. Dante Buford and Khadeem Lattin must plug that hole, especially if 6-8 transfer TaShawn Thomas isn't eligible. -- Eamonn Brennan and John Gasaway
Huskies
UConn
Defense of a title ... minus Shabazz
By C.L. Brown | ESPN.com
4
Joe Lunardi's projected NCAA tourney seed
41%
Returning minutes
After capturing their fourth national title last season, the Huskies got another big win when Kevin Ollie decided to shun the advances from several NBA franchises and remain the head coach in Storrs, Connecticut.
His roster won't be depleted thanks to guard Ryan Boatright's decision to forgo the NBA draft and return to school. Of the Huskies' returnees, Boatright leads the team in scoring, rebounding and assists. If that sounds vaguely familiar, it's because Shabazz Napier did the same thing last season. And Boatright, the lone senior on the roster, is motivated to prove that he can run a team much in the way Napier was last season.
Had DeAndre Daniels followed Ollie and Boatright's lead, the Huskies might be in the top 10 to start the season. Instead, they are searching for a scorer to complement Boatright. Rodney Purvis, who sat out last season after transferring from NC State, is a likely candidate. At 6-foot-4, he brings some size that the Huskies have lacked recently at shooting guard. Ollie praised his explosiveness in practice.
Freshman wing Daniel Hamilton could also help fill that void. The 6-foot-7 Los Angeles native brings versatility to the lineup and will likely contribute immediately.
4
Joe Lunardi's projected NCAA tourney seed
41%
Returning minutes
JAY BILAS' BEST CASE
Coach Kevin Ollie doesn't lament the loss of star guard Shabazz Napier and instead tutors Ryan Boatright and NC State transfer Rodney Purvis to be just as effective a backcourt. Big man Amida Brimah and skilled freshman F/G Daniel Hamilton anchor the frontcourt, and the Huskies emerge as a Sweet 16-caliber squad.
AND WORST CASE
Ollie can't turn Boatright and Purvis into the Napier/Boatright backcourt and is unable to find a replacement for departed starter DeAndre Daniels (13.1 ppg) as a stretch 4. The Huskies do fine in conference play but can't repeat last season's postseason magic.
Expecting Ryan Boatright to become the next Shabazz Napier is asking a lot. But if Rodney Purvis approaches Boatright's numbers, UConn's offense can still be strong. -- Eamonn Brennan and John Gasaway
Rams
VCU
Prepared to wreak even more 'Havoc'
By Myron Medcalf | ESPN.com
4
Joe Lunardi's projected NCAA tourney seed
69%
Returning minutes
Shaka Smart has it all. And that's the problem.
This season's expectations could surpass any that VCU -- the undeniable favorite to win the Atlantic 10 crown -- has encountered throughout his tenure because his squad is loaded with talent. But will they all play together? Smart isn't sure yet.
"[The biggest question for us] is probably how connected we can be as a group," Smart told ESPN.com. "Last year, we struggled in that area."
Treveon Graham, the reigning Atlantic 10 player of the year, is back. Briante "Mr. Havoc" Weber will continue to stifle opponents with his 1980s Mike Tyson-like approach to defense. There's also the strong recruiting class that features a pair of top-100 prospects (Terry Larrier and Mike Gilmore). And even though Juvonte Reddic is gone, Mo Alie-Cox is a tough truck of a man who has the tools to replace his production.
But Smart's concerns about harmony were validated during an NCAA tournament loss to Stephen F. Austin. The Rams controlled the crucial stretches of that game. And then, they lost their discipline. They committed silly fouls and turnovers. They missed easy shots.
That's what Smart hopes his program will avoid in 2014-15. This could be Smart's most dominant team overall (no disrespect to the 2011 Final Four crew) or his most disappointing if it lacks that bond he craves.
4
Joe Lunardi's projected NCAA tourney seed
69%
Returning minutes
JAY BILAS' BEST CASE
VCU easily wins the A-10 and earns a high seed. PG Briante Weber (career 2.8 spg) takes defensive POY honors after stiff competition from shot-blocking PF Mo Alie-Cox. SG Melvin Johnson challenges VCU's 3-point record, and G/F Treveon Graham leads the Rams into the Elite Eight-with a chance to keep going.
AND WORST CASE
Graham can't handle the leadership challenge, Johnson doesn't shoot as well as expected and coach Shaka Smart's press gives up opportunities for easy baskets, turning an asset into the Rams' biggest vulnerability.
The Rams excelled in key categories last season, but interior scoring wasn't one of them. And that was with PF Juvonte Reddic. Now it'll be up to the guards to get to the rim. -- Eamonn Brennan and John Gasaway
Spartans
Michigan St
Change happening in East Lansing
By Dana O'Neil | ESPN.com
6
Joe Lunardi's projected NCAA tourney seed
50%
Returning minutes
Tom Izzo teams are never really in transition. Regardless of the parts, the Michigan State coach always seems to make it work. Twelve times in the past 17 years, the Spartans have made it at least to a regional semifinal. That's a pretty good run.
But this might be the closest Izzo has to a true transition season in a while. Were it not for a rash of injuries that stunted the team's growth, Izzo believed last year's squad was national championship good. Instead, for the first time in their coach's career, Keith Appling and Adreian Payne became the first four-year players to not reach a Final Four.
Appling and Payne are gone, as well as Gary Harris, leaving Izzo with a lot of holes to plug. More of a guy who goes for the longer fix, waiting on guys to get better over time, he this year will rely heavily on Bryn Forbes, a transfer from Cleveland State.
Those two, along with Denzel Valentine, Branden Dawson, Matt Costello and Travis Trice give Izzo a pretty game-experienced group, but not a team that has been asked to carry the load.
If they can, then maybe this transition will be like most in Izzo's career -- seamless.
6
Joe Lunardi's projected NCAA tourney seed
50%
Returning minutes
JAY BILAS' BEST CASE
The Spartans play unselfishly, causing coach Tom Izzo to fall in love with this squad. PF Branden Dawson becomes a matchup nightmare, beating out Frank Kaminsky for Big Ten POY. G/F Denzel Valentine turns into Draymond Green 2.0, and Travis Trice improves considerably at point guard.
AND WORST CASE
Dawson doesn't thrive as a leading man, and the interior doesn't match F/C Adreian Payne's production. The newcomers struggle to settle in, and then injuries hit. Sparty settles for an NCAA tournament bid and a second-game exit.
When Branden Dawson played some of the best basketball of his career this past March, Michigan State won. When he struggled, so did the Spartans. -- Eamonn Brennan and John Gasaway
Aztecs
San Diego St
Leading scorer gone, drop-off to follow?
By Eamonn Brennan | ESPN.com
4
Joe Lunardi's projected NCAA tourney seed
68%
Returning minutes
You could have forgiven Steve Fisher for taking a year off. Since 2011's surge into national relevance, Fisher's once-moribund program had stubbornly refused to step off the stage. When Jamaal Franklin, Chase Tapley and James Rahon left in summer 2013, Fisher's options seemed exhausted. A down campaign felt inevitable.
What happened instead was not merely a good season, but a great one. Xavier Thames morphed from a role player to one of the most productive all-around players in the country. SDSU played its best defense since Kawhi Leonard was on campus. The Aztecs won the Mountain West, won at Kansas, finished 31-5, and made it to the Sweet 16 before falling to Arizona.
The lesson: Never, ever doubt San Diego State.
It's a helpful credo for the season to come. Thames is gone now, and with him went much of the Aztecs' offense. To remotely approximate last season, San Diego State will have to find someone new (Winston Shepard) to run offense through. It will have to keep defending at last season's top 10 efficiency tier, if not better. The latter looks more likely than the former, sure. But we know better than to question Fisher now.
4
Joe Lunardi's projected NCAA tourney seed
68%
Returning minutes
JAY BILAS' BEST CASE
The Aztecs stick to their next-star-up script, as Winston Shepard helps compensate for the loss of Xavier Thames with skilled play as a point forward. SF Dwayne Polee II goes from Sixth Man of the Year to All-MWC, and fellow forwards Angelo Chol and Skylar Spencer protect the paint for a stingy defense.
AND WORST CASE
SDSU takes a big step back because of instability at the point of attack. Shepard can't bring it up, dish it and score all by himself, and his midrange shooting doesn't improve. The pieces appear to be in place, but the Aztecs exit quickly from the NCAA tournament.
Five top-25 teams are replacing an NBA first-round pick at guard, but SDSU's Xavier Thames-sized hole is even bigger. -- Eamonn Brennan and John Gasaway
Mustangs
SMU
A case of what might have been
By C.L. Brown | ESPN.com
5
Joe Lunardi's projected NCAA tourney seed
72%
Returning minutes
It's hard to discuss the Mustangs' season outlook without mentioning what could have been had Emmanuel Mudiay made it to campus. Instead the talented point guard -- who could be the No. 1 overall pick in the 2015 NBA draft -- headed to China to play professionally.
For a program void of basketball tradition, it's not as devastating as it seems. SMU, in its third season under coach Larry Brown, should still find itself as an American Athletic Conference title contender and is in line for its first NCAA tournament since 1993.
The Mustangs returned most of their rotation from last season including their top scorer, point guard Nic Moore; and top rebounder, forward Markus Kennedy.
Xavier transfer Justin Martin, a 6-foot-6 wing, is eligible immediately after completing his degree. The school also petitioned the NCAA for immediate eligibility for Ben Emelogu, a 6-foot-5 guard who transferred from Virginia Tech; and Jordan Tolbert, a 6-foot-7 forward from Texas Tech; but is still awaiting word.
Regardless of their status, SMU could be better than last year's squad that finished as runners-up in the NIT if one of three role players from a year ago -- guard Keith Frazier, center Yanick Moreira or center Cannen Cunningham -- can show some consistency.
5
Joe Lunardi's projected NCAA tourney seed
72%
Las Vegas
JAY BILAS' BEST CASE
The Mustangs don't give the selection committee a chance to snub them again. Although a top-10 ranking ends up being a stretch without top recruit Emmanuel Mudiay (who chose to play in China), Nic Moore performs like the best point guard in the AAC. SG Keith Frazier blossoms into a top scorer, while PF Markus Kennedy and C Yanick Moreira form an elite big-man combo.
AND WORST CASE
SMU continues last year's trend of turnovers and road losses, and Moreira falls short. The Mustangs reach the NCAA tournament, but they're left lamenting what could have been if Mudiay were on campus.
Despite accurate 3-point shooting last season, SMU hardly ever launched from deep. If coach Larry Brown wants more efficient scoring, he'll have to modernize. -- Eamonn Brennan and John Gasaway
Cornhuskers
Nebraska
Socially relevant, but nationally, too?
By Myron Medcalf | ESPN.com
6
Joe Lunardi's projected NCAA tourney seed
79%
Returning minutes
Tim Miles is a social media all-star (more than 74,000 followers). He's developed a bond with Larry the Cable Guy. And he just led Nebraska to its first NCAA tournament appearance since 1998 and its seventh bid overall.
Terran Petteway (18.1 points per game), a future pro and All-America candidate, and Shavon Shields return to a team that surprised the Big Ten and the nation by finishing 11-7 in conference play and securing a trip to the Big Dance. That's why Miles earned co-coach of the year honors last season.
But now it's time for the team to make another stride. The Cornhuskers have to find a way to win outside Lincoln. They lost five in a row (four were on the road) from late December through mid-January. In all, Nebraska finished 4-12 outside Lincoln last year.
Nebraska can play with the best in the Big Ten and the country. Miles' program defeated Michigan State (in East Lansing), Wisconsin and Ohio State. The Cornhuskers finished 23rd in adjusted defensive efficiency. But they lost in the opening rounds of the Big Ten and NCAA tourneys.
The potential is evident. The team's personnel are legit, and the coaching is proven. Now, Nebraska -- a team that has never won an NCAA tournament game -- has to take its show on the road.
6
Joe Lunardi's projected NCAA tourney seed
79%
Returning minutes
JAY BILAS' BEST CASE
With seven of nine rotation players back, the Huskers run a more efficient mix of motion. Guards Tai Webster and Shavon Shields perform consistently, and SF Terran Petteway (18.1 ppg) shows he's one of the toughest matchups in the conference. It all adds up to a top-five Big Ten finish and a return to the tourney.
AND WORST CASE
Nebraska experiences the sophomore slump of achievement, alternating wins and losses too often. The team's shooting and rebounding deficiencies are exposed over a long season.
The next step for coach Tim Miles as he revitalizes the program is getting PGs Tai Webster and Tarin Smith to add a much-needed dose of ball movement. -- Eamonn Brennan and John Gasaway
Buckeyes
Ohio St
Looking for that familiar face
By Dana O'Neil | ESPN.com
5
Joe Lunardi's projected NCAA tourney seed
49%
Returning minutes
There are players that make a program and then there are those that define it. Aaron Craft defined Ohio State for the four years that he was in Columbus. He was not always pretty -- much like the Buckeyes' offense -- but he was scrappy, smart and reliable.
And now he's gone. So who is Ohio State? That's the question for the Buckeyes. They return three seniors -- Shannon Scott, Sam Thompson and Amir Williams -- and add graduate transfer Anthony Lee from Temple. That's a lot of experience. It's not yet a lot of presence. Someone will have to supply the Buckeyes with their identity. Scott would seem the obvious pick. He moves into his natural position, taking over the point from Craft, but leadership doesn't just come from having the ball in your hand.
Equally important -- and maybe even more -- it would be helpful if someone for Ohio State could score. The Buckeyes averaged 69.5 points per game a year ago. More than half of that anemic offense is gone -- Craft, LaQuinton Ross, Lenzelle Smith, Jr. and even NCAA tiurnament oddball hero Amadeus Dellavalle. OSU is hoping its freshman class, especially hot scorer D'Angelo Russell, can fill the gaps, but that, too, remains to be seen.
Much like Ohio State's identity.
5
Joe Lunardi's projected NCAA tourney seed
49%
Returning minutes
JAY BILAS' BEST CASE
PG Shannon Scott takes over for Aaron Craft as the Buckeyes' defensive heartbeat and runs the team effectively. Freshman SG D'Angelo Russell becomes the scorer Ohio State lacked last season, while Temple transfer Anthony Lee adds points inside at power forward. The D proves just as good without Craft, and the offense is much better.
AND WORST CASE
Ohio State misses Craft's leadership and toughness. Last year's 128th-ranked O lingers, with turnovers and missed jumpers piling up.
Coach Thad Matta's best teams combine stiff D with efficient offense. That wasn't the case in 2013-14. Can top-ranked prospect D'Angelo Russell spur a turnaround? -- Eamonn Brennan and John Gasaway
Orange
Syracuse
Facing questions that need answers
By Myron Medcalf | ESPN.com
7
Joe Lunardi's projected NCAA tourney seed
41%
Returning minutes
Chris McCullough may never reach his ceiling, only because his backers say he doesn't have one. "I think he has unlimited potential," Jim Boeheim recently told Syracuse.com. "He's very, very athletic for a big guy and he handles the ball well for someone his size."
The idea that Syracuse will again rely on the services of an underclassman is not new or unusual. Michael Carter-Williams led the program to the Final Four two seasons ago, and Tyler Ennis pushed the program to a 28-win campaign in 2013-14.
But McCullough is different. He's a 6-10, five-star prospect with a sexy game that's not limited to typical big man confines. He's a beast in transition; he can protect the rim and he's developing his midrange game.
Syracuse will be Syracuse. Freshman stud Kaleb Joseph will replace Ennis at point guard. Rakeem Christmas, Michael Gbinije and Trevor Cooney are all back. DaJuan Coleman slimmed down during the offseason and should be ready to go once the season begins after recovering from knee surgery. They'll be a handful for most squads.
But McCullough's growth over the course of the year could be the most significant component in Syracuse's success. The Orange will be good. That's the norm. McCullough, however, could lead Boeheim's team on another run in March if he lives up to the hype.
7
Joe Lunardi's projected NCAA tourney seed
41%
Returning minutes
JAY BILAS' BEST CASE
PG Kaleb Joseph proves capable of running the team from day one. PF Chris McCullough performs at a one-and-done level up front, and SG Trevor Cooney stretches defenses without wearing down. SF Tyler Roberson and G/F Michael Gbinije mature into significant contributors, and added length on the baseline aids the Cuse zone.
AND WORST CASE
The Orange continue their late-season inefficient offensive productivity (scoring more than 63 points just twice in their final 13 games) and rely too heavily on their defense to create scoring opportunities.
No team in our ranks returns less production than the Orange. That means Cooney, a junior, must take on a bigger role, and frosh McCullough must contribute immediately. -- Eamonn Brennan and John Gasaway
Wolverines
Michigan
Changing of the guard in Ann Arbor
By C.L. Brown | ESPN.com
7
Joe Lunardi's projected NCAA tourney seed
47%
Returning minutes
The Wolverines' Final Four and Elite Eight appearances the past two seasons have been spearheaded by star guards Trey Burke and Nik Stauskas. Their success this season largely rests with how well Caris LeVert can live up to that standard.
The 6-foot-7 guard surprised some by postponing entering the NBA draft -- where he's now projected as a first rounder -- in order to play his junior season. But it was a welcomed decision especially in light of forward Mitch McGary all but being forced to turn pro after a failed drug test meant he faced a year-long suspension. And forward Jon Horford's unexpected transfer to Florida.
Michigan will field an inexperienced roster, but coach John Beilein has shown a knack for developing young talent. Point guard Derrick Walton Jr., started all but one game last season as a freshman. Walton's role as a sophomore will change slightly in that he'll have to strike a balance between scoring and still being a facilitator.
Sophomore Zak Irvin and junior Spike Albrecht tilt the Wolverines' strength heavily toward the backcourt. This team, like many of Beilein's best, could be dangerous for no other reason than it shoots well from 3-point range. LeVert, Irvin and Walton each made more than 40 percent of their attempts from behind the arc last season. Albrecht didn't trail too far behind at 38.7 percent. And there will be plenty of shots to go around until a reliable post player can emerge.
7
Joe Lunardi's projected NCAA tourney seed
47%
Returning minutes
JAY BILAS' BEST CASE
Coach John Beilein continues to unearth-and then polish-recruiting gems that exceed expectations. SG Caris LeVert vaults forward and becomes the Big Ten's best scorer, while Derrick Walton Jr. emerges as the league's top point guard. G/F Zak Irvin takes a star turn, and the Wolverines bomb away into the second weekend of the tourney.
AND WORST CASE
Michigan's lack of depth inside proves too much to overcome. The Wolverines can't defend in the lane or limit second shots, preventing a deep postseason run.
Michigan has featured the nation's top offense two years in a row, led by an All-America guard who would become a lottery pick. Can Caris LeVert engineer a three-peat?
Wildcats
Kansas St
More than a one-man job
By Eamonn Brennan | ESPN.com
8
Joe Lunardi's projected NCAA tourney seed
66%
Returning minutes
How much can Marcus Foster do?
The answer in 2013-14 was more than anyone not named Marcus Foster could have expected. By his senior high season, Foster's AAU circuit struggles shook him off many schools' recruiting radars. When he committed to Kansas State, Bruce Weber was one of his last, best options. In some ways, the player's path mirrored the coach's, who found himself in a sudden vacancy at Kansas State only after Illinois sent him packing.
The question is whether Foster is enough. Even with one of the most gifted freshmen in the country, the Wildcats struggled offensively last season, shooting just 33 percent from 3 and finishing eighth in the Big 12 in points per possession. If Foster is the team's only perimeter threat -- and if Kansas State doesn't cut down on turnovers -- it may not matter how good he is.
But if Kansas State can do those things, look out. Weber's defense is good enough to compete with the best of the Big 12, and he has a special player at his side. Together, they might have one more surprise in store.
8
Joe Lunardi's projected NCAA tourney seed
66%
Returning minutes
JAY BILAS' BEST CASE
With improved offensive efficiency added to a stout defense, Kansas State becomes a top-15 team. SG Marcus Foster (15.5 ppg) refines his raw talent, while crazy-athletic SG Justin Edwards, a Maine transfer, adds a different dimension. Forwards Thomas Gipson, Brandon Bolden and Malek Harris limit second shots on the glass.
AND WORST CASE
Nobody takes over point guard responsibilities, and despite a tough defense that keeps the Wildcats in every game, a lack of offense prevents K-State from being a special team.
KSU blew away the rest of the Big 12 with its 3-point defense last season. The Cats allowed the nation's sixth-lowest percentage (29.3 percent) from beyond the arc. -- Eamonn Brennan and John Gasaway