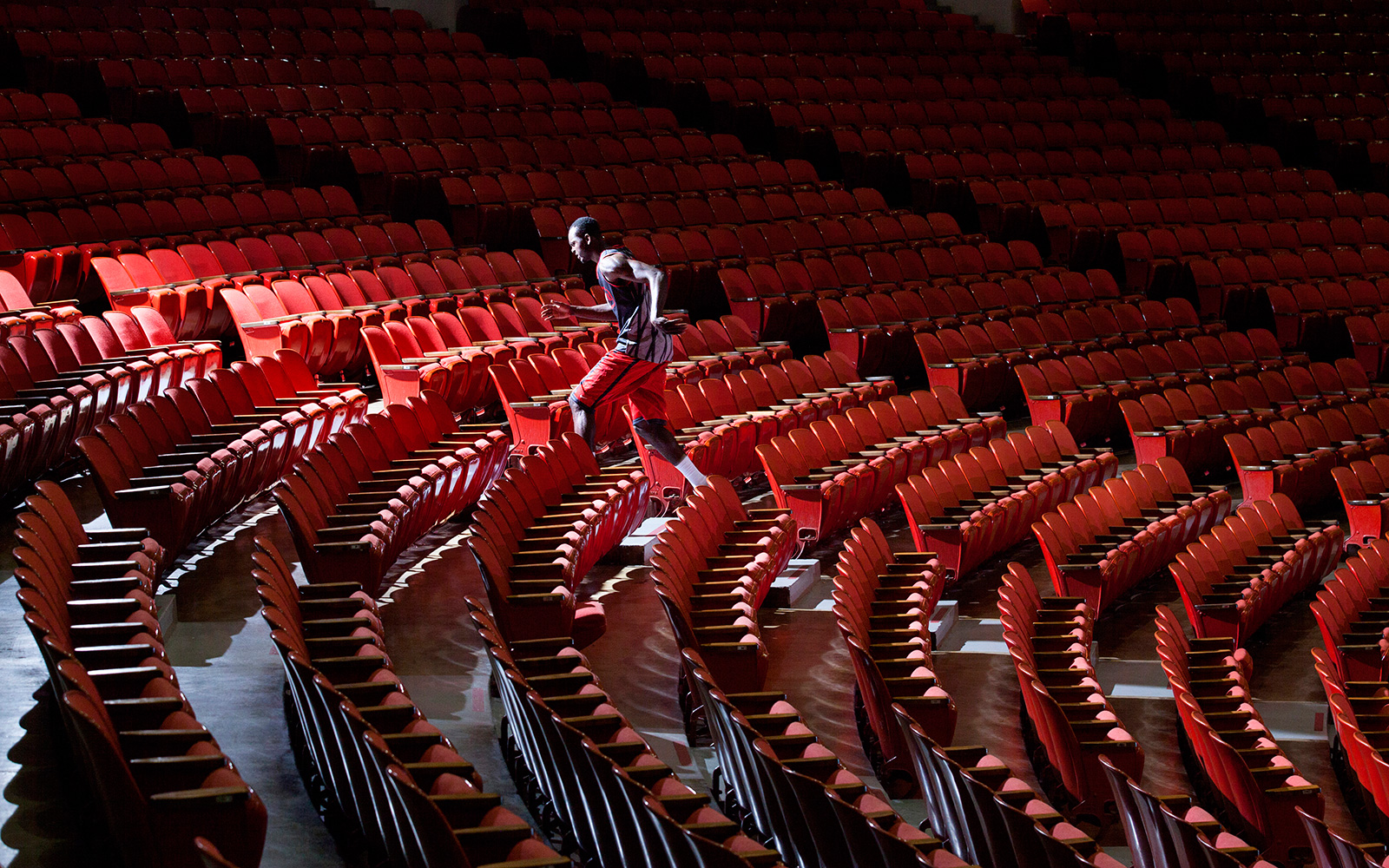 Free To Go
Devonta Pollard's mother was his best friend and coach. Now she's in prison for kidnapping, and he's one of the witnesses who testified against her. As the former top recruit starts over in Houston, can he learn to play for himself?
THE WORST DAY of his life was Nov. 21, 2013. That morning, Devonta Pollard walked into a courthouse in Jackson, Mississippi. The 19-year-old, once a top basketball recruit who seemed destined for the NBA, had barely slept the night before. His lawyer told him to dress up, so he wore a dark suit, a recent gift from one of his aunts. After his name was called, Devonta sat behind the witness stand and looked down at the prosecutor, steeling his face so he wouldn't cry.
"You know the defendant that is on trial here today, don't you?" asked the government lawyer.
Devonta responded in a soft Southern drawl, "Yes, sir."
The lawyer asked him who it was.
"Mother."
Earlier that year, shortly after Devonta finished his freshman season at the University of Alabama, his mother, Jessie Mae Brown Pollard, had kidnapped the 6-year-old daughter of a cousin. Eventually, six other people, including Devonta, were charged in connection with the crime. Though his involvement was peripheral, his arrest made national headlines. The shy teenager's mug shot was posted online, his wide, almond-shaped eyes staring impassively into the camera.
As Jessie's trial date drew closer, the other defendants, most of whom were relatives, signed plea agreements. But Devonta balked at the idea of testifying against his mother, whom he considered his best friend and confidante. It wasn't until Jessie turned down a deal that would have shielded her son from imprisonment that Devonta changed his mind. She had told the judge that she didn't see the point of accepting an agreement that wouldn't help her in any way.
His testimony was brief. He said that he was unaware of Jessie's plot until it was too late and that, even though he met with his mother that day, he never saw the victim. He choked out his words, barely looking at his mother, who sat several feet away. When he finally glanced at her, he was startled. Her roots were gray. Jessie, 55, had been dyeing her hair black for years.
The prosecutor asked him to describe his mother's character. "She was a person that -- that I know never hurt anyone," Devonta said. "Always wanted to help people, always wanted the best for people."
Knowing what you do now, the lawyer continued, who planned the kidnapping? "My mom." As soon as he was excused, Devonta bolted out of the courtroom. Jessie was found guilty and sentenced to prison for 25 years.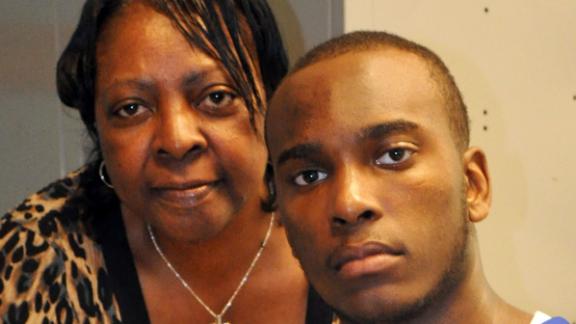 THE BEST DAY of his life was March 1, 2012. His team, the Kemper County Wildcats, had made it to the state championship. Mississippi Coliseum in Jackson was packed with fans from his rural hometown in the eastern part of the state, including his 6-foot-2 mother, who patrolled the sideline in a royal blue T-shirt with her son's photograph printed on the front. Jessie remembers giving him a pep talk before the game. "We worked hard," she says in a telephone interview from prison. "I told him, 'I don't want to see you walking.'"
Throughout the game, the local TV announcers gushed about Devonta, pointing out coaches from Mississippi State, Georgetown and Alabama who were in the crowd in hopes of luring the young star. "They've got to be salivating, and they've got to be willing to fight it out," said one of the men calling the game. "Because he is that good."
From tip-off, the 6-8 Pollard dominated on both sides of the ball, blocking shot after shot with ease. He was taller and faster than his peers, but it wasn't his athleticism that made him so compelling to watch -- it was his timing. Whenever a player near him leaped toward the basket, Devonta jumped at precisely the right moment, his spindly arm clamping down on the ball like a mousetrap.
Kemper County won 75-65. Pollard scored 28 points and recorded a triple-double. At the end of the game, his teammates mobbed him, coalescing into a whooping tangle of sweaty limbs and pumping fists. Then, with the camera focused on the revelry, something strange happened: Devonta walked away. He disappeared, slipping out of the frame.
Thirty seconds later, the camera found him again. He was standing in the crowd, his arms wrapped tightly around his mother, his face buried in her shoulder as their bodies heaved with sobs. The lens lingered on the embrace, perhaps waiting for an interview, but mother and son remained intertwined. Eventually, the broadcast cut to black.
TODAY IS JUST another day -- another chance to start over, to sweat, to work toward feats that could supplant the stories he doesn't want people to read. Devonta recently enrolled at the University of Houston, a program that's trying to rebuild too, having recently lost several starters and a coach. Pollard has two more years of eligibility. Since waking up at 6 a.m., he's probably said about six words. He doesn't like to talk, but he wants to explain himself, so he's here, sitting inside the team's locker room as a thunderstorm batters the pavement outside.
He grew up in a speck of a town. Just a few hundred people live in Porterville, Mississippi, and Devonta estimates he's related to a not-insignificant portion of them. "We all lived on the same road," he says, tracing a map in the air with his finger. Porterville sits in a wooded region where the average citizen makes about $14,000 a year. There are no movie theaters or grocery stores. There are fish fries on Saturdays, there's church on Sundays, and just about every other day there's basketball.
As a boy, Devonta heard stories about his mother's exploits on the court. At 
restaurants, they would run into old referees who remembered her. "They'd say, 'Boy, you shoulda been here to see your mom play; she was a good basketball player,'" he says. After playing for nearby East Mississippi Community College (EMCC), Delta State and South Alabama, Jessie was drafted by the Women's Professional Basketball League in 1980. After the league went out of business the next year, she returned to Porterville and taught high school history.
Jessie's family depicts her as a bluntly honest, generous woman who was beloved by her children and their neighborhood friends. "Every one of the kids wanted to stay with her," says Devonta's 38-year-old brother, Lewis, his only sibling. "They all called her Mom."
Devonta inherited his athleticism from his mother, but his personality hews closer to that of his father. Ervin Pollard, a shy, gentle type, stood just 5-7 -- an entire foot shorter than his son, whom he called Big Poppa. "I started kissing my dad on top of his head when I was 14 years old," says Devonta, slipping into a rare smile. Ervin, who drove a forklift at a local paper plant, was a doting father; he couldn't bear to see Devonta punished, so he left the room whenever Jessie whipped their son.
In 2008, when Devonta was a high school freshman, his father learned he had stage 4 pancreatic cancer. Over the next few months, as Ervin underwent chemotherapy, his strength dwindled. "It got to the point where he was so light, we were picking him up out of the tub and placing him in bed, then picking him up out of bed and placing him at the table," Devonta says. When Ervin died the next summer at 52, Devonta picked up his father one last time, carrying his casket from the church to the grave.
After Ervin's death, and with Lewis living on his own, Devonta grew closer to his mother. The pair spent most of their free time together, cracking so many inside jokes it sometimes seemed as though they spoke their own language. "It was like they were twins -- if you saw one, you saw the other," says Laura Johnigan, Devonta's aunt. "He'd hug and kiss her in public. He wasn't ashamed."
By 2011, it seemed the family had finally found closure. Then tragedy struck again. After a cluster of tornadoes hit the South in late April, ripping through nearby Tuscaloosa, Alabama, lightning crashed into the Pollards' home. Jessie woke to the sound of the smoke detector, then dashed across the hallway to rouse Devonta. By then, smoke had already filled the house; they barely escaped as flames engulfed the wooden interior.
When firetrucks arrived, the two were standing outside, watching their home burn to dust. "The thing that was going through my head was: Where are we gonna go now? What are we gonna do?" Devonta says.
In the end, mother and son lost all their possessions -- mementos, basketball trophies, photographs of Ervin. All they had left was each other.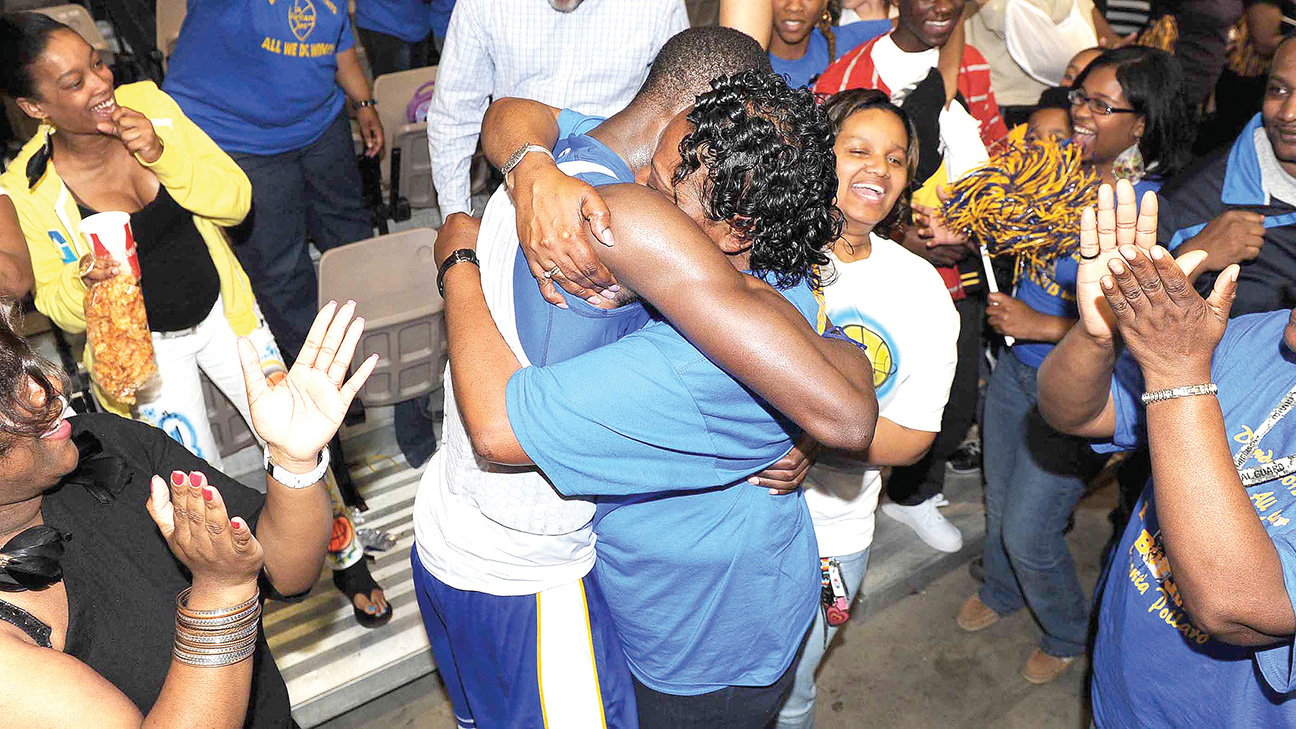 "It was like they were twins -- if you saw one, you saw the other."
- Laura Johnigan, Devonta's aunt
DEVONTA ALWAYS KNEW Jessie was different. She wasn't just his mom; she was also his coach, running drills by the hoop in their yard. She took him to the gym and told him that when she was coming up, she used to shoot 150 baskets -- so he needed to sink 250. "In her mind, it was, 'I don't want you to be as good as me; I want you to be better than me,'" he says.
At games, Jessie was a constant presence, stalking the sideline and screaming advice and encouragement for Devonta, her voice booming above the din of the court. "If he did something spectacular during the game, he'd look at his mom and point to her, pump his fist and scream," says his aunt Laura. Even his jersey number, 24, was a paean to his mother, who wore the same number during her playing days.
Jessie was Devonta's staunchest advocate but also his toughest critic, at times delivering withering evaluations of his play. Billy Begley, a coach at EMCC who trained Devonta in high school, says he was often blown away by the boy's performance in games, but his mother still found flaws. "I'd say I thought he played well," Begley says. "She'd be like, 'No, he could've done this, he could've done that ...'"
Jessie's tutelage came under scrutiny in the summer of 2011, when a video surfaced of her pulling Devonta from an AAU game, apparently because he had made a couple of errors. "What will top coaches think of a player whose mother is so outwardly domineering?" wrote Yahoo Sports. Another website, Black Sports Online, called Devonta "the most embarrassed recruit in the class." One of the college coaches in attendance that day said it wasn't the first time he had seen Jessie publicly chastise Devonta for poor play. "It was shocking that she did it in front of everybody," he says. But, he adds, "the things she was saying to him were right on point. She understood the game."
Their relationship certainly didn't deter recruiters. During Devonta's senior year, Rivals.com ranked the lanky forward as the 22nd-best player in the country; he made the 2012 McDonald's All-American Team, along with future lottery picks such as Marcus Smart and Anthony Bennett. A slew of top programs, including Georgetown, UNC and Kentucky, expressed interest. But as other elite recruits announced their picks, Devonta stalled. Finally, at the last possible moment, on June 1, 2012, he announced his choice: Alabama. He now admits that he had planned to go to Tuscaloosa all along. He dragged out the decision, he says, because of his inability to say no, a weakness that has long haunted him. He just wasn't ready to stray farther than the University of Alabama, about 80 miles northeast of Porterville.
"At that moment," he says, "the only thing that really mattered to me was my mom."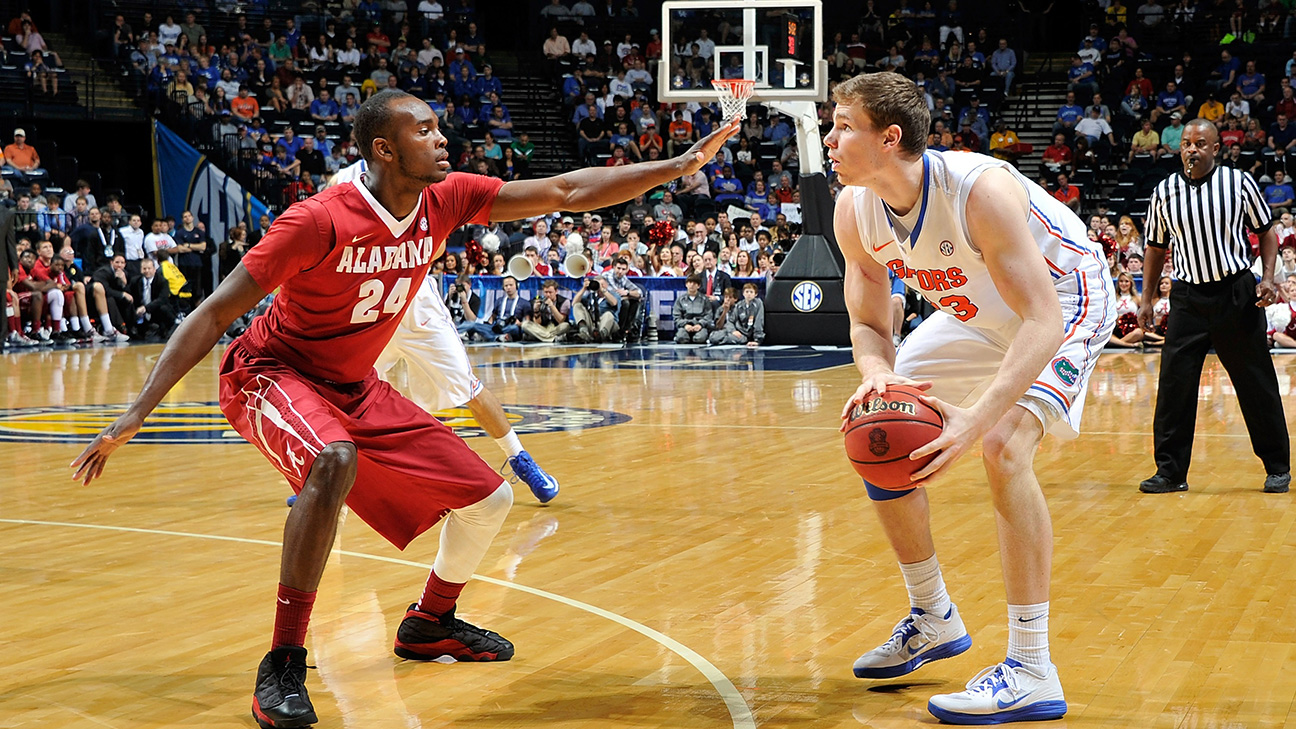 NOT EVEN A year later, Devonta had come to regret his decision. He liked his classes and he relished living near his mother, who had moved from Mississippi to a town just north of Tuscaloosa. But he struggled on the court, averaging just 3.9 points as a freshman. Other coaches say he failed to adjust to Alabama's half-court system, which didn't exploit his strongest attribute, his athleticism. When the season ended in March 2013, he began to think about transferring. Then, over the course of two days in April, everything changed.
Earlier that year, a local bank had foreclosed on a piece of land Jessie owned in Porterville. When she found out that one of her cousins, Roshell Ford, had purchased the lot without consulting her, she was furious -- especially, she later told police, because Ford wouldn't let her recover a shed on the property. Devonta was unaware of the extent of his mother's anger, though he does recall overhearing her talking to herself one day at her Alabama home, muttering something about taking a little girl somewhere. He emerged from his room to ask Jessie what was wrong. "She just turned around and told me, 'Nothing, baby,' " he testified.
On the morning of April 30, Devonta drove to Porterville to work out with a high school friend. His mother, also in Porterville that day, called him and told him to meet her in the parking lot of a church there and to bring a screwdriver and a wrench. She offered no explanation, and Devonta, ever the dutiful son, didn't ask for one. When he arrived at the church, he says, Jessie was waiting in a rental car with Devonta's 25-year-old cousin, Shamarius Ruffin. After handing over the tools, Devonta left for his workout.
It was then, a grand jury later concluded, that Jessie embarked on her scheme, making a series of increasingly irrational decisions. Though the plot was outlined in hundreds of pages of court documents, it's impossible to glean Jessie's intentions; she never testified, and she declined to comment on the case. Her only apparent motive was revenge.
After meeting up in the parking lot, Jessie and Ruffin headed for East Kemper Elementary School, where one of Jessie's friends worked as a secretary. With the secretary's help, Ruffin found Ford's 6-year-old daughter in the library. After Ruffin escorted the girl to Jessie's car, they drove to Bessemer, Alabama, and checked into a Best Western hotel. Prosecutors say Jessie then bought a cellphone at a nearby Wal-Mart and sent a chilling text to Ford: "don't call the police I will call you later if you call the police u won't see her again."
Terrified, Ford notified the authorities. Devonta, meanwhile, was still clueless. Later that afternoon, after finishing his workout, he received a call from his mother, who wanted him to pick up another relative, Shaquayla Johnigan, 22, and bring her to a meeting site in Alabama. Again, Devonta complied unquestioningly. As he drove with Johnigan, he later told the prosecutor, it was obvious that neither of them knew what was going on. "I said, 'You sure Mama didn't tell you she needed you down here for something specific?'" he recalls. "She said, 'No, she just -- she had mentioned something to me about baby-sitting.'"
Devonta's mother was waiting at a gas station; Ruffin had already left. Devonta says he never saw the little girl, who was sitting in the backseat of Jessie's car. After Johnigan jumped out and spoke with Jessie -- "To this day, I have no idea what they talked about," says Devonta -- the two women switched places. Jessie climbed into her son's car and told him to drive her to Tuscaloosa; Johnigan left with the girl, taking her to a different hotel.
Meanwhile, back in Mississippi, the hunt had begun. Because the child was taken across state lines, making it a federal crime, dozens of FBI agents began investigating the case. News of the kidnapping spread quickly in Porterville. Around 11 p.m., Jessie called Johnigan and told her to send a text to Ford: "since you called police, I want $50,000 by 3 p.m., I will tell you location later."
Jessie was an obvious suspect; she had previously stolen the shed off Ford's property, and Ford had reported it. Around midnight, a group of FBI agents showed up at Jessie's home near Tuscaloosa. Devonta, who was inside, watched silently as they searched the premises. One of the agents, William Tootle, asked Jessie whether she knew about the kidnapping. She denied involvement but agreed to accompany Tootle for questioning. During the drive, he later told the court, they chatted about Devonta -- "basically her son's career and her hopes for him to go pro." After Jessie left with Tootle, Devonta called Johnigan, who told him she was baby-sitting the girl. It was then, Devonta said later, that he realized what his mother had done, the truth sinking over him like a cold fog. Still, he didn't call the police.
The next day, authorities issued an Amber Alert. Unnerved, Johnigan dropped off the girl at a trailer and told her to run to the entrance. When the trailer's owner opened the door and saw a tearful girl standing in the rain, she called 911.
Local officials quickly gathered evidence. They found the rental car in the woods, where it had been abandoned by Johnigan; inside were gloves, two rolls of tape and a 20-foot-long dog cable. (None of the tools, including the wrench or screwdriver, was ever used on the girl, who was unharmed.) They searched Devonta's car, an old Cadillac with the license plate DP24, his jersey number. Jessie had left behind the Wal-Mart receipt for the phone and a pair of room keys for the Best Western. On the morning of May 2, the FBI arrested her on charges of federal kidnapping.
While his mother sat in jail, Devonta waited for her to return, praying that it was all a misunderstanding. When his phone finally rang, he was elated -- until he heard an automated message informing him that the call was coming from prison. Jessie asked him to wipe down his car and get rid of everything inside, but the police had already searched it. "It was too fast for -- it was too fast for me to handle," Devonta says. "I didn't know what direction to turn in, where to go. I didn't know what to think or how to think. Or anything."
Normally whenever a crisis arose, he always sought advice from his best friend. But now she was gone.
BY THE TIME Jessie's court date arrived in November 2013, Devonta was flailing. He had trouble sleeping at night, and the trial was a haze. "There are parts that he doesn't remember," says Darryl Carter, his high school coach, who has remained Devonta's mentor. "He was just going day to day." After Devonta testified, the judge made him a deal: If he stays out of trouble for two years, the charges against him will be dropped. Meanwhile, the month before Jessie was sentenced to 25 years, Ruffin and Johnigan each received a sentence of about a year.
Earlier that spring, Devonta transferred from Alabama back home to EMCC, where he could play basketball with his childhood friends. He vowed to focus on his game. But rumors about the crime followed him, haunting him like the footsteps of an invisible defender. On the court, opposing fans heckled him from the stands; someone made a sign that said kidnap me. As the season wore on, he grew depressed, says his aunt Laura. "He wasn't the same energetic person -- he was emotionally tired," she says. "He had been through so much for a little boy."
Despite everything, Devonta wasn't angry with his mother. But sometimes he felt like a teenage Job, crying out in vain to an inexplicably wrathful God. "I was like ... why me? Why am I the one that's being put through all of this? Are you really trying to see how much I can handle?"
"It was too fast for me to handle. I didn't know what to think."
- Devonta Pollard
He thought about quitting basketball. But he didn't. He can't fully explain why, but he continued to press forward, as though operating from muscle memory. He kept practicing, going to class and suiting up for games. His performance on the court was uneven. But his size and endurance once again caught the attention of college coaches.
One of them, Houston's Kelvin Sampson, was also looking for a fresh start. Sampson was forced to resign as Indiana's coach for illegal recruiting practices in 2008 and was returning to college basketball after six seasons in the NBA. As Sampson scrambled to fill his team, another coach encouraged him to look at a promising juco player from Mississippi. "He said, 'Before you recruit him, you need to Google him -- he's got some baggage,'" Sampson says. Over the next few days, he started calling coaches who knew Devonta and watched tape from his days at Kemper County. Soon after, Devonta drove eight hours to Houston, then sat in a locker room with Sampson and told him his life story.
The coach was astonished. "That experience with his mother left some scars on that kid that, when you're 19 years old, you shouldn't have," he says.
Devonta says that as soon as he arrived on campus, he was overcome with a sense of calm: "Once I got here, to see how much they cared about me as a person and not just a basketball player -- that was when I was relieved." He signed a letter of intent on the spot. "I felt like a lot of weight had been taken off of my shoulders," he says. "Just to know that there was still some hope out there, still someone that wanted me."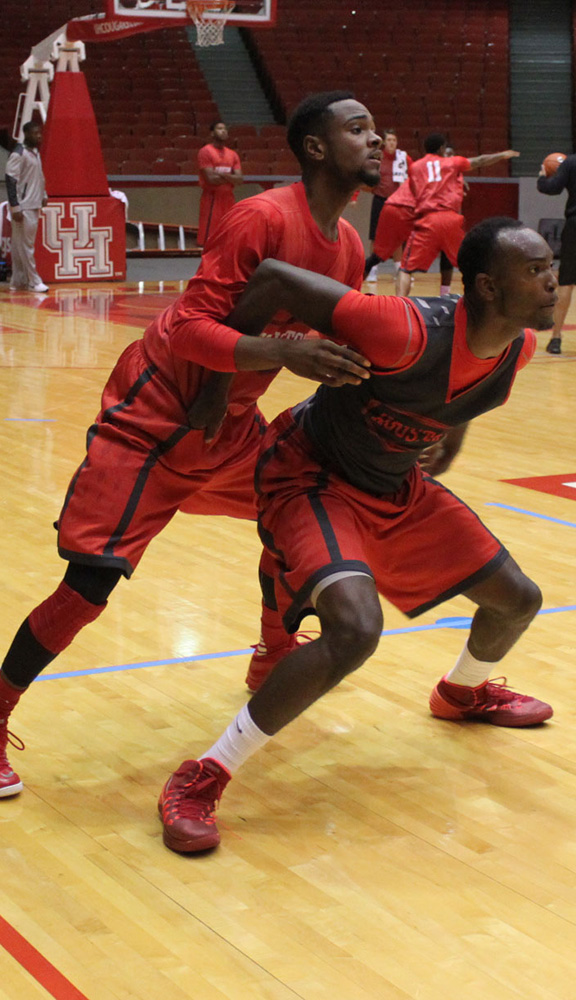 ON NOV. 8, Devonta will play in Houston's exhibition opener against North Alabama. Since moving to Texas in July, he's gained about 20 pounds of muscle, pushing his gaunt frame above 200. He has been home only once, which pleases Carter, his high school coach. "That's what I told him when he got the opportunity to go to Houston: 'You need to be selfish now. This is your time to grow,'" Carter says.
Before Devonta can even dream of the NBA, he needs to establish himself as a solid college player. "The skill set is still there," says the college coach who saw Jessie pull Devonta from that AAU game. "But so much of the game is mental. He played the game for his dad and mom; can he play it for himself?"
It's a complicated question. Sitting next to his locker in Houston, a towel draped around his shoulders like a cape, Devonta looks content. When asked about the effects of his separation from his mother, he stares straight ahead for a moment. "I believe that ... as long as my mom was here, by my side, I was never gonna have to live life," he says. "The only way I wasn't gonna be under her wing is if she was dead or locked up. No one was gonna keep me away from her, and nobody was gonna keep her away from me."
Yet Jessie remains his motivating force. He wants to succeed so he can provide for her when she gets out of prison. He isn't upset with her for turning down the plea deal. "Holding something against someone right now -- it's not gonna make me better," he says, shrugging, seemingly oblivious to the astonishing grace of his words.
Devonta's mother is in a low-security women's federal prison in Waseca, Minnesota. She is allowed 300 minutes of phone time each month, and she carefully rations them so she can talk to Devonta a few times a week. She has posted pictures of him near her bed and often brags about his basketball prowess to her fellow inmates, who call her Momma Brown. She says he's destined for the NBA. "I told him, 'This year you're gonna have to put it all on the line,'" she says in a phone interview. "'Because we are one year behind.'"
Jessie hates not being able to see and touch her son. "Our relationship is kinda hard to explain," she says. "I was just there. From day one. He was my miracle child." Though unwilling to discuss her crime (she is planning to appeal), Jessie allows that it's been a rough two years for her and Devonta. "We said we were gonna put it behind us," she says. "I don't think he will ever forget. But we can kind of put it where he can move on.
"He's a strong young man," she adds, her voice ragged with emotion. "And it's time for him to have some happiness."
Some days, Devonta wonders if he should isolate his painful memories, then jettison them. But he doesn't want to forget. Instead of letting his scars heal, fading from his life like everything he has lost, he has consecrated them. This summer, he tattooed his mother's name on his shoulder alongside a pair of praying hands.
Even now, when he's running the length of the court, he still catches himself scanning the stands for his parents' faces. "I might be able to look up and feel their presence," he says. "To me, that's better than nothing."
Follow ESPN Reader on Twitter: @ESPN_Reader
Join the conversation about "Free To Go."