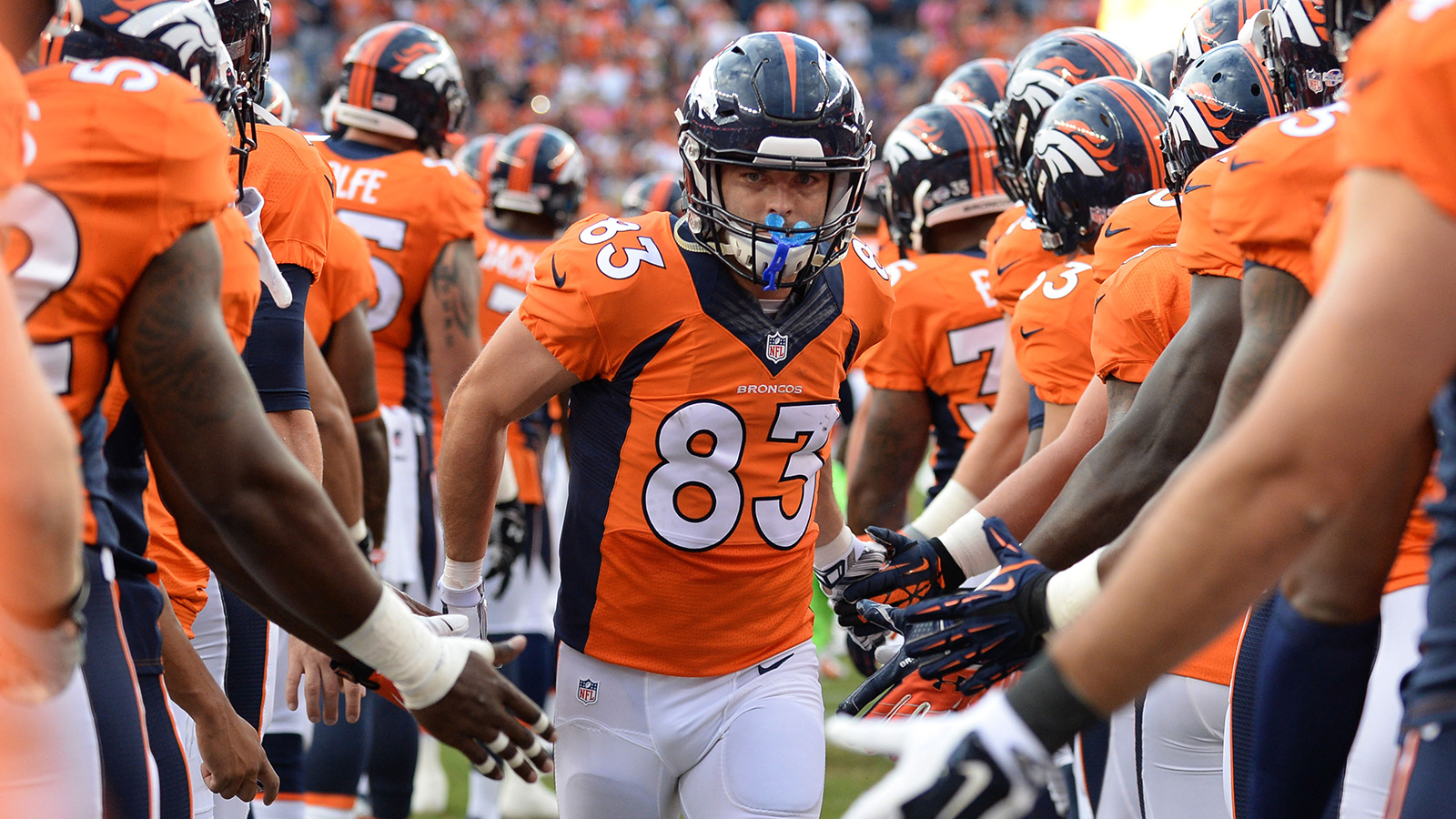 Wes Welker Will Not Be Denied
Wes Welker became one of the most dominant receivers of his era because of an unfailing belief in his abilities. In the wake of three concussions in 10 months, is that same self-confidence now putting his future at risk?
DENVER -- Wes Welker says he's going to be fine.
Sometimes he forgets stuff -- Where did I put my keys? What's the name of that restaurant? -- but who doesn't?
"My wife will be like 'How can you not remember that? Is it the concussions?'" he says. "I'm like 'No, babe, I just forgot!'"
There are days when it's hard to convince his wife, Anna, that those little lapses aren't a harbinger of something more. Two months ago, they went out to dinner with another couple, and the friends asked Welker how old he was. "I'm 33," he said, and Anna shot him a horrified glance. "Wes, what are you talking about?"
"She was adamant," Welker says. "I'm sitting here looking at her like she's crazy. Then I start to think: 'Jeez, did I forget how old I am?'"
He added up the years. He was born on May 1, 1981. He was right, and she was wrong. Thirty-three years old. "We laughed," he says. "But I'm like "Babe, I'm the one with the concussions here!"
In 2013, his first season as a wide receiver with the Denver Broncos, Welker suffered two concussions in a four-game span. After the second, a forearm blow to the head by Tennessee Titans safety Bernard Pollard, Welker lay face down on the turf, clutching his helmet and writhing in pain.
"Every time I get clobbered, I pretty much know I'm going to get clobbered," he says. "You try not to take those hits, but at the same time, you've got to try and make the play, as well. It's kind of that fine line with stuff."
The Broncos held him out of the final three games of the regular season, and when he came back for the playoffs Welker was wearing a noticeably larger helmet. It wasn't a specially designed anti-concussion helmet, he told The Denver Post, just a bigger size the Broncos wanted him to wear for safety. He played through the Super Bowl without incident, but his decision to return to the field was the subject of debate in Denver and elsewhere. Why, given everything we now know about the long-term debilitating effect of concussions, wasn't Welker retiring? "I don't think you're courageous. Or tough. I think you're f---ing stupid," wrote prominent sports writer Jeff Pearlman. "Wes, you're a young guy, and you need to retire right now."
At the beginning of the 2014 season, Welker suffered his third concussion in less than a year, this one on a nasty hit by Texans safety D.J. Swearinger in a preseason game. The pundits weighed in again. "If Welker spent an hour with the family of Dave Duerson -- the Super Bowl-winning cornerback who committed suicide, and his note said it was brain trauma -- maybe he would call it a career," wrote Benjamin Hochman in The Denver Post.
Welker was a pass-catching savant once. Only 19 players in league history have caught more passes than his 884, and no one caught more passes in the NFL in 2007, 2009 and 2011. Just 5-foot-9, he was Mighty Mouse in shoulder pads, the slot receiver who could shake free of his own shadow to get open. And he bounced up from every big hit, head bobbing and jaw flapping as he strutted back to the huddle.
He is not that player anymore, yet he has no intention of retiring. "As long as I've recovered the right way and everything like that, I'm ready to go," Welker says. "I really don't see any problem with it."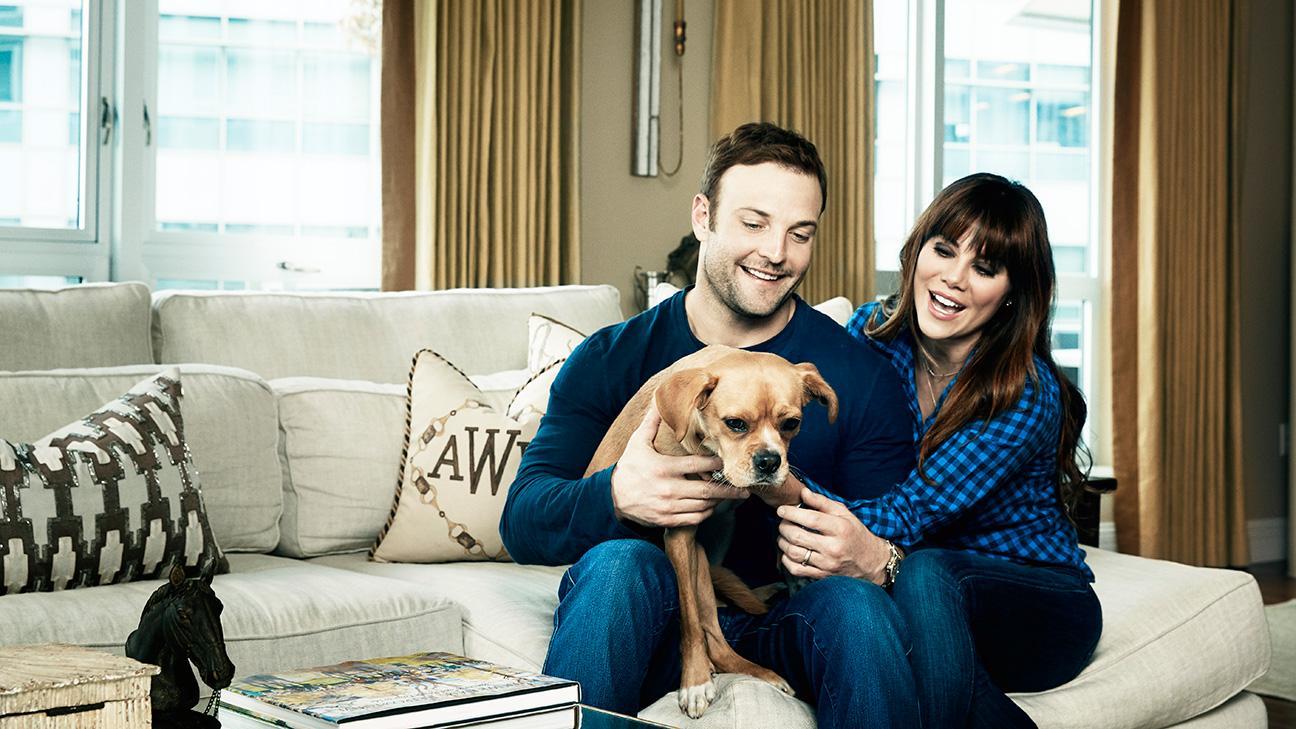 WHEN HE WAS A BOY, Welker had a rabbit named Thumper. He loved chasing him around the yard and feeding him. One day, the neighbor's dog got loose and slipped into the Welkers' yard, and that was the end of Thumper. A few days later, Welker told his brother, Lee, he'd waited until no one was watching, sneaked into the neighbors' yard and whaled on that dog. He was 7 years old.
Lee and Wes Welker, born five years apart, had a trampoline in their Oklahoma City backyard that for many years was the site of neighborhood battles royal. Lee's friends would try to double-bounce the younger Wes off the trampoline and into the backyard fence. "It was intense," Lee says. "You had to be rough and tough. Wes was younger and much smaller than most of the kids, and he wanted to be right in the middle of it."
Welker learned he had to be nimble if he wanted to stay out of the emergency room. He'd dodge balls thrown at his head, dart into slivers of daylight when it looked as if he was going to be sandwiched between a shoulder and a knee.
"I was definitely part of a lot of beatings," he says. "My brother likes to take credit for my toughness. I tend to go to the other side of that, like I should be seeing a psychiatrist because of him."
His parents encouraged his love of soccer for as long as they could, but when Welker reached the sixth grade they said he could play football. From the moment he first put on a helmet and pads, he was faster, quicker and smarter than nearly everyone on the field. He was also one of the smallest players. Coaches would sometimes size him up and roll their eyes. Until they saw him with a ball in his hands.
In 1998, as a junior at Heritage High School, Welker scored three touchdowns, intercepted a pass and kicked a 47-yard field goal in the Class 2A state championship victory over Tishomingo County High. As a senior, he was named Oklahoma's All-State Player of the Year by The Daily Oklahoman and Oklahoma State Player of the Year by USA Today, and his coach, Rod Warner, sent out 105 faxes imploring college coaches to give him a look. I don't know how fast he is, Warner told them. But no one ever catches him.
Then-Texas Tech coach Mike Leach was one of those coaches, but he wouldn't have gambled on Welker if not for the urging of his director of football operations, Tommy McVay, and his running backs coach, Art Briles.
"I remember he showed up as a late signee and I was like 'What are we doing? He looks like one of the frat guys on campus,'" says Kliff Kingsbury, Welker's college teammate and now the coach at Texas Tech. "I couldn't believe we were offering this guy a scholarship. Then we showed up for the first day of freshman practice and he was the best player out there. By far. No one could touch him."
Kingsbury set a handful of NCAA passing records at Texas Tech, thanks in no small part to Welker's willingness to run slant routes and crossing patterns with conviction. "His fearlessness is why he's where he's at," Kingsbury says.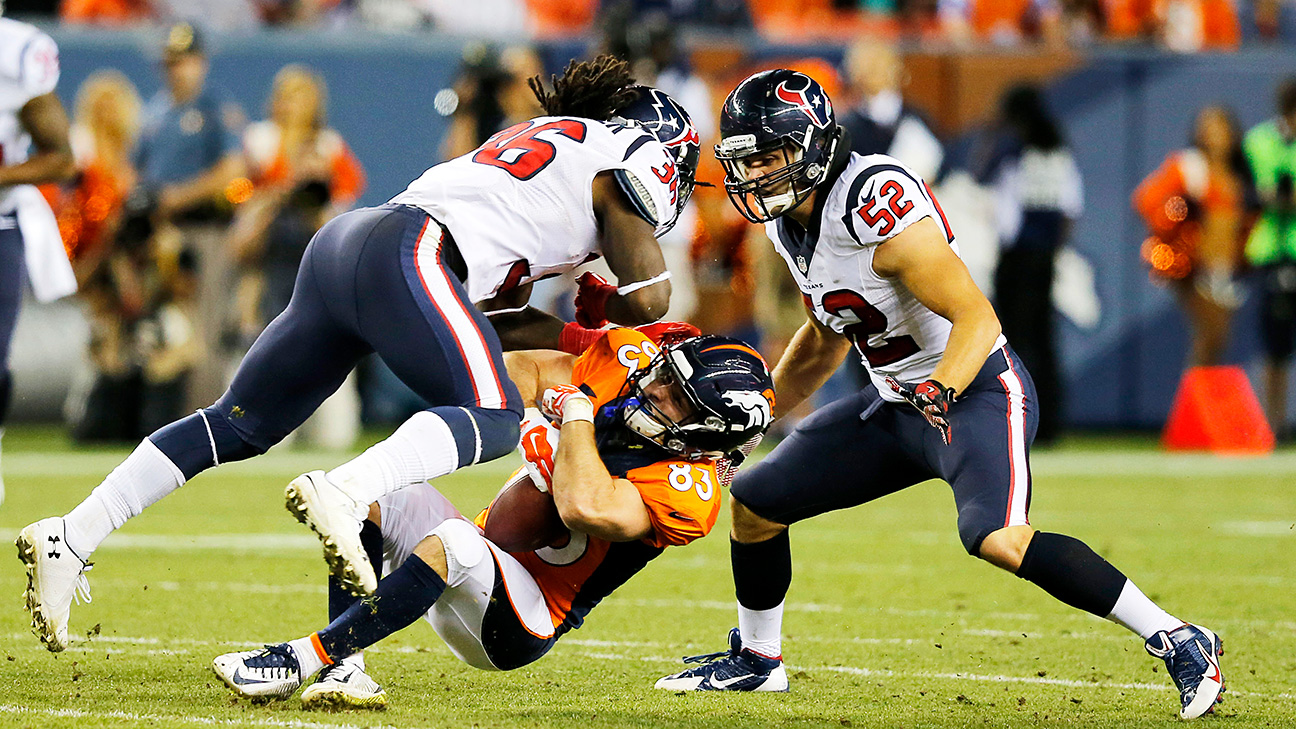 IN SEPTEMBER, when team doctors (as well as an independent neurologist, in accordance with the NFL's concussion protocol) cleared Welker to play after his third concussion in 10 months, Broncos general manager John Elway pulled the wide receiver aside.
He wanted to know how many concussions Welker had suffered over the course of his career.
"I can't remember how many he told me," Elway says. "It wasn't very many. I thought he'd had a lot more."
Elway knows football players almost never leave the game voluntarily. If quitting is in your DNA, you never make it to the league in the first place. "It's hard because the mentality you have to have to play the game is that 'I'm invincible.' To all [of a] sudden say 'Oh, I'm not that good anymore, I'll shut it off and go do something else,' that doesn't work. Guys that can just walk away, those aren't the great players."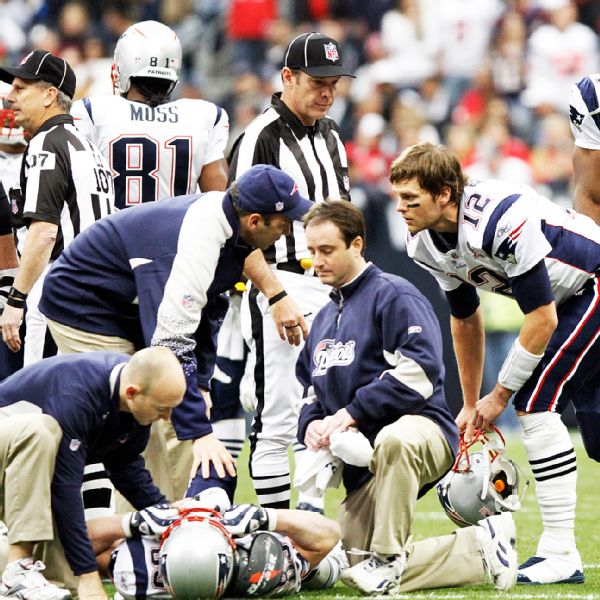 DURING WELKER'S FIRST YEAR in the NFL -- after he had been cut by the Chargers, then signed by the Dolphins -- his ankle began to hurt. It was just uncomfortable at first but later became excruciating.
He kept it to himself. "I didn't want to tell anybody because I was afraid they'd just cut me," he says.
After two seasons, during which he had blossomed into a reliable third-down receiver, Welker finally told the Miami coaching staff he wanted to get his ankle looked at.
He'd been playing with bone spurs. For two years.
---
TOM BRADY says all the right things. He's effusive in his praise of Welker's toughness. But privately, he has told several people that he worries about his friend. How many big hits can one man take, he wonders.
In 2007, at Brady's behest, the Patriots sent a second- and seventh-round pick to Miami for Welker. Brady felt sure Welker would flourish in New England's demanding offensive system. "He's a great route runner, a great technician," Brady says.
When Welker visited New England's football facility for the first time, he found Brady in the weight room. Brady said he was looking forward to having Welker on the team, and Welker, stone-faced, told the quarterback it wasn't a done deal just yet. There was a snag in his contract.
"It says you have to agree to set me up with some of Gisele's friends," Welker said.
"Most of Gisele's friends are guys," Brady shot back. "But I'm sure we can set you up with some of them."
A brotherhood was born. Welker figured he'd spend the rest of his career with the Patriots. He and Brady and their wives took vacations together. And Welker took a lot of big hits over the middle along the way. "He's one of my best friends," Brady says. "I hate to see him go out of the game. He's meant so much to our team and so much to me as a person that I always root for the best for him. I hope he's doing OK."
---
"Wes is going to have to make what's going to be a 50-year decision versus the next couple years."
- Steve Squeri
WELKER IS SET UP well for a strong second act. He has made savvy investments and recently opened an Oklahoma City restaurant that bears his name. He has a handful of friends in the business world who are eager to have him schmooze with clients after he retires. He might even coach football. "I'm sure I'll find other things to keep me busy," he says. "But there is something about the game. There's nothing like that competitiveness. That feeling and that rush -- you can't really get it anywhere else."
A few years back, Chris Hicks, a college teammate of Welker's, asked him to write a letter to the football team in Hicks' one-stoplight hometown of Mason, Texas. The Mason Punchers were about to play in the 1A Texas state championship game,, and they were nervous.
Within hours, Welker sent a note:
"Let me start off by saying that I wish I could go back to high school and play another game. It's about strapping up your helmet and going to war with the guy next to you. The guy that you have had so many memories with. That if push came to shove he would do anything for you, and he knows that you would do the same for him. There will come a time in this game where you will face adversity. It's going to happen and things are going to get tough. And part of your mind will tell you that it's ok to lose and that you can't take it anymore than you have. That may be ok for you, but it's not ok for the other guys who have put blood sweat and tears into this season. The single greatest thing a team can have for each other is playing for the guy next to you! There is no better way to play than for the guy next to you. Play your hearts out for each other and you will win this game! Good luck gentlemen! Go kick some ass!"
The Punchers beat the Stamford Bulldogs, 62-40.
text
IN AUGUST OF THIS YEAR, a Denver TV station put a poll on its website asking whether Welker should retire. It drew more than 2,000 responses. Sixty-four percent said Yes.
Welker appreciates the concern. He knows he's an avatar for a generation of undersized kids who fantasize about catching passes from Brady or Peyton Manning. "In Boston, there are a lot of short white guys," Welker says. "All the time, guys would look at me and say 'Man, I could've played in the NFL. I can't believe I didn't stick with it.'"
He is still capable of separation and still a threat on third downs. "We don't want him playing 75 plays a game," says Broncos offensive coordinator Adam Gase. "We need him for critical situations." But Welker is in the midst of the worst statistical season of his career, on pace to catch for under 500 yards, and his contract is up after this year. Denver needs to sign two of his teammates, Demaryius Thomas and Julius Thomas, to long-term deals. They are faster and younger, and Manning looks in their direction far more often than he does Welker's these days.
"The question he has to start thinking about is, 'What's next?'" says Steve Squeri, the group president of global corporate services for American Express and a friend of Welker's. "Wes is going to have to make what's going to be a 50-year decision versus the next couple years."
For now, he plays on. "There's been so many times in my career when I come out and I'm killing it, and 10 catches a game is nothing," Welker says. "Then by the time you get to November and December, just keeping your body going is hard."
He's skeptical of former players who are suing the league over head injuries, though. In a recent landmark settlement, the NFL admitted that nearly a third of its players are expected to develop long-term cognitive deficiencies, a significantly higher rate than in the general population, and at younger ages, but Welker claims he hasn't looked at the terms of the settlement closely. "I'm waiting for that person who doesn't have a financial problem, doesn't have some sort of domestic violence deal, doesn't have a drug problem, to come out and be like 'Hey, these concussions are really affecting me,'" he says. Welker's comments were inaccurate, and, a week later, he says that he realizes those comments were dumb and insensitive and that he just wants people to understand that everyone's body reacts to football collisions differently.
For friends and family, though, it is getting harder to watch and say with certainty that he's going to be fine. "When he gets hit, you think 'Are you OK, buddy?'" Lee Welker says. "My parents and I, we always pray about Wes every game. We just believe that God has got his hand upon him and that he's safe. We didn't probably take it as seriously as we should have for a while, but now we definitely understand, 'Wow, this could really hurt him.' He's got a life ahead of him to think about."
---
ANNA WELKER worries less now than she once did. She used to watch Wes' games in a state of agony, barely able to talk whenever he was on the field. She talked to friends and read stories on the Internet about CTE. When he'd come home, she'd unload her fears on him. "I trust Wes, and I believe in him," Anna Welker says. "But everyone would worry me."
Eventually, he asked her to stop. If she had questions, he wanted her to bring them to him. He agreed to get regular MRIs and to see his neurologist (the same one Troy Aikman used to see for his checkups) twice a week. At night, when they lay in bed, he worked on brainteasers to keep his mind sharp.
He made her a promise: I will never keep anything from you. "I don't think he'd ever put himself in a situation where he didn't legitimately think he was OK," she says. "So I have trust in him. Of course I have my worries and I can drive him crazy with them. But at the end of the day, he knows himself better than anybody." The Welkers don't have children yet, but they plan to have them in the not-too-distant future. Wes sometimes jokes that he wants his kids hitting golf balls not long after they can climb out of the crib. "I'm sure the guys on [the PGA] Tour are like 'Well, it's not all it's cracked up to be.' I'm like, 'I don't know, dude. Football isn't all it's cracked up to be, either.' Their first sport will definitely be golf."
He pauses for a second, then laughs: "It's probably the only thing I'll be able to do."
text
IN AUGUST, Welker was suspended by the NFL for violating the league's PED policy. His only public explanation was to tell The Denver Post that "he would never knowingly take a substance to gain a competitive advantage in any way." A ProFootballTalk report claimed his positive test was the result of taking the designer drug "Molly" while partying at the Kentucky Derby. Welker was furious. "I'd love to pull that person aside, look them in the eye and be like, 'You really screwed this one up," he says.
Dr. Anthony Alessi, an associate clinical professor of neurology at the University of Connecticut, thought the theory sounded wrong, as well. Alessi, who has spent almost three decades studying brain injuries in boxers and football players, says, "Some physicians prescribe stimulants for people with brain injuries because they do help with focus and concentration."
Alessi says players in the NFL quietly have been using amphetamines in this way in recent years. "I've heard of that," Welker says. "I've heard of people who do that, being perfectly honest. But that's not the case with me."
Alessi has never treated Welker, but the neurologist has followed the wide receiver's career for many years. "No two people have the same threshold," he says. "But we do know that the chances of having a post-concussive syndrome, or lifelong-lasting symptoms, goes up with each time you get hit in the head. A guy like Wes Welker, he's made his reputation over the middle. That's the danger zone in football. You're going to get walloped. Those high-velocity impacts seem to have more of a lasting effect on the brain. How do you pick out who is going to have it and who isn't? We're not there yet. But he needs to know, by going back in, he's really rolling the dice."
---
OUTSIDE METLIFE STADIUM after a recent game against the Jets, Welker patiently poses for pictures with fans. No Broncos player agrees to fan photo requests more often than Welker. He puts his arm around you, grins and lets you snap a picture to show your friends. Even after catching just one pass for 8 yards that afternoon, he spends nearly 30 minutes chatting and posing. Kids of all different sizes and races gleefully sashay over to him, and before he heads to the team bus a large group of fans passes by, chanting: "We love Wel-ker! [clap, clap, clap-clap-clap] We love Wel-ker!" Welker laughs and waves.
"He's really appreciative of the situation," says Frank Marzano, Welker's close friend and financial adviser. "He's a people person, and he has one of the most dynamic personalities of anyone I know. I think he knows he's going to miss it when people stop asking for his autograph."
---
IN EARLY NOVEMBER, the Broncos take on the Patriots at Gillette Stadium. Late in the first half, Welker bobbles a pass from Manning on a crossing route, and Patriots cornerback Devin McCourty puts his helmet in Welker's back as he's reaching for the ball. Welker's arms fly out to the sides. It looks briefly as if he might break in two.
He doesn't return for the rest of the game. The Broncos medical staff later diagnoses him with a back injury, and there is a palpable sense of relief throughout the stadium that it wasn't a concussion.
After the game, Welker stands in front of his locker, his back to the assembled media, and slowly, stiffly gets dressed. He fastens the buttons of his dress shirt, slips on a gold wedding band, spinning it and cleaning the smudges on it until it shines. His hands do not shake.
It was a pretty nasty hit, he concedes, but it's just football.
"Just a bang-bang play," he says.
Follow ESPN Reader on Twitter: @ESPN_Reader
Join the conversation about "Wes Welker Will Not Be Denied."