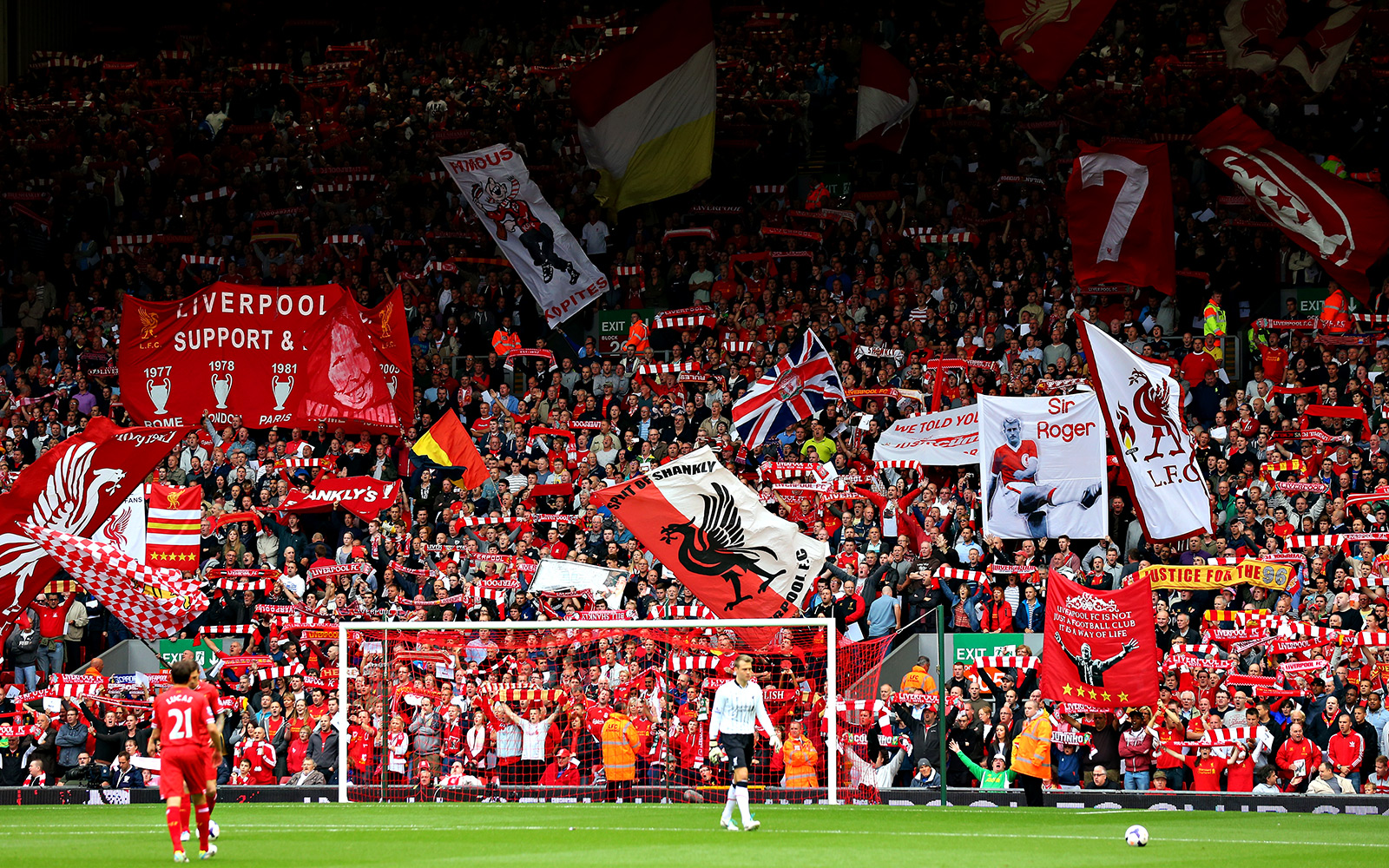 The Premier Experience
Truly experiencing the sights and sounds of English football's top league is a mere dream for millions of fans. But we sent one American reporter to take it all in.
LONDON -- Our Lady of Compassion Catholic Church sits on the very southwest edge of West Ham United's Upton Park, so close that it almost seems like the pews could be an actual section of the 111-year-old football stadium. I'm not quite sure, though, which is the home to more devout faith, the church or the football grounds.
Maybe both. Next to the church and outside the stadium main gate is a small Memory Garden where West Ham supporters have buried the ashes of their loved ones over the years. Several are marked with plaques, including one that says the dearly departed is now watching his favorite 11 "from his seat in Heaven.'' The one for Clifford Duncan Howes, who died just after his 19th birthday in 2006, describes him as "the Heavenly Hammer'' and that he now gets "to watch the home games -- RIP Love Mom and Dad.''
These touching plaques and memorials are not something that I have seen at a U.S. stadium, where teams generally forbid the scattering of ashes (though fans still do it on the sly). At 105-year-old Old Trafford, however, Manchester United allows supporters to spread ashes inside the stadium, on the very edge of the pitch.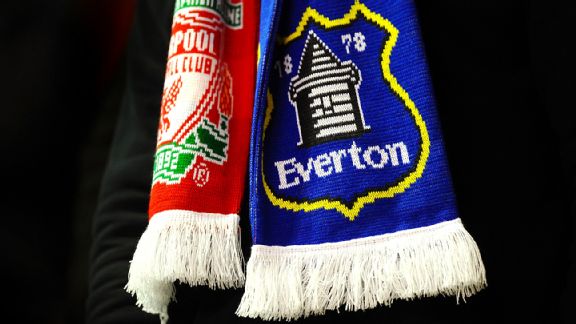 "In this country, we realize that football fans are very, very passionate indeed, and when you get attached to a club it can become your life,'' Manchester United's Museum Business Development rep Jason Leach said while giving me a tour of Old Trafford. "We have so many passionate fans. They will spend every penny on Manchester United. They follow them home and away. They buy the shirts, buy the scarves, they bring the kids up to support United.
"When It comes time to pass away, it's natural they would do something like [scatter their ashes here].''
Supporters also can, and do, get married at Old Trafford. While Leach doesn't know of any specific examples, he wouldn't rule out supporters being conceived in the stadium, as well.
I wouldn't rule it out, either. Everything from conception to cremation at a football grounds only makes sense in England, where football is a matter of life and death. Not that legendary Liverpool manager Bill Shankly agreed. As he famously said, "Some people believe football is a matter of life and death. I am very disappointed with that attitude. I can assure you it is much, much more important than that."
---
A customs agent at London Heathrow Airport glanced at my passport and asked what I would be doing during my stay in England. I told him I was a journalist with ESPN who would be attending Premier League matches and writing about it from the perspective of an American. While taking in six matches up and down the country in just over a week, I planned to learn about English fans, stadiums, rivalries, chants and concessions in what I call the Premier Experience.
"Are you a big soccer fan?'' he asked (and yes, he did say "soccer'').
"Some people believe football is a matter of life and death. I can assure you it is much, much more important than that."
- Legendary Liverpool manager Bill Shankly
I told him it is not the top sport I follow, that my passion is for baseball and cycling. I asked him whether he was a soccer fan.
"I grew up with football,'' he said (and this time he called it "football''). "But now, I'm more interested in baseball. I'm an Atlanta Braves fan. Tell me, why do they always play well the first part of the season and then fall apart the last 30 games?''
I couldn't answer that question -- who can possibly explain why Atlanta always collapses in the end? -- but I found a British customs agent wanting to talk baseball as interesting as Americans rising early on Saturday mornings to watch Chelsea play Aston Villa on the telly at local English- and Irish-style pubs.
Paraphrasing former Speaker of the House Tip O'Neill, all sports are local -- the closer the team, the more you care. Which is what makes the English Premier League so interesting. Forget locality -- there is truly global passion in the Premier League. NBC started televising its matches regularly here in 2013, but interest in the league has been rising for years.
Americans are by no means the only foreigners with such interest. In fact, we're still probably low on the passion meter. For instance, Manchester United provides audio guide tours of Old Trafford in English, French, Mandarin, Spanish, Italian, German, Polish and Japanese. Which probably still leaves out many fans.
When I attended the Liverpool-Sunderland match at Anfield, I randomly interviewed fans about the team. The first two fans grew up near Liverpool but live elsewhere now. The next two, however, were from Sweden. The two after that, Norway. The next? Sweden. Then Ireland. Then back to Norway. The one after that, Denmark. Then, Beijing (a fan I also met at an Arsenal match a few days earlier). Next, Hong Kong. It took almost half an hour to come across a true Liverpool accent.
"I love the Everton-Liverpool Derby,'' one fan there said. "Because you have all the Everton fans singing about Liverpool fans going home on the airplane.''
Why do they come from so far away? For that matter, why have I come this far, given that I'm not a particularly passionate soccer fan? Simple: To find out what the Premier League is like and feel the thrill of experiencing a match in person.
After watching six Premier League matches in nine days, I'd say the best comparison to American sports would be college football, where U.S. fans also sing at games (I'm not a Notre Dame fan, but its fight song stirs my blood), passionately and proudly wear their college colors (however many those may be if you root for Oregon) and have fervent rivalries (Birmingham, Alabama rivalries might be on par with Birmingham, England).
The Premier League is a different experience, though. While there is chanting and singing, there also is an intense focus on the game. Americans sit and chat and laugh and talk on cell phones and shoot selfies and go to the concession stand to get beer and nachos. Not Premier League fans. Oh, they drink, make no mistake about that; but that is mostly before matches and generally in pubs outside the stadium. Once the match starts, the focus is on the pitch. Apart from when a home goal is scored, it sometimes almost seemed like they weren't having fun. They barely even bothered to take selfies.
"You have to have your eyes on that game,'' Leicester City fan Simon Gutteridge said. "Whatever team you're following, you have to follow their beliefs.''
Premier League supporters were very vocal and loud and fun before and after matches (if their club won), but during the matches their eyes were glued to the pitch. They are true students of the game. I noticed very few conversations, though. The fan next to me at the West Ham match chatted a bit, but he also had his arms folded and twisted nervously.
Then again, there isn't a lot of light-hearted conversation and laughing in the pews during a church service, either.
---
I took my Premier League tour just after Thanksgiving, traveling to London, Manchester, Liverpool and Birmingham. I sat with Tottenham, Arsenal and West Ham supporters in their stadiums, traveled with Stoke City in a convoy of buses to Old Trafford and, better yet, drank with them in the surrounding pubs.
I interviewed dozens of fans about stadium culture and how it has changed with the all-seater format, the increasing corporatization and the escalating prices.
"It was loud. There was passion there. You could smell the ale, you could smell the meat potato pies. Now, it's different. Everybody sits down. I sit in the family stand with my eight-year-old lad. It's totally different from what it used to be for me.''
I visited the wasteland that once was the old Victoria Ground, where Stoke played for 119 years, and talked to fans everywhere about the continuing replacement of century-old stadiums.
"The Victoria Ground was my second home. I drive past it now and think what fantastic memories I had there. ... I think if you asked the average Stoke fan, 90-95 percent will say it makes them sad.''
I heard fans decry hated rivals, no matter what division they were in.
"I would love to see Birmingham get up to the Premier League just so we [Aston Villa] could relegate them again."
I wore the local club scarves and heeded warnings not to wear a rival's colors.
"I would never wear this at Tottenham or Chelsea. It's not worth the effort. You'll be picked on, you'll get - it's not worth the effort. There still is that intensity in English football. That's something we don't want to lose.''
I was astounded that for all their passionate faith and devotion, some fans of lower-level clubs expressed no hope whatsoever their team would ever knock off the heavyweights to win the Premier League (I mean, even Chicago fans think the Cubs will win the Word Series). Which reminds me of a line from the dark comedy "In Bruges,'' in which Colin Farrell describes purgatory this way. "You weren't really s---, but you weren't all that great, either. Like Tottenham.''
I felt goose bumps rise when Liverpool supporters sang along to "You'll Never Walk Alone.'' I listened to and tried to learn (but failed miserably) chants and songs. I ate the crappy concessions and drank even worse beer in the stadiums. I attended a game at Old Trafford with away fans and underwent a more thorough security check than at a U.S. airport. I explored which team the Beatles supported, Liverpool or Everton (Paul McCartney has joked that he has papal dispensation to root for both, but supports Everton when the two teams face each other), and took the walk between the club's two nearby stadiums. I tried to decide which team to support after I returned home.
I gambled against Man United by placing a legal bet inside Old Trafford minutes before the match. (Unfortunately, I lost my wager.)
And most of all, I soaked in enough atmosphere, experienced enough culture and drank enough pints for the following stories about my Premier Experience.
text
RIVALRIES
LONDON -- A Tottenham fan noticed me taking notes in the cramped concession area at White Hart Lane and asked me what I was doing. I told him I was an American journalist with ESPN writing about the Premier League experience.
"You're using a red pen,'' he said, pointing down toward my hand. Actually, the only red bits were the cap and a hotel chain logo along the side, but apparently that was sufficient to arouse his suspicions that I bore dangerous allegiance to despised Arsenal. I assured him the pen marked no Arsenal loyalties whatsoever and that I had merely taken it from my hotel room. He accepted this explanation.
Still, his comment stuck with me. How heated is a rivalry where even the color of your pen is considered an issue?
Following my Premier Experience tour, I would say Premier League contentions are most similar to our college football rivalries, only even more intense and involved. I mean, I'm a Washington Husky (purple and gold), but no Washington State Cougar (crimson and gray) or Oregon Duck (green and, well, whatever color Nike chooses that week) has ever hunted me down to question the color of my pen. Although, perhaps it would be different if I lived in Alabama.
Consider this, though. West Ham hates Tottenham (someone sold me a pin that read "Keep Calm and Beat Tottenham''), as well as Arsenal and Chelsea, but their most bitter rival, the team they despise above all others, is Millwall, a nearby team in the next division down. The two teams rarely play each other anymore because they are almost never in the same division. They played one season together in the top division of English football for the past two decades and only played each other eight times since 1993. Yet the rivalry is so intense that when they did play in 2009, I'm told there were West Ham fans waiting in the pub near the Tube station ready to attack the Millwall fans who got off the train.
"They said, 'The Millwall fans are here. Everyone outside - let's f---ing go for it!'" West Ham fan Russell Pedrick recalled. "The police weren't ready for it and there was a massive fight out there.''
One fan was stabbed, more than 20 were injured and fans poured onto the pitch three times in what is referred to as the Upton Park riot. London police list games between the two clubs as "Category C" -- matches with "increased risk of disorder." Why such an intense rivalry between two teams that so rarely play? It dates back more than a century when the two communities competed fiercely for shipping employment.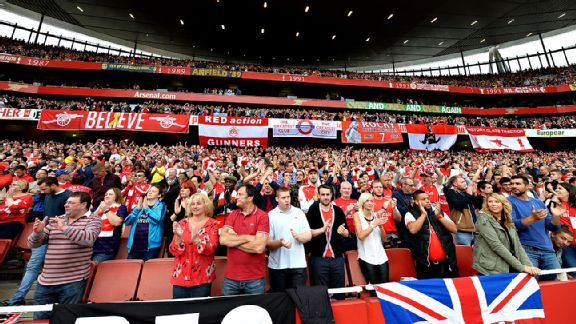 "Which is incredible,'' Pedrick said. "I bet you, if you ask any 18- or 24-year-old West Ham or Millwall fan, they would never have heard of that. All they know is we hate Millwall.''
Tottenham, meanwhile, hates Arsenal (I bought a shirt that read, "Keep Calm and Hate Arsenal''). And neither side would ever consider changing allegiances.
"No, you don't do that. No! Noooo!!!!'' said Katrina Law, co-chair of the Tottenham Hotspur Supporters' Trust. "You can change your religion. You can change your sex. You can change your partners. But you can't change your football team. They've got you for life. We're like no other brand of customer. We're so loyal. That's it. They've got us.
"It's really tribal. It's our national sport and we're really passionate about it. We're very territorial. In a weird way, if I know someone is a Spurs fan but I've never met them before, instantly they've got brownie points in my book. They start at plus-10. And they have to be a real idiot for me not to like them. But if someone says, 'You know, Jim is an Arsenal fan,' he starts at minus-10 and then he has to work his way up. It's so ridiculous.''
So it surprised me when Tottenham fan Sarah Gallen told me her boyfriend roots for Arsenal. She said they get along very well apart from days when the two teams play each other. "It's absolute hell.''
Asked to choose between the Spurs or her boyfriend, Gallen said she would pick Tottenham. "I've been in a relationship with this club longer than I've known him.''
Told about this relationship, Arsenal fan Robbie Lyle asked why she would be dating an Arsenal fan, then quickly added, "Because she knows we're quality.''
Lyle is the creator and director of ArsenalfanTV.com, a very popular website devoted to Arsenal and their fans. "There are a lot of teams I hate,'' he said. "I hate Chelsea. I hate Manchester United. But Tottenham is our main rival. They're only just up the road from here so we're rivals in every sense of the word.
"You can change your religion. You can change your sex. You can change your partners. But you can't change your football team."
- Katrina Law, co-chair of Tottenham Hotspur Supporters' Trust
"To be a proper Arsenal fan, you have to hate Tottenham, and to be a proper Tottenham fan, you have to hate to Arsenal.''
Hey, imagine "Star Wars'' without Darth Vader and stormtroopers.
Here's another thing. While there are a wide array of colors in American sports teams (I grew up a Minnesota Vikings fan because I liked their purple helmets), most of the Premier League club colors I saw were either red or blue (or had red and blue trim). And as this superb ESPN commercial shows, the rivalries sometimes are between Reds (Liverpool, Manchester United) and Blues (Everton and Manchester City).
"There is nothing red in my house. I don't ever wear anything red. It's a disgusting, disgusting color,'' said Tottenham fan Alex Richings, (whose team wears white with blue trim). "I got married two Sundays ago and my wife wanted red bridesmaids dresses and the engagement was almost off. Luckily, she saw sense.''
West Ham-Millwall aside, rivalries often rise and fall based on how good the rival is - and how often it disrupts your team's success. When I was a student at Washington, I hated USC most because the Trojans were the team that would beat the Huskies and keep us from the Rose Bowl. Oregon, despite being just across the border, was almost off the radar because it never won in those days. Now, Oregon is Washington's most hated team while the Ducks probably don't give us a thought.
Then again, everyone finds it within them to hate Manchester United.
I made my way to Old Trafford as part of a Stoke City fan convoy. We gathered at the Britannia Stadium parking lot in Stoke-on-Trent, boarded 20 buses and rode to Manchester. My ticket had "Visitors'' and "Visitors' section'' clearly displayed. When our buses pulled into Old Trafford's parking lot, we stepped off and were cordoned off into a separate entrance. Police on horseback kept watch on us. Guard dogs sniffed us. Security guards frisked us. We sat in a section that was patrolled the entire game by security guards lined up on each aisle, as was the norm. During the match, one fan was carted off for shouting a racist comment at a United fan.
Whenever United pulled off a great save or nice shot, it seemed to me that the home fans next to the Stoke section were just as excited -- perhaps more so -- to turn and taunt us as they were to shout encouragement to their own players. And I got that impression at other stadiums, as well. Away fans always do their damnedest to out-chant, out-sing, out-shout and out-passion the home fans.
"The people who go away, feel it more, want it more,'' a Stoke fan told me on the charter bus. "We're going into their area and we want to prove that we're still the best, one of the loudest compared to them. We want to shut them up, put them in their place.''
Seating segregation is standard practice in the Premier League, partly because of the incidents at matches and partly because you can get more away supporters than in America because the teams generally are geographically closer.
One of the few places where home and away fans may sit together is Liverpool, where Liverpool and Everton are so close together (their stadiums are less than a mile apart) that many families have members who support opposing teams. It was called the "Friendly Derby'' because of this, yet Liverpool-Everton matches are noted for their high number of red cards. And when I walked from Everton's Goodison Park to Liverpool's Anfield, I made sure to switch from wearing Everton blue to Liverpool red.
I also found it most interesting that Anfield's "dugout'' holds both teams. Liverpool's subs sit on one side, the away team on the other, with some seats right next to each other as if in a theater. Imagine David Ortiz sitting mere inches from A-Rod at a Red Sox-Yankees game.
Speaking of which, during the memorable 2003 ALCS, I wore a Yankees shirt to a game at Fenway Park and a Red Sox shirt to a game at Yankee Stadium without incident other than a couple silly insults The Red Sox-Yankees rivalry might be the most intense in American professional sports, but you can attend games wearing the opposing team's colors without it being an issue. This is most definitely not the case in the Premier League.
When I attended a game in Villa Park at the end of my tour, I was wearing scarves of multiple teams that I had collected along the way (Aston Villa, Everton, Arsenal, Liverpool, Stoke City). Several policemen asked me whom I actually supported, as did the security guard outside a pub reserved for "away fans.'' When I told the guard I was neutral, he said I could not go into the pub. I told him I was a reporter trying to capture the full Premier League experience, but he said I still could not go in with all those different scarves. He made me take them off and he locked them in a van.
I also bought a silly Spurs chicken head cap at the Tottenham game. When I asked a fan whether I should wear it to the Arsenal game three days later, he shrugged and said, "It depends on how good your doctor is.''
THE BEATLES' CLUB IS ...
LIVERPOOL -- The Waterstone's bookstore here has a corner with three bookcases dedicated to all things Liverpool. The first case is filled with books about Liverpool FC. The one next to it is filled with books about Everton FC. And the third is filled with books about the city's four most famous lads - the Beatles.
This prompts the age-old and very important question: Which club did the Beatles root for - Liverpool or Everton? Interviewing people randomly on the streets of Liverpool, the position seemed to be split 50-50, with the responses pretty much hinging on whether the interviewee roots for the Reds or the Blues.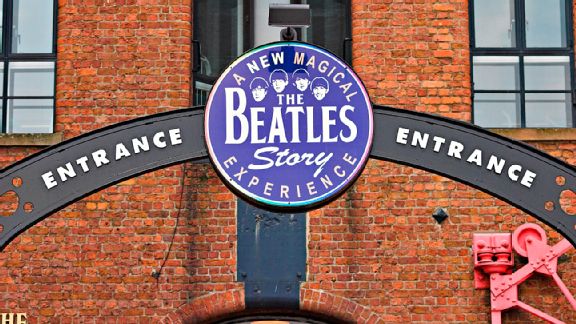 CHANTS
LONDON -- The match between Tottenham and Everton is about to begin at White Hart Lane and the home fans are tuning up for their support. "Oh, when the Spurs ... go marching in,'' they sing, "Oh, when the Spurs go marching in! I wanna be in that number, when the Spurs go marching in!''
Mind you, they are not singing this in the stands. Rather they are singing this in the cramped bathroom while we are standing four to five deep in line.
Premier League fans love their chants and songs.
I heard many of both during my Premier Experience tour and would relate the words to you except for two things. One, listening to them was a little like watching "Downton Abbey." The fans were chanting and singing in English, but their thick British accents render them beyond recognition to this American.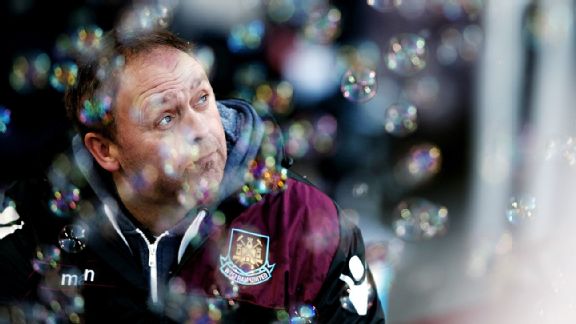 Tottenham fans joyously sang a particularly catchy little ditty at least a half-dozen times during their match and several times more in the pub after the game. Fortunately, one supporter helpfully recited them to me slowly enough that I could write them down:
"When I was a little boy,
My mother bought be a little toy.
An Arsenal fan on a little string.
And she told me:
'Kick his f---in' head in!
F---in' head in! F---in' head in!
Kick his f---in' head in!"
That's the second thing about the chants and songs. Some run afoul of ESPN/Disney standards. Some are chanted and sung by multiple teams. As I wrote about stadiums, away fans love to chant "Is this a li-brar-ree? Is this a li-brar-ree?" to mock the relative quiet of home fans. Tottenham supporters are just one of many who sing "When the (Fill in the Club Name) Go Marching In." They and others also sing to "Glory, Glory (Name of Club)" to the melody of "Glory, Glory Hallelujah!" Another is to single out an opposing player for either an insulting chant (if he's on another team) or sing his praise (if he's on the home team), sometimes to the tune of "Volare."
Liverpool famously sings along to the Mersey band Gerry and the Pacemakers' "You'll Never Walk Alone," an anthem as rousing as "The Star-Spangled Banner." West Ham United fans, meanwhile, sing "I'm Forever Blowing Bubbles."
At first, I found the bubble song a little odd for a club anthem, since I connect it with the parody Ring Lardner sang to the 1919 White Sox after another thrown World Series loss ("I'm Forever Blowing Ballgames ...''). Why sing this song? But then, why do Red Sox fans sing "Sweet Caroline"? The important thing is it feels great hearing the song, especially when West Ham has soap bubbles floating though the stadium.
And it's sure better than hearing "New York, New York'' played after a Yankees win.
STADIUMS
STOKE, England -- Stoke City played at the Victoria Ground for 119 years, competing there from Queen Victoria's reign into Tony Blair's term as prime minister. And then in 1997, they moved into the all-seater Britannia Stadium about a mile away at the edge of a motorway. Little surrounds the new stadium, apart from some car dealerships, a fitness gym, restaurant and Holiday Inn Express.
Virtually nothing is left of the old grounds. Several Stoke fans referred to the area as a wasteland, and for good reason. A shopping cart, beer cans, a fading plastic chair and wine bottles are scattered among the weeds. About the only remaining sign of the stadium's footprint are two broken and rusting support beams. I could not find a single plaque or marker noting that this was Stoke City's home for nearly 120 years.
"It's a shame that there is nothing really marked,'' said Dave Barker, who twice has camped out in a tent on the Old Victoria Ground. "It's one of the oldest football clubs in the world. Why can't we have recognition of what is ancient?
"This was the heart and soul of the town. Every Saturday, it was chock-full. The businesses were thriving. People would go in to the businesses before and after the match. The old Victorian pub and hotel -- that was thriving. It was where everyone used to meet. It was unreal. But now it's closed up and for sale."
"It destroyed the town itself. The life and soul has disappeared from it," Barker continued. "I'm distraught."
I never saw a match at the old Vic. I never saw a game from there on TV. Never saw a photo or any reference to it. Simply put, until my Premier Experience tour, I had never heard of it. Nevertheless, as I stand here looking at the vacant land and imagining the fans who gathered here so often for longer than Fenway Park or Wrigley Field have stood -- for roughly half the history of the United States -- I feel nothing but sadness.
I have been to every current ballpark in Major League Baseball, along with 21 former stadiums. I have been at several dozen college football and NFL stadiums. I love stadiums so much and believe they hold such a special place in our hearts that I get weepy when I think of the Metrodome's demolition.
Stadiums are more important than the athletes who played inside their walls. And in increasingly secular England, they are the country's churches, the country's cathedrals.
"The players will come and go. The stadium does not," Leach told me during a tour of Old Trafford. "That's what very special about Old Trafford. It's been here for 105 years. It will outlive me. It's already outlived my father, who was a Manchester United fan, and it will probably outlive my kids, who will be Manchester United fans.
"That's the thing about having a stadium and keeping a stadium. There are a lot of football club that are changing stadiums these days, but as soon as you lose that, you lose your home, you lose your history, you lose your traditions."
The infamous Hillsborough tragedy, where 96 fans were killed and more than 700 others were injured at the Liverpool-Nottingham Forest FA Cup semifinal in 1989, changed everything in English football. After Hillsborough, the Taylor Report investigation forced teams in the new Premier League to eliminate standing terraces for safety reasons and go to all-seater stadiums (which always have been the norm in America).
This has been a good move overall, but it has had some disappointing aspects for fans.
Stadiums are much safer. Parents feel more comfortable bringing their children to games. You can sit down (what a concept!). Restrooms are marginally better. (Emphasis on marginally.)
The negative, according to older fans, is that all-seaters have radically changed the match atmosphere. Supporters are much quieter, less energized. Rather than standing and jumping, motivated by all their fellow fans, they now sit on their hands and watch silently. I heard away fans chanting, "Is this a library! Is this a library!" at almost every stadium, because the home fans have become quieter and the atmosphere more corporate. They are referred to as the "prawn sandwich brigade," though I'm not sure anyone actually eats such a thing.
"The players will come and go. The stadium does not."
- Jason Leach, Man United's Museum Business Development rep
"Did you bring a pillow?" Arsenal fan Deniz Unsal asked me before a match at the Emirates.
Rising ticket prices have changed things, as well, though there are groups pushing for a lowering of prices (yeah, good luck with that). Liverpool fan Martin Gander used to bring an orange crate to Anfield so he could stand on it in the back of the children's section and see the games better. He recalls tickets priced at 10 pence (less than $3 today when accounting for inflation) for a European Cup final. When I bought a ticket for Tottenham, the price was $87.
"Unfortunately, it's priced out a lot of local fans," Gander said. "It's wrong."
This also is true in America, particularly at the more expensive playoff and championship games that price out many younger and more passionate fans. Our stadiums almost always carry a corporate name, just as the Emirates does in the Premier League.
Our entire world is becoming more corporate; the Premier League simply reflects this. Umm, better make that the Barclay's Premier League.
"I started going to Spurs games in the late '70s, and most people [at the matches] were my age. And most people now are still my age at matches," said journalist and Tottenham fan Martin Cloake, who wrote "Taking Our Ball Back: English Football's Culture Wars." "So, it's my generation that grew up with the informal kind of culture. To be honest, we got fairly streetwise with the things that went on, as well, and now we're the people who can afford the season tickets and have the credit cards and have got the organization ability to call up in advance."
If Cloake was a 14-year-old now, he says, and had to choose between the price and hassle of going to a match or playing games on his computer, he might choose the computer. Or perhaps his parents would take him, as opposed to the 1970s and 1980s, when attending matches was a dodgy thing.
"I wouldn't have been bringing my two kids back then. No, no way, because it wasn't a family sport then," Bryan Bunch told me, with his family in tow to an Aston Villa game. "It was more about men coming and having a drink, having some pints. Now it's more of a family game. The kids will tell you it's really enjoyable."
One question is whether the atmosphere at the old stadiums really was that much better or whether it is just aging supporters pining for their youth -- when, as is the case with almost all of us, they were more energized.
"There are a lot of fans who still have a nostalgia for the old stadium," Robbie Lyle told me outside Emirates Stadium, which replaced the old Highbury stadium. "And I still remember a lot of good times at the old stadium. But this stadium is incredible. I mean, for a big guy like me, I'm comfortable in my seat.
"I think we had to progress from there. I used to sit in the North Bank at Highbury, and if you sat near the top toward the back of the stand, you could hardly see the pitch at the upper end. This is just a massive improvement on that stadium. And for me personally, I'm glad we moved. We just need to get some more trophies to make it into a more incredible place. We need to create some memories here. That's the only problem at the moment: The memories haven't been that great."
---
West Ham has been playing at the Boleyn Ground/Upton Park for 111 years. In two years, though, the club will become the latest to say goodbye to its old grounds by moving into Olympic Stadium, about three miles away.
Fans are mixed on the move. On the one hand, they don't want to leave a stadium that has been their home for more than a century (imagine Red Sox fans leaving Fenway or Cubs fans leaving Wrigley). Nor do they look forward to the almost certain increase in ticket prices that comes with such moves. On the other hand, they hope the increased revenue from a larger stadium with additional (and more expensive) seating will help the club sign better players and improve its record. Plus, there will be much-improved restrooms.
Compared to the wave of retro-ballparks in America, I found the interior of Premier League stadiums to be rather drab and confining. The concourses were generally small and cramped. Unlike so many baseball stadiums, such as Seattle's Safeco Field, you could not view the match from anywhere in the concourses, either. It is more about sitting in your seat and taking in the match than wandering the grounds and taking in the architecture (and concessions).
There are, however, enjoyable bronze figures and statues that draw fans constantly. A statue tribute to Stoke City's legendary Sir Stanley Matthews was outside Britannia Stadium and adorned with flowers from fans, even though the club wasn't playing at home. I also really liked the Bill Shankly statue at Anfield, which is inscribed with some of the best words ever written down in sports: "He Made the People Happy."
And a crucial and refreshing aspect is that many Premier stadiums still are very much a real and vibrant part of the neighborhood, just like Wrigley Field. Step off the Tube, walk down a street filled with housing, chimney-topped roofs, shops and the occasional church and, boom, there you find a stadium that not only adds life and character to the community, it is a major part of it.
But will changing stadiums improve the team? It would raise revenue and allow teams to sign higher-salaried players, but there are still the same number of teams in the league. This is sport: No matter the average revenue, some teams still have to lose.
"Sometimes, the team suffers when you move to new surroundings," Leach said. "There is a settling in period. We saw that with Arsenal. They left Highbury, a great traditional football ground, and they moved to the Emirates. And in nine years, they've won one trophy. Before that, Arsenal was winning trophies every other season. So, the settling in period for them as been difficult.
"Emirates is a nice stadium, it's a big stadium; but at this moment in time, it's a young, unsuccessful stadium. And that's what people see when they go. There's no history. Highbury doesn't exist anymore."
Leach pointed toward the ground and showed where the club planted a time capsule on the 100th anniversary of Old Trafford. "It will be opened in another 100 years," Leach said. "And there will be another one planted then. We'll be here 200 years. Three hundred years. We'll never leave."
Which is not to say Old Trafford has not been upgraded over the years. The original tunnel through which players once entered the pitch remains, but is no longer used as a team entrance. For me, Fenway Park's modernizations have much more of a distinct, old-time feel. Or perhaps that's simply because I don't know what Old Trafford was like in 1930. (For me, Anfield had more of that feel. And interestingly, Liverpool FC is owned by Fenway Sports Group.)
I visited eight teams on my Premier League tour, and by far my favorite was Villa Park in Birmingham, where Aston Villa has been playing for 119 years. The stadium has rich character, beginning with stained glass windows, something usually reserved for churches and cathedrals. But that's what our stadiums should be, cathedrals rather than corporate headquarters.
When I asked a passing Aston Villa fan what he would think if the club ever left Villa Park, he simply shook his head and says that will never happen.
"That's your heritage. That's your life," he said. "It's tradition. It's your family. If people grieve in a chapel, if they grieve in a church there's always another chapel or church somewhere they can go."
Changing stadiums, however, he said is impossible.
If only he were correct.
CONCESSIONS
At Seattle Mariners games, I can buy almost any food, from hot dogs to salmon, Phad Thai to sushi. This is not the case in the Premier League, where your option generally is limited to pre-packaged, warmed-over rubbish.
Granted, Premier League concessions are not as important as American concessions because fans have precious little time to purchase or consume them. There are no timeouts, between-inning breaks, long huddles, replay reviews or lengthy seventh-inning stretches extended by "God Bless America."
Not that fans would want to eat the concessions anyway.
Many menus are limited to bad burgers, fries and meat pies. A hamburger at White Hart Lane was a suspiciously colored patty of supposed meat inside a stale bun that would make an airplane meal seem like dining at a Michelin-starred restaurant in Paris. A middle seat in an economy class section also would be less cramped than these concession areas.
I bought a beer at Old Trafford for four pounds, or about $6.25. Compared to U.S. concession prices, this did not seem high -- until I was handed a cup not quite half full, which made it closer to $12.50 for a pint. A half-full cup does have one major benefit. You can drink it quickly, which is key because you cannot bring alcohol into the stands.
So if you're going to a Premier League game, fill up before you go. The only thing to feast on inside is football.
GAMBLING
Gambling is a major part of American football's appeal - major websites and daily newspapers regularly run the odds for each game -- but aside from Nevada and New Jersey, betting on games is illegal in the United States (though this might change).
This is not the case in England where gambling not only is allowed, Premier League teams have gambling firms as official sponsors. Stoke City's chairman, Peter Coates is also the chairman of the gambling site Bet365 and the club wears the logo across their game jerseys (Bet365 also is a commercial sponsor of ESPN in the UK).
You can also bet inside the stadiums up until match time - and not just on the game's outcome. For instance, you can place a bet that a specific player will score a specific goal and that the game will end with a specific score. Or you can bet when the first goal will be scored. Or what the score will be at half time. And you can place these bets at a window right inside the stadium.
I went the less involved route at Old Trafford by betting five pounds that Stoke City would win 2-1. Had they done so, I would have won 105 pounds. They did not, which is no surprise given my past gambling history of betting on the Minnesota Vikings to win the Super Bowl.
text
TICKETS
LONDON -- Re-selling football tickets on the streets is illegal in the United Kingdom, yet when I walked out of the Upton Park tube station for the first match of my Premier Experience tour, I immediately passed through a crowd of very visible touts, or who Americans call scalpers. I already had a ticket, but to get an idea of the market, I asked one tout, "How much?"
"How much are you willing to pay?" he replied.
I told him 40 pounds and he told me to wait where I was. Moments later, he returned with another tout who offered me a ticket for 160 pounds. That's about $240! What, was the seat next to Hammers fan Keira Knightley?
When I said that was too much, he asked what my budget was. When I told him 40 pounds, he shook his head disgustedly and walked away. The first tout said he thought I had said I was willing to pay one hundred and 40 pounds. Then, he walked away, as well.
The ticket I purchased, by the way, cost 43 pounds, and a colleague bought it for me roughly a week ahead of time through Ticketmaster.
The same colleague purchased a ticket for the Tottenham match against Everton, but I didn't have the proper identification at the will-call window before the game. So I walked over to the main ticket office and bought one from the club for 58 pounds (about $87).
To obtain a ticket to Arsenal's match against Southampton, a friend introduced me to a friend who introduced me to an acquaintance in a pub roughly a mile walk from Emirates Stadium.
He was an Arsenal member with a season pass. He handed me his pass in exchange for 35 pounds (about $52) and told me to meet him in the concession area below his section at halftime so that I could give it back to him. Although transferring a pass in this manner is against the rules, I had no problem getting into the match or getting the pass back to him.
So, obviously, there are a wide range of ways to get Premier League tickets. But with the scalping laws and away fan rules, it can be more complicated (and difficult) than buying a ticket to, say, a Houston Astros game.
The most obvious and secure methods are to purchase tickets through the club (if available) or an official ticket-seller, such as viagogo. For the most popular teams, another possibility is to buy a membership with a club (about $50 for Arsenal), which will allow you to buy a single ticket for a match (if available). You can also then use the club's in-house re-seller to buy tickets legally from club supporters. A friend in London says he is almost always able to get a ticket this way.
Other friends obtained tickets though the website, Ticketbis, though they were very expensive and, in their case (aside from the price), the process was somewhat similar to my Arsenal experience. They paid for the tickets in advance online. Their hotel concierge gave them a brown envelope with season-ticket holders' passes. The passes were scanned for entry, then returned to the concierge after the match. The tickets also came with friendly instructions on how to not tell any stadium workers where and how they got the tickets, if asked.
Travel packagers also offer tickets. This also can be an expensive route, but it is a sure way to guarantee a ticket before your trip.
And once you secure your tickets, here are some other items for your Premier League bucket list:
Sit in the end with the most passionate fans. As I wrote earlier, the stadium atmosphere has changed since clubs went to all-seaters and ticket prices soared. Everywhere, you hear fans complain how quiet the stadiums are now. The best places for energy and noise are sections such as the Kop at Anfield in Liverpool or the singing section at Old Trafford. Just don't bring a red pen to White Hart Lane!
Share drinks in the pub. This is the British version of tailgating, just don't expect any Weber grills filled with barbecued ribs. Instead, just look forward to some great conversation and beer that is far less expensive than you'll find inside the stadium. And be sure to eat at one of the stands or vans outside the grounds, because the food inside is complete rubbish.
Go to an Aston Villa match at Villa Park in Birmingham. Not only was this the best-looking of the stadiums I visited (it has stained-glass windows!), it also had a great, friendly, family-like atmosphere. Everywhere I looked, there were parents taking their kids to the match - including one mother who was such a fan that she named her infant daughter Aston. She did not, however, give her a middle name of Villa -- "I drew the line at that.'' Villa Park also had a fair number of empty seats at the match I attended, so tickets should be a little more available and cheaper than an Arsenal match.
Go once as an away fan. It can be a little complicated, but try to make some connections with the team's fan club to travel with them to an away match. "When you're at the away games, everyone seems to have more passion for your club," Stoke City fan Paul Hancock told me during the fans' bus convoy trip to Manchester. "At home, you've still got the ones who moan and groan about the team. When you're away, everybody is for the team. There is more passion." He's right about that. I had a delightful time with the Stoke City fans at Old Trafford, except when we were surrounded by security on horseback and Manchester United won the game (Grrrrr!!).
Tour a stadium. The match day experience doesn't provide proper time or opportunity to fully explore a stadium, so take one of the tours offered by many of the clubs. You'll see and learn much more this way, with some of the wonderful guides even taking you into the surprisingly small and sparse home players' changing rooms (Major League Baseball players would walk into these clubhouses, take a look around and go on strike immediately).
Finally, buy a scarf (or two or four or seven). Sing some chants (if you can understand the words). Read Nick Hornby's "Fever Pitch" (and watch the Colin Firth movie version, not the Jimmy Fallon version). Connect with supporters (tell them it's your first time and they will welcome you into the group). Buy a round and listen to their stories. Pick a team to support (I finally chose Aston Villa). Pick a team to hate (I wound up choosing Arsenal, only because the Tottenham supporters were so friendly).
And above all else, wear the proper colors to a match.
Remember, you'll be inside a cathedral of worship.
Follow ESPN Reader on Twitter: @ESPN_Reader
Join the conversation about "The Premier Experience."