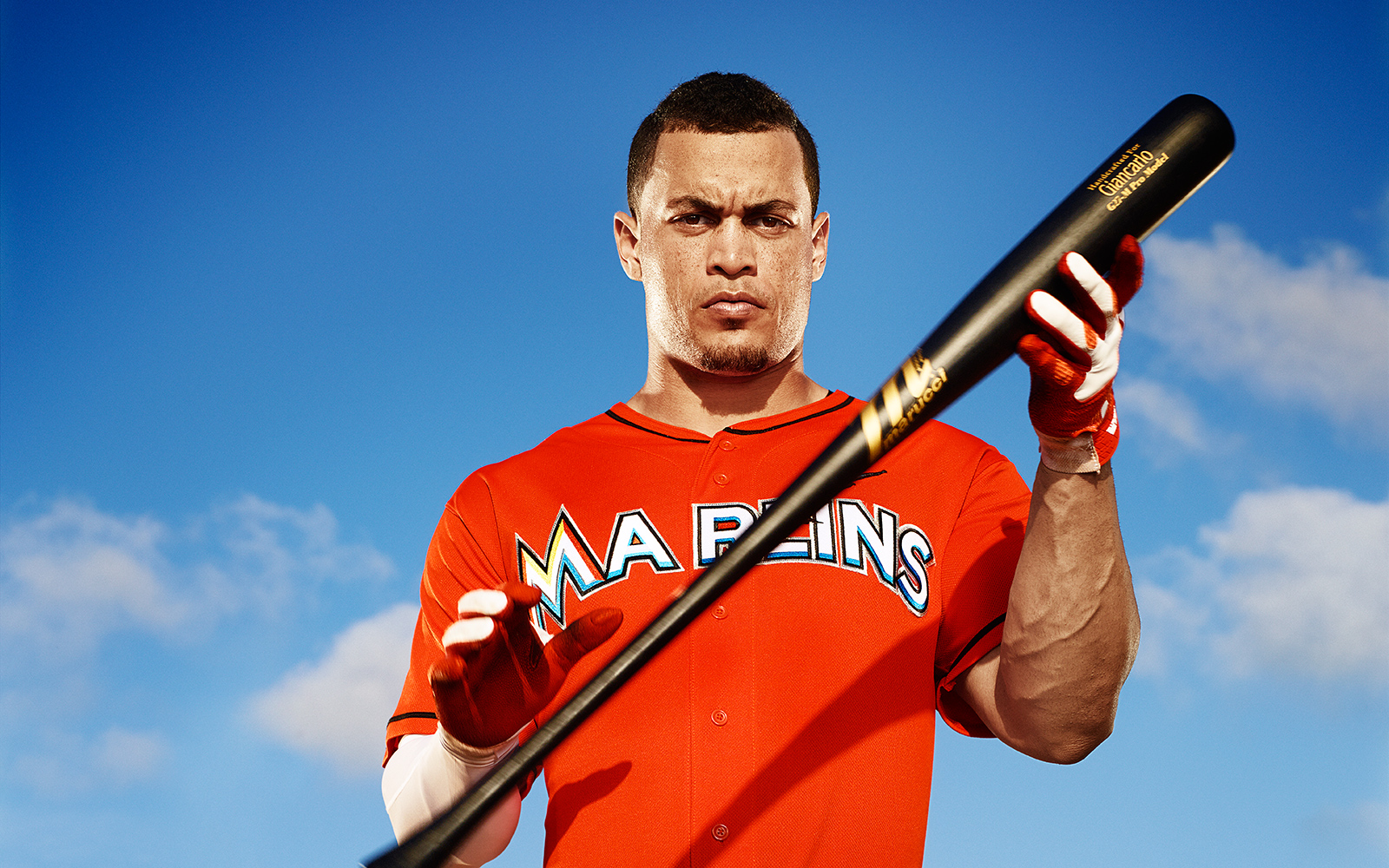 What Is Giancarlo Stanton Thinking?
Coming off his best season and a devastating fastball to the face, the game's most powerful hitter surprised everyone by signing a $325 million deal to work for a notoriously unreliable owner.
INSIDE THE MADE-FOR-TV Hollywood Hills mansion, with its walls of windows, cantilevered decks and palm-flanked pool, Louis Armstrong and Frank Sinatra roll through the air. The views go on forever, and as the day wanes and the sun heads for its evening dip into the Pacific, Giancarlo Stanton moves his chair little by little to duck the stalking rays. It feels like the hippest scene from the '60s -- martinis and Winstons for everyone! -- rather than what it really is: three young ballplayers relaxing after a workout.
The youngest among them seems like the oldest. Stanton shared the house during the offseason with Marlins teammate A.J. Ramos (he of the retro music collection) and former teammate Ricky Nolasco. Stanton is the one who plans their annual three-week trip to Europe in October (a decidedly down month for the Marlins), he's the one who tries to persuade other players to travel with them, and he's the one who rolls his eyes when they ask, "Europe -- what's there to do there?" He's the reason there's a man in Riga, Latvia, perhaps this very minute, telling friends he met The Rock in a restaurant. ("The guy asked in broken English," Ramos says, "and G raised his eyebrow just like The Rock and said, 'Yes, I am.' ") He's the impetus for board-game nights and other "old-time things," as Ramos says, at which the object is to "not have everybody on their phones and stuff."
Stanton stands 6-foot-6 and weighs 240 pounds, but his presence is even larger than that. There is no other way to say it: The man is statuesque, maybe even pharaonic. Just hours before, on a warm morning in mid-January, he was running sprints barefoot on the beach next to the Santa Monica Pier, wearing a 40-pound vest and gliding through six inches of sand as if he were on asphalt. Because it is LA, where it's not cool to concede that someone might be cooler than you, nobody seemed to care that the man pushing himself past the point of exhaustion is the owner of the richest contract in American sports history.
Stanton seems fine with that. He's not overly impressed either. He shops at Wal-Mart, partly for the people-watching but mostly because, as he asks, "Where else can you get all your supplies in one place?" He's loose now, and rightfully so. Coming off a season in which he led the National League in homers and slugging percentage, the 25-year-old is entering the prime of a career with Hall of Fame potential.
But back during the first week of November, this old soul in a young man's body found himself in a situation far more tense. There was no Sinatra or Wal-Mart greeter when he sat down with his agent and five of his bosses in the Beverly Hills Hotel to discuss a contract that would transform him into what team president David Samson calls "the first face of this franchise -- the first player to be drafted, signed, play his entire career and go into the Hall of Fame as a Marlin."
Heady stuff, but it says as much about the historic unsteadiness of the 22-year-old Marlins as it does about Stanton. Over the past 13 years, owner Jeffrey Loria's random and often cynical building and dismantling of Miami's baseball team have made the face of the franchise a Warholian kaleidoscope, an endless swirl of different men in the same cap. The hard-boiled ownership style of the Manhattan-bred art dealer has earned Loria searing hatred in Montreal -- where he bought a stake in the Expos for $12 million, eventually selling it to MLB for $120 million and buying the Marlins -- and in Miami, where he made threats to relocate the team until he got a sweetheart deal on a stadium that could cost taxpayers $2.4 billion.
Predictably, there was a hint of cynicism floating through the tony air at the Beverly Hills Hotel. Were the Marlins attempting to take advantage of their star player at his most vulnerable moment? Would Stanton want to be the face of a faceless franchise? And, most urgent, why trust Loria now?
So before the conversation began, and before anybody at the table knew the Marlins would grant Stanton's wish for what the two sides are now calling the Forever Deal -- 13 years, $325 million -- Stanton looked at the men assembled before him, at Loria and Samson and baseball operations boss Michael Hill and GM Dan Jennings and manager Mike Redmond, and he made an announcement: "I'm not going to sign just any contract because I got hit in the head."
HE REMEMBERS THE moment in pieces, fragments, in the time that elapsed between blackouts: Brewer Mike Fiers' arm action, the ball halfway there, its path obvious from the start, his body on the ground; feeling around with his tongue to inventory the shards of the five shattered teeth floating around his mouth in a sea of blood, one of them gone completely, the hole it left like a missing fence board; turning on his side to keep the blood from pooling at the back of his throat; Casey McGehee, the on-deck hitter, getting there first, and the horrified look on McGehee's face as the blood gushed; his dad's hand on his chest, saying, "Hang in there," over and over. The paramedics, the ambulance, the hospital, the uncertainty.
What happened in Milwaukee's Miller Park on Sept. 11, 2014, stuck with each of them -- multiple broken facial bones, the hole in his cheek where a tooth tore through and the sound, they'll never forget the sound of fastball against face. The image of Stanton helpless on the ground flashed in McGehee's mind for weeks. "There haven't been too many things I've seen on a baseball field that bothered me afterward," he says. "This was hard to get out of my head."
Everything happened so quickly. Within minutes of Stanton's being hit, Loria called commissioner Bud Selig to make sure Milwaukee's best plastic and oral surgeons were on the case. "He's a handsome young man," Loria says. "I didn't want anybody to deal with him who would possibly leave a scar." The next day, eager to return to Miami, Stanton boarded Loria's jet. The pilot was instructed to fly at a lower than usual altitude and land softly because Stanton, whose sinuses were 95 percent filled with blood, was not cleared to fly commercially. Loria made sure the plane was stocked with grilled cheese sandwiches, one of Stanton's few guilty pleasures; the owner, unusually paternal when it comes to Stanton, says, "I was happy to hear he was able to eat them."
Six surgeries and four months later, part of Stanton's lip is still numb, and a slightly misaligned jaw causes his teeth to clench in his sleep. "I got lucky," he says, less than convincingly. "I got hit in the best part of the worst place."
Mention the obvious -- what happens next? -- and Stanton is transported to games that have yet to be played. The questions and doubts, he says, "come with the territory." He's ready for them. The hours spent crafting a football-style half face mask, with the letter G part of the design, is a lighthearted diversion. But what happens when he gets back into the box? If the vision of Stanton's trauma stayed with McGehee for weeks, how long will it stay with the man who felt the pain, endured the surgeries and waits for the numbness to leave his lip? Pitchers, some undoubtedly fearing for their own safety, throw inside to keep Stanton from extending his arms. Now they have another reason: to test him.
"I got lucky. I got hit in the best part of the worst place."
- Giancarlo Stanton
"All the kinks will be handled in spring training, if there are any," Stanton says. "I can't answer 'til then."
He got it out of the way early. The baseball gods -- or Henderson Alvarez -- must have been in a playful mood during an intrasquad scrimmage, when Alvarez plunked Stanton on the left hip. The rest of Stanton's first week of spring training unfolded as uneventfully as he could have hoped. He approached each at-bat like every one before it, unwavering and businesslike, the same way he'd approached an offseason of uncertainty. "I did the exact same things I would do in any offseason," he says, "except I cut my face open."
When the Marlins' front office arrived en masse at the Beverly Hills Hotel to discuss Forever with Stanton and agent Joel Wolfe, Stanton approached the negotiations with the same level of defiance. He had seen too much of the franchise's past to respond immediately with supplication and gratitude. He seethed through Loria's last binge-and-purge: the signings of free agents Jose Reyes and Mark Buehrle for the first year of Marlins Park in 2012, and then the massive trade that sent both to Toronto after the season. He grew more disgusted through a 100-loss 2013, when rebuilding looked like a ploy to gut payroll and reap the rewards of revenue sharing.
This was the unseen but dangerous undercurrent in the otherwise peaceful scene. After Stanton pronounced that he wasn't going to let the unknowable about his comeback cloud his judgment, Samson responded, "We're not going to give you just any contract because you got hit in the head." The Marlins told him what they were willing to do and how long they were willing to do it, but Stanton still couldn't help wondering if he was to be Loria's next temporary showpiece, gaudy artwork to put on display while taking bids.
So before pen could hit paper, he had a few things of his own to discuss.
KNOW THIS: STANTON notices everything. He approaches life like a guy constantly trying to memorize a license plate. He notices the obvious, like the Marlins' penchant for treating the roster with a never-ending sleight of hand -- now you see Miguel Cabrera, now you don't -- and he notices the less obvious, like the way poor sleep and lousy nutrition have a debilitating impact on a team that travels the most miles in the NL East.
"He puts a lot of thought into everything -- everything," Ramos says. "Before he acts, he always thinks a little bit. We're going to go eat and I'll ask, 'What do you want?' " Ramos pauses dramatically, stares into the distance. He's Stanton now. Five seconds, 10, (15 ... he's clearly a method guy. "Finally, I'm like: 'Dude, I'm hungry. Let's go.' "
Stanton is as exacting as he is deliberate. He was a three-sport star -- baseball ranking third -- at Notre Dame High in Sherman Oaks, California, and was recruited to play wide receiver at USC before the Marlins took him in the second round of the 2007 draft. His plan was to give pro ball three years before reassessing whether he might try college football. By then, though, he was already in the bigs.
After an All-Star third season in 2012, Stanton noticed the creep of entitlement spreading like algae and moving his way in the clubhouse, and he told Redmond he wanted it to stop. Special treatment in baseball is quirky: It's accepted that a star gets three locker stalls in a corner rather than one in the middle between a reliever and a guy who has memorized the flight schedule between Miami and New Orleans. But a star who expects a different kind of special treatment -- especially one who doesn't take well to criticism -- gets his share of side-eye.
"I don't care how good or bad you are, you're going to make a mistake," Stanton says, "so make sure I'm the same as that rookie over there."
It didn't feel right, probably because he'd never experienced it. Raised by postal workers who divorced when he was 10, Stanton chose to transfer from Verdugo Hills High to (Notre Dame after his sophomore year for a more disciplined atmosphere and better sports teams. As an under-the-radar baseball player on the fertile fields of Southern California, he always played as if someone important might be watching.
Part of scouting is espionage, so Marlins scout Tim McDonnell sat in his car in the parking lot beyond left field at games, watching through binoculars, careful not to give himself away. He surveyed the stands, looking for other scouts, because another part of scouting is determining the opposition. Either he or his assistant attended every game of Stanton's senior year, and they wrote down the name of every scout they saw. The list was short. McDonnell would put his binoculars on his lap and ask himself, "Am I crazy?"
Stanton's relative anonymity was a result of a system that favors exposure over potential. He was not a product of youth baseball's industry. He did not play on expensive travel teams or attend the $500-a-day showcases where 15-year-olds ("showcase ponies," McDonnell calls them) run through drills with cookie-cutter mechanics and false hustle and emerge like factory parts.
He was a no-name among local youth baseball royalty. Matt Dominguez, Mike Moustakas, Josh Vitters -- they'd all been on the circuit for years, known to scouts before their pits sprouted hair. Stanton was Mike then, mostly because he got tired of everyone mispronouncing Giancarlo and said: "Y'all are annoying. See if you can handle Mike." He's still Mike to those from his past, and he's Cruz -- his full name is Giancarlo Cruz Michael Stanton -- to his mother's side of the family. But during batting practice at his one high-level (but free) showcase event after his junior year, he was the "big fella" with the long swing who drove five balls over the fence while nobody else hit more than one.
After the '07 draft, and Stanton's signing for $475,000, McDonnell was in the stands at a summer tournament when an older scout approached him and put a hand on his shoulder. "Man, you really reached for that one," he said, chuckling, "but you'll learn."
To answer the next question: No, McDonnell has never thrown those patronizing words back in the scout's face. "I knew I was right," he says. "For some guys, it's all about themselves. But for him, it wasn't the Mike Stanton Show -- it still isn't."
So Stanton, that ethic still in place, vowed that this outsized Forever Deal, if it came to pass, would be the tide that lifts all boats. His frustration went deeper than the standings. When the Marlins exceeded expectations last season, contending for a wild-card spot and reaching .500 in late August, Stanton provided the poetry, telling Yahoo Sports, "Five months doesn't change five years." He hated the losing, sure, but he despised the culture that enabled it.
"I made it clear that I wasn't happy with our lack of success for the whole time I've been here," Stanton says. "There's only so long you can cry wolf. You've got to start making a push. There's no more beating around the bush. The time is now."
Stanton's message to the assembled brass at the Beverly Hills Hotel: For the Marlins to become a sustainable, competitive franchise over the course of this proposed contract, management needs to make fundamental changes beyond the makeup of the roster.
"You can't just bring anyone in," he says. "It doesn't matter how good they are. When it gets tough and you're heading down the stretch, you need players you want to play for. It's not, 'This guy comes out and throws every five days and then plays video games.' You're not going to die for that guy."
This is the attitude Stanton brought to the negotiating table, the same resolve he brings to the plate. The most powerful hitter in the game was about to become its most powerful player.
---
HE HITS THE ball as if he has a personal grudge, as if it owes him, over and over, for unforgivable slights. He led the NL with 37 homers last year despite missing the final three weeks, and he was that Fiers fastball away from winning the NL MVP. "He should have won it anyway," says Marlins catcher Jarrod Saltalamacchia.
Stanton rarely shows emotion, and it has become a contest for teammates to detect it when he does. Every once in a while, they claim, when he hits one that lands in a faraway place -- like a camera well, high above the wall in dead center -- he'll betray the thick bark of his professionalism with a slight smile.
"Sometimes there was a little look on his face," says McGehee, now a Giant. "You could see he was proud of himself."
Power hitters are the rarest commodity, the astatine of the baseball world. Just seven players hit at least 35 home runs last year, and just nine players in history have hit more homers through their age-24 season than Stanton's 154. It's possible that all of them, placed end to end, haven't traveled as far as Stanton's.
"When you get one, you don't even feel like you swung hard," he says. "Just an air swing. It's very addicting, so you have to be disciplined. When you hit one that far, you think: I don't think I swung that hard. I might be able to get a little bit more. That's when you get bad habits."
There it is again, the constant nag, the part of him that sees the dark side of a 500-foot shot. It's why he didn't instantly jump at the deal. In fact, he walked away. Let me think about it, he said, leaving slack jaws in his wake. "In all honesty," Redmond says, "you wouldn't think twice if the guy who's offered a few hundred million dollars just says, 'OK, I'll take it.' "
Stanton needed more than gaudy figures. He needed a no-trade clause, the first issued under Loria, and an opt-out after six years. Satisfying those needs, however, came at a cost. To provide the team with payroll flexibility, he agreed to a massively backloaded deal; Stanton will make the same amount this year as last, and if he opts out, he'll leave $218 million on the table. He is giving the benefit of the doubt to a franchise and an owner that have yet to prove they deserve it. "It's a shield, not a sword," Samson says of the opt-out. "He wanted it to protect himself in case we don't hold up our end of the deal. All of our legacies are on the line. If either one of us is wrong, it's a career-defining move."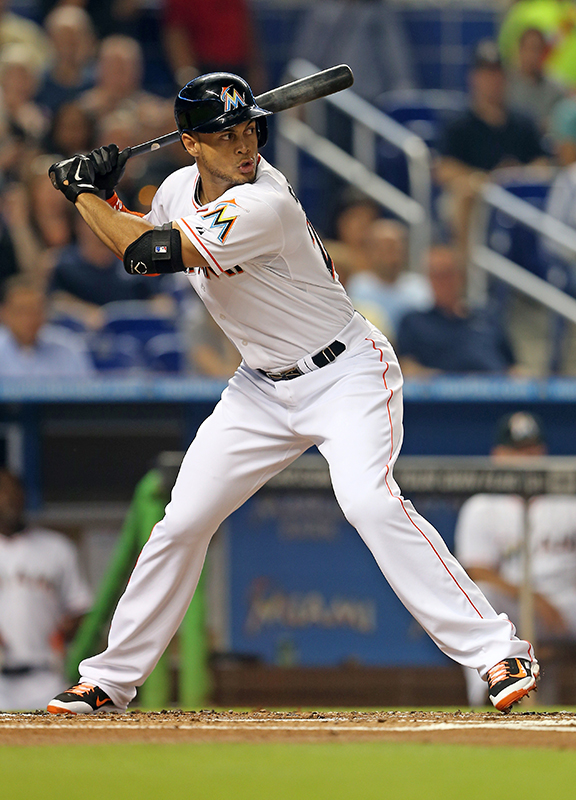 Stanton also needed the culture to change. The Marlins were flying in charters that didn't even have Wi-Fi; he and teammates who wanted high-protein, low-fat meals were forced to bring them from home.
This year the Marlins will be on a new first-class-only charter with massage tables and, yes, Wi-Fi. They will have a chef in the home clubhouse, relieving Stanton of frequent trips to Whole Foods to buy fresh fish for his pregame meals. As for the payroll flexibility, Stanton will be part of MLB's best young outfield, along with Gold Glove left fielder Christian Yelich and 23-homer center fielder Marcell Ozuna. And they will be joined by new acquisitions: Dee Gordon at second, Martin Prado at third, Michael Morse at first and Mat Latos in the rotation. None of them is likely to change the face of the NL East -- Gordon's on-base percentage is subpar, Morse has topped 100 games just three times in 10 seasons -- but Stanton saw the moves as a sign, at least, of management's commitment. "It all started with him," says Hill, the president of baseball ops. "If Giancarlo's not a part of the Marlins, we go a different direction."
It's a startling admission, proof that Stanton's power within the organization makes one of his 500-foot homers look like a pop to short. Still, why the trust? Why does Stanton believe this time will be different? Wasn't Cabrera supposed to be the face of the franchise too? Buehrle and Reyes both contend that Loria told them to purchase homes in South Florida before he traded them, charges Loria denies. Then again, that 2012 team was aimless, and the 15-game improvement from '13 to '14 significant.
Is there hope among fans waiting nearly an hour for Saltalamacchia's autograph at the Winter Warm-Up at Marlins Park in February? Does a 100-yard line to the Selfie Station -- a team employee mans the camera, but whatever -- for Alvarez indicate a rebirth of baseball in Miami?
"I know I took a lot of criticism," says Loria, "but you don't get to the top by wading in the water."
Some of the harshest words came from within, however, from the young man Loria refers to with fatherly, or maybe grandfatherly, tenderness. He encouraged Stanton to travel when he made the big leagues, and he and his wife dined with Stanton and Nolasco two years ago at the Eiffel Tower. But the friendly fire that came from that deliberate young man in the Beverly Hills Hotel -- "pointed questions," Redmond calls them -- changed the molecules in the air. Loria wasn't the only ruthless businessman in the room.
The future has never seemed to mean much to Loria. It means everything to the guy who sat across the table, the guy who requested and received the Forever Deal. For nearly a week after exiting the hotel, Stanton assessed the contract from every angle, a jeweler gauging a stone. With the opt-out and all promises in place, pen finally hit paper, and the clock started. Six years to forever.
Follow ESPN Reader on Twitter: @ESPN_Reader.
Join the conversation about "What Is Giancarlo Stanton Thinking?"