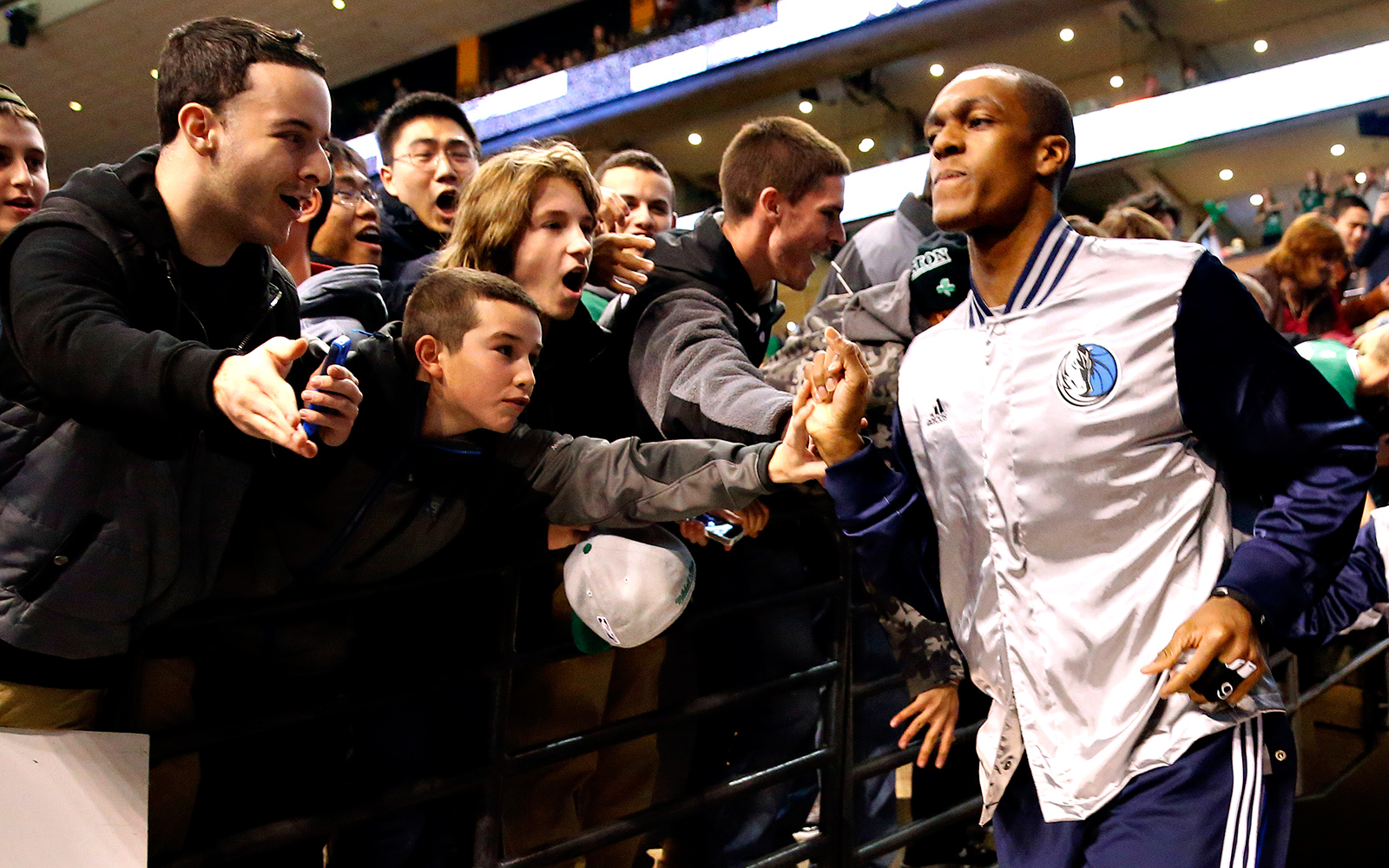 Good At Math, Bad At People
Can the Dallas Mavericks really put the fate of their franchise in the hands of a point guard like this?
Warning: This story contains explicit language.

KEVIN GARNETT IS fighting midafternoon traffic along the main arteries pumping cars into lower Manhattan, the roads bracketed by mounds of snow that have suffocated the region. Returning home from Nets practice, he has no problem recalling the scene almost four years earlier -- a locker room film session at the practice facility of the Celtics, his former team.

What he's struggling with is how to describe it, to properly explain what happened in that room that afternoon. Garnett is silent for a few seconds, then laughs, then clears his throat. He takes a deep breath and begins.

It's May 2011, and Boston is trailing Miami two games to none during its second-round playoff series. On the best of days, Celtics coach Doc Rivers rides Rajon Rondo hard, pushing his stubborn point guard as only a former stubborn point guard can. But this day is different. Doc is more relentless, Rondo more seething. "He was just pushing and he was just pushing and he was just pushing," Garnett recalls. Rondo glances across the room at Shaquille O'Neal and Jermaine O'Neal. "They saw me bubbling," Rondo remembers. "They were trying to calm me down. It was too late."

Without warning, Rondo snatches his water bottle and hurls it, full force, at the television monitor, the one airing the game footage that's being used to critique him. The 50-inch flat-screen, mounted on a cart in the center of the room, shatters. "When he blew the TV up, it was about to go in another direction -- like, the whole thing," Garnett says, his voice rising. Rivers, fed up, gives Garnett an order: "I want Rondo out." Garnett obliges. "He kicked the door off the hinges," Garnett says. "I'll never forget: I had to pick him up and carry him out because it was going like that, and the locker room was suuuper tense. Just super tense." As he's hauling the 6-foot-1, 186-pound point guard, the 6-11 Garnett barks, "Get outside, man, shit," physically carrying Rondo outside the room, then the building. Rondo fumes. "He was just so fucking hot," Garnett says, reliving the moment. "He was hot, yo. When I say he was hot, he was hot."

"He's got that fire, man. That alpha fire. But he's got to be able to control it."

- Kevin Garnett

Standing outside the practice facility, near a road that slopes sharply upward toward the main entrance, Rondo, still boiling, looks at Garnett: "I need a second." Then he takes off, running. Garnett follows, walking behind, letting the 25-year-old burn off his anger. It's an unseasonably chilly day; both men are wearing light practice gear. Garnett -- who considers Rondo a brother and calls him Shorty -- knows Shorty needs some perspective. "Shorty doesn't always listen to everybody," Garnett says. "He'll tell you right off the top, 'I don't want to hear that shit,' or 'Get the hell away from me.' " Today, though, they talk, standing outside for 40 minutes. They talk later that night from their homes too, another half an hour or more on the phone. All of this is in the midst of what will prove to be their last hope for another title run -- Garnett, the Celtics' emotional anchor, burning time managing a petulant hothead.

And it's here, back in his car, still fighting through traffic, that Garnett pauses, sighs and takes a deep breath. Where to begin? How to explain the mercurial on-court magician who Garnett believes is so misunderstood?

Garnett wants to reveal what the water bottle incident says about Rajon Rondo. Garnett sees. He reads. He knows what's going on in Dallas. He's aware of the friction, the concerns about fit. He also knows that the point guard is once again raising those age-old questions, the ones that surfaced in that Celtics film session and are resurfacing now, down the homestretch of a season with a playoff contender, prior to the most important free agency summer of Rondo's career. Questions like, What the hell is Rajon Rondo so damn mad about? And, Can you really build a franchise around a guy like that?

"That's that fire, man," Garnett says, every syllable punctuated with his signature fury. "That's that alpha fire that's in you. That's that knuckle-down, I'm-not-afraid-of-anything relentless attitude, like, 'I'm coming at you and if you're not ready, then I'm coming through you.' That's what makes him who he is. I always told him, 'Don't ever apologize for that, because that's your mojo, that's what makes you who you are.' But he's got to be able to control it. 'Let that be a part of you, but control it. Don't let it control you.' "

"He doesn't like to be told what to do. He wants to be coached, but when you coach him, you'd better know what you're talking about. And even then, he still may challenge you. The question always was, 'Is he a good enough player to behave the way he does?' "
-- Celtics GM Danny Ainge, who traded Rondo to Dallas in December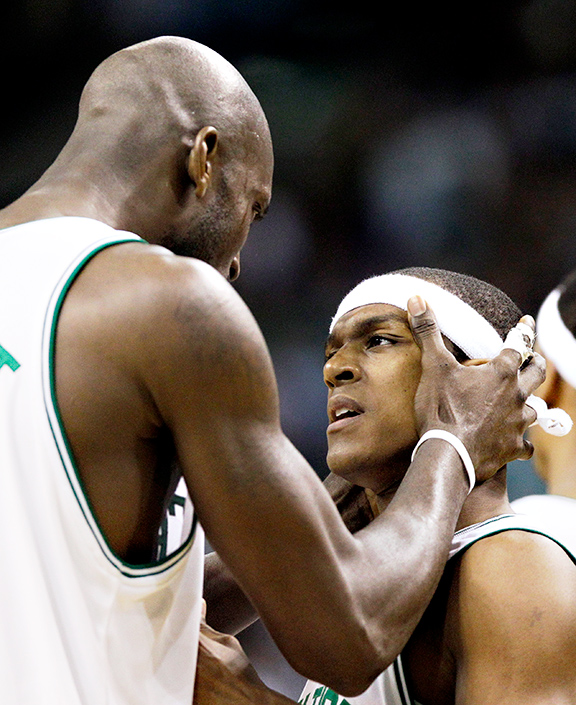 THE NEWBORN'S ENORMOUS hands dropped jaws at University of Louisville Hospital. "He's going to be somebody special," the obstetrician told the boy's mother, Amber Rondo. Her mother had died when she was 4, her father a year later, and from then on her grandmother raised her, preaching, "Make sure we all stay together." Their clan grew closer still when Rondo's father left when he was 7. Growing up in the College Court development near downtown Louisville, Rondo wouldn't play with other children his age. He learned instead how to ride a bike without training wheels as a 4-year-old, just to keep up with his brother, Will, five years his senior. Will, a whiz with numbers, used flash cards to teach Rajon math far beyond his grade, helping the boy destroy what he viewed as the competition: his classmates. "I didn't want to let up," Rondo says. "I always wanted to set the curve."

Still, as much as Rondo wanted to win, he loathed defeat even more, a competitiveness that found an outlet in all things -- great and small -- but most famously in the game Connect Four. Rondo would play on their porch, decimating friends and family deep into the night while his mother worked the graveyard shift at the Philip Morris factory to support her four kids. "If you did win once, he would beat you five or six more times to let you know he was the best," says Dymon, his younger sister. (Rondo's Connect Four prowess has since become legendary and has made for heartwarming-yet-awkward community outreach moments. The day he was traded to Dallas in December, he spent his final hours as a Celtic at Boston Children's Hospital, crushing all comers in the game, repeatedly telling kids, "No mercy.")

Rondo is adept at poker -- computing probabilities, counting cards -- emptying teammates' pockets. He's a whiz at bourré, the famously contentious card game that's fractured many an NBA locker room. Bryan Doo, the Celtics' strength and conditioning coach, calls Rondo the best spades player he's ever played. "And I've played a lot," Doo says.

Rondo maintains a close circle, but during his eight-plus seasons in Boston, he was as close with Doo as anyone. Doo always sought activities to keep Rondo engaged -- golf, tennis, a home run derby with softballs, pool, pingpong, throwing footballs off the wall into a trash can, unorthodox workouts, printing out math equations and racing to solve them first, trying to top each other in Lumosity brain games, designed to improve cognitive abilities. "If you can't keep up with him up here," Doo says, pointing to his head, "he won't listen to you."

Provide him with bad information? "Your credibility is shot," Rondo says. And if he doesn't buy the narrative, even off the floor, he'll bail, he'll disengage, as he does on movies whose storylines stray from logic, even for a moment. His last theater walkout: The Equalizer, starring Denzel Washington. "I didn't understand how he got the cop's number," Rondo says, referencing a certain scene. "It was just too much." He recently watched the movie again to see if he could stomach it. He couldn't.

"It's like being in the classroom with 30-some kids. They all don't learn at the same level. And then you have one that's just so superior -- 'Hey, we've got to find other work for him to do.' Really, that's the way Rajon was. That is a challenge for coaches to be creative, just like it would be for a teacher in a classroom."
-- former Kentucky coach Tubby Smith

AS A FRESHMAN at Eastern High School in 2001, Rondo took a sophomore AP geometry class, taught by a man named Doug Bibby. He didn't do homework. He wouldn't bring his books. He frequently fell asleep at the back of the classroom, waking up only when an angry Bibby called on him to answer a question. Rondo would rouse himself, glance at the board, blurt out the correct answer and resume his slumber. He aced all his tests, which led Bibby to suspect Rondo of cheating, so the teacher gave Rondo different tests. "He aced those too," Bibby says. To send a message, Bibby still gave Rondo a D. It was, Bibby says, "a pissing contest."

Bibby, it's worth noting, was also the school's basketball coach. Rondo was his star -- a de facto assistant coach, helping break down film and develop game plans -- but with the ball in his hands, he was known to audible away from his coach's playcalls. "I'm watching the game," Bibby would tell him. "Well, I'm out here and I'm feeling the game," Rondo would fire back.

"It's not that he doesn't want to do what you say," Bibby says. "He just thinks he has a better approach."

Says Rondo, "If there are two coaches on the floor, you're not always going to be on the same page."

"He got all excited afterward. I told him to learn how to make a shot."
-- Mavericks coach Rick Carlisle, describing his response after losing to Rondo in Connect Four
---
IT'S FEB. 24, and the Mavericks are trailing the Raptors by nine points early in the third quarter. Rondo, acquired two months earlier by the Mavs, has struggled in his 31 games in Dallas. His assist rate has fallen every month of the season; his offensive rating has done the same. He hasn't posted a double-digit assist game in his past 15 starts -- this from a man who three years earlier compiled 37 such games in a row. As Rondo sluggishly takes the ball upcourt following a Raptors basket that came after he fumbled away an offensive rebound, he dribbles up the far sideline from Carlisle, seemingly -- if not willfully -- ignoring his coach's effort to gain his attention. That's when all hell breaks loose.

Carlisle angrily storms onto the hardwood at American Airlines Center, screaming for a timeout and then at Rondo to run the assigned play. "I'll fucking call the plays!" Rondo shouts at Carlisle, who fires back, "Sit the fuck down!" Simmering beneath their blowup is a harsh reality, one that Carlisle surely knows: Before acquiring Rondo, the Mavericks were 19-8 with the league's most efficient offense (113.6 points per 100 possessions); leading up to this game, they're 19-12 with him, and their scoring is better when he's off the court (104.4/100 possessions) than when he's on it (103.1). Rondo is shooting 30.9 percent outside the paint, the lowest rate since his rookie season, and 31.1 percent from the free throw line (not a typo), by far the lowest of his career.

The shouting match lasts through the timeout, and Rondo doesn't play the rest of the game, slouching on the bench, a towel over his head, as his backup, Devin Harris, leads the team to a come-from-behind 99-92 victory.

The shouting between Rondo and Carlisle continues in the locker room after the game. In his postgame news conference, Carlisle calls the fracas a "difference of opinion" but refuses to elaborate. Rondo declines to comment beyond saying, "Discuss with Rick."

Rondo is suspended for the Mavs' next game.

It's hardly the first time Rajon Rondo has tussled with a coach. Rondo and Rivers had drag-out arguments too, Rondo stewing for days before allowing himself to enter Rivers' office. "There were times he was crying," Rivers says. "He's a very emotional guy, but he doesn't want anybody to see it."

Says Garnett, "The kid cares more than people think. And it drives him crazy."

"He knows all the plays, knows all the actions and can think two, three moves ahead. He's freakishly smart."
-- Lakers guard Kobe Bryant, who faced Rondo twice in the Finals and whose public breakfast with Rondo in December fueled speculation he's recruiting Rondo to come to LA next season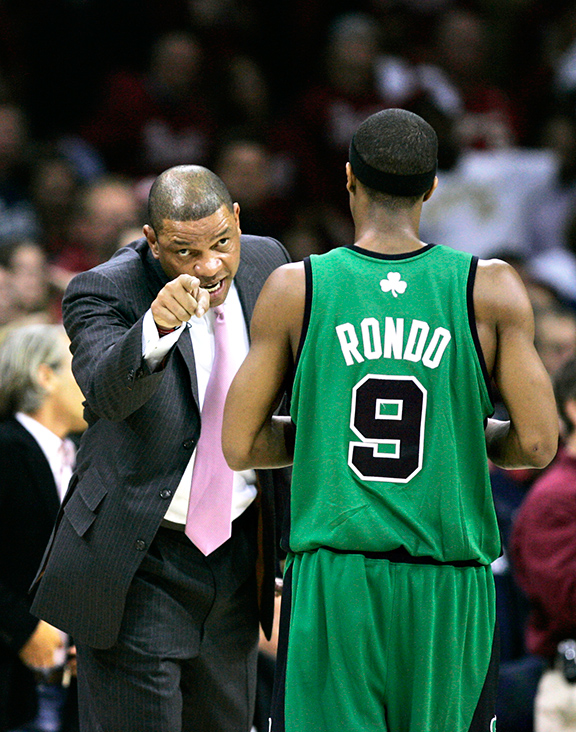 AMONG NBA OBSERVERS, and especially in Boston, the notion is so well-worn that if it were carved in stone, it would be shiny from overuse: Doc Rivers left the Celtics in 2013 just to escape Rajon Rondo. "That's ridiculous," Rivers says. "Our biggest disagreements were usually over 'Stop outsmarting yourself,' because he's so far ahead of the next action. You'll run a play and it'll work, and then he's already thinking about what to do if they counter. And I would say, 'Well, they haven't countered yet, so let's not change until they counter.' We would run a play that works and he would come down and change the play. I'd say, 'Why would you change that?' He'd say, 'Just in case.' I'd say, 'Well, let's let them mess up first and then we'll change it.' "

Ask Rondo to describe the workings of his mind and he'll call it "a blessing and a curse." In doing so, Rondo joins a veritable Greek chorus around him.

"He's my friend," says ex-teammate Kendrick Perkins, "but he knows he's too smart. And that's his problem. He knows when he's wrong. It's just getting him to admit it. The problem is, nine times out of 10 he'll be right about what he's saying."

Says a Celtics insider, less charitably, "He always thinks he's the smartest person in the room, even if he isn't."

"If there are two coaches on the floor, you're not always going to be on the same page."

- Rajon Rondo

At shootarounds and practices in Boston, Rivers says, Rondo would become "very irritated" when they had to go over plays again and again, even for veterans. For Rondo, learning plays came as naturally as math. Teammates and coaches would universally claim that Rondo has some sort of photographic memory -- he doesn't deny it -- and former Celtics assistant Tom Thibodeau, now head coach of the Bulls, says that by the time they'd watch game film the morning after, Rondo had already reviewed the footage two or three times. ("He doesn't sleep," Doo says.) The Celtics considered him a pseudo-advance scout, listening and looking for cues from the opponent, then calling out exactly what they were about to do.

Before Rondo's first playoff series against Atlanta in 2008, the Celtics distributed a 100-page book full of the Hawks' plays and statistics. Rondo took it home, then challenged assistant Darren Erman the next morning: "Quiz me on anything." Rondo nailed every question, until Erman tossed a curveball -- a question about something that wasn't in the book. "Fuck you," Rondo said. "That's not in there." Once, when Erman was with the Warriors, his team ran a side out-of-bounds play, called C, that he says they'd run maybe 15 times all season. They called the play. Rondo immediately shouted, "C! Rip screen, rip screen!" Erman and then-Warriors assistant Brian Scalabrine looked at each other, stunned: How in the hell did he know that?

A second coach on the court. An advance scout in the locker room. What could possibly go wrong? "You've got to have your shit together," Garnett says. "Rondo would be like, 'Nah, Thibs, that ain't what this is called. It's called this.' Thibs would look down at his little sheet and be like, 'Oh yeah, it is.' " In time, Rivers even allowed Rondo to call games like a catcher in baseball, providing a list of five or six plays Rivers wanted him to run that day. "I've never had to do that before," Rivers says, "but it was awesome." Rondo would study the sheet before games and during timeouts, placing it on the floor between his feet. Even then, Rivers says, after he was given all that freedom ... he'd still deviate.

"He's a contrarian. I figured that out early. He'd ask, 'Well why wouldn't we do it this way?' Sometimes I'd answer, 'Well, which way do you want to do it?' He'd say, 'No, I like the way we're doing it, I'm just asking.' That's a Rondo."
-- Doc Rivers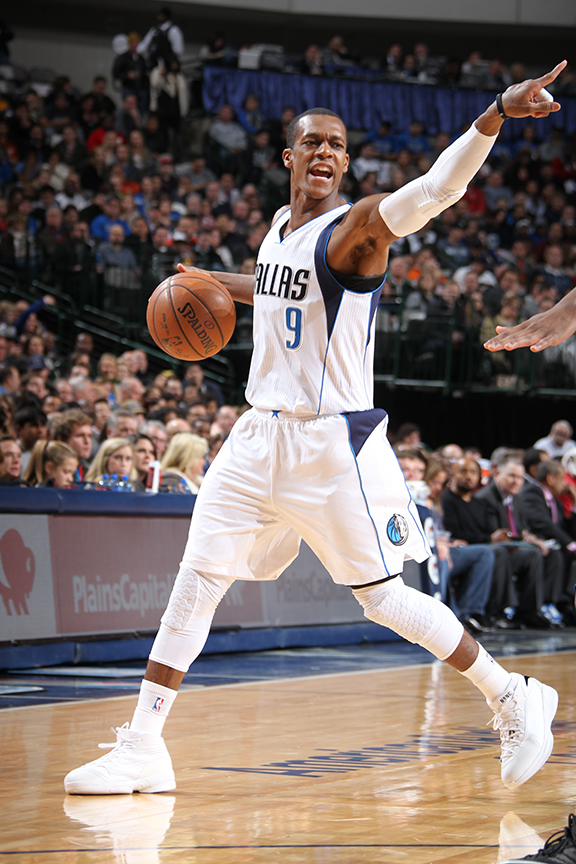 IT'S JAN. 2, some 90 minutes after the Mavs' morning shootaround has wrapped up at TD Garden, and Rajon Rondo is still on the parquet. He's working on his shot, making sure it has more arc, getting it just right. In a few hours, he'll face the team that two weeks earlier dealt him for a surprisingly modest package of picks and players, and he'll face the fans who were always so quick to criticize him. Mavericks player development coach Mike Procopio, a Boston native who helped scout Rondo for the Celtics years ago, rebounds for him. "He wanted to make sure he was on," he says. "He wanted to put on a show."

On this night, Rondo is announced last in the Mavs' starting lineup, and Celtics PA man Eddie Palladino gives him the home cadence intro, bellowing loud and slow, just like old times, "Raaaaaaaajon Rondooooooooo!" The sellout crowd, many donning No. 9 jerseys, stands and roars. Rondo opens the game with a layup, then swishes a pair of rainbow 3-pointers. All told he scores the Mavs' first 10 points, hits his first seven shots and finishes the blowout win with a season-high 29 points and a career-high five 3-pointers. He shows little emotion along the way. When a 90-second tribute plays on the video screen above, he barely acknowledges it.

It is nothing if not classic Rajon. His high-flying dunk over Dwight Howard in 2009? An assistant bet him that he couldn't do it. Hitting 49 of 50 free throws in a gym? Another wager. "Challenge me," Rondo says. "If you expect something crazy out of me, I'll probably figure out a way to get it done." He'll ask to guard much bigger players, even if it's a total mismatch. "He told me, 'If I put my mind to it, I can get a triple-double every game,' " says Justin Zormelo, his personal statistician. Says Garnett: "He would throw a pass, and you'd say, 'Man, you can't thread that needle like that. You can't get that pass through there.' Just so that he could prove a point, he would run the play again and get the pass there and score the bucket and look at you like, 'I know what I'm doing out here. Shut up.' You looked at him like, 'You little asshole.' But that's his swag."

When there are stakes, he's at his best, torching LeBron James and the Cavaliers for 29 points, 13 assists and 18 rebounds in the 2010 playoffs; dropping 44, 10 and 8 on the Heat in the 2012 playoffs; lighting up Jeremy Lin during the peak of Linsanity for 18, 20 and 17. Big when it matters, bored when it doesn't, he is, in all things, an enigma, an equation unto himself. Says Celtics assistant Jamie Young, "He's not your basic math -- more trigonometry."

"It's all calculated. My life is calculated."
-- Rajon Rondo

IT'S 9:30 ON a February morning in 1994, and eight third-grade students at downtown Louisville's Engelhard Elementary School file into a classroom. They sit two a side at a pair of rectangular wooden tables pressed together to form a square. One of these children is what their teacher will one day call "the biggest challenge of my life."

The boy grasps concepts instantly and easily. He has a curious knack for analyzing numbers in ways that others do not -- so much so that he actually teaches the teacher new ways to solve equations, methods she'll go on to teach other students for years to come.

He finishes every assignment first, blazing through multiplication sheets, and the teacher knows to always have another activity ready, either in her hand or in a blue folder with work just for him. Or perhaps she'll ask the quiet boy with narrow cheeks who questions just about everyone about everything to formulate math equations for her to solve.

She knows that for as wildly gifted as this 9-year-old is, he can be just as frustrated with others who are not. "He just didn't understand why everyone else doesn't get it," recalls Melanie Benitez, still teaching at Engelhard, 21 years later.

If you had visited that classroom then, there you would have found it - a metal organizer along the back wall. Over the years, it would be filled with the folders Benitez created to occupy precocious kids who might not play well with others. It's a method she invented two decades ago. She invented it for Rajon Rondo.

Follow ESPN Reader on Twitter: @ESPN_Reader

Join the conversation about "Good At Math, Bad At People."