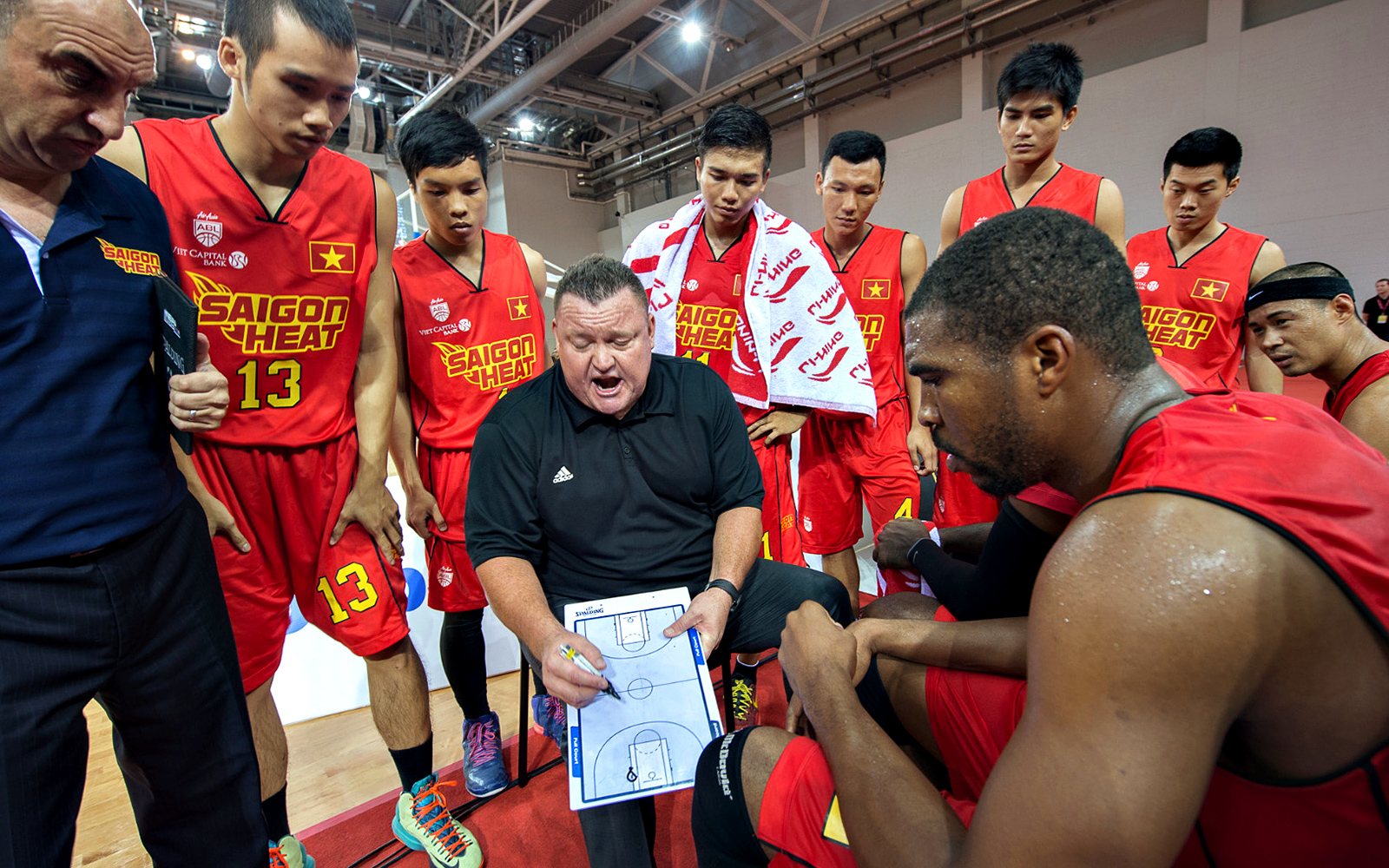 Jason Rabedeaux Was Here
Once one of college basketball's brightest coaches, Jason Rabedeaux died mysteriously in Saigon, leaving his loved ones and colleagues to grapple with how far he'd fallen.
JASON RABEDEAUX DIED without shoes in the back seat of a Saigon taxicab, somewhere between his apartment tower on the bleak outskirts of the city and a hospital with a name he couldn't pronounce. He wore a red T-shirt. Blood loss had left him white and cold. Nobody expected this -- a suspicious gash on his arm and a cut on his head -- but people had been expecting something. For the past two weeks, he'd been acting strange. In the hours before he died, in the locker room dressing for what would be his final game, he'd struggled to get his belt through the loops of his pants -- such a long fall for a man once considered among the hottest young college basketball coaches in the States, a man with charisma and drive yet broken in ways he could never win enough to fix. When the last game ended, tears welled in his eyes as he called it one of the biggest victories of his career, which had taken him in the past 15 years from head coach at UTEP to a series of international teams around Asia and the Middle East, his paycheck growing smaller with each passing year.
The sun was just coming up in his final minutes, bringing his neighborhood out of darkness. His building sat at the intersection of two dead end streets, not quite rural but not quite urban, surrounded by abandoned, half-finished buildings and fields of camphorweed and Madras thorn trees. In the flat glow of morning light, six condo staff members had struggled to carry him to the cab, his eyes open, his breathing shallow. He weighed more than 300 pounds, nearly twice what he weighed at UTEP. All six building employees recognized him as the 49-year-old coach of the Saigon Heat who lived on the 13th floor. A young Vietnamese woman performed mouth-to-mouth and screamed again and again for him to wake up. Her wails stayed with them long after the taxi sped away.
Nobody could really say how he died, or why, not in the first hours and not in the months that would follow. In America and in Ho Chi Minh City, still called Saigon by locals, people could only guess. Family members initially told some people he'd had a heart attack. On the advice of the team, they requested no autopsy be performed. The insurance policy paid off only in the event of an accidental death. The Vietnamese media described an "accident" at home. One of his former players suspected murder, and the deep cut on his left forearm is what ER doctors call a nightstick injury, almost always a defensive wound. Friends wondered about alcohol, even drugs. It was a mystery. The death certificate, written in Vietnamese, listed the cause of death as a traumatic brain injury.
SAIGON CAN BE a dangerous place, not only because of what someone might do to you there but because of what you are allowed to do to yourself. People and their intentions come whole and leave broken. Every vice is for sale: cheap beer, snake liquor and easily scored hard drugs; private clubs where women are for rent hide above parking garages, and streetwalkers stand alone in the neon rot of crumbling doorways. There are still opium dens, like something from a 19th-century travel novel. Shame and regret grow faster than the mold creeping in wide tongues up the narrow slum alley houses. This is where the universe, with its vicious sense of humor, summoned Jason Rabedeaux in late 2011. It was the only coaching job in the world he could get. "A lot of doors were closing on him," said his agent, Keith Kreiter -- actually his former agent because Jason went radio silent on him.
Rabedeaux was a refugee and a runaway in a city founded and sustained by them. Throughout the long history of this part of the world, people would come south toward the Mekong Delta when they had nowhere else to go. Saigon was founded by exiles. The wild, beating heart of the city was out in the swamps, a place called Rung Sat -- named "The Jungle of Assassins" by the French -- where the hustlers and smugglers, pirates, gangsters and revolutionaries hid and plotted. The brothels and opium dens in Old Saigon were run and supplied from Rung Sat, and the leader of the river pirates -- a man later forced by the CIA into exile in Paris, where he'd walk down the Champs-Elysées with a tiger on a leash -- ran the city as a kingdom.
It doesn't matter whether you believe in ghosts; the Vietnamese do, deeply, the incense burning on altars around the country lit as a peace offering to the dead. When the living don't have incense, they light and leave upturned cigarettes. The dead inhabit the things they touched and the places they died. The city's skin and bones might be long, wide avenues and airy cafes serving Ricard and water at sunset, but its blood and guts are the mangrove swamps of Rung Sat. The two worlds -- the modern city of international banks, expense-account drinkers and ironic boomtown cafes and the hot, green surrounding jungle -- are often ports of last resort. Foreigners eye other foreigners with a mix of curiosity and suspicion. "I always wonder when I meet people," says Harry Hodge, a reporter who covers the team, "'Why are you here?'"
Although many who come to live in Saigon are running away from who they used to be, Jason Rabedeaux was doing the opposite. He wanted his old life back, the life he'd utterly destroyed. In 1999, a young man, just 34, he'd been hired as the head coach at UTEP, replacing the legendary Don Haskins. By 2001, he was named Western Athletic Conference coach of the year. "He had the world by the balls," says his former assistant and best friend, Bobby Champagne, now head coach at North Alabama. "He had a house up on the hill and two country club memberships. A wife and two kids and another on the way."
Then he started losing. He began drinking heavily, to manage the stress, and started to take advantage of his celebrity. Champagne knew something was wrong when Rabedeaux missed a flight to visit a recruit; he got drunk at a bar near the airport instead. He lied to his assistants and his wife, Stephanie, not answering his phone. Stephanie went to a football game with recruits, and Rabedeaux didn't show; most everyone soon found out he was having an affair. At the end, when Stephanie packed up and took the kids, she and the mistress were both three months pregnant. He'd thrown everything away, and in the darkness of a collapsing life, he knew it. Soon after, a local woman called into a live radio show and confronted him on his philandering. Five days later, he resigned. The school took away his big salary and his country clubs and his courtesy car. Champagne saw Rabedeaux riding around El Paso on a bicycle. He lost the big house, and he lost his wife, his two sons and the unborn daughter who would never live under a roof with her dad.
Guilt and loneliness defined the coming years. After drinking himself out of an assistant coach job at Marquette, he landed in China, then Japan, then Bahrain, sometimes drunk, sometimes sober. He talked about his children constantly, even if he didn't see them much: maybe he sacrificed a life with them to preserve himself in their imaginations, wanting them to remember him for the man he used to be, not the one he was becoming. Basketball threw everything at him -- a civil war in Bahrain prompting several members of his team to join the army, a brawl getting him suspended from a Chinese semipro league for a year -- and in late 2011, when nobody else wanted him, he found out about an opening for an assistant coach in Saigon.
"Capable rejects," Saigon Heat owner and general manager Connor Nguyen says, including himself, a man who came to Asia to try again. "We're trying to build something on rejects."
Nguyen interviewed Rabedeaux, an extremely capable reject, overqualified to be an assistant coach in the upstart ASEAN Basketball League, a man with an undeniable basketball genius and his own haunted past. Rabedeaux got the job.
---
THE TRIBE GATHERED to say goodbye at the Congregational United Church of Christ in Eau Claire, less than two weeks after Rab died. Old coaches and players walked from rental cars toward the tall stone tower. Tom Crean came from Indiana, sharing his private jet with an NBA scout and an assistant who knew Rab. The funeral was during an open contact period, so most of Rabedeaux's old running buddies were out recruiting. "I thought there'd be more coaches," Bobby Champagne would say. He sat in a pew with former boss Kelvin Sampson.
Sampson gave the eulogy. His voice cracked when he said Rabedeaux spent 11 years working for him, first at Washington State, then at Oklahoma. Nobody there knew how guilty he felt over Rabedeaux's death. He saw Bobby in the pew and remembered better times. "For a while there," Kelvin said, smiling, "they were partners in crime."
Stephanie, Rabedeaux's ex-wife, saw all these spectral reminders of a life she'd abandoned. She'd left coaching behind a dozen years before, and now these guys moved back through her life like shadows. Anger and regret surely welled up inside her. The preacher talked about failure and weakness and regret, a melancholy sermon, reading from Paul and Timothy's letters, about the dark night of the soul, when anxiety and loneliness separated man from God. He talked of fighting the good fight, of finishing the race, of keeping the faith. The coaches hugged Rabedeaux's family, then got back into those cars and headed out to scout, or recruit, or stare at endless hours of tape, hoping to trade one more piece of themselves for a win. Few coaching stories have happy endings, and almost every career is defined by loss.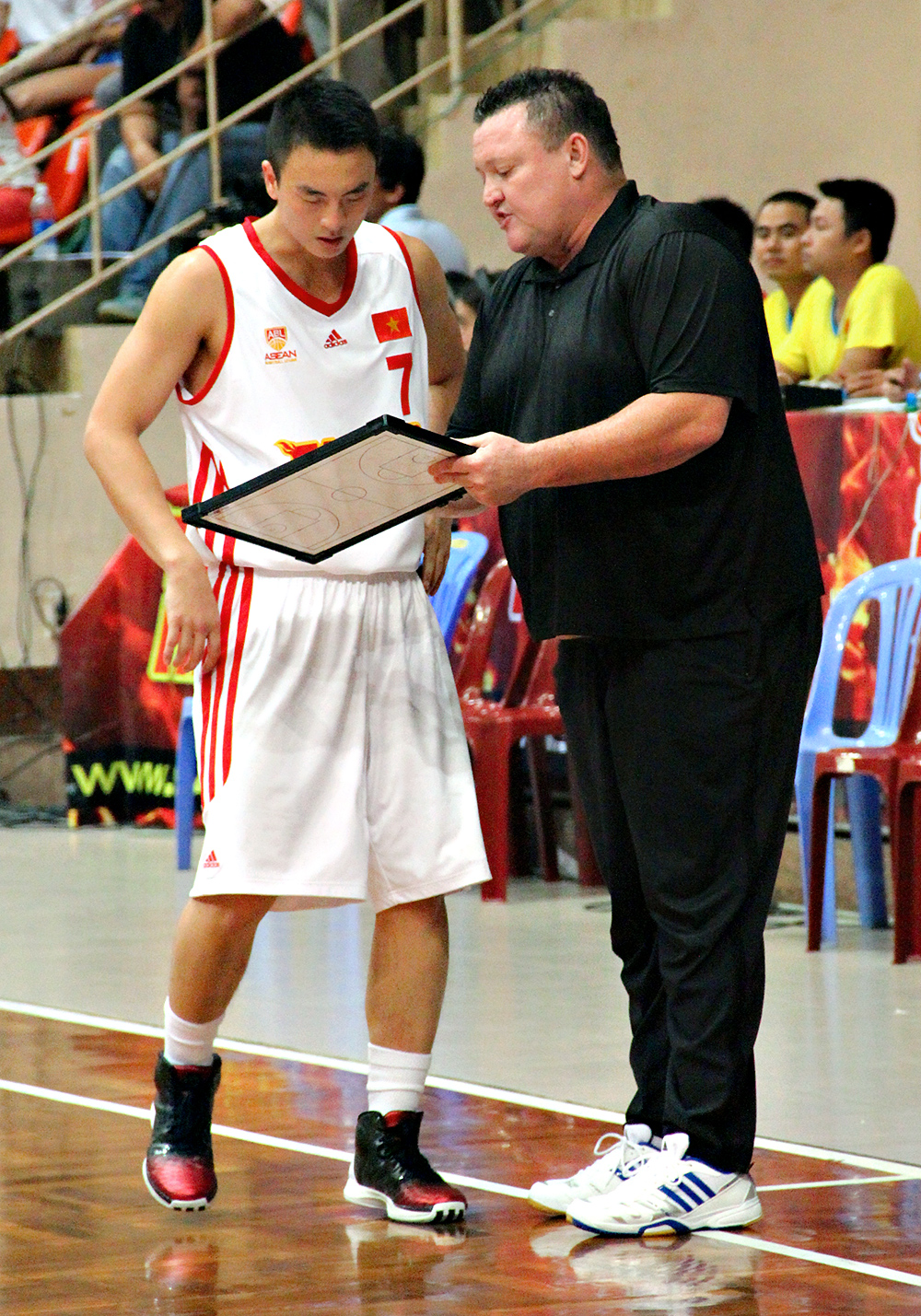 ONE OF HIS FIRST team events, in December 2011, set the tone for the weirdness he'd discover in Vietnam. As reflected light on the lush tropical trees made everything glow green, the Saigon Heat gathered at the zoo, which held a community outreach program for the team. The old Botanical Gardens, with carefully manicured shrubs and the hushed shade of tall, wide-leafed trees, evoked the long-vanished French colonial capital: cool breezes, green wrought iron gates, with Saigon spelled out in a deco font straight from a Paris Métro sign. A long avenue stretched from the entrance down to a blue-and-white tent. Monkeys screeched and slammed against the bars of their cage. Loud, strange circus music played, and Rabedeaux kept looking at his head coach, Rob Newson, as if to say: Where in the hell are we?
But he was already starting to understand his new home, which he saw as a place where chaos and beauty lived in harmony. At the zoo, he grinned and sweated and high-fived the Vietnamese families who stopped to gawk at the tall Americans and the portable basketball hoop, moms pushing strollers, dads with diaper bags in one hand and lit cigarettes in the other. Old ladies hid from the heat under their conical straw hats. Newson watched Rabedeaux work the crowd, and the Englishman had never met a more American person in his life: bubbly, open to strangers and, most of all, loud. His former players and coaching colleagues back home would have recognized him at the zoo that day. They knew the Rabedeaux who brought his own boom box into locker rooms for elaborate celebration skits, who did spot-on impersonations of many famous college coaches. "He was great at birthday parties," Sampson would say later. People gravitated toward his ineffable spark. A friend in Saigon said she knew when he walked into a room even with her back turned.
"I catch myself holding my assistants to Rab's standard."
- Kelvin Sampson, Houston Cougars
He threw himself into his new team, often the first to arrive at the office, talking late into the night with Connor Nguyen about players they might get to come to Vietnam. The team started off with seven straight losses, and Nguyen made Jason Rabedeaux his new head coach, demoting Newson. In some small way, he'd reclaimed a piece of what he'd lost.
He recruited relentlessly, as he'd done as an assistant coach for Sampson at Washington State and Oklahoma. In the handful of players he brought to Vietnam, NBA rejects and college stars a step slow for the league, he saw their deepest insecurities, one basketball exile understanding another. He found the one place in Saigon that sold American Gatorade and bought the bottles by the fistfuls for homesick players.
With strict rules limiting the number of Americans on the team, most of the players were locals. Total, Rabedeaux knew about 15 Vietnamese words, and over and over during games he'd yell "Nam Muoi!" which is slang for 50-50, as in: It's a 50-50 ball, so hustle. Curious locals that started coming to games saw the lunatic American coach sweat and scream. One practice, he picked up a stone on his walk to the practice gym, a trip he made nearly every day, past the barbershops and street food carts lining the road from his apartment. The team needed to be like this stone, he told the players, weathered and beaten yet still strong. In his other hand, he pulled out a raw egg, and he told them this is what they played like: tough-looking on the outside but soft inside. Then he crushed the egg in his hands, yolk going everywhere.
They didn't win much, missing the playoffs his first two seasons. During that time, he never drank with his co-workers, or with anyone, explaining to people that he'd had problems in the past. For two years, in fact, the people who saw him every day insist he kept himself sober, a kind of personal miracle. With poor results on the court, the team looked for a reason to fire him with cause so it wouldn't have to pay out his guaranteed contract. It couldn't find one.
Always rumored to be shutting down for good, the league hung on to existence. Looking for intel and passing along tips, Rabedeaux would meet Harry Hodge, the local beat writer, beneath the red awnings of Highlands Coffee, built like a lean-to on the back of the Opera House. Around front, the singsong tune of the ice cream man filled the air while teenage girls lounged on the steps and took selfies. The idling motorcycle drivers mistook his white face for a rich one, trying to sell their services. He barely made enough to pay child support back home. One cab driver who'd take him back to his apartment appreciated him sitting in the front seat and how, despite not speaking any Vietnamese, he always tried to smile.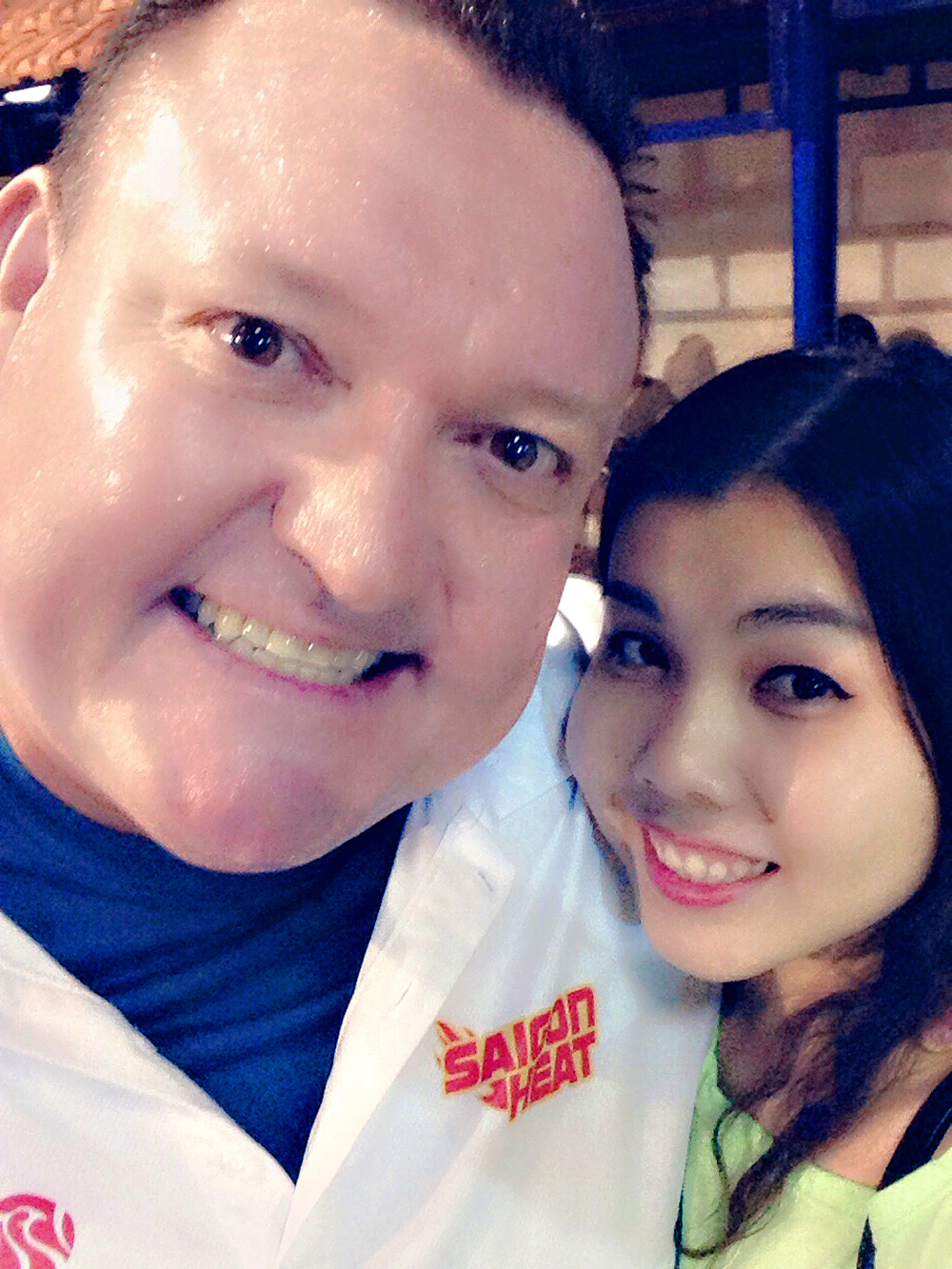 HE MET A GIRL.
Her name was Hong-Nhung Nguyen, which translates as Red Velvet, like the cake. A petite woman with wavy long hair, foreigners called her Eva. She was nearly 22 and worked at his first apartment building, a towering community called The Flemington, a Western enclave with an attached grocery store and a KFC. On the wide avenue running in front of it, 200 motorbikes sped past for every car, the air thick with the exhaust and flutter of four-stroke engines. Inside, five women manned the counter, helping residents navigate the strange world beyond the shiny glass doors. One of them was Eva, and Rabedeaux zeroed in immediately. Classic Rab. Pushing 300 pounds now, having gained weight steadily since his divorce, he still fancied himself a man who had game, which, oddly, he did. Jonathan Jones, one of his players, worried that a jealous husband or angry father would come after Rabedeaux one day. Connor Nguyen never bothered meeting Eva, believing she was just another of Coach's girls.
Rabedeaux asked Eva to marry him the first time they ever met.
She laughed in his face.
"Don't joke with me," she said.
"I'm serious," he said.
She asked his age.
"35," he lied.
Whenever he'd pass her desk, he'd smile. She'd smile back. They became friends, then six months later, more. When he renegotiated his contract, he needed a copy of his passport and asked her to take care of it. She saw his birthday; he was more than a decade older than 35.
Angry, she confronted him. He tried to negotiate and flirt his way out of his lie, bringing her an apple and chocolate milk for breakfast and lunch every day for a month. She searched his name on the Internet, and the past of the man she was falling in love with scrolled before her eyes, all of it, the women and the scandal, the meteoric rise and the long, slow, spiraling fall. Her feelings scared her; she'd never dated a foreigner before, and when her friends asked why she cared for this overweight older man, she tried to explain that she'd never met someone as charismatic, or as intense about his work, or as kind when speaking about his mother. He invited her to China, where he coached in the offseason to make extra money, her first trip outside Vietnam. They spent six days together, and she demanded he tell her everything, all his mistakes and sins, to see if he were worthy of her love. He told her about his divorce, most of it anyway, and one day, he promised he'd go for a walk with her after his game. It's a promise he'd made and broken to everyone in his life going on 20 years, that he'd be with them once basketball finished. He got home exhausted, but he kept his word. They held hands, strolling through an empty Chinese city at 2 a.m., and he sang her silly songs, making up the words on the spot.
"Happy day," he sang in Vietnamese. "Happy day."
These were indeed the happiest years of Rabedeaux's life. He and Eva started to make plans, real plans, talking about marriage and children. He traveled to her province to meet her mom and dad. They called each other "honey," and she programmed it into her phone with his number. She got a new job, at a milk company, and in the morning, he'd wake her up singing, "Honey, wake up, go to the Vinamilk Tower!" In the morning, he'd make coffee for both of them and then walk her to the elevator. He let her into his secrets, telling about his mistakes as a father and husband. Whenever the stress got really bad, he'd make her American meals, often spaghetti, and tell her about his hometown, and his mother, and the cold Wisconsin winters. He wanted to take her there.
"We were going to go to America," she'd say later. "We were going to get married. We were going to have a family."
She agreed to move in with him when he began preparing for the 2014 season, in April. Her parents did not approve but couldn't control their daughter. She started the process of trying for a visa, which isn't technically impossible for a young, single female but is something very close to it.
---
THREE MONTHS AFTER the funeral, Bobby Champagne sips his icy mug of beer and remembers what he and his friend Jason wanted to be, all those years ago, when they were young and everything seemed possible.
"Everybody has those grand illusions," he says.
Dick Vitale once called Rabedeaux one of the five hot coaches to watch. Around the same time, the Sporting News called Champagne the WAC assistant most likely to get a D1 job.
He's still waiting.
"I'm at North Alabama," he says, smiling thinly, shaking his head.
Bobby seems melancholy, not his usual hail-fellow cynical jokester. His team has just lost, and played soft, and he worries that yelling at the players will make them turn on each other. He's had a lot of success here but always worries about getting fired. The stress eats at him. He finishes his one beer and leaves. No late night for him. His family is waiting at home. He never made it to the top, and he'll never take a team to the Final Four, but he has a yellow brick house on a corner three blocks from his office, and he comes home many afternoons to see his kids after school. He walks to work. His beautiful wife is not an ex. Bobby is one of the lucky few. He's a good man, and would be judged an enormous success in every single profession except the one he chose.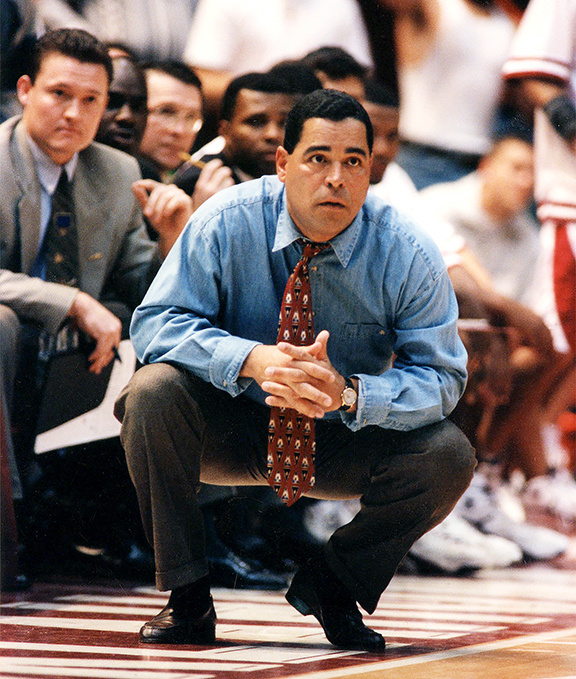 NO MATTER HOW far away from home he felt in the streets of Vietnam, Rabedeaux believed he would coach again in the United States. This belief sustained him, from his first moments in Saigon. He'd talk about it, to the other coaches, or at night in his first apartment with his roommate, journeyman center Jonathan Jones, in the honest moments before sleep. Rabedeaux was waiting on Sampson to save him. "Once Kelvin got a job," Jones says, "Rab was gonna be on the first thing smoking."
Kelvin already had rescued Rab once before -- from the hoops wasteland of an obscure Division III school -- making him part of his staff at Washington State in 1989. Basketball was Rabedeaux's vice; he barely drank, had never smoked pot or cigarettes. Since his adolescence in Wisconsin, he'd searched in locker rooms for the family he'd wanted since his split apart, and with Sampson, he found it. His compulsiveness, always a handicap, found a purpose; he arrived at Sampson's door broken, and this new job made him whole.
Rabedeaux followed Sampson to Oklahoma, becoming a top assistant and a man feared by the other coaches competing with him for players. He wrote as many as 30 letters a day to recruits in handwriting that people confused for calligraphy. Mostly, he saw things in players that no one else saw. Once he and Kelvin flew to Dallas and, before walking into a gym, Rab said, "Don't be mad." The player, Ernie Abercrombie, was an overweight guard with no other D1 offers. He became a star. A few years later, Rabedeaux took Kelvin to an empty gym where a dad was rebounding for his son, a slow-footed white kid. Kelvin eyed Rab and asked, "What are we doing here?" The slow-footed kid, Tim Heskett, broke 3-point shooting records at Oklahoma, helped the team to four straight NCAA tournaments. "He had a thing for underdogs and kids with a chip on their shoulder," Sampson says. "That's what Rab was."
They rose together, inseparable, Rabedeaux lounging around the Sampson house like one of his kids, raiding the pantry and fridge. The Sampson in-laws loved him too, and when they came to visit, he'd sit with them at the table: Kelvin, his two kids, his wife, his wife's parents ... and Rab. Long desperate for a stable father, after losing his own to divorce, he burrowed himself into the Sampson family. Without fail, Rabedeaux called Kelvin before going to sleep, every single night.
One year the Sampson family vacationed at the end of the world, an Alaskan fishing village named Haines, which sits in the cold, blue void between the bobbing masts in the marina and the snow-capped mountains of the Chilkat Range. The trip complete, a float plane readied to take them to Juneau, where they'd catch a flight back home. Fog rolled in, and nothing could take off or land. The Sampsons caught a ferry, then found a roadside motel in Juneau four or five hours later. Kelvin had tossed his luggage on the bed, exhausted, when the room's phone rang.
"Coach, what you doing?" Rabedeaux asked.
Sampson stared at the phone.
"Rab," he said, stunned, "how did you know I was in this room?"
"I got ways," Rab said.
He'd called the fishing village, then checked the ferry schedules, then called every hotel in Juneau until he found the right one. "We had the wrong person looking for bin Laden," Kelvin would joke years later, before turning wistful. "I've never seen a person like that. He was almost like your soul mate. I catch myself holding my assistants to Rab's standard."
His co-workers envied Rabedeaux's scouting reports, page after page of detail and sketches of offensive and defensive sets, something from "A Beautiful Mind." All his life, Rabedeaux had been OCD, carefully hoarding and collecting and organizing even little soaps and shampoos from hotel rooms, and now he had license to let himself become a raging maniac, hyperfocused and one-tracked, all in the name of the cause. Not only wasn't he damaged any longer, he was an almost perfect coaching machine, as long as someone gave him tasks and rewarded him with praise, and later, his friends would wonder whether maybe he should have stayed with Sampson forever. He burned bright. Sometimes, he'd do pushups and situps during staff meetings, shedding excess energy. The best assistant coaches are crazy people, and a few of the best assistants become head coaches. Every head coach, no matter how rich or famous or slick, used to be a top assistant and is, therefore, nuts. Maybe the job self-selects for broken people, or maybe it breaks them, but coaching is not for the well adjusted. Nobody was less well adjusted than Rabedeaux, so schools soon came calling. In 1999, UTEP offered him his dream job.
He didn't know whether he wanted it.
Rabedeaux came over to Sampson's house, offer in hand, confused and scared. The men sat at the round table where they'd celebrated wins and mourned losses. They talked for hours. Rab bounced from laughter to tears. It's as if he already sensed what waited for him when he left Sampson behind. Rabedeaux looked around, nostalgic and sad.
"I'll never be in this room again," he said.
"Rab, this is your chance," Kelvin said.
Finally Rabedeaux stood to leave. Nothing would ever be the same again, and no matter how melodramatic that sounds, it remains true. His life broke into two halves: the rise, which led to a round table at the Sampson house in Norman, Oklahoma, and the fall, which began almost as soon as he walked away.
"You're ready," Kelvin said, and he was wrong.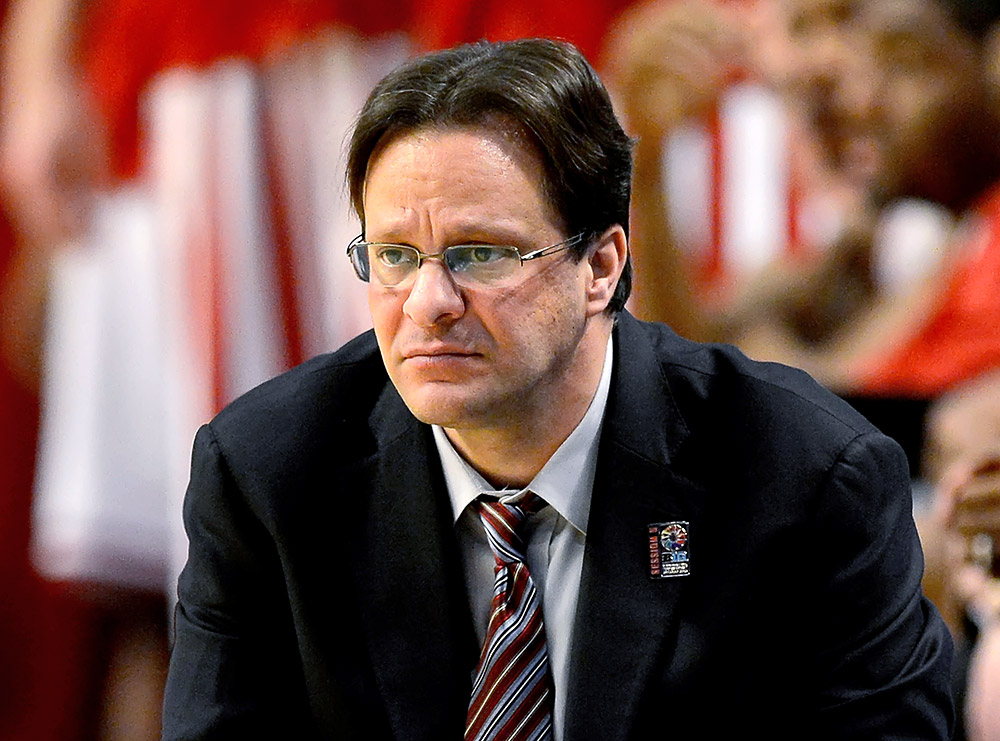 "He was so scared of losing contact, losing respect, not being a sufficient father."
- Tom Crean, Indiana coach
In El Paso, away from the clarity of working hard to please Sampson, he lost himself, breaking back apart; his new bosses suspected he'd been battling these personal demons for years and now lost whatever control he'd managed to sustain in Norman. The coming years took things from both of them. Rabedeaux resigned at UTEP and lost his job at Marquette and eventually washed up in Asia; after moving to Indiana, Sampson and his staff committed so many recruiting violations that the NCAA effectively banned him from coaching in college for five years -- the rarely used "show cause" penalty. He rode out his own exile as a bench coach in the NBA. The five-year ban ended in November 2013, while Rab coached in China during the Heat offseason. Both needed a second chance. Kelvin didn't want to end his career as an NBA assistant with a bad reputation.
Rabedeaux was either sober in March 2014 or hiding his addiction masterfully, hoping to win enough games to catch the attention of someone willing to take a chance, knowing in his heart that only one man might be willing to overlook the mess he'd made of the previous 12 years. In the past month, his mom had been sick, in and out of the hospital, and he wrote Connor Nguyen from a visit to Wisconsin on March 25 and confided, "I fear this is the last time I will see her ... I hate to think that way, but she is breaking down."
Another basketball season beckoned. It was time to go back to Saigon.
He waited in the Chicago airport for his flight, preparing to leave behind a sick mother and three kids he didn't see on his last trip home, once again not matching the promise of his words with the follow-through of his actions. On the road with the Rockets, somewhere between Toronto and Brooklyn, Kelvin was one day from being announced as the new head coach of the University of Houston.
His phone rang.
"No pressure," Rabedeaux began, and, humble and desperate, he asked Sampson for a job. Sampson tried to be gentle, and he couldn't bring himself to flat-out say no, but by the time the call ended, Jason Rabedeaux knew he'd burned his final bridge, toxic even to his surrogate father. There'd be no reunion, no chance to go back to that round table and start again.
He landed the next day in Saigon. Eva says she soon started finding vodka bottles hidden in the drawers with his clothes.
---
TOM CREAN PUTS his feet up on a table in the afterglow of a win, safe for a night from the Indiana fans who want him fired. He's thought about Rab a lot since the funeral. Little things remind him. Two times this season, the Hoosiers played at Madison Square Garden, and both times, he stepped into the enormous old freight elevator and laughed because every time Marquette went to the Garden, Rab would sit and pretend to be the crusty elevator operator.
Bad memories inevitably follow the good ones: Rab under the influence on the bench and unable to diagram a press break in the closing possession against Georgetown, or when Crean had to demote him from assistant coach to director of basketball operations, or when he couldn't bring Rab to Indiana in 2008, worried the scrutiny of the Hoosiers fans and reporters would make hiding an alcoholic impossible. His friends went to Indiana, and Rab went overseas looking for work. Crean remembers the many sides of Rab: the comedian; the flawed genius with a high SAT score and an innate understanding of basketball; the overgrown kid; the depressed, insecure man who'd call him at night in tears, who knew what he'd thrown away.
"He was lonely," Crean says.
Crean tried over and over to save him, dipping into his own pocket, staging interventions, getting him medical help and talking to addiction specialists, working to make sure the public -- and more important, Rabedeaux's kids -- never found out. Rab talked about his children constantly to anyone who'd listen. That's why Crean thought Rab was worth saving. "I'm gonna tell you what it is," he says in his office, his voice hoarse from the game. "We got close to those boys. I never met his daughter until the funeral. He was a great father, and he was in fear of those boys not respecting him or knowing that their dad was good at what he did. I was very protective of that. He was so scared of losing contact, losing respect, not being a sufficient father."
Crean found out Rab died from another coach, the way coaches find out about all bad news, a text message early in the morning, and he didn't cry that day, or the next. He didn't cry at all until the funeral ended and he walked to the front of the church and hugged Rabedeaux's oldest son, Beau.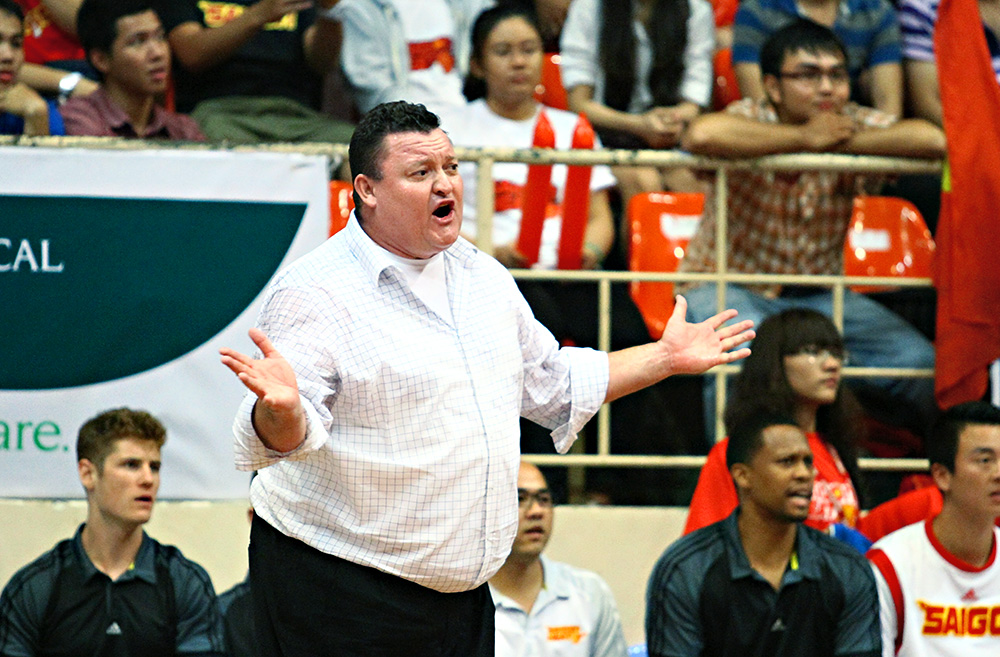 SOME OF THE PEOPLE at the Heat office noticed something wrong with Rabedeaux when he got back to Saigon. He'd be belligerent, reeking of booze. At restaurants, he caused scenes, shouting and dropping food on himself. At practice, the players noticed too. Word got back to Nguyen, who already suspected, mostly because of incoherent text messages, the hint of a word lost in a jumble of misplaced letters. On April 28, he asked Rabedeaux to meet him at a chain bakery in a high-end apartment complex. With exposed brick and plenty of light, the place felt completely Western.
"What's going on?" Nguyen asked.
"I'm struggling," Rabedeaux told him, explaining about missing his mom.
"Coach, what is it?" Nguyen pressed. "Are you drinking?"
"You know I don't drink."
"Are you taking drugs?"
"No."
Both left the bakery clear on the message: Another episode would end Rabedeaux's coaching career. Eva swears he'd stopped drinking by that meeting with Nguyen. Most people agree with her. Only one person, who asked not to be named, said he thought Rabedeaux switched to pills. It's hard to know. Nobody deceives more skillfully than an addict. Nguyen sensed a problem, and as insurance he brought in a new assistant, Tony Garbelotto, a veteran coach who'd lost his job in Germany. Rabedeaux recognized that his replacement was ready should he fail.
Eva's visa interview approached, scheduled for the morning of Sept. 8. The night before, the Heat faced the Westports Malaysia Dragons at home, badly needing a win to stay in playoff contention. They led by three with a little more than two minutes remaining. But Malaysia hit three of six free throws in the last minute and won by three, another late-game lead thrown away. The cameras focused on Rabedeaux in the closing seconds, shaking his head. "We'd both been through hundreds and hundreds of games," Garbelotto says. "That one hurt him."
That day, Eva had gone to the U.S. Consulate. Officials asked questions and studied her application and then, against the odds, approved her visa. She could go with Jason on Thanksgiving, and take the first steps of their new life in America. She rushed from the building, giddy, ready to share this news with Rabedeaux.
She came home, walked into the apartment beaming, almost floating.
She found him drunk.
text
HE CAME APART on the 13th floor. The day after his team lost by three, he missed a video session with Garbelotto, drunk. The fields outside his window closed in. Down the street at the barbershop, the songbirds sang in their cages, hung in the branches of a tree, and the chickens cowered and clucked, future dinner, held in a box of wire by the dirt and roots. Alone, Rabedeaux drank cans of Heineken, cracking one after another. Every few hours, he went downstairs to the La Casa Market and bought another six-pack from a skinny-armed, acne-scarred young man. The store didn't sell hard liquor. Only beer. The clerk counted as many as 48 cans a day.
His behavior at practice scared and confused people. Rabedeaux called players by the wrong names and repeated drills. Friday night, the Heat lost by three again. The next Tuesday, he missed practice. Days later, seeming to be making peace with the end of something, he confided in Tony.
"I think I had a solid career," he said.
"When we die, where do we go?"
- Jason Rabedeaux
Nightmares jerked him awake. Regrets kept him from falling back asleep. He'd missed his son's high school graduation and missed driving him to college in North Dakota, where he'd been recruited to play baseball. Often he promised he would visit them and didn't, and some thought he was selfish, and some thought he was so full of shame over his appearance and his addictions that he didn't want them to look at the mess he'd made of his life.
The memory of each missed rendezvous gave birth to more regret and shame. Back in Wisconsin, his mom hung on, and he missed this time with her, too. And for what? His coaching career was going to end here. Nobody wanted him. Nguyen had nearly decided not to renew his contract, and although they hadn't discussed it, Rabedeaux had to suspect. Even Kelvin Sampson wouldn't hire him. So many people had put their faith in him; during the last days with his mom, six month earlier, the two watched the NCAA tournament, and she talked hopefully of how he would be there again one day, wondering which of these fine programs he might choose. She still believed in him, and in two months, when he and Eva arrived in Eau Claire for Thanksgiving, he would no longer be a basketball coach. Her visa, which they both had wanted so desperately, now made him do what he'd refused to do for more than a decade: confront the wreckage of his personal life and figure out how he might put it back together again.
Eva left home every morning about 7:30, and he called and texted throughout the day. His voice would start to change as early as 8 a.m., and she realized he started drinking the moment she closed the door. When she returned from work, he clung to her, even following her into the bathroom while she took a shower. Over and over, he talked about how much he missed his kids, and how he hadn't been there for them. He talked all night, barely sleeping, and the next day the whole thing would start again, a half dozen or more trips down to the little market, buying Heinekens six at a time. By Friday, he couldn't keep any food down, and when he threw up, it was clear liquid. Spells of dizziness left him unstable on his feet.
Three times in the last four days of his life, he watched a movie about the life of Christ. He wasn't very religious. During the film, he'd pause the action and ask Eva questions. Two days before he died, he asked her, "When we die, where do we go?"
The sun came up on Sunday morning. After 14 days of free fall, only a handful of hours and the business of dying lay in front of Jason Rabedeaux, but first he had to get his clipboard and markers and go coach one last game.
He looked ravaged, unsteady on his feet, struggling to thread his belt through the loop, and during the national anthems, his frown left such deep creases on his bloated, pale face that it seemed painted on with cheap circus makeup. They'd lost two games in a row, and a loss tonight would effectively eliminate them from the playoffs. Wiping his sweat with a towel, he worked the sideline.
Late in the game, the Heat holding onto a lead, the Indonesia Warriors put on full-court pressure and made their run. After a turnover in the backcourt, Rabedeaux called timeout. Taking out his board and pen, he tried and failed to diagram their press break. Garbelotto took over and explained the play to the team. The Heat hung on and won the game.
"That's one of my greatest wins," Rab said afterward, fighting back tears. The next morning, Eva found him in their kitchen, cuts on his arm and head, lying in a spreading pool of blood, barely alive. One of the six men who carried him downstairs was the acne-scarred clerk who sold him beer. The police collected forensic evidence, questioned Eva twice and concluded he fell during the night, cutting his head on the counter and his arm on a sharp, exposed metal edge.
---
THE TEAM SENT a list of the things he left behind, a life reduced to an Excel spreadsheet. He died with a rice cooker and a microwave, two laptops and two iPads. Nine telephones and nine watches, 20 small plastic statues and one pair of glasses. Four pillows and 13 pairs of shoes. Five pictures, to remind him of home, and one Bose speaker.
He left behind Saigon, the city that offered him a second chance and took it away. Sometimes he'd talked to friends about the depravity of the city and sometimes he'd talked about the innocence, but he always understood how the place, perhaps more than any other he'd ever been in, reflected the inner conflicts of every exile who washed up on its streets. He left behind a mother who thought he did little wrong, and an ex-wife who thought he did little right, and three children caught in the middle. He left his three children behind long before he died -- his daughter, 12 now, spent maybe 50 days with him -- and in exchange he won 46 basketball games at UTEP, 56 in China and 18 more in Vietnam. His other wins and losses have faded away. Nobody remembers those games, each of which cost him another small piece of himself.
He left behind debt, more discovered every day as creditors hound his oldest son. The IRS wants money, and so do at least eight credit card collectors. The team, which found out about the financial issues after Rabedeaux died, is working to pay the family a $50,000 accidental death benefit, plus the remaining amount owed per his contract, but all of that will certainly be carved into pieces by his creditors. When all the lawyers and accountants are finished, Jason Rabedeaux will have coached 26 years, in five countries, for a total of $900 -- the amount in his money clip, which Eva found after he died and turned in to the team.
He left behind a mystery.
"Just to slip and fall and hit your head and you die," says former roommate Jonathan Jones. "That seems weird to me. That's not adding up."
"Did he do stuff we didn't know about?" Garbelotto says. "Was he going to the middle of Saigon and getting hard drugs? Everything is in play."
People considered every option. He overdosed. He killed himself. Someone attacked him, maybe a robber, or an angry father or husband. A drug deal went bad. Maybe Eva killed him. He died with the apartment door locked, while she slept, and nobody but Eva had a key.
The enduring mystery is shrouded by a strange refusal to solve it.
Many people in his life actively avoided discovery. Maybe they already imagined the worst. Maybe they're just private. But there's something else undoubtedly going on, too, the fear of knowing too much, not just about Jason but about the whole nature of things. What if we remain prisoners of our mistakes, no matter how many years and continents we put between ourselves and our worst moments of weakness and shame? How much do we really want to pick at the thin scab of self-determination?
The team offered to dig some more and was told no.
Since Connor Nguyen didn't read Vietnamese, the autopsy report sat untranslated, and in January, he got the English text back, three and a half months after Rabedeaux died. He sat in the open-air concourse beneath their stadium, in a red chair. His lips moved as he read. A bird chirped and an engine revved, and it all seemed so ordinary. This was how secret lives come into focus, not with a dramatic reveal but as an email attachment.
He jerked back, as if he'd touched a wire.
"Wow," he mouthed silently.
He swallowed hard.
"They did toxicology," he said, reconsidering everything he thought he knew about the last day of his ex-coach's life. Jason Rabedeaux died sober, without a trace of drugs or alcohol in his system.
---
A LADDER LEANS against the wall of Kelvin Sampson's new office in Houston. A short note from his old boss at Oklahoma wishes Sampson well. A deeper layer of symbolism is obvious: a ladder for a man climbing out of a hole he dug for himself. Sampson is getting the second chance he couldn't give his old friend. He's been haunted by his decision.
"I thought about it when I first heard," he says.
Tears well up in his eyes, and he tries to blink them away, then hold a monotone until he regains control. That doesn't work. He wipes them away, then sniffles, and finally lets go. Photographs of the underdogs Jason recruited hang on the wall. "Give me a minute," he says, rubbing his face with his sleeve. He closes his eyes and remembers. "If I had hired Rab, he'd probably still be alive," he says finally. "That bothered me. That bothered me a lot. I knew his mother and father ..." and then he trails off, the second part of that horrible thought left unspoken. In his mind, he can see Rabedeaux's face, friendly and open, grinning after a win.
"He had big dreams," Kelvin says, and he starts to cry once more.
text
ALL THOSE DREAMS DIED in the months and years before he did, and on a Sunday afternoon in January, Eva comes into a fancy hotel lobby and confirms the accuracy of the autopsy. Outside the window by her seat, central Saigon swirls and buzzes, a place where money can fix anything, even a clean toxicology report, but she is adamant. His last drink came on Saturday afternoon, about 36 hours before he died. Nobody will ever know for sure what happened on the 13th floor, but the only conclusion supported by evidence to date is almost too heartbreaking to consider: Jason Rabedeaux didn't die from drinking; he died because he stopped.
Withdrawal from drugs or alcohol, known as delirium tremens, or the DTs, is fatal in up to 15 percent of cases, and severe dizziness and seizures are common. Everything else is conspiracy theory and unfounded suspicion, and even this is merely a logical guess. The truth, however ordinary or shocking, will never escape the long shadows of Saigon. Sitting by the window, Eva looks down in sorrow, her once long hair still growing back after she cut it in mourning, in the Vietnamese tradition. She quietly recounts the last hours of someone who didn't know he was about to die, and yet, on some level, sensed it. All he wanted was to escape, to go back to Wisconsin at the end of the season, about a month away. Talking about home dominated his final two days.
When she returned to the apartment from work Saturday, he stopped drinking. He never drank in front of her. It was 5:30 p.m. when she parked her bike and went upstairs. Sweat ran down his face, which looked clammy, and he struggled to find the energy to do anything. She begged him to go to the hospital. He said no. Sunday morning she made him breakfast, a ham and cheese baguette. He threw it up immediately. She demanded once more that he go to the doctor.
"After the game," he promised.
The team won and he went back to the 13th floor. He hated living on the 13th floor, feeling as if the bad fortune he found didn't flow merely from his own decisions. Exhausted and shaky, he told her he'd go see a doctor in the morning. He looked awful. Eva made him the dish her mother always made when she was sick as a child, a rice porridge called chao. She added some fresh ginger, and he ate two bowls and kept them down. Water stayed down, too. Before going to bed, she put a third bowl in the microwave and told him to heat it up if he felt hungry. In the morning, lost amid the horror of the blood and his body pressed up against the counter, rested the empty bowl of chao on the ground, unbroken.
He died at sunrise, leaving the world sober and a winner, briefly the same man who'd been saved by Kelvin Sampson. The final person who communicated with him, on Skype after the game, was a player he was trying to sign. Perfect, his friends would agree: The last thing Rab did before he died was recruit.
Eva found his calendar while packing his things.
He'd written in the date of their trip to Wisconsin, and she knew how his coaching journey would end. Jason would go home after all. Eva boarded an airplane, flying to Japan, then Minneapolis, sitting in a window seat, his ashes in her lap. The crematorium had given her the remains as she requested, a box with a crucifix on top. For almost 24 hours, Eva stayed awake out of respect. None of the other passengers knew what she held, and nobody asked. Her duty was clear. She would return the remains of a dead son to his mother. Everyone always called Jason a mama's boy. Eva held tight to the ashes until she arrived at Norma Rabedeaux's home. Inside, she found a table decorated with beautiful flowers and gently placed the box on it. Jason was finally home, and Norma showed Eva the town where her son had grown up and where he first played the game he chased around the world. Eva flew back to Saigon, a city of widows, of both second and lost chances. She came in low over the swamps, wondering how she might start again.
Follow ESPN Reader on Twitter: @ESPN_Reader
Join the conversation about "Jason Rabedeaux Was Here."