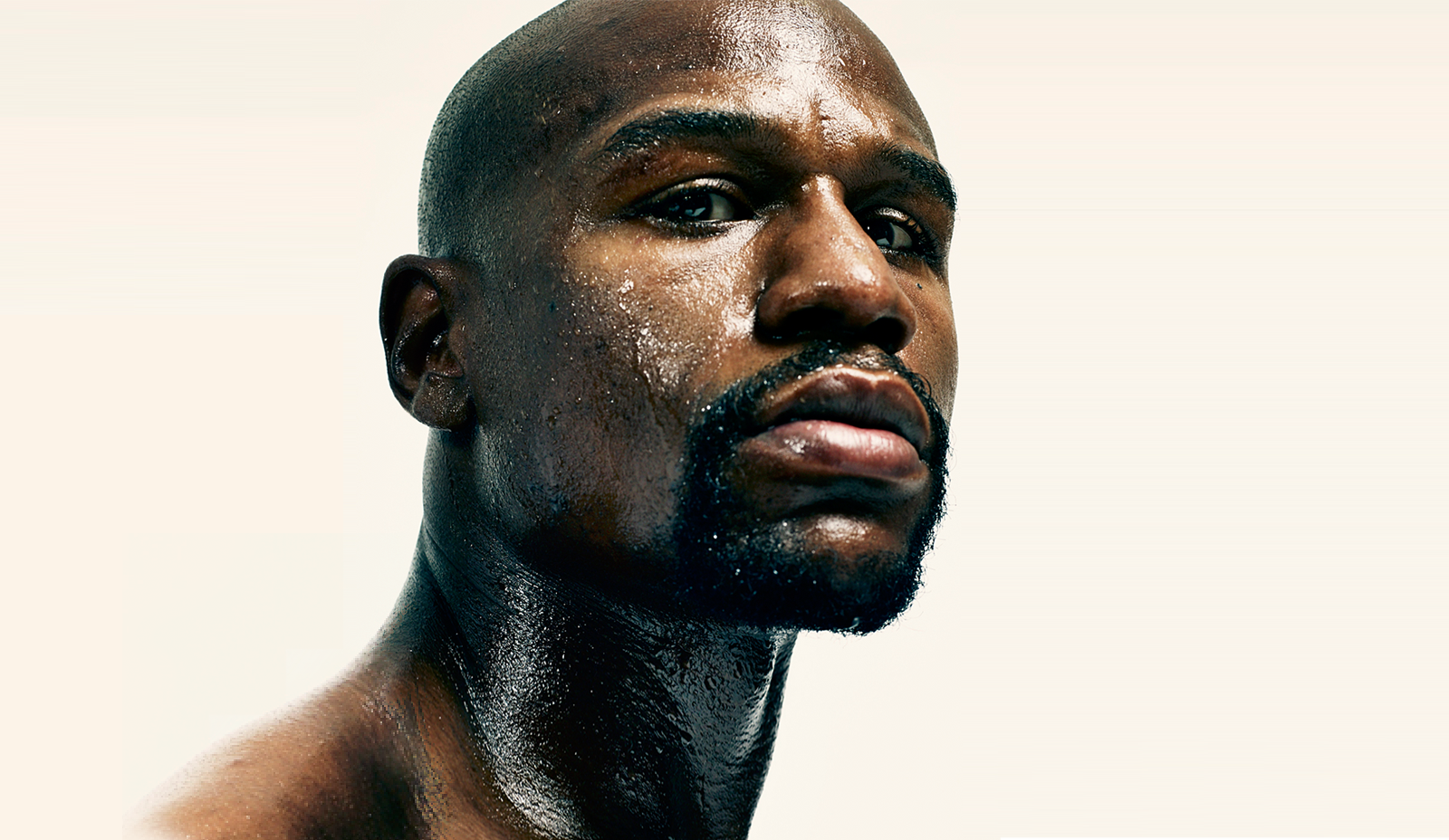 The Beginning Of The End
Impossible to hit, even harder to defend, Floyd Mayweather is fighting to leave the ring the way he entered it: Standing.
THE THERMOSTAT ON the wall reads 94, and the humidity created by all the sweat in the room makes the air feel rank and static, as if it's possible to breathe the exact same breath from the moment you enter to the moment you leave. A solid percentage of the people here today are lining the apron of the boxing ring, pounding their palms and fists onto the canvas with an insistence that goes beyond noise. It's like being trapped inside a bass drum in the middle of the tropics.

Floyd Mayweather hops into the ring. The pounding accelerates. They urge their man forward -- Always in control! -- with a vigor that angles toward desperation. There's a woman in a tiara and pink boxing boots yelling at Floyd to use his jab. There's 86-year-old cut man Rafael Garcia, dancing like it's the senior prom. There are four of Mayweather's nine security guards, circling the Las Vegas gym like hypertrophic mall walkers, making sure no phones leave pockets. They're all in it together, all celebrating the arrival of Mayweather's biggest moment while dreading the inevitability of its end.

Oh, to be 22-year-old Canadian Cody Crowley, the sparring partner -- Fresh meat! -- bounding on the balls of his feet, shaking his hands at his hips, rolling his neck side to side, as if he could gyrate himself into composure. Mayweather begins by laughing in his face, then says, "I'm coming for you," as Floyd's uncle John, standing by a turnbuckle, wonders out loud who's going to catch the kid when he goes down. Crowley has "The Crippler" written on his headgear in cursive, and wait -- what's that on his T-shirt? Does it really say "Let Me Show You How Great I Am"? No, Cody, no. Crowley takes three jabs to the nose. "Take that," Floyd sneers as each connects like vehicle vs. pedestrian. The fists pound louder, and Call the helicopter! pierces the clamor. When the last round ends, the pounding turns to applause as Floyd flops down and rolls under the bottom rope.

Nearly three hours later, when the day's work is done and his locker room is cleared of everyone burrowed into corners and leaning against walls, Mayweather stands in front of a television to watch the Nuggets at the Rockets. He is watching his money, as he likes to say, and he's got $200,000 that says the Rockets will be leading by more than five points at halftime.

His eyes are weapons; those around him are so attuned to his needs that words have been relegated to a secondary form of communication, employed only when the eyes fail. When he is displeased, his glare lingers longer, the better to maximize the recipient's discomfort. If he is happy, they can loosen a whole room.

As he watches the Rockets make good on his bet, the 20 or 30 people still in the room drift into their own conversations. Ever so briefly, he is not the sun around which all planets rotate. Perhaps he senses opportunity in the static; he turns to me and asks, quiet enough that nobody else can hear, "I'm boxing pretty good right now, don't you think?"

Coming from Mayweather, this simple offhand question is jarring. His questions are rhetorical, occasionally informational. He might want to know a score or where someone is, but he rarely feels the need for opinion.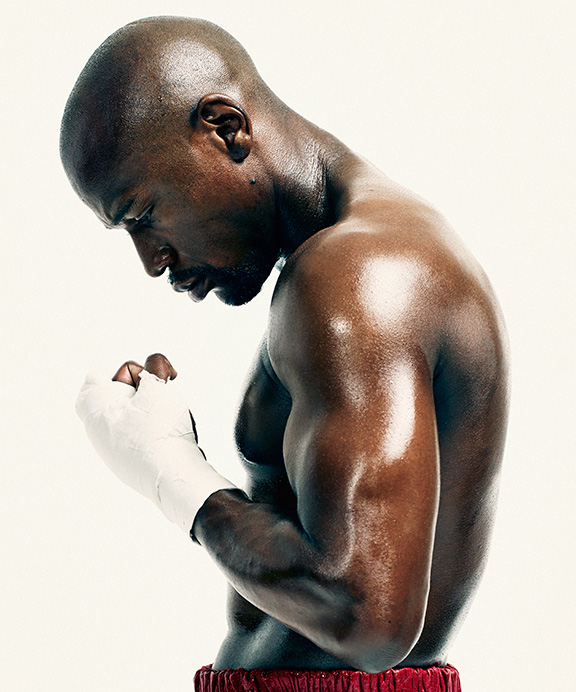 This time, there is a different look in those eyes. As he prepares for the biggest fight of his life, the one nobody thought would happen, is there a seed of doubt to be found within them? Vulnerability? Mayweather lives within a self-contained world, with someone there to accommodate his every need. He employs those nine security guards (approximate combined weight: 3,500 pounds). There is a woman who comes to his house to place and light the style of candle he prefers. He once called his car dealer in Los Angeles, Obi Okeke, and told him he needed two Bugattis at his house in Miami in 48 hours. Okeke had the cars loaded on a transport truck with a 400-gallon diesel tank and three drivers, who stopped only for food and bathroom breaks. OK, one more: Mayweather said he once gave a pregame talk to a Division II basketball team -- nobody can remember the school -- and afterward he called David Levi, his assistant in charge of placing his bets.

"I'm staying focused on my job. It's just growing -- growing as a person."

- Floyd Mayweather

"Dave, I gotta bet this game," Mayweather said.

"Floyd, it's Division II. There's not even a line."

"I don't care. Have them put one up."

And so a request was made to the sportsbook: Floyd Mayweather is interested in putting a maximum bet on a Division II basketball game. A line was found in some dark offshore corner of the Internet, and the sportsbook told Levi $50,000 was as high as it would go. The bet was placed, and Floyd's team -- and Floyd -- won big.

"Why did you want to bet that game?" Levi asked afterward.

"Because I got those boys fired up," Mayweather said.

He lives in a world of absolutism and delusion, with rules of his own devising, where people exist to serve his desires and commemorate his accomplishments. Reality is like that D2 betting line: It can be altered or created to fit his needs. The Sun King comparison has been made before, but it remains apt. "It is legal because I wish it" is as pertinent to 2015 Las Vegas as it was to 17th-century France. Mayweather's civilization -- Floydville? -- was built to serve the singular immortal. When an Access Hollywood reporter asked him for his celebrity crush, he said, "There's not really a woman I can't have. If I want it, I can go get it."

No smile, no wink. The man was serious.

Sometimes it seems the rest of the world could cease to exist and Mayweather wouldn't notice until he attempted to place a bet on a game. And yet within his civilization, where he knows with certainty how his questions will be answered, there remains a part of him that needs to know how he looks from the outside. It's like watching the man in Plato's cave sneak looks over his shoulder, noticing more than his own shadow.

He will fight Manny Pacquiao on May 2, in Las Vegas, at long last. The fight, which puts an end to the Vietnam War of boxing speculation, will be the type of preposterous commercial enterprise that will manage to be both riveting and borderline obscene. In keeping with Mayweather's subversive nature, he will also be sabotaging the normal athlete's career arc. The path of youth/prime/decline? Not for him. He is preparing for two things: the pinnacle of his career, and its end.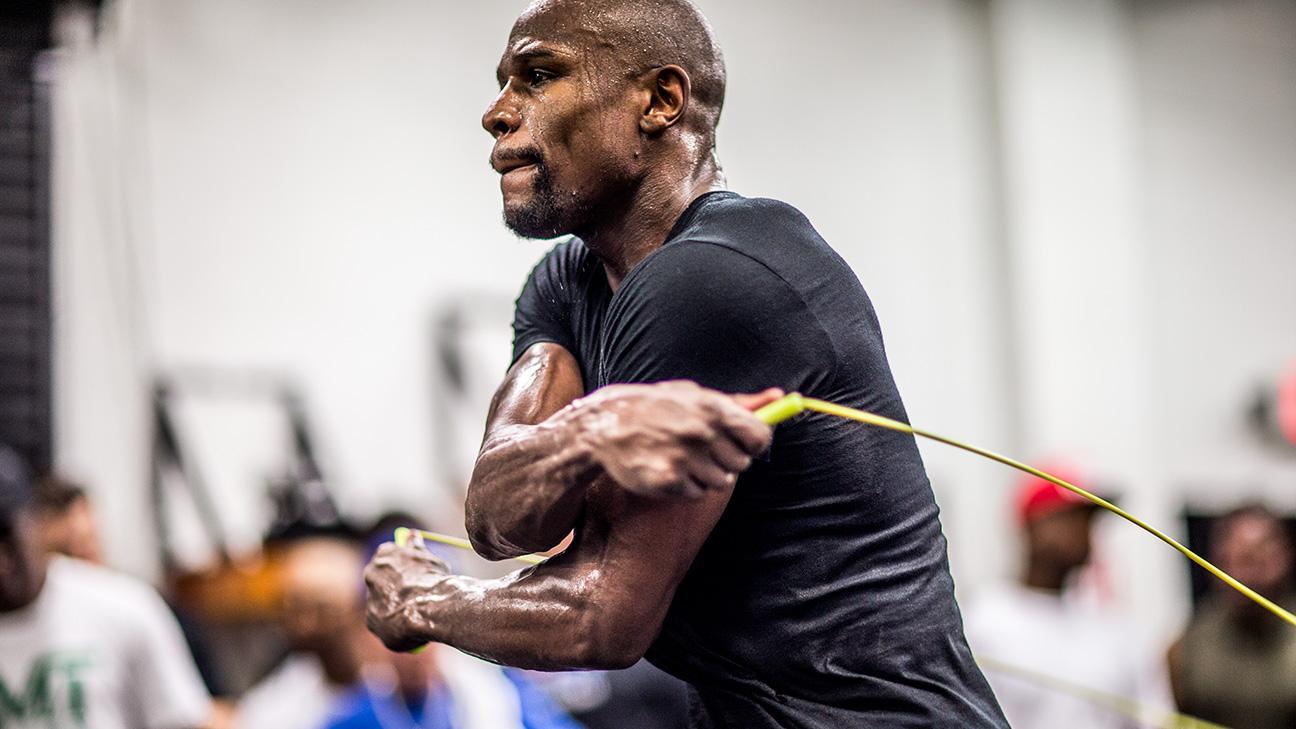 Mayweather is invariably described as polarizing, a word that is as woefully noncomprehensive as it is factual. He is the greatest fighter of his generation. He is also a man whose eagerness to proclaim his own talent -- he calls himself TBE for The Best Ever -- and flaunt his extreme lifestyle have caused a good percentage of those who pay attention to boxing to revile him. His history of violence against women has triggered outright revulsion -- three convictions, including one that landed him a two-month jail term in 2012 for misdemeanor domestic battery and harassment. Those who hate Mayweather don't want to see him lose; they want to see him buried.

But as Mayweather and I stand there, watching the Rockets shoot 3s with impunity, the facts of the moment are these: He has just stopped two sparring partners, forcing one to turn his back and take a knee. (Mayweather grabbed him from behind and pulled him to his feet, as if having a man on his knee in his ring were an affront, and immediately called for the next boxer.) He has hit the heavy bag for 15 minutes, the speed bag for 10. He has worked the mitts with his uncle Roger, the nonstop slap of leather on leather like piano notes, and done body work with assistant trainer Nate Jones, a hydrant-shaped man who wore a body protector and still struggled to keep his balance under the weight of the blows. He has taken two 5-pound dumbbells and stood in front of a floor-to-ceiling mirror and rhythmically punched the sky for two sets of three minutes each. He has thrown roughly 8,000 punches in two hours. He then retired to his locker room, where he held court for a few minutes and changed into tights, a sweatshirt and a ski cap to combat the elements of the 83-degree night. He finished off the ensemble by adding a pair of colorful boxers and then ran 5.44 miles in under 37 minutes. "Trains like he's broke," says former world champion and current sparring partner Zab Judah. As I watch over the next three weeks, there will be days when he does not look as sharp, when the reality of his 38 years will infringe on any suggestion of invincibility. But on this day there is only one answer I can give: Yes, he is boxing very well.

He lifts his chin in a tight nod and turns back to his money.

"That's what I thought."

March 3, 2015

Team:
This training camp is no different than any other training camp. The one thing that's different is that I have ZERO tolerance for foolishness. I will not entertain anything on any social media for the next 10 weeks. I want to be clear. NO pictures or videos are to be posted of my associates or myself without my prior authorization. I have overlooked things for too long and time is up. I will not accept excuses for any unprofessional behavior this camp. I have been pushed to put these measures in place. A lot of you have gotten too comfortable, and have lost focus on what's truly important. There will be deductions from your salary if I feel that your performance is not up to my standards. This is not anyone's first rodeo, and we all know the drill. I want and need a smooth training camp, and I will achieve that.

There is a beginning and an end. I only have two more fights in my career. I've tried to put all of you in the best situation to be successful. It's your choice what you make of it. I can no longer be everyone's savior or problem solver. I'm asking all of you to make better choices. I advise everyone to save and start preparing for the future. I appreciate all of you. I want the best for everyone, but I am finally at my limit.

Sincerely,
Floyd Mayweather
---
HE'S FAMILIAR WITH the body's small treasons. Thirty-eight-year-old knuckles abrade easier, and the iodine to fix them burns brighter. The feet don't always respond as reliably. The timing, such a vital part of everything he does, sometimes abandons him. There are days when he cuts his still-epic workouts short, saving his body for another day, and there are other days when those around him raise their eyebrows and look over both shoulders before saying they fear he might be overtraining, peaking too early, because the importance of this fight -- this potentially $500 million fight for his everlasting legacy -- has wedged its way into his brain in a way no others have.
Mayweather would agree with none of this. He controls his training as completely as any other aspect of his life. Big Floyd, his father, is ostensibly his trainer, but his instructions must run more toward the telepathic. Often Big Floyd can be found sitting in the gallery, drinking a soda, while his son trains. Mayweather is ready to leave boxing after completing his six-fight contract with Showtime in September for two reasons: He wants to live a "normal life," where he can presumably walk the streets of Las Vegas without nine security guards, a paradoxical notion from someone with such a vainglorious bent, and he wants to leave with his faculties intact, on his own terms, with money in his pockets. It is not, to be clear, because he can no longer perform. "Some people just get better with age," he says. "I don't know why, but I'm one of them."

He prepares for Pacquiao while usually wearing a black "47-0" T-shirt. On the back are the names of each of his professional opponents, each name x-ed out, some twice. He has not said much about Pacquiao, no trash-talking or belittling, other than to suggest that someone in Manny's entourage should inform the boxer that he is a terrible singer. He has, however, emphasized Pacquiao's five losses. "If you've lost once, it's in your mind," he said. "If you've lost twice, it's in your mind."

"Some people just get better with age, I don't know why, but I'm one of them."

- Floyd Mayweather

But what of the burden that comes with that zero? All those people depending on him, the apron pounders and candle lighters and even the long-haul truckers? "I don't focus on that," he says. "I just focus on going out there and performing well. I always think positive."

There is something different about him this time around. Everybody can sense it, feel it. Focused is the word of choice within the gym. But distant and preoccupied might be contenders too, because it's clear he sees Pacquiao as a legitimate threat. Asked how he might handle a loss, Mayweather says, "There ain't no losers when you make nine figures for 36 minutes of work." Yet he has limited outsiders' access to the gym, virtually eliminated interviews and no longer spends large chunks of his workout bantering with guests. There's also none of the unceasing effort he once made to justify himself and his money and his greatness in the ring.

"I'm at peace," he says. "I'm happy. You know, I get to spend time with my 14-year-old daughter every day. I'm working hard in the gym. I'm staying focused on my job. It's just growing -- growing as a person. You can no longer grow physically, so you grow mentally. You can't just talk about it, you've got to take action."

But perspective, more often than not, comes at a cost. On Dec. 8, Mayweather was on FaceTime with his good friend Earl Hayes, a rapper who was always at the gym during training camps. Hayes was having an argument with his estranged wife, Stephanie Moseley, and Mayweather was attempting to defuse the situation. He was on the line when Hayes shot and killed Moseley, then himself.

"Of course it affected me," he says. "It hurt me deeply. I think about it every day. I think about him every day. I think about her every day. At the end of the day, it wasn't right. He took the easy way out, and it wasn't right. If he wanted to take his own life, he should have. He shouldn't have taken that girl's life. It wasn't right. I disapprove of that totally, 100 percent, even though he's my best friend. Right is right and wrong is wrong."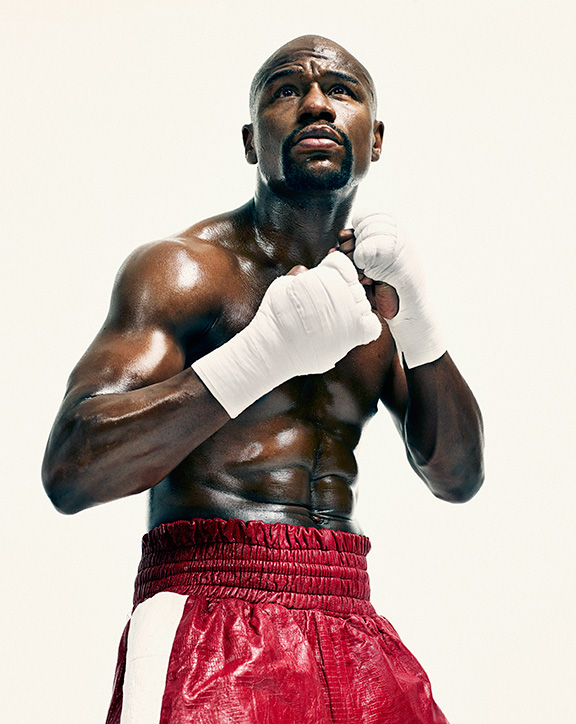 Mayweather's jail stint in the summer of 2012 was a two-month stretch of forced introspection. He pleaded guilty to lesser charges after originally being charged with two felony counts of coercion, one felony robbery count, one grand larceny count and misdemeanor counts of domestic battery and harassment after a fight with his ex-girlfriend Josie Harris, the mother of three of his four children. Two of the children witnessed the altercation, and his then-10-year-old son had a security guard call police. Mayweather contends that he was simply trying to restrain Harris, but she contends that she was treated for a concussion, cuts and bruises. According to documents acquired last year by the website Sports on Earth, Mayweather, during his prison sentence, refused to eat meals provided by Clark County and wrote "My mind is not the same" in a note requesting that he be allowed out of his cell for more than five hours a week. Kept in protective custody, the man with the personal chef ate Chili Cheese Fritos and beef jerky. But though the experience may have been as crippling as his most ardent foes could hope, he continues to keep his comments regarding domestic violence defiantly vague, saying, "I have made mistakes, and I've paid for them." It's only slightly more illuminating than his "Only God can judge me" performance on CNN last year. In 2004, a female Clark County judge grew so frustrated with Mayweather's unwillingness to take responsibility for assaulting two women in a casino that she told him, "You may be a terrific and famous fighter, but that doesn't make you a god."

"I can no longer be everyone's savior. I advise everyone to save and start preparing for the future."

- Floyd Mayweather

His words do not amount to anything close to an apology -- more of a wish that the topic would disappear altogether, which won't happen before May 2 if Freddie Roach has his way. Pacquiao's trainer told USA Today he sees the fight as "good against evil. I have even thought about bringing a couple of the metro cops from Vegas to tell Manny how many times [Mayweather's] been arrested and how bad of a guy he is, but I decided I can't go that far. He already doesn't like him." Mayweather refuses to respond to Roach's comments; "I can't focus on that" has become Mayweather's utility-knife answer.

His focus is clear: training. He's employing different techniques at the urging of strength coach Alex Ariza, who was hired by Mayweather after he trained Pacquiao and Marcos Maidana, who earned two recent X's on Floyd's T-shirt. At Ariza's insistence, Mayweather's meals are being monitored for the first time. Hot yoga is a regular postworkout stop. He had his security guards unload tree trunks in his driveway so he can work on his core strength by swinging an ax. And then there are the 3 a.m. pool workouts in which Ariza puts him through a series of three-minute "bricks" of freestyle swimming. When he struggles, a member of the crew will ask Ariza, "Can't you help him?"

"I could," Ariza says, "but I don't want to. He controls everything in his life except this."

Mayweather was headbutted in the lip in a March 26 sparring session and decided to take the next day, a Friday, off. Some in his camp were secretly happy -- the cut was minor -- because they'd grown concerned about the strain the camp was taking on his body. There was a collective exhale that he might be taking the smart path. And then the next night, a Saturday, a text went out to the crew at 11:30 p.m.: Get to the gym.

Mayweather arrived around 1:30 a.m. and worked out for two hours.

This training camp is no different.

Don't believe it for a second.

THE SECURITY GUARD known only as Jethro surveys the craziness as he stands in front of the gym every afternoon beginning at 2:30, his big drill-instructor face pointed toward the entrance to the strip mall. Floyd will arrive when Floyd arrives -- usually no later than 5:30, but predictions are worthless. Until then Jethro and the eight other guards will gate-keep the two doors to the gym and five coned-off parking spots with steady stares that suggest, strongly, that doing something that makes them move would be a very bad idea.

Jethro is a former heavyweight fighter, and like all men who wait for a living, he enjoys a good story. He listens to the sharps with their open-necked collars pitching jewelry or newfangled mouthpieces, and the slicks with their suits and briefcases pushing their can't-miss mutual funds, and the only-in-Vegas guys who look both ways before whispering about sure-thing bets or surer-thing women. Jethro doesn't know why, but he's become the person the important people have their people call -- Eddie Murphy and Donald Trump, to name two -- when they want to come to training camp.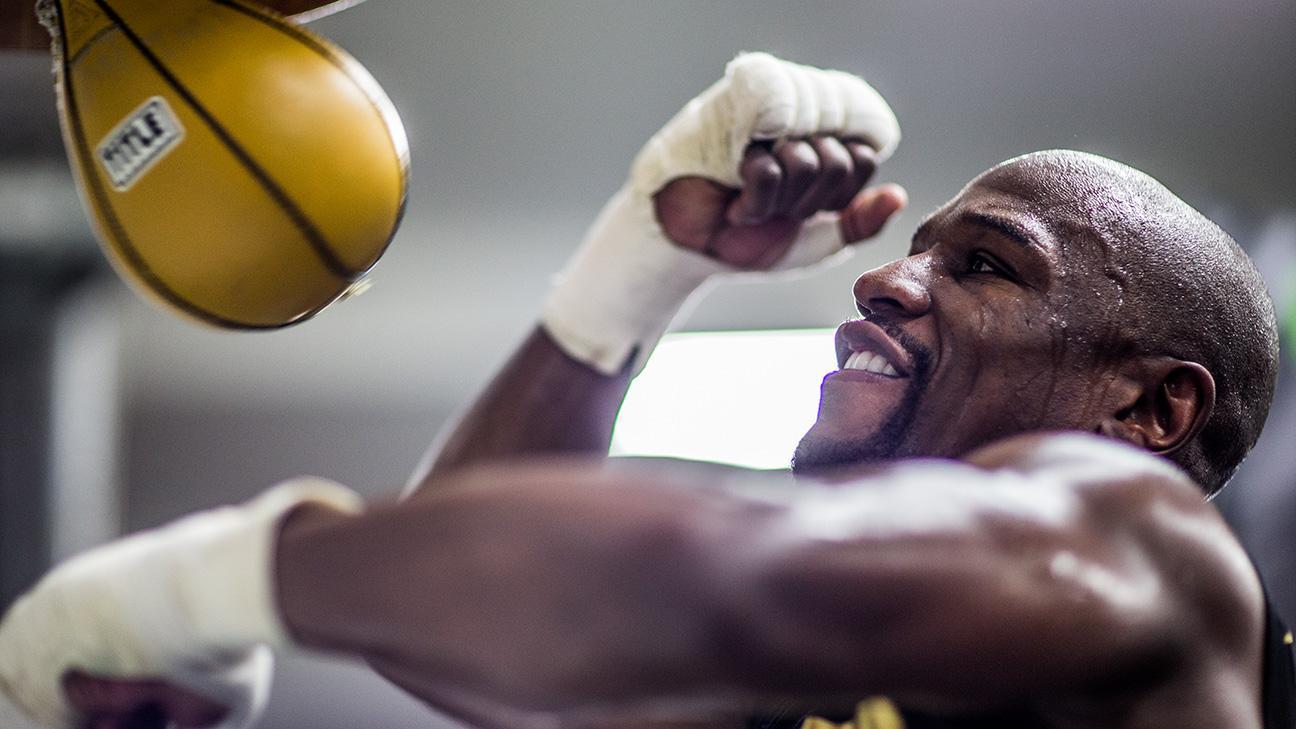 This fight, though. Damn. It will break records: for purse, live gate, pay-per-view revenue, sponsorships, you name it. Two college-age kids at the gym one day winced as they watched Jones take shot after shot to the body protector until one of them said, "Yeah, but he gets a ticket for that." In idle moments at the gym, there's one dominant topic of conversation: How much will Floyd make? Unscientific results: $150 million for sure, $200 million possible. Leonard Ellerbe, the CEO of Mayweather Promotions, says he gets 30 emails before noon every day with the same carny-barker promise: I can make Floyd rich.

Ellerbe shakes his head and says, "All of it is crazy. Crazy." But of all the crazy things, the cake might have been the craziest. A full-sized sheet cake, it was topped with hundred-dollar bills made from icing and included copies of a CD with a song -- lyrically titled "Champion" -- dedicated to Mayweather. There was a letter attached, in which 18-year-old Ali Tomineek, "the best hip-hop artist ever to pick up pen and paper," respectfully offered that he would be "honored" if Floyd chose him to walk him to the ring on May 2.

Mayweather wasn't at the gym when the cake arrived, and the delivery driver went from person to person asking, pleading, for someone, anyone, to sign for it. "Can you just sign for this so I can get on with my day?" he asked. Nobody had the authority to approve such a transaction; they all just looked at the driver with slow, not-my-problem eyes, until he finally just abandoned it on a coffee table in a side room and left like he was stealing something instead of leaving something behind.

Mayweather's friend Ricki Brazil is now staring at the cake like it might be ticking. "Who's gonna eat that?" he asks. There's a USADA test taker due any minute to test Floyd's blood. What if someone from Manny's camp sent a cake full of Dianabol or Nandrolone? Brazil bulges his eyes as wide as possible, lets his jaw slacken and shakes his head fast and often, as if he's trying to rattle his brain. He clearly does not trust the cake.

Outside, a crowd is gathering to catch a glimpse of Mayweather. People are taking photographs of themselves with the gym in the background. They're lining up for the Soul Food Cafe Express food truck that has opportunistically laid claim to the parking lot.

Jethro paces two steps one way and two steps the other and tells anyone who'll listen: "Everybody needs to understand: It's too late to be Floyd's best friend now."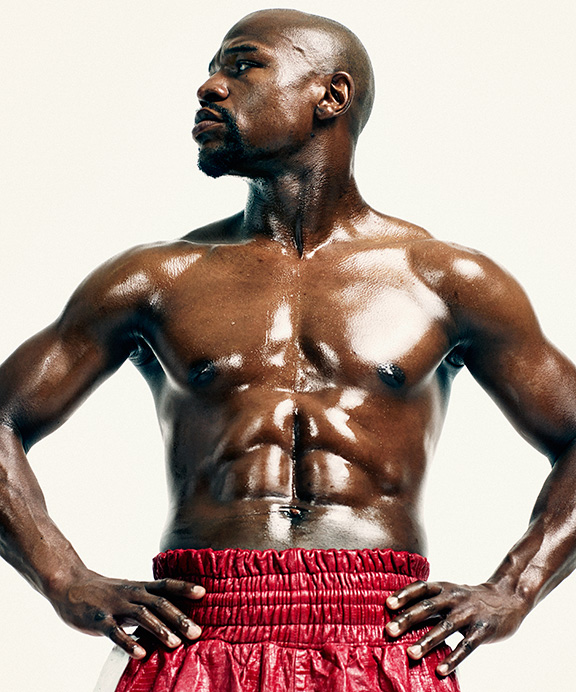 HE IS AN alchemist in the ring, changing and mixing style and pace. Every opponent sees the eyes, how they go from scrutinizing to all-knowing over the course of the first three or four rounds. He repeats the line "I'm training smarter, not harder" so often it threatens to become a verbal tic, but the deeper meaning is this: He's gained the wisdom of experience and delayed the onset of mortality's more insidious claims on the human body. He need not focus on the lament of the aging athlete: If I knew then what I know now.

He repeatedly pelts his sparring partners with the command "Listen to your coach," because it implies an inability to think independently -- the worst insult he can imagine. He says Pacquiao "can't change, but I can." Mayweather fights like a pest, the taunting insect you swat and swat but can never hit. (Pacquiao arrives like the world's smallest giant, all foot stomps and fury.) Pointing his shoulder at his opponent like a cat with its back up, ducking punches before they're thrown, Mayweather addresses every miss with an "uh-uh" or a derisive smile. Says Crowley the Crippler: "It's not the speed; it's the timing. He sets traps you don't see till you're in 'em." Leaning back on the ropes, surfing from side to side as the punches travel their vaudeville path past one ear, then the other, Mayweather seems to have invented a different sport.

It's not just the boxing. It's the shamelessness, the way he throws out his chin and holds up his money and dares the world to tell him what it sees. It's hard to imagine him not being around anymore. He fights once or twice a year, but those events are such spectacles, like a fistful of glitter tossed onto the sports calendar.

"Once you've spent $3 million on a car, you can't spend any more than that. Even money has its limits."

- Floyd Mayweather

Through investments made over the past two years, including high-rises in New York City, Mayweather says he has secured himself a seven-figure-a-month income for the rest of his life. I am asking all of you to make better choices. Still, his current lifestyle does not appear to be sustainable without boxing's annual $100 million-plus infusion. Can he pare down his civilization when it's no longer necessary to employ a personal candle lighter? Can he resist the urge to buy 35 vehicles in 18 months, as he did during a stretch that ended in December? Can he hold off on betting $200,000 on halves of basketball games?

And if he stops after two more fights, assuming he wins both, he will retire with a record of 49-0. Rocky Marciano, famously 49-0, holds the record for retiring with the most wins of any undefeated and untied champion. Perhaps that's why nobody -- with the exception of Floyd himself -- believes he's going to walk away.

He's always been aware of the toll his sport takes on the body, especially the potential for time-released brain trauma. He changed trainers, from his uncle Roger back to his father, after taking too much punishment in a 2012 brawl with Miguel Cotto. But still: He could fight a window washer from the MGM Grand on the loading dock at Caesars for No. 50 and make $50 million. He has to, right?

He shakes his head, quickly and viciously, dodging the world's fastest combinations. "No, I don't have to do that," he says. "If you listen to me, I'm talking about self-preservation."

So you could be happy with 49?

"I could be happy with 48," he says, "but I'm going to honor my contract because I'm a loyal person."
---
MAYWEATHER IS SITTING on a wooden bench in his locker room, talking about the $3.2 million red Ferrari Enzo purchased from Okeke through the Sheikh of Abu Dhabi. It is the prize of the recent 35-car spree. "Once you've spent $3 million on a car, you can't spend any more than that," Mayweather says. "Even money has its limits."

To use the easy metaphor, the Pacquiao fight is the $3 million Ferrari. You reach a point -- peak PPV? -- where you can't make any more for a fight than $180 million or $200 million or whatever that guy in the gym pounding the apron believes is the eventual number. Mayweather understands this and acknowledges it with a hint of sadness. It's enough to make you believe there will come a time when even he will see the ridiculousness of employing nearly two tons of security guards to open his car doors.

So his most triumphant moment, win or lose, leads headlong into another. His is not a civilization that leaves room for doubt or weakness. He travels from absolute to absolute, Genesis to Revelations, with every inconvenient truth wished into the same pile of rubble that contains the athlete's conventional career arc.

Win or lose, the morning after the fight he will get a check with nine digits to the left of the decimal. He will photograph it and share it on social media. Later that day, he will make an appearance at the traditional Mayweather family postfight barbecue, where, if history holds, he will watch a portion of the fight before those eyes start glancing toward the door. As Sunday evening leans toward Monday morning, he will inform someone in the crew that it is time to head out. A text will be sent. The selected group will mobilize and assemble at the appointed place at the appointed hour. His Gulfstream G-III will be waiting. Floyd will arrive at some point -- predictions remain worthless -- and they will board the plane and head east, to some island of his choosing. And Floyd Mayweather, win or lose, beginning or ending, will ride off into the sunrise.

Follow ESPN Reader on Twitter: @ESPN_Reader

Join the conversation about "The Beginning Of The End."