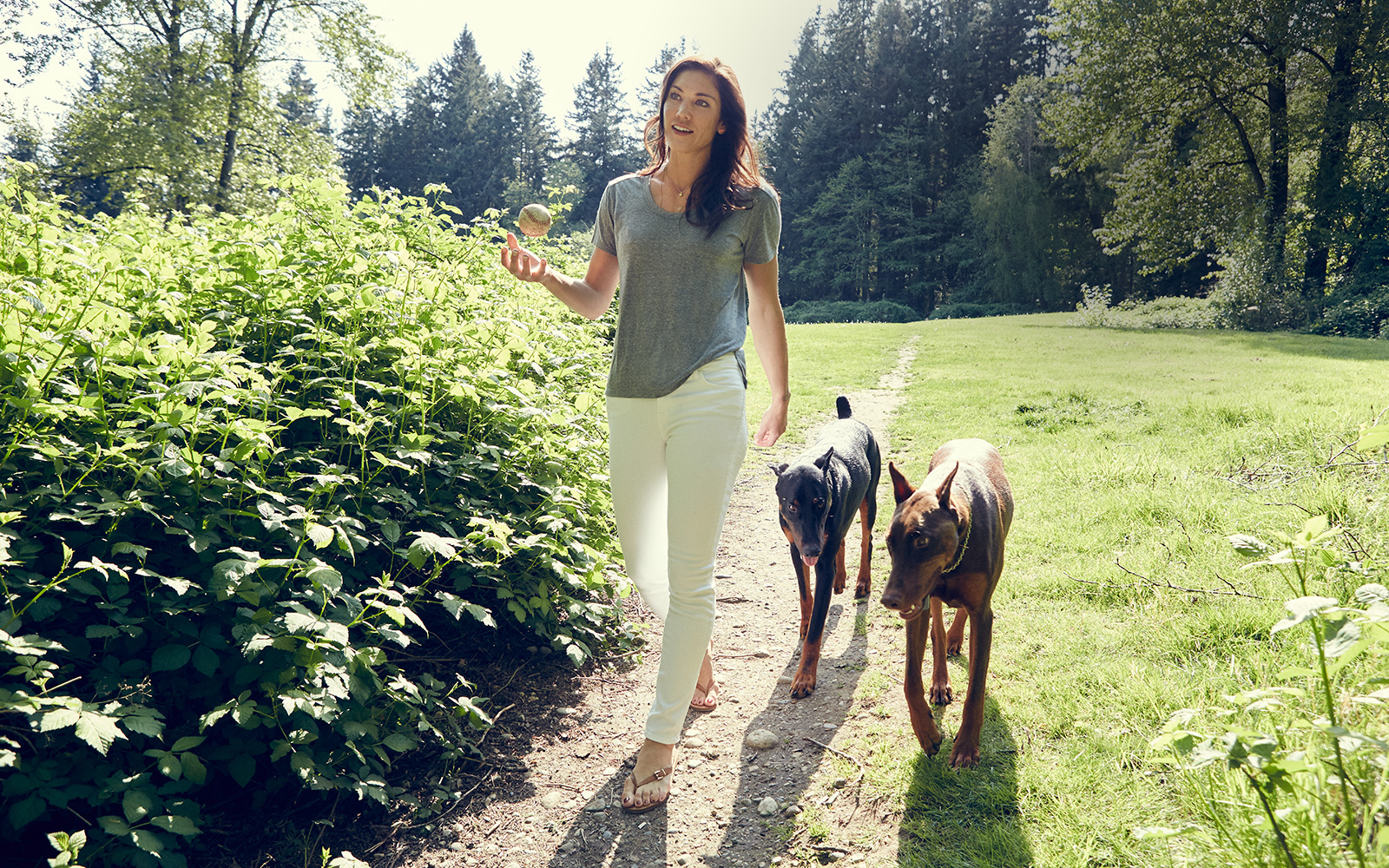 Pride. Regret. Hope.
Trailed by controversy during her record-breaking career, soccer star Hope Solo heads to her third World Cup searching for her better self.
T
he road that leads to Hope Solo's house in Kirkland, Washington, is imposingly steep. It winds sharply for miles through damp green woods, the pitch severe enough that any snowfall threatens to make it impassable. At the top, overlooking the seductive mist of Lake Washington, sits the home that Solo, 33, shares with her husband, former Seahawks tight end Jerramy Stevens, 35, and their two Dobermans, Sasha and Onyx. As you approach the property, a sign in the drive advises, warning: we don't dial 911, the image of a Doberman underneath. A placard above the front door proclaims, follow your heart.
Today is game day for Solo and her National Women's Soccer League team, the Seattle Reign. Some friends and members of her extended family have traveled to town to watch her play. They lounge on the plush beige couches in Solo's tasteful living room, sipping French press coffee and watching Manchester United on the flat-screen, a platter of freshly warmed cinnamon toast on the table. The space is tidy, inviting. Throw blankets are draped over armrests. Several candles flicker.
"He's the neat freak," Solo says, side-eyeing Stevens, who played nine seasons in the NFL, as she takes a seat beside him. In person, Solo is tinier than you imagine. Lean, compact. The planes in her angular face catch what little light Seattle has to offer, her hair a Breck-girl wonder, her teeth white as the queen's gloves.
"I can't even leave anything on the stairs," she continues, as Stevens shrugs, explaining he doesn't like clutter, especially on the floor. Solo watches his eyes as he talks, places her hand on the round of his shoulder. Stevens leans into his wife, the two pressed close as slices of sandwich bread.
On-screen, the goalkeeper misses a block. The room fills with Oooohs. Solo winces. "That's the thing about goalkeeping. You don't win the game. You save the game." She sips her tea, cups the mug in her hands. "Only two choices. You're the hero. Or the goat."
A few minutes later, in the kitchen, Stevens starts cooking an omelet for Solo's breakfast using eggs from the chickens they keep on the property. Out back, behind their garage, his wife gives a tour of the coop. Stevens warned her she should never name her food, but Solo ignored his advice. She points out some of her brood of six. French Fry, Penny, Cruella. She scoops Penny into her arms, pulls the bird to her neck.
"Thanks for the eggs," she whispers, before gently setting the chicken down.
Passing through a gate, Solo greets her dogs, who circle with eager affection. She explains she's left the Dobies on the deck because one of her visiting friends is afraid of them.
"They look terrifying. But they aren't," Solo says, stroking the tops of their heads as the dogs nuzzle into her hand. "They have this reputation they don't deserve. Like they are bred to be evil or something." She smiles wanly. "People don't see. Inside they are just the sweetest things."
---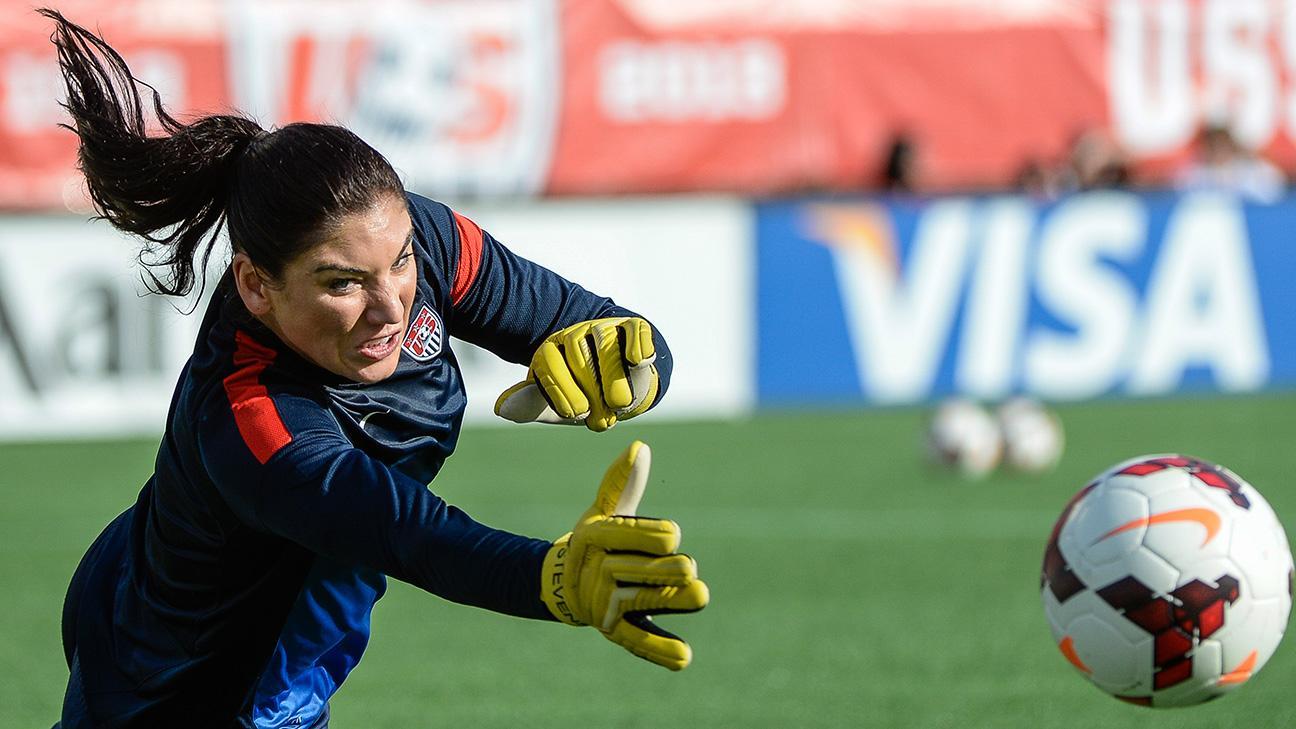 BY ANY MEASURE, the 911 recording was shocking.
Hope Solo is going psychotic.
She's f---ing beating people up.
We need help.
The call was placed on June 21, 2014, by Solo's nephew, then 17, after an altercation in his house involving him, Solo and her half sister, Teresa Obert (his mother), escalated into assault. A Washington statute requires that on any domestic violence call, no matter how muddled the scene, reporting officers must use their best judgment as to who is the "primary physical aggressor" and arrest that person. On that June evening, the police believed they had probable cause to arrest Solo. She would later plead not guilty to two counts of fourth-degree domestic violence.
When asked what happened, Solo does not hesitate. She says that she and her nephew have a fraught relationship, that the two exchanged words and then he "lost control and his mother tried to protect him." In Solo's retelling, her nephew told her, "'Get the f--- out of my house, you c--t,' and I was like, 'I don't take orders from a 17-year-old.'" She insists that she was "the victim" and, with frustration, says of the fight: "He's 6-foot-8, 270 pounds. The media acted like he was some 5-year-old kid."
While all parties agree that Solo's nephew beat her over the head with a broomstick at some point, and that he drew a gun, that is where the stories diverge. The Oberts maintain it was a broken BB gun, while Solo says the gun was his father's. (In 2012, Teresa's husband, Jeffrey, was arrested and convicted of "reckless endangerment" for firing a .357 Ruger Blackhawk in the house. The handgun was released back to the Oberts on April 11, 2014.)
Police accounts collected that night also reflect warring stories, with Solo insisting she never behaved aggressively and the Oberts asserting that it was an intoxicated Solo who jumped her nephew, calling him a "p---y," later claiming that she slammed his head into the floor, Teresa entering the fray to shield her son.
"Hope told him he was too fat and overweight and crazy to ever be an athlete," recounts one officer's report. Her nephew shot back that Solo, "and particularly her father, were the crazy ones," after which Solo "'charged' and took a swing at him." He then "grabbed [Solo] by the hair, took her to the ground and held her there until she calmed down." Once she seemed calm, "he let her go and she immediately grabbed his hair, pulled his head down and started punching him in the face repeatedly."
"My son and I have had the worst year of our lives," says Obert, 43, a seasoned yoga instructor, adding that while she knew her sister could be volatile, she was nonetheless shocked and traumatized by what happened that night. "She had always yelled at me. But that's Hope," Obert says wistfully of her sister and their years together. "Hope had never been physical with us before."
"Soccer was what I leaned on, my way out. I think as I got older, that worked against me."
- Hope Solo
When Solo was 7, a teenage Obert would braid Solo's hair, drive her to her softball games. Obert remembers her sister as being the finest athlete on the field. When the two of them ran together, Solo would always run faster, even if she was wearing flip-flops instead of sneakers.
"I felt motherly toward her," Obert says. "My son always said she was like my first child. All of my friends thought she treated me so sh---y, but I loved her. I always loved her so much." Obert's voice grows small. "She and my son are my everything. I mean, she was."
She clears her throat, saying she still has dreams about her sister where they talk and walk their dogs together and everything is like it used to be.
No one, not even Solo's lawyer, argues that Solo does herself any favors. It's no secret that her personality can be off-putting, belligerent.
Still, the truth of what happened that night might never be fully exposed. At a pretrial deposition, the Oberts adjusted their story. The supposed gun went missing. They burned the broomstick.
"That had nothing to do with the case," explains Mary Gaston, the Oberts' attorney, of what the family called a "séance." "They also got rid of everything else that reminded them of Hope. They literally burned her soccer shirts in the barbecue in an effort to move on and to heal."
On Jan. 13, 2015, a judge cited the prosecution's witnesses' failure to cooperate before dismissing all charges; the Oberts had shown up to one deposition but missed several appointments for a second. The Kirkland prosecutor announced a rare appeal and must file a legal brief to restart the case by July.
Solo considers the dismissal a vindication, even if for her, it came too late. "My name was completely smeared. I had already been compared to Ray Rice, to Adrian Peterson," she says of the media swirl around the charges. "From here on out, no matter what happens, I'll forever be associated with domestic violence."
As she revisits the night and its protracted aftermath, Solo begins to cry. She feels stupid, she says, palming tears from her cheeks. For what happened, yes, but more for trusting people she now views as poisonous. "It was hell," she says. And then, "I should have known."
Solo is not ashamed of her roots, but her jagged past is not something she likes to dwell on, dark as it was, starting with her conception in prison during a conjugal visit between her father, whom she knew as "Gerry," a lifelong grifter whose real name was Jeffrey, and her mother, Judy, an alcoholic -- the inauspicious launch of a childhood that unfolded exactly as one might expect given those pertinent details.
Solo was raised alongside her older brother, Marcus, a kid she says "never backed down from a confrontation" and used to attack his sister for sport, making the house "a war zone." It was a dynamic that Judy says she was "wearing blinders to" at the time. Solo came to find her father had a second family, including half sister Teresa and half brother David, with whom Solo was then reared sporadically.
In addition to these bewildering family dynamics, there was poverty, neglect, familial mental illness, chronic deception and a whole host of attendant challenges that conspired to hone Solo into a reflexive, unforgiving fighter who fiercely defended the few morsels of comfort she could collect. Chief among them was soccer, a sport she liked as well as any other but one she was clever enough to recognize would provide for her in ways that nothing else in her life ever could.
"Soccer was what I leaned on, my way out," she says. "I think as I got older, that worked against me. I continued to rely on soccer to get through things, and the reality was my life had gotten so much more complicated. It wasn't as simple as it was when I was a little girl. The pain wasn't going away when I kicked a ball."
Instead of coping, Solo compartmentalized. She piled the past into a box and buried it, left it unexamined, along with her own collateral damage. Better to press ahead, run up the hill, win the game, the tournament, the Olympic medals, eclipse the ugliness with an ability so grand any moral failing would pale in its shadow.
For the most part, the strategy worked. Until last summer, when some of the family's dirty laundry was hung out to dry.
After her arrest, Solo was put in jail for three days. "I didn't think I could last," she says, weeping more now, dropping her head as she does.
Once in custody, Solo asked whether there was anything available to read, and the guards rolled in the jail's portable bookshelf. It was stuffed with well-worn romance novels and easy readers. Disappointed, Solo spun the shelf to the other side and there, in the bottom, snug and pristine, was a copy of Ayn Rand's The Fountainhead. Solo grabbed the novel and clutched it to her chest, heart pounding. Rand had been her favorite author for years. She feels a kinship with a woman "most people think of as selfish." Someone whose message is "misconstrued."
Solo read all day and night. "And at my lowest point in my life," she says, her voice hitching, "it saved me."
Solo views the book as a sign. She believes in signs. Always has, though she has only recently allowed herself to embrace them, enlisting a spiritual healer, whom she credits with helping her to "feel lighter."
Post-arrest, Solo also sought the aid of a psychologist for the first time. Until this year, she felt she didn't need help. More precisely, she believed she couldn't trust anyone with the truth of who she was, not even herself.
Solo concedes when she talks about her family dynamics out loud that they "sound crazy and more than a little bit unhealthy." But she insists she didn't grasp the extent of the damage until now, says she didn't even register how much she "was filled with anger and pain." Nor how she was "broken inside."
"I was telling my therapist about how Marcus used to beat me up, and she said, 'You didn't think that was weird?' And you know, looking back, I really didn't."
And then Solo says something that should surprise no one: "I didn't know at what point it crossed the line."
---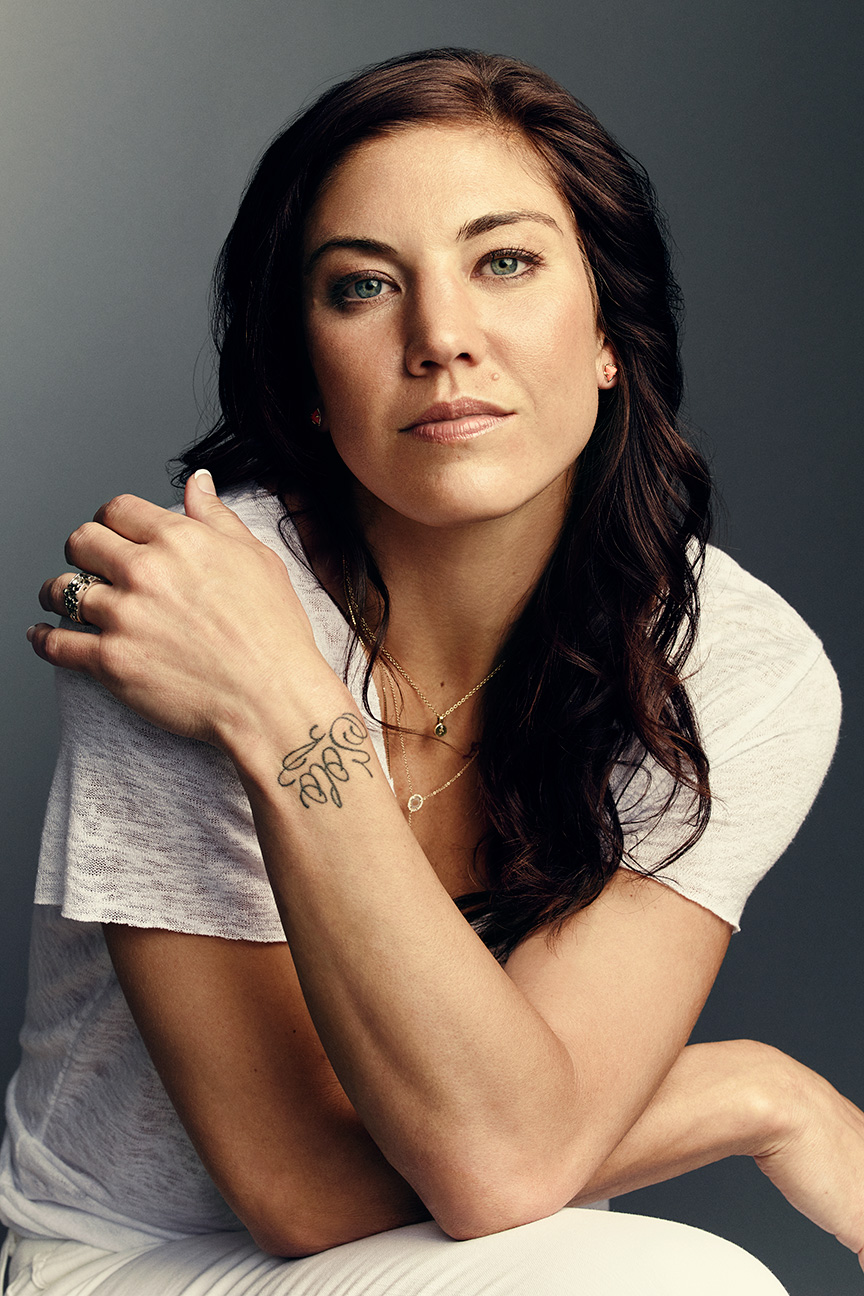 IT'S TWO HOURS before the start of the game. In the Reign locker room, players are suiting up, stretching, some hydrating, others snacking on bananas and nuts. A whiteboard filled with plays and strategy poses the questions: "Who do we want to be? How do we make that happen?"
Head coach Laura Harvey stands, begins her pregame pep talk. Solo nods along, a heating pad strapped across her lap, nursing a groin pull, her thick hair slicked into a neat ponytail. Minutes later, on the field during the warm-up, Solo doesn't hold back. She grunts, rolls. She likes action. Even warm-up action. Her return kicks sail to midfield with precision, as if she can read the breeze and harness it like a sail. In the background, the emcee tests the microphone, hollers, "Let it Reign!" the sound echoing across the soggy field.
"I love this team more than any other I've had," Solo says of Seattle, explaining that she used to compete in this very arena when she was in high school. Back then, she'd gaze at the Space Needle looming above the stadium and nearly gasp with awe. That Needle meant that she'd made it, that she'd escaped her hardscrabble, hick beginnings, the crazy house with its constant hum of uncertainty, its ceaseless reflection of her worthlessness -- because her father left, because her mother drank, because her brother smacked her senseless -- and yes, all of that came to mean love, and because of this she would never know who she was, never know she even existed, without the feeling of conflict, without hurling herself against something, without the sensation of her body crashing into the immovable, the very ground itself, and it is this as much as anything that keeps her reaching and plunging and chasing a ball shot right at her head in a cage, a place most of us would be terrified to stand, let alone choose to stay.
Say what you will about Solo, but she doesn't flinch.
During the game, which the Reign win handily, Solo is the only player who merits her own cheer from the crowd of more than 2,600, who break into a long howl of "Hooooooope Solo!" every time she kicks the ball. Solo is also the only player featured on a handmade banner, her face drawn big as a semi tire.
In the friends and family section, Reign owner Bill Predmore's 7-year-old daughter, Cady, leaps from seat to seat, restless, wearing a "Hope" T-shirt above her skirt. Solo's mother, Judy, observes the child in the stands. "When people would ask Hopey who her favorite character was as a kid, she'd answer, 'A ball,'" she says. "Even back then, I always let her make her own choices. About her father. About soccer. About everything."
Judy shifts in her seat, her legs bobbing up and down. She and Solo remain close, regardless of the challenges. "I know I failed as a mom in some ways," Judy says plainly. Her eyes travel to the field, where Solo nimbly blocks a goal. "But Hopey was always tough. She fell off her bike and split open her chin when she was 5. When we went to get her stitches, she just stuck her chin out, like, 'Sew it up, doc, I gotta get back to business.'"
Judy remembers other things too: young Hope beating up a bully at school, doing her homework without any help, adoring her birth father even after he was exposed as a con artist, a career criminal, even when he lived on the streets, even after he abducted Hope at age 7, driving her and Marcus to the Space Needle, then keeping the kids until, days later, he was swarmed by cops while trying to cash a check at a bank, a terrified, confused Hope at his side.
For her part, Solo says she forgave her dad a long time ago. She salvaged the best relationship she could with him until his death of a heart attack, three months before the 2007 Women's World Cup. (She sprinkled her father's ashes in the goal box before each start.) Solo realized the man who taught her how to play soccer would never get his life together in a way that others would tolerate, but for her, that failure didn't silence his humanity. He was a broken man. He would always be a broken man. She chose to love him anyway. And when, throughout the years, they sat hip to hip, watching planes circle in the sky, him urging her to drink in the beauty of that moment, the sailing grace of the seemingly impossible, Solo felt right and known in a way she rarely did.
A father can do that to a girl.
---
text
Mohammad Khursheed/CSM/AP Images
IF YOU WERE inclined to take a poll of former and current women's soccer players and ask them what they thought of arguably the world's most accomplished goalkeeper, you would discover in short order that Solo, like Kanye West or Anne Hathaway, is not the sort of person who inspires ambivalence. In one corner, you find folks who worship and celebrate her for her candor, strength, nerve and dominance. In another, those who consider her intolerable, no matter how spectacular her gifts.
She's evil. She's a bully. She's a drunk. She has a chip on her shoulder. She markets herself as a victim. She intends to cause chaos. She sucks. She's combustible. She's f---ing crazy. She makes the worst decisions. She's f---ing crazy. She's a compulsive liar. She's high-strung. She's an egomaniac. She's f---ing crazy.
Solo is aware of her polarizing energy, resigned to the truth that people have largely made up their minds about her -- that no matter the path she now says she's on, her haters gonna hate.
This is not to say she doesn't have regrets. "You live and learn, for sure. I have to remind myself of the strength it took to overcome what I have, and what it shows other young women. So I can be proud of it."
She hesitates, ponders. "Can you feel pride and feel regret at the same time?"
"Hope's the best in the world in my opinion, one of the top 20 players of all time," says Lesle Gallimore, women's soccer coach at the University of Washington and the first coach to recruit Solo, back when she was 14.
"I wanted to scream, 'Hey, world! Who's really crazy here?'"
- Hope's mother, Judy
"I hear from kids at soccer camps that Hope is one of the nicest players to them, and all these other pro players don't even give them the time of day. Hope's no angel. But there is a side to her that nobody ever gets to see."
That side was invisible at the 2007 World Cup, when, before the semifinal game against Brazil, then-coach Greg Ryan benched Solo, who hadn't given up a goal in nearly 300 minutes. Ryan opted to start veteran Briana Scurry, who he believed would be stronger against Brazil, even though she hadn't logged a second of Cup play. Solo broke rank and publicly voiced her dissatisfaction. "It was the wrong decision, and I think anybody that knows anything about the game knows that," she told the media after the U.S. team suffered a 4-0 loss. "There's no doubt in my mind I would have made those saves."
The result was a swift blackballing: The team isolated Solo, exiting elevators when she entered, leaving tables when she sat down, making her fly home alone, muttering insults as she passed by -- an unbridled deployment of mean-girl tactics usually abandoned after junior high. For many, then and now, her post-Cup comments marked the tipping point in how they viewed Solo, from edgy outsider to full-on pariah.
She's an egomaniac. She sucks. She's combustible. She's f---ing crazy.
Recalling the incident, her mother laughs sharply. "I wanted to scream, 'Hey, world! Who's really crazy here?'"
"Regardless of what Hope said, it didn't have to go down like that," Gallimore insists. "The way the team behaved was one of the cruelest things I've ever seen in sports. A lot of people should feel ashamed."
Considering the incident in retrospect, national team forward Abby Wambach admits she carries guilt. "I feel a little embarrassed. Would I do things differently in hindsight? Of course. Hope was painted into a corner, she was turned into the villain."
Wambach goes a step further, speculating that perhaps, at the time, "a villain was what the team needed." Solo's prickly personality and ready antagonism made her an easy target. "And honestly, that's on her. That was a compilation of the decisions she made."
Since 2007, Wambach and Solo have left the past behind, becoming, Wambach says, "like sisters." And while outsiders might describe their relationship as contentious, Wambach says that is a misread. "We butt heads because we are similar. We believe in the paths we take. What's most important about 2007 is that we aren't going to define ourselves by that. By what I did. Or what she did. We are all allowed to fall down."
Of that assertion, Solo remains circumspect. "No matter what, people will think I'm selfish, outspoken. Controversial. I can never just be 'Hope Solo, the longtime goalkeeper for the national team.'"
Solo is weary of the likability prison, of trying to thread herself through that bobbing needle. "It's not like I want to be disliked," she says. "What is it? What do I do that people hate? I wonder all the time, why?"
There are those who would gladly answer that question, pointing to her propensity to find herself on the wrong side of the law, to her sour attitude or mean mugging, even to her stint on Dancing With the Stars in 2011, when, bedecked in sequins and feathers, Solo still radiated bitch face.
She has a chip on her shoulder. She's a bully. She's not even that pretty!
National team midfielder Carli Lloyd sees it differently: "Hope doesn't kiss anybody's ass." Like Solo, Lloyd has "felt pressure to be a certain kind of girl." She too chafes at the double standard for women in sports, finding the impetus exhausting, if not impossible, to be sweet and approachable, to sand down every edge, to exist in a state of constant gratitude. "We live in a world where hair color and taking bikini selfies is more vital than stats," sighs Lloyd, noting, "You can get shafted if you don't play along."
As part of her 2007 atonement, Solo was forced to sit in a circle with her coaches and teammates and listen as, one by one, they voiced their anger and disappointment in her. She still has flashbacks from the event. "My Seattle coach will sometimes randomly put chairs in a circle and I always get anxiety," Solo says, chuckling self-consciously. "I was in the circle of death." A sadistic excoriation "most people would have fled," Gallimore says.
But Solo did not flee the circle of death. She sat there and took every hit.
---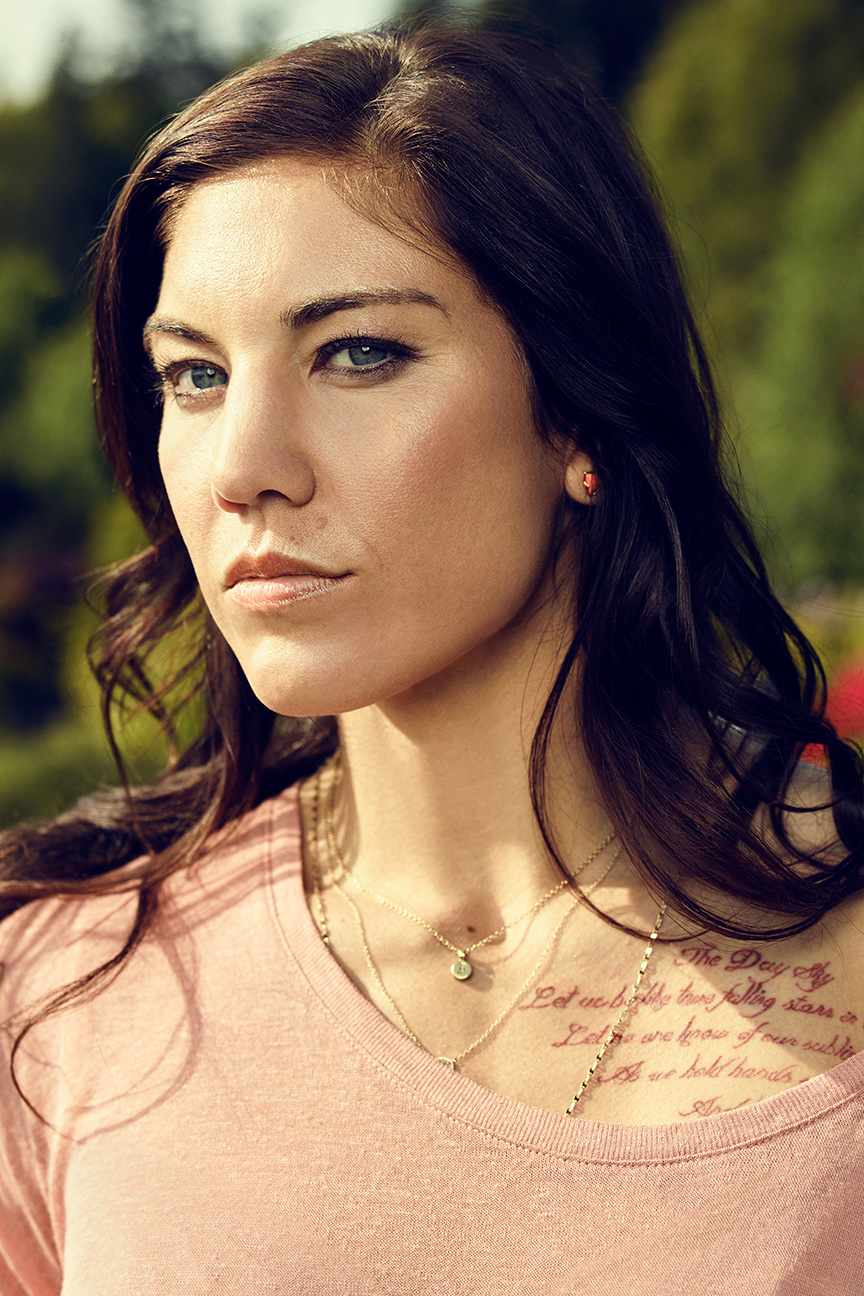 IT'S A RAINY Sunday, and Solo is at Seattle's Pike Place Market shopping for dinner. She banters with the famous throwing fishmongers, who ask whether she enjoyed the crab she bought for a recent holiday party. They wrap a large piece of cod after Solo determines it's fresh. While she waits, fans ask for photos, and Solo happily obliges, squatting down to fit in the frame with kids who beam like they've just met Katy Perry.
After posing, Solo walks to a nearby produce stand and selects field greens, red potatoes for roasting, a few heirloom tomatoes. Back at the house, Stevens is heating up the grill. "He's in charge of the fish," she explains. Stevens is, among other things, an avid outdoorsman. "We have elk he hunted in the freezer," Solo says, proudly.
Solo seldom misses an opportunity to praise her husband. It is another of her defensive reflexes. Stevens has been largely viewed by outsiders as a bad influence, an assessment underscored by his 2000 arrest on suspicion of sexual assault (prosecutors declined to press charges), his 2012 arrest for domestic violence (case dismissed) and most recently, his January 2015 DUI charge while driving a "borrowed" U.S. Soccer team van in the midst of the team's training camp, a potted Solo by his side.
"The stupidest thing I've ever done," Solo says of letting him drive drunk, as she loads up her Range Rover with groceries, then climbs behind the wheel, clicking her seat belt. "Jerramy has kicked himself over and over."
Solo and Stevens had been out celebrating. It was their first night together since her own domestic violence charges had been dropped. The Southern California weather was fine; they'd met up with friends; and as happens during celebrations, shots were served. "We weren't just sipping wine," she recalls.
Stevens was pulled over a few blocks from their hotel, his blood alcohol twice the legal limit. He was later sentenced to 30 days in jail, and he served three. U.S. Soccer also promptly suspended Solo from the team for 30 days.
It was, for her, a watershed moment.
"If the case had affected the World Cup, I never would have been able to forgive myself," she says. "It's not even about the suspension; it's more about where I'm at mentally and emotionally. In order for us to win, I don't have room to be distracted."
As she talks, Solo feels the emotion rising in her throat. She gives her head a small shake. "People think I don't take accountability, say I'm blaming everybody else." Her jaw stiffens; she hugs her arms to her chest. "But they're wrong."
Solo swallows hard, her mind casting back decades, pingponging from past to present, her family, her choices, her reactions, her lapses, her culpability.
"I feel shame," she says tightly. "I feel shame for it all."
---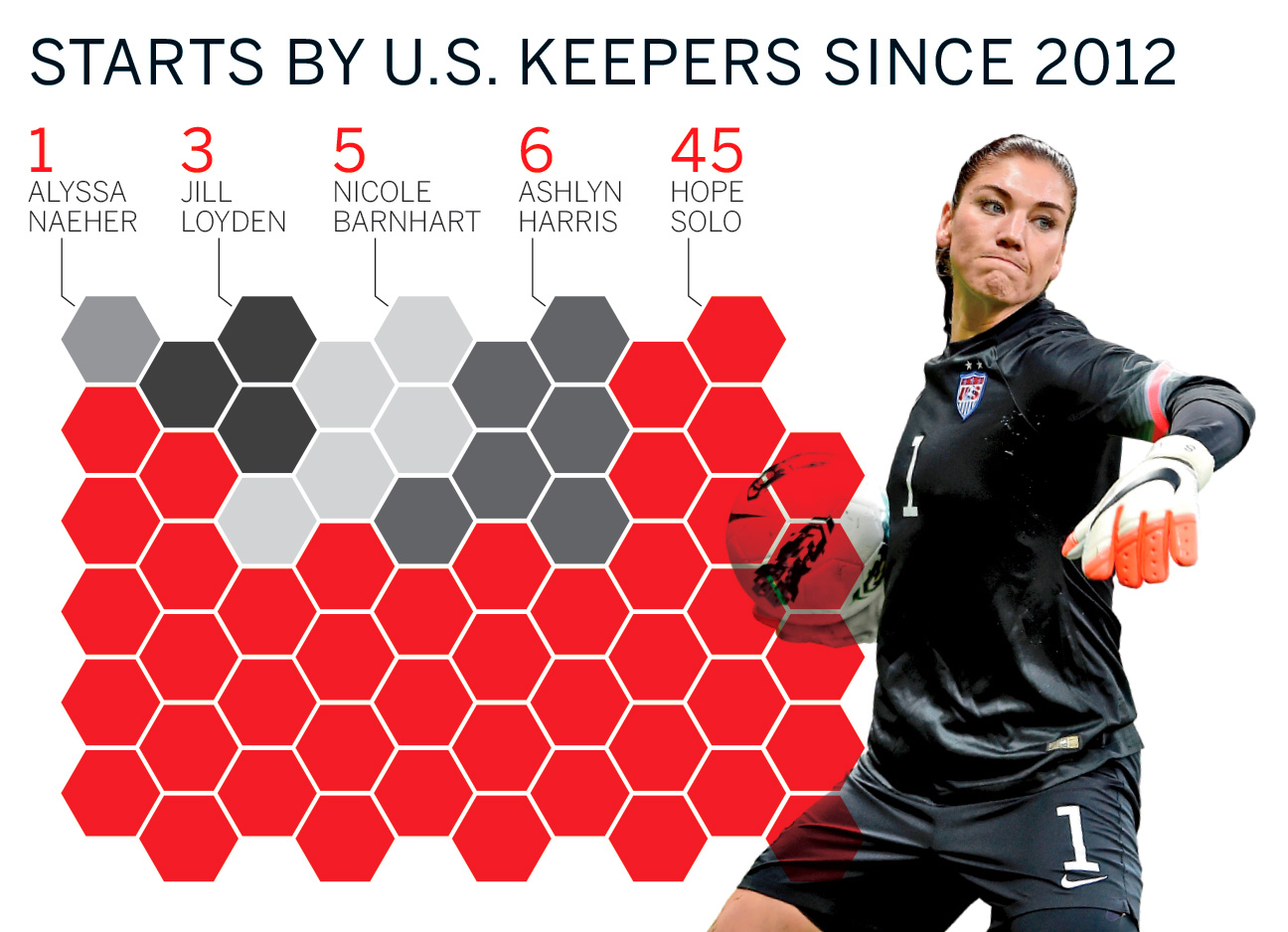 UNLIKE WHAT HAS been widely reported in the media, the Stevens and Solo love story did not begin two months before they wed but in fact sprang to life in college, where Stevens was a year ahead at Washington. There they shared the same rarefied air, both of them superstars, frequenting the same parties, where the two would flirt, lock eyes across a crowded room, but nothing more.
"He was the big man on campus," Solo says. "He could get any girl he wanted, and I was not having it."
Then Stevens was drafted into the NFL, and Solo didn't see him again until her 21st birthday in Las Vegas, where they randomly intersected at a club. "I was there with my buddies," Stevens remembers. "And my head was swollen from being drafted, sitting in my VIP section, all, how you like me now?"
"He was a millionaire," Solo says. "He had no idea how to handle it. I wanted to hang out that night and reconnect. But he completely ditched me."
A few years later, Solo was exiting her facialist's in Kirkland, her skin an angry riot of blotchy red, when she again ran into Stevens, who was having lunch next door. Mortified, she tried to cut the reunion short, but this time Stevens pressed her. Numbers were exchanged. The two never lost touch again.
"People think I don't take accountability. But they're wrong. I feel shame. I feel shame for it all."
- Hope Solo
"There was always this magnetism," Stevens says. "I was drawn to the very things that scare other people away. Her intensity. Her fire. How she won't allow anyone to put her flame out."
It was Stevens whom Solo called from China in 2007. "He told me, 'Don't let them make you feel like you're less than what you are.' I'll never forget that conversation."
Solo remembers too their first kiss, at his house in Bellevue. And when he confessed he loved her, years later over a sushi dinner. But mostly she remembers the 2011 ride they took on Stevens' boat in Tampa. How a calm came over her when he stood at her back and wrapped his arms around her waist.
"He held me and I just knew this is where I wanted to be. I felt peace in that moment. For the first time in my life, I was able to let go. Because I realized I could be happy."
"I never let anyone drive my boat," Stevens adds, laughing. "I let her."
So the pair got engaged.
"And it was just ugliness," Solo says.
Neither family was on board with the pairing. "Jerramy and I had both been taking care of them," financially, emotionally, Solo explains. "And then we started taking care of ourselves."
The shift in priorities was unpopular. There was dissent, hostility, confusion. And then, during a party for the couple a day before the wedding in 2012, a brawl in the Solo home.
It was Marcus who called 911. When the police arrived, none of the witnesses cooperated. Because Solo had a cut on her arm, and because officers found Stevens "hiding" upstairs (he says he was sleeping) with blood on him, police arrested Stevens on suspicion of domestic violence. He was booked, his court date set hours before the pair was expected to walk down the aisle.
"I never thought I'd get married in my life," Solo says, her hands shaky as tears again begin to track down her cheeks. "And our f---ing family's going to ruin it?"
The fracas, she says now but wouldn't say then, was caused by her brother, Marcus, and Stevens' brother, Jason. (In a photo snapped by officials on the scene, Marcus, dressed in shorts and a Seahawks jersey, is bleeding from his right eye and giving a thumbs-up.)
"We were trying to protect them," Solo says of why all parties obfuscated or remained mum rather than naming Marcus and Jason. A supplemental police report filed a year later in November 2013 by Marcus Solo and his then-fiancée, Deborah, bears out Solo's contention. The document states, "Everyone at Hope's house was drinking heavily that evening," and details the genesis of the melee, explaining that Jason Stevens made sexually explicit comments to Deborah and taunted Marcus with insults. When the men lunged at each other over the kitchen counter, Deborah was knocked backward, injuring her hip. Marcus would go on to fire a Taser at Jason. The report concludes with Marcus explaining he "didn't say anything that night because he did not want Jason to get arrested and miss the wedding the next day."
Today, Solo and Marcus no longer speak, a choice that fills her with sorrow because, malignant as their relationship was, the two of them survived the same history, acted as each other's mirror when the world reflected only darkness.
In the end, on the day of the nuptials, a judge found no probable cause that Jerramy Stevens had committed any crime. Solo and her wedding chauffeur sped to the jailhouse in a rented black Mercedes. Stevens climbed in, embraced his fiancée.
"I was like, 'Sigh, all right, what do you wanna do?' And Jerramy said, 'Take me home, let me shower and then let's go get f---ing married.'"
Solo grins.
"So we did it. Despite everybody and everything. I ended up not having time to shave, not wearing a bra. My brother was there with his black eye. It was still a beautiful ceremony. I was just so proud to be at Jerramy's side and for all of our family members to see, like, you can try to ruin us but you can't."
"Our life together can be a s--- show," Stevens says. "We're so strong-willed, we're so alike. But that's also what makes our partnership so incredible."
And that, Solo says, is what people don't understand about her and Stevens. "My husband never laid a hand on me, nor would he ever. Nor would I stick around. I'm this abused wife who married a thug?" She rolls her eyes. "I used to feel I needed to defend my marriage. Now I've just accepted people will never know the love that Jerramy and I share. They're going to judge from the outside. But they will never know our life."
On that, Solo is correct. The two might be in a romance for the ages. Or they might inhabit a toxic prison. The actual realities remain known only to them. Such is true of any relationship, for better or worse.
---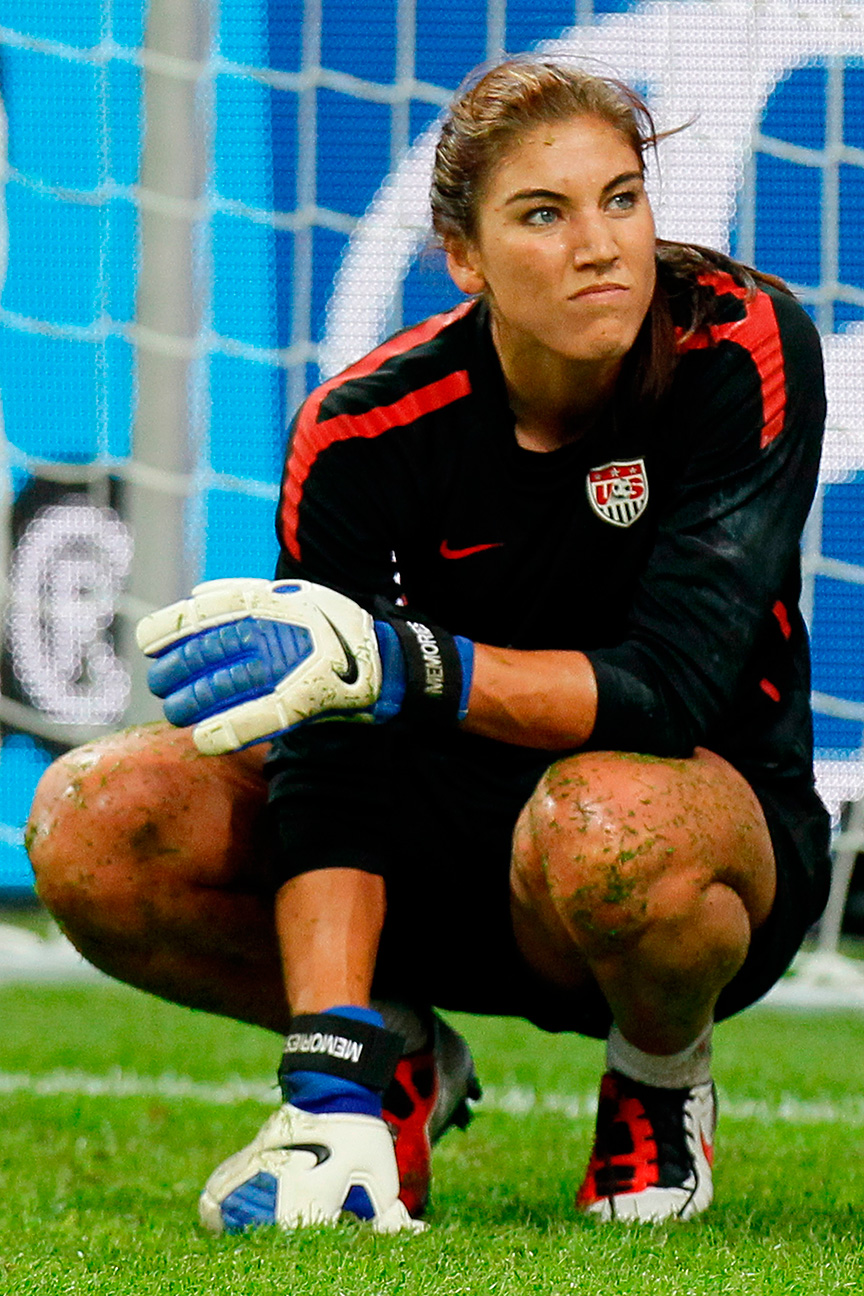 IT IS THREE weeks before Solo will leave for World Cup training camp, and she is in the Reign's medical room, getting an ultrasound treatment on her thigh. Solo drapes a towel over her lady parts, conscious of her male PT, and talks about goalkeeping, a position she never imaged she'd have, let alone excel at.
"It's humbling," she says of the post. She knows the crowd wants the acrobatic save, the theatrics. "But a great goalkeeper makes things look easy, not harder. I pride myself on the technical side, the tiny, minute details like angles, hand placement, footwork. I want to make it look clean."
In some ways, Solo views the current World Cup as her last chance at redemption. Not of her game, but of the impression she wants to leave behind.
"At this point, I have lost my endorsements. I'm not trying to make a career out of that stuff anymore. I'm not trying to be famous. I just want to win the World Cup. I want to leave it all out there. No regrets."
Solo contends that she's changed. "I'm not a different person," she is quick to clarify. "I don't ever want to be your typical female athlete who stands for nothing." But she has come to the reckoning that vulnerability can be its own strength. "I always tried to show my teammates I'm a professional. I didn't let anybody in."
Solo shifts her weight, checks to make sure her towel still preserves her modesty. "The moment I said, 'Look, guys, I'm a f---ing mess,' we all got closer."
"There was so much painful s--- that happened," Stevens says of what he calls their "multiple f---ups." "Hope was holding on to anger. Recently she's started to release some of the pain. She's not good at letting go, but she's learning."
Her teammates have already registered a shift in their goalie, after what some of them label her hitting "rock bottom." "For 10 years, Hope has come into rooms with her eyes toward the ground, headphones on," Wambach says. "There's been a 180-degree shift. She enters the room with her eyes up. She finally knows she doesn't have to fight so hard."
Solo still struggles with being reflexively defensive. Memories don't change when everything else does. We are all the result of the storms we weather. We all bow from the breeze. Besides, being defensive is her job.
That is something else people forget about goalkeeping. The mistakes are never solely the fault of the keeper. For a ball to get to the net at all means several errors by other players have already occurred.
They just aren't as obvious.
---
HER TREATMENT OVER, Solo lugs her gym bag to her SUV, heaves it in the back. She starts the Range Rover, begins driving. In the front seat, piles of books slide, including arcane spiritual tomes such as The Temple in Man and Mastery Through Accomplishment. Solo wants to know more, to understand better. She relishes the way books transport her. So too her fantasies about a future somewhere else, on acres of humid country land, in a house she and Stevens build for themselves and the children they long to have, a fresh spot devoid of any history or expectation.
In February, Stevens checked himself into rehab. He is seeing a therapist every week. "Hope and I are trying to figure out how to live life in a more positive direction," he says earnestly. "I'm an alcoholic. Rehab was some of the hardest work I'd ever done. I'd been f---ed up for 20 years, choking down what hurt me."
Solo recognizes the move. But now is not yesterday, and she sees that too.
"For the first time, I have more excitement than fear to start a new chapter," she says. "To just see what happens, wherever life takes me."
As she speaks, Solo's eyes brighten, her voice flooding with the matchless joy one feels at the notion of leaving the past behind. "I mean, how many lessons do we need?" she says, laughing just a bit.
Solo's vehicle reaches the edge of her neighborhood. She cracks her window an inch, inhales the cool woodsy air. Then the gears shift, and she starts the steep climb toward home.
espnW.
Her writing has appeared in The New Yorker, The New York Times, Rolling Stone, Esquire, GQ and many others.
Biscuit maker and award-winning journalist Allison Glock is a senior writer for