A group of Nepali women first defied the odds by summiting Mount Everest, then the tallest mountain on every other continent. Now they are up against their greatest challenge: rebuilding their country after two devastating earthquakes.
By Alyssa Roenigk
T
HE MUD HOME that 35-year-old Maya Gurung once shared with her mother and three younger siblings in central Nepal has been reduced to rubble. The building where she became one of a few girls in her village to attend school is a mound of papers and dust. As Maya searches for her mother, a line of men and women shuffle past her like zombies, leaves stuffed into their nostrils to mask the smell of rotting carcasses and defecation. When she finds her mother, she runs to her, collapsing into her arms. Her mother tells her of the deaths of two of her cousins.
There are no tears, no time for grief. Maya and the 17 young volunteers she brought from Kathmandu hand out bags of rice and tarps, the only supplies that had reached her village in the Sindhupalchok region, where families sleep in the rain on piles of hay.
"Together, we can rebuild Nepal," she says.
---
MAYA DIDN'T KNOW the word for mountain the first time she gazed at the peak on the outskirts of her village. The ragged shape outlined against the cold morning sky seemed to hang from the heavens like an ornament.
One Sherpa man selling baskets of potatoes to the women of her village spoke of climbing Nepal's tallest mountain. "What is Mount Everest?" 7-year-old Maya asked her mother. "Can I go there?"
"It's the tallest mountain in the world," her mother said. "It's too dangerous. No place for a girl." But Maya couldn't let go. She longed to see Everest up close, to stand at the tippy top of everything and take in the view.
Someday I will marry a Sherpa man, she thought. And he will take me to see Mount Everest with my own eyes.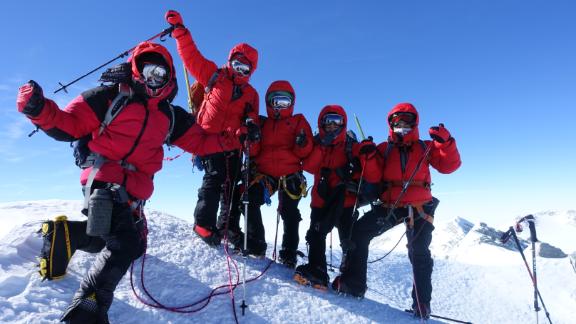 "SHAILEE! HURRY UP! Future doctors aren't late for school."
While her mother waited at the front door of their modest middle-class home in Kathmandu, 7-year-old Shailee Basnet sat in the bathroom upstairs. Her eyes were closed, her back pin straight, her hands stretched out as if gripping an imaginary paddle. She pictured herself on the rapids of a wild river in northern Nepal, white water rushing over her kayak as she steered around rock clusters and navigated dangerous drops. The muscular man paddling the blue kayak in the picture on the bottle of Sherpa soap smiled back at her. He paddled a blue kayak, and his helmet was cocked slightly to one side.
Sometimes I wish I were a boy like my brother, she thought. Then I could be smart and brave.
---
AT 14, Maya was two years from a miracle. She was on track to become the first girl in her village -- a village known as a top district in Nepal for trafficking women -- to graduate from high school.
Her father had other plans though. He had chosen her a husband and brought her to his home in Kathmandu to prepare for her wedding. She went through the motions, fighting back tears as her mother paid for a gown with money from her dowry.
In the days leading up to the wedding, Maya agonized over her future. She thought she was too young to be a wife. "I want to finish school," she said to her father. He scoffed. "What would you do with an education?" he asked. Her aunt chimed in, telling her that she would never be anything more than a poor village woman.
Twenty years later, Maya remembers the exact count of the rupees she stole from her father's pocket: 150, roughly $2.30. She snuck out of his house and took a taxi to the bus station. She woke up the next morning in a depot in the far eastern district of Jhapa more than 250 miles away.
The next day, Jhapan police officers returned Maya to her school. Now girls who were once her friends ignored her. Their fathers told them not to be like Maya: She was a disgrace. When she finished school, she visited her father and asked for his forgiveness. Instead, he showed her a video: "He had performed the rituals of my death, burned photographs of me and filmed it for me to watch," she says. "He did not want to forgive."
But Maya felt anything but dead. For the first time, she felt alive.
text
SHAILEE REMEMBERS the moment she too felt reborn.
It was 2007. She was 24 years old, two years out of college and a writer at Himal, an adventure magazine based in Kathmandu. She had been assigned a story on a climber and model named Susmita Maskey, a progressive Nepali woman who'd made a name for herself as an adventurist and mountaineer.
During the interview, Susmita talked about the lack of female climbers in Nepal, the machismo culture that surrounded mountaineering and the fact that, of the more than 4,000 people who'd reached the top of Everest since the first ascent in 1953, only seven were Nepali women. The first, Pasang Lhamu, reached the 29,035-foot summit in 1993 but died on the descent. Of the hundreds of people from all over the world who climb Everest each year, only one in 11 is a woman.
As Susmita discussed the all-female expedition she was coordinating with fellow climbers for the next spring, petite Shailee imagined herself on the mountain with that group. "I'd always heard of foreigners saving for years to come to Nepal and go to the mountains," Shailee says. "I wondered what they did there. For us, the mountains are for work. But for foreigners, they are for fun. I wanted to look at Nepal like a foreigner. I wanted to have adventures."
That night, she couldn't sleep. She thought about what it meant to be a girl. Could she be smart and brave? Successful and athletic?
"Is Everest out there for me too?" she wondered.
Soon, she called Susmita and asked to try out for the expedition. Susmita said yes and invited her to training.
---
AFTER FINISHING 10th grade, Maya traveled to Hong Kong and Macau. She took voice lessons and a fashion design course. She made friends with mountaineers and paragliders. "I was never satisfied," she says. "I tried it all."
"Men were telling their daughters to be like
me ... To be like Maya."
- Maya Gurung
In 2006, a Sherpa friend challenged Maya to join a monthlong mountaineering course in Nepal's Langtang Valley. She began running and hiking, opting to walk instead of taking cabs. Still, the first weeks of the course were brutal. On even the shortest hikes at altitude, her legs and lungs burned. Her hands and forearms weakened after a few minutes on the climbing wall.
But by the end of the month, she'd learned how to set up camp, what medicines she could take at altitude and how to assist in a crevasse rescue. But more than anything, she had learned she was a mountain climber.
When her instructor, Da Gombu Sherpa, invited her to climb Everest in the spring of 2008 with a team of female climbers, including Susmita Maskey, she did not hesitate. The goal was to start a conversation about gender equality and to attract more women to mountaineering. "I knew this was meant for me," Maya says.
She thought about the hours she'd spent dreaming of standing at the summit of Everest. And now she didn't need a husband to take her there.
---
OF THE GROUP of women at mountaineering training, Shailee was last to finish the run on Day 1. She struggled to walk in the crampons. Once on the climbing wall, she could barely grasp the handholds. As her partner lowered her, she wasn't contemplating her next attempt; she was fearing what the other women thought of her.
She wanted to make them understand that she didn't grow up herding buffalo like Asha Kumari Singh, the girl from the flatlands, or carrying buckets of water up flights of stairs like Chunu Shrestha, who had provided for her family since finishing grade 10. "I was a city girl," Shailee says. "My friends looked like me; they had the same problems as me. I was blind to real problems. These women were so heroic."
"Shailee, you've almost got it! Just try not to stick your butt out so much," Asha said as she helped her remove her climbing harness.
"Use your legs more next time: They are strong!" Nimdoma said. "Don't make your arms do so much work."
Shailee paused. These girls weren't judging her. They were offering advice. The better she was, the better the team would be. "I'd never met girls like these before," Shailee says. "But I knew that whether I climbed Everest or not, I needed them in my life."
---
AS THE MONTHLONG Everest expedition neared, the team's number dwindled to 10. Of them, only Susmita and Usha Bist had ever attempted to climb a mountain. Some of the women were weeded out by the training, others by the time commitment or the negativity that surrounded their mission. "People did not believe we would make it," says Chunu, whose father had grown ill in the months leading up to the climb. "Some said five or six of us would die."
A few of the women even hid their training from friends and family and hiked and climbed in secret. Shailee took a leave of absence from her job to focus on training, informed her parents bit by bit, at first telling them that she was writing a story about the women. Respected professionals, her parents were extremely pragmatic, and she knew they would balk at her participation. But when a photograph of the 10 women appeared in the national paper, her cover was blown. "My parents were worried, but they came to a conclusion that if they tried to stop me, I wouldn't listen," Shailee says.
Soon it was time for the women to say goodbye to their families. Some thanked parents and siblings for their support; others had to answer for their actions. "Many people asked, 'Why are you leaving when your father is sick?'" Chunu says. "My brother asked why I wanted to die. I didn't want to die. ... I wanted to do something big for women."
text
AFTER A TURBULENT flight from Kathmandu and a harrowing landing on the famously short, sloped runway at Tenzing-Hillary Airport in Lukla, the women began the roughly 26-mile trek to Everest Base Camp. "I remember looking back at the steep runway and wondering if we would walk this path again," Shailee says. "Then we walked with our heads down. We didn't take in the beauty of the region. We were too scared to think any thoughts that distracted us from our goal."
That spring, Everest was a hotbed of conflict. In advance of the 2008 Beijing Olympics, "Free Tibet" protests had broken out on the mountainside, calling attention to China's occupation of Tibet. Nepali soldiers and policemen were stationed along the route, and tensions were high. In other years, an expedition of 10 Nepali women and their guides might have generated buzz, but they arrived at base camp on April 28 to little fanfare. Fellow climbers and the international media barely acknowledged their existence.
Everest Base Camp rests at 17,590 feet, an altitude the women had experienced during their training, yet the real thing felt somehow different. The temperatures were colder than they had imagined, the air thinner and the pace slower. Although they carried only their packs and spent long hours acclimatizing while their guides set their lines and set up camp, the toll on their bodies was greater than they had anticipated.
The most ordinary functions of daily life -- walking, breathing, drinking water -- became arduous struggles. While the men could relieve themselves into a plastic bottle or by zipping open a slit in their tents in the middle of the night, the women had to venture outside and expose their bare legs and backsides in temperatures well below zero. "It was miserable," says Nimdoma Sherpa, who was only 17 years old at the time.
"I remember looking back at the steep runway and wondering if we would ever walk this path again."
- Shailee Basnet
The women rarely interacted with members of other expeditions. At the time, only Shailee and Susmita spoke fluent English. "We saw the girls at Camp 1 and Camp 2," says Danuru Sherpa, a well-respected guide who has summited Everest 16 times. "They were small. I thought something bad would happen. I thought maybe a few would summit. Some Sherpa guides made bets on how many would die." At 5-foot-3, Maya was the tallest in the group; Nimdoma was 4-10.
The women kept their heads down and trusted in their training, climbing approximately five to 10 hours a day. When they felt too cold to take another step, too tired or too discouraged, they sang songs, told jokes and encouraged one another. They climbed slower than they thought they were capable of climbing and sometimes slower than their legs wanted to move. If they had learned anything in the course of their training, it was that the most dangerous element on Everest is not altitude or falling ice but hubris.
"With each step, we went higher than we'd ever been before," Chunu says. "We'd never been to base camp or Camp 2 or Camp 3. Each step was success."
"One more step" was their mantra. One more step had to be enough. The experience was personal for each woman, but as a team they never talked about reaching the summit. Success meant returning home. "So many people die on the way back down because they are careless and think, 'I climbed Mount Everest,'" Chunu says. "But summit or not, you have to get back down safely."
---
THE EXPEDITION TO the summit from Camp 4 was divided into two teams. On May 22, 2008, the first group, including Pujan Acharya, Pema Diki Sherpa, Susmita, Maya and Nim and their Sherpa guides, successfully reached the summit of Everest. But around 1 that morning, Shailee got separated from the group and was forced to turn around. On the way back to Camp 4, Shailee and her guide passed a Swiss climber who had collapsed and died on his return from the summit the day before. "That night was the toughest for me," Shailee says. "Here was this man; he was wearing better equipment, he was taller than me and probably better prepared. I thought, 'Is this mountain divine or monstrous?'"
Ready to try again, Shailee emerged from her tent cloaked in a yellow summit suit, an oxygen mask, glacier goggles and gloves, ready to try again. She and her guide joined the second group and began the gradual uphill march slowly, each step more taxing than the last. After more than 11 hours, they reached the summit on May 24.
With her final step on May 22, Nimdoma, the first girl educated in her family, became the youngest woman to ever summit Everest. (Her record was most recently eclipsed by 13-year-old Malavath Poorna of India in June 2014.) Maya, then 28, became the first person from her village and her ethnic group. Asha, the girl from the flatlands, became the first woman from her village. When the 10th and final woman reached the summit on May 25, the "First Inclusive Women Sagarmatha Expedition Spring 2008" became the most successful all-woman expedition in Everest history and the number of Nepali women who had summited the mountain more than doubled.
"People said we were too ordinary and Everest too extraordinary," Shailee says. "We knew Everest would not grow a new path for us because we're short or because we were inexperienced. We had to be as good as the goal demanded us to be."
Shailee looked out at the island peaks floating in an ocean of white clouds below. Tears of joy froze to her cheeks behind her protective goggles. Maya stood off by herself. She had taken her goggles off, exposing her eyes to the freezing wind and blinding snow glare.
Shailee ran to her. "Put your glasses back on," she urged. "It's too dangerous."
"I need to see Everest with my own eyes," Maya said.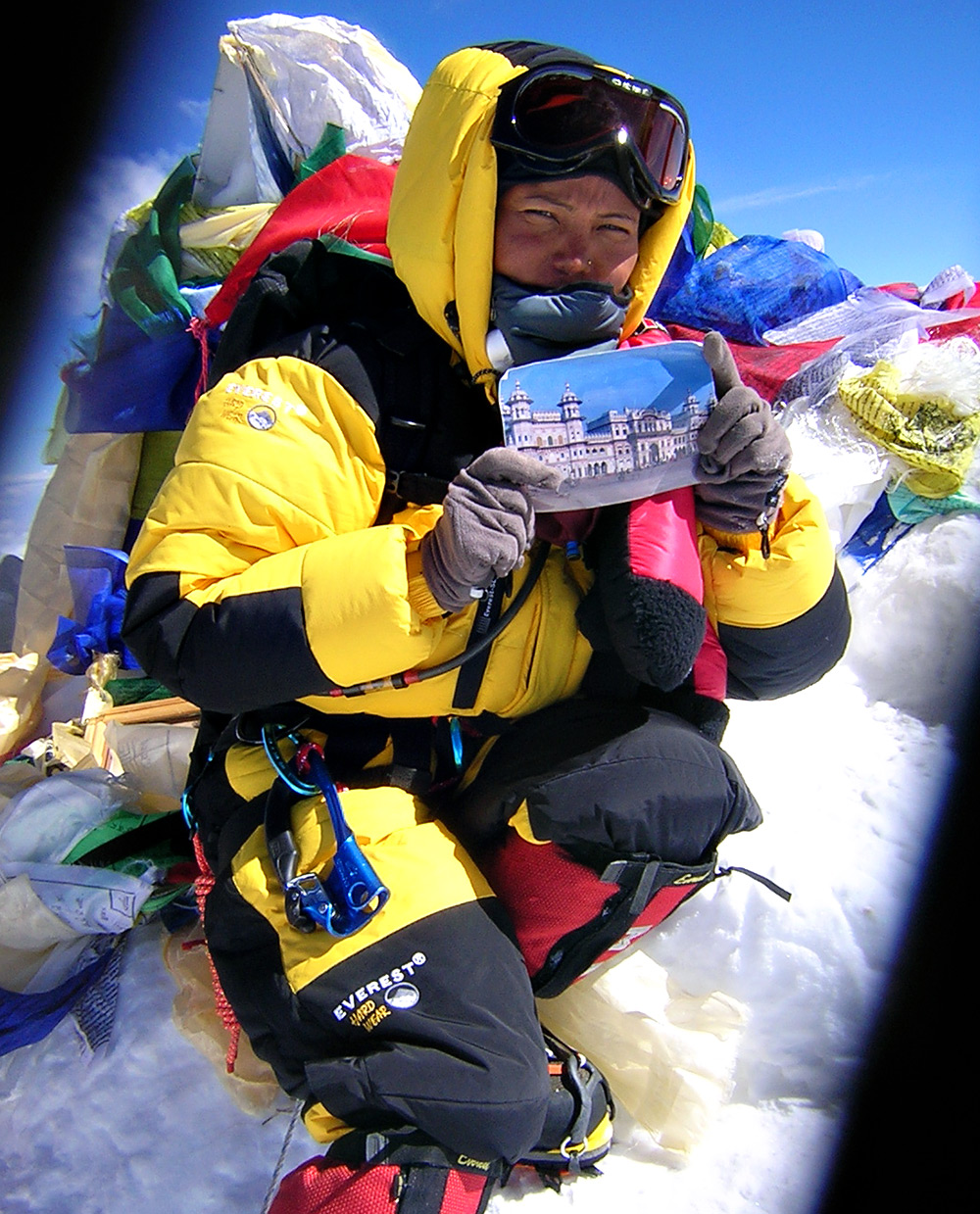 THE WOMEN RETURNED to the airport in Kathmandu to hundreds of Nepali people chanting their names.
Chunu scanned the crowd for her brother and mother, but they were nowhere to be found. When she saw her cousin waving to her from the crowd, she knew instantly why he had been sent. "My dad was gone," she says. Her family was sitting in mourning.
Mothers and fathers from across Nepal had brought their daughters to meet the women who climbed Everest. Handheld signs declared Maya, a girl once disgraced in her own village, a national hero. "Men were telling their daughters to be like me," she says. "To be like Maya."
In the months that followed, the women met in Kathmandu and drank cups of black tea as they had done to keep warm at Everest Base Camp. They'd been given an opportunity, they felt, perhaps the rarest resource for girls in their part of the world. Everest had revealed within them strengths they'd never known they possessed. They wanted to share their experience, use it as a platform to show girls they could be meant for more than marriage.
"If we stopped after Everest, we would be lost in history," Asha says. "We knew we must do something bigger."
They organized weekly hikes for women around Kathmandu and told the story of their climb. They visited schools and shared photos from the summit of Everest. They told the students they could do anything they dreamed. On Jan. 1, 2009, the women gathered at Shailee's parents' home to celebrate as a family. "We asked each other how we could make every year as special as the one we'd just had," Shailee says.
They decided to climb another mountain. Six others, in fact. "No Nepali woman had ever reached the highest point on each continent," Shailee says. The majority of the women had never even traveled outside of Nepal. Their next decision was arguably either their bravest or their most naive: They decided to go for the Seven Summits.
text
IN THE 35 YEARS since American climber Richard Bass conceived the adventure challenge of climbing the tallest mountain on each continent -- and became the first person to do so -- fewer than 400 people have successfully achieved the feat. The seven mountains widely recognized as making up the Seven Summits are Mount Everest (typically the grand finale); Mount Kosciuszko in Australia (7,310 feet); Mount Elbrus in Russia (18,510 feet); Mount Kilimanjaro in Tanzania (19,341 feet); Mount Aconcagua in Argentina (22,822 feet); Denali (Mount McKinley) in the United States (20,237 feet); and Vinson Massif in Antarctica (16,050 feet).
The women were tackling the remaining mountains on their own without Susmita, their coordinator, who had left to work for the United Nations World Food Programme, or their Everest expedition leaders, Da Gombu Sherpa and Pemba Dorjee Sherpa. Still, after Everest in 2008, the next two summits came quickly for the women. On July 7, 2010, they reached the top of Australia's Mount Kosciuszko. The next month, on Aug. 29, they took the final steps to the summit of Mount Elbrus in Russia. After each expedition, they visited schools, told their stories and stressed the importance of education.
"[The girls] were small. Some Sherpa guides made bets on how many would die."
- Danuru Sherpa
But next came perhaps their toughest challenge: paying off the debt they accrued to fund those climbs and raising money to complete the next four. A sponsored expedition, their Everest climb had been paid for by various companies and organizations. But now the women emptied their bank accounts, took out loans and lines of credit, and held fundraisers around Kathmandu. They booked paid speaking engagements and searched for sponsorship dollars. "Nobody wants to give money to fund something that already happened," Shailee says. "And few people believed we would raise enough to climb the remaining four mountains."
The task was overwhelming. In total, they would need to raise more than $1 million in U.S. funds for flights, hotel rooms, climbing fees and guides. Individually, none of them had ever had more than a few hundred dollars to her name. The average household income in Nepal is about $700, so they needed to take their fundraising efforts on the road. As the days after the third summit turned into months, two of the climbers -- Ngabhang Phuti Sherpa and Usha -- dropped from the team. "There were no footsteps for us to follow, no blueprints laid out for us," Shailee says. "But for the seven of us who remained, that made what we were doing even more special."
NEARLY FIVE YEARS after climbing Everest, and more than two years after climbing Elbrus, the seven remaining women reached the top of their fourth summit, Mount Kilimanjaro, in Africa, on March 5, 2013. They had raised the money. They had been patient. They had stayed together. "Any one team member could have climbed Kilimanjaro any day. Yet as a team, the mountain made us wait," Shailee says. "She was saying, 'Girls, you had to be mature enough for me.'"
The women planned to climb three mountains in 2014: Mount Aconcagua in Argentina, Denali in the United States and Vinson Massif in Antarctica. For the first time, they would make their ascents without the assistance of porters to carry their packs, set up camp and cook meals. On Denali they would climb without guides.
"People said we were too ordinary and Everest too extraordinary."
- Shailee Basnet
Halfway through their climb to the summit of Mount Aconcagua on February 23, 2014, a 22,822-foot peak located near the Chilean border, Shailee's right thumb began to freeze. For hours, she attempted to warm it, hoping that if she made it to Independencia, a rest point at 6,380 meters and about 2,000 feet from the summit, she could give her hand a chance to recover. But it kept getting worse. And the wind was picking up. Whiteout conditions fast approached. "We only had one window," she says. Soon, Maya, whose down jacket had worn thin, suffered a similar setback. "She started to feel really cold in her chest and abdomen," Shailee says. "We were slowing down the rest of the team."
At Independencia, the women huddled inside a tiny wooden hut. Pujan, suffering from a lingering shoulder injury, said she also could no longer keep pace. "We told the rest of the girls to go ahead," Shailee says. They didn't talk for long. Knowing they needed to make a quick decision, the four others went on ahead to the summit.
The goal of each climb had been a safe return for all, but Shailee and Maya had never contemplated anything less than all seven women reaching every peak. Now, in the swirling winds, and hurting, they made a tough decision and turned around. "There were a lot of tears," Shailee says. Maya felt as if they had lost.
The women had been home in Nepal for nearly a month when tragedy struck. On April 18, 2014, 16 Sherpa men, many of them their friends, were killed in an avalanche on the Khumbu Icefall on Everest. The women gathered at Tribhuvan University Teaching Hospital in Kathmandu to pay homage as the bodies of their friends and colleagues arrived by helicopter.
With only two months to prepare to leave for Denali, their next and most difficult climb, the women struggled to push aside the what-ifs. How had so many talented men lost their lives when they -- just beginners when they had climbed Everest -- were spared? "It was very heavy for everyone," Shailee says. "They were absorbing the risk for everybody else, sacrificing their lives."
The women reflected on that final day on Aconcagua, remembered how much they wanted to press on despite their pain. Only now, as they mourned the Sherpa men and celebrated their lives, did they begin to fully appreciate what had been at stake in each of their ascents. Life. Perhaps, they thought, their failure on Aconcagua -- the decision to turn around, to listen to their bodies and soberly assess their situation -- was more valuable than it would have been for all of them to have succeeded in reaching the peak. Perhaps to press on would have meant they would not have returned home safely.
"Four of our members got to the summit," Maya says. "As a team, we succeeded."
MAYA ARRIVED in Alaska for the Denali climb about a week after the rest of her team and sick with pneumonia. She couldn't imagine missing another summit and pressed her team to allow her to join the expedition. But they decided it would be too dangerous for her and the rest of the team. Pujan's shoulder was still causing her pain, so she too remained at base camp. Shailee, adamant that a coordinator should stay behind with those who cannot climb, sent Asha, Chunu, Nim and Diki ahead to climb the sixth mountain without them.
The women spent 19 days on Denali, their progress continually halted by heavy snow and poor visibility. They struggled to walk in the chest-deep snow on the days when the skies were clear. They spent five days at Camp 4 at 14,200 feet before finally making a push for the 20,237-foot summit on June 24, 2014.
"Denali, for me, was most amazing," Nimdoma says. "It was so hard and so far from Nepal. It was like climbing another Everest. I felt very special standing on the top of Denali."
At base camp, when word of the women's summit came down the mountain, Shailee, Maya and Pujan cried. And sang. And danced.
"I am so proud of my team," Maya says. "We are seven Wonder Women."
IN THE MONTHS leading up to Antarctica, the final climb, fundraising became the eighth summit. To climb Vinson Massif required approximately $50,000 per climber, up to seven times as much as each of the previous climbs. Because of the high cost of flights, hotel and airport transfers, expert guides and the limited number of permits granted each season, Vinson Massif is one of the most expensive mountains in the world to climb.
Over five months and by saving money from speaking fees, fundraisers and donations from the Nepal tourism board, the Nepalese government and Lions Club International (one of the world's largest service club organizations), the women raised enough for four women to climb the final summit. Asha, Nim, Diki and Chunu had reached each of the previous peaks. If they were to summit Vinson Massif, the team would have four members who had fully completed the Seven Summits mission. But in the years since Everest, Asha had become an accomplished climber and adventurist. She had no doubt she would someday summit Vinson Massif, with or without the team. Maya should go in her place, she said.
On Dec. 23, 2014, Shailee woke to the sound of her phone buzzing. It was Chunu's husband. "They made it," he said.
It had taken her friends only five days to reach the summit of Mount Vinson, an unthinkably breakneck speed to reach the highest point on the Antarctic continent at 16,050 feet. From the day they landed at the base of the mountain, only 660 nautical miles from the South Pole, it had been windy and blustery cold. "It was negative 30 at the top. They literally had to run up and run down," Shailee says.
At the summit, they hugged and high-fived and began their quick descent. Looking back, the moment felt anticlimactic, not like the magical final accomplishment they believed it would be. "We always talked about life after the last mountain," Maya says. "We dreamed about life 'after the Seven Summits.'"
It started as a way to prioritize their lives and as an inside joke. Have kids, get a real job, maybe learn to ski? We'll get to it.
After the Seven Summits.
It evolved into a promise -- to themselves, to their community, to the women and children of Nepal. Use their platform to empower women? Educate girls? Fight sex trafficking? Change the world?
Absolutely. After the Seven Summits.
"Before we were home from Antarctica, we were saying, 'This isn't the end,'" Maya says. "We were ready for our next challenge. We wanted something more."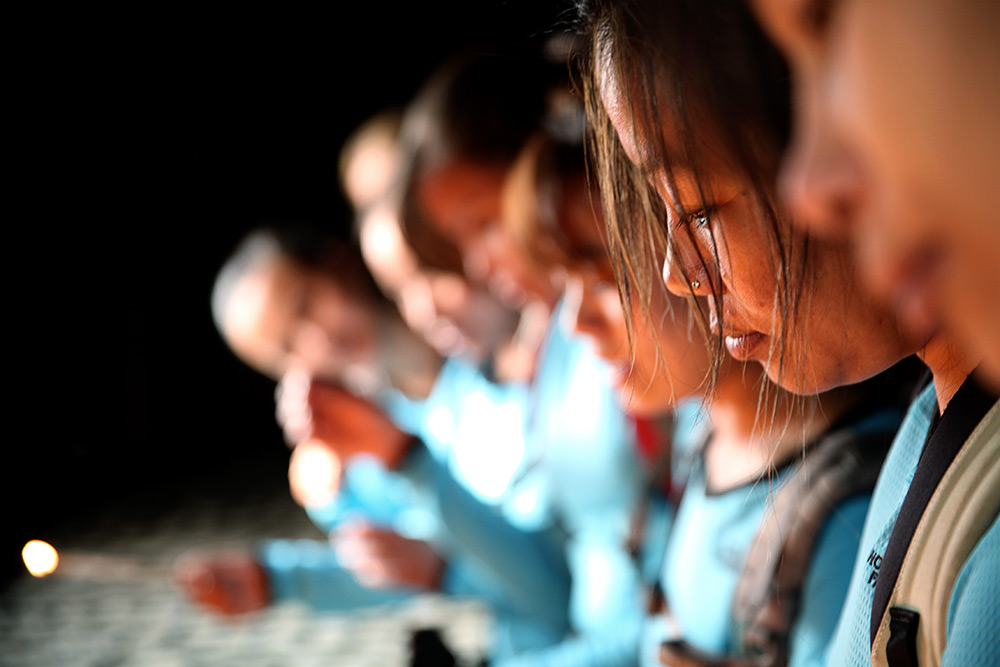 In the months after the Seven Summits, the women founded a trekking company and began teaching English, outdoor skills and high-altitude techniques to women, training them to be assistant guides and passing along what they'd learned. They completed an outdoor curriculum to implement in Nepali schools and started a program that empowers survivors of sex trafficking and abuse through climbing and the outdoors. It began in Maya's village, as would their relief efforts.
But the team would have to change course.
text
ON SATURDAY, APRIL 25, 2015, the earth would not stand still.
Shailee and her husband, Tyler, were sharing a rare Saturday together, hiking in the hills outside of Kathmandu with four friends. "As we climbed the tallest hill, I pointed out famous buildings in the skyline," Shailee says. As she called out the nine-story Dharahara Tower, the tallest building in Nepal, the group paused to take it in.
Two hours later and shortly before noon, the first earthquake struck, a 7.8 magnitude centered about 50 miles from where they were standing. Feeling protected by nature but fearful of trees uprooting, Shailee led the group into a field, where they waited for the aftershocks to subside. "When we felt it was safe, we began walking back toward the city," she says. "At first, everything appeared normal. Then I saw it was gone." The vertical space Dharahara Tower had filled only hours earlier was now nothing but blue sky. "Then," Shailee says, "we walked into a nightmare."
For the next several days, the women gathered at a makeshift headquarters in Kathmandu, bringing with them the focus and determination that had carried them to the tops of mountains. They tapped into a network in the climbing and outdoor communities to organize volunteers, collect supplies and kick-start fundraising efforts to bring rice, tarps and medical personnel to far-reaching villages such as Maya's and Nim's, two of the hardest-hit districts in the country. Around them, the city of Kathmandu crumbled and the death toll rose to more than 8,000. Their friends and families lived in daily fear of mudslides, monsoons, starvation and illness.
They had never imagined this was how they would put to use the skills and strengths they had developed and uncovered within themselves over the past eight years, but they knew this was now their calling.
"We take it that it is our generation's responsibility to bring the nation back," Shailee says. "Our years together climbing these big mountains has prepared us for this. We can't do everything or be everywhere, but our team will lead others."
---
MAYA WAS A teenager when she first learned the mountain she gazed at near her home was not Everest after all but Mount Jugal, a tiny sliver of stone in comparison. Now, as she stands near the base of Jugal, her village in ruins and with a long climb to recovery ahead, she knows her longing to stand on its peak has been the source of her hope.
When Maya started her journey, she saw firsthand the problems facing women in her village, but she felt powerless to affect anyone's life but her own. When Shailee began, she wanted only to find strength within herself. All seven women set out on a journey of self-discovery and self-empowerment, but it is what they have chosen to do with their lives after the Seven Summits that will define them.
"This is the best chance we have," Shailee says. "The whole world for the first time is looking at Nepal."
Follow espnW on Twitter: @espnW
Follow ESPN Reader on Twitter: @ESPN_Reader
Join the conversation about "After The Seven Summits."