J
ames Harden says an incredible amount of nonsense. I do not mean this figuratively. Whole sections of his vocabulary are, like the 26-year-old himself, self-made, and conspicuously weird, and inexplicable to everyone but the four friends he's trusted since he was a middle schooler growing up in Compton. "Our language evolves," explains Camilo Valencia, Harden's point guard at Artesia High and the longest-tenured member of his inner circle. "It's what happens when you play video games and listen to rap music all day."
In their vernacular, for instance, the noun chug means woman. ("We gonna invite some chugs?" is a typical question.) The adjective fa'lo, meaning excessively flashy, derives from Buffalo, as in Buffalo wings, as in heat. The expression sah-dah-tay, signifying agreement, is actually just a catchphrase from the 2001 film Pootie Tang. That this all sounds impossible for some outsider to decode on the fly is, in fact, the point. "I don't even try, man," says Akili Roberson, Harden's older brother. And for a famously hirsute NBA superstar who cannot plausibly disguise his identity -- or his swelling affection for public life -- the benefit of a secret language seems self-evident.
It is a viciously humid August afternoon in Houston, and the Rockets guard and I are picking up takeout at the Grand Lux Cafe for lunch. By the time I figure out how to open the passenger side door and exit Harden's red-and-black Rolls-Royce Ghost, a crowd has begun to swirl around its owner. Harden, it's worth noting, used to wear hoodies out and zip them up all the way to his chin. But this summer -- at the mall, at the bowling alley, at the club -- the 6-foot-5 left-hander has embraced what his brother dubs his "breadwinner." "Now," Harden says, "it's just, like, There's The Beard! There's that guy with The Beard! Mom, Dad, there's The Beard!"
The masses converge. Two stunned Asian fans thank Harden for being their hero. Huddling servers crane necks and unsheathe phones. A chef comes out to hand Harden a card with the URL for a muscle stimulation machine of some kind. A mom holding a baby approaches on behalf of her nervous husband. When the Buffalo chicken rolls and crab cakes arrive, Harden, who's wearing a long-sleeved black shirt and blue athletic shorts, will have posed for photos with 16 people.
Which is what happens when you go from being named the sixth man of the year in Oklahoma City three years ago to the first-ever National Basketball Players Association MVP in July ... and start dating Khloe Kardashian, one of this planet's more relentlessly famous people, thereby introducing a Houston-based athlete to America's grocery lines ... and leave Nike in August to sign a 13-year, $200 million contract with Adidas, globally notarizing Harden's hyperefficient ascension to the top tier of basketball capitalists. (He inked a five-year, $80 million max extension upon being traded to Houston in 2012.) "I try to stay level," Harden says. "Even when people are bum-rushing me at Chipotle and I'm trying to order a chicken bowl with extra guac."
That, mind you, is not a hypothetical scenario. Less than 24 hours ago, TMZ posted video of Harden and Kardashian leaving a Chipotle in Houston and reported that their to-go bags carried "several chicken bowls, extra guac and water." Add in coverage from People.com, DailyMail.com and the Huffington Post, and I counted shots of Harden from no fewer than five different phones inside the restaurant, including one positioned behind the counter.
Back at the Grand Lux, Monja Willis, Harden's mother, arrives in time to watch the end of today's impromptu photo shoot with a wary bemusement. Since retiring in 2009 after nearly three decades as a service dispatcher at AT&T, the single mom and her baby boy have been "attached at the hip," Harden says. He got her a house here, just 20 minutes away from his own three-story mansion, which he bought for $2 million from retired Rocket Cuttino Mobley. And she mothers not only his quartet of best friends but also Houston's starting five. "Her coaching on the sidelines," James says, "is, Follow through!"
"It depends on who you're talking to," Monja counters. "If it's Dwight [Howard], I have to tell him to follow through. Or: Bend your knees! And he does it! And it goes in!"
Still, Harden takes care to restrict the venues for his mother's feedback. "He tells me to stay off of Twitter, stay off of Instagram," she admits now. "It's hard. I have to bite my tongue sometimes." She pauses for a second. "Well, a lot."
The Internet, they both understand, is where an Olympic gold medalist and three-time All-Star is accused, routinely, of playing in such a way that debases nothing less than basketball itself. It is where the NBA's best shooting guard, who just towed his team to the Western Conference finals, triggers more comparisons to Lamar Odom, his girlfriend's ex, than Kobe Bryant, his childhood idol. And it is where the news of a $200 million shoe deal -- the ultimate bet on James Harden's image -- begets an essential yet unanswered question: Who truly wants to be like him?
---
IF ONE WERE to envision an ideal summer afternoon for Daryl Morey, the notoriously quantitative Rockets GM, one might imagine him leaning back in a rolling office chair, loafers up on a mess of a conference-room table, savoring a loop of Harden highlights on a flat-screen while guzzling Mountain Dew. But one would be mistaken.
Morey drinks only Diet Mountain Dew. "You gotta watch this play," he tells me, between sips. "This play is f-----g absurd."
Harden, who averaged 27.4 points, 7.0 assists and 5.7 rebounds a game last season, owns a lethally diverse repertoire. When asked about specific on-court influences, he cites three: Bryant's monomaniacal drive (no one carried a heavier offensive load last season than Harden); Manu Ginobili's southpaw creativity (the maestro of the Euro step now deems Harden's the best in the league); and Paul Pierce's blend of pace, trash-talk and step-back jumpers. But it is a more polarizing trait that brings Morey to replay transition buckets with the lonely righteousness of Galileo discussing the orbit of Earth.
"The No. 1 thing that bothers me is this perception that James is somehow 'tricking the game,'" Morey says. "Like he's somehow getting more free throws than he deserves." Last season Harden drained a league-leading 715 of them -- a full 31 percent more than Russell Westbrook, who ranked second. If Stephen Curry embodies the freewheeling, rainbow-launching spirit of the game, Harden suggests a strapping, 220-pound tax attorney, systematically exploiting the letter of its laws.
"I'm not necessarily going in there and trying to draw a foul," Harden says matter-of-factly. "But if a person can't guard you, he has to foul you. Or I'm going to score. Every. Single. Time."
"When was the last time you've seen anything normal or standard from me?"
- James Harden
On Morey's flat-screen, I repeatedly watch Harden dribble-hypnotize his man, burst toward the rim, invite a defender to swipe at the ball, and then torque through the lane like a man exiting a subway car at rush hour. Each of those steps demands a singular talent. But it is also hard to deny that he looks like a dude straining to hear a referee's whistle. If you love free throws, James Harden is most surely your favorite player.
And so a Deadspin post declared Harden "The Loathsome Genius." Vice said that "only a sucker or a Houstonian could love him." Morey himself calls Harden "the most scrutinized player in the league" on account of the reams of officiating complaints lodged by Rockets critics and opponents. And while nobody pushed Harden-for-MVP harder than the GM, Morey privately informed his prize acquisition that such derision made winning the award all but impossible. Much to Harden's agitation, the balloting -- Curry got 77 percent of the first-place votes to his 19 -- wasn't even close.
Three weeks later, in Game 5 of the Western Conference finals, Harden fell apart in a 104-90 road loss, shooting 2-for-11 from the field with a brutal 12 turnovers. One game after dropping 45-9-5 at home to stave off elimination, it was over. "I was too antsy, doing things I don't usually do," Harden recalls. "And for a year of hard work to end that way? That affected me more than any other loss." In the visiting locker room, Harden broke down and cried.
When I ask Morey what he recalls about Harden's tears, he notes that he's actually found his superstar crying in the locker room two years running. In Portland, in 2014, Harden had dropped 34, only to be knocked out in Game 6 of the first round by Damian Lillard's buzzer-beating 3.
Following that dagger, Harden had set two new goals for himself. First, he wanted to tighten his undeniably lax defensive focus and cut back on ball-watching. (He'd rank 10th overall in defensive win shares last season.) Second, he wanted to improve his right, weaker hand. (Per Synergy Sports, he'd rise to the league's 86th percentile on iso drives to the right after ranking in the 56th percentile the year before.) Now, when I ask about his plans for this season, Harden says something you might not expect of a player who relished control of every lever in Houston's offense.
"I'm looking forward to playing off the ball," he tells me. His ultimate objective? Membership in the hallowed 50-40-90 club, reserved for those who shoot 50 percent from the field, 40 from 3 and 90 from the line in a season -- which only six men in NBA history have ever done.
Yes, a year after assisting on more 3s in a single season than anyone in history not named Steve Nash or Chris Paul, Harden wants to let the offense run through point guard Ty Lawson, the playmaker he urged Morey to procure in July. The goal: to manufacture more efficient looks for a scorer whose shot chart already looks like it was crowdsourced at the MIT Sloan Sports Analytics Conference. "He's just amazingly self-motivated," Morey says.
And so it has always been. Harden's family tells how a young, pudgy James carried a basketball everywhere: in the car, at church and even to bed, where he'd sleep with it by his side. One night before school, in fact, when Harden was a bare-cheeked, baggy-shirted ninth-grader, he grabbed a green marker and left his mother a note. Today, 12 years later, she retrieves it for me from its place atop the dresser inside her Houston home.
Could u wake me up at 7:00
And could u leave me a couple of dollars
James then autographed the thing, in loopy cursive, before adding an instruction that was intended -- completely earnestly -- as equal parts pledge and IOU:
P.S. Keep this paper. Imma be a star
---
ALONG THE BACK WALL of the courts at the Legends Sports Complex, a sweltering 100,000-square-foot hangar outside of Houston, Khloe Kardashian sits in a metal folding chair, calmly fanning herself with a white placard that reads RESERVED. I do not know how many events she attends where a middle-aged man named Wally yells things like "Rip! Push! Elevate!" at 250 children as a radio-friendly version of "Its Going Down for Real" by Djniqo vibrates the skulls of dehydrated volunteers. But here she is, on the morning of the 2015 James Harden Basketball ProCamp, wearing the preprinted Nike T-shirt everyone else is.
No entourage. No video cameras. No security -- save for Monja, who is seated next to Kardashian, pre-empting would-be selfie requesters like the Mossad. "No! No! No!" Monja tells a camp staffer whom she catches coming by at one point, chastising him as he scurries away.
Monja's protective streak is time-honored, owing partly to her own trajectory out of South Los Angeles. James Harden Sr., whom she never married, was in and out of prison on drug charges, ultimately leaving his namesake's life altogether. She lost two of her brothers in separate homicides, both in 1993. James Jr., by contrast, was nicknamed "Lucky," her youngest of three children by 10 years. "I was the mom and the dad," Monja likes to say. Best estimates have her lifetime attendance at James Harden home games at 90 percent.
She was there in grade school, when James was a little-used reserve on his AAU team. She was there at Artesia High, where coach Scott Pera resolved to optimize a chubby freshman, dangling fast food as a reward for every game with more than six free throw attempts (so at least we know whom to blame). She was there at Arizona State, where James became an All-American. She was there in Oklahoma City, where she came to enjoy her son as the NBA's most overqualified sixth man. "He would never get the ball playing with Kevin [Durant] and Russell [Westbrook]," Monja says. "He would always be told, We don't want you to shine. We just want you to be a part. So now he's in Houston. And he's shining."
"He tells me to stay off Twitter, off Instagram. I bite my tongue ... a lot."
- Monja Willis
And so it is that at this sold-out camp, which charges $199 per camper, the 500 kids over the course of today's two sessions imitate Harden's step-backs and twists into the paint. They take the left hand and stir invisible pots, his signature celebration. They relish playing knockout -- the only playground game centered on foul shooting -- as their camera-toting parents wear FEAR THE BEARD and THE REAL KING JAMES T-shirts on the sidelines.
At one point, Wally invites a handful of campers to attempt rip-through layups against Harden, one-on-one. When one boy, no older than 10, is handed the mic and asked how much cash Harden should give him if he scores, he announces, "I want the Adidas money." (Harden, ever the businessman, agrees to $200.)
When said Adidas money was made official, a company spokesman had specifically called out Harden's "look and his style on and off the court." But just three years ago, The Beard, which germinated at Arizona State and is currently as long as his visible face, was by no means a logical profit center. After he arrived in Houston from Oklahoma City, one player rep even advised Morey that if Harden "had a good agent, he'd be telling him to shave that off, because he won't be able to get any endorsements." Now, of course, it's hard to imagine Harden's lengthening array of sponsors -- Adidas, Foot Locker, New Era, BodyArmor, 2K Games, BBVA, Panini, Taco Bell, KT Tape -- being pleased with so much as a trim.
In an age in which every individual is a brand, reality television is the dominant genre and "social media strategist" is a job with influence, sheer visibility is currency. And while the James Harden boom aligns with his performance, it also tracks his rise as a one-man meme factory, a case study in how to efficiently leverage the contemporary rules of basketball and promotion. "He's brilliant," one marketer for a rival sneaker company says.
You want to go from obscure to unforgettable? Grow the most famous beard in sports history. You want streams of viral content? Be someone whom GQ dubbed the NBA's "most eclectic dresser," the guy who answers my question about the aesthetic of his forthcoming Adidas sneaker line with another question: "When was the last time you've seen anything normal or standard from me?"
As with Harden's on-court critics, the reaction to his mushrooming fame has been far from uniformly positive. Consider the Rockets-Mavericks series in April, when Harden, wearing a long T-shirt underneath a different, shorter T-shirt, sparked a Charles Barkley screed against, yes, men wearing skirts. But rest assured: There is some kind of reaction. Capitalism too can be a game.
"When you're debated every single day, and you're talked about," says Harden, "I think it's a good thing. When people forget about you? That's when you should be worried." Few know this better than the woman he's seeing now.
---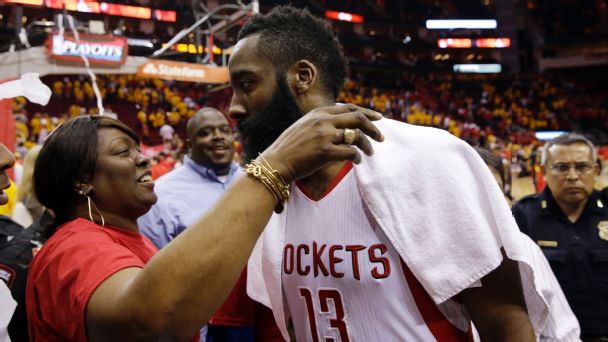 WHEN I SEE Harden next, on a Monday in September, he's rolling through his offseason home in Calabasas, 30 miles from Hollywood, atop one of those two-wheel self-balancing scooters that every person with a million followers on Instagram seems to possess. Over the month since his basketball camp, he has made headlines for his 26th birthday party, which involved a yacht, an all-white dress code, militaristic fireworks and Harden photo-bombing a sleeping Kanye West and Kris Jenner. TMZ has extensively covered his persistent wearing of Nikes out in public, given the Adidas deal. (Harden's Nike contract ran through Sept. 30.) Cameras just tracked him jetting to Shanghai, Khloe in tow, as an ambassador for the NBA.
He is rich enough to have a money-counting machine atop a chair in his dining room here. He is blessed enough to have a hypnotically sparkling one-piece version of his jersey worn by Beyonce at a concert. And yet the most excited I have ever seen him is right now, when he sees the Chipotle bar ESPN has set up for a photo shoot. "Sheesh!" a grinning Harden says repeatedly, rolling rings around the burrito bowl ingredients on his kitchen island. "Chipotle in my house! Who's responsible for this?!"
There is a very Blank Check vibe to this Mediterranean-style five-bedroom, as if a preternaturally clever kid has been deeded someone else's fortune. Harden rented it from a man who owns -- as the wood-paneled home office reveals -- a Doctor of the Year plaque. It sits on a 25,000-square-foot lot with arresting, panoramic views of the low clouds topping the Santa Monica Mountains. There's a massive pool and custom movie theater with leather recliners. A tree over the entryway drops black olives that visitors squish underfoot. Not much in the villa is his, save the Xbox playing an early copy of FIFA 16 -- Harden says "Cookies" after every stolen ball -- and the half a dozen friends gathered around it in the living room.
But for Harden, who rents a home in a different Southern California neighborhood every offseason, scouting out prospective purchases, this manse does signal a certain station. The sleepy Calabasas area is best known for having housed Justin Bieber, Drake, The Rock, Will Smith, Jaden Smith, Willow Smith, Jada Pinkett Smith, Miley Cyrus, Katie Holmes, Suri Cruise, Jennifer Lopez, Britney Spears, several of Michael Jackson's family members, Kanye West and, yes, the entire Kardashian bloodline, among other overheated engines of the tabloid industrial complex. Calabasas qualifies as the epicenter of modern American celebrity, for better and for worse. Compton, out beyond the gates of this subdivision, could not seem further away.
So as Harden gets his mohawk cleaned up by his barber and then dons a high-fashion outfit (red Raf Simons shirt, tan Del Toro shoes, black Balmain jeans), it is impossible to not wonder: How much of all this is artifice? How much of this booming business, this profitable vanity, is authentically him?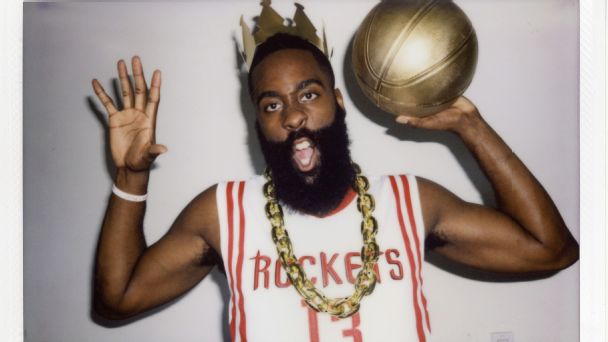 In conversation, Harden seems to anticipate such skepticism. He tells me that he's "a guy that's fun-loving, caring and just free." He talks about building his brand by "just being different" but adds, rather conspicuously, that he is also "not really trying to be different. Because this is just how I am."
It's hard to find evidence to the contrary. When I ask the people around him about his self-made language, it becomes clear that the words genuinely confuse both Rockets PR and his own publicist. And when I ask his agent, Rob Pelinka, about the economic brilliance of The Beard, he says, "It wasn't, 'Let's think of what the world wants and make you become that.' It was, 'If this is your swag, if this is what makes you feel like you can become Superman, we're not going to tell you not to wear the red tights with the blue with the "S" on the chest.'"
All of which is to say that however a 26-year-old commits to building his own confidence can be authentic in its artifice. Because what the most famous beard in sports history has always masked is how very young Harden remains underneath.
---
HE SPEAKS A made-up language with the same four buddies he's known since middle school. He is extremely pumped about the Chipotle in a house with a silver Phantom in the driveway. He's been using an Invisalign retainer to straighten his top teeth all summer. The cellphone the guard at the gate calls when visitors need to reach the villa belongs to -- who else -- his mom.
So asking if Harden strategically constructed his image is not unlike asking if he plans to draw fouls on the court. An admission seems irrelevant given the choices he winds up making, which declare exactly what one ambitious young benchwarmer will do to become a blockbuster leading man. He will master and manipulate games to fulfill a prophecy and make good on an IOU. He will turn the Internet, the place where the world goes to trash him, into the place that makes him a star.
On the morning after the photo shoot, I see that TMZ has just uploaded a video of Harden leaving a Hollywood club and entering an SUV with those same FIFA-playing friends, some hours after we'd parted ways. The headline: "James Harden -- Awesome Drunken Pledge To Make Adidas Amazing." Prodded by waiting paparazzi, who ask if his new sponsor is mad about his wearing Nikes, Harden alternates between his private language and quotes like "200 million!" and "Nike is cool, but Adidas is gonna be amazing" before abruptly yelling "Swag!" and rolling up the window.
Who knows how many shoes this 26-year-old will end up selling. But when it comes to celebrity in America, this brand of shameless aspiration, of lucrative nonsense, is the very thing Harden claims he isn't: normal and standard in 2015. Monetizing attention, as anyone on reality television or social media can attest, might be the most efficient way to make it from Compton to Calabasas.
Look around. The question of who truly wants to be like James Harden raises another, more relevant question: At this point, how many people truly don't?
Torre is a senior writer for ESPN The Magazine and ESPN.com based in Brooklyn, NY. He can frequently be seen on Around The Horn and The Sports Reporters, among other TV programs. Previously, he worked at Sports Illustrated.