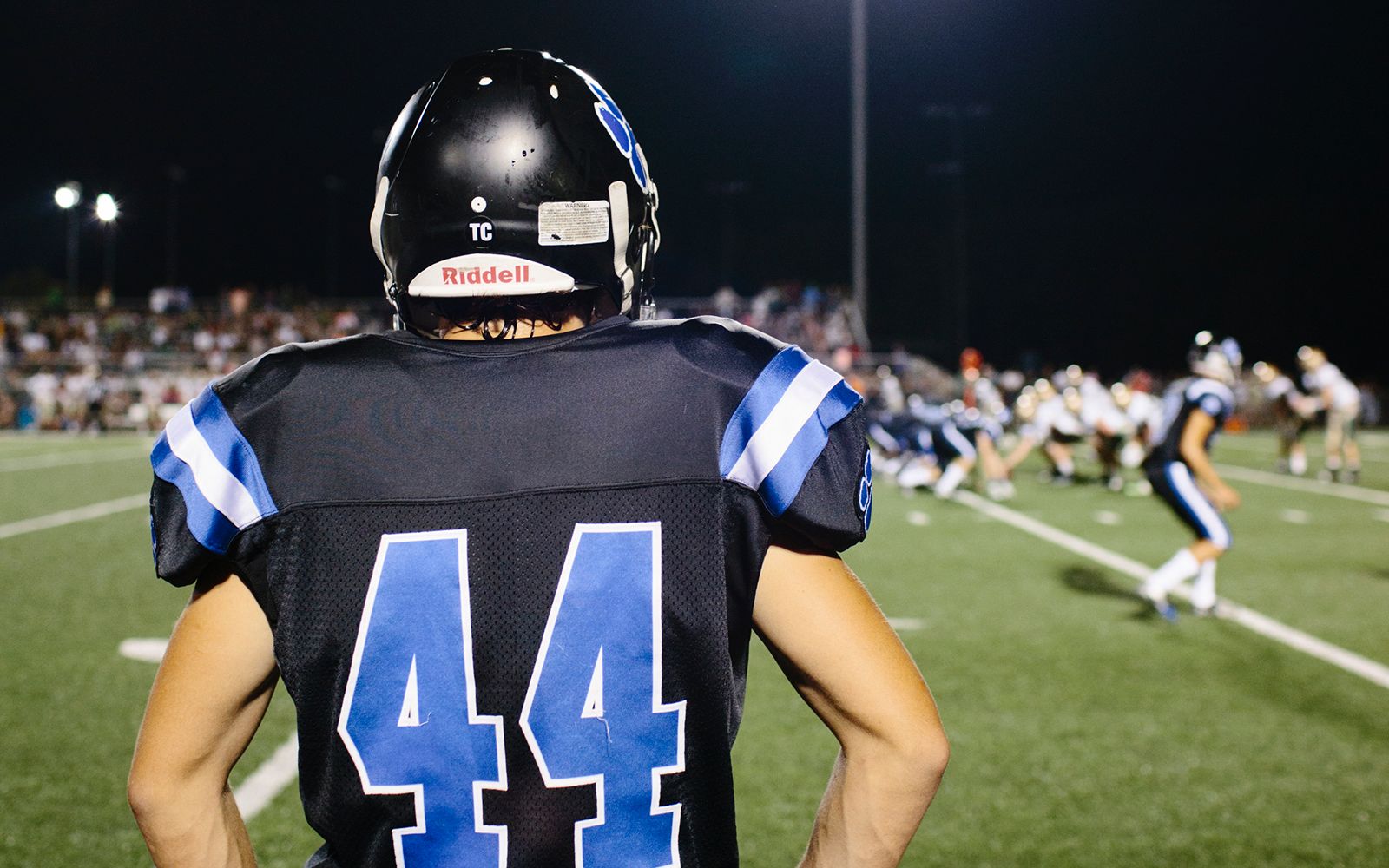 "Why Him, Why Me?"
Two tragic collisions on the football field, separated by 26 years, have brought together a high school linebacker and a former college running back in search of the answer to a life-altering question.
F
or the first few seconds after the collision, the game continues as if nothing has gone wrong. The crowd cheers in approval. A coach screams: "Great block!" Cody Seward, 17, who delivered the hit, stands and chases the play a few yards downfield. Only after the punt return ends does Cody turn back and notice Tyrell Cameron, 16, still lying there behind him. "Come on. Get up," Cody says, but Tyrell doesn't respond, and he doesn't move.
Soon a trainer sprints toward the players, followed by a few coaches, Tyrell's aunt and a chaplain, who huddles the group together in prayer. "Please, Lord, let this boy wake up," the pastor says. An ambulance races onto the field, its wheels digging ruts into the grass, and one paramedic cuts off Tyrell's jersey while another administers CPR. "Go, go, go!" a paramedic shouts. They strap Tyrell to a gurney and speed to the hospital. Cody walks back to the visitors sideline with 9 minutes and 11 seconds left in a Louisiana high school football game he no longer wants to play.
"How bad is it?" Cody asks his coach, Jason Thompson. "Does he have a concussion? Could he be paralyzed?"
"We just don't know yet," Thompson says.
"But it can't be that bad, right?" Cody asks, because nothing about the play was particularly violent or memorable. It had been a routine block made away from the ball on a punt return. Cody is only 5-foot-5 and 145 pounds, a diminutive linebacker who had never intentionally hurt anyone: He had spent most of his childhood acting in community plays and musicals before arriving at Sterlington High School, which to his disappointment didn't offer a theater program. What it did offer was a 4,000-seat stadium with new artificial turf, a state-of-the-art weight room and a football team that serves as the cultural heart of a rural community in northern Louisiana. So Cody went out for the team, set a state record in an offseason weightlifting competition and earned his way into the defensive rotation. "All heart and hustle," the coaches say of him, and now on the sideline of the field at Franklin Parish High, Cody wonders whether maybe his hustle had been the problem. Why hadn't he let Tyrell stumble by him? Couldn't he have relaxed on an inconsequential block in a meaningless fourth quarter? Why had he leaned into the hit with his shoulder?
The stadium remains eerily quiet for the rest of the game. Tyrell's relatives leave to follow the ambulance to the hospital, and one of them calls Tyrell's mother, who starts racing home from a family funeral in Texas. When the clock runs out, the stands are almost empty. Thompson gathers his Sterlington players onto the field. On this early-September evening, they've beaten Franklin Parish, a bigger school, 14-0. "I'm so proud of you for this win," he says, launching into a standard postgame speech, but then someone whispers into his ear. The person has just received word from one of the medics. Tyrell had broken his neck -- and never regained consciousness. Thompson turns back to face his team. "I don't know how to tell you guys this, but he didn't make it," he says. "He's dead."
Cody, kneeling at the edge of the team's postgame circle, stands, screams and starts to run. He throws off his helmet. His hands rip at his jersey. "I killed him. I killed him," he shouts. The team pastor chases him down and wraps him in a hug. An assistant coach forces him back onto his knees. "This isn't your fault," the pastor says, but Cody covers his ears and shouts into the turf. "I killed him," he repeats again and again, until his teammates finally lead him off the field and into the parking lot. The rest of the players climb onto the school bus, but Cody gets into the front seat of his mother's car. "What can I say to make this OK?" she asks him, and he tells her not to say anything. They ride 65 miles in the darkness, their silence interrupted only by the beeping of Cody's cellphone.
"It wasn't your fault," the opposing team's quarterback texts.
"We will get you help, some therapy, some counseling," a mentor messages.
"Psalm 56-4: When I am afraid, I will put my trust in you," his youth pastor writes.
Cody turns off his phone, retreats into his house and takes melatonin to help him sleep. He lies on the couch until 3 a.m., replaying the collision in his mind, then finally drifts off until well after noon. A parade of visitors comes by, each one offering help in his or her own way. Cody's mother takes him to church. His friends take him out for barbecue. Thompson, one of the best defensive coaches in the state, comes over and says he has watched the videotape and studied the collision from every angle. Cody had delivered a textbook hit as his team set up a wedge block for a punt return. Tyrell had been stumbling. He had seen Cody only at the last moment. He had dipped his head at impact. "There's no reason," Thompson says. "It was just a fluke thing."
"Please," Cody tells his coach. "I just don't want to talk about it."
He stays home from practice Saturday, skips it again Sunday, and by Monday, Thompson's concern for Cody has turned to fear. On social media, there are unsubstantiated rumors that Cody is depressed, even suicidal. Thompson calls a meeting with the team's unofficial pastor, Chad Merrell, to seek advice.
"Doesn't Cody need to talk to somebody about all of this?" Thompson asks. "I don't want to pretend to know what he's feeling right now, because I don't."
"There's probably one person in the world who really understands," Merrell says, remembering another football collision, from a college game 26 years before. That hit also resulted in a catastrophic neck injury. It also left one player dead and another despondent -- blaming football, blaming himself.
"I think I know who can help," Merrell says.
---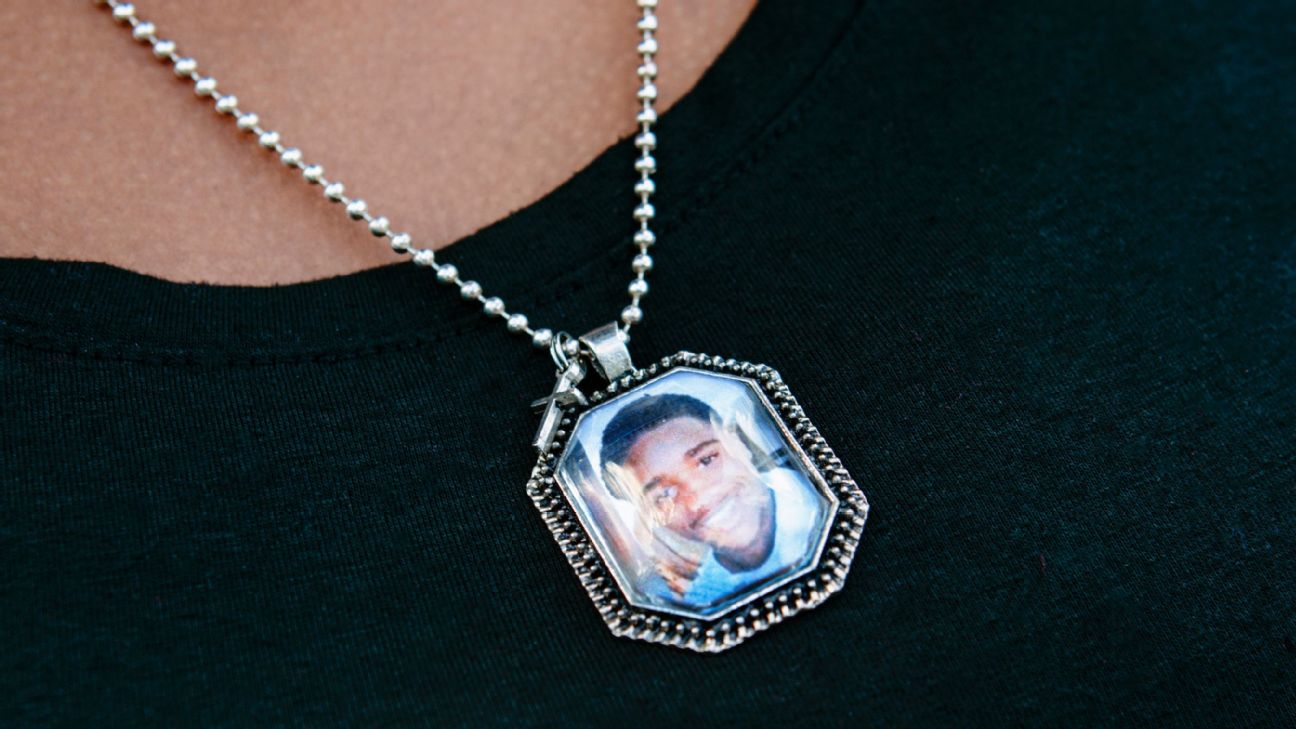 BRAD GAINES RECEIVES a call Tuesday morning on his cellphone, which has as its screen saver a picture from that football game long ago. Every time Gaines' phone rings, every time he checks his email, there it is staring back at him -- an iconic image from the worst moment of his life, 26 years ago. In the picture, Chucky Mullins' neck compresses awkwardly against Gaines' back. Mullins' arms begin to sag and his head starts to droop. The memory of that hit always lurks in Gaines' mind, sneaking up on him a dozen times each day. "You can't ever run from it," he explains, so it feels easier to look down at his cellphone and be confronted by a picture of it.
"Hello," Gaines says now, and on the other end of the line, Jason Thompson introduces himself. Gaines has gotten several calls and emails over the past decades from strangers in times of trauma, and the frequency has increased in recent years. Seven high school players have died as a direct result of injuries in 2015 alone, and now Thompson tells Gaines about one of those: another fluke, another dead player and another survivor who seems lost.
"I know it's a lot to ask, but I thought maybe you could call Cody," Thompson says.
Gaines thinks it over for a few seconds. His schedule is already packed. He is in the middle of moving into a new home. He has a health care business, a wife and four children in Nashville.
"Why don't I just come down there?" Gaines says.
A few days later, he leaves in the evening to drive 460 miles and meet a 17-year-old stranger in Sterlington, Louisiana. He has always liked driving at night, when the roads are quiet and he can hear himself think. "My therapy time," he calls it, and he finds himself returning to the same memories. "It's like I'm always trying to fit the pieces of a puzzle together in my head. Why him? Why me? Why couldn't we both walk away? Why were we chosen?"
He drives through fields of white cotton and rolling hills dotted with poplars and elms until he comes into Oxford, Mississippi, its hulking white football stadium so familiar to him from that October Saturday in 1989. It had been homecoming in Oxford, and Gaines and his Vanderbilt teammates emerged out of the locker room to a frenzied pregame crowd that dumped cups of Coke over the opposing players' heads. "Let's shove it down their throats," the Vanderbilt coach had instructed, and Gaines and his teammates marched down the field on the first drive. Gaines, a wingback, went out on a short passing route on a third-and-goal and made the catch near the end zone just in front of Mullins. The defensive back leaped into the air and dipped his head, planting his helmet in the middle of Gaines' back and making the tackle. Mullins collapsed to the ground, arms and legs flailing in all directions. He couldn't feel his hands or fingers. Four of his vertebrae were broken. He was airlifted to a hospital in Memphis while Gaines went back to his own sideline, so nauseated he thought he might throw up.
"Why him? Why me? Why couldn't we both walk away? Why were we chosen?"
- Brad Gaines
Two hundred and forty miles away from Sterlington now. Gaines continues out of Oxford and drives into Clarksdale, birthplace of the blues, with its faded brick juke joints. "Some places get stuck in time," he says, tucking a pinch of chewing tobacco into his mouth.
He had gone to visit Mullins in the hospital a few weeks after the collision, even though Gaines' coach warned him it was a bad idea. "I have to know what he thinks of me," Gaines told his coach then, so he drove to Memphis on his Christmas break and took the elevator to the intensive care unit on the fourth floor. He was wearing his Vanderbilt letter jacket, and the hallway was filled with Ole Miss fans who had come to Memphis for a bowl game. "Why wouldn't they blame me for being the reason he's in here?" Gaines wondered. "Couldn't I have run a different route? Couldn't I have ducked when he hit me?" He walked into the hospital room and saw Mullins lying flat on his back, his body withered to 125 pounds and his head bolted in place so all he could see was the ceiling. Gaines considered backing out of the room before Mullins saw him but instead stepped up to the bed. "I'm so sorry for all of it," he said, introducing himself. Mullins motioned for Gaines to lean toward him. A surgery had taken away Mullins' voice. "It's not your fault," he whispered.
They became friends in the months after that, talking on the phone every few days and often discussing football. Mullins asked Ole Miss to set up a special phone line that would broadcast live sounds from the team's practice field. That way he could dial in each afternoon and hear the familiar soundtrack of his life: whistles, shouts and collisions. He missed the game in the same way he missed the person he had been.
Gaines, meanwhile, had started skipping his practices, avoiding the sport that had defined so much of his worldview. His dad had played in college. His uncle had won a Super Bowl with the Steelers. Two of his older brothers had already made it to the NFL, and that's what Gaines seemed destined for too. He finished out the season after Mullins' injury with "no fire for the game, no passion, just faking it," he said, yet still managed to lead the SEC in receptions. Then, early the next year, he left the team. Every play felt to him like a potential catastrophe. Every defender reminded him of Mullins. He stopped attending any games and rarely spoke to his family about the hit. "When I thought about football, all I could think about was what was happening with Chucky," Gaines says. The screws in his head. Those ghostly arms. The get-well bouquets wilting away in his hospital room. The smell of antiseptic. And then, in spring 1991, the call Gaines received from Mullins' guardian. "It was a blood clot. He's on life support. Come fast."
One hundred miles left to Sterlington, and Gaines presses down against the accelerator on an empty two-lane road, trees blurring into the horizon, picking up speed.
He'd driven to the hospital to stand vigil for Mullins during those last three days, after doctors could find no evidence of brain activity. He had stayed up with him into the night, then slept in his old Buick in the hospital parking lot. On the last day, he had watched as the nurses removed the tubes, screws, heart monitors and breathing machines and then propped Mullins into a reclined position, placing a football in the nook of his limp arm so he could take his final breaths. Gaines had stayed in the room until the official pronouncement, then sprinted down the hallway, out of the hospital, off to a distant helipad, down into the woods and out onto a country road. He needed air; he needed space. And 24 years later, he was searching for it still.
Sixty miles away now, well after midnight, and his car is alone on the road. He had made so many lonely drives like this, including dozens to Russellville, Alabama, to visit Mullins' grave three times each year. He always goes on Christmas Day, on the anniversary of the hit and on the anniversary of Mullins' death to weed the ground and polish the gravestone. It began as a ritual of obligation, or even guilt, but for the past few years he has gone for his own reasons. His wife can't quite understand it. His children never make the trip with him. "It's almost a relief to be there," Gaines says, because he thinks about Mullins at least 20 times each day. "I'm carrying this around all the time, and finally I'm not alone with it. I'm in a place where the gravity is totally understood."
He arrives in Sterlington a few minutes before 2 a.m., checks into a roadside motel and sends a text to Cody.
"Hey bud, see you in the morning. I might get more out of this than you do."
---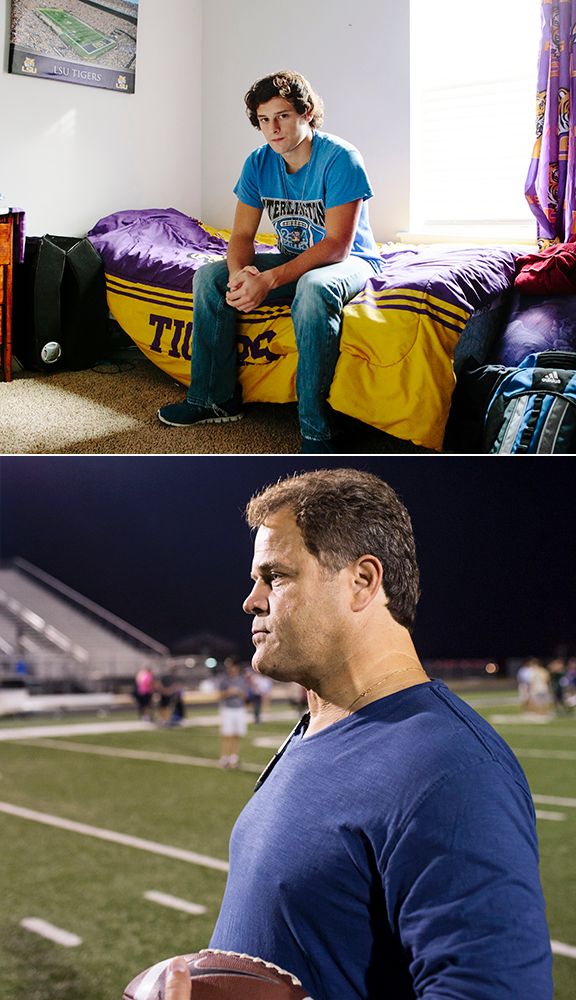 THEY MEET AT the Sterlington football field and go out for lunch. "Thanks for coming, sir," Cody says. He seems nervous, and now Gaines feels anxious too. If he had spent 26 years trying to understand his own collision, how could he help Cody make sense of his in a few short hours? Rather than offer advice, he decides to listen. They talk about the fried chicken. They discuss Eminem. Cody brings up his girlfriend, whom he met at a local haunted house after a football game.
"Girls and football," Gaines says, and they both laugh.
It has been a little more than a week since the collision, and Cody has tentatively returned to the Sterlington football team, unsure what else to do. "I have to at least try it," he says. His friends are connected to the team, and so is his routine and his identity, and all of that just seems like more to lose if he quits playing. He had spent his first practice back in the coach's office, sitting on a couch and watching video of the hit. What everyone had told him seemed true: It was a clean block, unremarkable, a fluke. "I know I didn't do anything wrong," he says, and so he has gone back to being a linebacker and back to his place on the punt return team, even though the new anxiousness he feels sometimes manifests in chills and sweats. He can still deliver a hit. He can still make his reads on defense. "The old Cody," coaches have begun saying of him, but the game feels different.
He has been taught at Sterlington to play football with joy and controlled adrenaline but also with solemnity. He and his teammates lift weights in the offseason under the picture of a gigantic panther, its blue eyes staring down at them: "The eyes of the past, present and future are upon you," it reads. They walk into a field house where trainers have posted a motivational quote on the wall: "The measure of a man is the will to fight, and fight and then fight some more, because surrender is death, and death is for the weak." They stand together to listen to pregame prayers over the stadium loudspeaker: "Lord, protect these athletes and make them strong for their battle." And Cody has believed all of those things -- has hit the weights harder than any of his teammates, cranked music into his ears before the games, bit down into his mouthguard at the first whistle and then lost himself in the delusion of the game, as the best players always do.
And yet: "Now it's kind of like I'm playing but not feeling all the things I used to feel," Cody tells Gaines. "It's still good. It's OK. But it isn't the same."
"I get that," Gaines says, because after he left the team at Vanderbilt he avoided even watching football for seven or eight years.
"I always feel like I'm going to wake up feeling better and not think about it, but it's kind of always there," Cody says.
"It takes time," Gaines says.
"When does it start to go back to feeling normal?" Cody asks.
"I don't know," Gaines says, even though he does in fact know. There is no going back. He has come to think about his life in two chapters, a before and after, and the dividing line is the hit. Mullins' former teammates became some of Gaines' closest friends. He chose health care for his career and named his first business after Mullins' jersey number, 38; he still hopes to open a medical center for athletes with head and neck trauma. His own son, 11, begged to play football, and Gaines spent months debating the conflicting influences in his life before allowing it. "You have to understand the rewards and the risks," Gaines told his son, and to prove he did, his boy chose to wear No. 38.
But why should Cody know any of those things now, at 17? He still drives a truck his father had given to him, and it smells like his girlfriend's perfume. He calls his teachers "sir" and "ma'am." He is a junior who has barely begun to think about where he wants to go to college, or what he might study. In the months before the collision, his only medical concern came every few weeks when he visited the team trainer to ask for extra Tylenol after his braces were tightened.
"This might be something you think about for a long time," Gaines says, simply. "You have great support and a lot of people who care about you. There's no one right way to go through this. You can decide what you need. You can decide how to carry this."
---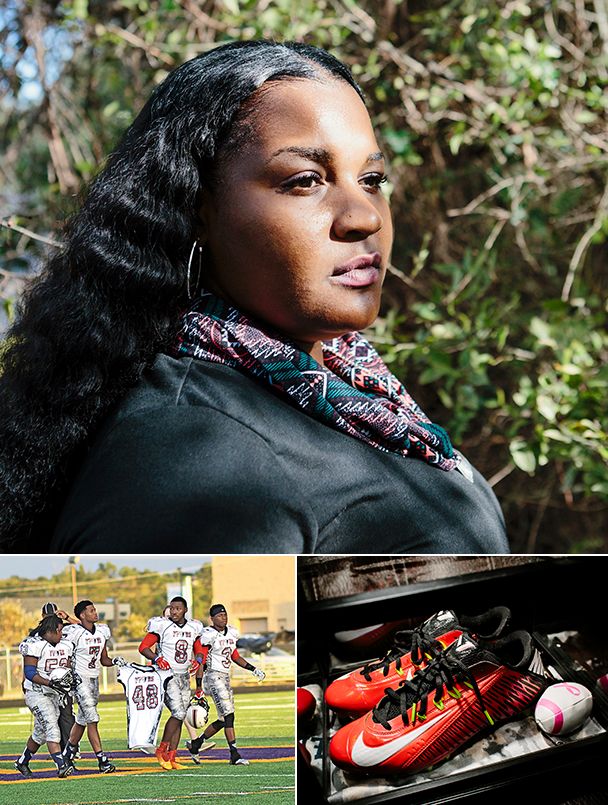 WHAT SHAMIKKA CAMERON needs in the days after her son's death is to speak with Cody. "I'd like to talk to the one who made the hit," she writes, in a message to the Sterlington football team's Facebook page, but at first Cody tells his coaches he isn't ready for that conversation. He doesn't know what to tell her. He has no idea what she might say to him.
"Whenever he's ready to talk, Mikka's ready," Shamikka says in another message, then she waits for Cody to call.
Tyrell had been the oldest of her three children, with big eyes, a goofy smile and an infectious love of football. "Show me something!" he had yelled at his teammates on the sideline, so often that Franklin Parish had turned that phrase into its motto. Tyrell had been playing since he was 10, at linebacker and receiver, and had hopes of making it at Alabama or Ohio State, the two teams he loved to watch each weekend. "All he knew about his future was that it was going to include a lot of football," Shamikka says, and Tyrell had told friends to expect a breakout sophomore year. A week before the season started, he ordered a pair of cleats online with his mother's credit card for $143, the most expensive shoes he'd ever bought. "Boy, that's a crazy price!" Shamikka said, so Tyrell had promised to wear the cleats for at least two years.
On the day of the season opener against Sterlington, Shamikka and her family had traveled to a cousin's funeral in Texas. Tyrell stayed behind in Louisiana to play, and he inked his cousin's name next to the letters "R.I.P." on his new shoes in the moments before kickoff. Then, a few hours later, Shamikka was eating fast food when she received a series of frantic messages from her sister, who was at the game. "He's hurt," she said. And then, a few minutes later: "It's bad, real bad." By the time Shamikka drove four hours back home, the hospital had collected her son's uniform and cleats in a duct-taped box labeled "personal effects." She went straight to the funeral parlor, arriving in the middle of the night, and asked to see Tyrell.
"He was just laying there, looking pretty much how he always did, and that just destroyed me," she says. "I hated myself for not being there when it happened."
Coaches from both teams wondered whom Shamikka might blame: Herself for letting Tyrell play? His teammates for failing to protect him? Paramedics for being unable to save his life? Cody for delivering the hit? Football itself?
"Now it's kind of like I'm playing but not feeling all the things I used to feel."
- Cody Seward
Instead Shamikka went back to the cab of her truck and sobbed, drove home, prayed and then posted a message on her Facebook page: "Let go and forgive. He died playing a game that he loved."
Coaches gave her a DVD of the game, but Shamikka didn't want to watch it. The medical examiner released the autopsy report -- broken neck, internal bleeding -- but she had her own explanation. "It's a God thing, not a football thing," she says. "There's no logic. It just happened. Now it's all about how we respond."
Days later, when three of Tyrell's teammates considered quitting football, she called and told them Tyrell would have wanted them to play. When the Franklin Parish coach asked how he could help Shamikka's kids, her 12-year-old said he wanted a jersey with his brother's number and a guaranteed spot on the team. And when Franklin Parish couldn't decide whether to postpone its next game, scheduled for the week after Tyrell's death, Shamikka insisted that the team play.
"Those kids need to be together, doing what they always did," she says. She knows football is a dangerous sport; she had once watched Tyrell collapse on the field and sprinted out to check on him, fearing the worst, even though it was only a cramp. "It's a serious game," she says. But she also believes that football had given her son close friends, self-confidence and joy. "Getting back to football is the only way these kids are going to get through this," she says.
So on a Thursday night six days after Tyrell's death, she forces herself back into the stands to watch Franklin Parish play again. It will be a month more before she can talk about Tyrell without crying and two months before she feels well enough to return to work, but there she is sitting in the stands. "All these people coming up to me, and inside I just want to scream," she says. She watches as Franklin Parish players walk onto the field standing arm in arm with 50 players from Sterlington, who have come to support them. And then the next night, a Friday, Cody and his Sterlington teammates take the field for their game surrounded by Franklin Parish players, who have come directly from Tyrell's wake.
Tyrell's funeral is on a Saturday, and more than 200 people from Sterlington want to attend. The church is already expecting an overflow crowd, and Thompson, the Sterlington coach, doesn't want to take up seats. He asks Shamikka whether she and her family would greet the Sterlington group for 10 minutes before the funeral. They meet her in a large room at the River of Life Church in Winnsboro, Louisiana, where Tyrell's custom-made casket lies, imprinted with his jersey number. The Sterlington team gives Shamikka a donation check in Tyrell's memory. Then the players come up to her, one by one, to pay their respects.
Somewhere in the back of that line is Cody, nervous, still not quite sure what to say. He introduces himself. He starts to fumble for the right words, telling her how sorry he is, how much he'd been thinking of her, how ...
"Come here," she says, interrupting him, pulling him into a hug. Cody feels surprised, then grateful, then relieved. "It's OK," she says, and that is all she wants to tell him.
---
NEARLY A MONTH later, Cody and his Sterlington teammates host one of their biggest rivals, Ouachita Christian, and Gaines decides he wants to be there. He has been texting Cody and talking with him on the phone, and now he sets out again from Nashville. Another 460 miles, another quiet road, and this time when he reaches Sterlington he sees lines of traffic stretching from the stadium, a mile in every direction. The school parking lot fills with cars, and so does an adjacent field. "Is everybody in Louisiana going to this?" he wonders. He parks at a barbecue restaurant down the block and follows the crowd.
By the time he climbs into the stands, they are already filled with more than 3,500 people. The band plays the national anthem. The student section starts the wave. Sterlington players run out from the field house, rub a panther statue for luck, then sprint through an inflatable tunnel. "Ladies and gentlemen, your undefeated team, the boys in your hearts, the pride of Sterlington, here come your Panthers!" says a voice over the loudspeaker, and the metal bleachers begin to tremble and shake.
Cody runs out in his No. 44 jersey, coincidentally Gaines' old number, and for the next two hours the man traces the boy's path across the field. Gaines spent nearly a decade avoiding football, but eventually the game pulled him back in. "If Chucky didn't resent it, why should I?" he has recently decided, especially since the game had shaped some of the most significant relationships in his life. His family now has season tickets at Vanderbilt, and sometimes he goes with his brothers. They make for a "battered crew," he says. There's Chris, 50, his ankle disfigured from a dozen football-related surgeries; Greg, 57, already receiving permanent disability payments from the NFL after 40 surgeries on his back, knee and shoulders that resulted in an addiction to prescription pain drugs; and then Brad, the youngest brother, with scars of his own. But they still sit together in the stands. They still cheer and lose themselves in the game.
In Sterlington, Gaines is on his feet to watch Cody in a tight second half, banging the bleachers in excitement after a late home-team score and then biting his lip when the win escapes the Panthers on a last-minute interception. "So close," he says. He walks onto the field to see Cody.
"Unbelievable game," Gaines tells him. "I really got caught up in it."
"Yeah, heartbreaker," Cody says, and then his family members and some of his teammates come over too, and for a few minutes they rehash it all.
Once the crowd thins, Gaines asks, "You doing OK with everything?"
"It gets better and better, and then it just kind of stays there," Cody says.
"Yeah, it does," Gaines says.
They hug and make plans to meet the next morning for breakfast, then Cody heads back to the locker room. The stands empty out. The coaches leave the field. But Gaines is still standing on the turf, and nearby two 10-year-old boys start playing catch. "Here, I'll be quarterback," Gaines says, calling for the ball, and he begins throwing passes, huddling the boys together to draw up plays on his hand. The janitorial staff starts cleaning the field. The opposing team boards its bus. "I should really go," Gaines says, and there are so many reasons to walk away: seven high school players dead in the year, Tyrell Cameron among them. Chucky Mullins long before that.
But right now it is just a football and an empty field, and he is throwing 40-yard strikes and his arm feels good. His mind is clear. The game seems simple. The boys run fly patterns into the end zone, and each time they return, Gaines tells them the same thing.
"Let's do another."
Saslow is a senior writer at ESPN the Magazine and a Pulitzer-prize winning staff writer at The Washington Post.