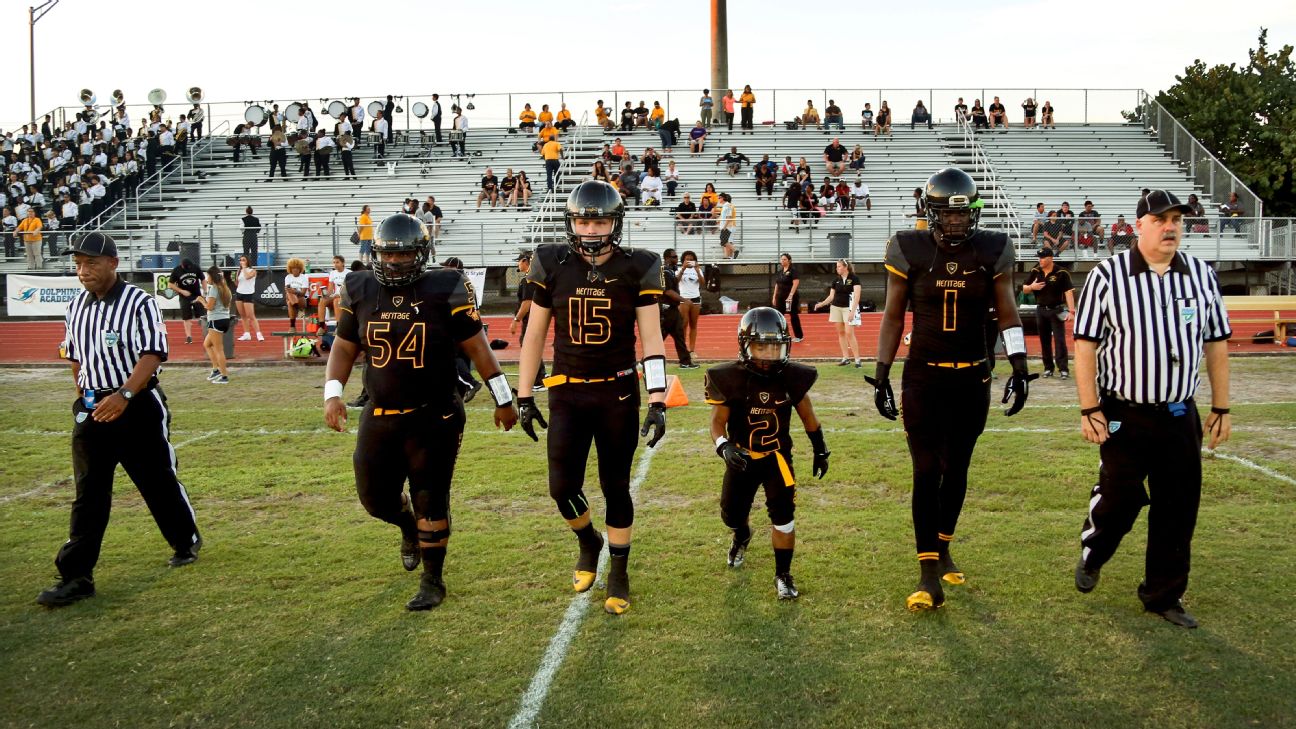 Undersized. Not Short.
At just 4-foot-5, 95 pounds, running back Adam Reed is showing everyone he can play some serious football at Florida's nationally ranked American Heritage High School.
H
e's always played football," says Adam's mother, Lisa Reed. "He started playing flag football at 5 years old, but it was no big deal back then because there was no tackling. He was always a strong and fast kid, but I never realized how good he was. When he said he wanted to continue playing, I said go for it."
The past two years, American Heritage High School in Plantation, Florida, has taken home back-to-back 5A state championships in football. The head coach is a former first-round pick and champion Miami Hurricane, and there are four former NFL players on staff.
It's serious football. And it's not for show.
Fifth-string running back Adam Reed is 4-foot-5 and weighs just 95 pounds, but he too learned that lesson recently after entering a game and missing a block. Coach Mike Rumph pulled him aside and growled.
"If you're going to get in the game, you need to do your job," he said. "This isn't no show."
The next game? Adam went up against -- and tattooed -- his man, a 6-foot-2, 250-pound defensive tackle.
"I have a soft spot in my heart for stuff like that," Rumph laughed while watching a highlight of the play in his office.
"I feel like Coach Rumph understands me more than others," Reed says. "He's always understood how badly I wanted it, and he never doubted me."
Reed is used to that doubt. He was 2 days old when Lisa Reed adopted him. She soon realized that he was not growing at the same rate as other babies, so she shuffled him to various doctors and endocrinologists, desperate to find out why her baby wasn't growing. They tried growth hormones, but his body didn't respond the way the family hoped, so they stopped the medication.
"I'm not short," Reed says before finding the right words. "I'm small. I'm undersized."
None of it has stopped Reed. Last year, doubts crept back into Reed's head when he didn't make the varsity cut, but they were temporary residents of his mind.
"When my friends moved up to varsity and I was still on JV, I got discouraged and felt like I did all that work for nothing," he says. "It just made me work harder so the coaches would have to move me up."
That work ethic stood out and caught the eye of Rumph, always looking for the next grinder.
"I discovered him last summer in the weight room," Rumph says. "He showed me how hard he works. Adam has always been a 10-rep kid, when I ask for 10 reps, he gives me 12. He makes my job easy."
Reed has played in four games this year, carrying the ball five times for 13 yards.
And it wasn't no show.
American Heritage lost its last game of the season to Hallandale High School 27-20 in the regional semifinals and finished with a 9-2 record.
I would love to have him on my coaching staff one day. Who better to coach and teach someone to never give up than someone who's been doing it his whole life?"

Coach Mike Rumph
I feel like I have to do more than most people, and I can't settle for anything less. But I don't feel like I have to prove myself to anyone else."

Adam Reed
When he gets in a game, I go crazy jumping and screaming, and honestly my only thought is get to the end zone."

Lisa Reed
---