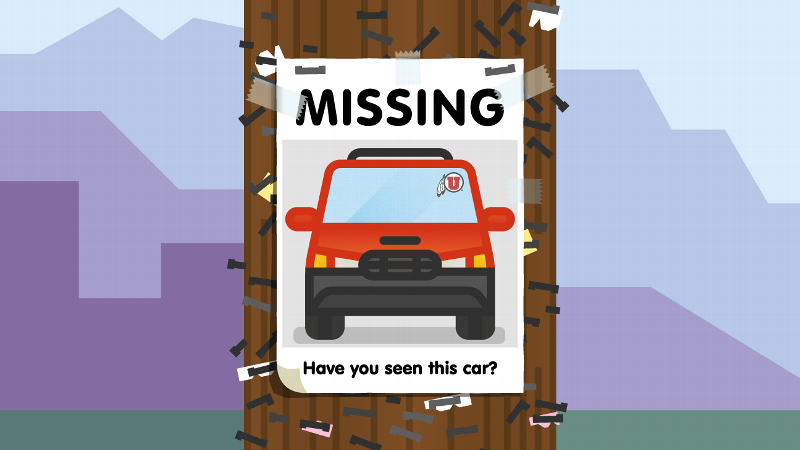 Where's Basil?
When Utah punter Tom Hackett discovered his Subaru Outback, Basil, was stolen, he sent out a worldwide APB. This is the true story of Basil's abduction and the quest to reunite it with its owner, including a terrible misunderstanding along the way.
12/17/2015 |
By CHANTEL JENNINGS
Animation by TITUS SMITH
and JAY HUTTON
Three years ago, Utah punter Tom Hackett bought a beat-up, red, 1999 Subaru Outback from former Utah punter Nick Marsh for $3,000. Since that transaction, Hackett has gone on to become a two-time Ray Guy Award winner and one of college football's most colorful and quotable personalities.
He's the Australian who didn't pick up American football until he arrived at Utah; the quick-witted punter who tweeted about his #DadBod, popularized the hashtag #PuntersArePeopleToo, and refers to a football as bacon; the player who showed up to every media event with a different haircut or mustache design.
Of course this is a player who lovingly named his Subaru Outback "Basil" after one of his favorite characters, portrayed by John Cleese, from the 1970s BBC sitcom "Fawlty Towers."
But this isn't another story of Hackett kicking bacon. This is the story of a man and his car and how they were separated and eventually reunited with the help of Good Samaritans using social media, a Utah lineman, two Utah football employees fueled by good intentions and Starbucks coffee, the Salt Lake City police department, a locksmith, a scooter and a terrible misunderstanding.
'It's Not Here'
Monday, November 9 | 6:30 a.m. MT
Hackett had returned from hanging out a "mate's" house on Sunday evening and parked Basil on the street in front of the house he shares with Utah offensive lineman Isaac Asiata.
Early Monday morning, when Asiata walked out the front door, he didn't see Basil. He called Hackett from the front yard and asked where he parked Basil the night before.
"In front of the house," Hackett said.
"It's not here," Asiata replied.
Hackett, in his bathrobe, came to the front door to check for himself. Asiata was right. Basil was gone. He knew that car theft was rampant in Salt Lake City. Basil had been stolen twice before when Marsh was its owner, so it was far from a surprise to see it gone.
Hackett and Asiata had 30 minutes until they had to attend a team meeting, leaving them no time to form a search party and try and find Basil.
Admittedly, it was a perilous move -- the 315-pound Asiata riding behind Hackett on a scooter not built to carry 500-plus pounds of passenger. But Asiata did not want to risk arriving late to the meeting and crossing Utes coach Kyle Whittingham.
"I don't know what's more dangerous," Asiata said. "Risking that or getting in trouble [for being late] and having to run after practice."
Instead, they jumped on Hackett's other mode of transportation -- an unnamed red scooter -- and headed to Utah's practice facility.
Social Media Search Party
Monday, November 9 | 8:32 a.m. MT
Hackett and Asiata arrived at the meeting on time and unharmed. "I thought I was going to slip off," Asiata said. "I didn't want to hold on to Tom too tight, but I also didn't want to fall off and break something."
After they recounted the tale of their perilous journey and Basil's abduction, Utes backup punter Chris Van Orden had an idea. The Salt Lake City native knew all too well of the city's reputation for car thieves. Three times thieves had come for his car; three times it had been returned.
"Every time my car was taken it came back in pretty good condition," Van Orden said. "I guess we have a 'take-a-car, leave-a-car area.'"
Van Orden suggested enlisting the assistance of Hackett's 5,000-plus Twitter followers to help find Basil by posting the 21st-century equivalent of a "Missing" poster.
If anyone happens to see this red Ferrari (Subaru) please let me know. She went walking last night... pic.twitter.com/gZycDuVh3f

— Tom Hackett (@TomHackett33) November 9, 2015
Well-wishers offered their support and condolences, but it took two hours before the first lead came as to Basil's whereabouts.
Someone reported seeing Basil, now with skis on its hood, near a grocery store called Dan's Market, which is about a mile from where Basil had been abducted.
Hackett alerted the police and went to Dan's Market to locate Basil, but it was to no avail. Plus, the new evidence (skis) did little to shrink the suspect pool in Salt Lake City. It could've been Utes teammate and former USA Ski Team member Andy Phillips.
Just had a reliable source spot Basil (my red Subaru) with ski's on the top rack headed for the slopes. Spotted on Foothill in Dans car park

— Tom Hackett (@TomHackett33) November 9, 2015
No closer to finding Basil, Hackett was left to fend for himself in the Salt Lake City cold with just his two-wheel mode of transportation and a sliver of hope.
A Plea To Basil's Burglar(s)
Monday, November 9 | 7:18 p.m. MT
That evening, the story of Basil's disappearance was picked up by local and national news media. With his characteristic, easy-going temperament, Hackett put forth a brave face as he politely asked the culprit to return Basil in good shape. After all, Hackett said, Basil's check engine light had been on for about six months and Hackett wanted to, eventually, bring it into the shop. Maybe now he would.
"I hope wherever they went, they have a good trip. Just return the car in one piece for me, wouldya?" Hackett told The Salt Lake Tribune.
"Put some gas in it if you can. It's running low. Try not to put too many miles on it and bring it back in one piece," he said to the local Fox affiliate.
Utah punter Tom Hackett is all smiles, despite his car getting stolen, story at 9 on @Utah_Football @UtahCoachWhitt pic.twitter.com/ktPpd0jeFw

— Jeff McAdam (@JeffMcAdamTV) November 10, 2015
It was difficult to live in Salt Lake City during that day and a half and not know that Hackett -- the nation's best punter -- had lost a prized possession.
"I guess that shows how much goes on here in Utah," Hackett said.
A Break In The Case!
Tuesday, November 10 | 1:07 p.m. MT
The following morning, on his way to work, 52-year-old Roger Shelton saw a red 1999 Subaru Outback not far from Dan's Market, where Basil had been spotted the previous day.
"He calls me at about one o'clock," said Roger's son Trevor. "He's like, 'Hey, I think I found Tom Hackett's car. Will you get at him and see what his license plate number is?'"
@TomHackett33 hey, I believe I found your car. Can you Dm me?

— Trevor Shelton (@PICKETFENCE_THE) November 10, 2015
After confirming Basil's license plate number, Roger and Trevor told Hackett they would stand watch over the car until he or the authorities could come pick it up.
Hackett was about to begin practice when he received the call. He asked Whittingham if he could leave and go retrieve Basil.
Whittingham said no -- practice trumped Basil -- but Hackett could ask a few Utah football employees to go pick up the car for him if he liked.
Utah social media coordinator Maddie Hansen and Utah recruiting operations coordinator Gianna Colosimo happened to be headed out on a walk during their lunch break and told Whittingham they could easily head in that direction and recover Basil.
Hackett called the police dispatch to say that the two women would be coming for his lost car.
"They said I was second in line to some stabbings, which was strange coming out of Salt Lake City," Hackett said.
You've Got The Wrong Girl!
Tuesday, November 9 | 3:19 p.m. MT
It was a little less than a 2-mile walk for Hansen and Colosimo from the Spence and Cleone Eccles Football Center to Basil's location and both were thrilled when they found the car that had caused such an uproar in Salt Lake City.
Hey @TomHackett33. With Trevor's help, @GiannaColosimo & I are rescuing your car. #BasilsRescue pic.twitter.com/DV9QW3UKdF

— Maddie Ford Hansen (@Fitclimbergirl) November 10, 2015
Basil was left unlocked so the two got into the car and waited for the police. Basil's ignition still had a piece of metal jammed into it that the thief had used to hot-wire the car. A pack of cigarettes was found on Basil's floor, confirming the smell of smoke, and offering another clue as to who took Basil (although again, not very helpful in reducing the suspect pool).
There were a few other tools left inside the car, and despite having no experience with hot-wiring cars, Hansen and Colosimo tried to get Basil started in order to turn the heat on since it was such a cold day.
Unsurprisingly, they failed. With help taking longer than expected to arrive, Hansen suggested that Colosimo head to the Starbucks in the Foothill Village Shopping Center to grab some coffees so the two could warm up.
Colosimo agreed and left for the drinks while Hansen stayed to guard the car.
Two minutes after Colosimo left, six cop cars (including a K-9 unit) whipped around the corner.
Thrilled that Basil's rescue was finally coming to a close, Hansen waved her hands at the cops. Unfortunately, dispatch hadn't notified the units that Colosimo and Hansen were retrieving Basil on Hackett's behalf.
As a result, Hansen was mistaken by the police for a ski-loving, cigarette-wielding car thief.
"I was so excited I was like, 'Oh my gosh, you guys are here! You brought the cavalry!' And I was so happy and then the main guy that was at the driver's seat pulled his gun," Hansen said. "And I was like, 'No, no, no, you don't understand!' He goes, 'Stop moving and put your hands up!'"
The Salt Lake City police slowly approached Basil and pulled Hansen from the car despite her insistence, while sobbing: "You have the wrong person. I'm saving the car! I'm saving the car!"
Hansen was handcuffed and placed in the back of a squad car.
Not long after, Colosimo -- coffees in hand -- returned to the scene to find her friend apprehended. She, like Hansen, tried to explain that they -- clad in their Utah football gear -- were there on Hackett's behalf. Colosimo got Jeff Rudy, Utah's director of football operations, on the phone with the police officers to confirm their identities and Rudy sent over another university employee to pick up the traumatized Hansen and confused Colosimo.
"It was kind of a s--- show," Hackett later remarked.
"It was the most terrifying 20 minutes of my life," Hansen added.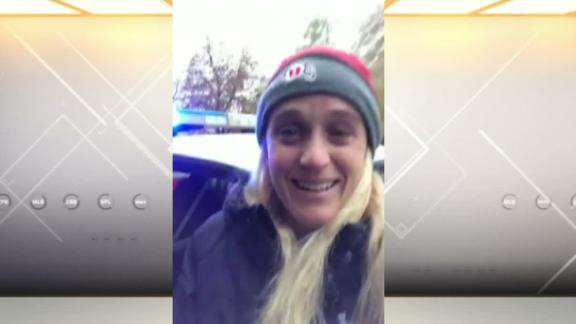 Basil Comes Home
Tuesday, November 10 | 7:49 p.m. MT
After practice, Whittingham had Hansen and Colosimo recount their ordeal to the team, leaving the players to remark that Hansen had gained street cred by being arrested ... for 10 minutes.
And Hackett called a professional locksmith, who was able to extract the metal from Basil's ignition.
Rescuing Tom's car turned into me getting handcuffed. Cops thought I was the thief=. Cleared up now & Tom's car is back thx to social media!

— Maddie Ford Hansen (@Fitclimbergirl) November 11, 2015
A special thanks to @PICKETFENCE_THE, @Fitclimbergirl and @GiannaColosimo. Basil is back with Papa Hack! #findbasil pic.twitter.com/xzzoYMrXc0

— Tom Hackett (@TomHackett33) November 11, 2015
The case was closed -- though the culprit was not apprehended -- and Hackett and Basil were reunited and able to return home.
And maybe -- just maybe -- one of these days Hackett will take Basil into the shop to get that "check engine" light figured out.