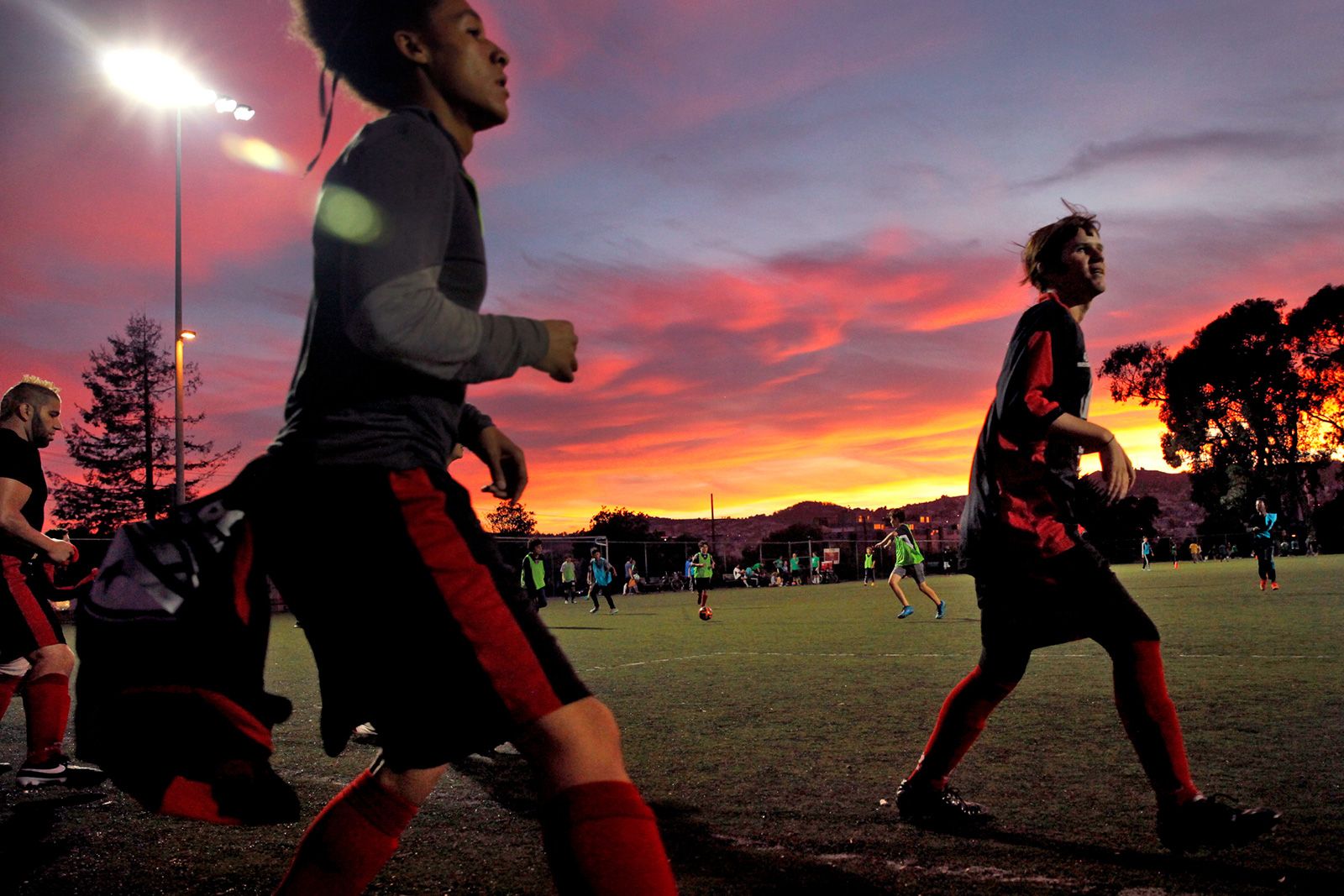 Soccer On The Street
A transgender woman uses sports as a foundation to create community and gain independence.
S
an Francisco is home to Silicon Valley, the Golden Gate Bridge and obscene rental costs. It's also where more than 7,500 people without homes seek shelter and survival.
"In San Francisco, homelessness is a ubiquitous problem," says Benjamin Anderson, program director of Street Soccer USA, which tries to address homelessness through athletics.
The program builds sports teams that reach the least-served communities in 16 U.S. cities and seeks to engage low-income youth and young adults who are homeless by using sports as a way to empower them to lead independent lives.
Isabella Black, 23, is one of Street Soccer USA's participants in San Francisco. She plays in its coed league, which holds practices twice a week and plays games once a week. Her team's name is "Change," and the coaches act as case managers, helping the players reach goals off the field.
Each week, when Black and her teammates take the field for a game or practice, they're not just developing soccer skills, they're focusing on a theme, such as "playing with heart" or "taking the space."
The most important theme, Black says, is showing up.
"This is a soccer program focused on accomplishments off the field," says the organization's CEO and founder, Lawrence Cann. "This is not a homeless soccer program."
Cann, 37, lost his home in a fire when he was 9 years old, and his family found support through a network of friends. The young people Cann works with, however, are not always so lucky. "Kids on the streets are seen as problems and outsiders, but really they're just scared," he says.
Black bounced around until moving to San Francisco in spring 2014. She met Anderson at the Larkin Street Youth Services shelter she frequented before landing housing in a single-room occupancy building in the Castro District, which has a large queer community. "Ben visited every Tuesday and would ask, 'Who wants to play soccer?' " she says.
Not identifying as an athlete, Black was originally hesitant. "I wasn't a great sports person."
She came around and joined her first team as a goalkeeper in May 2014. She then moved to striker, wanting to score goals. In both positions, Black learned an important lesson: "I actually did something and was productive to the team, just like when I was goalie."
"Soccer is teaching me to be flexible, to help others as well as myself," Black adds.
This photo project was supported in part by TheDocumentaryProjectFund and by the journalism nonprofit Economic Hardship Reporting Project.
ESPN provides support to Street Soccer USA.
Successes that they've achieved are successes they've earned."

Rob Cann, Chief Operating Officer
Sports is, by and large, a pay-to-play industry. We're creating something accessible."

Lawrence Cann, Founder and CEO
We just won our first championship as a team. Not my first championship, but our first championship, which is really nice to say."

Isabella Black
---