81
The number is as synonymous with Kobe Bryant's career as 8 or 24.
Bryant's two decades in the NBA have been highlighted by five championships, seven Finals appearances, 15 postseason trips and too many individual awards and honors to mention. But for many, a regular-season game against the Toronto Raptors 10 years ago remains the high-water mark for one of the game's greatest players.
On Jan. 22, 2006, Bryant scored 81 points in the Los Angeles Lakers' 122-104 victory over the Raptors. Wilt Chamberlain, with his 100-point performance for the Philadelphia Warriors in 1962, is the only player to score more in a single NBA game.
The significance of the achievement isn't lost on Bryant as he traverses his 20th and final NBA season. When he wrote a letter to fans this past November announcing his retirement, the photo behind the text was of him walking off the court after scoring 81 points -- his right arm stretched high with his index finger pointing to the sky. When he introduced the "Channel the Villain/Unleash the Hero" slogan for his final season with an online video, the opening scene featured him scoring his 81st point at the free throw line.
"It's really a testament to the power of imagination, honestly," Bryant told ESPN.com earlier this month. "There's a lot of players who come up now who don't think 80 points is possible. You think 50, and if you're really hot -- 60. I never had that limit. Ever. I never, ever thought that way. I always thought 80 was possible. I thought 90 was possible. I thought 100 was possible. Always. I think that game is a testament to what happens when you put no ceiling to what you're capable of doing."
It's with that ambitious mindset that Bryant put on one of the most impressive individual displays in NBA history. This is the story of the game in which Bryant made 81 possible, as seen through the eyes of those who were a part of it.
---
PART I: 'AN OPPORTUNITY FOR HIM TO BLOSSOM'
The Lakers made the playoffs in each of Bryant's first eight seasons. After they lost the 2004 NBA Finals, coach Phil Jackson left in a messy divorce and star center Shaquille O'Neal was jettisoned to the Miami Heat. The next season, Rudy Tomjanovich resigned as coach after 43 games for health reasons, and the Lakers missed the postseason for just the second time since 1976. After leaving Los Angeles, Jackson had written a book in which he characterized Bryant as "uncoachable." Still, he came back after a year away at the behest of Lakers executive Jeanie Buss, whom Jackson had been dating since 1999.
Kobe Bryant, Lakers guard, 1996-present: He [Jackson] is such a basketball genius in terms of the details of the game, the little nuances of the game and the rhythm of the game. So the game with him gets played at a much higher level than I think people understand. Players don't understand it until they experience it and play under his tutelage and [assistant coach] Tex Winter. I tried to play at that highest level with him.
Brian Shaw, Lakers assistant coach, 2005-11: The stuff Phil wrote in the book was how he felt, and some of the stuff Phil wrote in the book was how Kobe was. I think Kobe felt there was a violation of trust, and when they sat down, Phil basically said, "Can you move past it?" And Kobe said, "Yeah." From that point on, there really weren't any issues.
Jeanie Buss, Lakers executive vice president of business operations, 1999-2013; current Lakers president: You have to remember -- that season for me was all about Phil coming back. Given what had happened with Phil writing his book, I just wanted to make sure Kobe and Phil were on the same page and they were doing well. It seemed they were on the page and on the same path.
Mitch Kupchak, Lakers general manager, 1994-present: Kobe was more than willing to have Phil back on board, and he worked incredibly hard preparing for that season. We had traded Shaquille the previous year, and Kobe had a chance to spread his wings and really just find out in his mind, and our minds, too, where historically he was going to end up. He could have been happy averaging 22 points per game, but this was an opportunity for him to blossom. He wanted to show the world how great he was.
Laron Profit, Lakers guard, 2005-06; current Orlando Magic assistant coach: With Phil coming back that season, I think Kobe felt like he had something to prove. When I got traded to the Lakers from Washington that summer, I was on East Coast time, and I show up to the facility at 7 a.m. and no one is there except for Kobe, who has been there since 6 a.m. after running on the track at 5 a.m. Kobe wasn't just a great offensive player; he was a great defensive player that season. He was scoring 40 and guarding guys like Tracy McGrady, Vince Carter, Gilbert Arenas and Paul Pierce every night. He would tell me, "I'm going to show you why there's a clear divide between me and everyone else, because I'm going to do it on both ends."
Rasheed Hazzard, Lakers scout, 2006-11; current New York Knicks assistant coach: I got a phone call from a blocked number the day after Labor Day. It's 11 p.m., and it's Kobe, and he wanted to know if I would help him on the court at 5:30 a.m. I told him I'll be there, and I show up at 5:20 a.m. thinking I'm early, and he's already in a full sweat. He had hired a guy just to stretch him that year and to show him different ways to do active warm-ups, so he had already done that and lifted weights. He's in a full sweat 10 minutes before we're supposed to meet and ready to go. That's when I realized 5:30 a.m. meant 4:45 a.m. with Kobe. When we were done, he went and had a track workout. When he was done at the track, he had a core workout, and then I met him that night at UC Irvine to get some more shots in. I've never seen anyone work like that. His hunger to be the best is unmatched.
Ronny Turiaf, Lakers forward, 2005-08: That season, he was on a mission. He was always in the facility by himself, working out in the gym or practicing on the court. He was always the first one to show up. I don't know when he slept. He would call me at 1 or 2 in the morning to go over something and then be at the track by 5 a.m. He was dedicated to being the best player in the world.
Kobe Bryant: It sounds crazy to say -- at least I think most people would find it to be crazy -- but scoring 81 points wasn't surprising to me. I hope people don't take that as being arrogant or whatever the case may be, but you have to understand at my age at that time [27] and being in my physical prime, it wasn't surprising. Working all summer the way that I did with the track work and the conditioning work and making a thousand jumpers a day, it wasn't surprising.
---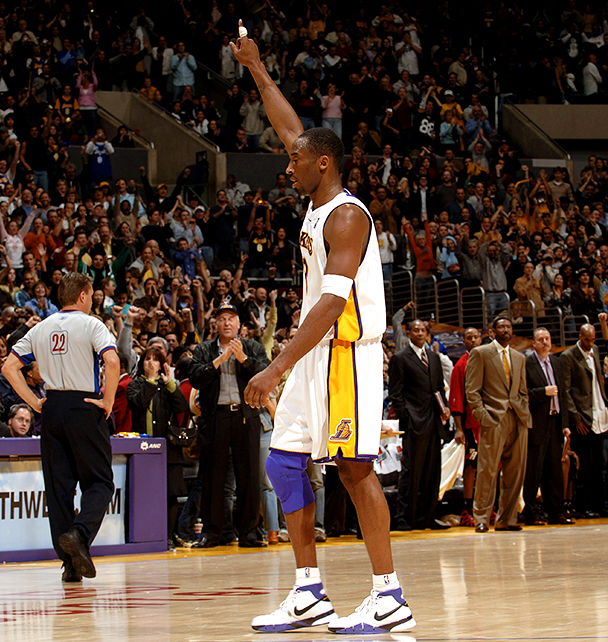 PART II: 'I'LL DO IT WHEN WE REALLY NEED IT'
A month before playing Toronto, Bryant outscored the Dallas Mavericks by himself through three quarters 62-61 (the Lakers' lead was 95-61). Bryant played only 33 minutes that night and sat out the entire fourth quarter of the Lakers' blowout win over the eventual Western Conference champions. When he was asked after the game how many points he would have finished with had he played the fourth quarter, Bryant shrugged his shoulders. "Probably 80," he said. "I was in a really, really good groove."
Brian Shaw: After the third quarter, the players were on the bench and the coaches went out and huddled on the court. Phil asked me to go ask Kobe if he wanted to stay in the game and try to get 70 and then come out. So I went up to Kobe and said, "Hey, Coach wants to know if you want to stay in for the first few minutes of the fourth quarter, get 70 and then come out." He looked up at the scoreboard, and he said, "Nah, I'll get it another time." I looked at him and I kind of got mad. I said: "What?! You have a chance to get 70 points. How many people can say they scored 70 points? Just stay in the first few minutes and get another eight points, get 70 and then come out of the game." He said: "I'll do it when we really need it. I'll get it when it really matters."
Kobe Bryant: Brian was mad. He was like: "Man, are you crazy? You know what you could score tonight?" I just said, "I'll do it when we really need it." Brian was like, "What?!" It was something that just rolled off my tongue because I trained extremely hard and the physical tools were there. I just felt like I could have a game like that again.
Jeanie Buss: I got really mad at Phil after the game on the drive home. I said, "Why did you take him out?" He said because it was a lopsided game. He said, "That's not what basketball is all about." And I said, "Yeah, but he could have set a record." I just remember being mad at Phil. I wanted him to let Kobe do whatever he wanted. It was so much fun to watch.
Phil Jackson, Lakers coach, 1999-2004, 2005-11; current New York Knicks president: I know people in [Los Angeles], particularly, like to see Kobe have a game like that; we all do. Kobe could have attacked if it was a game that was meaningful, flawless and had some competitive zest to it, but that 30-plus [lead] at that time, it wasn't meaningful.
Mark Cuban, Mavericks owner 2000-present: I remember being pissed that we really couldn't do anything to stop him. The guy outscored us by himself for three quarters. He was unbelievable.
Laron Profit: I actually came in for Kobe in the fourth quarter and tore my Achilles. I think later, [in 2013], he knew he tore his because he saw what happened to me. It was on the same spot on the floor, and our reactions were pretty similar.
John Black, Lakers vice president, public relations, 1989-present: Who knows what he could have scored if he would have played in the fourth quarter. I was happy to win, but I remember feeling bad for Kobe that it was a blowout and it wasn't a two-point game. He was so close to Elgin Baylor's franchise record of 71 points. We weren't thinking about 81; we were thinking about that record at the time.
Josh Rupprecht, Lakers manager of public relations, 2003-13; current UCLA associate athletic director, communications: That game could have been the 81-point game if he had played the fourth quarter. People like to compare those games. It's kind of like pick your favorite band. I like to bring up 62 because it's like the band no one appreciates.
Jalen Rose, Raptors forward, 2003-06; current ESPN analyst: Kobe Bryant was already erupting that year in the league. Multiple games he scored 40-plus points. A better game than the 81-point game -- that's right, because we weren't a playoff team; we weren't competitive -- was to put up 62 points in three quarters versus the Dallas Mavs, a team that went to the NBA Finals. Now, that's work.
Kobe Bryant: I felt like that the entire season. That season was a rare thing where my physical abilities matched up with the mental part of the game for me.
Brian Cook, Lakers forward, 2003-07: He was on a tear during that time. He could score whenever he wanted, and he knew nobody could stop him. The other guys on the team were just watching and learning sometimes, to be honest with you, because what was going on was so special.
Bill Macdonald, Fox Sports West/Prime Ticket broadcaster, 1985-2012; current Lakers TV play-by-play announcer: They had Kobe and a bunch of guys. We knew for them to be in any game, Kobe was going to have to go completely nuts. Who else was going to shoot on that team? Smush Parker? Chris Mihm? Kwame Brown? It's crazy what we took for normal that season.
Mychal Thompson, Lakers radio analyst, 2003-present: It was a team that really wasn't going anywhere that year, and Kobe made it interesting to come to the arena every night. You knew if he got in one of the zones, anything could happen.
Mitch Kupchak: It was the second year of a rebuild and the first year of Phil's return, so we were still finding our way as a team. It was an adjustment with a lot of new players. We were clearly in the rebuild, and we needed everything that Kobe could give us. It wasn't always good enough, but he had a heck of a year. From an entertainment point of view, it was incredible. You knew you were watching something unique that year.
Laron Profit: Phil knew what Kobe could do, but he also wanted to emphasize team. I remember we were at a practice session one day watching film, and Kobe was shooting a lot of shots in the game -- I mean, a lot of shots -- and Phil paused the film. He told this story about Miles Davis and John Coltrane being in the studio one time, and Coltrane goes off on a solo, just an unbelievable solo, and at the end of it, Miles says, "Hey, man, sometimes you have to know when to put that s--- down." His reference was to Kobe having to sometimes pass the ball, but the way he said it had us crying laughing. We all knew what he was saying.
Luke Walton, Lakers forward, 2003-12, current Golden State Warriors interim head coach: We all know what Phil wanted to do, but Kobe was also the best player in the world. When he got into a zone, which was often that season, there wasn't anything defenses could do to stop him. He would take over games when the rest of us were struggling, but that was never the plan at the beginning of games. It just happened naturally.
Spero Dedes, Lakers radio play-by-play announcer, 2005-11: That was my first season with the team. I was 26 at the time, and I'm barely two months into the job and he would go on these scoring binges that were mind-numbing in a way. It was the first and only time I considered buying one of those pocket thesauruses because I was running out of superlatives for what he was doing. I'm not even trying to be cute. I almost bought it. You just didn't know what you were going to see that night or how you were going to describe it. It was challenging.
Kobe Bryant: On that team, that season, more games than not I had to take over, but I didn't go into any game with an agenda. I was just reading the flow and seeing what's happening. That's basically what happened against Toronto.
---
PART III: 'ON PAPER, THE GAME WAS GOING TO SUCK'
Jan. 22, 2006, was conference championship Sunday in the NFL. The Seattle Seahawks and Pittsburgh Steelers advanced to Super Bowl XL. A game between the 21-19 Lakers and the 14-26 Raptors wasn't just an afterthought to sports fans -- even many who covered the team didn't think much about it. Regular Lakers television play-by-play announcer Joel Meyers was in Seattle doing the radio call for the NFC Championship Game. Longtime Lakers and NBA photographer Andrew Bernstein shot the first game of the Staples Center doubleheader that day between the Los Angeles Clippers and Golden State Warriors before leaving to spend the rest of the day with his kids. Los Angeles Times NBA writer Mark Heisler originally had the day off and missed the game, although he wound up writing a column about Bryant's feat. Even Jack Nicholson was absent from his courtside seat that night.
John Black: It felt like an average Sunday for what was supposed to be an average, normal game. We were a playoff team, but we weren't a championship team, and Toronto wasn't a good team; they weren't a draw. There was nothing about that game that was enticing. It was just another game in late January, the dog days of the season.
Josh Rupprecht: January games are kind of the doldrums of the NBA season. I remember at one point saying, "Can you believe people paid to watch this game?" I know there are a lot of people who say they were at that game that weren't at that game because, when it was over, people were calling our ticket office asking for stubs.
Chuck Swirsky, Raptors radio/TV play-by-play announcer, 1998-2008; current Chicago Bulls radio play-by-play announcer: It was a very pedestrian Sunday night at Staples Center. Every time you go to Staples Center for a Lakers game, you see celebrities, but there were no A-listers. Jack wasn't there. Dyan Cannon wasn't there. Heather Locklear wasn't there. I mean, no one was there. I think Andy Dick was there.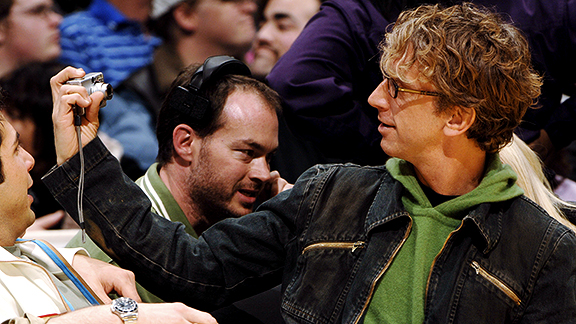 Andy Dick, actor, comedian: I was invited by a friend of mine, Joe Francis, to sit courtside, and I was three or four seats away from Kobe. I had never been to a game before or since. It was just a fluke. I got invited last second because Joe's date dropped out. I didn't understand what was going on. It was very theatrical. I was all caught up in the moment. Kobe was the only person I recognized. He was plopping them in one by one. Plop. Plop. Plop. I don't watch basketball or sports, but I was screaming because everyone else was screaming. Kobe acknowledged me at one point because I was screaming his name so loud. I really feel like I pushed him to his ultimate level that night, and I've never been back since. If someone invited me again, I'd go.
Joe Francis, "Girls Gone Wild" founder: I had met Andy randomly. It was a Raptors game on Sunday. It wasn't an exciting game for a lot of people in L.A., but the energy was electric. I remember the ref asked me to step off the court a couple of times after high-fiving Kobe. I got him to sign my ticket after the game. I have it somewhere.
Bill Macdonald: I got the call a couple of weeks before that I was going to call the game. That was my first time doing play-by-play for the Lakers. I was already the pre- and postgame show host. It was a lifelong dream. I figured it would be the only chance I would ever get to do it, and I was going to have some fun with it. It was such a nondescript Sunday. The Lakers were awful, and it was against the Raptors, who meant nothing. On paper, the game was going to suck. For a lot of season-ticket holders, that's probably a game where they gave away or sold their tickets. It was a no-brainer at the time for Joel to go do the NFC Championship Game in Seattle. I remember thanking Joel two or three times in a nice way on the broadcast.
Joel Meyers, Lakers TV play-by-play announcer, 2003-11: I wasn't there because I was contracted every Sunday night to do football with Bob Trumpy through the NFC Championship Game on CBS Radio. But I was keeping up with it. My sons were calling me and giving me updates regularly. I was really happy for Kobe more than anything else, and I wasn't surprised. He's one of the greatest I've ever seen.
---
PART IV: 'THE ZONE, IT DIDN'T WORK OUT SO GOOD'
The Lakers entered the game in seventh place in a loaded Western Conference. They were coming off back-to-back losses against Sacramento and Phoenix in which Bryant scored a combined 88 points, and they couldn't afford a home loss to an Eastern Conference bottom-feeder. Bryant's daughter Natalia had turned 3 on Jan. 19, when the Lakers were in Sacramento.
Kobe Bryant: So we had a birthday party at the house the day before the [Raptors] game where we had family and friends come over. It was a great day with face painting and all that stuff. That night, I had my therapist come over and work on my knee because my knee was really giving me a lot of problems. So I had my knee worked on and ordered a pepperoni pizza with grape soda. I finished it that night.
Jalen Rose: Our game plan against the Lakers, initially, we actually started out in a 2-3 zone. We were a team that didn't have much bulk up front. So our coaching staff decided the best approach to playing against the Lakers would be to keep them on a perimeter, and they thought that a 2-3 zone would be the remedy. The zone, it didn't work out so good. What ends up happening in the NBA when you're not pressuring passes, when you're not contesting shots -- you give a guy a rhythm.
Kurt Rambis, Lakers assistant coach, 1994-99, 2001-09; 2013-14; current New York Knicks associate head coach: They played zone and had multiple defenders on him, but they didn't do a whole lot to disrupt his rhythm. He kind of stayed in rhythm most of the game. I just remember thinking during the game that they're not disrupting him and he was getting shots all over the floor. To me, it just looked so easy for him. He was getting to whatever spot he wanted on the floor.
Kobe Bryant: I was just trying to work through my knee. My knee was really tight. So at the start of the game, I was just tiptoeing through things. There's one possession early in the game where I drove the ball baseline and just laid it up. From that first possession, I knew if I could get going it's going to be a great night because their rotations were extremely slow. For me to take two dribbles and get all the way to the basket meant I could really do some damage because their rotations were so slow. I started picking up on those things, and then I started attacking a little bit and probing a little bit, and then the jump shot started falling. I started getting in a rhythm, and the knees started loosening up, and then I just got on a roll.
Brian Shaw: That team that we had was up and down. The way we were playing in the first half, we deserved the boos we were getting, and that just fueled Kobe. I remember we came out flat and got down early. Mike James was having a great game for them. He made something like six straight 3s and was hitting all his shots. I think he had almost 30 points [26] that night. This wasn't like the Dallas game, where we were up by 30 points. We were down and had to come back.
Kobe Bryant: We were extremely sluggish, but at the time, I could run all day. I was extremely strong. I felt like, if my teammates weren't going to play, I could get this done on my own, especially tonight because of their defensive rotations. I knew that I could get into a rhythm pretty quickly, I could control the game, I could score any time I wanted to, I could get to the free throw line any time I wanted to. So I felt if I could just stay focused on what I wanted to do, I could get us back into this thing.
Brian Shaw: Once he got in a zone, he pulled everyone along with him. Chris Mihm and Kwame Brown were somewhat physical bigs, but they weren't scoring options on the offensive side. Smush Parker gave us some scoring from time to time but was inconsistent. It was on Kobe to do the majority of the scoring for us to get it going.
Kobe Bryant: I sat out the first six minutes in the second quarter. I could have had 14-15 points in those six minutes. I could have easily had 40 points in the first half with the way I was playing. I just had to stay tuned executionally with what was happening on the court and stay focused on that and not get too perturbed by the score or the crowd booing or anything like that.
Devean George, Lakers forward, 1999-2006: Phil was very calm at the half. He usually was. He talked about our adjustments, and at one point he laughed and said: "You guys are down by 14 points to this team? You guys are better than that." It was Phil. So you believed whatever Phil said.
Devin Green, Lakers guard, 2005-06: I just remember at halftime Phil looked at us and said: "You guys are going to give this game away? This team is not better than us." Kobe was sitting in his locker, and he was quiet. He wasn't saying anything.
Kobe Bryant: I didn't really pay attention to anything that was said. I was just in my own head and in my own zone. I wasn't high-fiving anybody. I wasn't talking to anybody. I just felt like I was in a different dimension. Nothing else mattered. Everything was irrelevant. I really wasn't thinking about the scoring. I was trying to get us back in the game. We were down by 18 points in the third quarter. I remember at the end of the third quarter I had a steal and I had to hustle to keep the ball in bounds, and then I had a dunk and I said, "We're in this game and we're going to win this game." That was the real turning point. Those are the plays that really change momentum -- hustle plays. That's when I knew we're going to win this damn game.
---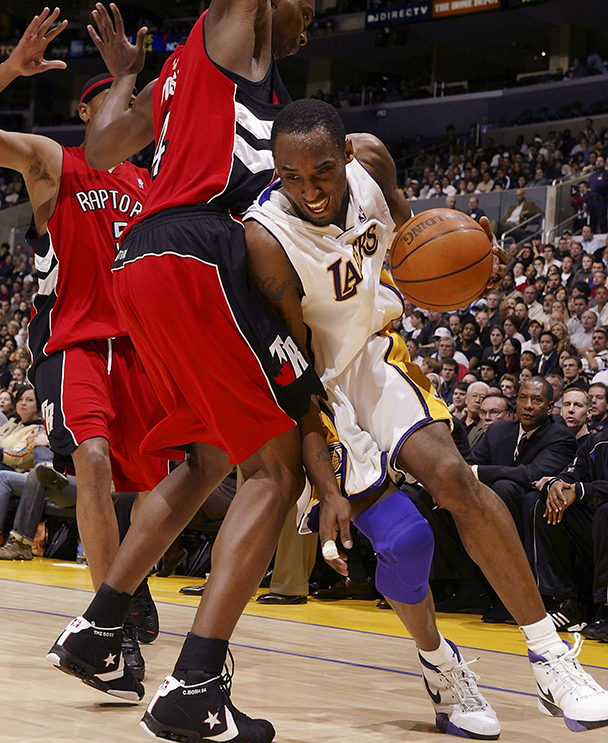 PART V: 'This is what I'm supposed to do'
The Lakers were booed by the home fans in the first half and trailed 63-49 at the break. Bryant had 26 points at halftime but had little help. The Raptors pushed their lead up to 18 points early in the third quarter before Bryant took control. He scored 27 in the period, which ended with the Lakers in front 91-85.
Mike James, Raptors guard, 2005-06: I remember in the third quarter, Kobe had about 50 points at this point, and I asked coach Sam Mitchell, "Let me guard him." He told me, "I don't want you to guard him because I don't want you to get in foul trouble." I couldn't believe that was the thing we were thinking about in that moment. He couldn't miss from anywhere on the court, so I was just trying to figure out a strategy on how to stop him. It seemed like everyone else on my team was just as amazed as the fans watching the game.
Jalen Rose: There were discussions about who should guard Kobe, but how about this? Look at their roster, and who are they? There's not too much to talk about. My opinion -- and I said it multiple times during that game -- how about we consider double-teaming him? As a matter of fact, triple-teaming him? Allow Smush Parker, allow Luke Walton, allow -- how about this? -- someone else in the stands to actually beat you? We didn't get the memo. Once he got hot, it was curtains.
Chuck Swirsky: Sam Mitchell tried everyone on him. Mo Peterson was covering him. Mike James was covering him. Jalen Rose was covering him. Jose Calderon was covering him. Even Matt Bonner was covering him. We sent the entire brigade at Kobe, and he abused everyone. He single-handedly beat an entire NBA club. To this day, it is the greatest single event I have ever seen.
Jalen Rose: It was a rotisserie. It was a buffet of guys that were on Kobe Bryant. But it didn't matter. ... Once a great player gets going, there's no stopping all-time greatness.
Jose Calderon, Raptors guard, 2005-13; current Knicks guard: People always ask me, "How is it possible to let one guy score 81 points?" Because we were winning almost the whole game. He can keep scoring as long as we're up. Yeah, he's killing us, but the rest of the team is doing nothing, and we're winning. We didn't think he would keep scoring like he was. He was pulling up from everywhere. It doesn't matter if you contest or not contest. When I looked up and saw he had 79 points in the fourth quarter, I couldn't believe it. I was thinking it would take me 12 to 14 games to get that.
Kobe Bryant: Those same shots I took during the game are the same shots I took during practice every single day. I mean, I took a thousand shots a day, every single day. You put that kind of work in, and of course I'm making these shots. Of course I'm making these pull-up shots. I've made them a thousand times a day. It wasn't something where I was like, "This is otherworldly." No, this is what I'm supposed to do.
Chuck Swirsky: Some of our players privately questioned after the game why didn't we double-team him. Why didn't we do something to prevent him from scoring or maybe force him to give up the ball, but I don't think it would have mattered. He didn't have a chip on his shoulder; he had a boulder the size of Mount Rainier.
Mike James: Our strategy was the most frustrating thing. You try to stick with the coach's game plan and his philosophy, and if he tells you not to double-team, you can't just go into a team huddle by yourself outside of the coach's will and say, "Forget what he said, we're going to double-team him." Maybe that should have been one of those times where we were rebellious and went against Coach's will, and instead of playing a soft zone, we should have trapped him every single time he touched the ball and got more physical with him.
Matt Bonner, Raptors forward, 2004-06; current San Antonio Spurs forward: We were up basically the whole game, so I remember at one point Coach saying: "He can score 100 points. As long as we win the game, that's all that I care about." That philosophy worked fine for the majority of the game, but at one point he got ridiculously hot, and it ended up backfiring.
Brian Shaw: I was looking at Sam Mitchell's face and looking at the faces of the Toronto players. No player wants to be on the other end of somebody's highlights film. It was like they were playing not to be in that highlight.
Mike James: Me, personally, I was mad at my whole entire team. I was looking at everyone's face, and everyone almost became cheerleaders that night, from our starters to our bench. He took our desire to win. Everyone was a fan that night. Everyone was cheering Kobe on. It was almost like my team wanted to see him do it. That was one of my worst nights in basketball history. To be a part of that definitely sucks.
Darrick Martin, Raptors guard, 2005-08; current UCLA radio analyst: The one thing I remember is my younger brother was in the crowd and he was cheering for Kobe. I gave him the death stare, and he was like, "I don't care." He was chanting, "Ko-be! Ko-be! Ko-be!" After the game, I told him he wasn't getting any more tickets, and he said: "I don't care. I have the ticket for one of the most famous games ever." My mom was nudging him to be quiet.
---
Part VI: 'I WAS JUST ATTACKING'
Leading up to the game, Bryant had been frustrated with the referees because he didn't think he was getting calls when defenders were overly physical. Jackson told Bryant to take a day off in Phoenix, but instead Bryant got together with Shaw to work on playing through the contact.
Brian Shaw: So I played defense on him, and he would throw the ball to himself and he'd make a post move, and he told me to slap his arms and elbows and pull his arms down as hard as I could. He would make a move, and I would pull his arm down and he would say: "No! Do it as hard as you can ... harder than that!" So I was literally smacking his arms and his elbows as hard as I could when he was trying to shoot, and we did that for a good 20 minutes. At first, he was struggling to get the ball up, but then it got to a point with his strength he was able to work through all the stuff that I was doing and score. He was consistently making every shot.
Devean George: When he got lucky or when he got mad, he got going. He fed off that. That really elevated him. It was over at that point.
Kobe Bryant: I got poked in the eye by Mo Peterson to start the fourth quarter. There was no foul, and I got a technical for complaining about it. I was upset. I felt like Mo Pete was trying to do something to stop me. He was going to figure out a way to stop me, and the refs didn't protect me. So for me, whether it's true or not, it doesn't matter, it's what I felt at the time. I thought Mo was trying to do what he had to do to stop me, and he couldn't play defense on me straight up so he poked me in my eye and tried to take me out of my rhythm, and that did nothing but just piss me off even more. I'm really, really going to go after that.
Brian Shaw: I was looking at Jalen Rose, I was looking at Mo Peterson and some of the other guys guarding Kobe, and I kept saying: "Just foul out! Just foul out! Don't let him keep doing that to you." Kobe was giving it to them in a variety of ways -- 3s, dunks, midrange, free throws, every way that you could score, he did during that game.
Kobe Bryant: Lamar [Odom] was in my ear during one timeout telling me, "You can't get 60." And then he came back after the next timeout and he said, "You can't get 70." And by the next timeout he just looked at me and said, "Ah hell, get 80!" I heard him, but I really wasn't paying attention. I was completely focused on what I was doing and being in my own bubble. I was just attacking.
John Black: I remember in the second half telling Josh Rupprecht, "He's going to get 50." Then I said, "He's going to get 60." Then a couple of minutes later I said, "This m-----f----- is going to get to 70. He's going to break Elgin Baylor's record." It happened so fast. Before you know it, he had 80. It came out of nowhere. He went from 50 to 81 like that. I'm not sure how much of the game Josh saw because he had his nose in the media guide trying to figure out what records are being broken.
Josh Rupprecht: You're thumbing through the record books, and it's Wilt and everyone. So you start scrolling the list, and he's moving all the way up to second behind Wilt.
Kobe Vs. Wilt
Points by quarter for the two best individual scoring performances in NBA history.
Chris Bosh, Raptors center/forward, 2003-10; current Miami Heat center/forward: It just seemed like they were multiplying his points they added up so fast. I'm sitting there thinking: "I just ran up and back twice, and he went from 50 to 60. What the hell?" That's how he had it going. He just took the game over.
Devean George: The players understood what was happening. We all were thinking, "I'm not going to be the one to start jacking up shots when there's a guy making everything." No one wanted to get booed by the crowd. The ball was going to Kobe. Let's ride the hot hand and witness something we have never seen before. Everyone knew what was happening.
Kobe Bryant: It was a weird feeling in the final minutes of the game. Everybody on the court is looking at you. It's like there's nobody else that can shoot the ball. If anybody else shoots the ball, you're going to get booed. So it's just a weird feeling to be out there as a player when that happens. I don't ever remember having the arena feel so electric, sensing that they're seeing something historic. It's bizarre. As a player, you hear and feel the energy, and you just have to ride that wave without really stepping outside of yourself and appreciating the moment, because you don't want to lose your rhythm.
Phil Jackson: I wasn't keeping track on what he had, and when I turned to [assistant Frank Hamblen] and said, "I think I better take him out now," ... he said: "I don't think you can. He has 77 points." So we stayed with it until he hit 80.
---
PART VII: 'I SHOULD HAVE HAD 90 POINTS OR MORE'
Raptors forward Pape Sow's pass to Joey Graham went out of bounds with 4.2 seconds left, allowing Bryant to have a curtain call. Devin Green went in for Bryant, whose 55 second-half points were the second most ever in a half, trailing only Chamberlain's 59.
Brian Shaw: People don't remember Devin Green, but whenever they show highlights of that game, you'll see Devin Green checking in for Kobe right at the end. So as he walks off the court, Devin Green hugs him and Kobe raises his finger in the air. That's the picture you always see from that game.
Devin Green: It was one of those things where the stars just aligned right. The ball goes out of bounds, and I'm at the end of the bench, and I hear Phil's raspy voice yelling my name. So I got up and checked in as he was getting a standing ovation. I felt the energy of Los Angeles in that moment. I gave him a hug as he walked off the court. It was ultimate respect. When you score 81 points, man, I just got to give you a hug.
Kobe Bryant: I really didn't know what had happened until I walked off the court and heard the number.
Sasha Vujacic, Lakers guard, 2004-10; current New York Knicks guard: I'm still pissed at him because he was supposed to score 84. He missed my last assist. I told him that many times, but he said 81 sounds better.
Lawrence Tanter, Lakers public address announcer, 1982-present: For the first time in my career, I announced how many points a player had when they were taking him out of the game. I would only announce that after the game. I also remember making a comment at the conclusion of the game, and I don't know why I said it because I've never done it before, but I said, "Ladies and gentlemen, please keep your ticket stubs as proof that you've witnessed this remarkable evening." I took home a copy of the scorebook because I'll never forget John Radcliffe, the official scorer, was having a hard time putting all the numbers in the scorebook. It's just not big enough. His scorebook looked like a Parcheesi board. I kept saying, "John, write smaller."
Patrick O'Neal, Fox Sports West broadcaster, 2000-present: I did the first interview with him on the court after he scored 81 points, and it was piped into the arena. The crowd was so into it. That's the highlight of my career.
Mychal Thompson: I knew he wasn't going to get to 100, but I was hoping he could get to 90. He didn't have enough time to get to 100, but I really thought 90 was possible that night. He probably does, too.
Kobe Bryant: I should have had 90 points or more. I missed two free throws after making 62 straight. I had some open looks. I had some really open looks that I missed. I could have had more. There's a lot of easy opportunities I missed. I think 100 is possible. I absolutely do. If I hadn't sat out those six minutes in the first half, maybe I would have had it.
Bill Macdonald: I remember when the crowd was giving Kobe a standing ovation, Stu [Lantz] took his headset off and laid it down and applauded with the rest of the crowd. He has never done that before.
Stu Lantz, Lakers TV analyst, 1987-present: I had never done anything like that for any other player, and I have seen some of the great players. After a while, there's nothing you haven't seen, and it can become almost routine. That wasn't routine. I had to stand up and give him his props. I don't have memorabilia. I hardly save anything, but I do have a framed photo of him shooting his final free throw in that game that he signed for me. My wife was adamant about getting something from that game.
Phil Jackson: It's not exactly the way you want to have a team win a game, but when you have to win a game, it's great to have that weapon to be able to do it. I've seen some remarkable games, but I've never seen anything like that before.
Jeanie Buss: After the game, Phil was quiet. He knew he had seen something really special. He knew how almost impossible it was to score 81 points. He knew he saw history that night, and he was happy to have a courtside seat for it. I think that could have been one of those turning-point moments for Phil and Kobe in how their relationship was going to be that season. I think both of them found such an appreciation for one another when they were reunited again.
---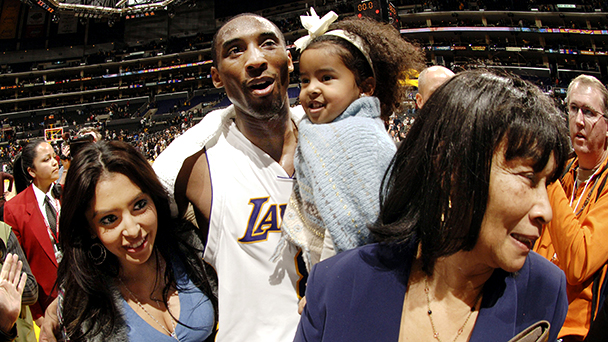 Part VIII: 'ALL THEY WANTED TO TALK ABOUT WAS THE 81'
It might not have been a league record, but Bryant's 81-point game was immediately recognized as a landmark achievement in sports history. When NBA TV rebroadcast the game in 2013 on its eighth anniversary, Bryant joined the fun by live-tweeting it, saying it was the first time he'd watched the game. "I felt like I was looking at a Salvador Dali painting #masterpiece," he tweeted.
Jim LaBumbard, Raptors public relations director, 2000-present: Guys didn't know what to do or what to say in the locker room after the game. I know a lot of people in the immediate aftermath wanted to talk to them about it, and they didn't want to talk about it. Jalen didn't want to talk about it, and Sam Mitchell didn't want to talk about it. But I think those feelings have changed over time. The Raptors haven't had a whole lot of milestones in franchise history, so in a strange way, it's a milestone in franchise history to be a part of that game.
Matt Bonner: I was a part of history, maybe the wrong end of it, but I was still a part of it. I think it was more what he did than what we didn't do on defense.
Mike James: It was hard to recover from that kind of embarrassment. You would almost rather lose by 50 than to give up 80 points to one individual player on a basketball team. That was the hardest part. It wasn't a team that beat you, it was an individual's effort that beat a whole entire team. Every team that we played after that, all they wanted to talk about was the 81 that Kobe scored. You'd be focused on a game, and some guy comes up to you: "Eighty-one? ... How you going to let him score 81? If that was me, that wouldn't never happened." It was embarrassing. That's what we had to deal with that whole entire season after that game.
Chris Bosh: I remember I was talking to Baron Davis the next day, and he was playing with the Warriors at the time. They had a game earlier that day at Staples as one of those day-night schedules. And he was telling me how he left the arena after the Clippers game and went out to eat, and people were calling him like, "Yo, are you watching this?" He said he went back to Staples Center right then and there to watch the rest of the game from inside the arena.
Devean George: We were all getting texts and calls from family and friends after the game. They were asking for signed shoes, signed box scores, something. We were still coming to grips with what we had just seen. I had him sign a pair of shoes. It's sitting on my mantel.
Kobe Bryant: The Hall of Fame requested my uniform and shoes, and I was going to send it to them because I said, "This is pretty cool that a player who is still playing has stuff in the Hall of Fame." But [wife] Vanessa was like: "No, listen, we're keeping the uniform. You can send the shoes if you really want, but the uniform is not going anywhere." So the uniform is framed and up in the gym in our house.
John Black: We sent the shoes to the Hall of Fame, and a lot of people were asking Kobe to sign the box scores after the game. Now that I think about it, we probably should have cut the nets down, and I don't think we did. We didn't even think of it.
Josh Rupprecht: I remember I joked about this with John, and I don't know why we didn't do it, but we joked about getting a piece of paper like Harvey Pollack did for Wilt Chamberlain and writing 81 on it and having Kobe take a picture of it in front of his locker like Wilt did with 100. It would have been cool.
Brian Cook: I think everyone saved the box score. I got a couple of box scores from the game, and I got him to sign them.
Matt Bonner: I didn't save anything from that game. I didn't save any of my tears. But my link forever to that game is Black Mamba christening me the Red Mamba while he was live-tweeting about the 81-point game. I don't even know if he's aware of how much of an impact that's had on my career and my life. It's taken off publicly, and it stuck. I got Red Mamba shoes. We're connected now, and he's probably not even aware of it. I'll be able to tell my grandchildren someday Kobe Bryant gave me a nickname.
Kobe Bryant: It didn't dawn on me until later on, when I was talking to my sister about it and she pointed it out, but that was the first game and only game my grandmother has ever been to in the NBA, and it was on my grandfather's birthday who had passed away. Going to games makes her nervous, so she just doesn't like going. It's always hard for her to come and watch, but she came to this one after Natalia's birthday party. I don't know if it was my grandfather up above making sure the ball goes through the basket every time or whatever the case may be, but it's just interesting. In sports, things like that always seem to happen, and you just have to wonder. My grandfather was the one who used to send me all of these basketball tapes overseas. He used to tape the games for me and send me the NBA Entertainment videos when I was a kid. It was pretty cool to have that happen on his birthday.
ESPN.com NBA writer Michael Wallace and ESPN producer Michael T. O'Connor contributed to this report. Quotes from Phil Jackson, who declined interview requests, are from postgame news conferences from 2006. Sam Mitchell, current Minnesota Timberwolves interim head coach, declined interview requests.
Markazi is a senior writer for ESPN. Prior to joining ESPN in 2009, he spent six years at Sports Illustrated covering the NBA, NFL and colleges, as well as the cross between sports and pop culture. He first covered the Los Angeles Lakers in 2003 for Slam Magazine while he was a student at USC.