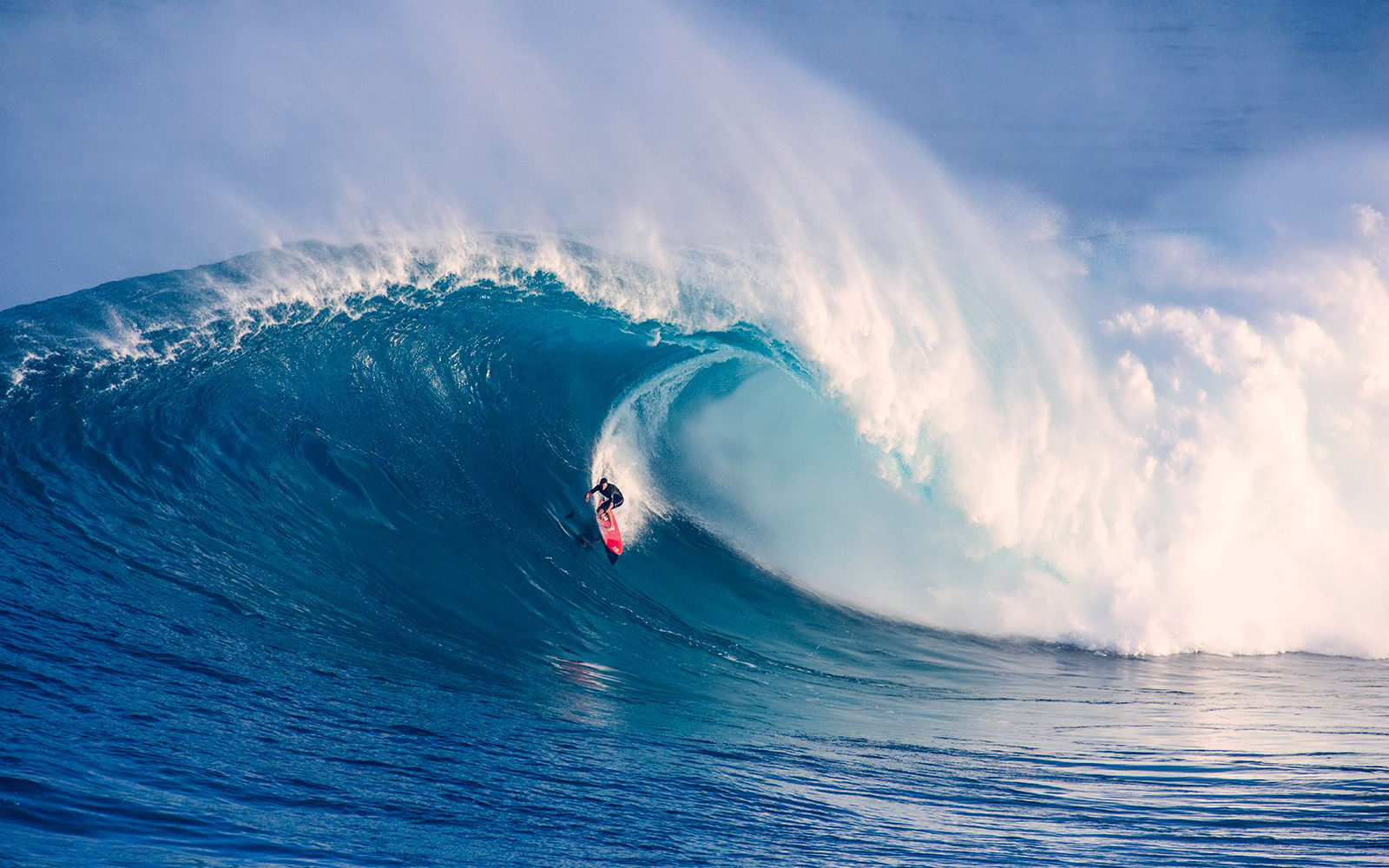 Swallowed by Jaws
On Jan. 15, legendary surfers took on Maui's skyscraper-sized waves. The best-case scenario was an epic, record-breaking ride. The worst was death.
W
ith the grace of a surgeon, legendary big-wave surfer Shane Dorian applies a fresh coat of wax to his custom 10-foot-6-inch surfboard. His lifelong friend Ian Walsh does the same just across the pingpong table -- their makeshift workbench. The two talk about the weather and the spaghetti and meatball dinner they plan to eat that night. One might think it's just another Thursday afternoon on the North Shore of Maui in mid-January. But just a couple of miles away at the surf break Jaws, aka Peahi, waves in the 80-foot range are bearing down, and Dorian and Walsh are preparing to paddle in and ride these giants the next day.
And nobody knows exactly what to expect from Jaws. Not even Dorian, who first paddled into Jaws in 2010. "I was pretty nervous and scared of how big it was gonna get," the 43-year-old says. "The worst-case scenario at Jaws is definitely death."
Friday morning arrives, and without the typical Maui trade winds, it's hot and there's not a cloud in the sky. Today, on Jan. 15, Jaws is breaking big and clean. Dorian would later call the swell historic: "Definitely the biggest we have ever paddled, by far," he said.
Personal watercraft, such as Jet Skis, and boats steadily trickle into the safe zone, and Dorian, Walsh and about 20 other surfers, including Oahu's Aaron Gold, local Kai Lenny and California's Greg Long, are starting to paddle in. Someone in the crowd on the cliffs above Jaws shouts, "Hey, that's Dorian paddling out!" And everyone knows it's on.
But it's Gold who catches what experts are unofficially calling the biggest wave ever paddled into. "I struggle to put specific size to it, but an estimate puts it at eight times his board length, which would make it 80-plus feet," says Tom Carroll, big-wave legend and former two-time world champ. Shawn Dollar holds the official record for the biggest wave (paddle in) at 61 feet, ridden in 2013.
"It was my first wave," 34-year-old Gold says. "I thought I'd catch a small one -- and it just came to me. It definitely was one of the longest drops I feel like I've ever had. Where I thought it would end, it had a whole other section to it. [At the end of the wave] I got rag-dolled. It's always a beating out there."
But that won't keep Gold -- or Dorian or those 20 other surfers for that matter -- from coming back for more when the next big swell is predicted at Jaws.
I've never seen big waves like that in my entire life; some of the waves that came through were just mesmerizing."

Ian Walsh