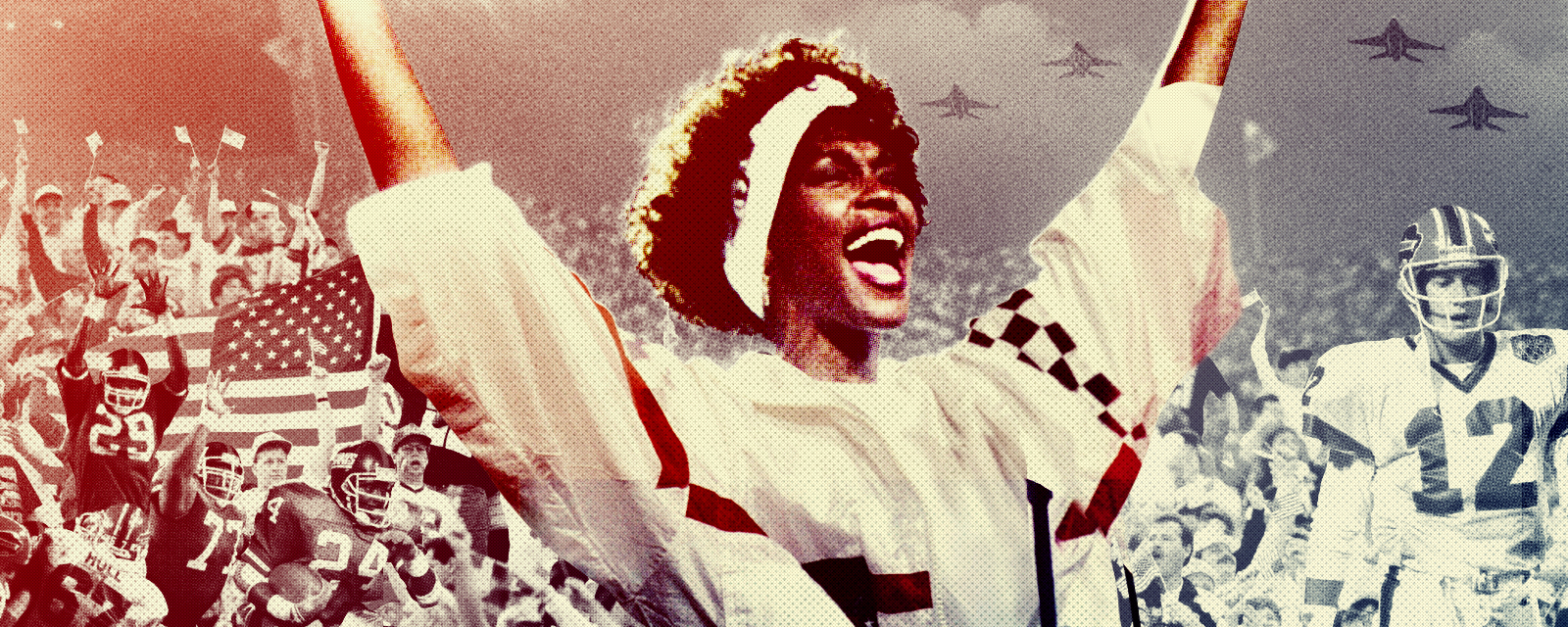 When Whitney Hit The High Note
Ten days after the U.S. entered into war, Whitney Houston didn't just sing the national anthem at Super Bowl XXV -- she owned it. This is the story of her moment in time.
Y
ou have to understand.
You have to remember.
This is 1991. Before six people died in the World Trade Center bombing. Before 168 died in Oklahoma City. This is before 111 individuals were injured by a bomb made of nails and screws at the Atlanta Olympics. Before backpacks stuffed with pressure cookers and ball bearings blew limbs from people at the Boston Marathon.
Think back.
This is the tippy-top of '91. Way before Connecticut elementary school classrooms in Newtown were strewn with bullets. Before a Colorado theater was tear-gassed and shot up as The Dark Knight Rises began. Before 18 people were shot in an Arizona parking lot, along with a congresswoman who took a bullet in the back of the head. You have to understand. This is before a young married couple in combat gear killed 14 at a holiday party in San Bernardino.
This is a generation ago. A full decade before the United States of America came to a brief but full stop -- 2,977 people dead and more than 6,000 injured in three states. This was before three New York firefighters raised a star-spangled banner amid the sooty rubble of ground zero. In 1991, ground zero was just downtown Manhattan. If you were alive -- if you were over the age of 5 -- you must make yourself remember the time. In 1991, people are jittery, but no one stands in line in bare feet at airports. There are no fingerprint scanners at ballparks.
This is, like, pre-everything. There's no Facebook -- barely a decent chat room to flirt in. The Berlin Wall? Buzz-sawed, climbed over and kicked through. Mandela is free, and Margaret Thatcher is out. This is one-way pager, peak Gen X quarter-life crisis time -- and it wasn't called a quarter-life crisis back then. North and Saint West's late grandfather had not yet read his friend's letter to the world: "Don't feel sorry for me," attorney Robert Kardashian said to flashing bulbs. "Please think of the real O.J. [Simpson] and not this lost person." This is the year Mae Jemison preps for the Endeavour, Michael Jordan is ascendant and In Living Color and Twin Peaks stamp the kids who make prestige TV glow in 2016. Beyonce is in elementary school. Steph and Seth Curry are in a Charlotte playpen. Barack Obama is the first black president -- of Harvard Law Review. The (pre)cursors are blinking.
"This will not stand, this aggression against Kuwait," President George H.W. Bush says in August 1990, and by the dawn's early light of Jan. 17, 1991, a coalition of countries led by the United States drops real bombs on real people and real places in real time on four networks. This was the first Gulf War. There are no color-coded threat level advisory posters on airport walls, but the State Department and the Secret Service agree: The possibility of a terror attack is high, and Super Bowl XXV -- the Giants vs. the Bills, scheduled just 10 days later -- is a soft and glaring bull's-eye.
The Goodyear blimp? Grounded. A Blackhawk patrols instead. Commissioner Paul Tagliabue's annual Super Gala gala? Canceled. Concrete bunkers gird the parking lot of old Tampa Stadium, and a 6-foot-high chain-link rises quickly behind that. Canines sniff chassis, and ushers wave metal detectors. SWAT teams walk the stadium roof with machine guns. Alternate dates, due to a fear of mass casualties, are considered. For a Super Bowl.
"[It] was the shape of things to come," former defensive back Everson Walls recalled in 2013 for USA Today. "The security was incredible. I think that's the first time they checked bags and really were concerned about terrorist threats."
It was tense. "Players were discussing privately if there would be a draft," former Giants tight end Howard Cross said last year in the New York Post. "And whether our younger brothers might be drafted."
There is a ghost game hovering too -- the one played two days after President John F. Kennedy was assassinated in 1963. It is known as the NFL's "mourning game" and opened with a lone bugler playing taps. Pete Rozelle was ravaged in the media for going through with it. He'd struggled with the decision, and it haunted him his whole career. But Commissioner Tagliabue will not have the regrets of his predecessor. Tagliabue -- a Jersey City basketball-playing attorney who'd represented the league against the USFL -- arrived at Super Bowl XXV in a flak jacket. And he had Whitney Elizabeth Houston.
---
HOUSTON WAS 27 when she sang "The Star-Spangled Banner" at Super Bowl XXV. She was already the first artist in history to have seven consecutive singles go to No. 1 on Billboard's Hot 100 pop chart. This Whitney data, of course, does not yet include the zeniths and descents of the second half of her recording career. It doesn't include the impact she made on-screen in (and on the soundtracks of) 1992's The Bodyguard, 1995's Waiting to Exhale and 1996's The Preacher's Wife. It doesn't quantify, because there is no quantifying, the influence she continues to have on Beyonce Knowles Carter, Adele Adkins, Alicia Keys, Lady Gaga and other pop singers who rose in her wake. It can't articulate the profound relief she granted black teens in the mid-1980s. Just the sight of her, onstage, on MTV, on an album cover -- Houston was proof of life. It became easier for black girls in particular to flex, to breathe -- to revel in visibility and possibility.
Houston wanted more than mainstream pop success. She wanted mainstream pop equality. "Nobody," she told Rolling Stone in 1993, "makes me do anything I don't want to do." And that had become the definition of her relationship with the music business. She'd come by her ambition via nature and nurture and aspired to a level pop playing field that had been systematically denied her forebears. She was earwitness to artists who'd thrashed and thrived in an intricately segregated music industry -- not the least of whom was her own mother, Emily "Cissy" Houston, leader of the pop-gospel Sweet Inspirations, who sang behind Jimi Hendrix, Mahalia Jackson, Bette Midler, Linda Ronstadt, Aretha Franklin and more. Whitney was 6 when the Inspirations were singing backup for Elvis Presley in Las Vegas. "[She] taught me how to sing," Houston said in 1996. "Taught me ... where it comes from. How to control it. How to command it. She sacrificed and taught me everything that she knew."
"[It] was the shape of things to come. The security was incredible."
- former defensive back Everson Walls in 2013
Whitney's distant cousin is pioneering operatic soprano Leontyne Price -- one of the first black singers to earn global acclaim in an art form still using yellow- and blackface in 2016. Whitney's first cousin is Dionne Warwick, who in partnership with Burt Bacharach (and in stride with Nancy Wilson) crystallized the acutely talented, crisply enunciated, pretty and sexually hushed black female pop star prototype that Whitney, for the first few years of her career, clicked right into. The fashion model's body type. The disciplined tamping down of racial and class signifiers. The gleam in her eyes and smile that said dreams are real.
You have to remember. She practiced for Super Bowl XXV. In a demure fur hat and with a case of nerves, Houston sang the national anthem at a Nets-Lakers game in New Jersey early in Kareem Abdul-Jabbar's 1988-89 retirement season. And she was in even better form for a February 1989 performance of "One Moment in Time," a song she recorded for the 1988 Summer Olympics Album. Houston wasn't featured in the video for the worldwide hit, but onstage at the 1989 Grammys, she made her ownership of the song clear.
On a large screen were slow-motion shots of triumph -- doves fly, FloJo receives a medal and Greg Louganis is poised to back-flip. The screen rose as Houston, in a white gown, stepped out with aplomb. There was a tiny cross at the base of her throat and a full orchestra in shadow behind her. "You're a winner," she belted, "for a lifetime." And then she allowed herself the tiniest of kicks -- of church -- and a step forward. And as she sang the words "I will be free," three times in a row, in three different ways, the audience leapt to its feet.
You have to understand. Key to American blues is the notion that by performing them and by experiencing them being performed, one can escape them. "I will be free," sang this black American woman to a mostly white, tucked-in-tuxes audience attending an event at which black achievement has been and remains segregated and minimized. This is our most familiar pop dance. This is white American affluence being comforted by the performance of black freedom -- and so, feeling forgiven. The polished intonations. The buffed exertion. The testimony. This is the conflation of mass sport and mass music. This is bodies and souls at work. This -- one of America's most influential creations and biggest imports -- is the uplift of big blues.
---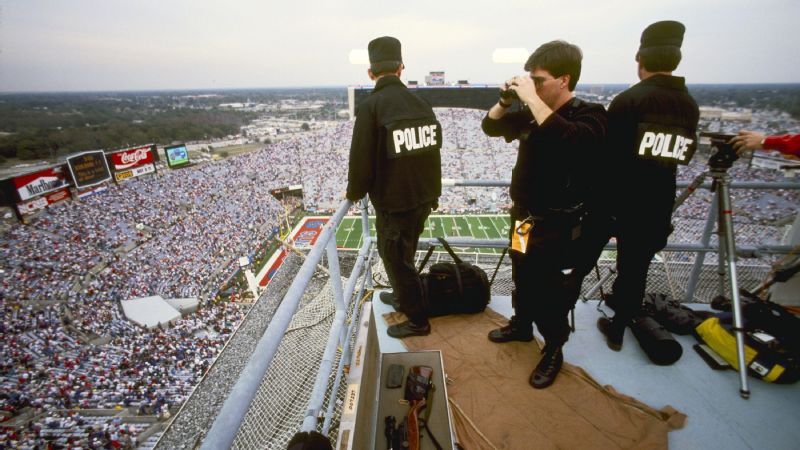 JIM STEEG WAS, for over 25 years, in charge of the Super Bowl for the NFL. Four years ago, he recalled the lead-up to XXV's opening ceremonies for SportsBusinessDaily.com: "In early January ... our coordinator of Super Bowl pregame activities Bob Best ... produced a recording of the Florida Orchestra for national anthem producer Rickey Minor. ... A week later, Minor flew to Los Angeles to have Whitney record the vocal track. Amazingly ... it was done in one take."
Yes -- Whitney Houston's version of "The Star-Spangled Banner" was prerecorded. "There's no way to rehearse the sound of the crowd ... coming at you," Minor said years later. "You don't know where the first note begins."
The NFL had no qualms about the song being prerecorded, even if Houston would be criticized for it. The NFL's issue was with the meter. "The Star-Spangled Banner" is written in 3/4 time -- not quite brisk, but waltzy. Houston and vocal arranger Minor, as well as bassist-arranger John L. Clayton, changed it to 4/4, slowing it down. "All was in place for what many of us thought would be one of the greatest versions of the national anthem ever performed," Steeg said.
"Then on Jan. 17," as Steeg further recalled it, "senior executives with the NFL asked to hear the recording. A tape was overnighted to Buffalo, where the AFC championship game was played. The next day I was told the version was viewed as too slow and difficult to sing along with. Could I ask to have it redone." Perhaps the NFL was afraid there would be discontent in the stands, as there had been when Jose Feliciano dared to find himself and the times in the anthem before Game 5 of the 1968 World Series. So Steeg called John Houston, Whitney's father and her manager at the time. "The conversation was brief," Steeg said. "There would be no rerecording."
You have to understand: By slowing it down, Team Houston and the Florida Orchestra -- under the direction of Chinese conductor Jahja Ling -- not only increased the national anthem's level of technical difficulty, they amplified its soul. They made it the blues.
"And now, to honor America, especially the brave men and women serving our nation in the Persian Gulf and throughout the world, please join in the singing of our national anthem. The anthem will be followed by a flyover of F-16 jets from the 56th Tactical Training Wing at MacDill Air Force Base and will be performed by the Florida Orchestra under the direction of Maestro Jahja Ling and sung by Grammy Award winner Whitney Houston."

-- Frank Gifford
---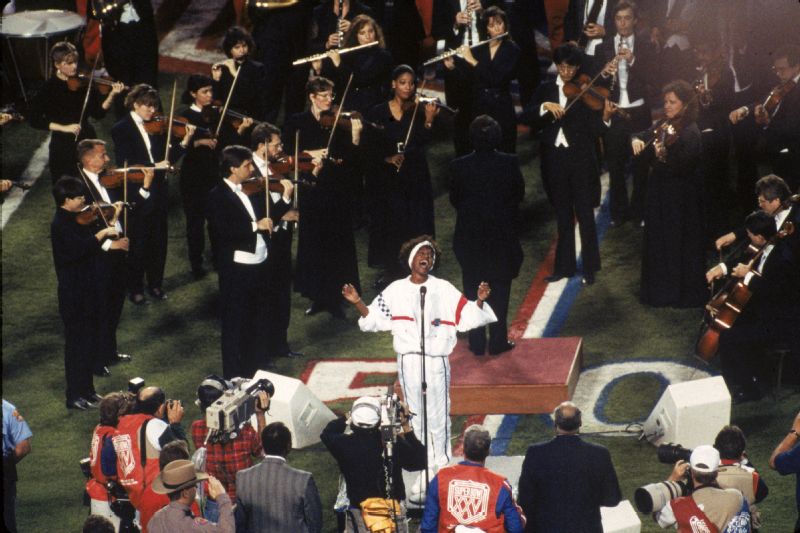 YOU HAVE TO remember.
It's a fine warm winter night in Tampa.
The Giants' own Faultless Frank is on the ABC Super Bowl team. Every Hall of Fame hair is in place, and there are no signs of the brain trauma that will later plague him. Al Michaels has not yet uttered the phrase "wide right." Madonna's "Justify My Love" and Janet Jackson's "Love Will Never Do (Without You)" are battling on terrestrial radio, and terrestrial radio is the ruling class. There's no streaming. No YouTube. The iPod is 10 years away. Want to party? Hit the creaky shuffle on your CD player. At Tampa Stadium, the pregame jam is Snap's "The Power": It's gettin' / It's gettin' / It's gettin' kinda hectic.
It is, in fact. The ESPN team is broadcasting from outside the stadium. As Andrea Kremer reports at the time, "Every single vehicle within 200 feet of the stadium is completely searched. There will be a large, well-rehearsed team in place at Tampa Stadium. And it isn't just the Bills and the Giants but rather the security forces designed to safeguard the Super Bowl event while trying not to convey undue alarm to fans, or turn the stadium into an armed camp."
"All was in place for what many of us thought would be one of the greatest versions of the national anthem ever performed."
- Jim Steeg
But there are more than 1,700 security professionals on the grounds. And if it seems every person is waving a tiny U.S. flag, that's because a tiny U.S. flag has been placed on every seat. The field is a kaleidoscope of honor guard uniforms and team uniforms and kids doing a red, white and blue card stunt. Central is the entire Florida Orchestra -- standing in full dress, signaling serious and formal.
Then Whitney Houston steps onto a platform -- it looks to be the size of a card table -- in a loose white tracksuit with mild red and blue accents. She has on white Nike Cortezes with a red swoosh. No heels in which to step daintily, and definitely not a gown. Her hair is held back by a pretty but plain ivory bandanna -- there are no wisps blowing onto her face. No visible earplugs to take away from the naturalness of the moment. Everything is arranged to convey casual confidence.
Here we begin. Snare drums so crisp. Bass drum so bold. Houston holds the mic stand for a moment but then clasps her hands behind her back -- it reads as clearly as a military at-ease. Her stance says: We came to play. Says, in the parlance of the 'hood, and on behalf of her country: Don't start none, won't be none. All we have to do is relax, and we're all going to win.
Like the best heroes, Whitney -- the black girl from Jersey who worked her way to global stardom, made history and died early from the weight of it -- makes bravery look easy. Although the stadium hears the prerecorded version, she sings live into a dead mic. The image of her singing is interspersed with faces of the fans, of the soldiers at attention and of the U.S. flag and flags of the wartime coalition countries blowing in the breeze. She is calmly joyful -- cool, actually, and free of fear. And when she arrives at Oh, say [cymbal] does our star- [cymbal] spangled banner yet wave, she moves to lift the crowd. It's a question. It's always been a question. And she sings it like an answer. People were weeping in the stands, weeping in their homes. The song itself became a top-20 pop hit. Folks called in and requested Whitney Houston's national anthem on the radio. The version NFL executives thought might be too slow, people sang along to as they drove down the street.
---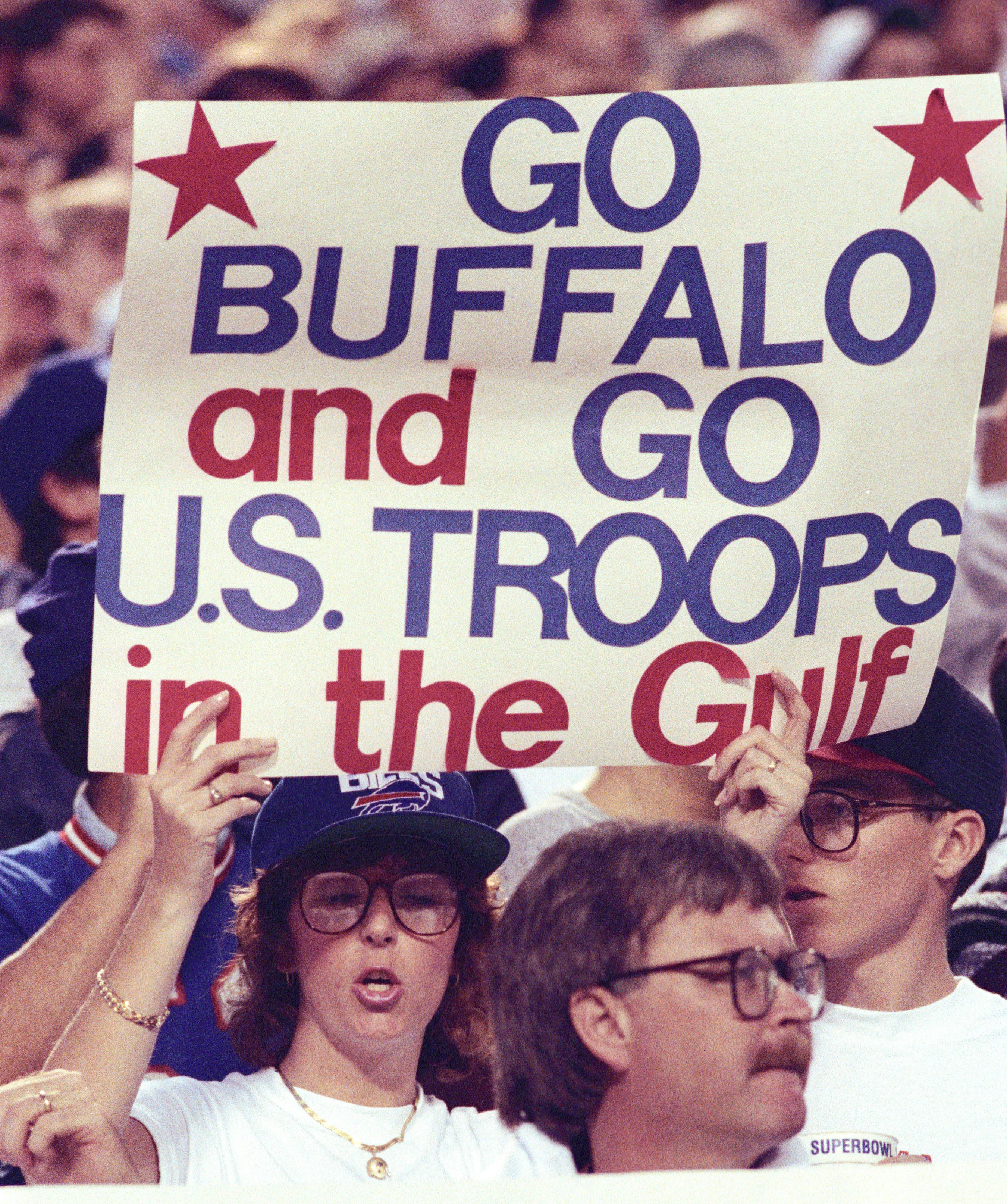 SUPER BOWL XXV is defined as much by the launch of Desert Storm and Security Nation and by Whitney Houston as by the game itself. That day was the start of a branding relationship between the armed forces and the NFL that has grown vinelike around a state of perpetual war.
Houston is of course gone now, but she remains the ghost in the machine -- memorialized, memed, GIFed and in many quarters damn near prayed to. We have her massive ballads, and her bad reality TV, but her "Star-Spangled Banner" is much the reason for Houston's continued presence -- she boldly interpolated our anthem and sang it as well as it will ever be sung. Remember? When her version was rereleased in the aftermath of the Sept. 11, 2001, attacks -- Houston gave her fees to charity -- she roused and comforted a nation again. It was the last top-10 hit of her career.
Most singers want out of that song. Most reach awkwardly for one note or another, or miss it altogether. It's not just that the song is a difficult one. It's difficult in front of people who want to feel the pride in the storybook words. They want to wave their ball caps and whoop in the pause after O'er the land of the free. They want to be landlords in the home of the brave. Whitney's version made it all absolute, for a moment. Her arms were wide and reaching slightly up at the end, a pose familiar to many Americans, across races. Her head was back, as one's can be when victorious, and as one's can be when asking for and ecstatically receiving the glory of God.
Bright bulbs flashed and popped off behind her. Floodlights intersected with the hazy Florida sunshine and created stairways to heaven. You could almost walk up there. To where the four war jets are.
You have to understand.
Smith is an American magazine editor and journalist. Danyel is a 2014 John S. Knight Journalism Fellow at Stanford University. She is also writing a history of African-American women in pop music.