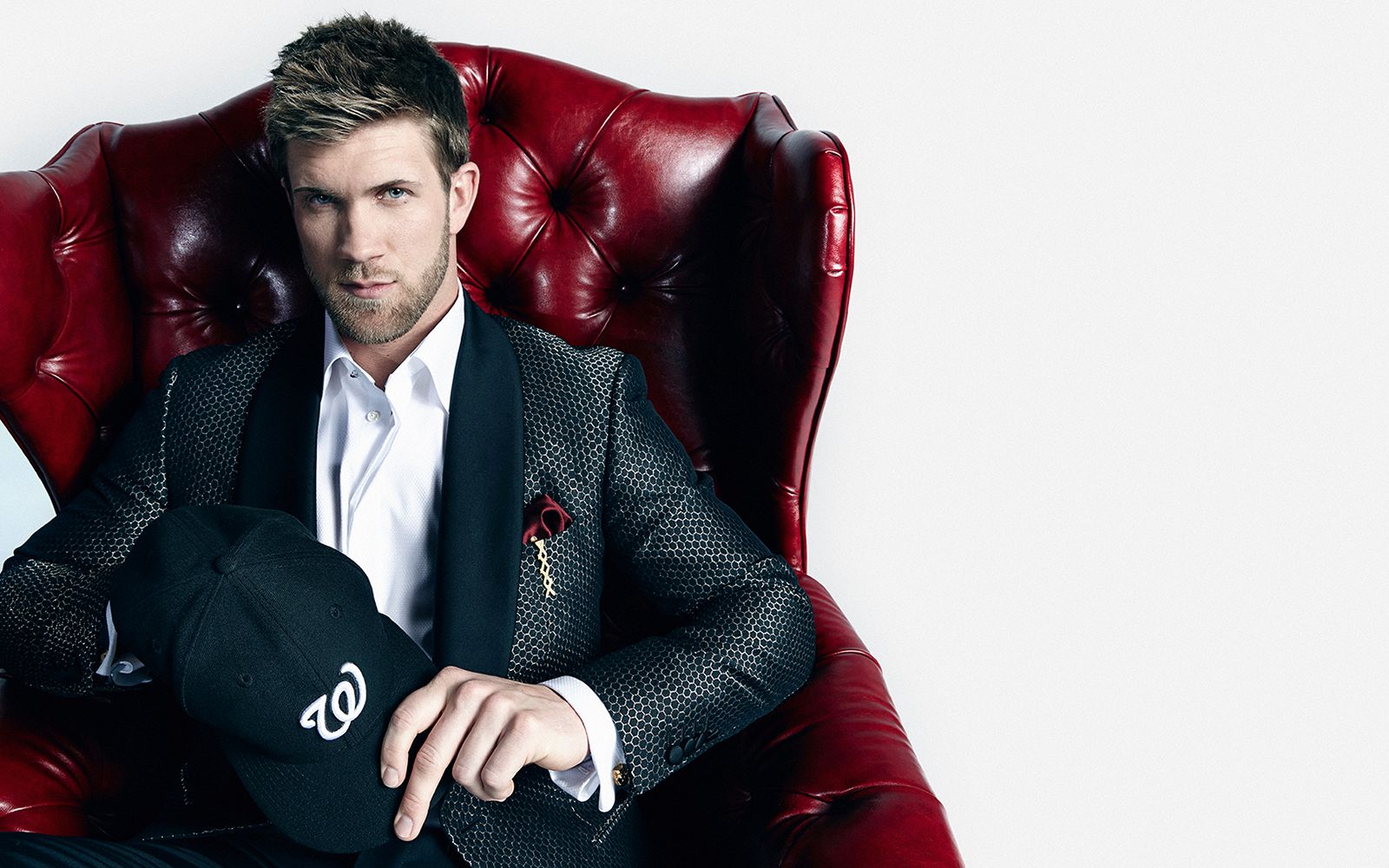 Sorry Not Sorry
Bryce Harper -- his play, his attitude, his hair! -- is on a mission to change baseball forever.
T
he swing is raging and primeval, a broken dam, a convulsion. It appears to have been engineered for a different time -- perhaps to slaughter animals for sustenance or enemies for land. Its grace is as undeniable as its brutality, and to employ it strictly for the purpose of striking a moving baseball, as Bryce Harper is doing inside a warehouse in an industrial park near the Las Vegas airport, could classify as a serious underutilization of resources.
This Tuesday afternoon offseason hitting session is off-the-record -- observation is welcome; description is not -- but it's no betrayal of confidence to report that Harper goes about his work with forensic vigor. He trains with his father, Ron, and the two move about the cage in silence. There's an easy, liquid flow from drill to drill, a choreography of blood, with Ron pushing a double-decker shopping cart full of baseballs from station to station and musician Chris Stapleton's voice carrying that same kind of brutal grace through a tiny speaker behind home plate.
The sound of these baseballs hitting the 34-inch, 32-ounce Marucci bat is what I imagine lightning sounds like when it splits an oak. Inside this warehouse, where four-time National League batting champion Bill Madlock is one cage over employing a career's worth of expertise to teach a couple of overindulged 10-year-olds to keep their weight back, it sounds like an entire forest is falling, one tree at a time.
---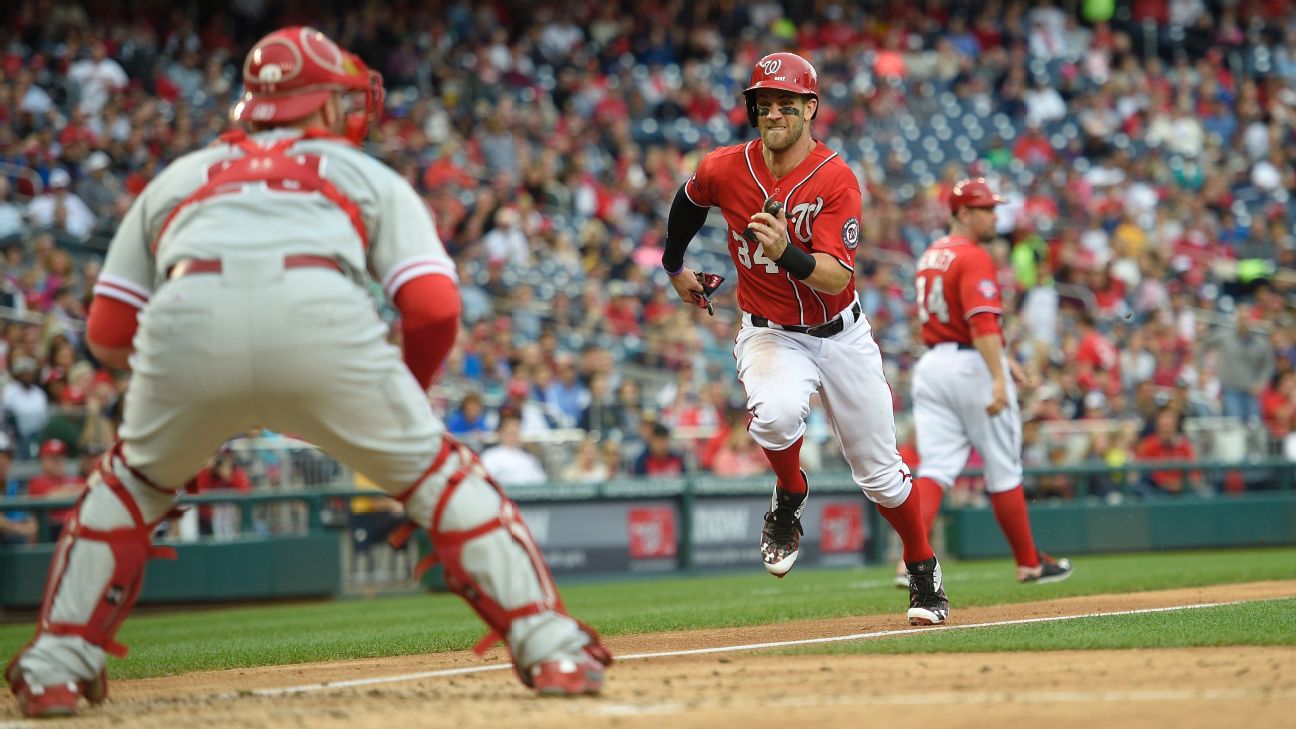 BRYCE HARPER IS the rare prodigy who appears destined to fulfill his promise. Baseball's culture -- uniquely unkind to prodigies -- is built on earning dues, bus rides, failure, grinding, surviving and then lording that over the guys who arrive after you. It's kind of like the military, with Danville and Gwinnett instead of Forts Bragg and Hood.
Harper was different. He was 13 the first time he remembers every person in a stadium turning as one and saying, "That's Bryce Harper." He was in Alabama, at a tournament called Rocket City, and he spent the weekend going 12-for-12 with 11 homers. All along, he's been the kid whose childhood prowess reads like a series of clerical errors. He hit a 570-foot homer as a freshman at Las Vegas High, threw 96 off the mound as a 16-year-old, hit .569 his sophomore year, then got his GED to jump directly to junior college to be drafted ahead of his class.
Prodigies, whether their instrument is a piano or a 34-inch Marucci, share a trait Boston College psychology chair Ellen Winner has dubbed "the rage to master." It's not so much anger as persistence. "You can't tear them away," says Winner, author of Gifted Children: Myths and Realities. "They're single-minded. They just want to get better and better."
Harper played 120 to 140 games a year as a preteen and hit nearly every day with his dad, an upright, puglike man who spent decades swinging 300-pound bundles of rebar high above the Vegas Strip. "He'd get up at 2, at work by 4, work 'til 2 in the blazing heat and then walk in the door and say, 'OK, let's get the hittin' in,'" Bryce says. "He was never too tired."
Bryce also played football through his freshman year (a broken wrist took care of that), basketball through middle school (he was the offensively challenged lane enforcer) and spent a month each year on the beach in California with his family. His only regret, he says, is not leaving high school after his first year, since he felt his rage had mastered prep baseball and his brother, Bryan (a pitcher in the Nats' system), had graduated.
"I can't remember a time when Bryce didn't have big calluses on his hands from hitting," says Tanner Chauncey, a friend and teammate of Harper's since elementary school and a baseball player at BYU. "He was working when the rest of us weren't."
Harper was 19 when he was called up to the Nationals less than a month into the 2012 season, two years after being drafted No. 1, and he wondered why it took so long. The sheer velocity of his play his first three years in the league -- running into walls late in blowouts, flailing at pitches out of the zone, barking at umpires who were determined to test the brash phenom -- was born of his quest to fulfill expectations. His, ours, you name it.
It's tempting to call last year's MVP season -- he led the NL in WAR, homers, runs, slugging percentage and OBP -- a victory lap. But Harper won't admit to anything that might be construed, even accidentally, as complacency or satisfaction. So let's call it validation -- validation for every silent workout, every eyebrow-raising decision intended to accelerate him toward becoming the youngest unanimous MVP in baseball history.
More than anything, last season's success can be attributed to patience. It followed three years of injuries and uninspiring production that birthed a new theme: He was overhyped and overrated, all before he turned 22. But last year he quieted the noise and looked inward. On April 24, he stopped taking batting practice on the field, removing the temptation to acquire bad habits while impressing fans. "You don't want to be a 5 o'clock guy," he says. "You want to be a 7:05 guy." Former manager Matt Williams would tell him, "Most great hitters can figure on getting one pitch an at-bat, and they can't miss it. You're going to get half a pitch." Still, there were times during Harper's 124-walk season when Williams would chide Harper by asking, "Are you going to swing the bat today?" Thirty-two times in big league history a player has scored four runs in a game with zero hits. Harper did it twice in a three-week period.
"Last year he started grasping who Bryce Harper is," says Nats shortstop Danny Espinosa. "Rather than trying to create something more, to live up to someone else's idea of who he should be, he just grasped who Bryce was and ran with it."
Everything comes back to that swing. Civilizations have been founded on less. How far can that swing take Bryce Harper?
Because here's the thing about prodigies: A shocking number of them either quit doing whatever made them prodigious or grow to despise it. (In the first chapter of his autobiography, Andre Agassi says he hates tennis.) Once the precociousness wanes and the ranks of violinists or pianists or computer hackers grow, the rage to master subsides and needs to be replaced -- consciously or not -- by another pursuit.
"A huge problem with prodigies comes when they get near adult level," Winner says. "If they're going to remain celebrated and famous, they have to do something new, and there seems to be a limit to innovation in athletics. I don't know: Can you change baseball?"
Funny she should ask; we're about to find out.
---
BUT FIRST, A STORY:
Career day, Harney Middle School, Las Vegas. A nice lady stands in front of a sixth-grade classroom to discuss professions with the boys and girls seated in front of her. Each student is asked to declare a career, and it's a rundown of the usual suspects: firefighter, doctor, veterinarian. The nice lady's enthusiastic reaction to those last two answers triggers a chain reaction; even the kids who didn't have the slightest clue what they want to be figure they can't go wrong with one of those. Around the room it goes. Doctor. Veterinarian. Sure, why not?
When it winds around to the biggest kid in the room, Bryce Harper says, "I want to be a professional baseball player."
"Well," the lady says, a jagged shard of disapproval seeping into her tone, "I think maybe you should pick a new profession. You know that doesn't happen very often."
Harper looks at her with a stony silence. The words he wants to say are right there -- You've got no clue teed up in his mind like a BP fastball -- but instead he says, "Yeah, well, that's just my dream."
Chauncey, seated a desk away from Harper, can't let it end there. This woman needs to know. It's an act of kindness, even mercy, on his part.
"No, you don't understand," Chauncey says. "He really is going to be a professional baseball player. He's the best 12-year-old in the country."
As Harper tells the story, his voice takes on a brittle edge. A funny, even sweet story about adult misconceptions and boyhood loyalty is something entirely different to him. It chafes him that someone would patronize him, someone who had no clue.
When you're around Harper for a while, it's easy to predict when he's going to say something he might regret. You can hear brutal honesty creep into his tone -- sometimes he just can't help himself.
"You know what I'd like to do?" he says. "I'd love to look back now and see who actually is a doctor or a veterinarian, and laugh."
---
Patrick McDermott/Washington Nationals/Getty Images
HE WANTS TO change the game. He wants to change the perception of baseball players, to become a single-name icon like LeBron and Beckham and Cam. "I don't know much about Bryce," says his new manager, Dusty Baker, "but I know he's one of the hippest kids around." Harper wants to elevate his sport's profile through his play, through his fashion, through the charisma of his personality, maybe even through the fascination with the size of the first free agent contract ($400 million? $500 million?) that he'll sign shortly after his 26th birthday. Is this a prodigy's natural urge to innovate or a sign of youthful hubris?
"Endorsements, fashion -- it's something baseball doesn't see," he says. "In soccer, it's Beckham or Ronaldo. In basketball, it's Curry and LeBron. In football, it's Cam. Football and basketball have such good fashion."
There are impediments endemic to the sport. Everyone knows about Russell Westbrook's unique couture because he's wearing it in an interview room. The baseball player, on the other hand, is interviewed at his locker, often shirtless and sporting a hat head that can ruin even Harper's unique follicle landscaping. As Nationals first baseman Ryan Zimmerman says, "We're uniformed personnel."
And then there's the larger obstacle: the game's stern code. Case in point: Papelbon vs. Harper. It started when Orioles third baseman Manny Machado hit a home run against the Nationals last September and reacted with too much excitement, so Jonathan Papelbon drilled him the next time Machado came to bat, which caused Harper to suggest to reporters that baseball's code is "tired," which led to Papelbon berating and then choking Harper four days later after the closer found his teammate's hustle lacking -- a Rube Goldberg display of baseball's grim underside.
Harper has admitted fault in going to reporters instead of speaking to Papelbon directly ("If I had a problem with Pap, I should have gone up to Pap," he says), and both men say it didn't last beyond that day. But that's not what Harper wants to talk about now.
"Baseball's tired," he says. "It's a tired sport, because you can't express yourself. You can't do what people in other sports do. I'm not saying baseball is, you know, boring or anything like that, but it's the excitement of the young guys who are coming into the game now who have flair. If that's Matt Harvey or Jacob deGrom or Manny Machado or Joc Pederson or Andrew McCutchen or Yasiel Puig -- there's so many guys in the game now who are so much fun.
"Jose Fernandez is a great example. Jose Fernandez will strike you out and stare you down into the dugout and pump his fist. And if you hit a homer and pimp it? He doesn't care. Because you got him. That's part of the game. It's not the old feeling -- hoorah ... if you pimp a homer, I'm going to hit you right in the teeth. No. If a guy pimps a homer for a game-winning shot ... I mean -- sorry."
He stops, looks around. The hell with it, he's all in.
"If a guy pumps his fist at me on the mound, I'm going to go, 'Yeah, you got me. Good for you. Hopefully I get you next time.' That's what makes the game fun. You want kids to play the game, right? What are kids playing these days? Football, basketball. Look at those players -- Steph Curry, LeBron James. It's exciting to see those players in those sports. Cam Newton -- I love the way Cam goes about it. He smiles, he laughs. It's that flair. The dramatic."
The question is this: Can Bryce Harper turn that swing into an enzyme to quicken a chemical reaction that will eradicate baseball's old-school thinking -- the unwritten rules, The Code, a century and a half of shut-up-and-play -- and create a game in which players respect each other and retain the right to express themselves fully without fear of a fastball to the ear hole?
It's a big dream. But if not him, who? Mike Trout is Harper's equal as a player, but he's as publicly charismatic as a plate of sand. Harper, in true prodigy fashion, demands attention. In Game 4 of the 2014 division series against the Giants, he stood on deck in the seventh inning with the Giants leading 2-1. A fan in the sunken seats about 10 feet away, holding a glass of red wine, berated Harper with an intensity that couldn't be ignored.
"Hey, buddy," Harper said. "How's that glass of wine?"
Harper remembers that the fan sputtered before saying, "You're going to strike out."
"You know I love playing here, don't you, buddy?"
Seconds later, Harper drove a fastball into San Francisco Bay. As he touched home plate and turned for the dugout, Harper fixed his eyes on the fan, holding his stare a step or two longer than necessary.
"He was just devastated about life," Harper says.
It's the certainty, right? That's why so many people have a problem with Harper. He can be good -- we're fine with that -- but he can't let us know that he knows how good. He can hit that homer, sure, and we can admire it, but it's that stare he gives the wine-drinking fan -- the extra-long linger that sinks the needle just a bit deeper -- that changes everything.
---
"It's a tired sport. You can't express yourself. You can't do what people in other sports do."
- Bryce Harper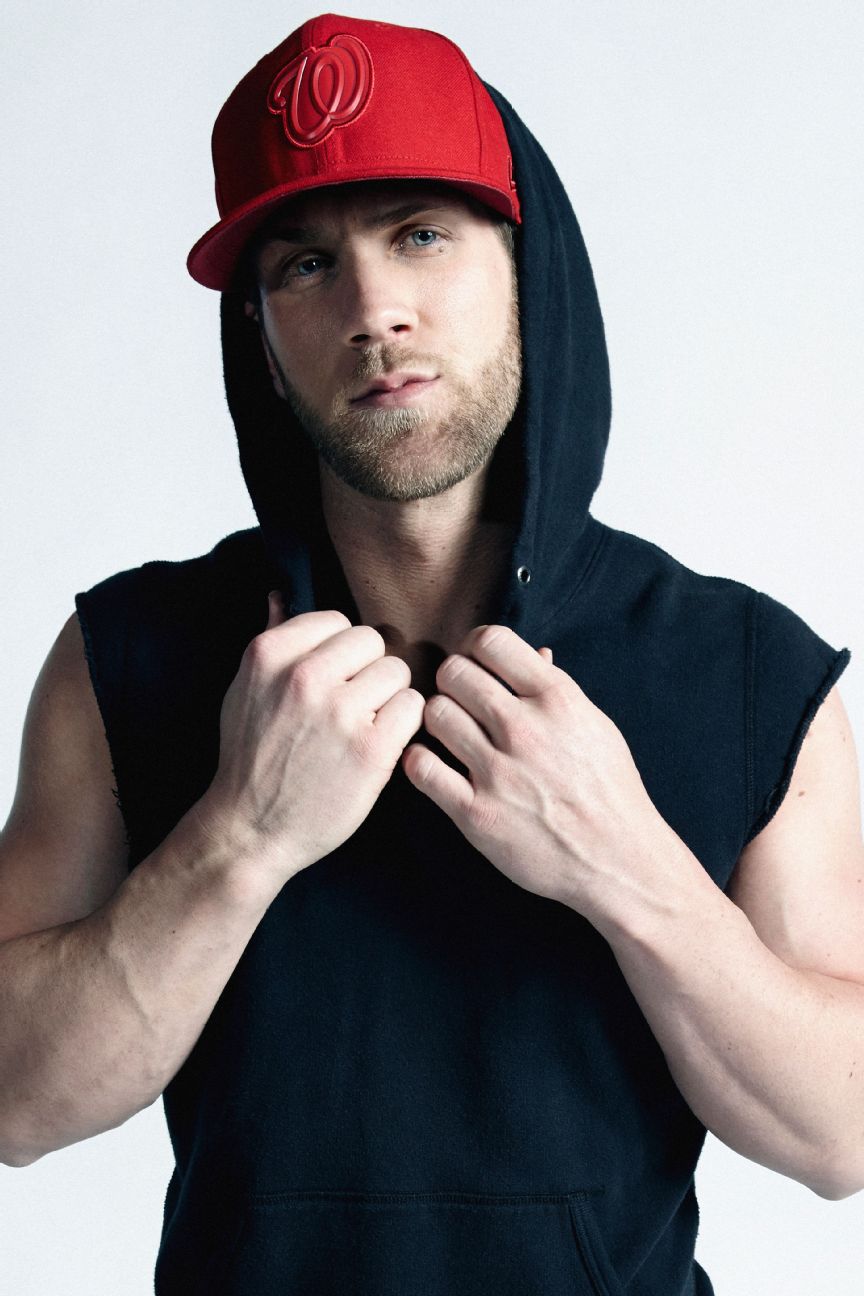 HARPER TREATS THE subject of his Q Score like something he pulled from the shower drain. He's too young or too arrogant or too young to be arrogant. He's heard it all. How did the kid who went to LDS religion classes almost every morning in high school, the guy who still lives with his parents in the offseason, get stamped with the word that's become America's all-purpose evasion? Is Bryce Harper polarizing?
"I don't care," he says. "I ... don't ... care. I really don't. As long as I can look in the mirror and say I played as hard as I could. I think people get opinions when they see me play the game and see the hard-nosed, chip-on-my-shoulder kind of thing. That's the way I play. I want to kick your teeth in. And after the game I can walk out of those doors and be the happiest person in the world."
He has "Pop" tattooed on the underside of his right wrist and "Mom" in the same spot on the left. He has his surname and "Luke 1:37" ("For with God nothing shall be impossible") in elongated script down his right side, stretching like taffy from underarm to hip. Luke's message is a recurring theme: Limits are unwelcome.
"He's the same way he's always been," Chauncey says. "When we were little, I was scared to death of him. The thing about Bryce was, he did not ever slow it down.
"A lot of people look at his attitude as negative, that he's cocky or arrogant. Douche -- that's the word I hear a lot. Is he a douche? No, he's not. They say, 'Well, he kind of acts like one.' I always answer: 'Why, because he's good and he shows it?' "
Why pretend? Is false modesty any less distasteful than outward self-assurance? Besides, Harper doesn't have a problem admitting failure. In fact, he relishes it, bringing it up as often as he can, as if pressing his fingertips into a bruise to relive the pain. He was 0-for-4 at the start of the fall season at the College of Southern Nevada, and he sat on the edge of his bed, a 16-year-old playing against men, and asked himself, "Can I really do this?"
He told Pop, "I don't know about this. I kind of want to go back to high school."
"Is that what you really want?" Ron asked. "If it is, we can go back."
"No, no, no," he said. "I can't go back."
The next day, he homered in his first at-bat and came home and sat on the same edge of that same bed and told himself, "I think I've got this."
He's got one more failure story: It was the summer after his freshman year in high school and he was playing in the Area Code Games in Long Beach, California. He drove the ball all over the field before facing lefty Tyler Skaggs, an eventual first-round pick of the Angels.
"That's when I got a taste for what a top-level guy is all about," Harper says. "He was lights-out. He struck me out three times, and I walked back to the dugout thinking, 'Wow. These guys are good.'"
"Was that the last time you faced someone you could say was better than you?" I ask.
The noise he emits is difficult to categorize. Technically a laugh, if defined by the strictest rules of noise classification, but probably closer to a scoff or a choke.
"I will never say anybody's better than me," he says. "I don't think those words will ever come out of my mouth."
Doubt didn't get him to this point, and it's sure as hell not going to help him change the game. There's something resembling a smile at the corners of his mouth, and the look on his face says, "What did you expect?"
So ... douche? Trust me, he doesn't come off the way he reads in black and white. Honest. Not that he would care if he did or if you thought he did. Not even a little bit.
Keown is a senior writer for ESPN The Magazine and a columnist for ESPN.com