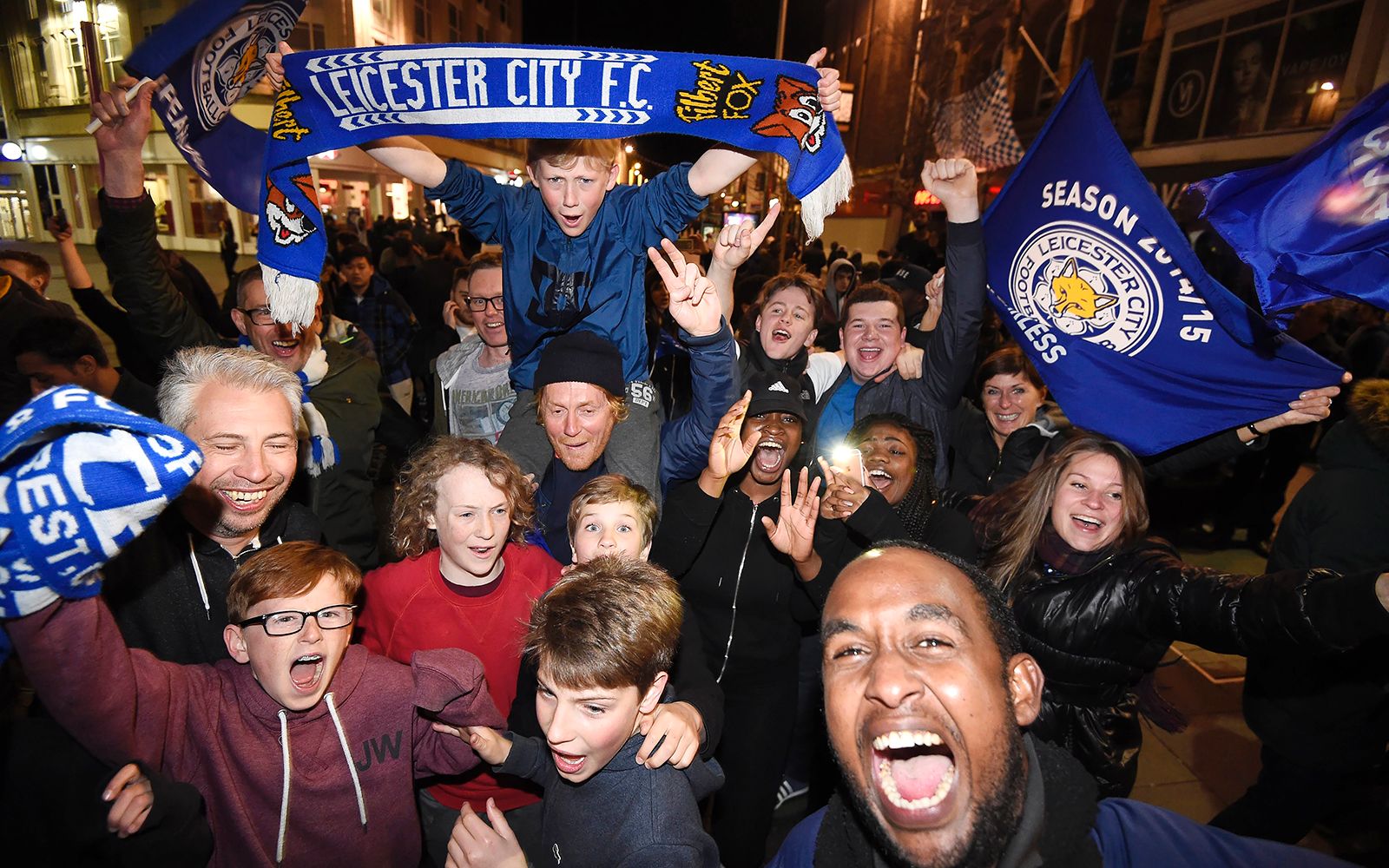 'We've come to win the league!'
Leicester City defied seemingly insurmountable odds to win the English Premier League this season, adding to this city's ancient past, deep-rooted traditions and increasingly diverse fan base.
LEICESTER, England -- The last month of the season passed slow and painful in Leicester, a former textile mill town surrounded by rolling green hills. At a hotel on the outskirts of town, near a Pizza Hut and a shopping mall, a few of the Leicester City players hung out the night before a home game against Swansea City. One of them, a defender named Danny Simpson, did the math.
"Five points clear," he said. "Four games to go."
The players were close enough to winning the Premier League that they already felt nostalgic about their teammates, imagining seeing each other in 20 years at reunions and memorials; one of them, star striker Jamie Vardy, is getting married after the season and invited the team to the ceremony and the reception. Maybe then it will sink in, what they've chased this past year. Countless journalists have tried to make comparisons, talking about the 5,000-to-1 odds at the beginning of the season, or the 54.4 million pounds Leicester City spent on its roster, about a fourth of what Chelsea paid to win a year ago. The truth is, no comparison really works. There's never been anything like this in sports. Perhaps the clearest window into the ridiculousness of it all, though, has nothing to do with stats or history.
Simpson smiled and told a story.
A month or so ago, with a few days off, he flew to Spain for a vacation. While there, he paid his money and took the tour of Camp Nou, FC Barcelona's stadium, along with a group of random tourists. He bought himself a shirt in the gift shop and took selfies on the pitch, because he'd always wanted to see it, this palace of football so far away from the rough middle of the sport where he makes his living. This might be his only chance.
Now, if the next month went OK, he could play there in the Champions League.
As he talked, the director of football -- think general manager in the U.S. -- entered the hotel, saw Simpson and headed over to say hello. Before the director left, he had one more thing on his mind.
"Four more games," he said.
---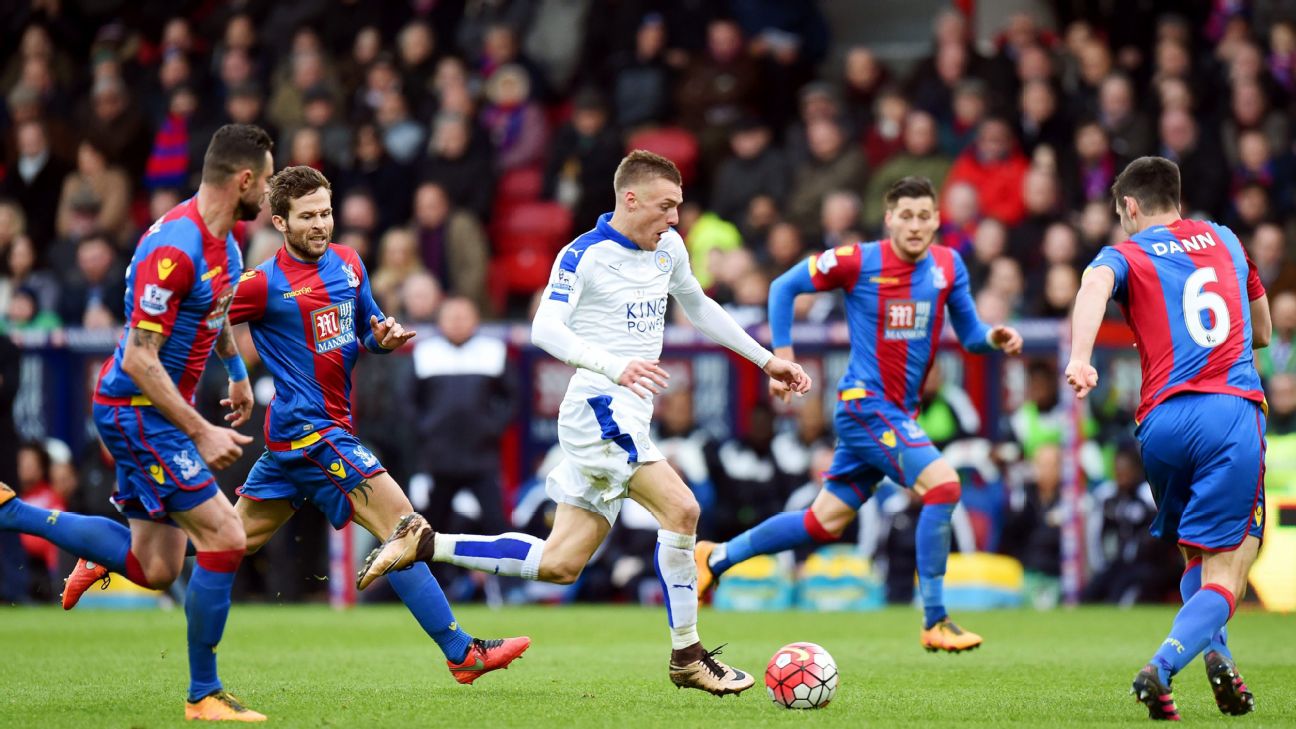 THEY NEEDED only two of those games, and so, on Monday night, when Tottenham threw away a 2-0 first-half lead and tied with Chelsea 2-2, it was done. Leicester City, in last place a year ago April, was the champion of the English Premier League. Fans left their homes and left the pubs where they'd been watching and started to converge on the center of town, blaring horns and waving at each other. Everything stopped. One group looked around for the celebration, finding the streets mostly empty at first.
"Solemn, this is," one said.
Then they heard it, a vibration almost at first, then a noise, roaring, coming from somewhere in the distance. This was the release they'd been chasing for the past few months, once they realized that the season was for real, and that a title might actually wait at the end of the road. They stopped and tried to figure out where the noise was coming from, as it echoed off the narrow streets surrounding the clock tower. A Japanese cameraman appeared around a corner, and the Leicester fans rushed toward him.
"Where are the crowds?" they asked.
The cameraman pointed toward the old city market.
The noise kept getting louder.
The whole thing was spectacularly weird and perfect, really, people searching for some far off echo, not entirely sure where to go. It fit the city and its mood, and matched the entire march toward the title, especially the stressful games once everyone here realized this might happen.
April and the first few days of May were strange in the city, sunny one minute and then hammered by sleet and snow. Journalists and television crews descended on the place, asking people all sorts of versions of a single question: What does this football season mean? Nobody had a good answer, because there is no good answer. The city leaders planned photo ops, letting fans pose with the Premier League trophy, even though the season wasn't finished, lighting public buildings blue and putting a team scarf on a local statue, all to try to put an image to what stubbornly remained an idea. Nobody could really articulate what it meant, because it meant something different to everyone. This was a private moment at its core, personal and individual; the vivid images on camera didn't come close to matching the complex feelings this season has brought out in so many people here who revealed themselves in the agony of the wait.
---
RIAZ KHAN, a 50-year-old former football hooligan turned teacher, took a break from his day to kneel down for Friday's prayer at a Leicester storefront mosque. He's bald, with a thick beard, a broad chest and a huge smile. It's two days before LCFC played at Manchester United -- three games to go! -- and the mosque had a team poster taped to its front door. Today will be busy for him, stacked up with interviews with BBC, Sky Sports and an Italian magazine, since he's become the face of the story Leicester tells itself about itself.
This is the first city in the United Kingdom with less than 50 percent of the population identifying as "white British," which some people see as the inevitable destiny of an island nation that tried to conquer the world, while others see it as a sign of the apocalypse. People here of different faiths and races seem to get along; Narborough Road, one of the main avenues into the city, was named the most diverse street in Britain by researchers. Shopkeepers and small business owners from 23 nations work there.
The city is held up as a national model to other places struggling with their own diversity and anger about immigration, and a few years ago, a group of opposing fans from Millwall chanted "You're just a town full of bombers!" and "Leicester, Taliban!" So Khan, whose fellow hooligans in the 1980s didn't hold his Pakistani heritage against him, is a positive story.
In the month leading up to the title, he enjoyed his 15 minutes.
He had his part down. He knew the company line.
"When Leicester wins," he said to an Italian journalist on the phone, "it will unify the entire city. Leicester is the best place in Europe for multiracial relationships."
Later, while heading to lunch, he admitted the more complicated truth. People stick together in their own groups.
"It's romanticized," Khan said. "It's not a melting pot. We're like a salad bowl. We live side by side. We don't live together. I think racism has come back in. In my time, we was all together."
A funny thing happened in the 1980s in Leicester.
"It's romanticized. It's not a melting pot. We're like a salad bowl. We live side by side. We don't live together. I think racism has come back in."
- Riaz Khan, a 50-year-old former football hooligan turned teacher
The football hooligans did what other parts of the society could not yet do: accept anyone, as long as the person held the same values, which meant being willing to risk severe injury to support the city, and hating the rival clubs and the cities they represented. In Leicester, and in several other cities, firms of football hooligans, long the youth wing of far-right nationalists and skinheads, found themselves looking more like the future of the country than the past.
Khan, who struggled to find his place as the child of immigrants, found himself in what became known in the '80s as "casual culture," where the hooligans abandoned the uniform of combat boots and shaved heads and went looking for always evolving fashion statements. Khan still remembers his favorite pieces and combinations: red diamond Pringle jumper, Lyle & Scott roll-neck, bleached jeans and white Adidas trainers. The Burberry trench-coats of late 1983, or what followed in 1984 and 1985: Aquascutum reversible jackets, a geo-patterned Armani jumper with the brown badge or an Izod cardigan, Farah loose-fit slacks or brown Armani jeans. Some stuff they bought. Some they just stole. He still searches eBay for vintage clothes, nostalgic now in his middle age.
They'd travel away, to London and to Derby, fighting fans from Tottenham or Arsenal, rumbling with Newcastle and Nottingham Forest supporters, and he remembers the time Manchester United casuals filled an entire street leading up to the Leicester clock tower, and how scared the sight made him. It felt almost ancient to defend their own Filbert Street stadium, replaced in 2002 by the more modern King Power. They battled in 1984 against West Ham hooligans, and Khan remembers the song playing in the background, the Thompson Twins' "Hold Me Now."
As the 1990s began, the culture died, for many reasons; the money coming into the sport through satellite television gave teams the business incentive to appeal to a broader, and different, clientele, and the government was no longer willing to tolerate people dying over a game. Seated stadiums instead of big standing pens, along with closed-circuit cameras, worked to end the scene too. For Khan, his own personal Rubicon came on April 15, 1989, when 96 people were crushed to death at a football stadium in Sheffield. It scared him, made him see how dangerous stadiums could be. He fell into a different culture, the drug-fueled rave scene -- in truth, ecstasy did as much to end casual culture as any law -- until he found religion. Now he sees the old guys only at funerals and at 50th birthday parties.
After finishing his call with the Italian magazine, he met a Sky Sports satellite truck at an abandoned lot that used to be the stadium on Filbert Street. It's buried deep in an old neighborhood, and in the narrow alleys and streets leading to it, Khan and his friends fought running battles with opposing fans. Now people park their cars where the pitch used to be, grown over in weeds, covered in broken bottles.
"I miss the '80s," Khan said. "Punks, skinheads, break dancers, body boppers, hooligans, casuals. Now everybody looks the same."
---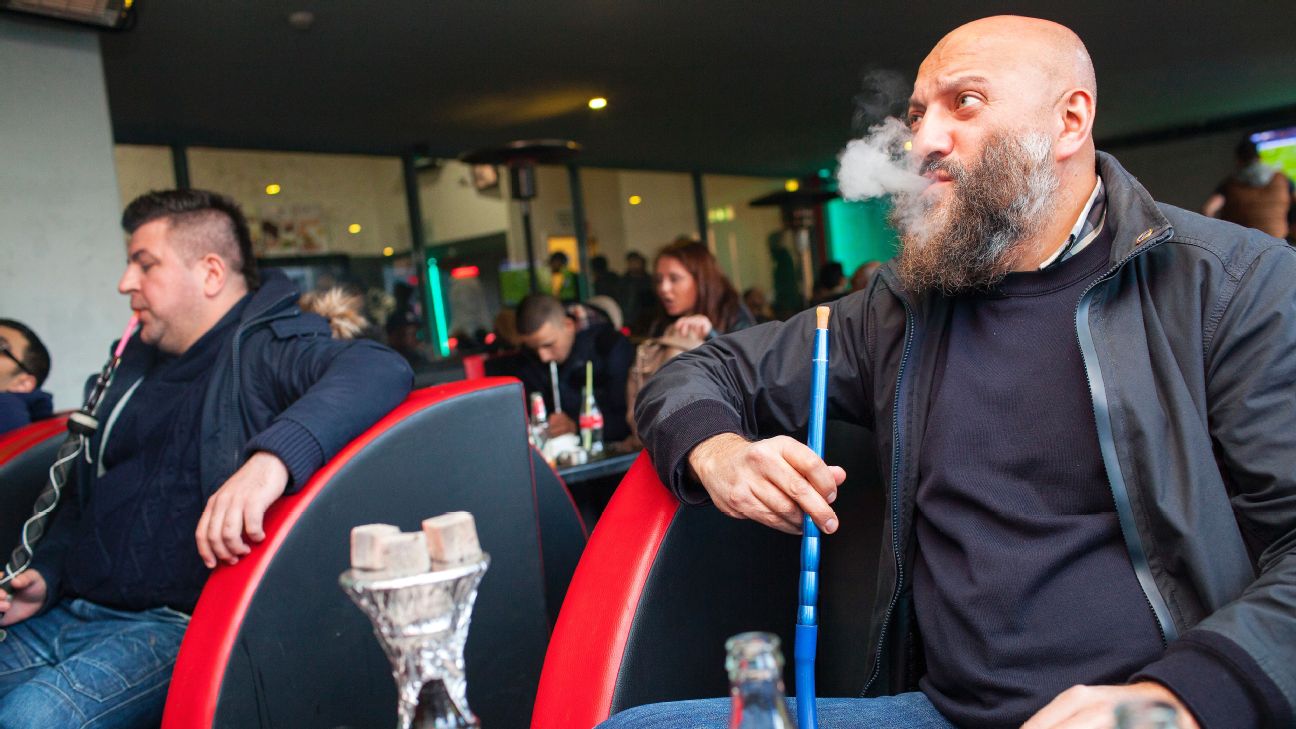 JOHN WILLIAMS lives on a park near the local university where he teaches, and he's got an old jukebox filled with 45s by his favorites like Bruce Springsteen and Elvis Costello. He studies the sociology of football and has written many books on the subject. Whenever someone wants to understand the subtext of life on the pitches and terraces of Leicester, he's often the first call. He pours a cup of coffee and sits at the kitchen table, his wife's beautiful garden green and lush through the back picture windows.
Leicester City games see a growing number of South Asians -- mostly people of Indian and Pakistani descent -- in the stands, estimated around 10 percent, although some say that feels too high, especially in a place that is one-third South Asian. Still, it's a larger percentage than nearly any other team in Britain, and different from even 15 years ago in Leicester, before Filbert Street became a parking lot.
"It was a very white space," Williams said. "It had a sense of foreboding and exclusion about it. The new stadium has none of those memories. Everyone starts with a clean state at the new stadium because you have to make the history. This is a new history being written."
King Power Stadium is just a small part of a larger evolution that's seen the Premier League change from a method of affirming tribal codes to the world's most lucrative sporting empire. It's entertainment, and the flags the Leicester fans wave at games are provided by the club, as are the large banners passed down before the game. The targeted fan base, Williams said, is largely the middle-class white population and the upper-middle-class ethnic population. The ethnic middle class doesn't yet connect with the tradition in large numbers, although the success of this year might spark something in the middle-class parents to come. The wealthy white people who live in the villages dotting the countryside identify more with the city's dominant and history-rich rugby club. Hardly any poor people can afford to regularly go to the games, including the working-class whites who formed the backbone of Leicester City's support a generation ago.
For some lifelong Leicester fans, this season is a kind of requiem, the glory reminding them of glories past, one more piece of their pre-World War II lives that never returned after the bombs stopped falling and the nation buried its dead.
"They're in their estates," Williams said. "They're in the Saffron Lane area and the Braunstone area. They're in the white housing projects on the edge of the city, and they used to be connected to the game and now they're disconnected. They can't afford to go, and other people have come in to take their places."
---
THE NO. 18 AND 19 buses run from the clock tower to the Braunstone council estate. Wayne Naylor, a former city councilman for the area, sat by a window as the bus rumbled over rough streets. He's a heavyset, joyful man. The city center looks completely different than it did even a few years ago, cranes in the air and new buildings rising. Things are changing, time marching on, and in a way, the success of the football team is just one more reflection of that change, not the cause of it. This isn't Youngstown, Ohio. A new mall has an Apple store, and the same upscale chain restaurants as other cities.
"Who's it being done for?" Naylor asked. "My feeling is the city center has been created as a tourist attraction. It's definitely high end."
The bus turned down Narborough Road, getting closer. Built after World War II, Braunstone was divided for years into an area called "Texas" and an area called "Dodge." It remains the city's Wild West. Before the war, many of these families lived in a medieval slum called Wharf Street, second-class citizens since the Middle Ages. The world's most famous freak, Joseph Merrick, the Elephant Man, grew up there. In a 1925 newspaper editorial, the writer described the area by contrasting it with a nearby home to the wealthy and refined: "The two classes represent the opposite poles of modern society ... the workers and the idlers; the rich and the poor."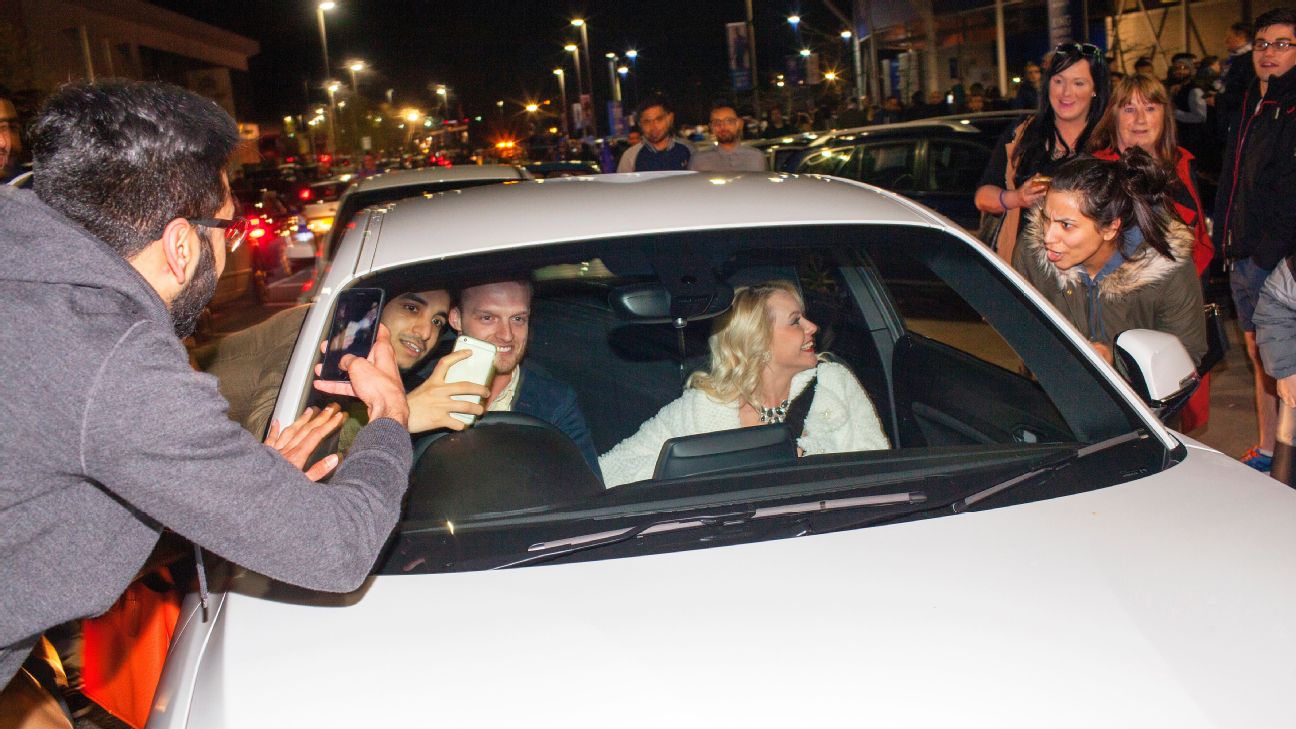 In the late '40s and '50s, the government tore down the slum, a hindrance to reinvention, packing up the people and shipping them out to Braunstone. They are traditional supporters of Leicester City, and many remain so, even if they do it from the edges. It's a tight-knit, insular place. People are tough. Their fathers formed the backbone of the city's toughest hooligan firms. They don't trust the government in London because they've been trying to escape urban poverty since literally the Middle Ages.
The bus stopped and Naylor got off, walking into the estate. He came to visit his friend Ali, who runs a community center and food pantry, with a garden outside to help with the food shortages in the neighborhood. The staff finished a meeting, and everyone sat around and talked. They're Leicester City fans, as are the kids in the neighborhood who grew up in the '80s and '90s. But the kids who came of age after King Power Stadium was built, and who grew up with access to every team via satellite television, they're supporting big-city clubs like Arsenal or Liverpool, or even Real Madrid.
"The lads are jumping ship," a worker named Lucie said.
The football talk reminded Ali of a local man who died a few months ago, a fanatic Leicester City supporter who made it to the start of this magical season but not the end. His name was Barry Sawbridge; he wore a neat white mustache, and the lines and crevices in his face told a story about work. At 58, he spent much of his time spoiling his nine granddaughters, although he longed for a grandson. He and his wife, Maria, raised foster kids once their own left the house. He never missed a home game, following the team from Filbert Street to King Power. In late November, he and his oldest son, Craig, sat in their seats together and watched Vardy score a goal in a record 11th straight league game.
Barry couldn't believe it.
"We're gonna do it, Craig," he said, nearly overcome. "We're gonna win the league."
That was his last game.
Three days later, Barry collapsed at his annual Christmas charity event and Maria heard him hit the floor with a thud. She started CPR immediately, still in her Santa costume. They got him to the hospital alive but without brain function. The doctors did everything they could to get him to wake up. Two or three days into the vigil, Craig and his girlfriend got the news from their own doctor: She was pregnant with a boy. Craig wanted his father to wake up just for a moment so he could find out about his grandson, but he never did. Before they unplugged the machines, Craig whispered the news in his dad's ear. He put a Leicester City jersey on him, and that's how Barry Sawbridge from Braunstone died, at 2:05 in the morning, surrounded by his family, wearing the blue.
---
Eddie Keogh/Reuters; Plumb Images/Leicester City FC/Getty Images
THAT'S THE KIND of complicated place Leicester has become, still tied to its ancient past and deep-rooted traditions -- while also full of people from around the world who don't even know where to begin to connect to those traditions, if they even wanted to in the first place. When the queen came to visit a nearby village four years ago, home to the famous Leicestershire pork pie, the town leaders presented her with one of them as a representation of what they hold dearest about themselves; downtown in Leicester, a shop named Walker & Son sells fat-laced rashers of bacon on a white roll called a cob -- with butter, and either ketchup or HP -- so even basic foodways can't connect when many of the people moving to town don't eat pork.
Where can radically different cultures find something both understand?
Enter the myth of Jamie Vardy, who is whomever you need him to be. He's the team's star player, and a decade ago, he worked in a factory. After catching his break into the low rungs of English football, he got into a bar fight defending a friend and actually had to play games while wearing an ankle tag. Now he's a folk hero, a kind of British redneck who tweets out rough slang, like the phrase now printed on T-shirts sold at a shop on High Street: "Chat shit get banged." (Talk smack and get beat up.) Security cameras caught him cracking racist taunts at an Asian man in a casino, and he got in trouble, but almost everyone seems to have forgiven him. It's strange; there's almost nothing, no matter how vile, he could do right now to dim his light. The fans love to sing a song about him, booze and cocaine, "Jamie Vardy's having a party. Bring your vodka and your charlie." That's on T-shirts now too. His roots lie in the struggling steel town of Sheffield, an hour or so away by train, where he grew up and played on his local pub team after the local soccer team released him from its youth system. The place is called The Anvil, and it sits on a corner on the working-class side of town, a few hundred yards from his parents. There's a newspaper clipping about Vardy tacked to the wall, proof that any man can write his own future, which might be the thing Leicester needs the most, in the immigrant shops on Narborough Road, where people cook reminders of home for people who've moved far away; and in the Working Men's Club on Saffron Lane, where a plaque on the wall honors the 22 club members who died during World War II.
---
THREE DAYS AGO, everyone in Leicester who could find a ticket loaded into cars and trains and buses and descended on Manchester's Old Trafford. A win would make them champions. Craig Sawbridge, starting a new tradition by going with his brother, stopped by his mother's place before leaving town, his late father, Barry, on his mind.
"Enjoy the day," his mom told him. "Do it for Dad."
The last month of the season hurt Craig and his family. They felt intense joy for the team but also were unable to shake the thoughts about how much Barry would have loved it. They want to believe he knows somehow what's happened in King Power. "It's like he's willing us on," Craig said. "He's still there in spirit. I don't care what anyone says. He's still there. That's his home."
The fans who sat around them for years in L Block 1 came to his funeral, wearing the colors. His family buried him in a blue coffin. The pallbearers wore LCFC jerseys. So did the priest. The processional was the team's anthem. Maria stood at the front of the church and said her own goodbye. "So when it is raining, please don't cry, when the sun is shining, you will be in the garden doing your hanging baskets, and when it is thundering, we will hear you shout 'Leicester City.'"
Now two of his boys and their friends parked their car near Old Trafford and went searching for a place to get some beers. First, they ordered some french fries at a takeaway place, eating them out of containers in the rain. The skies looked unrelentingly bleak. The street vendors around the stadium, lining Sir Matt Busby Way, sold scarves and bacon rolls to the descending crowds. One stand served a full English breakfast while others griddled sausages and burgers. In a packed basement bar, Craig leaned in a corner with his phone and scrolled through pictures of his dad and read messages on Facebook about a post he made before leaving home, about the mixed emotions of the day. The boys downed the beers quickly and started making their way to the east stands. Barry would have loved seeing his sons so full of joy, laughing and looking around to see whether someone would beat them up for singing.
"People do it outside our grounds," Craig said.
"Go for it," his brother Tommy said, egging him on, "and I'll join in."
This was their new tradition; Tommy took over Barry's season tickets, so now he and Craig will sit together, surrounded by their friends in L Block 1. They saw the Leicester City owners and rushed over to shake their hands. They got a Manchester cop to pose with a Leicester flag and then they found their courage: Standing outside the east stands of the most famous football stadium in the world, the Sawbridge boys sang at the top of their lungs, "We've come to win the league! I know you won't believe us ... we've come to win the league!"
---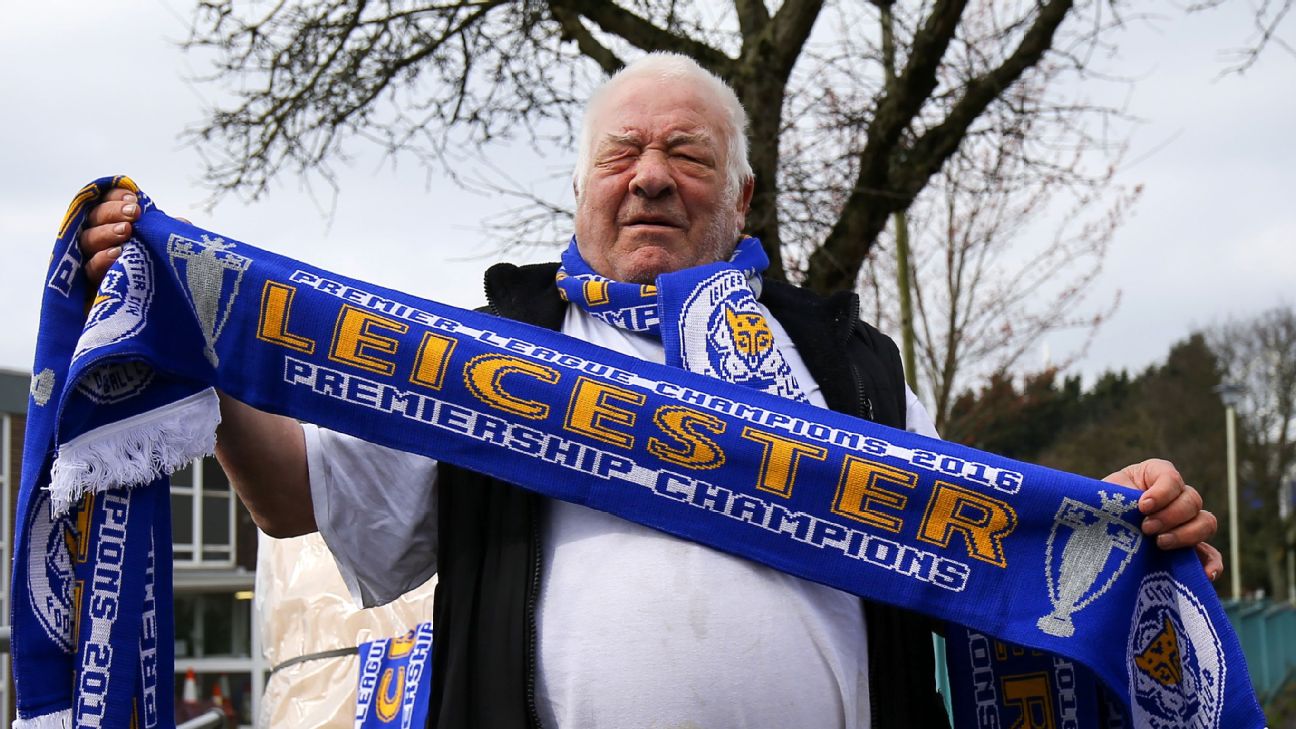 THE GAME ENDED in a draw. As Leicester fans sang and set off blue smoke bombs outside the east stands of Old Trafford, Riaz Khan and his son met two friends in a nearby hotel lobby for the drive home. They still needed a win or a Tottenham loss or draw to clinch the title, so the wait continued, at least one more day.
Khan and his group got back in the car and headed southeast across England. They talked about their hope for the community in Leicester, how the team might break a cycle of living side-by-side lives, strangers to each other. It's getting worse; now, even individual mosques in the city are becoming their own tribes, finding like-minded people and closing themselves off to others. This season might, just might, ease that a little. Might help the people who all share Leicester find a way to intertwine their lives.
"It creates a level playing field where people can relate to each other," said Khan's friend Yusuf Chambers, who brought his son along to the game as well. "The reality is, we're crying inside because we're not communicating with each other."
Riaz's teenage, Qais, spoke up in the back seat.
"It's true," he said.
The adults turned to listen. A week or two ago, Qais and some of his friends, most of them black, walked together down London Road near his home. It's a rough neighborhood. They approached a group of white guys, young working-class toughs, and normally, they'd have all passed each other studiously avoiding eye contact.
This time, something different happened.
"We've come to win the league! I know you won't believe us ... we've come to win the league!"
- The Sawbridge Boys, singing outside Old Trafford
The kids started talking about Vardy and one of his recent goals and ending up singing songs together. The moment didn't change the city, or even last that long, but it stuck in Qais' mind. "They were surprised by it, and so were we," he said. "There is no way we'd be talking to each other."
The next evening, Khan and Yusuf and their friend Dave met in a local shisha place filled with fans, smoking pipes and drinking colas and fruit juices. Everyone sat on the black leather couches and watched one of the half-dozen televisions tuned to Chelsea- Tottenham. They caught up on the gossip, about Vardy inviting the entire team to his place to watch the game -- "Jamie Vardy is actually having a party!" one of them joked -- and Dave told them about a funeral he'd attended, for a young man he'd tried to mentor who got stabbed in gang violence. The town might be inching toward something scary, but that will all wait for tomorrow. When Tottenham jumped out to a 2-0 halftime lead, the guys started doing the math once more, realizing that two losses and two Spurs wins would cost them the title. The nerves kicked in, and as the halftime break began, Riaz went off by himself for a moment to pray.
---
THESE MONTHS of waiting, of hoping -- and even of praying if that's your particular thing -- had dwindled down to this: 13 minutes. Chelsea scored two goals, the equalizer in the 83rd minute, and then in the shisha bar, and in the pubs in the projects and the city center, in the working men's clubs on Saffron Lane and in Braunstone, everyone did the exact same thing: yelled at the clock to move faster. The ref had added six minutes of stoppage time, and people grumbled about conspiracies. The clock hit 96 minutes, and the seconds kept ticking away, 10, 12, 14, and then the whistle blew at 96:53. Everyone jumped up and started hugging and taking pictures and almost immediately the sound of honking horns blasted in through the open windows.
Riaz led a march through the streets, following the sound echoing through the narrow winding center of town, until he rounded a corner with his friend Dave and found a crowd. A man with no shirt, his chest covered in tattoos, jumped and waved a flag and rang a bell, all on the top of a rocking satellite truck. People pressed up against each other and sang and laughed. There were Asians and blacks and whites.
Off by himself, Riaz just smiled.
"You noticed?" Dave asked, and Riaz nodded, a little overcome. The city, in all its messiness, celebrated together. A few blocks away, at the clock tower, the same scene repeated itself. They wandered over there too, following the noise and cheers and honking horns. Dave ticked off the nationalities of people they passed: Turkish, Somalis, Romanians, Nigerians, Irish, Indians, Pakistanis, young and old whites, rich and poor, and on and on. People who'd never cared at all about their hometown team before celebrated with lifelong fans. They all chanted "Leicester," over and over again, one of them keeping time on a drum.
Riaz and Dave looked around, seeing the volatile mix of unfamiliar people in a tight space, and if life here has taught them anything, it's that trouble always starts quickly and can't be stopped once it jumps off. Their lessons were learned in the past, and even though the future would win tonight, with a rollicking celebration without even a whiff of conflict, those old fears always remain. "I guarantee you that will go wrong in 20 minutes," Dave said, leading the group down Gallowtree Gate, the crowd at the clock tower growing, with a long line of cars winding into the city.
Riaz agreed. "Let's get out of here."
A senior writer for ESPN.com and ESPN The Magazine, Wright Thompson is a native of Clarksdale, Mississippi; he currently lives in Oxford, Mississippi. Previously, he worked at The Kansas City Star and the New Orleans Times-Picayune. In 2001, he graduated from the University of Missouri School of Journalism.