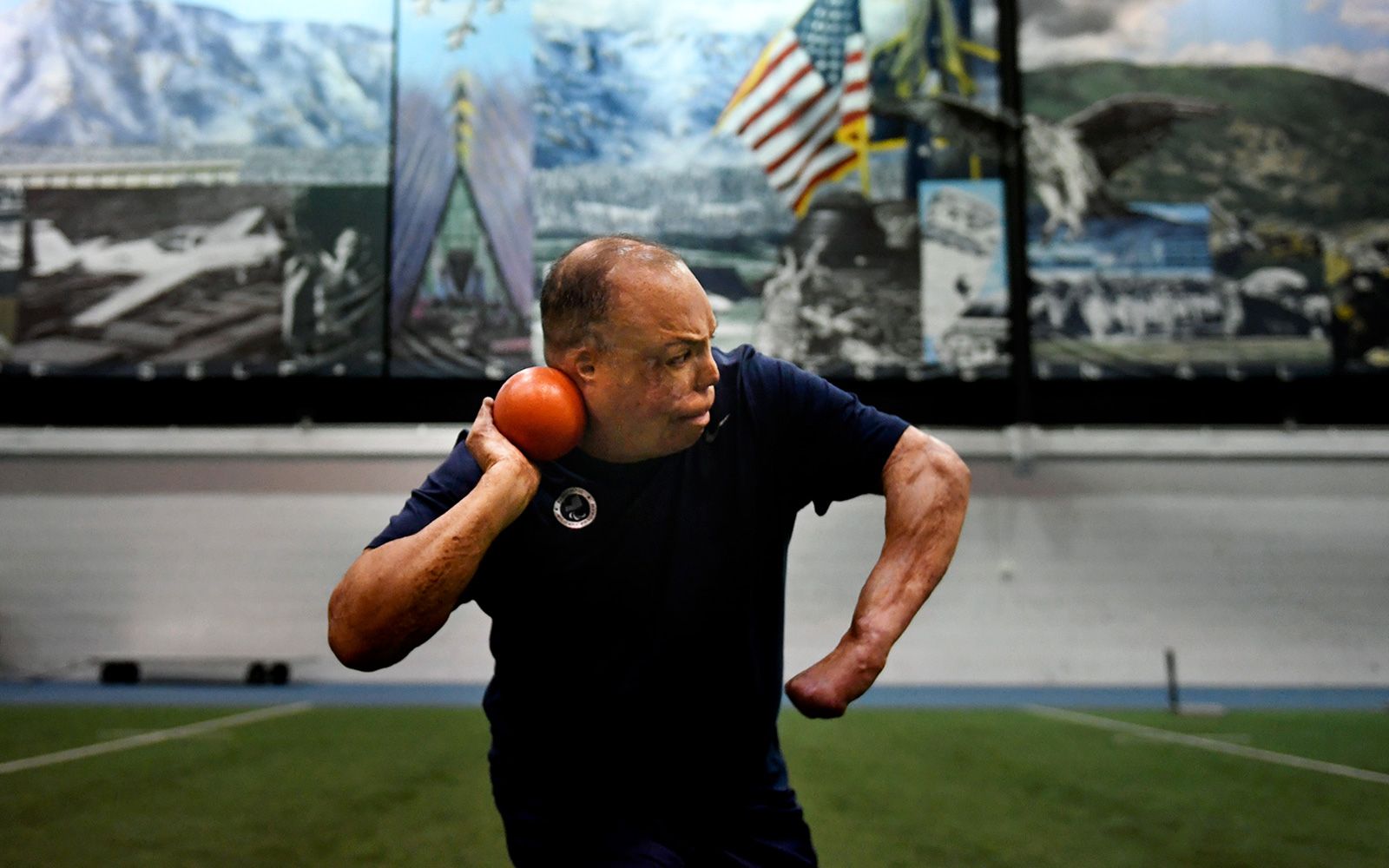 To Hell And Back
Air Force Master Sgt. Israel Del Toro Jr. emerged from an inferno that ravaged his face and fingers, but not his heart. By defying the odds and setting world records, Del Toro has inspired warriors and competitors all over the map.
The eyes of Air Force Master Sgt. Israel Del Toro Jr. have seen a lot. The hills of Afghanistan and the mound at Comiskey Park in Chicago. His newborn son and what he thought might be his own death. A life his wife didn't quite deserve and the wedding she did. The ceilings of countless operating rooms and the skies above athletic venues where he would set world records.
On this mid-April day, though, those eyes are focused on the icy road ahead. A freak snowstorm has blown into the Colorado Springs, Colorado, area, but DT -- the name everyone calls him -- needs to get to the local fitness center at Woodmen Hills in Peyton to train for the upcoming second-ever Invictus Games (May 8-12) at the ESPN Wide World of Sports Complex in Orlando, Florida. That's where the 41-year-old will compete against other wounded warriors from 13 other countries in the discus, shot put, power lifting and recumbent cycling.
This fitness trip is also an opportunity for some father-son bonding time, so Izzy, his 13-year-old namesake, comes along for the ride in the four-wheel-drive truck. "I apologize," DT says to the visitors. "I'm not in the best condition. I hurt my shoulder a few weeks ago shoveling 4 feet of snow in my driveway."
That said, he would put most other athletes to shame. From a standing position, he starts out by jumping onto a bench about 18 inches high. Again and again, again and again. Then, despite having half-fingers on his right hand and only a thumb on his left hand, he does an impressive series of bench presses, inflating the tattoos on his upper arms -- his guardian angel St. Michael on the left, a self-designed image of a man emerging from flames on the right.
After lifting weights, he works various stations, each time alternating reps with Izzy, who's wearing a T-shirt with that same image of the man coming through the fire.
If eyes truly are the windows into the soul, what you see in DT's are pride and love for his son. What you also sense is an appreciation for life that turns the miserable day outside into a glorious one.
"What's a little snow?" he asks as he walks back out to the truck in his gym shorts.
---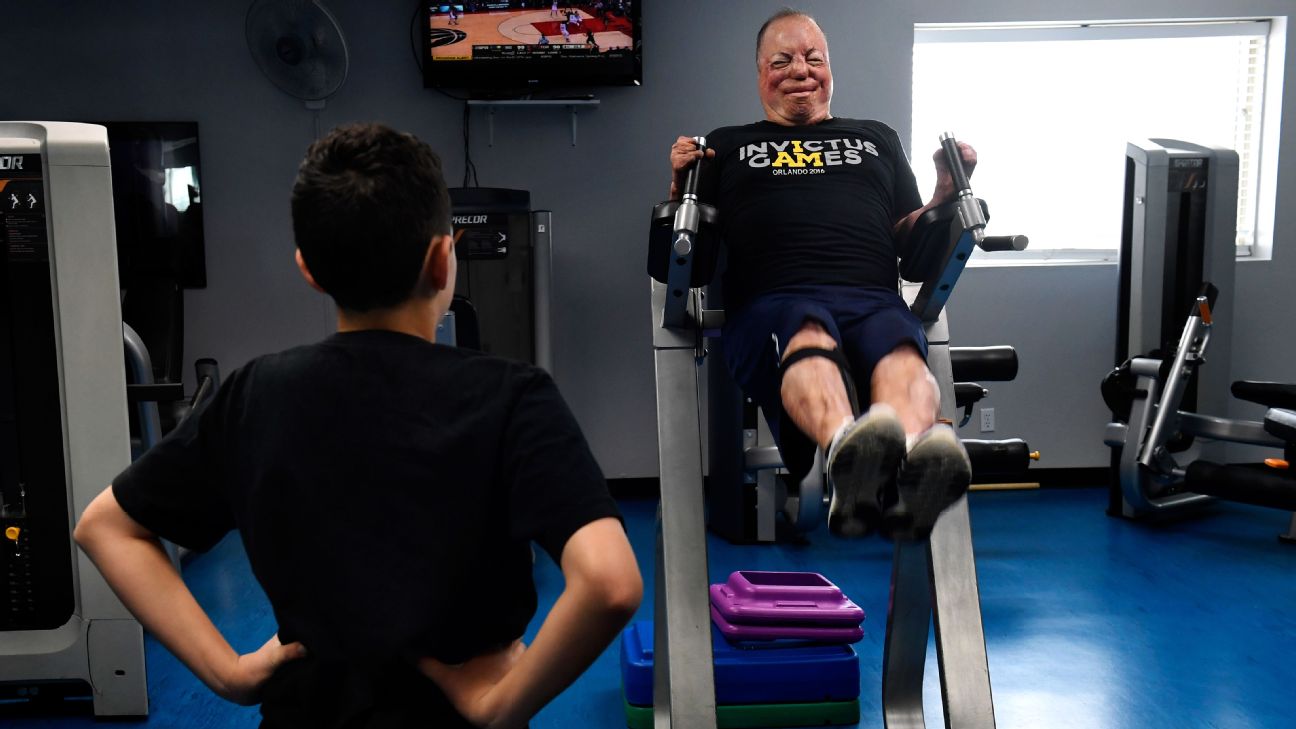 IT TAKES a special kind of person to be a JTAC -- and that was DT's post in the Air Force. The acronym stands for joint terminal attack controller. The Air Force trains JTACs to call in precision air strikes for ground troops to which they're assigned. It's one of the hairiest jobs in the armed forces, not only because it calls for someone with a stout heart and a keen, encyclopedic mind but also because that person has to tolerate the ostracism that comes from working with a different branch of the military. "Basically, JTACs are the bastard children of the Air Force," DT says.
With both parents from Mexico, DT was raised in New Lenox, Illinois, southwest of Chicago, the oldest of four children. He had to grow up in a hurry. When he was 12, his father died of a heart attack, and when he was 14, his mother was killed by a drunken driver. The kids moved in with their grandparents, but the big brother had to be the father, especially after his grandfather suffered a stroke. "I promised my dad, who must have known he was dying, that I would always take care of my brother and sisters," he says.
To support his family, he had to drop out of the University of Illinois, where he was studying kinesiology, to work in an ammonia plant. One day, though, he saw an ad for the Air Force on television. "Something inside me said, 'Do this,'" he says. "It also helped that the female recruiter I met with was attractive."
Over his family's objections, he joined the Air Force. He was a good fit: athletic, smart and friendly. He easily transitioned from basic training to technical training to jump school. Jeff Fariano remembers arriving at Hurlburt Field at Eglin Air Force Base in the Florida panhandle and being taken under DT's wing. "I didn't know anybody, but DT went out of his way to make me feel welcome," Fariano says. "He was more outgoing than I was, more confident, but we became instant friends -- and for life."
While stationed at Pope Field near Fayetteville, North Carolina, DT was tagged as a good JTAC candidate. He also bought an Adidas hat while there. When he was deployed to post-war Bosnia in February 2001 -- and at most deployments after that -- he took the hat with him.
He went home to Chicago in late 2000, only to find a family in mourning because of the death of a close cousin. To escape the sadness, he took a sojourn to his father's birthplace, La Garita, Mexico, a small village near Guadalajara. The local girls took a liking to this strapping, good-looking American serviceman. He struck up a conversation with one of the girls, Carmen Barajas. "Something clicked," DT says.
"I liked the way he was with little kids," Carmen recalls. "Playing, joking. I couldn't believe he wanted to spend time with me."
He kept in touch with Carmen by phone and letters. He came back to La Garita a year later to propose. "What I didn't tell her was how dangerous my job was," he says.
They had planned on a big wedding, but there was paperwork, then 9/11, then pregnancy, so they had to settle for a civil ceremony. "I remember the day Carmen called me from Mexico to tell me we were going to have a boy," DT says. "Actually, she tested me first by telling me it was going to be a girl. 'Great, that's wonderful,' I told her. Then she laughed and said, 'I'm just kidding, it's a boy,' and I went bananas. I think I spent $500 on drinks for everyone that night."
Israel Del Toro III, aka Izzy, was born on Aug. 21, 2002. Their joy was short-lived, though. DT was sent to Iraq in early 2003, embedded with the Army's 82nd Airborne Division near Fallujah, and he told Carmen not to watch the news. The fighting was intense -- he would lie awake on the roof of his Humvee as mortars punctuated the night air, wondering whether he would come back alive. But he and his Adidas hat made it back to the States unscathed, and he was awarded a Bronze Star.
The next assignment was South Korea, and DT spent a year there while Carmen moved in with relatives. She took ESL classes and became all too familiar with the immigration process. DT was then sent to an Air Force base in Italy, but at least he was able to take Carmen and little Izzy with him. Only seven months after their arrival, though, he was deployed to Afghanistan. As Carmen recalls, "I told him, 'This is the last time you go.'"
He was assigned to work with the Army's 173rd Airborne. On Dec. 4, 2005, just a few weeks after his beloved White Sox won their first World Series since 1917, he found himself in the hills around Kabul with a scout team that was trying to ambush the Taliban.
"When the doctor told me I would never walk again, and that I would have to spend the rest of my life on a respirator, I told him, 'Kiss my ass.'"
- Israel Del Toro, Jr.
Unfortunately, the Humvee in which they were traveling ran over a roadside bomb as it passed a creek, and the vehicle exploded. When DT climbed out, he was on fire from head to toe. Fortunately, the lieutenant in charge of the mission threw him into the creek to douse the flames. His first thought was that he might never see his wife and son again. His second was, "That sucked."
Somehow he managed to relay to an Army private with a radio their exact coordinates for air support, and DT was airlifted to a military hospital in Germany. From there he was flown to Brooke Army Medical Center at Fort Sam Houston, near San Antonio.
On Dec. 5, her birthday, Carmen got a call from a person in her husband's unit. He told her she should go to the hospital and tried to reassure her that DT would be OK. But she knew better. "I told him, 'Don't lie to me. I want to know the truth.'" The truth was that DT was in a coma and on a respirator, with third-degree burns over 80 percent of his body. He was given a 15 percent chance of survival.
The sight of him was almost too much to bear. "The only part of him I could touch was his toes," she says. She had to internalize her emotions, both to keep the vibes in DT's room positive and to shield Izzy from the uncertainty of their life. "I would kiss my son goodnight," she says. "Then I would get into the bathtub and just sit there and cry, for one hour, two hours, until I felt tired enough to go to bed."
At one point during the ordeal, President George W. Bush came to visit. Even though her husband was in a coma, Carmen could see that his heart rate had gone up.
---
DT WOKE FROM the coma in February. "At first he thought he was still in Afghanistan," Carmen says. "He was confused the first couple of days."
But eventually, he recovered not only his memory but also his fighting spirit. "When the doctor told me I would never walk again," he says, "and that I would have to spend the rest of my life on a respirator, I told him, 'Kiss my ass.'"
There was still the matter of the external damage: The fire had burned most of the cartilage from his face, leaving him with a bloated, skeletal look, and his fingers were almost all gone. Quite by accident -- a towel had slipped off a mirror -- he caught a look at himself. "I wasn't thinking of me when I saw my face. I was thinking of Izzy. My God, if I think I'm a monster, what's my 3-year-old son going to think?" he says. "But when the time came for me to go home, Izzy looked right at me, called out 'Papi!' and ran right up to me and gave me a hug."
On June 23, 2006, some six months after the fire, DT was given the Purple Heart by Air Force Chief of Staff Gen. T. Michael Moseley at Brooke Army Medical Center before an audience of more than 200 friends, family, airmen and hospital personnel. At the ceremony, DT said something that seems funny in retrospect. "I'm not a big speech guy," he told the crowd.
He was also given a surprise gift: that lucky Adidas hat that he took with him wherever he went. "It was in my left back pocket when we were blown up. There was a small discoloration on it," he says, "but otherwise, it was in pretty good shape. Much better shape than I was."
DT did have a few things going for him. The Air Force has provided him with the best medical care possible. He has lost count of the number of operations he's had over the years, "Somewhere north of 120," he says.
He's also an ideal patient, according to Dr. Chris Crisera, a plastic surgeon at UCLA Medical who has done 10 of them. "He has this unusually strong spirit," the doctor says. "He's bright, he's funny, he's upbeat. What I do for him is less about aesthetics, and more about function. He came to terms with how he looks a long time ago."
So have the people close to him. Once, when Izzy was playing soccer with other 7-year-old kids, one of them described DT as "gross," and Izzy warned him, "You better be quiet. He's my dad."
---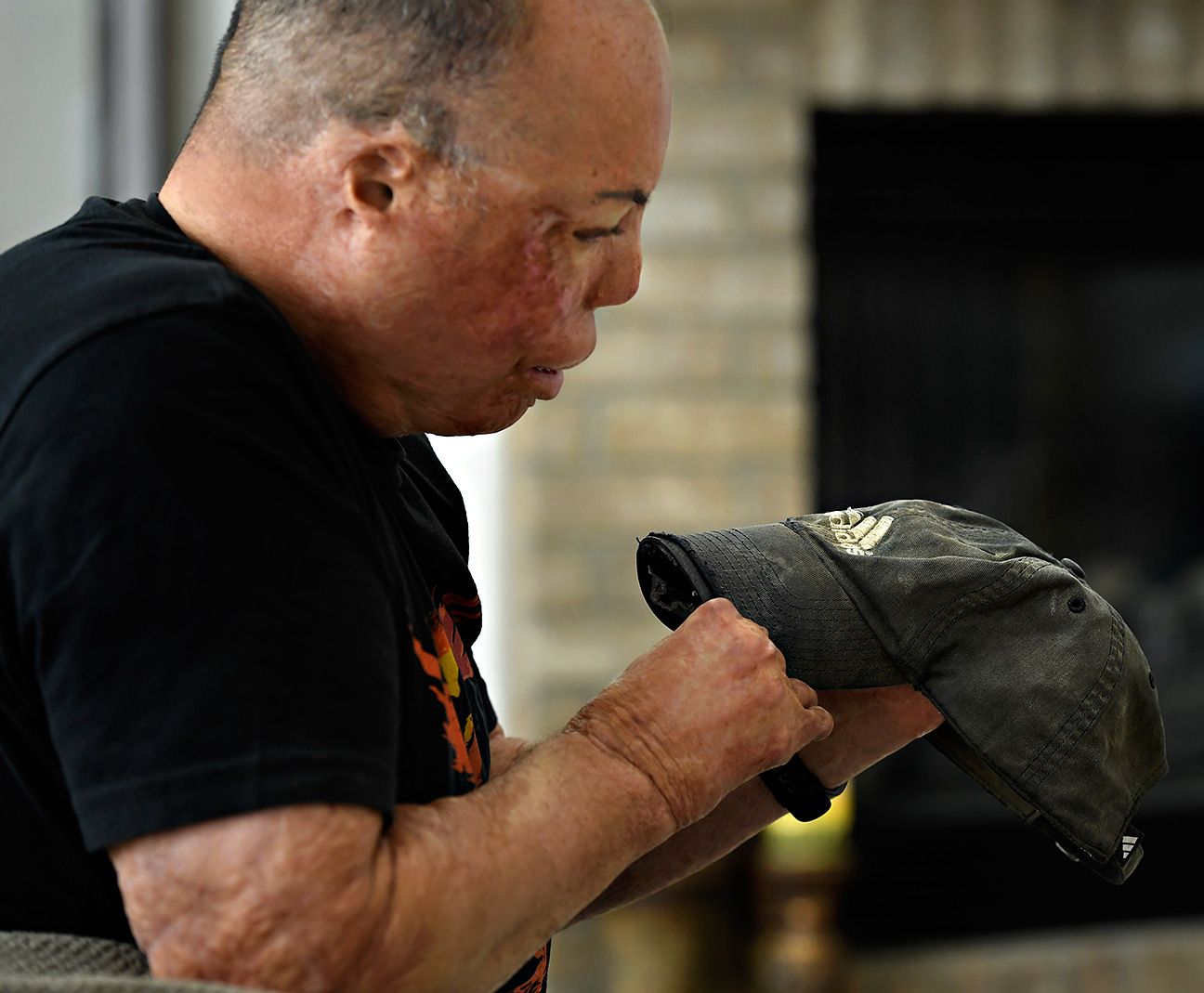 THE DEPARTMENT OF DEFENSE'S commitment to adaptive sports for injured servicemen and servicewomen gave DT added motivation. He didn't look the same, but he was still an athlete. Over the years, as the events for wounded warriors have proliferated and the ingenuity for adaptation has blossomed, he has been able to compete in weightlifting, air rifle, cycling, and track and field events. He has also set world records in the javelin, shot put and discus, and, at the first Invictus Games in London in 2014, he had the privilege of showing Prince Harry, who founded the event, that lucky hat. But more significantly, he has become part of a larger community that's sending a message to the world.
"Look at us," he says. "Yeah, we got hurt. But we survived, and we're living and thriving. It's especially important for me to show my face to other burn victims out there because we're often treated like second-class citizens. Don't be ashamed. Be proud of the flames you went through to get here."
There's another team that counts DT as a member: the Chicago White Sox. A lifelong Sox fan, he was invited to their spring training camp back in 2008, and he has been a regular visitor ever since. "We love to see him," says pitcher John Danks, who had been with the club since 2007 until his release last week. "He's an incredible guy, but it's also like he's one of the guys. He takes a stool and fits right in."
The kidding that takes place in a major league clubhouse is very similar to the give-and-take in an Air Force barracks, and DT loves that. "One time I got to throw out the first pitch," he recalls. "And I bounced it. Ozzie Guillen, who was the manager at the time, says to me, 'DT, you need to work on your one-finger fastball.'"
"I consider him a close friend," says Scott Reifert, the White Sox's senior VP for communications. "He's just a joy to be around. And he's always in my thoughts. Like, if I'm having a lousy day, I'll think of DT and his smile after all he's had to go through, and I'll realize, hey, it's not so bad. By the way, how's his shoulder?"
Reifert went to DT and Carmen's church wedding in August 2009. That's right, DT finally gave her the wedding he had promised her when he first proposed. "It was phenomenal," Reifert says. There was a mariachi band, a beautiful cake baked by Carmen's sister -- and two surprises.
The first was that the considerable bill for the reception had been picked up by the club. The second was revealed as the couple took the floor for the first dance. DT pointed to a video screen, and there was an invited guest who couldn't make the reception because he had a prior commitment: singer Richard Marx.
And for this occasion, Marx was perfect. He was from Chicago; he was Carmen's favorite singer; and he dedicated her favorite song, "Right Here Waiting," to the happy couple. When he hit, "Wherever you go, whatever you do, I will be right here waiting for you," there wasn't a dry eye in the house.
"Pretty cool," Carmen now says. "Even the people who worked the wedding said it was the best they had ever seen."
Six months later, Reifert and then-White Sox pitcher Scott Linebrink were invited to another rite of significance for the Del Toros: DT's re-enlistment at Lackland Air Force Base in San Antonio. What made it so noteworthy was that he was the first 100 percent disabled airman to be returned to duty. Throughout his recovery, he had been on a mission to prove to his superiors that he could still serve his country, and they eventually saw the light.
For one thing, he could instruct prospective JTACs. "I'm a big Star Wars geek," DT says, "so I like to pretend I'm a Jedi master." For another, he could represent the Air Force as a world-class adaptive sports athlete. And he could continue to tell his story, which he can reduce to three letters: NFQ. "The N is for Never, the Q is for Quit, and you can guess what the F is for."
He's been trying to figure out a way to use that in the speech he's been asked to give at the Invictus Games' opening ceremony on May 8.
So much for not being a big speech guy.
---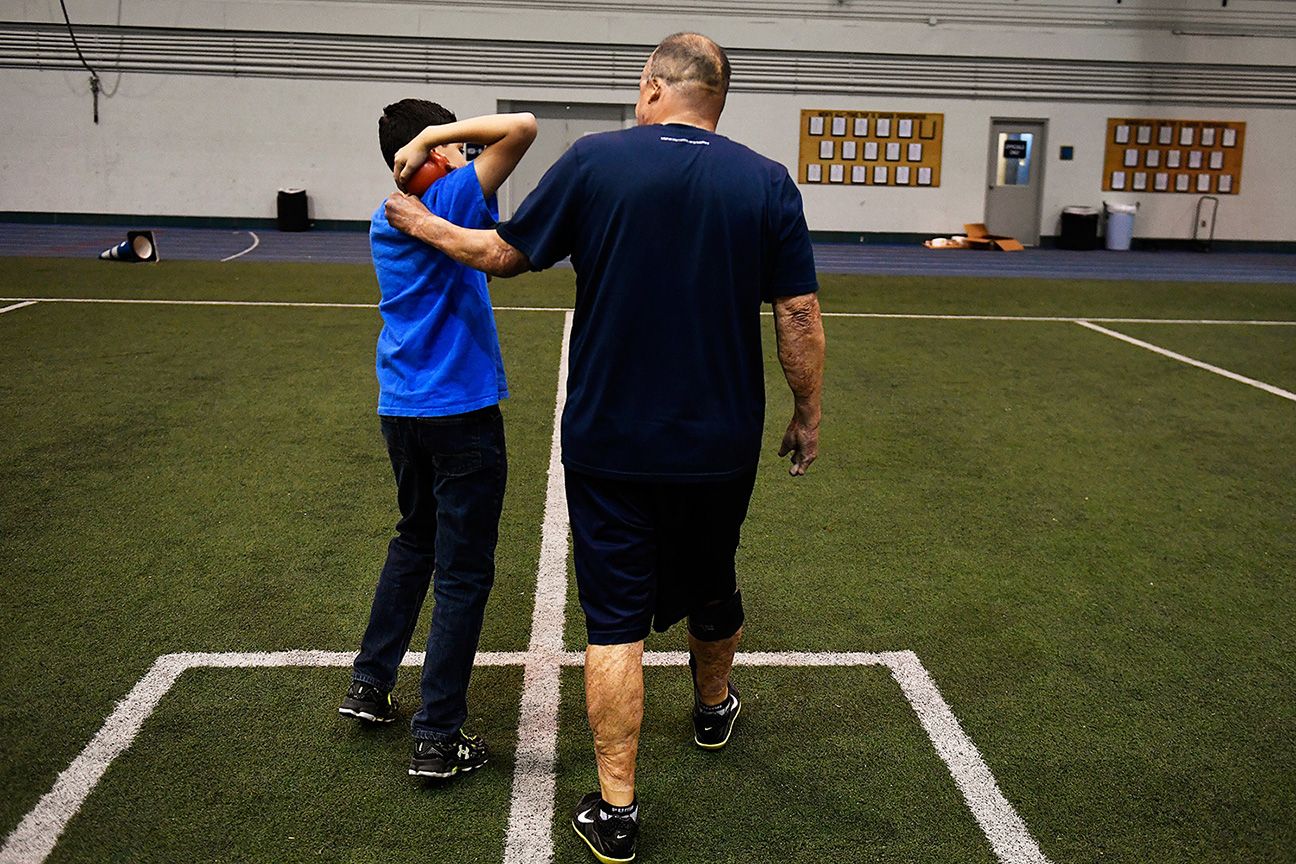 SO FAR, Colorado Springs has been a great place for the Del Toros to settle in as a family, to play and coach Little League baseball, and to take stock of the long, arduous journey that took them there. "Things happen for a reason," Carmen says. "I had to learn a lot. My son became a very caring, a very intelligent boy. DT has been able to touch so many lives."
Now home, DT brings out a pair of huge (size 13) Mizuno baseball cleats. "Jose Abreu gave them to Izzy when we visited the Sox in Glendale [California]," he says, "and he wrote a little message on them in Spanish." Roughly translated, it reads: "Always appreciate your parents because they're full of appreciation for you."
But those shoes are only the precursor to the big reveal. "You have to see the basement," DT says.
NFW. If there's such a thing as a man's man, then this is a man cave's man cave. It's part movie theater, part shrine to Chicago sports and part Cooperstown. He has the rookie cards of all the 2005 champion White Sox. Beautifully framed collections of balls signed by pitchers with 3,000 strikeouts and 300 wins, hitters with 3,000 hits -- "Pete Rose was really nice to me" -- and 500 home runs.
DT has gathered this stuff over the years, thanks to a passion that takes him to memorabilia shows, and to the compassion of athletes he has met. Among his many extraordinary qualities is the ability to make strangers wish they'd known him for years.
As he shows you a bat signed by his favorite player, Roberto Clemente, there's a gleam in his eyes. You hope it's reflected in your own.
That's because you want him to know that these guys have nothing on him.
John Danks put it this way. "DT is a bigger hero than any of us," the pitcher said. "Baseball players get put on a pedestal for what? Playing a game? Well, guess what. People like DT are the reason we get to play that game."
Steve Wulf is a senior writer for ESPN The Magazine and ESPN.com. Before coming to ESPN in 1997 as one of the founding editors of The Magazine, he wrote for Sports Illustrated, Time and Entertainment Weekly.